There's NOTHING quite like running a marathon to prove you can achieve BIG things when you put your mind to it! Completing a marathon is always an incredible accomplishment, whether it's your first or 5th, and it's a testament to your physical and mental toughness. I mean, they wouldn't give you a medal at the finish line if it wasn't hard, right?!
I'm Alastair, one of the founders of Trail & Kale; I ran my first marathon over 10 years ago and have since gone on to run many marathons and ultramarathons all over the world.
After crossing the finish line of my first marathon, it took me about a whopping 1 hour before booking my next one – haha.
This marathon running passion grew into a love for ultra-endurance events, and I'm so excited to share all the valuable information I have learned over the years, including the marathon training plans and strategies that I developed.
This 12-week marathon training plan is an intermediate-to-experienced program designed for runners who are already running regularly and can comfortably run 6 miles (10k) non-stop. This training plan will get you ready to run a marathon in just 3 months.
We've taken extra care to make this plan as easy to follow and structured as possible, to get you to race day and over that finish line with a smile on your face, a huge sense of pride and accomplishment, and maybe even your fastest marathon time yet!
This post is in partnership with Nike. If you're looking for a supportive running shoe with enough cushioning and response to help you complete your half or full marathon training; the Nike InfinityRN 4 could be the perfect choice for you. Read my in-depth Nike InfinityRN 4 review to learn more.
---
What's in this 12-week marathon training plan
With this guide, you'll have all the tools you need to start your marathon journey and achieve your goal of crossing the finish line.
Who this 12 Week marathon training plan is for
If you run regularly, and can comfortably run 6 miles (a 10k) non stop, then this 12 week marathon training plan is a great choice for you to prepare for race day in 3 months!
If you have a little more time to prepare for your marathon and have a specific marathon finish time goal in mind, then you may also want to consider doing our 4-month, 16 week marathon training schedule.
Spending those extra 4 weeks getting shorter weekly mileage, will give you more time to work on your running speed, and building up your VO2 max, which will help you train your body to run faster and also more efficiently over longer distances, it will also give you more time to recover.
If you're a less experienced runner and none of these situations sound like where you're at in your run training then head back over to our marathon training plan database and choose one of our other plans that fits your experience level and goals, from beginner through to expert!
For example, we have a great 16-week marathon training plan or 20-week marathon training plan that both provide a more gradual ramp-up in weekly mileage which is great for newer runners.
If you already have marathon running experience, can run at least 10 miles non-stop and have less time to prepare for your race, also check out our 8-week marathon training plan for more experienced runners.
If you're interested in running 5k, 10k, a half marathon or even your first ultramarathon then head over to our training plans homepage after reading this post.
Overview of our 12-week marathon training plan
This training plan is designed to help you build up running endurance, strength and mental stamina to be able to run a marathon in just 12 weeks.
Do you have a time goal in mind? This chart should help you predict roughly what your potential marathon time could be based on your average pace: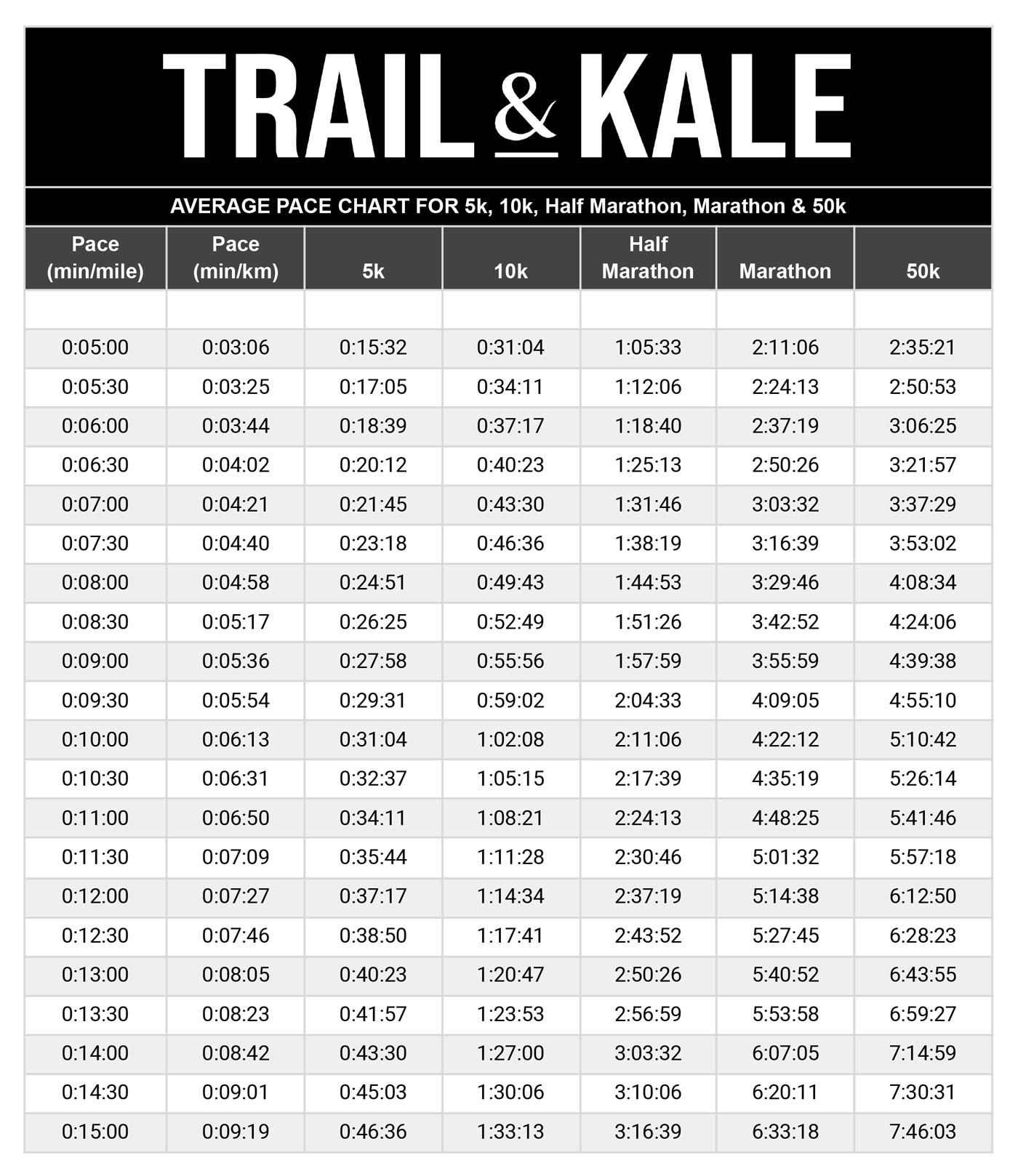 To learn more about marathon pace ranges and estimated marathon finish times to give you an idea of how much time it may take you to run a marathon, head over to our marathon training plans overview post.
That post also includes pace charts and information on average finish times for male and female runners.
How the plan is structured
This is a 12-week marathon training plan and much like our other marathon training schedules, the plan is structured so that you do several runs a week, of different durations and intensities.
In this 12-week schedule, you'll do 4 runs a week.
At the end of each week, your training plan will include a 'long run'.
The long run is an important one because this is the training run that will train your body and mind to run slightly longer durations (and distances) each week, as you build up the strength and confidence to run the full marathon distance.
The longest training run you'll do in this marathon training schedule is 20 miles. This will be the longest run before you reduce your mileage to taper down in preparation for your 26.2 mile race day!
This 12-week marathon training schedule also includes rest days and core strength training. These are also important components for your overall strength and recovery.
Heart rate zone training
All of our marathon training plans take advantage of the benefits of using heart rate zone training as a highly effective way to plan, monitor and track running effort levels and performance over time based on your own personal level of fitness.
Heart rate training is personalized to you based on your individual heart rate, and provides ranges for you to train within, called 'zones'.
Read our easy to follow guide to heart rate zone training to learn how to work out your heart rate zones, and how to track your heart rate while you're running to ensure you're in the target heart zones as outlined in our downloadable training plan below.
Gear up for your marathon training
Given you already run regularly, you probably have some (or all) of these already, but it helps to review a checklist just in case:
A quality pair of running shoes
Running socks
For women, a running-appropriate sports bra
A running tee or vest
A running watch with a wrist-worn heart rate monitor
Also consider warm running gloves, an insulated winter running hat, and a warm baselayer such as a merino wool tee for running in the cold.
---
If you're looking for a supportive running shoe with enough cushioning and response to help you complete your half or full marathon training; the Nike InfinityRN 4 could be the perfect choice for you!
Read my in-depth Nike InfinityRN 4 review to learn more.
---
A good running headlamp is essential and a reflective running vest is a good idea if your runs will involve running in the dark or low-light.
Advice to optimize performance, improve post-run recovery and prevent injuries
The following tips for before, during, and after your training runs will enable you to maximize each training session while preparing for your marathon race.
Before your run: Readiness, fuel, and dynamic stretching
Be prepared – prepare in advance by gathering your running essentials such as your shoes, clothes, watch, and accessories, particularly if you plan to run early in the morning.
Eat before your run – Prior to your weekly long runs, make sure you eat a sufficient meal to maintain your energy levels throughout the run.
Dynamic stretching – Don't forget to incorporate dynamic stretching into your 5-10 minute pre-run warm-up routine. We recommend following our suggested pre-run dynamic stretches, which are demonstrated in our stretches for runners post.
During your run: Technique, heart rate monitoring, and nutrition
Develop good running technique – focus on ensuring you're working on efficient breathing, running form and cadence as you run.
Monitor your heart rate – our marathon training plans are most effective for runners who are able to monitor their heart rate using a running watch. We're big proponents of heart rate zone training, as it's personalized to your own heart rate data so you can ensure you're running each run at the right level of intensity.
Nutrition as you run – it's a good idea to take water with you for every run, except, perhaps, those shorter runs in cold weather. You can carry water in a running belt or hydration pack.
Energy gels and chews are a popular and convenient option for fueling those longer runs lasting over one hour.
After your run: Static stretching, recovery, and injury prevention
Static stretching – do some static stretching after you finish each run. It will help with flexibility and reduce post-run soreness, which can in turn help reduce the chances of injury. These are our favorite static stretches.
Post-run recovery shake – drinking a plant-based protein shake after those longer and harder runs will also make a big difference in reducing post-run soreness and helping with recovery. I suggest having one after every run that lasts over an hour.
Get plenty of rest and sleep – getting enough sleep and actually resting on your rest days will help you recover quicker. Our guide on how to sleep better is full of tips that should help!
Tips for race day success
Here are our tips for marathon race day success! Bookmark this post and come back to it as you approach race day:
A few days before
Eat and drink particularly clean, and don't forget to drink enough water to stay hydrated.
Coordinate with your friends and family who will be attending the race to offer their support and watch. Determine where they will be located, which mile marker or landmark, and which side of the barriers they will be on. They may also want to create a humorous or inspiring sign to encourage you.
Decide on a location for post-race festivities, such as a bar or restaurant near the finish line. If needed, book a reservation in advance.
The night before
Get your running gear ready. Put together your footwear, apparel, running watch (ensure it's fully charged), accessories, water bottle, nutrition, race bib, and safety pins so you don't forget anything in the morning.
Organize your drop bag. If necessary, put essential items in the drop bag and place it next to your running shoes to make it easy to grab and go the next morning, so you won't forget it. Items you may want to include in the bag are your phone, a warm layer, a snack, and a change of shirt.
Set your alarm
Prepare your breakfast
Check the weather forecast
Plan your route and schedule to reach the starting line. If you're driving, determine where you will park and allocate sufficient time for parking and walking to the starting area, including stops to use the restroom and drop off your drop-bag at the specified spot.
Know your starting time and the wave you'll be participating in
Have a nice early evening meal and get an early night!
Race day morning
Eat an energy-filled breakfast around 2 hours before the race start. Our post, what to eat before running includes my recommendations for energy-filled pre-race meals.
Ensure that you leave for the starting line well in advance to allow ample time for parking, dropping off your drop-bag, walking to the starting corrals, and locating a porta-potty for restroom use. Keep in mind that there will be loads of other people doing the same thing, so anticipate queues for parking and restrooms.
Running your marathon race
Stay calm while waiting for your race to start. It can be a little overwhelming being surrounded by so many other runners, but breathe deeply, control your heart rate, and appreciate the ambiance! Remember the compromises and hard work you've endured to reach the starting line, so make sure you enjoy the moment! You've put in the work, you're ready!
Smile as much as possible! Seriously! The route will likely be lined with spectators who've arrived to cheer you on, and don't forget to smile at the photographers, as you'll want a memento of your accomplishment where you're smiling rather than grimacing 🙂
Stop your running watch! If you're wearing one, remember to stop it once you've crossed the finish line to save your race time.
Our FREE downloadable 12-Week Marathon Training Plan pdf (printable)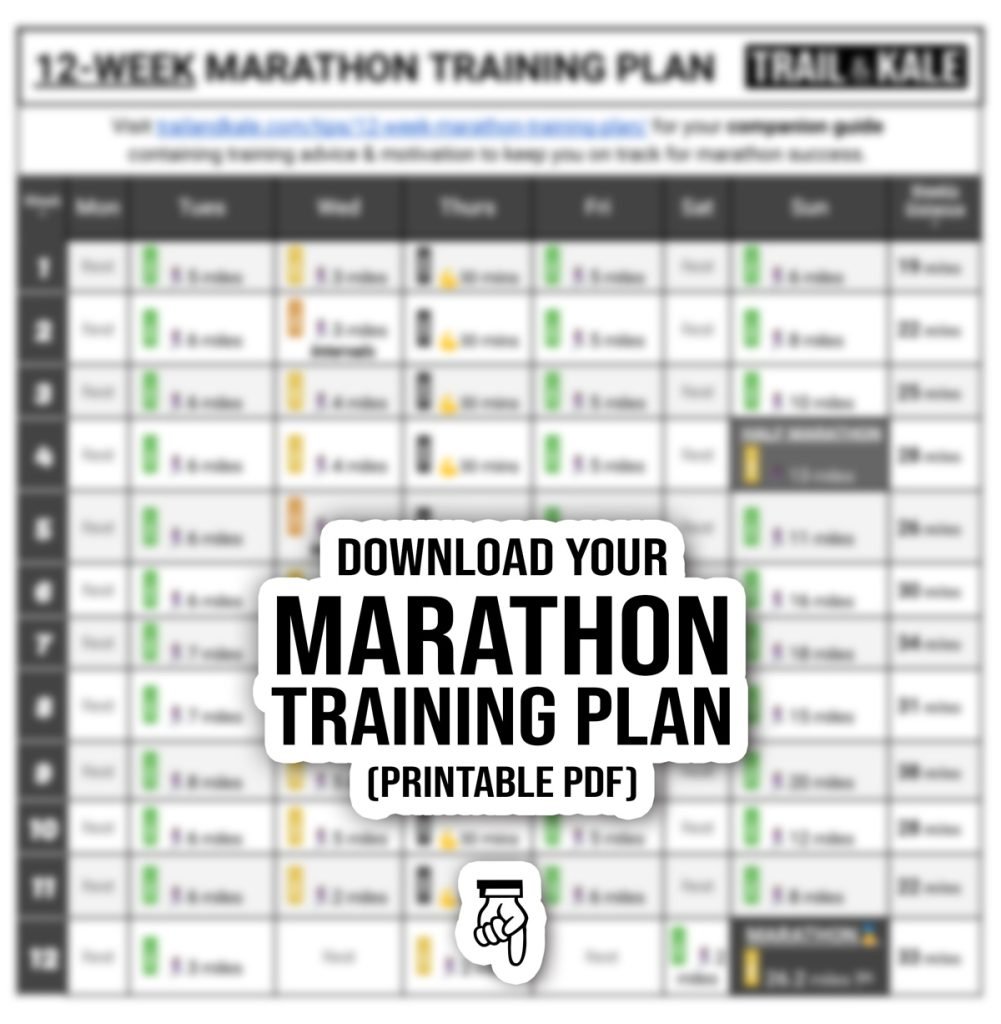 ---
COMPANION GUIDE for our 12-week marathon training schedule
Our 12-week training plan is designed to be simple to follow and prioritizes running consistency and the importance of your weekend long run to train yourself physically to be able to run the full marathon distance, as well as develop the mental stamina to go the distance.
This companion guide is designed to be a reference to your 12 week training plan, we developed it to ensure you're on track for success, rather than mindlessly following when to run, how long for, and how intense that run should be.
We believe in teaching you the foundations of running technique, and sharing our top tips for nutrition and running gear based on our extensive product reviews to help you get the most out of your training runs, and race day!
It also includes a milestone for the first half marathon distance you hit in the training plan, which is 4 weeks into the 12 week plan.
If you'd like to, it could be a good idea to find a local half marathon race to sign up for that weekend, rather than doing it as another regular long run near home.
A half marathon race should be a fun day out, as well as a good opportunity to get some experience of what to expect from running with thousands of other runners on marathon race day!
Train using heart rate zones
Effort levels for each run are specified based on ensuring you're running in target heart rate zones 2, 3, or 4, which you'll monitor using a running watch that tracks your heart rate.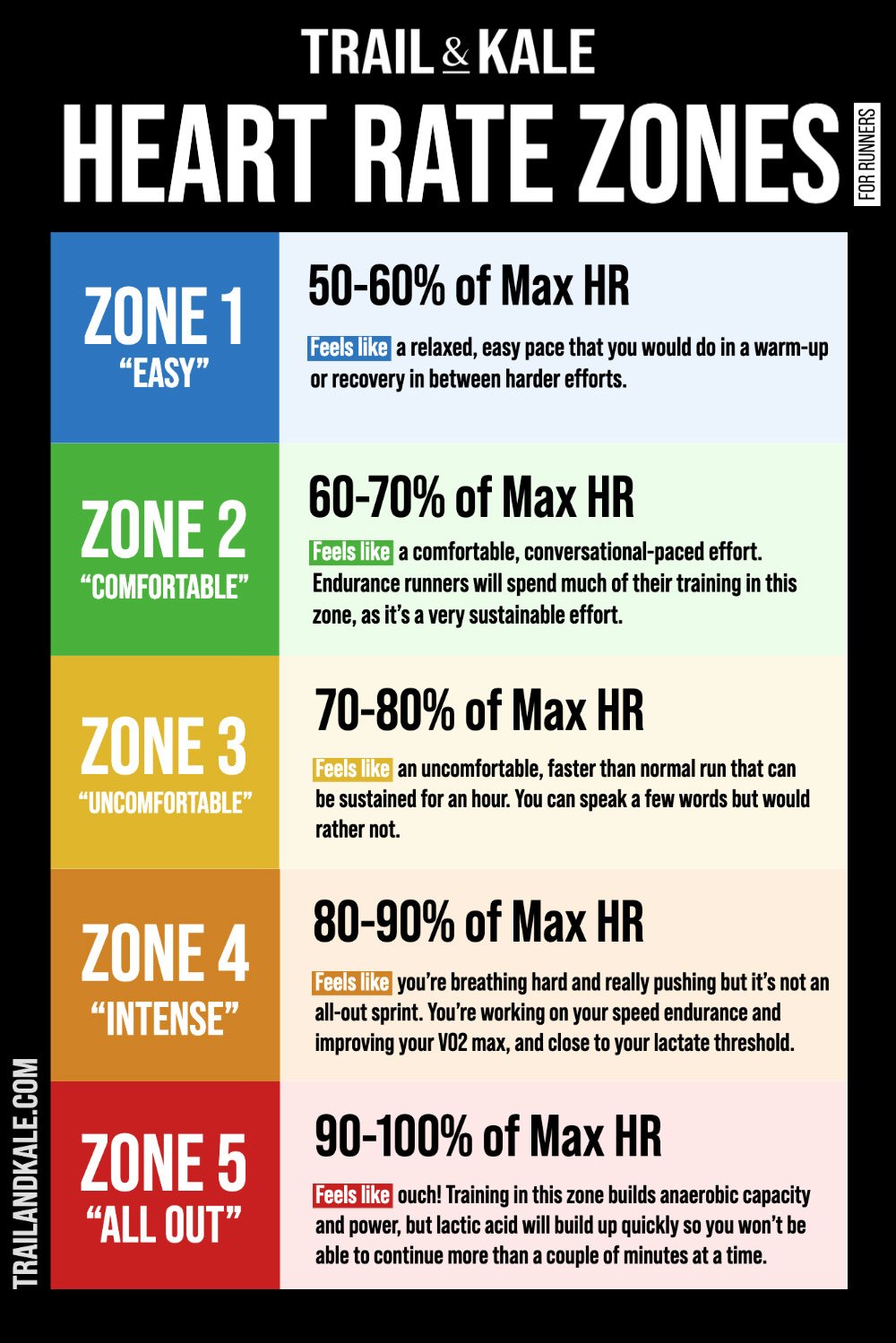 Read our heart rate training post to learn how to calculate your personalized heart rate zones, which is an essential part of how and why our training plans work so well.
You can also use this training plan without specifically using heart rate zones and tracking your heart rate, if you wish, but you'll need to gauge your effort level based on your perceived effort, rather than using heart rate data.
Most of the runs in this marathon training schedule are run at Zone 2, or 'comfortable, conversational pace' but there are a few higher intensity runs that step all the way up to zone 4.
Your default shorter Wednesday run is a more intense, Zone 3 run.
However, if you have a particular time goal in mind, then I highly recommend you run your Wednesday run as either a tempo run, 2-minute speed intervals, fartlek or hill repeats training session, for at least your scheduled distance, or around 30-45 minutes in duration.
Doing these more intense runs will help you run faster and improve your VO2 max.
Weeks 2, 5, and 8 are programmed assuming you'll take the opportunity to run these days as 2-3 minute speed interval sessions, alternating between Zone 4 for the speed intervals and Zone 1-2 for the 2-3 minute recovery intervals.
Warm up and cool down
Before every run, spend at least 5 minutes doing a warm up, which should include dynamic stretching.
After every run, spend 5 minutes cooling down until your heart rate is back comfortably in Zone 1. Then spend at least another 5 minutes doing some static stretches to help reduce soreness and promote flexibility and range of motion.
Our guide to stretches for runners lists our favorite dynamic and static stretches.
Core and strength exercises
Thursday is your training plan's 'core and strength' day.
This session should be around 30-45 minutes long, and focus on core stability and overall strength training, which you can do using your bodyweight and little or no additional weights or gear.
I suggest doing circuits of the following exercises into your core and strength sessions for an all-round core and strength session.
Do around 90 seconds on each, and repeat the circuit three times:
Bodyweight squats
Lunges
Bird-dog
Bicycle abs
Fire hydrants
Planks
Side planks
Glute bridges
Rest days
Monday and Saturday are your rest days.
This doesn't mean you shouldn't do some activity, though, but take those days off from running. Depending on how you feel, you could do some yoga, breathwork, stretching or light cardio cross-training such as riding an indoor bicycle or taking a hike.
Happy training!
I'm excited for your marathon training journey and hope you find this 12-week marathon training program to be an easy-to-follow and enjoyable companion along the way!
---
PIN THIS POST!