Welcome to our ever-evolving list of the best trail running shoes for every scenario; whether you run ultramarathons, trail marathons, 10km, 5km, Swim-run or even OCR events like Spartan and Tough Mpudder. Choosing the best trail shoes can be confusing when you factor in things like 'type of terrain', 'distances', 'weather conditions' and even 'running styles'.
I have written this list based on my extensive experience of trail shoe testing and running on different trails all over the world, covering both long and ultramarathons. With that said, this regularly updated list has sections for all-round trail running shoes, ultra running shoes, waterproof running shoes, trail racing shoes, barefoot running shoes and running shoes for Tough Mudder & Spartan OCR events. This list is updated regularly so remember to check back the next time you need to know which trail running shoes to buy.
We also have a completely women's specific list here: Best Trail Running Shoes For Women – Top 5 in 2019 (So Far).
---
RUN ON ROADS TOO? Best Road Running Shoes in 2019 (so far…)
---
Quick Links – What Trail Running Shoes Do You Need?
---
Starting With The Best All-Round Trail Running Shoes
If you're not sure what type of trails you're going to be spending most of your time on, then it's worth looking at trail running shoes that can perform in every situation. For example, you may have to run to a trail-head which will involve running on roads for a couple of miles. If you don't have the shoes that will allow you to run on the roads as comfortably as on the trails, then your run may get tarnished before you even make it to the fun bit!
The following trail shoes are considered to be 'door to trail', 'mixed-use', or 'varied terrain' trail running shoes.
1. Nike Air Zoom Pegasus 36 Trail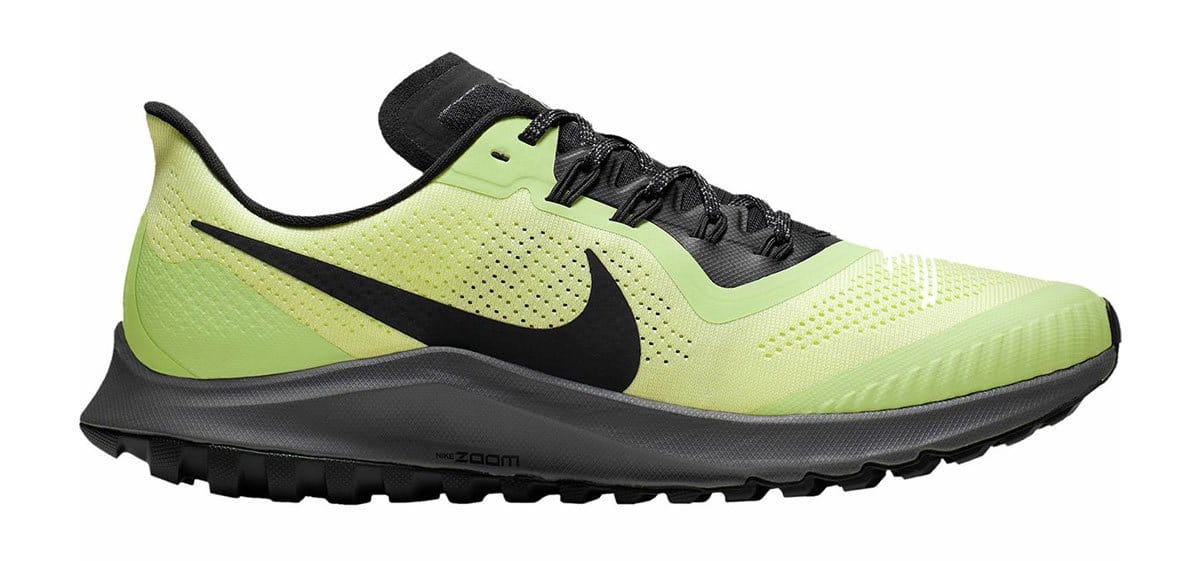 My current favorite all-round trail shoe, the Nike Pegasus 36 Trail is a high-performance trail running shoe that's so comfortable it feels like a road running shoe. The Pegasus 36 Trail could actually be labeled as a road/trail hybrid, or a door-to-trail running shoe because quite honestly it performs very well on both surfaces. Contributing to the comfort is the Nike Air Zoom cushioned midsole that provides plenty of protection from sharp rocks too. The Pegasus 36 Trail is also very lightweight at 9.17oz (260g), breathable, responsive, and grippy.
The interesting curved achilles heel support, similar to that of the road running shoes Nike Air Zoom Pegasus 35, works very well for me as it allows for a little bit of over-striding when running fast downhills, without agitating your achilles. In fact, it works so well, that my second run in the Nike Pegasus 36 Trail enabled me to earn a 1 mile PB at 5min 37seconds, albeit on a fire road with a downhill gradient.
At $129.95 the Nike Pegasus 36 Trail is very reasonably priced too. If you were to ask me which all-round trail running shoes I would recommend, my current opinion is these, and that's why they rank number 1 on this list.
There are two other trail running shoes in the Nike Trail collection, both of which I have compared to the Pegasus 36 Trail in this post here: Nike Trail Running Shoes Compared in 2019: Which Are Best?
Drop: 10mm / Weight: 9.17oz (260g) / Support Type: Neutral.
FULL REVIEW: Nike Pegasus 36 Trail Review 2019
Find the Best Price for Nike Pegasus 36 Trail (Tracked Daily)
---
---
2. La Sportiva Bushido 2
The La Sportiva Bushido 2 is for those looking for a high performing trail shoe with the combination of responsiveness, stability, and comfort with excellent protection and impressive traction.
They provide enhanced cushioning while also providing a stable, lightweight, sticky and aggressive outsole. The performance and protection on technical terrain, is impressive, to say the least, I'm going to be running in these a lot!
Drop: 6mm / Weight: 10.5oz (298g) / Support Type: Neutral.
Find the best price for the La Sportiva Bushido 2, at a reputable store below:
La Sportiva Bushido 2 Reviews
La Sportiva Bushido 2 – 2019 Full Review
---
3. ON Cloudventure (NEW EDITION)
The On Cloudventure is for runners looking for a versatile trail shoe with full cushioning protection. The outsole combines multiple grip patterns so you can stay in control as conditions around you change and the improved traction pattern of Zig-zag channels combine with flatter details to prevent slipping on smoother surfaces.
The most fun part of all On running shoes is the cloud pods that give you that feeling of a cushioned landing, as they compress under your weight and then provide a barefoot take off as your foot leaves the ground and the pods spring back. It's a really innovative and effective system!
This NEW Cloudventure takes that system one step further by combining On's Zero Gravity cloud elements with a grip overlay that adds trail-level toughness to the unmistakable sensation of running on clouds. This means you can truly own the downhill, again and again.
On Cloudventure 2019 Reviews
On Cloudventure 2019 – Full Review
Interested in learning more about the ON Running brand? We have the largest collection of in-depth and professional On running shoe reviews on the web.
---
---
4. Nike Air Zoom Terra Kiger 5
The Nike Air Zoom Terra Kiger 5 is a lightweight trail running shoe for fast trail runs. Nike has updated the outsole in this latest edition, for improved performance on wet terrain and variable trail conditions. The previous Terra Kigers were known for their grip on dry trail surfaces, but the new Terra Kiger 5 now features a sticky midfoot rubber compound for improved traction on slick roots and rocks.
The shoe has also been updated with a full React foam midsole, which delivers a smooth and responsive ride on hard trail surfaces, as well as a forefoot rock plate for protection from sharp rocks. This new midsole makes the Terra Kiger 5 a great 'door to trail' approach shoe too.
The mesh upper is flexible, breathable, and supportive with a snug lacing system that gives you a much needed comfortable and supportive fit for rocky and technical trail sections. Nike has also added a special Zoom Air unit in the heel that provides added cushioning for long runs.
Drop: 4mm / Weight: 9.75oz (g) / Support Type: Neutral.
Best Price for the Nike Terra Kiger 5
---
5. Brooks Cascadia 13
The Brooks Cascadia 13 are especially comfortable on hard packed rocky trails but will perform across most trail types. I find myself pushing harder on the downhill sections due to the extra cushioning, which makes such a difference. Finishing a run with feet feeling fresh is such an important motivational factor in getting yourself back out there regularly and actually wanting to put more miles in.
The Cascadia 13s also perform well on road sections, very handy when it's hard to completely avoid roads during a run, especially when you have to run to a trailhead.
Compare Prices for Brooks Cascadia 13
Brooks Cascadia 13 Reviews
Brooks Cascadia 13 Men's Review / Brooks Cascadia 13 Women's Review
---
---
6. Merrell Agility Peak Flex 3
I'm having so much fun running in the Merrell Agility Peak Flex 3 trail running shoes. The shoe is very flexible, cushioned and protective. I would describe it as a high-quality work-horse shoe that's both reliable and will keep your feet feeling protected, even after many miles/hours out on the trails.
It doesn't just offer cushioning and protection though, it's also a very responsive trail shoe that gives you a true feel of the terrain underfoot.
Compare prices for Merrell Agility Peak Flex 3
Merrell Agility Peak Flex 3 Reviews
Merrell Agility Peak Flex 3 – Full Review
Best Trail Shoes For Ultra Running
If you love to run huge distances from Marathon up to 100 miles and beyond then it's very important that you have shoes that will keep your feet comfortable for many hours at a time. See below for the best trail running shoes for Ultrarunning.
1. Salomon S-Lab Ultra 2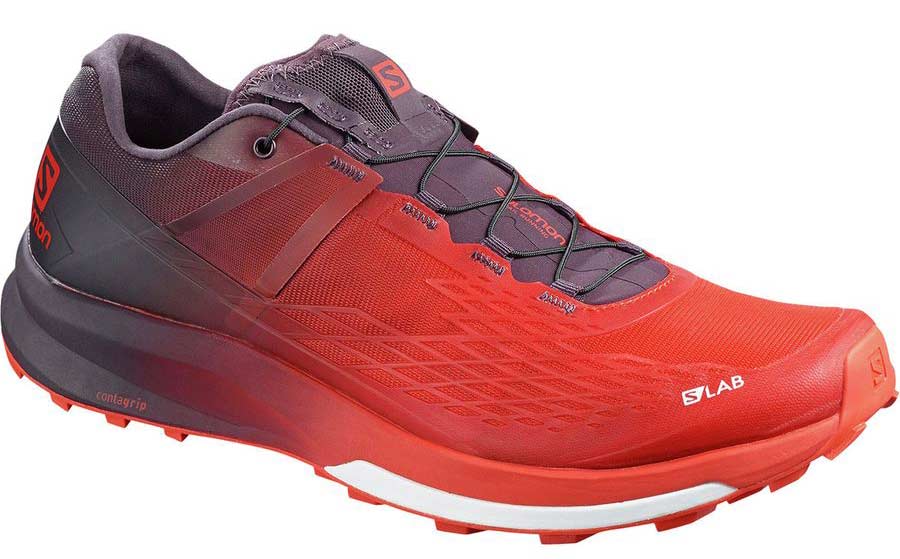 Designed specifically for trail racing, the unisex Salomon S-Lab Ultra 2 features a reduced weight and improved durability while maintaining comfort over long distances. Salomon's SensiFit upper construction cradles the foot while the internal sleeve hugs the foot for a secure, comfortable fit.
The midsole on the Ultra 2 delivers great energy return for miles while the grippy outsole offers super reliable traction on wet, dry, hard, and loose surfaces. A true all-rounder for running fast through the mountains and on the trails.
Drop: 8mm / Weight: 10oz / Support Type: Neutral.
I would also recommend the Nike Pegasus 36 Trail for ultra running due to its comfort, cushioning, breathability, and low weight.
Best Price for the Salomon S-Lab Ultra 2
Looking for some trail 50k ultramarathon race inspiration? Have a read of this: Best Running Races – 50k Ultramarathons.
---
2. Hoka One One Speedgoat 3
Named for Karl Meltzer aka "The Speedgoat", who holds the record for the most 100-mile trail race wins and epitomizes the "go everywhere, run everything" attitude, this shoe is designed to attack all kinds of technical trail. The aggressive Vibram® MegagGrip lugs will hold up to all kinds of rugged terrain and there's extra heel support and midfoot lockdown in the upper. The Speedgoat 3 is one of the fastest and toughest trail running shoes out there.
Compare Prices for Hoka One One Speedgoat 3
---
---
Trail Shoes For Racing Anything Up To The Marathon Distance
Do you love to run FAST over distances spanning 5k to the Marathon? If so then you need high-performance lightweight trail running shoes but may sacrifice a little in cushioning under-foot as a result. These shoes are for the speed junkies who like to fly over any types of trails!
1. Salomon S/Lab Sense 7
Top endurance runners demand lightweight, precision and ground feel. The S/Lab Sense 7 is approximately 200g, which is insanely lightweight trail shoe. The shoe has an integrated sock liner and a minimal drop of 4mm. The Sense 7 are the favorite mountain running shoes among many amateur mountain runners and the top Salomon athletes including Kilian Jornet, Emelie Forsberg, Lucy Bartholomew, Martina Valmassoi and more. This is a unisex shoe so if you're looking for the women's version, it's on the same link below.
Compare Price for Salomon S/Lab Sense 7
Looking for some trail marathon race inspiration? Have a read of this: Best Running Races – Trail Marathons.
---
---
Waterproof Trail Running shoes For Wet/Muddy/Cold Conditions + Trail Shoes With Good Drainage.
Looking for a shoe that will give you no excuses to go out running during the winter, even on rainy days? Note: if you're planning on running through rivers or deep bodies of water then you're better off with non-waterproof shoes that can drain water out quickly after being soaked through, so they dry out quicker. Many trail races may have river crossings but Tough Mudder and Spartan events will most definitely have them. If you need shoes for these types of events then jump to our Tough Mudder/Spartan category below.
Below are my top recommendations for waterproof running shoes that will keep your feet dry and warm in wet weather situations where surface traction is paramount.
1. ON Cloudventure Waterproof (New Edition)
The new On Cloudventure Waterproof trail shoes look so badass and offer excellent cushioning while thrashing the trails. When wearing these I was able to storm down the hills much faster than usual on harder terrain. Don't let winter stop you running.
Compare Prices for On Cloudventure Waterproof
On Cloudventure Waterproof Reviews
On Cloudventure Waterproof 2019 Review
---
2. Salomon Speedcross 5 GTX
The Salomon Speedcross 5 GTX is the latest waterproof edition to an extremely popular shoe amongst runners who love to get dirty on the trails. It's a lightweight trail shoe, especially considering it's waterproof and offers a very aggressive grip on technical, soft trails. On top of all that, the GORE-TEX® waterproof protection means your feet will stay dry as you run through puddles and snowfields, while your foot's heat is allowed to escape thanks to the highly breathable construction. This shoe offers tons of support too, which makes it a popular choice for hikers who don't want the bulk of a traditional hiking boot. And finally, there's the Quicklace adjustment system that so many people love as it's so fast and easy to do up and doesn't come loose as standard laces can.
Best Price for Salomon Speedcross 5 GTX
---
---
Trail Shoes For Smooth Buffed Trails
1. ON Cloudventure Peak 2019 – (2ND GEN)
The On Cloudventure Peak is a trail running shoe, designed for moving fast in the Mountains. On has added some significant new design features to their 2nd Generation Cloudventure Peak! The new Missiongrip outsole has been improved in terms of 'trail-feel', cushioning, grip and durability, all the while maintaining the same lightweight of 260g. The breathable ripstop upper mesh is still there, albeit redesigned but still weighing next to nothing. The Cloudventure Peak is also a top contender for the Racing Trail Shoe Category above.
Equally ranked for buffed trails would be the Nike Pegasus 36 Trail, an excellent all-rounder!
On Cloudventure Peak Reviews
On Cloudventure Peak 2019 Review (2nd Edition)
Interested in learning more about the ON Running brand? We have the largest collection of in-depth and professional On running shoe reviews on the web.
---
2. Inov-8 Trailroc 285
The Inov-8 Trailroc 285 works particularly well on hard ground due to its exceptional foot plate that protects the bottom of your feet. And because it also performs well in wet conditions it became our chosen all-round trail shoes for most of 2018.
Price Comparison for Inov-8 Trailroc 285
Inov-8 Trailroc 285 Reviews
Inov-8 Trailroc 285 Men's Review / Inov-8 Trailroc 285 Women's Review
---
---
Barefoot/Zero Drop Running Shoes
If you've heard about barefoot running or the use of zero drop running shoes before, then you've probably also learned that they come with various benefits. Sometimes referred to as minimal running, this is the art of re-aligning your running style to a more natural and efficient one.
Zero drop running shoes allow you to run with a zero drop (from heel to toe), whilst still providing protection from the trail or road surface under-foot. To learn more about barefoot running and how you can practice it, have a read of our easy to follow guide: The Freedom of Barefoot Running: How-To Guide
1. Altra Lone Peak 4
The Lone Peak 4 has a new upper with an integrated tongue that has static webbing for better cinching when doing up the laces. Breathability is also improved over the last version by way of a draining mesh in the heel and forefoot and the lugs have been re-carved for improved traction and reduced weight. We are fans of low/zero drop running and the fact that they stick to their guns by creating zero drop shoes is a major reason why Altra has such a large fan base of repeat buyers!
Price Comparison for Altra Lone Peak 4
---
2.  Xero Shoes Terraflex
The Xero Terraflex trail running shoes are a very affordable way to kick-start your "barefoot" running journey. They have so much flex in them, allowing full movement of your feet when navigating the trails. Running with a zero drop is a strange feeling at first but if you stick with it, as I have then you'll probably learn to love it and hopefully you'll start to see injuries becoming a thing of the past.
Price Comparison for Xero Terraflex
Xero Terraflex Reviews
---
---
Running Shoes For Tough Mudder & Spartan Events
Uhh ohhhh! Have you just signed yourself up for a Tough Mudder or Spartan? You're in for a world of pain… and fun, don't forget the fun part, albeit "type-2 fun". ? The two most important things to think about when choosing a trail running shoe for these types of events are:
Will water pass through the shoe and will it dry off quickly?
Is the grip good enough for thick mud or the obstacles when the shoes are wet?
I have first hand experience of what works and what doesn't during these obstacle course events and it tells me that these shoes will get you through like a champion. Share this article with your team mates because you don't complete one of these events until your whole team crosses that finish line. Hoo Rah!!
1. Salomon Speedcross 5
The Salomon Speedcross range has long been a popular shoe amongst runners who love to get dirty on the trails, but also for hikers who don't want to wear heavy hiking boots. To any hikers looking for a lightweight shoe as an alternative to a boot, I always point them towards the Speedcross.
The Speedcross 5 is a new release and it promises all the same features as the beloved Speedcross that came before it, with even more grip, even more stability and even more dynamic uppers. They take rugged off-road performance to another level.
Compare Prices for Salomon Speedcross 5
---
2. Salomon S-Lab XA Amphib 2
The XA Amphib 2 is one shoe, in and out of the water. This is a true Swim-Run racing shoe designed by and for the athletes in the sport. It's fast and super efficient both wet and dry which is why it's the perfect shoe for OCR events. They drain so well that you'll be able to wash these off after your race and they will still look and feel new, just as well because they aren't cheap.
I ran 2x Tough Mudders in my Salomon S/Lab Sense SG trail running shoes but only because the XA Amphib 2 didn't exist back then! This is a unisex shoe so if you're looking for the women's version, it's on the same link below. Here's a video of one of those Tough Mudders: Tough Mudder South West Video.
Price Comparison for Salomon S-Lab XA Amphib 2
---
---
Best Shoes For Vertical Kilometer (VK) races
A Vertical Kilometer is an uphill mountain running race, which ascends approximately 1000 meters while covering a distance of no more than 5km. The spelling is in the European format ('kilometer', as opposed to 'kilometre') and it is often referred to as a 'VK' or 'VKM'. There is nothing quite like a Vertical Kilometer, at times you'll feel like your heart is going to pump out of your chest, while at other times you may experience vertigo due to the steep and technical nature of such races. Whatever emotions you end up experience, make sure you're not thinking that you wish you had the right shoes for such a challenge.
1. La Sportiva VK
The La Sportiva VK is a Mountain Running® Shoe created specifically for Vertical Kilometer endeavors. This shoe was designed in collaboration with the VK world record holder – La Sportiva Mountain Running® athlete Urban Zemmer. This purpose-built lightweight trail running shoe is specifically for short, steep trails. It's a snug-fitting shoe with seamless uppers to hug your feet as you go, although designed to be snug, it's recommended that you go half a size up to get a better fit. The toe cap and rock-guard at the forefoot offer rock protection while the lightweight rubber sole helps you conquer steep trails, quickly.
The versatile tread will help you get your footing on rocks and mud alike, two very common terrains on a VK.
Best price for the La Sportiva VK
---