If you want to start running now but you've never run before then you may wonder whether it's even possible for you to take up running at 40 or beyond, given that you didn't start sooner at school, your 20s or 30s even.
Like many people contemplating whether they can start running at 40, you've probably heard of the many benefits of running but may have hesitated to take that step of taking on a new running program, buying a pair of running shoes and getting started on that journey.
Well, by the end of this post, I promise you you'll feel encouraged, motivated and inspired to take on our beginner-friendly couch to 5k running training plan and see that yes, it's possible to start running after 40… and even learn to love it.
How to start running after 40
Not too long ago, someone very close to me who is a Mom, in her 40s, expressed an interest in taking up running.
The versatility and many mental and physical health benefits of running are well-known, and she wondered if maybe – just maybe – she could become a runner, despite having never run before or considering herself to be athletic or sporty.
After some discussion and encouragement, she promised me that although she didn't feel like she could actually run, or learn to love it, she would give our Couch to 5k training plan a go – and to top that, she'd keep a training diary to document her experience along the way – including the challenges as well as the more enjoyable aspects.
In this post, I'm sharing her full running after 40, couch-to-5k training plan journey.
If you find yourself reading this and needing some inspiration and encouragement to get out and give running a go, then I hope her experiences help give you the encouragement you need to do so!
Running at 40 and beyond: A couch to 5k runner's diary
Week 1 Run 1 (Tuesday)
I went running for the first time today. There's a path going around my neighborhood and through some green space which I thought would be ideal.
I felt so self-conscious in my yoga pants – even the houses seemed to be judging me as I alternated between the timed running and walking intervals my training plan sets out for each run-day (3x a week).
Plus, I hadn't accounted for the hills… aargh! Now I am aching and out of breath. I am so pleased I've made a start, though.
I have been wanting to start running but have never been any good at it.
I ate some lentil dahl when I got back as I've heard protein is good after a run. Tomorrow is a rest day, thank goodness.
Week 1 Run 2 (Friday)
Today's run was easier, but I am still aching from that first run two days ago. I did warm up and cool down stretches and I think they made a big difference, though.
For today's route, I ran around my garden – it meant lots – and I mean lots – of small loops around the perimeter, but it solved the slope and privacy problem and I didn't need a babysitter.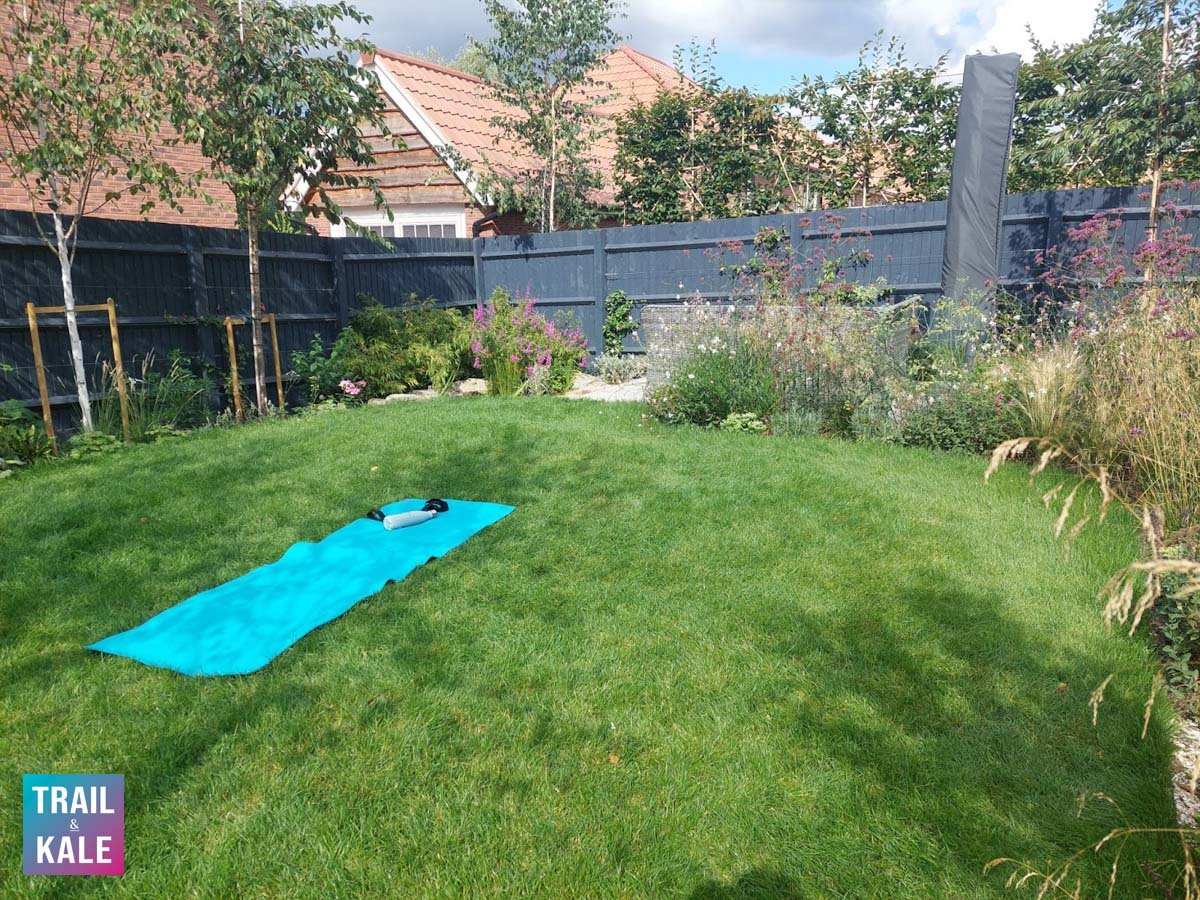 Week 1 Run 3 (Sunday)
I can't believe I have completed a whole week of running, but today was an absolute killer. I almost didn't do it but then I reminded myself it is going to be really hard before it gets easier and I need to keep going.
I've experienced no breathlessness since the first run – those warmup stretches and running on flatter ground make a real difference.
I am aching and itching and sweating all over including my face but am feeling amazing – it turns out I can run, and I'm doing it! Could this be the 'runners' high' I've heard people talk about?
I have turned my garden into an outdoor gym and running arena – using my patio doors as a mirror for exercising.
I ran around the grass, up along the stones next to the pond, across the patio, along the terrace and down the step, then walked around the lawn area.
I thought it would be too small an area but it worked well.
I do find myself wondering how long it will be before running gets easier. I asked Helen (Trail & Kale) and she tells me 'it will get easier quicker than you think – but if you keep trying to run faster then it doesn't get easier, you just get faster at it!'
Week 2 Run 1 (Tuesday)
Today was… tough. It felt like the first run again!
Apparently the body takes 10 days to adapt to a new running routine, so on day 7, mine still hasn't adapted to the first run yet and the couch to 5k training plan I'm following has increased the run durations and reduced the length of some walking intervals.
Week 2 Run 2 (Friday)
Really busy day today as we had visitors so I'm really pleased that I stuck to the training plan and still squeezed in a run and some cross-training (yoga) in the backyard.
The weather was lovely and warm, which helped.
Week 2 Run 3 (Sunday)
I have had to find a new place for my running workouts as there is now a visible running track all around the edge of my backyard lawn.
I think I have found the perfect place – a park with some natural wooden play structures in the middle for the kids, and a running track all around the edges for me.
The children came with me but they gave up before we reached half way – I must be making progress!
Week 3 Run 1 (Tuesday)
Really hard today. I am having to use less area at the park as I have a small child to supervise on the play equipment whilst running.
When you're the Mom of young children you have to get creative and adapt to get things done, and this is especially so when you start running after 40!
The map of my run route on my phone afterwards looks like a child's scribble with all the running backwards and forwards and it started raining just as I was completing my cool down exercises.
Strangely I haven't ached at all since week 1 and I am now completely addicted to exercise videos.
I'm seeing some progress and that is really motivating me to continue with the consistent running routine and see where it takes me.
Week 3 Run 2 (Friday)
My body feels longer and I find myself stretching gracefully to do everyday things. I have noticeably more energy and am filling my "rest" days with yoga and strength activities.
I do have a slight crick in my neck but I am sure that is just from watching TV or sleeping awkwardly.
My jeans are baggy in strange places. I took the children with me to the park for my run today.
The run was really challenging and my butt is aching (apparently that's a good thing as it means I am activating my glutes with proper running form), but I came away with my skin glowing from the increased circulation.
Week 3 Run 3 (Sunday)
I don't have a six pack yet, but I am sure I am looking more sculpted and athletic. I can see dips and I feel taller somehow.
I am sure my posture has improved and I feel more graceful when I walk and even run.
Week 4 Run 1 (Tuesday)
I'm feeling really breathless after my run and my butt and legs (especially the front of my thighs) are really aching.
I keep telling myself to take it one step and one run at a time.
This is the mental game I am playing to get these runs done – apparently that's how marathon and ultra runners get through those long endurance distances, so if it works for them, it can work for me on my 5k journey!
I'm feeling really tired today but it's probably because I've been burning a lot of calories with the increase in cardio exercise. No wonder I am tired and a bit peckish!
Week 4 Run 2 (Friday)
I am feeling good now as I have completed my run for today and it's only lunchtime, but it was a tough one. The air is a lot colder outside now.
I can't see my breath yet, but I must wear a long sleeve top. I'm feeling quite conspicuous running in public still and my house keys make an awful bulge in my pocket. I think it makes me less streamlined. Next time I will bring a single door key.
I understand why runners have those special drinking packs [Running hydration packs and belts!] now – you can't really bring a standard water bottle when you are running.
I think I will have a change today and run towards my local shops, turning around halfway rather than running in circles. The pavement looks so level from the car. Not so.
I feel every slope, sometimes having to cross over the road to keep going and that is tricky with traffic. I try running on the spot whilst waiting for the lights to change.
Halfway gets me almost to the shops; I turn around and start heading towards home.
My usual running park is on the way so I call in to finish the session there but even there the ground is not flat at all.
I feel every slope and have to keep repeating to myself over and over "one step at a time, one run at a time. You are getting stronger and fitter with every step."
By the last run, I am breathless and almost limping along, dragging one foot in front of the other but I am determined to run the course and get to the end.
I am so relieved when I make it to the final cool-down walk. By that time, I am breathless, my nose is running and I am coughing all over the place.
Doing 5 minutes of cool down stretches after the last walk saves me and calms my breathing. My shoulders are aching as well as the tops of my legs but not in a bad way. A kind of reassuring toned and "you've worked hard kind of way".
I am feeling and looking more toned – 'just like a Michelangelo statue', I smile to myself.
I am more confident now and what will help now that I've started this new exercise routine is some new running and yoga clothes. Time to go shopping.
Week 4 Run 3 (Sunday)
After breakfast and 10 minutes of yoga I hit the road.
The air is cold, my eyes are streaming and my nose is running but my head is held high, and I am wearing my new running leggings.
I am a machine, one foot in front of the other in time to the beat running through my headphones.
With just my single key and the silhouette of my phone in my pocket I am more streamlined than ever. I tell myself that yes, I am an athlete.
I make it through the second run and am actually disappointed that it's then time to slow down for a walk. I am on fire. I nod knowingly to the other runners, it is 9 am and we are getting our morning fix before we start the day.
Yes, I am a runner.
I end the session elated, like an athlete at the finish line, I stretch my arms in the air and finish with 5 minutes of cool-down jogging and stretching.
I have all my breath and boundless energy in reserve. For one crazy second I consider doing an activity workout video but then come to my senses and walk home.
Week 5 Run 1 (Tuesday)
I see my runway stretch before me across the vastness of the field.
I am feeling a little nervous as the first run of the week always seems to be the hardest, especially as I have had 2 days off. I expect to feel breathless by the end.
I am away from my home turf but it is an old haunt. It is a large field with a track going all the way around and beautiful mature trees.
There is also a coffee shop and I am going to reward myself at the end.
I am running now and whilst the ground seems to always slope up, I feel amazing. I can do this.
I keep going, one foot in front of the other slowing down or speeding up as dictated by my training plan for the day, and at the end aim for a single tree and visualize my finish line. I feel so happy and sociable and I have all my breath.
Three 5-minute runs complete. It is going to be a great day.
Week 5 Run 2 (Friday)
The air is cold, and my fingers are freezing – I need running gloves.
I have no idea what to expect today, just that each run this week will be unique and it's a big step up from last week.
I start the warmup walk but realize I have forgotten the stretches so I go back to complete 10 minutes of yoga in the garden and then set out once again.
I am going to try my original route when I first started out, and head out from my front door towards the shops. It is going to be 3 runs today, of 7 minutes each.
The most I have run at once is 5 minutes.
By the time I am into my first run, my nose is streaming but I am pacing myself in time with the music. I feel amazing, dipping under the tree branches – nothing is going to get in my way today.
I breathe easily, head held high and use the grass verges wherever possible, but the grass is still wet with morning dew.
I feel buoyant and light, flying along and confident, only to take a psychological nosedive when I look at my watch and realize my I am just halfway through the first run.
I am dragging my legs forward now, one foot in front of the other, "just one step, just one step" until it occurs to me that I am running up hill now and that is why it is hard.
I need to cross the road, find a gap in the traffic and now I am running in the middle of the road.
I dart across and make it to the other side, easily without slowing my pace. I pick up again now and I am going downhill. I am a runner.
I am overbrimming with confidence and energy, like a small child; I will feel restless until I run this off.
I get beeped and waved at twice before I get halfway; I then head for home.
The second run is much harder but feels shorter somehow.
I know a downward slope is coming since I am doing my outward journey in reverse. By the end of the last run I am a little breathless but feel exhilarated.
Just one run left to go this week. I enter the house and everyone is still in pajamas or having breakfast.
I smile to myself – it is going to be another amazing day and later I am going for a walk up the hill.
Week 5 Run 3 (Sunday)
The air is much colder this morning but I have done my warm up stretches and I am wearing my running top with built in gloves. I kick off the running music.
I am going to tackle three 8 minute runs with just one minute of walking between them.
I am expecting today to be really difficult but I put that to the back of my mind as I set off towards the shops.
My legs are aching down the back of my calves as soon as I pick up the pace and I begin to regret yesterday's cycling trip.
I keep loads of energy in reserve as I know I might need it on the way back. I think halfway is going to take me almost to the shops so I just focus on making it there to start with and set targets such as just to the next lamp post or tree.
I am dragging one foot in front of the other ignoring the aches which are moving upwards all the way up the back of my legs.
It is windy and the wind is blowing towards me although at the moment I am running down hill which is ideal as my body is just warming up. "I have trained for this; my body is fit and ready and I believe in my coach and me."
I know that the shops should be in sight by halfway so I resist the temptation to keep looking at my watch to check progress.
I keep going, and can't believe it when I make it to halfway, and whilst it is challenging I still have plenty of energy and breath to turn around and keep going.
I imagine I am on a treadmill and it keeps moving so have to keep up with my feet and I keep focusing on just the next tree.
On the way back I push myself harder, faster, racing the cars but then pulling back into pace to ensure I can last the whole session.
Once it is time to slow down I feel ecstatic, and I can't believe how far I have come.
Week 6 Run 1 (Tuesday)
There are four of us out here today hitting the track. The ground is wet, it is still raining and the sky is grey.
I am worried I might slip and fall but this is my only chance to run if I want to do it today.
I am wearing a long raincoat – it will have to do and I make a note to myself to research waterproof running jackets for future runs in wet weather.
I have cut the warmup yoga stretches to 5 minutes and I hope it is enough.
Once I start my run, my shoulders and legs ache a little but now my movement is smooth and fluid and I am light of foot.
Time on this run passes quickly and then I am out of there and back in the warm. My cheeks glow with heat even after my post-run cooldown.
Week 6 Run 2 (Friday)
I'm excited and raring to go today; the ground is still wet but the sky is bright blue and the sun gleaming. I zip up my hoodie and head towards the shops.
Breaking into my first run I feel a wave of energy rush through me, flushing my cheeks. I am overflowing with energy but rein myself in – I must keep some for the way back.
I pity the drivers sitting in their cars, stuck in traffic whilst I am running free. Elated, I can't stop smiling as I am getting my morning fix.
There are 3 runs today, each 10 minutes long, with a short walk in between.
My route's usual cut-through is completely blocked off by roadworks but I am undeterred and find a way around.
I zone into the music and am no longer counting the time. It gets harder towards the end of the first run as the incline changes and I am feeling hot so unzip the hoodie.
Then I see a runner coming towards me in the distance and that spurs me on. The second run is all uphill, like an elevated treadmill, a continuous slope towards the downhill walk home.
I keep going, slowing now but feeling elation like I am in a nightclub, absorbed by the music, seeing the dancing shadows. I raise my hands in the air to join them as I push towards the finish and feel the cool breeze rushing through my hands.
Week 6 Run 3 (Sunday)
I am battling a freezing wind and self-doubt – dreaming that it was 2am and I was working all night did not help.
The sky is white with clouds and only a hint of sun attempting to break through.
I feel heavy today and it's hard to overcome the psychological block to achieving two 15 minute non-stop runs, but I face into the wind and move my feet, one step at a time focusing only on the next streetlight or bench.
I know roughly where halfway will get me now, except I am running further so I will overshoot the usual mark.
I am on the downslope, knowing that every downhill now will become an uphill on the way back.
I try to focus on the music just like I did 2 days ago and that helps, stop thinking about the time, focus only on the music and destination and how I will feel when I have completed the run. I have trained for this.
Relieved to finish my first 15 minute interval, meaning I've made it half-way, I unzip my hoodie and turn back towards home.
It is all uphill now, but I am determined, using every ounce of will to drag one foot in front of the other along the cracked and beaten track.
I put my last reserve of energy into the final 60 seconds and then slow into a well deserved cool down walk.
Week 7 Run 1 (Tuesday)
I am using a treadmill today – smooth!
It feels so easy with the incline set to zero – feel a bit like I am cheating.
I later learn that it's best to set the treadmill to a slight incline for running – for whatever reason this makes it feel more like running outdoors.
It is strange looking at my running watch and realizing running 5 minutes is 'only' 5 minutes and no big deal any more.
20 minutes of straight running followed by a break and a further 15 minutes, and it is a breeze. Sooo different to my last run.
Week 7 Run 2 (Friday)
It's freezing cold but the sky is blue and not a cloud is in sight. I can hear the birds even though I am my wearing headphones.
I feel my upper leg muscles aching with a slight burn like when you catch the sun as I walk uphill.
I'm excited and looking forward to running towards the shops – I want the challenge and to push myself. I will keep the treadmill for rainy days.
The ground is tarmacked, bumpy and uneven. I use the grass verges where possible but they are wet.
It's another 20 + 15 minute run again and I know exactly where it will start and stop by the familiar landmarks and which tune I am on. I start running and glancing to the left, note that the cut through is still blocked. I wonder when it will reopen.
I am prancing and dancing at the side of the road now, jogging on the spot and trying to cross as a whole queue of traffic is proceeding through the road work obstruction.
I run lightly past oncoming vehicles stuck in traffic, slow and steady holding the energy back in reserve. It is much harder today.
I wonder if it is due to the strength exercises I did yesterday or maybe the slopes make that much of a difference.
I'm dragging my feet a bit and my eyes are streaming in the cold with tears running down the sides. The time doesn't bother me as I have done this duration before.
I make it past a landmark which tells me I am almost at the halfway point and that spurs me on a bit as does spotting other runners now and then. The sun illuminates and warms my cheeks as I proceed uphill towards home.
The music tracks are skipping all over the place like the old CDs – I didn't think mp3s could do that. Maybe it is the internet connection? I remove my zipper top as I am really hot by this point.
Tying it around my waist it slows me down and then my headphones get pulled out of the socket and I am grappling about. I make a note to treat myself to some wireless headphones that are actually designed for running.
A runner passes me and then I feel the urge to sprint to catch up. I have so much energy and speed in reserve but no, their pace is much faster than mine for now. I am building endurance to run longer, speed will be for later.
I wonder what setting the treadmill would have to be on to mimic the hill I am running up. Quite high I think.
There is something reassuring about knowing you are getting a real workout and one that is out of your control so you can't just dial it down and cheat. You have to keep going.
I can see the appeal of the treadmill though. So smooth and fluid and then that lovely light feeling like you are floating on clouds when you step off.
Week 7 Run 3 (Sunday)
I want an easy run today as I am really tired, so I'm hitting the treadmill. I have set it to 1 degree incline to hopefully mimic a flat outdoor run.
My new wireless bone conduction headphones have arrived and I want to test them out. Such freedom not having wires & so weird that I can still hear everything as well as the music because they don't cover my ears.
My body has evolved. I am slim and toned and I can see dips along my arms. I tell myself I am training for peak physical condition now, mental and physical strength. I am Sarah Connor from terminator! haha.
I never thought I could run, let alone like this; I feel amazing.
I allow myself to drift into the centre of the treadmill. Running is effortless at this moment and I swing my arms to propel myself forward. I push the speed up to level 8, then 10 when I have only 3 minutes left.
My running watch buzzes 10,000 steps and I am on a high, full on adrenalin rush and my phone starts playing the last track of my playlist so I know I am nearly at the finish of a total of 25 minutes running.
I wonder how fast I can push the speed with only 1 minute left to go. Could I go to 14 ? No, maybe not yet. I don't think I can hold a conversation but wow I can focus.
With only 1 minute to go I drop the speed to 8 and then into a walk.
Week 8 Run 1 (Tuesday)
It's cloudy and cold. I'm tired and not so motivated especially at the thought that today I'm again reducing my mid-run walking interval duration. I set the incline to "1" as before but keep the speed quite low.
My thoughts keep wandering to stuff I need to get done. I am struggling to focus. Must focus. Must keep pushing myself.
I visualize my muscles strengthening and getting fitter with every step.
I am swinging my arms now, propelling myself forward, machine – like. One step at a time, zone into the music. It is working.
I spend most of the second half at speed 7 but increase to 8 towards the end. My goal is stamina, not speed. I try to vary my movement to make things more interesting.
The circuit picture on the treadmill's screen reminds me of the game 'Snake' on the old Nokia phones. Maybe I could vary my speed in interval. I swing my straight arms from side to side.
The machine stops as I have accidentally pulled out the emergency cord. Annoying.
I plug it back in and swing my straight arms backwards and forwards again. Now I am crashing into the display unit and drifting back too much. I am out of pace – I need to get my speed in sync with my step. I hear my usual end song but I have to keep running.
Just one more song, then I can slow down to a walk.
All done. Relief. Sweat clings uncomfortably to my legs and my knees itch.
Week 8 Run 2 (Friday)
Every day I admire my increasingly toned body and I make a choice.
Do I keep the gains and continue to evolve, or do I let it go, disappear into the ether like a dream? I can see the dips and grooves forming in my thighs and calves, sculpted.
The sky is grey and uninviting, and it threatens to rain. What will I choose?
Do I want to chance the rain but morph into the athlete I will become or skip the run and watch my beautiful new muscles melt, spinning off the potters wheel? The choice is easy now.
I start my pre-run stretches with focus, poise and drive and get my running shoes and outfit ready.
I now have my own running hydration pack to carry my water, phone and waterproof jacket with ease. My water bottles are strapped to my chest, the weight of the water comforting and reassuring.
I break into a run easily now; the air is cold, racing across my fingers and the wind pushing me back, but it is so exhilarating.
I see birds everywhere and the music flows through me but I can still hear everything around me as I'm wearing bone conducting headphones.
Slow and steady, it is not a race. I am getting fitter, stronger and my stamina is increasing with every step.
I hear the penultimate song and soon it is time to slow down to a walk. It seemed to go so quickly today!
Week 8 Run 3 (Sunday)
Today is the day I am going to reach my target. Today I will run 5k non-stop, or at least that's the plan.
I choose to do this run on the treadmill. It's cold, wintery weather outside and a treadmill will keep me running non-stop, with no road crossings to contend with.
Already I am halfway, I can't believe it.
I realize that the first 10 minutes are the hardest and once you get beyond that it is plain sailing.
You just need to overcome the psychological barrier EVERY SINGLE RUN.
I increase the pace because I'm feeling really good, confident that I can even do this run faster than planned. Before I realize it, the treadmill reads 4.77km and I am almost there.
MUST READ: How to Run Faster: Tips and Techniques for Improving Your Running Speed
I can't believe that really short runs were so hard only 8 weeks ago.
I feel the sweat all over me and wonder what will happen if a bead falls on the conveyor belt – I hope it doesn't electrocute me – is that a thing? I guess not.
I maintain a steady pace mostly right until the final minute and then push the speed up as far as I dare. Sometimes it feels as though time stops and I will never reach the end of the run even though I have plenty of energy in reserve.
Runs can seem easier to do so outside somehow where there is an actual destination – home, not an endless loop on a screen.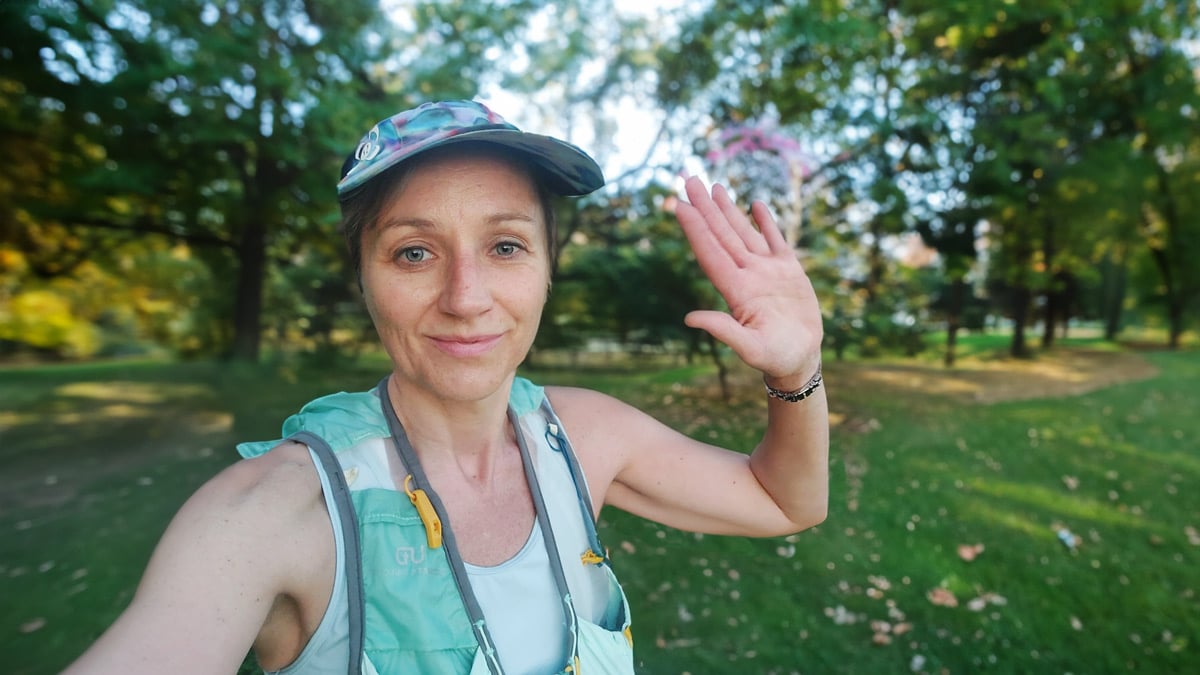 I make it to the end, finishing 5km and doing a 3 minute cool down. I am proud to call myself a runner… and I can't believe it – a 5k and 30 minutes of non-stop running, and I feel so comfortable in my own skin!
Once my face becomes less red from the effort of running my first 5k, I reflect on the fact that I have the endurance to run for 30 minutes straight.
Wow, not bad, I think to myself. I've completed the Couch to 5k. What's next?
For some reason I feel compelled to set some new running goals and seek out a new training plan to help me achieve them. There's no way I'm going to stop now I've come so far!
Speed – yes, speed, I think to myself. I make a note to work on running faster, and set about some new goals for my new favorite sport.
---
Can you relate to this story of starting running in your 40's? Share your own story about running after 40 in the comments below.
For more inspiration and advice for new and experienced runners alike, head over to our Running 101 page. If you're a new mom then you may also enjoy these tips for running postpartum.