Welcome to our Best Winter Running Jackets guide, which features top lightweight waterproof running jackets for all types of running and hiking activities, including trail runners, ultrarunners, fastpackers, and hikers, as well as everyday running on pavements and run commuting.
Although more popular in cold weather months during Fall and Winter, a good quality running jacket designed to keep the wet and cold out will look after you year-round and is one of the essential items of running clothes for most men and women runners who want to run all year – whether it's raining or not.
If you're short on time and would just like to know my top picks, here you go! The best winter running jackets right now are the Salomon Bonatti Waterproof Jacket in the top spot and the Arc'teryx Norvan in second place.
Because winter running jackets are usually expensive, it's important to invest in a durable and breathable running jacket that will last long enough to give you good value for money and of course, perform as expected without letting rain in – and keeping you warm in the process.
That's especially true if you're trail running and far from somewhere you could go to get warm and dry.
A jacket is also often a mandatory item of gear on many mountain running races, so it's worth investing in a good quality one that will help keep your core temperature up, and you (relatively) warm and dry.
---
Key features of all great waterproof running jackets
When buying your next waterproof running jacket there are a few essential features that you'll want to look out for, and these features are my ranking criteria for this 'best-of' list.
For a waterproof running jacket to be GREAT and deserving of a place on our list, it must be:
1. Fully waterproof (not just water resistant)
If the product marketing says water-resistant or water-repellant, or that it's a 'rain jacket' then it may not actually be fully waterproof.
Most winter running jackets that are actually waterproof will be made waterproof by the application of a DWR (durable water repellant) coating, like a lot of other outdoor clothing and gear designed to perform in wet conditions, so look out for this when selecting your jacket.
The jacket's specifications or label may also say that it is made with GORE-TEX, if that material is used.
2. Lightweight & Packable
Avoid being weighed down by a running jacket that absorbs water, even if it keeps you dry underneath.
The fabric should be a very thin, lightweight, technical material.
We suggest layering warm midlayers underneath, if additional insulation is needed, rather than buying a very thick insulated waterproof jacket that will be bulky to pack and carry when not worn, and not useful in warmer wet weather where you need water protection but not insulation.
3. Breathable material
At some point, you're going to be running in the rain while the temperature isn't crazy cold, like in Fall, Spring, and Summer when the cold weather has gone, for example.
A breathable running jacket will ensure you don't overheat while running by helping moisture (i.e. sweat) pass away from your body.
This is a really important feature for running jackets given you'll most likely be wearing them in wet weather but also generating your own moisture that the running jacket needs to be able to help evacuate.
4. Form-Fitting
Extra wind resistance from loose-fitting running jackets and pants while running is a real 'drag', especially on a wet and windy day.
Make sure your jacket fits your body's frame closely, if that means you need to drop down a size, consider it.
All of the winter running jackets in this list have the important features listed above, so whichever one you choose, you'll make a good buying decision.
All these jackets are impressive so your final decision may actually come down to price, or how stylish you feel the jacket looks.
---
Men's vs. women's winter running jackets
This post includes the best winter running jackets for men and women.
Women have different body shapes, and so they deserve better-fitting specific women's running jackets.
Also if you run with your dog then consider if they also need a dog winter jacket to help keep them relatively dry and warm, too, or simply a reflective dog collar to help them be seen in the dark and low light conditions.
This list of the 'best men's and women's waterproof running jackets' is continually updated, so make sure you check back before buying your next winter running jacket.
---
The best waterproof running jackets for men and women
1. Salomon Bonatti Waterproof Jacket ($180)
"Best Running Rain Jacket"
The Salomon Bonatti lightweight winter running jacket is a minimalist waterproof running jacket that checks all the boxes for technical trails: stay dry, stay fresh, and run light.
It's built with technical fabric engineered to deliver weather protection with less weight. This running jacket also has a fitted hood, waist adjustment, and reflective details as well as elastic cuffs to protect you from harsh conditions like driving rain.
It also packs down into its own zippered chest pocket for compact storage when you need to stash it in your running hydration pack, and another cool feature Salmon has introduced is the extra volume on the back of this lightweight running jacket to allow for enough room for your hydration vest to be worn underneath.
Everything about this waterproof running jacket has been thoughtfully designed, and this style has protected me personally from the elements over many wet long runs and mountain ultramarathon races.
Weight: 5.3oz (150g)
By the way, if you're going to be running in the rain, then you're probably going to get wet shoes! Here's our guide to drying shoes out quickly (without damaging them) – bookmark that post for a rainy day!
---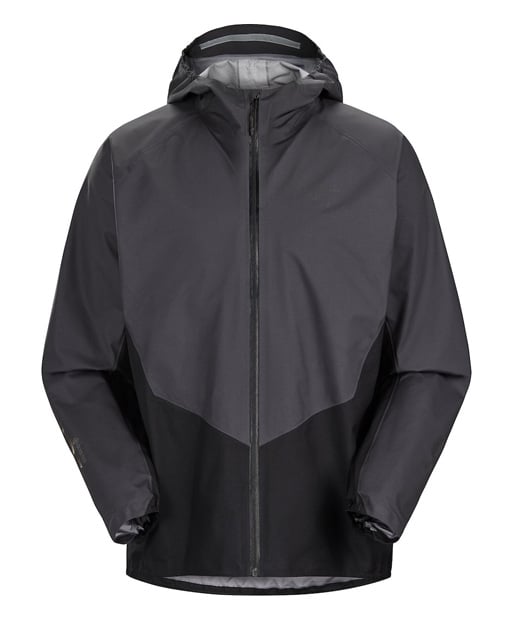 2. Arc'teryx Norvan Shell Jacket ($400)
The Arcteryx Norvan Shell Jacket is a high-performance waterproof jacket that's designed to be ultralight and compact, crafted with a minimalist approach, using advanced construction techniques and lightweight materials to shave off every gram possible.
Waterproof, windproof, and breathable, this GORE-TEX jacket delivers environmental shelter without compromising on comfort as it's also very breathable (for a waterproof running jacket) making it an excellent choice for high-output activities.
The low-profile hood adds coverage and versatility, providing a shield when the weather takes a turn.
Other great features including the low-profile hood, reflective elements on the cuffs, chest, and hood, and embedded RECCO reflector, which is a potentially life-saving technology that can aid in backcountry search situations.
Weighing in at just 190g (6.7 oz), it's available in sizes from XS to XXL and packs small when you don't need it. This is important when you have other trail running essentials that you may need to carry with you on your run.
While not the cheapest option, considering its high-end materials, advanced technology, and impressive performance, it's a worthwhile investment for runners who won't let challenging weather or terrain stand in the way of their training – making it an excellent addition to any mountain lover's hydration pack/vest, especially if moving fast and light is your jam (like it is mine).
Weight: 6.7oz (190g)
If you are planning on running at night and need a running headlamp for those runs, check out our buyer's guide to the best running headlamps.
---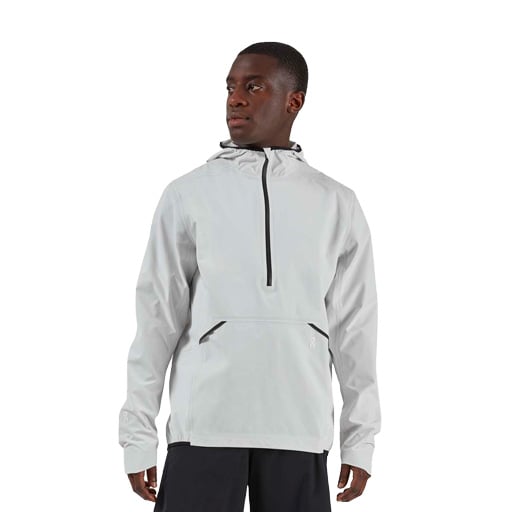 3. On Waterproof Anorak ($360)
The On Waterproof Anorak running jacket has many practical features that will keep bad weather out while still allowing for airflow and breathability, including hidden vents that let air flow, but keep the rain out.
It packs down into its own inner pocket ready to be stashed into your running hydration pack at a moment's notice, with ease.
We like that the materials used in this rain jacket have been responsibly chosen. The advanced waterproof membrane is not only breathable, stretchable, and durable, but it's also entirely PTFE-free.
The fit of this On waterproof jacket is a bit looser than the slim fit styles of the Salomon running jacket in this list, which is good if you prefer a looser fit, or if 'slim-fit' apparel doesn't suit your body shape.
Weight: 7.62oz (216g)
RELATED READING: ON Running Reviews: On Shoes & Apparel Reviewed
---
4. Gore Wear R7 GORE-TEX Shakedry Trail Hooded Jacket ($240)
The Gore Wear R7 Gore-Tex Shakedry is another lightweight running jacket for any extremely wet winter running conditions where you need protection from the rain and wind and is available in men's and women's sizes.
It features ultralight and ultra-breathable materials, fully sealed seams, and packs down small when you're not wearing it.
With winter running jackets – and especially those that are ultra lightweight and pack down small, you get what you pay for, and this Gore running jacket is an excellent choice for wet fall, spring and winter running conditions, and year-round mountain adventures.
As well as making great rain jackets, GORE also makes exceptional cold weather running jackets like the R5 Gore-tex Infinium Insulated Jacket, at 8.8 oz it's one of the lightest insulated running jackets we've seen.
Gorewear gear is expensive but that's because it's some of the highest performance and quality running gear.
Weight: 6oz (170g)
---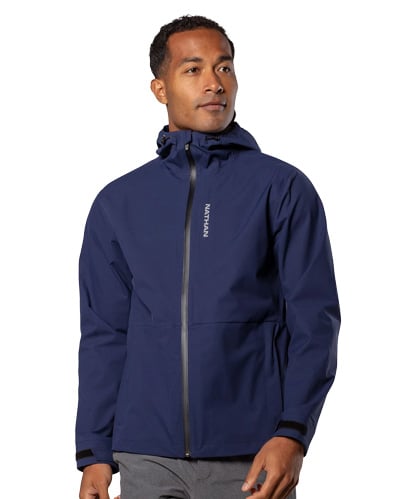 5. Nathan Rain Jacket For Running ($150)
The Nathan Protector Rain Jacket is Nathan Sports' most waterproof and breathable running jacket, with all the essential features needed to be a great waterproof running jacket.
At 11.3oz this rain jacket is certainly not the lightest jacket on this list (that would be the Salomon Bonatti) but this additional thickness in material does bring extra warmth and durability while running, and it comes at a more affordable price point, too.
The DWR coating gives this water resistant jacket great protection from rain soaking into the outer material. You can see this working in my Nathan Protector Rain Jacket review on YouTube.
This running rain jacket comes with taped seams, ventilation at the rear, adjustable cuffs, an adjustable hood, and 3 zippered pockets for storing your essentials – this includes the all important zippered chest pocket.
Weight: 11.3oz (320g)
---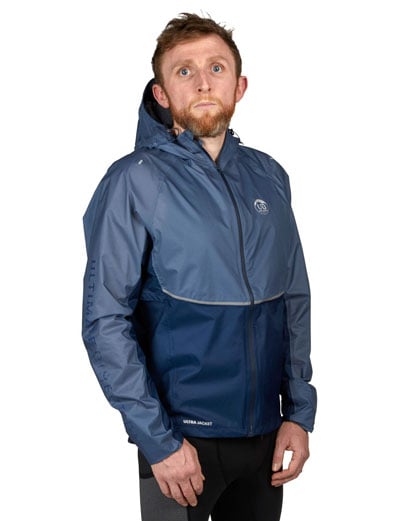 6. Ultimate Direction Ultra Jacket ($200)
The Ultimate Direction Ultra Jacket is their most waterproof and breathable running jacket, with a load of other features that make it definitely one to consider.
If you're looking for a technical running jacket that can handle big mountain running days, including trail marathons and ultramarathons, as well as those wet local runs on your usual routes, this jacket is great.
We particularly like the lightweight material (100% nylon), taped seams, and ventilation in the hood and pits.
Like most winter running jackets, this ventilation and the fabric's breathability help to keep you warm and dry without overheating.
With thoughtful features like the 'flip mits' which cover your hands to keep them warm and dry, it's clear that this Ultimate Direction jacket has been designed by serious runners, for runners.
Last Amazon price update was: 4th December 2023 2:30 am
---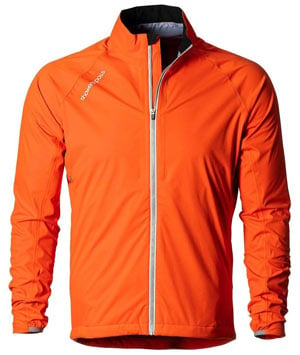 7. Showers Pass Cloudburst ($200)
Originally known for their range of cycling jackets, Showers Pass also offers a great quality waterproof jacket designed for being active outdoors in the rain – and that includes running.
The Cloudburst jacket has a slimline fit and doesn't have a hood, which is great if you are one of those people who don't like to have a hood on their jacket (as they can flap around).
It features waterproof, yet moisture-wicking properties, and good ventilation, meaning it offers great breathability and helps you avoid overheating or getting too humid when running in wet conditions.
That said, it has a nice warmth layer for running in cold weather when you actually want to maintain some of your body heat while running.
We're loving the vibrant orange color which helps you stay seen when running in low light (together with the addition of reflective details), and it's also available in a more understated gray.
Last Amazon price update was: 4th December 2023 2:30 am
---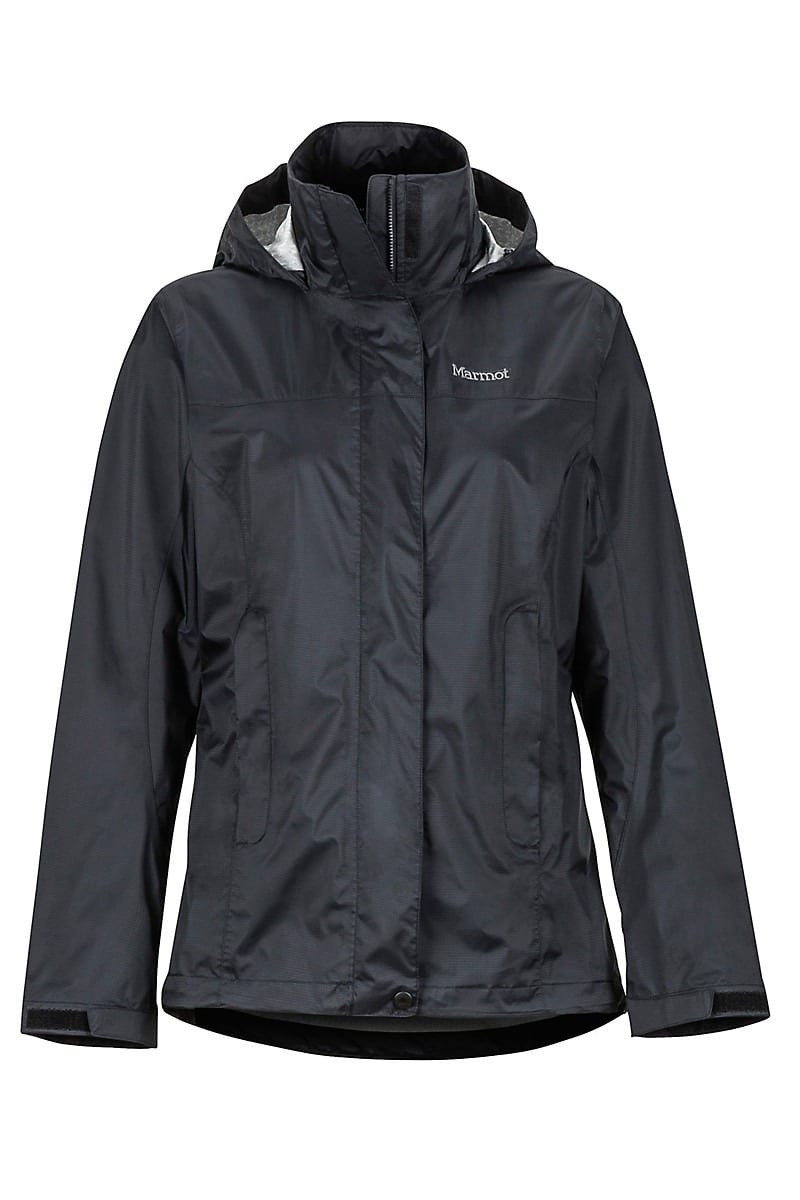 8. Marmot Precip Eco Jacket ($100, Budget Rain Jacket Choice)
This jacket is the eco-conscious version of Marmot's best-selling PreCip Rain Jacket. The Precip Eco Jacket is lightweight, breathable, and waterproof, and made from 100% recycled nylon fabric.
Similar to the other jackets on this list, the Marmot Precip waterproof jacket packs down small and has taped seams to help keep water out.
It also has a stowable hood, adjustable hem, and 'pit-zips' which can be undone to cool you down without removing the jacket.
The Marmot Precip Eco jacket offers great waterproof features, a large selection of color options, and is less expensive than some of the other options on this list – although it is heavier and more 'rustly' than some of the other options on this list.
It is suitable for trail and regular road running, as well as other activities such as hiking or commuting.
Weight: 11.4oz (323g)
---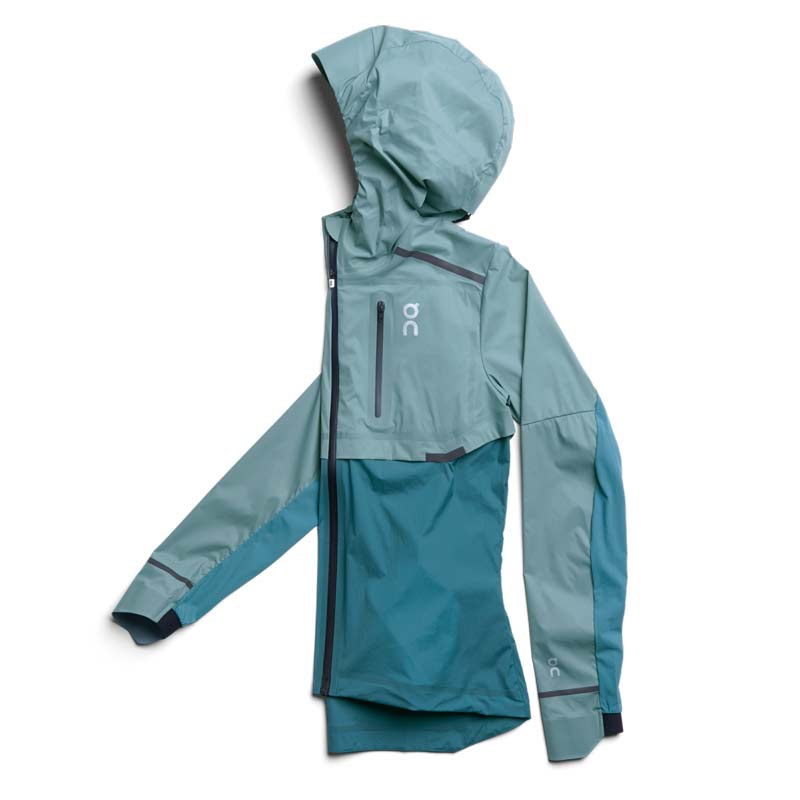 9. Also consider… the On Weather Jacket ($240)
To learn more about this On Running jacket, read my On Weather Jacket review next.
This running rain jacket weighs hardly anything and packs down small, and, as with other On Running clothes, the On Weather Jacket is a slim, flattering fit.
It is also very well-designed to stay on your head! An adjustable toggle at the back tightens the fit, a built-in semi-rigid visor shields your face from the elements, and the shape of the hood fits my head.
This jacket, however, will not hold up to a heavy rainstorm due to the stretchy underarm fabric not being waterproof.
Having said that, it's an incredibly versatile and lightweight jacket that is sufficient for running in light rain and windy weather.
Weight: 9.79oz (228g)