Nike seems to be constantly raising the bar lately, and the InfinityRN 4 is no different; it's a testament to their knack for innovation in the world of running shoes. I know this because I was lucky enough to be one of the first reviewers of the original Infinity Run back in 2020 (which I loved and ended up putting many miles in).
It's been a while since I've had this much fun hitting the pavement in a Nike training shoe, the last time was when Nike sent me the Invincible 3 to test and review earlier this year!
But Nike didn't just stop at "fun", they've elevated the game, packing the InfinityRN 4 with the same good vibes but ramping up the stability, energy return, and sustainability of the materials used in the ReactX midsole foam.
Stick around to find out why I'm convinced these running shoes are destined to be another hit for Nike.
In this Nike InfinityRN 4 review, I'm diving into the nitty-gritty: sizing and fit tips, standout features (and maybe a minor gripe or two), my full performance review, whether they're worth the investment, and of course, my final rating out of 10, complete with pros and cons.
Got a question about something I didn't cover in this review? Drop a comment below, I can happily chat about running shoes all day long! 😊
---
Nike InfinityRN 4 sizing and fit
I usually wear a size US (M) 9 in Nike, and went with the same for the InfinityRN 4, big mistake because these running shoes come up small – I recommend sizing up half a size.
So to clarify, I'm usually a size US (M) 9 but getting the Nike InfinityRN 4 in a size 9.5 would be a much better fit for me.
If you're not familiar with Nike's more premium running shoes, or racing shoes then it's worth knowing that they also fit on the tighter side of medium-width in the middle of your foot but that's a story for another day.
I am surprised that the Infinity Run 4 sizing doesn't run correctly, especially from a brand like Nike who should really know better – that said, there's an easy fix; just size up a half size.
The Nike Infinity Run 4 has a medium-width toe box and is a generally extremely comfortable running shoe with an upper that really does hug your foot (thanks to that stretch knit material), excellent support and plenty of cushioning, with a surprisingly impressive amount of energy return – but more on that later in this review.
---
Need to know specifications
Price: $160 at nike.com
Weight: 11.4oz (323g) for a size US(M)9 (my pair)
Drop: 9mm (popular for a lot of runners)
Toe box width: medium
Stability: High support
Cushioning: High with moderate responsiveness from the new ReactX foam
---
The key features worth knowing about
Nike Infinity RN4's midsole is where a lot of the magic happens
The Infinity RN4's midsole cushioning is one of the more noticeable features, so let's start by talking about that.
The more cushioning that you have underfoot, the softer and more comfortable your running experience can be, and the further you can run, think marathon training ;).
In some cases, this can also reduce the control and stability that you have while running – this is not the case for the Infinity Run, however!
Well-positioned cushioning made from the new ReactX foam helps soften the impact as your feet hit the ground and even helps propel you forward while maintaining support from any lateral roll.
ReactX foam gives you 13% more energy return compared to React foam, helping you stay fresh and bouncy during your long training runs.
The curved rocker midsole/outsole helps your foot rock smoothly from heel to toe and through your stride to footstrike, essentially making every step feel more natural and adding efficiency to your run; inturn helping you waste less energy as you hit your stride.
This midsole gives you a really smooth ride and because it's so supportive, cushioned, and responsive, I find myself wanting to run further in them.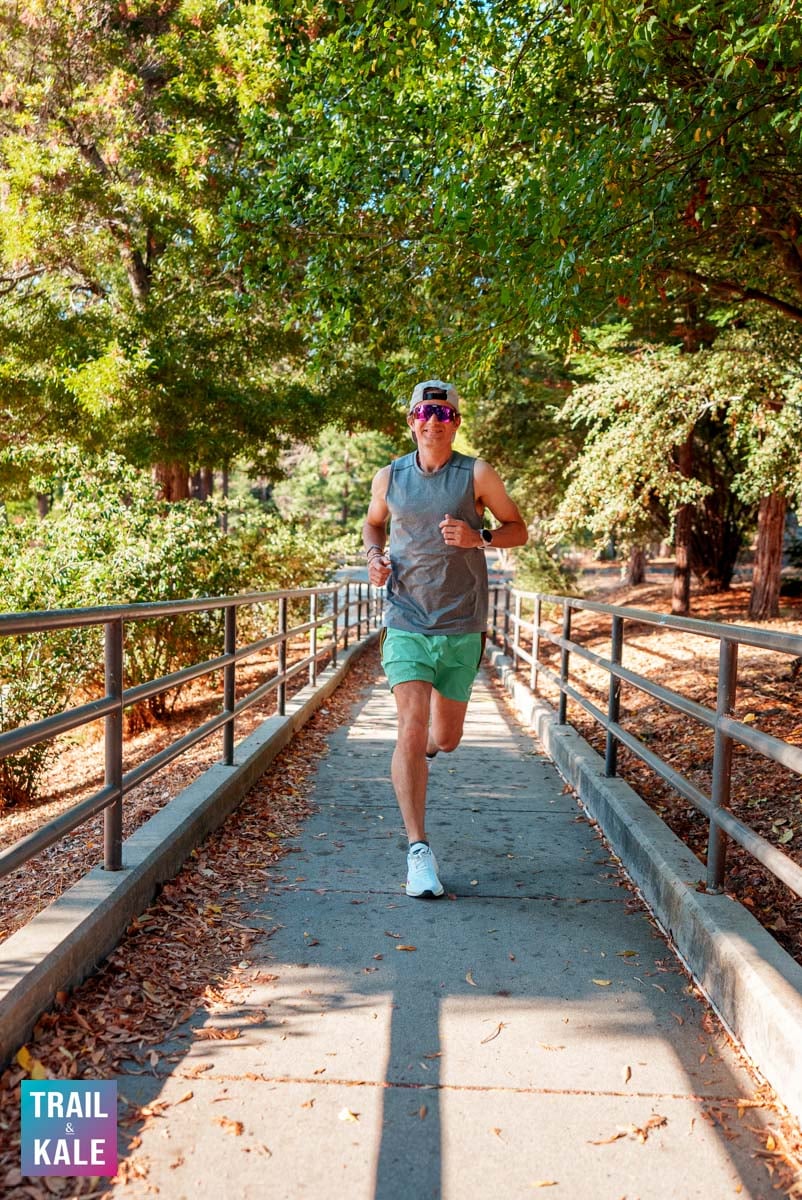 The midsole/outsole is also wider in the toe box area than the previous Infinity Run model to help increase stability.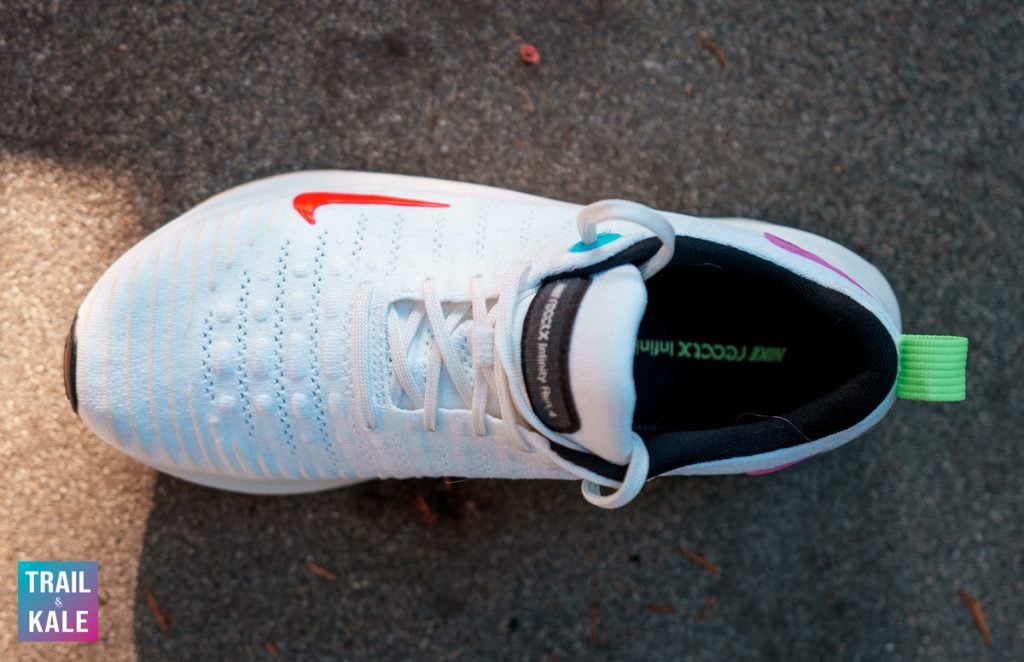 The wide midsole does an excellent job of keeping me stable with very little energy lost to lateral roll.
Nike's ReactX foam certainly provides a nice responsive feel and I love how much more sustainable it is when compared to React foam (ReactX reduces its carbon footprint in a pair of midsoles by at least 43% compared to Nike React foam) BUT it's not as lightweight as ZoomX, for example.
Nike Infinity Run has an evolved Flyknit upper with a better fit, breathable zones and improved durability
Nike's newly evolved Flyknit upper places zones of breathability where your feet heat up the most and provides additional durability in areas where they don't.
The Flyknit upper is quite thick in places, and thinner when you see the holes for breathability, it almost feels like a sock in terms of how well it hugs and conforms to your feet.
It's a strong and durable Flyknit upper that is unlike any other I have tried before, and while most will love it, I can see that some people may not like the feeling, simply by the way it compresses around your feet.
There's no denying however that this upper does a great job of keeping your feet secure while you run, with stretch for subtle changes in foot expansion and contraction.
Whilst I'm talking about the upper, I might as well mention how cool it is that Nike has created different colorways for each shoe – keeps things fresh!
I love it as it adds an element of playfulness to these running shoes (see above).
The tongue is super stretchy (I've never had a tongue that stretches this much – see photo below), soft and well-padded which means you'll be able to get a nice snug fit from the laces without actually feeling pressure from the laces pressing through the tongue.
The tongue also has a loop for the laces to pass through to hold the tongue in place. The laces perform well too and have a little stretch in them.
There's a finger loop at the rear for easy access
This may not seem like something worth mentioning to some but I find finger loops to be very useful when slipping running shoes on.
The outsole that wraps that bouncy midsole
The waffle rubber on the outsole sticks well to tarmac and asphalt and so far the durability appears to be holding up well.
The rubber is very flexible and moves with the cushioned ReactX midsole when compressed, which is very unusual to see – although the Invincible 3 has the same design!
Most shoes have a very rigid outsole rubber but the InfinityRN 4 outsole conforms to the plush compression of the midsole when your foot hits the ground.
This only adds to the fun and bouncy ride that you get with these running shoes.
The image above shows the entire outsole tread and the image below gives a closer look at it.
I love the design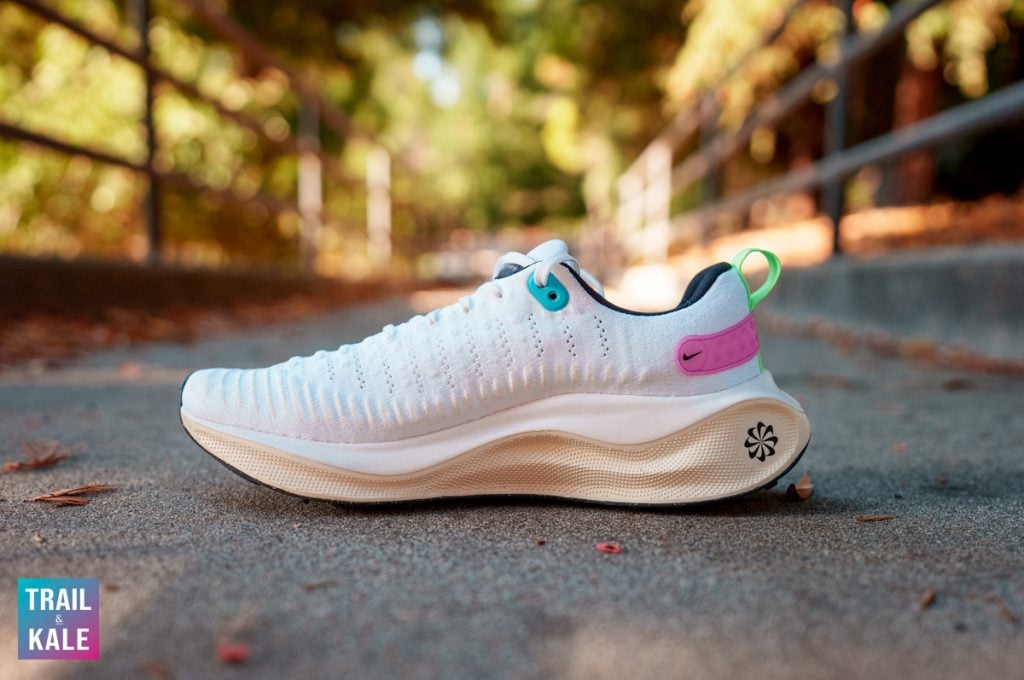 Fashion means a lot to me when I'm out running, so I'm including the look of the InfinityRN 4 as a feature. I mean it's important to feel confident when you're out there eating miles for breakfast right!?
I love how the curvy/swooshy midsole almost looks like 'Tails' winding up ready to catch Sonic. – it plays off against the simple, clean, and airy upper design.
What do you think!? Do you like how it looks too? Let me know in the comments below!
The men's and women's Infinity Run 4 each have 9 different colors to choose from with the option to also build your own design. To see all the vibrant colorways currently available, visit the InfinityRn 4 product page.
Nike Infinity Run performance review
Ok now let's talk about the experience and emotions that are felt when running in the InfinityRN 4 – because this is really where they shine!
Great features are one thing but it's how those features and materials translate to the actual run experience that matters the most to me.
The best way to describe how the Nike InfinityRN 4 feels when running is that it's supportive, cushioned and ready to have your back when you increase your mileage.
This makes it a great training shoe if you're currently following a half marathon or full marathon training plan.
They're very comfortable too – this includes the plush, responsive cushioning underfoot, the soft padded materials that wrap around your heel, and the lightweight Flyknit upper that comforts you as it hugs your feet.
I do feel like they could benefit from a slightly lower drop of around 5mm – I think this would help with additional stability for anyone who may have a tendency to heel strike when running.
That said, although the Nike Infinity Run has a 9mm drop from heel to toe, it surprisingly feels lower than this.
I'll end it there for my performance review because I really want you to try them out for yourself and come back here with your comments after your first run in them! 🙂
I'm confident you will really enjoy the experience too!
Who are the Nike InfinityRN 4 running shoes for?
The Nike InfinityRN 4 is for you if you're looking for a cushioned running shoe with great stability and comfort for short or long easy miles.
You'll love these if you're training for a half or full marathon because they make bagging essential daily miles a breeze; you can't ask for much more than that when training for such an epic race like a marathon.
They feel so comfortable that you'll find yourself getting in the "zone" much faster than you may be used to ,and as a result, time will fly by, and you'll likely feel more refreshed after your long runs than you may be used to.
They're quite fast shoes too, thanks to the great energy return that you get from ReactX foam in the midsole – this makes them a good choice for 5km, 10km and even half marathon training.
They're not for you if you're looking for a super lightweight running shoe that has a low drop, low stack, and maximum ground feel because it's very much the opposite – it's a cushioned running shoe that's best for logging training miles.
Are they worth your hard-earned money?
$160 for the Nike InfinityRN 4 is reasonable in my opinion, because there's nothing more important when your training for a marathon, than to actually reach the start line of your race feeling well trained, and without injury.
A comfortable supporting running shoe like this is designed to do just that.
For many people having cushioned and supportive shoes like these could be the difference between running and not at all because that extra support can help keep running pains at bay… or to make those long pavement runs that much more fun!
---
Nike InfinityRN 4 review summary (rating with pros and cons)
Nike InfinityRN 4 review
PROS
The new ReactX foam provides an excellent energy return, making it ideal for long runs and high mileage training.
The wide midsole and toe box area contribute to a more stable running experience, minimizing lateral roll.
The Flyknit upper and stretchy padded tongue hug your foot comfortably, almost like a sock, but with added support.
ReactX foam reduces carbon footprint by 43% compared to Nike React foam, which is a big win for eco-conscious runners like ourselves.
The Flyknit upper and waffle rubber outsole appear to be quite durable, standing up well to the wear and tear of regular running.
Multiple colorways and the option to customize your design keep you looking fresh while you're logging those miles.
At $160, these shoes offer high-quality features making them a good training shoe investment for half and full marathon runners.
CONS
The shoe runs small, so you'll need to size up half a size for the best fit.
At 11.4 oz for a size US(M)9, they might be a bit on the heavier side for some runners who prefer ultra-lightweight shoes.
While the Flyknit upper does offer zones of breathability, some might find it a bit warm for extremely hot conditions due to the way the upper compresses around your feet.
➡ I hope you enjoyed reading this Nike Infinity Run 4 review; As always, your own thoughts and experiences with them would be awesome to hear, so drop a comment down below and let's get the conversation going! 🏃‍♂️💚
Follow us on Instagram for some behind the scenes reels of the Trail & Kale team testing new running gear, and other running lifestyle shenanigans.
Join our Strava club too, and be part of the joy that running brings to our lives. Happy running, friends!
---
Nike InfinityRN 4 Photo Gallery