Welcome to our list of the best running gloves for cold-weather/winter exercise.
The main questions to consider when buying running gloves are:
Do they fit well and are they comfortable?
Will they keep your hands warm in the extreme cold? Do you even run in those temperatures?
Are they windproof gloves or breathable gloves?
Are they reflective gloves for night running?
Can you operate your phone/GPS running watch with them on?
Are they good value for money?
While researching the best winter gloves for cold weather running, I have been asking all these questions to put together this list of men's and women's running gloves.
---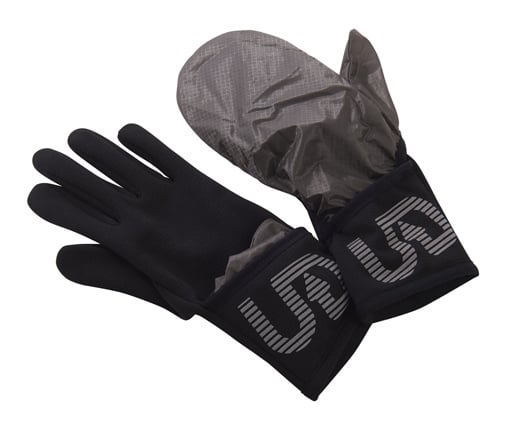 1. Ultimate Direction Ultra Flip Glove ($40)

[BEST OVERALL]
These comfortable insulated running gloves from Ultimate Direction are the ideal cold weather running companion.
As well as the all-important conductive fingertips for touch screen compatibility, Ultimate Direction designed the five-finger breathable Ultra Flip Glove to become 20 degrees warmer with just a flip of the stowable mitt.
The waterproof flip mitt adds additional layer but virtually no extra weight or bulk – it's genius!
Last Amazon price update was: 3rd December 2023 5:30 pm
---
2. The North Face Etip Recycled Gloves ($45)

[RUNNER UP]
The North Face Etip Recycled Gloves have four-way stretch knit fabric for ease of movement when running or for other outdoor activities in the cold.
These gloves provide good warmth when winds blow a breeze, and they're made from recycled polyester for an eco-friendlier design. They had us at recycled…
Being such a lightweight glove makes them a great option for wearing every day in the city, day hikes, or on cold morning runs – especially as they're available in a wide range of colors.
If the temperatures rise and you no longer need to wear them, they're so lightweight that you'll hardly notice them stashed in your running vest.
There's also an array of raised silicone grip 'dots' for a solid hold on running/hiking poles or your smart phone when you need to make a call or take a photo.
The Etip touchscreen compatibility eliminates the need to remove gloves when doing such things out on a run.
Last Amazon price update was: 3rd December 2023 5:30 pm
---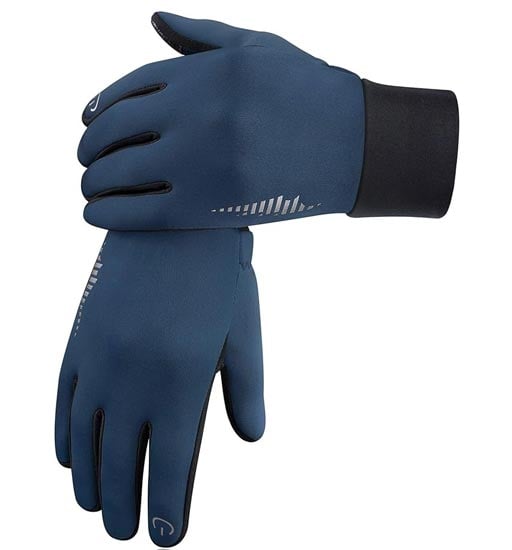 3. SIMARI Winter Gloves ($20) [AMAZON BEST SELLER]
The SIMARI Winter Gloves are best sellers on Amazon for a reason – they offer excellent protection, comfort and practicality for a super low price tag.
These gloves use high-sensitivity conductive yarn embedded in the thumb, and index fingertips which makes them compatible with all touch screen technology products on the market.
We also like that Simari Winter Gloves have a soft and warm fleece lining design to help keep your hands and fingers warm and comfortable.
Reflective decals on the top of the gloves is designed to make it easier to be seen in the dark, whether you're running or cycling, and you can choose from a wide range of color options.
These winter running gloves are also covered with anti-slip silicone detailing on the palm, so you can easily grip things like your smartphone, running poles, your car steering wheel, or the handlebars of your bike.
Last Amazon price update was: 3rd December 2023 5:30 pm
---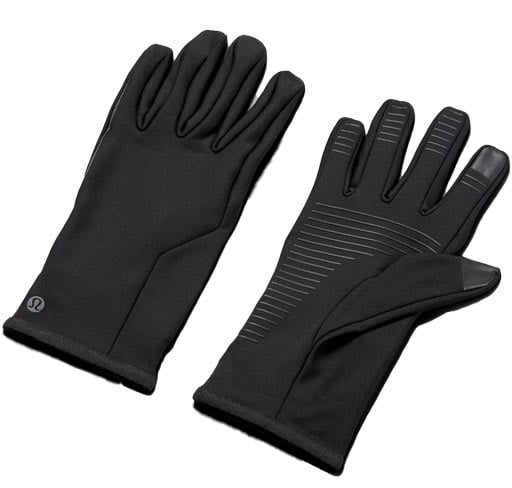 4. lululemon Cold Terrain Running Gloves ($42+)
These lightweight, fleece-lined running gloves are perfect for cold weather runs, as well as everyday winter wear.
The fabric on the back of the hand is water-repellent and breathable, while the fabric on the palm is water-repellent stretchy fleece, with a grippy silicone pad.
The Cold Terrain Gloves are also available in even warmer lined and heated versions.
---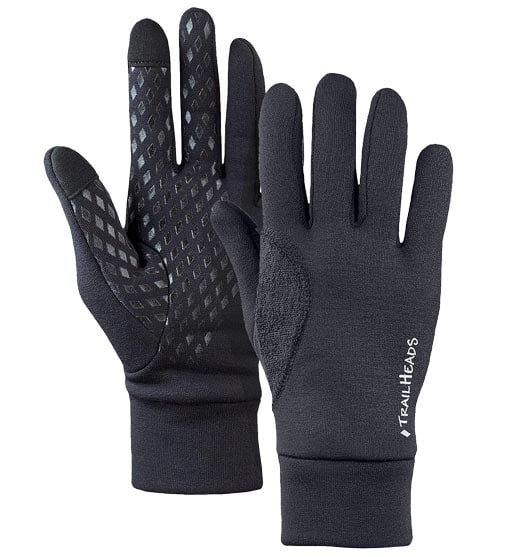 5. TrailHeads Power Stretch Lightweight Running Gloves ($32)
The TrailHeads Power Stretch gloves are your ideal cool weather workout gloves because they combine a windproof exterior with a moisture-wicking inner layer in order to maximize warmth.
The stretch fabric moves with you for a comfortable fit that never loses its shape.
During the fall and winter running seasons, they serve as excellent racing gloves given they're lightweight and flexible.
Palm grips make it easy to hold your smartphone device while touch screen technology makes texting possible!
This means you can adjust your music, monitor workout apps, and take photos, all without having to remove your gloves in the cold weather.
Last Amazon price update was: 3rd December 2023 5:30 pm
---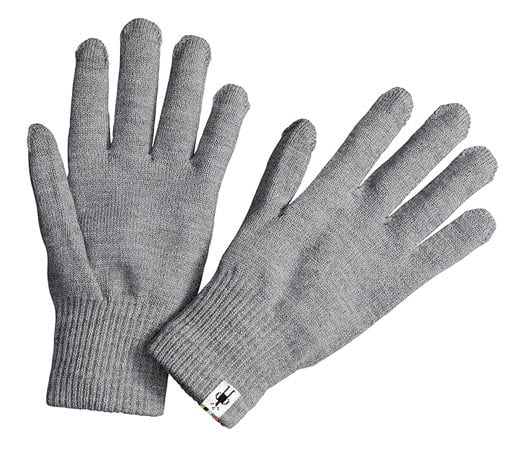 6. Smartwool Liner Gloves ($24)
I like how the Smartwool Liner Gloves' touch screen-friendly thumb and forefingers fly under the radar due to a special fabric that has been subtly woven.
This makes them the best wool running gloves in our list and a very versatile glove that can be worn for every day as well as jogging gloves.
They are also thin enough to be worn as a liner inside a much hardier glove if you plan to be in extremely cold weather for very long periods of time, like ski-touring for example.
Rei.com
$24.00
See Deal
Zappos.com
$24.00
See Deal
Amazon.com
$44.90

5 new from $44.90

See Deal
Last Amazon price update was: 3rd December 2023 5:30 pm