Welcome to our Best Running Hats guide which features the top technical running cap choices for all runners, including trail runners and ultra marathon runners. A running hat is one of those running kit essentials we wear on every run, rain or shine.
It's worth wearing a technical running hat during your run rather than a regular hat as they will wick sweat away from your face and eyes, and keep your head/face/neck shaded from the sun (and also rain), among other important reasons listed below.
The key features of a technical running hat
When buying your next running hat there are a few essential features that you'll want to look out for. For a running hat to be great, and be worthy of making it onto this list of the best running hats, it must have these 7 key features:
Comfort
This one's a no-brainer – when I'm out for a run, whether it's a quick 5K around the neighborhood or a grueling ultra, the last thing I want is a hat that's pinching, itching, or just plain uncomfortable.
A good running hat should feel like it's barely there—except, of course, when it's shielding you from the elements.
Breathability
As you're probably aware, running can get you hot and sweaty—particularly if you're working hard or the weather's warm.
A breathable hat allows air to circulate around your head, helping to keep you cool. Look for hats made from high-tech synthetic materials that are designed to let air in, while keeping the sun and rain out.
Sun protection
While we all love a bit of sunshine, UV rays can be harmful and can lead to skin cancer. A running hat with a good brim can protect your face, ears, and the top of your head (where it can be tough to apply sunscreen) from the sun's rays.
Just remember: a hat isn't a substitute for sunscreen – make sure you're still slathering on the SPF!
Moisture-wicking and quick-drying
There's nothing worse than sweat trickling down your forehead and into your eyes—ouch!
A hat made from moisture-wicking fabric will draw sweat away from your skin, while a quick-drying design ensures that your hat won't stay soggy if you get caught in a rain shower or work up a serious sweat.
Lightweight & preferably packable
When it comes to running gear, every ounce counts and a lightweight hat won't weigh you down or cause unnecessary strain on your neck. It should feel so light that you barely notice you're wearing it.
A packable hat is even better as you'll be able to quickly stash it away in your hydration pack when you don't need it, and it won't take up any valuable storage space.
Style
Let's be honest—we all want to look good while we're running. A well-designed hat can be worn both forwards and backwards, depending on your style preference and the conditions.
It's also a fun way to express your personal style on the trails.
Durability
Finally, a great running hat should be built to last. After all, it's going to be exposed to sun, rain, wind, and maybe even a bit of mud and dirt.
Look for hats with robust construction and high-quality materials—they might cost a little more, but they'll stand up to a beating and stay with you mile after mile.
All technical running headgear in this list are good running hat options for both men and women (unisex), and include the above 7 important design features.
They are also available in more colorways which can be explored when you click the buttons below.
With that said, either one of these running hats will be a great purchase and therefore your final decision will most likely come down to how it looks.
These running hat reviews are regularly updated so remember to bookmark this post and check back before buying your next hat.
If you're on this page looking for a warm hat to wear for cold weather runs, head over to our best winter running hats buyer's guide for recommendations for beanies, headbands and earwarmers.
---
The 7 Best Running Hats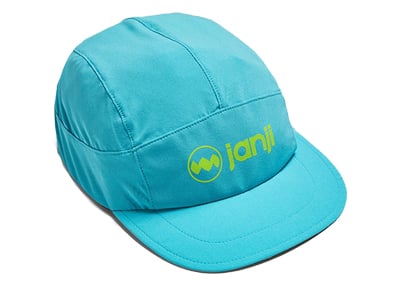 1. Janji AFO Hyperlight Cap [WINNER]
The AFO Hyperlight Cap running hat has the prestige of being considered the best running hat on this list. Let me tell you why.
It's a super lightweight running hat (29g) that's breathable, packable, and has a flip brim much like the BUFF Pack Run Cap.
This cap is made from a stretch woven fabric for a super minimal feeling hat with a fast dry time, high breathability + impressive sweat-wicking capabilities for cool comfort while running. You don't even notice it's on your head, and that's how I like it – no bulk.
I also really like the crushable foam brim which allows you to scrunch up the running hat for quick storage in your hydration running vest with no-fuss, as the brim retains its shape when you un-scrunch it. It really is the ideal running hat, for both trail and road running.
The brim can also be securely flipped up when not needing to shield from the sun, and you want visibility while climbing steep hills.
And finally, there's an adjustable reflective bungee cord with a rubber toggle at the rear for a lightweight, adaptable fit.
---
2. Fractel Headwear [RUNNER UP]
Australian company Fractel Headwear knows how to make performance technical running hats.
Fractel's hat range includes a variety of lightweight cap options, which all provide good UV and sun protection and wide brims that can be flipped up.
The wide brim helps with airflow around the side of your head – especially when it's flipped up, which is possible with this hat, like the other running hat options above.
The Fractel hat featured above is the "Cairo" Edition, and is a personal favorite of our co-founder, Helen – visit Fractel's website to see their full range of color options. Like other Fractel hats, we also love that this hat is made with 100% recycled, breathable fabric.
Fractel is also a great brand to consider if you want a bucket hat or a legionnaire cap. Both are popular for running in the desert and very hot weather conditions.
A bucket hat has a brim all the way around it, and a legionnaire cap is one of those hats with the built-in fabric that covers the back of your neck (often seen on runners attempting Badwater or the Marathon des Sables).
---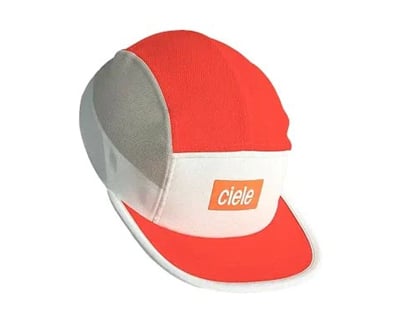 3. Ciele Athletics GOCap [POPULAR PICK]
Last Amazon price update was: 3rd June 2023 6:30 pm
The Ciele GOCap is very lightweight and packable which means you can stash it away in your race pack, or pocket when you're not using it without worrying about it losing its shape when you unpack it.
It offers great sun protection and also has plenty of reflective detailing, including a nice pattern under the brim ready for when you flip it up – to keep you safe in low light or when running at night.
The GOCap is also very breathable as you would expect from such a technical cap, and it's machine washable so you can easily clean it after long days on the trails or road marathon training.
Oh, I almost forgot to mention this hat is also backed by Ciele's million miles guarantee.
---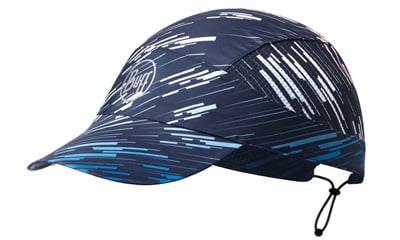 4. BUFF Pack Run Cap
Last Amazon price update was: 3rd June 2023 6:30 pm
The BUFF Pack Run Cap is a really innovative and versatile trail running hat. BUFF is already famous for its multifunctional headwear and headbands but it won't be long before these hats are seen all over the trails.
This running hat has long been one of my favorites to run with, as you'll have noticed from all my running pics on Instagram!
One of the clever features is that it has a flexible brim, which you can flip up when running/hiking uphill allowing you to see further towards the horizon at the top of your climb, you can then flip it back down when running on the flat or downhill.
The thin, smooth fabric is also great for moisture-wicking, making it a top choice for wearing on those hot, sweaty summer runs.
Feature-wise, this is truly a great running hat, and in my opinion, it's also a stylish hat that provides a much-loved European flair!
I wore my UTMB special edition BUFF Pack Run Cap for my OCC race not that long ago and it performed excellently for the entire 10.5 hours of mountain running!
This trail running hat also has a built-in moisture-wicking headband and the polyester UPF protective materials wick away any perspiration and is quick-drying.
The adjustable elastic cord at the rear is a nice touch to the overall minimalism, and it provides a secure fit that's easy to adjust on the fly.
Adding to its minimalism, this running hat is highly compressible too, which means it can be stashed in even the smallest of your hydration pack pockets, and then when you're ready to wear it again the crushable polyurethane brim snaps back to shape.
The BUFF Pack Run Cap is a very comfortable hat due to the 4-way stretch fabric it's built with; this fabric makes it super lightweight too (1 oz.).
---
5. On Running Lightweight Cap
I love the more traditional solid brim design of the On Running Lightweight Cap, not only does it look great but it also has all the essential features that make a great technical running hat.
It's lightweight, fast-drying, and very breathable due to the laser-cut mesh panels with ventilation holes that run along the sides.
Not only does this hat provide great sun protection but it also comes with a reflective logo on the front to help you be seen while running in low-light conditions.
The cap's fastening strap is made with fabric with a small plastic clip in the middle.
To learn more read my in-depth On Running Cap review.
---
6. Nike Aerobill Tailwind
The Nike Aerobill Tailwind cap is one of my current go-to running hats and one of the best running hats I've worn for a few reasons.
Firstly, I love how effectively the Dri-Fit polyester wicks sweat away from your face, I know this because I have a tendency to sweat a lot while running at a high intensity.
I also like to wear my cap backward while running and the adjustment strap on the Aerobill Tailwind from Nike Trail is all fabric with no plastic clasps, making it very comfortable on my forehead and fully sweat-wicking.
This Nike trail hat has strategically placed laser perforations too which provides excellent breathability during hot summer runs.
I personally love the design and multiple colorways available for this Nike running hat, looking good while out on the trails is something that matters to me, and this cap looks just as good worn forwards as it does backward.
The cap has a reflective trim (the "Dri-Fit" decal on the side) to help make sure you're seen during the night.
Lastly, it's very lightweight and has mesh sides so you'll hardly notice it's on even if you're running an all-day ultra marathon.
---
7. Lululemon Running Hat (men's and women's)
This Lululemon hat is perfect for road and trail running, as well as other outdoor sports when you want a really lightweight, packable cap.
This cap is designed for men and women and comes in a regular black or a bright salmon / fluorescent color, which looks striking on the trails!
The fabric used to make this Lululemon hat is super lightweight, sweat-wicking, and breathable – similar to the Buff Pack Run Cap above.
Although it doesn't appear to be designed for you to flip the visor up like the Buff Cap, you can actually do it if the cap is snug on your head!
This cap, one of our favorite Lululemon running accessories, also features perforation to help with breathability, attaches with a clip and fabric strap, and has reflective details for running in low light.
---