While the spring and summer months generally allow for a more minimal running experience, there are still some safety essentials that you should consider taking with you on your runs in order to protect yourself from dehydration, muscle cramping, and sun exposure (heat and the sun's harmful UV rays).
Sunglasses are one of those essential items to consider wearing while on a run.
This best running sunglasses buyer's guide highlights the top sunglasses for running, for both men and women, based on our strict criteria for trail running and ultrarunning.
All running sunglasses for men and women on this list:
are comfortable to wear for long periods of time which makes them great for ultrarunning
are super lightweight
stay in place while running fast
offer UV Protection
have excellent lens filters/optics specific for enhancing details on the trails
are very durable
look great in my opinion (subjective of course)
A quick note about summer running and ways to protect yourself from dehydration, reduce the risk of muscle cramping while running, and sun exposure.
Take extra water, salts/electrolytes, sunscreen, and a technical running hat or running cap with you, they could literally save your life if you're heading out for a very long trail run or race.
I have witnessed a number of runners collapse in front of me due to dehydration during a race, and countless others hobbling along, usually within the last 20% of a race due to muscle cramps.
Luckily, I'm usually able to help cramp sufferers by offering them a couple of my salt tablets. Otherwise, many good energy gels like these also contain electrolytes to help ward off cramping when running.
If you need a way to carry essential items like your water, nutrition, salts, mobile phone, keys, sunglasses, trail running poles, and waterproof jacket, then definitely have a read of our running hydration packs buyer's guide for advice on which race vest will be best for you.
This best running sunglasses buyer's guide is updated regularly, so remember to bookmark this page in preparation for when you need to buy a pair of men's or women's sunglasses for trail running.
For more advice on choosing the best running sunglasses for you, click here to jump down to more information below the list – otherwise, read on for the full list of the best running sunglasses!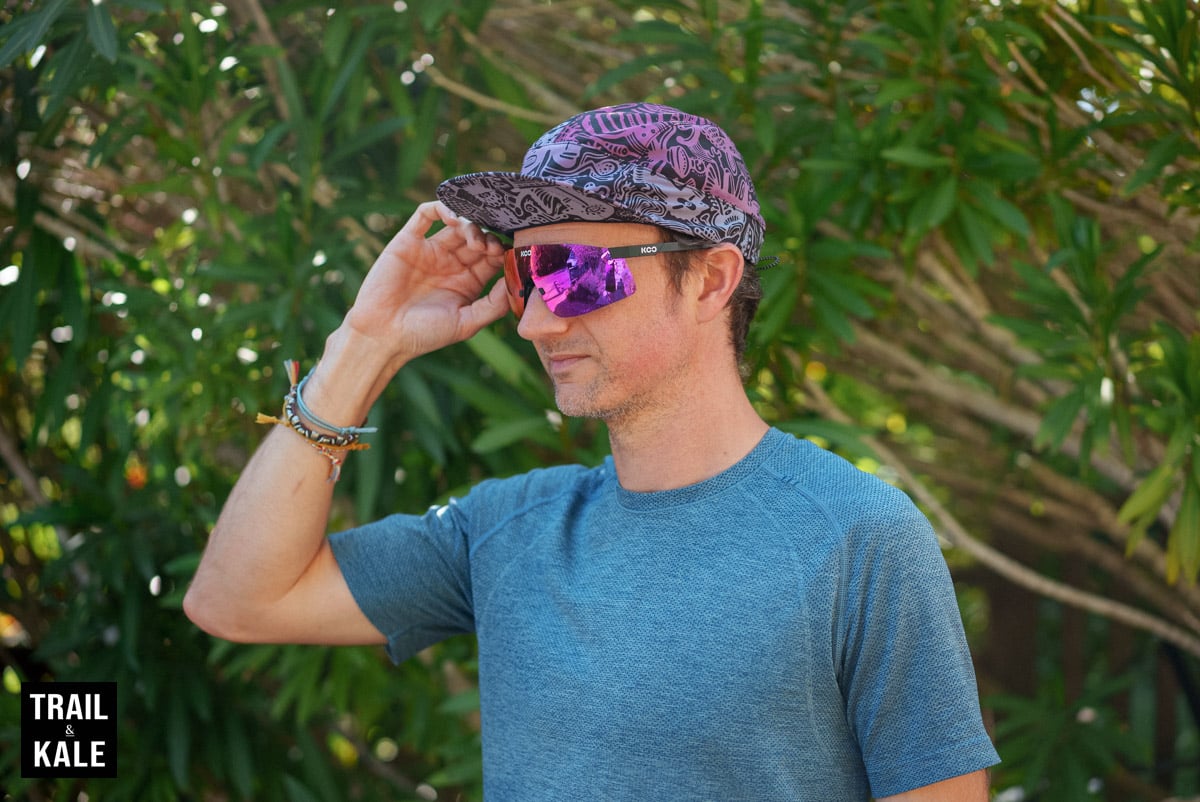 ---
1. Oakley Flak 2.0 XL Running Sunglasses [$200]
Weight: 28g (1oz) / Polarized lens available?: YES / Interchangeable lenses: YES
The Oakley Flak 2.0 XL running sunglasses have made it to the top of our best running sunglasses list for good reason. These lightweight sunglasses offer a standard-size frame with enhanced lens coverage which increases your peripheral view while trail running, hiking, or cycling.
The Flak 2.0 XL uses Oakley's high definition optics and the overall design has been tuned to be extremely lightweight.
The Oakley Flak 2.0 XL Prizm lenses enhance color and contrast on the trails, making technical terrain easier to analyze and tackle while running at speed.
I've reviewed SO many running sunglasses over the years and the Flak 2.0 XL is the frame I choose to run with.
The lens material also filters out 100% of UVA / UVB / UVC & harmful blue light up to 400 nm, and is available with Oakley prescription lenses for an additional cost.
These Oakley sunglasses use an interchangeable lenses system which is useful in case you do accidentally damage them or you prefer a different lens for the environment you're running in.
One of the lesser-known technologies that I love about these Oakley running sunglasses is the grippy 'Unobtanium' material to keep them in place.
There's never a worry that these sport sunglasses are going to fly off during fast trail running (or any other sport for that matter), which is important when you're paying a lot of money for them.
It's as if the more you sweat the grippier this material becomes, it's quite remarkable! Oakley includes this material on the nose-contact area and frame arms to really lock these sunglasses in place while running.
These popular Oakley running sunglasses are a great fit for both men and women (we both wear them running ourselves – see our Instagram account for some photos) and due to the great features listed above, they made it to the top of this best running sunglasses buyer's guide.
---
2. ROKA Rory 2 Sunglasses [$220]
Weight: 0.7oz (19.8g) / Polarized lenses available?: YES / Interchangeable lenses: NO
To learn more, read my ROKA Rory 2 review next.
The ROKA Rory 2 running sunglasses really stand out in the eyewear game, particularly for athletes who value function and style.
Weighing an almost imperceptible 0.7 oz, these sunglasses are featherlight, making them ideal for long duration activities like running and cycling.
The design is modern and stylish, proving that you can look great while breaking a sweat. Not just for sports, these shades easily transition into your everyday lifestyle too.
Constructed with scratch-resistant lenses, TR-90 nylon frames, and a bendable steel core, the Rory 2 sunglasses are ready to endure rigorous use without missing a beat.
Their C3™ Optics deliver very sharp, anti-reflective, and anti-fog views, ensuring you maintain clear visibility in a range of conditions.
The GEKO™ Fit and Retention System offers an excellent, secure fit too, plus the option to customize these sunglasses with prescription lenses, in both tinted or clear variants, adds a layer of versatility.
The ROKA Rory 2 running sunglasses shine as an exceptional blend of lightweight comfort, robust durability, and modern style. They're a worthy investment for runners and cyclists who want to enhance their performance while looking effortlessly stylish.
ROKA make another super lightweight pair of sunglasses for running called the Phantom Ti Aviator, also weighing in at a mere 0.7oz (20g)!
---
3. KOO NOVA Running Sunglasses [$200]
Weight: 0.7oz (21g) / Polarized lenses available?: YES / Replaceable lenses: YES
To learn more, read my KOO sunglasses review next.
The KOO NOVA running sunglasses are a true embodiment of "light as a feather" – weighing in at only 0.7oz, these glasses offer superior comfort and a barely-there feel, helping you stay focused on your runs or rides.
Sporting a modern, sporty design, the KOO NOVA sunglasses add a dash of flair to your outdoor gear and make quite the style statement.
But these sunglasses aren't all about looks, the Zeiss lenses deliver superior clarity and an expansive field of vision.
This not only enhances your performance but also helps you take on technical trails with more confidence. They shine as running sunglasses but don't shy away from a good cycling session either.
To sum up, if you're looking for a pair of sunglasses that combines performance, comfort, and style, the KOO NOVA running sunglasses are certainly a contender. They represent an investment, but the benefits you'll reap make it a worthy one.
---
4. Nathan Summit Polarized Running Sunglasses [$60]
Weight: n/a – but light! / Polarized lenses available?: YES / Replaceable lenses: NO
At $60 these Nathan sunglasses are great-value polarized sunglasses for running, cycling and other active outdoor pursuits.
The Polycarbonate polarized lenses provide optical quality clarity, and 100% UV Protection, plus, they're lightweight and non-slip, so you don't even notice you have them on.
While there's no stated weight on Nathan's website, we've been wearing and reviewing a pair here at T&K HQ and they're comparable to the ROKA sunglasses, above, in weight!
---
5. Zeal Boone Running Sunglasses [$160]
Weight: 22.7g (0.8oz) / Polarized lenses available?: YES / Replaceable lenses: NO
Zeal's Boone running sunglasses are timeless in style and actually super technical too. Zeal uses their lightweight Z-Lite frames and Ellume Polarized sunglasses lenses which are 100% plant-based.
Weighing less than an ounce, the Zeal Boone running sunglasses are designed to be lightweight, comfortable for wearing on the longest of adventures, and durable enough to not worry so much, should you accidentally drop them.
They are fashion-forward running sunglasses, with high enough performance that any trail runner, ultrarunner, or hiker will be happy wearing them day-in-day-out.
These Zeal sunglasses come with a polarized lens which helps to eliminate glare, increase visual clarity, enhance contrast, and as a result reduce the risk of eye strain.
A good fit also means the Zeal Boone do a good job of staying in place while running.
---
6. Julbo Aero Sunglasses [$130]
Weight: 30g (1.06oz) / Polarized lenses available?: NO / Interchangeable lenses: YES
Julbo Aero running sunglasses are designed for runners who love intense efforts, such as vertical kilometer racing, or skyrunning, for example.
The mono lens, available in photochromic lenses called Reactiv, ensures a wide, obstacle-free field of vision, regardless of light levels due to the reactive filter-changing properties of Julbo's REACTIV lenses.
The construction of these Julbo sunglasses includes vents between the top of the interchangeable lenses and the frame that provides ventilation, and prevent fogging, by encouraging air to pass between the lens and the frame.
I really like the nose-pads on these running sunglasses because they're grippy, and offer adjustability in every direction which means that they fit all nose shapes and are extra comfortable because of it.
---
7. Ombraz Armless Sunglasses [$140]
Yes, you read that right – these sunglasses do not have arms!
If you find yourself wearing a hat or helmet with sunglasses for long periods of time, either for work or for sports such as skiing, running, climbing and cycling, then you may be looking for an alternative to regular sunglasses, to free up that space behind the tops of your ears – that's where Ombraz come in.
The Ombraz sunglasses are a great alternative to regular sunglasses if you like to wear a hat while running or doing other outdoor sports and adventurous activities.
They stay on your face while you're running, using an adjustable cord that goes around the back of your head. My personal favorite style of Ombraz frames is the Dolomite, pictured above.
To see more photos and learn more about these armless sunglasses, head over to our Ombraz sunglasses review, or go straight to shop the frames and styles currently available on their website via the button below:
---
8. Ray-Ban New Wayfarer Classic Sunglasses [$120+]
Weight: 39g (1.4oz) / Polarized lenses available?: YES / Replaceable lenses: NO
The New Wayfarer Classic sunglasses are Ray Ban's latest rework of the Wayfarer Classic. They now have a smaller frame with a softer eye shape, which leads to a lighter overall weight and a new look that's more fitted.
At 1.4oz, the New Wayfarer Classics are the heaviest running sunglasses on this list (although still pretty lightweight) however I like that they're versatile enough to wear running and look good for everyday wear, too.
The New Wayfarer Classic uses a scratch-resistant polarized lens that offers excellent visual clarity at the small cost of additional weight.
The frames are very lightweight and made from polycarbonate which boosts comfort for all-day usage.
Ray-Bans are known for their quality and with alloy hinges, these wayfarers are durable to stand the test of time, trail run after trail run.
I have worn my Ray-Ban New Wayfarer Classics to run many trail and road miles, as well as off-the trails.
Like the ROKA Halsey sunglasses, these New Wayfarer Classic sunglasses are sized to fit both men and women and we both find them comfortable to wear for running and generally being active outdoors.
---
BONUS Alternatives – A selection of cheap sunglasses for running
I hope you enjoyed our best running sunglasses buyer's guide.
If you're on this page as a new runner, a new trail runner, or simply a little worried about dropping your sunglasses while running, then a less expensive alternative may be the best running sunglasses for you.
This will be especially so if you've just spent some cash on trail running shoes and clothes, too.
While this selection of cheaper running sunglasses brands may lack the durability and optics quality of more expensive running sunglasses, they do however offer a much lower price point which means you won't have to worry so much about losing them or an accidental drop.
Bonus 1. Tifosi Swank XL [$30+]
Tifosi's Swank XL enhances Tifosi's classic model with a larger lens and fit, ideal for running as they have such a great field of vision.
They are also very reasonably priced which many will love because accidental drops can happen while moving at speed.
The oversized design of the Swank XL uses hydrophilic rubber nosepieces to provide a no-slip grip while the 100% UVA/UVB protected polycarbonate lenses offer scratch-resistance, assuring long-term use.
Rx is and all 5 colorways are available when you purchase directly from the tifosioptics.com website or sportrx.com.
---
Bonus 2. Sunski Sunglasses [$58+]
Sunski is a trendy company based in San Francisco, that wants to make a difference in the world by donating 1% of all sales to environmental non-profit organizations.
We particularly like the Headland frames pictured to the right (above on mobile) but there are so many styles to choose from that you should definitely have a browse of their online store.
Sunski has also started using recycled plastic for their frames, which we approve of. If you would like to learn more about their sunglasses for running, then have a read of our detailed article all about Sunski.
---
Bonus 3. Goodr Sunglasses [$25]
Goodr OG's are sunglasses for the wild amongst you! Don't expect much in terms of build quality and durability, I mean these Goodr sunglasses are only $25 a pair, but they are cheap running sunglasses for men and women that offer polarized lenses that block 100% of those harmful UVA and UVB rays.
These Goodr sunglasses (pronounced 'gooder sunglasses', in case you are wondering) are grip coated and light enough that they don't bounce while running either.
If you're on a mega-budget then these Goodr sunglasses are probably the best running sunglasses when it comes to cheaper options.
---
Choosing the best running sunglasses for you
If you're going to be running outside for extended periods of time then it's worth taking a bit of time to select the right pair of sunglasses to wear when running.
If you're uncomfortable or the sunglasses aren't doing their job of staying put while protecting your eyes from glare and particles in the air then you're really not going to enjoy your run.
Why running sunglasses need to be lightweight and well-fitting
As well as being comfortable to wear for long periods of time, it almost goes without saying that a great pair of running sunglasses are also going to be super lightweight, and stay in place while you are running fast or over technical trail terrain.
You basically don't want to know that you have your sunglasses on, and this means they stay put and don't bounce up and down or slide down your nose when you move rapidly.
Choosing the best running sunglasses to protect your eyes
From a technical eye-protection perspective, the number one criteria we have used to select the best running sunglasses for this list is excellent UV protection.
In addition, we also like running sunglasses to have excellent lens filtering and optics to help you clearly see details on the trails, such as obstacles and the profile of the ground even when obscured by shade or dappled light (which can make picking out details in the terrain to step over more tricky).
From a more simple perspective, a pair of running sunglasses is also going to help protect your eyes from dust and dirt that can blow into your eyes, especially on windy days.
This physical eye protection is why some people like to wear cycling-style clear or very light-colored lenses in their sunglasses when running outside on days when it's not particularly bright or sunny.
Which are the best running sunglasses for women
Running sunglasses do not have to be gender-specific, because after all, the best running sunglasses for you are going to be those that have the right technical features you need, and fit comfortably on your head!
With that said, as women tend to have smaller (or at least narrower) heads than some men, the close-fitting wraparound sunglasses like the Oakleys and Julbo are often a great choice for women, as well as the smaller width frame sizes of the other more square-shaped sunglasses like the Ray-Ban and ROKA options above.
Why choose running sunglasses with polarized lenses
Most of the running sunglasses for men and women on this list, including our favorite Oakley running sunglasses, are also available with polarized lenses.
Having polarized lenses in your sunglasses helps to eliminate glare, increase visual clarity, enhance contrast, and as a result reduce the risk of eye strain, especially when you're running on or near reflective surfaces, such as water, snow or light bouncing off rocks or glass in intense sunlight.
Buying running sunglasses with prescription lenses
If you are looking for prescription sunglasses for running and you're in the US, eyewear store SportRX is a great port-of-call for you if you're looking for corrective versions of the sunglasses mentioned above.
They sell prescription sunglasses for running and other sports (or just daily life) and regularly offer great deals – and they also sell regular non-prescription versions of those sunglasses.
Why durability is important when it comes to running sunglasses
While it's easy to think that you're better off with a cheap pair of sunglasses for running, this may turn out to be more expensive in the long run (pardon the pun).
This is because the higher-priced, more technical running sunglasses also generally are more durable, in terms of the robustness of the frame and how flexible it is (i.e. they can bend rather than snap if put under abnormal pressure), as well as the scratch-resistance of the lenses themselves.
As mentioned above, for your first pair of running sunglasses you may want to start out with a cheaper pair if budget is a concern.
In our opinion, however, you will enjoy your runs more, and ultimately get more miles and use out of your running sunglasses if you invest and look after one of the pairs of sunglasses that made it onto our main list of the best sunglasses for running.
If you have any questions while you try to choose the best running sunglasses for you, drop a comment below and we'll do our best to help!