Welcome to our list of the best reflective running vests for running at night. Wearing reflective running gear for night runs is a great way to help you be seen when running in the dark and during low light and fog conditions.
There are many ways to keep yourself safe when out running, and being seen by cars is one of the main things to ensure when you are running on or near roads – this is especially true when it's dark and visibility is limited.
The same applies if you're looking for a reflective vest you can wear for walking, cycling and walking your dog in the dark and low light.
Wearing light-up and reflective running gear such as a reflective running vest or belt over your regular running clothes is a great way to help stay safe running, especially if budget is a consideration.
Reflective running vests are cheaper and more lightweight than reflective running jackets, for example, so they're an efficient way to ensure you're more likely to be seen.
If you're short on time and would just like to know our top picks, here you go! This Freemove Reflective Running Vest is the best all-round option, and very affordable at less than $20. For a 360-degree fully reflective vest, you can't beat the Proviz Reflect360 Vest.
The main questions to consider when choosing a reflective running vest are:
How easy is the reflective running vest to put on over my regular running clothes?
How lightweight is the reflective running vest?
Which parts of the vest are reflective or have lights on?
Do I want a more minimal 'singlet-style' reflective running vest, or a larger vest with more high-viz coverage
Is it designed to be a suitable reflective running vest for both women and men?
Do I want lights on my running vest as well as reflective material?
Is this piece of reflective running gear good value for money?
We address these questions and tested some of the best reflective running vests ourselves to help put together these reviews of the best reflective gear for night running.
---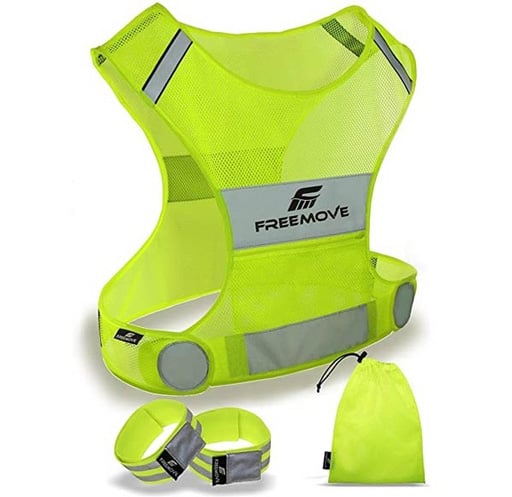 1. Freemove Reflective Running Vest – Overall Best Reflective Running Vest
This reflective running vest is the budget choice on this list of the best reflective running vests, and a top seller on Amazon, attracting great reviews.
It offers reflective detailing in bands across the shoulders, chest, and waist, and is sold with two reflective bands, which could be worn on your arms, legs, or could even be put on your dog if you don't feel the need to wear them yourself.
The Freemove Reflective Vest is currently sold in six different sizes so you can choose a size that best suits you, and as with many products sold on Amazon, it is free and easy to return it if the fit isn't quite right for you.
With all these features at this price point, this reflective safety vest is suitable for a wide range of runners and walkers looking for high visibility when out in the dark and low light conditions.
Pros
Best budget option
Easy to put on over-the-head with velcro waist attachments
Cons
Not as comprehensive 360 reflectivity as other options on this best reflective running vests list
Velcro is less reliable when dirty/wet compared to other methods of attachment like clips
Last Amazon price update was: 29th September 2023 8:30 am
---
2. Amphipod Xinglet Optic Beam USB Rechargeable Reflective Vest | Runner Up
In addition to reflective detail on the front and back, this minimalist running vest from Amphipod is called the Optic Beam.
This is because it features a green optic light tube that provides green steady or flashing light with 360-degree visibility, so you can be seen from all angles when running in the dark and low light.
It comes in one, fully-adjustable size, so there's no size guide to consult which makes it a good gift for a runner in your life if you're not sure of their size.
We like that compared to the NoxGear Tracer below, this light-up vest is rechargeable via USB and doesn't require AAA batteries.
Pros
360 degree visibility
Minimal size and weight, at only 3oz
One size fits all so it's easy to share with other family members
Cons
Can bounce around more than the other more fitted reflective running vests on this list
More expensive than non-illuminated options
---
3. Reflect360 Proviz Fully Reflective Running Vest
If you want to invest in a fully reflective running vest instead of the more minimal belt or strap-style reflective running gear, then you may be interested in this vest which has full-coverage reflective material, so the whole thing reflects brightly in the dark.
The Reflect360 reflective running vest is closer to being a reflective running jacket than a minimal vest.
However, if you are very concerned about being seen when night running in the dark, and intend to do a lot of it, then this could be worth the investment. This reflective safety vest is available in men's and women's fits, with a range of sizes.
Pros
Fully reflective 360 degrees
A full vest rather than webbing straps
Cons
More expensive than other reflective vests
Material is not very breathable
Proviz also sells fully reflective running gear, including reflective running jackets, if you need something that provides full-body coverage.
Last Amazon price update was: 29th September 2023 8:30 am
---
4. Illumiseen Rechargeable LED High-Visibility Reflective Belt
If you aren't keen on wearing a vest that sits over your shoulders, then consider a reflective running belt like this one from Illumiseen, which also lights up. You can wear it around your waist or get creative and fix it to your hydration pack or backpack.
At less than $20 and up to 20 hours of battery life this is a useful piece of reflective gear to have for running, walking the dog, or generally being out in the dark or poor light conditions where you need to be seen.
This reflective belt is available in three colors, green, blue or red, which you can set to either flashing or glowing. For the highest visibility, we consider the green light, pictured, to be the best color out of these options.
Pros
More minimal than a full running vest
Lights up as well as offering reflective detail
A good budget choice
Cons
The light is on the back part of the belt
For 360 degree illumination, there is better reflective running gear out there, like the NoxGear Tracer360.
Last Amazon price update was: 29th September 2023 8:30 am
---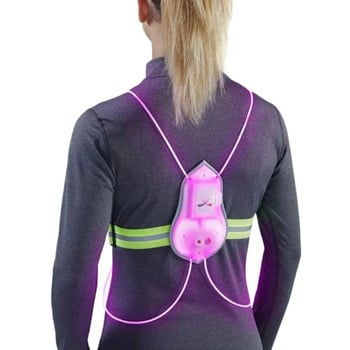 5. NoxGear Tracer360 – Multicolor Illuminated Reflective Vest
The NoxGear Tracer360 running light belt made our list of the best reflective running vests on account of its innovative illuminated functionality, which is a differentiator.
Not only is it reflective like the other running gear on this list, but it lights up with neon bright lights, and you can choose between six different colors and five different types of flashing.
Aside from the illuminated shoulder and waistbands, this vest has a reflective band around the chest, which is adjustable.
Pros
360 degree illumination
Lightweight, minimal design
Up to 40 hours of battery life
Rainproof
Cons
Not suitable to wear under a running hydration vest – it would need to go on top to be visible, too
As with anything battery-operated, you need to remember to charge or replace the batteries (it takes 3x AAAs).
Last Amazon price update was: 29th September 2023 8:30 am
---
6. Proviz Classic Flexi-Viz Running Belt / Cycling Belt
If you're after a minimal reflective running vest that will help you be seen when running in the dark but doesn't get in the way of your other running gear, movement or even your race vest (if you're wearing one) then consider the Proviz Classic Flexi-Viz.
This Proviz reflective vest is more minimal than a vest – in fact, they call it a 'reflective running belt' – made up of two straps that go over your shoulders, and a waistband.
This piece of reflective running gear has a wide range of adjustments, is made out of stretchy elasticated material, and is designed to fit both men and women of different sizes, and it packs down very small in your kit bag or a drop bag, when not in use.
It doesn't matter which way around you wear it, as it is the same on the front as the back, so depending on where the plastic adjustment sliders end up, you may prefer to have them at the back or front of your body.
It's possible to wear this reflective belt under your running hydration vest because enough reflective detail can be seen on your back, especially if your running hydration pack also has reflective features.
At $30, this Proviz Classic reflective running vest is an affordable and versatile investment in your safety when running in the dark.
It's also great that it's available to buy across 40 different countries directly from Proviz, together with a whole range of other reflective running gear specifically designed for night running.
Pros
Minimal and lightweight running vest
One size can be adjusted to fit most sizes so this reflective running vest is for both men and women
Fits over running jackets and even race vests
360-degree reflectivity, including chest and back reflective panel (gray when not reflecting)
Useful for other activities such as cycling and dog-walking in low light / the dark
Cons
Goes on over the head, which may not suit everyone
Last Amazon price update was: 29th September 2023 8:30 am
---
Other winter running gear – headlamps, waterproof jackets, running shoes, gloves, and more
If you're stocking up on winter running gear and gear for running in the dark, you may also be interested in our other winter running gear and advice posts, which include:
---
*Doggie Bonus*: A reflective running vest for your dog
As regular readers of this site will know, our adventure dog Kepler LOVES to run with us, and as a dark-colored, super-fast beast, he can be very hard to see in the dark or low light.
If you are looking for a reflective vest for your dog so they can be more easily seen when running or walking the dog at night or early in the morning, then I definitely recommend you check out Ruffwear's Track Jacket or their newer style, the Lumenglow Jacket.
Both reflective dog jackets are lightweight, repel water, fit well and also help keep your dog safe from other hazards.
These bright reflective vests are also very useful for putting on your dog if you're in an area where hunting is popular, so they are less likely to get mistaken for game.
We also have Ruffwear's USB-chargeable waterproof light which you can attach to your dog's jacket.
This light can have constant, pulsing or flashing white/blue/red/green lights, to suit you. I like to use the red light as it's easy to see, yet easier on the eyes when I look directly at my dog.
You can also pair a reflective dog jacket with a warm layer such as this K9 Core Sweater from Kurgo.
For more of the best dog jackets for winter and wet conditions, read our dog jacket buyer's guide and for more recommendations for dog-specific lights and reflective collars and other gear, visit our reflective dog gear buyer's guide.