As a health-focused, plant-based athlete I'm always excited to try new convenient ways to boost your daily nutrition intake and share my thoughts with our readers, and in this post, I'm reviewing Cymbiotika's Super Greens supplement pouches.
As regular Trail & Kale readers will know, I've reviewed many different brands and types of greens supplements, including Athletic Greens, Organifi Green Juice, Naked Greens and other popular brands as featured in our greens powder buyer's guide.
In this Cymbiotika Super Greens review, I explain what the supplement is, the key ingredients, its potential benefits, what it's like to take (and what it tastes like), where's best to buy it (including coupon codes) and ultimately whether I think it's worth the money, based on my experience reviewing similar supplements on the market.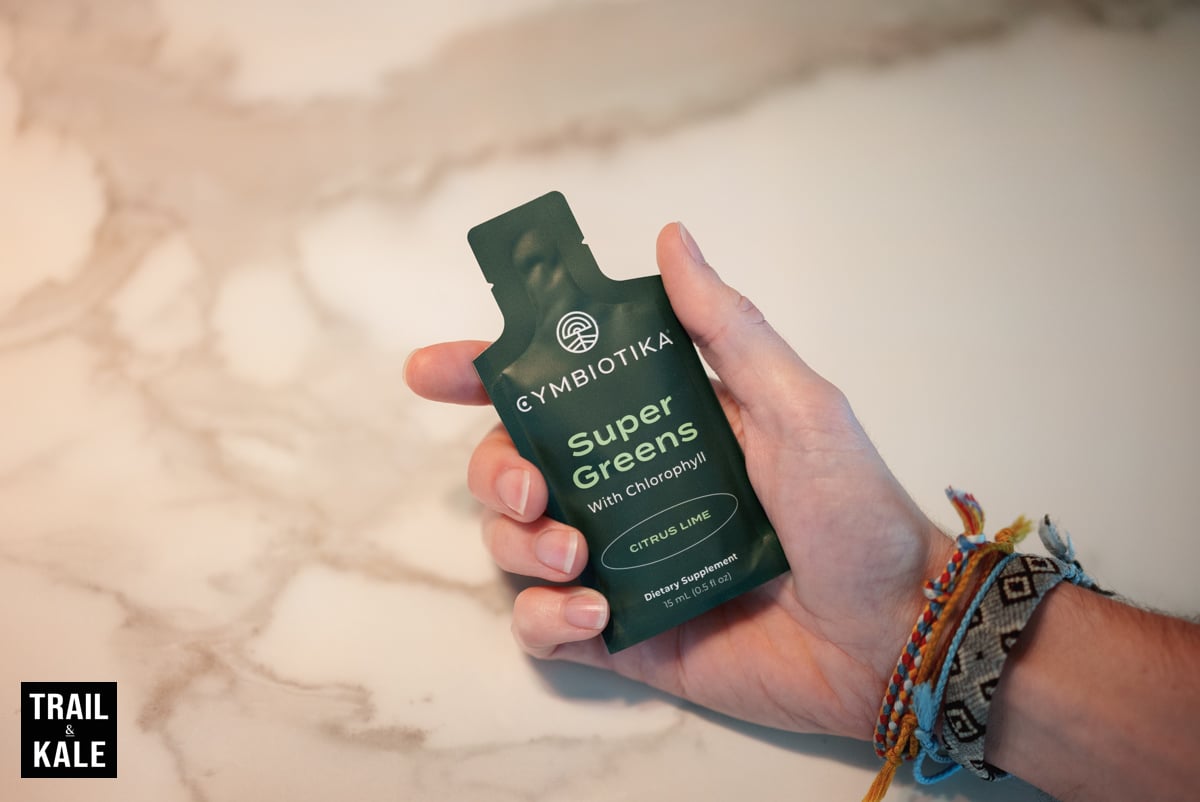 About Cymbiotika products
Cymbiotika is a premium supplement company, based out of San Diego, California.
The company's products are developed using a combination of scientific innovation with traditional Eastern medicine, sourced using quality plant-based ingredients and with a focus on effective absorption methods – that is, how efficiently their products can enter your system when you consume them, get absorbed by your body and start to work.
I like that the brand is focused on helping its customers fill nutritional gaps that may exist in their everyday diets through thoughtful supplementation, rather than selling based on offering health quick-fixes.
Super Greens is one of the brand's most popular products. Other best-selling Cymbiotika supplements which you may have heard of include the Activated Charcoal Daily Detox, Liposomal Elderberry and Probiotic capsules.
What is the Cymbiotika Super Greens supplement?
Super Greens is a convenient way to take a daily greens supplement, because, unlike other competitor supplements, the formula comes in a liquid, rather than powder format, in single-serve sachets that you use once daily.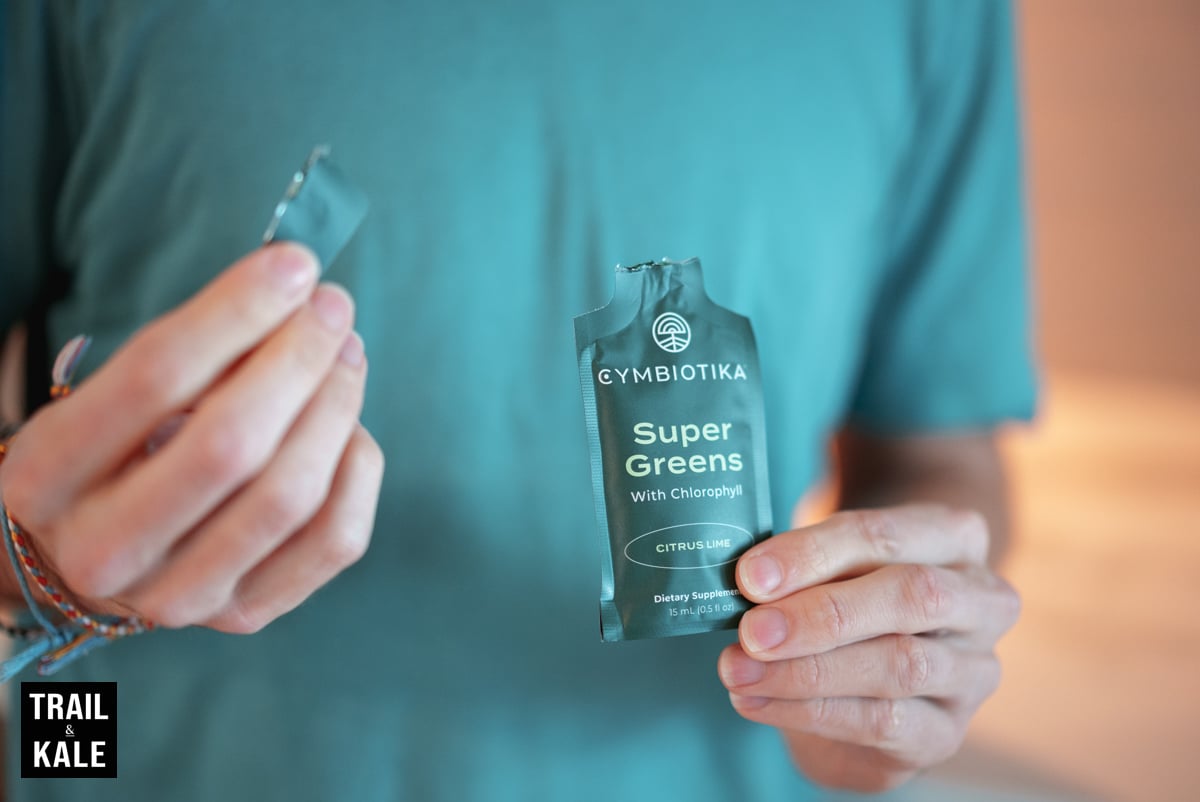 This delivery method means that you can take Super Greens without having to measure or mix it, you just tear the top off your daily sachet and pour it directly into your mouth, much like you would take an energy gel if you're a runner, cyclist, or triathlete!
You also have the option of squeezing Super Greens into a glass or bottle and mixing it into the beverage of your choice, with a popular option being to mix it into a glass of plain water, or even lemon water, and drink it first thing in the morning.
How does Super Greens taste?
The flavor is described on the packet as 'citrus lime'.
On opening the packet, you immediately notice that it's a dark green, fairly viscose liquid. It's kind of like the consistency of blood!
The taste is a blend of citrus notes and highly concentrated plants. It tastes very natural and pleasant, without being bitter, and it's not artificially sweetened – the sweetness comes from the plant ingredients and flavors such as organic lemon oil.
Because I enjoy the taste, I've found it convenient to simply take my Super Greens 'neat', straight from the sachet, rather than mixing it into a drink.
If you find the taste a bit too intense, you can totally mix it with some water to dilute it a bit.
How much water you add will depend on your taste preference but I find around 5oz or less tastes good to me.
This is a good way to get your daily water intake too, and Super Greens mixes very quickly and thoroughly with the water after a quick shake.
This is where it excels over the typical green powder mixes because they can sometimes have that gritty taste to them as not all their ingredients are 100% soluble.
Key ingredients – What's in Cymbiotika Super Greens?
Super Greens contains a bioavailable complex of natural plant compounds including chlorophyll, glucoraphanin, broccoli seed and other alkalizing greens.
The most notable ingredients are Spirulina (a great source of antioxidants and other nutrients), Sodium Copper Chlorophyllin (from Mulberry Leaf), which is a water-soluble derivative of Chlorophyllin (aka a Chlorophyll supplement) that is understood to promote detoxification at the cellular level, binding to and eliminating heavy metals once it's been absorbed by the body.
Spirulina is what gives Super Greens its deep green color, as seen in the image below.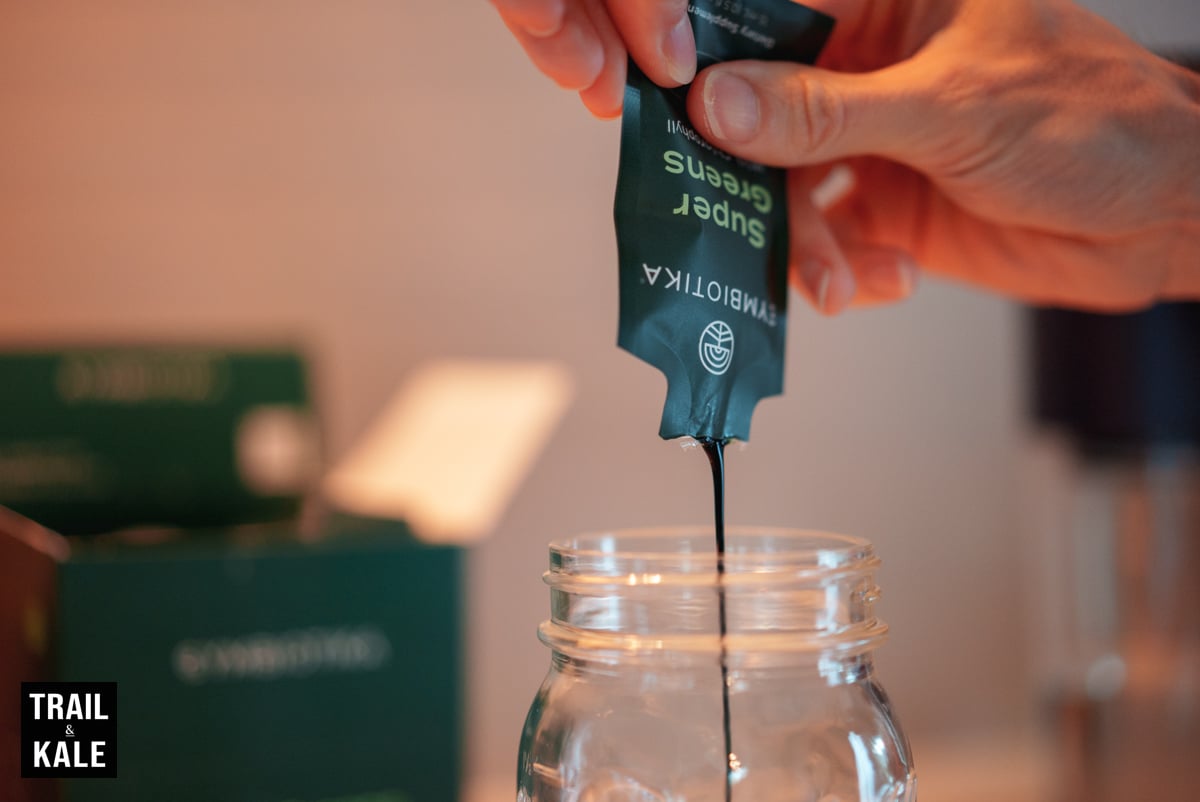 Cholorphyll supplements may have health benefits, that are claimed to, among other things, help to reduce cancer risk and help with skin healing – although, studies are mixed so like many supplement,s more research needs to be done to verify health benefit claims.
Many of the other ingredients will sound familiar, they're powdered supplement extracts from many well-known 'superfoods' such as spinach, kale, alfalfa, broccoli seed and oat grass.
Here's the full list of ingredients (per the product packaging and the company's official website at the time of writing this review):
Chlorophyll (Sodium Copper Chlorophyllin from Mulberry Leaf), Proprietary Super Greens Complex consisting of: Organic Alfalfa Powder, Organic Oat Grass, Organic Spinach Powder, Organic Spirulina, Organic Kale, Broccoli Seed Powder Extract, 13% Glucoraphanin Powder
Other Ingredients: Purified Water, Organic Glycerin, Organic Cassava Syrup, Citris Pectin, Lime Extract, Malic Acid, Organic Lemon Oil, Organic Citrus Extract, Organic Citrus Bioflavonoids
What differentiates Cymbiotika's Super Greens supplement
The most important differentiator for Super Greens, compared to other greens supplements and powders on the market (many of which I've reviewed), is the delivery method and potency.
Cymbiotika has not only devised a way to get all of the aforementioned ingredients into one pouch, in a liquid format that's easy to consume on its own, but it also tastes pretty great, too.
That's a difficult feat for vitamin and supplement companies to achieve when so many of the ingredients can taste… well, a bit too green, or overly sweetened, for many people's palates.
The pouch format is easy to store, easy to use, and doesn't involve making a shake or mixing a powder.
This makes it great for people who are looking for a very simple way to take a greens supplement, either at home, work, or on the go.
Benefits – who it's for
According to Cymbiotika, Super Greens may help with the following:
Supporting cellular detoxification
Boosting energy levels
Promoting healthy immune response.
Of course, it would be great if I could regularly consume a diet that ensures I don't have any nutritional deficiencies but sometimes that is easier said than done, so by taking it I'm taking a step (among other life choices) towards doing my best to maintain optimal health.
While it's hard to gauge detox or immune response benefits, and some of those are long-term as you're really trying to nourish yourself against longer-term cellular-level issues by ensuring you are consuming an adequate amount of antioxidants and anti-inflammatory ingredients, I definitely notice my energy levels are good on days I consume a sachet.
The company also suggests that you may want to take this supplement together with the Cymbiotika Liposomal Vitamin C for enhanced cellular detoxification.
As with other supplements, the company recommends you consult your healthcare provider before taking any supplement, especially if you have a chronic medical condition or are pregnant or nursing a baby.
Where to buy Super Greens (and Cymbiotika's other supplements)
The best place to buy Super Greens, and explore Cymbiotika's range of other supplements and vitamins, is directly on the company's website.
Super Greens is sold in packs that contain 30 pouches. So that's a monthly supply if you take one pouch a day, as recommended by the company.
You can buy it as a one-off order or on a monthly subscription (that can be canceled at any time). It costs $78 for a one-off order, or it's $70 for the subscribe and save option.
Subscription is the way to go especially if you're buying more than one product, as you can get between 10% and 30% off your order. You can also skip it for a month, and add, remove or swap items, so it's pretty flexible.
The $70/month price works out at $2.33/day, which is a pretty good price for a product of this quality. It's a competitive price compared Athletic Greens, which costs just a little more per month (when bought on a subscription – otherwise AG is much more costly!).
Right now Cymbiotika is offering a 15% off coupon code on their website that you can take advantage of if you use this link (or a button below) to visit their site and sign up to their mailing list, so depending on when you read this review it's worth checking for any current deals!
The one-off option is also available on Amazon:
Last Amazon price update was: 29th September 2023 1:30 pm
---
Is this Super Greens supplement worth it?
If you're looking for one of the easiest ways to take a daily greens supplement then it doesn't get much easier than this – and the taste is one of the best I've tried – and I've tried a lot of other products in this space!
It's definitely worth trying out for yourself and seeing how you get on with the innovative liquid pouch delivery format, too.
Cymbiotika Super Greens review summary
Cymbiotika Super Greens Review
PROS
Super easy to take each day with a very convenient sachet 'shot' delivery method
Tastes great and can be diluted if needed by adding water
Reasonably priced when you look at the competition like AG1 and Organifi Green Juice
CONS
Some may find it an intense taste because it's so concentrated but I think it tastes natural and unsweetened. You can always dilute it by adding it to a small glass of water.
---
Image Gallery