Stretching before and after you go for a run is recommended by doctors and running coaches alike.
Stretching appropriately as part of your pre-run warm up and again after you have finished your run is important to help prevent injuries, speed up recovery, and reduce muscle soreness after a tough workout, as well as to help maintain and improve your body's flexibility and range of motion.
As well as helping with recovery times and flexibility, many runners also notice an improvement in their running performance such as the ability to more comfortably run faster as a result of integrating stretching into their regular running routines.
Before I get started, I'd like to thank lululemon for sponsoring this guide and enabling us to bring you these essential stretches for runners that every runner needs to know!
lululemon is one of our favorite running apparel brands; they have a fantastic range of men's and women's running apparel, such as my all-time favorite running tees, the men's Metal Vent tech tees (like the one I'm wearing in the photos and videos in this post). lululemon also has some great women's-specific running shoes, which you can learn more about in our lululemon shoes comparison guide.
---
Should you stretch before running or after?
Well, the answer is you should really do both, here's why…
Stretching before a run can be done as part of your pre-run warm up.
A warm up can be as simple as a 5 to 10 minute jog, to get your body moving and blood flow and breathing rate up.
A good warm up and pre-run stretching routine can help reduce your likelihood of pulling a muscle or injury risk compared to running with cold muscles.
Stretching after a run is focused on maintaining flexibility in your gluteal (butt) and leg muscles and fascia that have been worked hard during your run, and may shorten and tighten up if you don't take the time to stretch them out as part of your post-run recovery routine.
The key difference between stretching before and after a run is that pre-run stretches should be 'dynamic', whereas post-run stretches should be 'static'.
---
Dynamic Stretching vs. Static Stretching
Dynamic stretching is generally recommended for doing before your run as it involves active movements in your muscles and joints that help prepare your body for your workout.
I like to think of dynamic stretching as a key part of any pre-run warm up routine.
Static stretching, on the other hand, involves moving your body or joints into a certain position and holding or leaning into the stretch for a certain period of time.
Doing a good set of static stretching after a run can really help with maintaining mobility and flexibility.
The video below demonstrates all the dynamic and static runner's stretches described in this post but keep reading to learn more about each of the stretches we recommend.
---
5 Great Dynamic Stretches For Runners (To Do Before Running)
These are the 5 best stretches for runners to do before a run.
You can do these while you're running around elevating your heart rate and blood flow as part of your pre-run warm-up.
For each of these, start gently and with a relatively small range of motion to gradually warm up your muscles.
For the first two (leg swings), aim to do at least 15 reps on each side, and consider doing them all twice if it's particularly cold outside as your body may take longer to warm up in cold weather conditions.
1. Leg swings (front to back)
Keeping your body upright and core engaged, swing one of your legs in a straight line from front to back, like a pendulum.
Turn around and repeat on the other leg.
It's easier to do this dynamic stretch while standing next to a fixed object such as a bench, post, or wall which you can hold onto for balance if needed.
---
2. Leg swings (side to side)
Swing your right leg out to the right side and then across your body to the left. You'll have your knee bent when it comes across your body and back again.
Switch sides and repeat with the left leg.
You can do this standing facing a fixed object which you can use for balance if needed.
---
3. Butt kicks
While you jog, kick your feet up to hit your butt. This helps warm up your quads, hamstrings, and hip flexors.
Travel forward as you do your butt kicks as little or as much as you like.
---
4. High knees
While you jog, transition from butt kicks to getting your knees up to around waist height. This helps warm up your hamstrings, glutes, and hips – and if you do it like me, you'll look like something out of a Pink Panther movie – haha.
To elevate your high knees dynamic stretch, you can also move into skipping, which is even more dynamic and great for getting your heart rate elevated before you run!
---
5. Walking lunges
Stride forward in a series of controlled runner's lunges, keeping the bent knee over (rather than in front of) your foot.
---
The Best Static Stretches For Runners (Do These After Every Run)
These static stretches can be done after your run once you've brought your heart rate down with a brief cool-down jog or walk.
Aim to hold each of these stretches for at least 30 seconds on each side – longer if you're enjoying the stretch!
1. Calf stretch
Calf stretches are especially important for all runners, and especially trail runners and runners who do a lot of uphill running (which works the calf muscles more than running on flat surfaces) – they can be critical in preventing tight calves from running.
Find a wall or bench to lean your hands against.
Put your right foot forward and bend your right knee, and left leg back straight behind you.
Both feet should be flat on the floor.
Lean forward towards the wall until you feel a stretch in your left calf. If you need a deeper calf stretch, move your feet further away from the wall.
To stretch other areas of your calf muscles, move around and pause anywhere you feel tightness. You can also bend your left knee slightly to get a deeper stretch.
Repeat the same calf stretch on the other leg.
---
2. Hip flexor stretch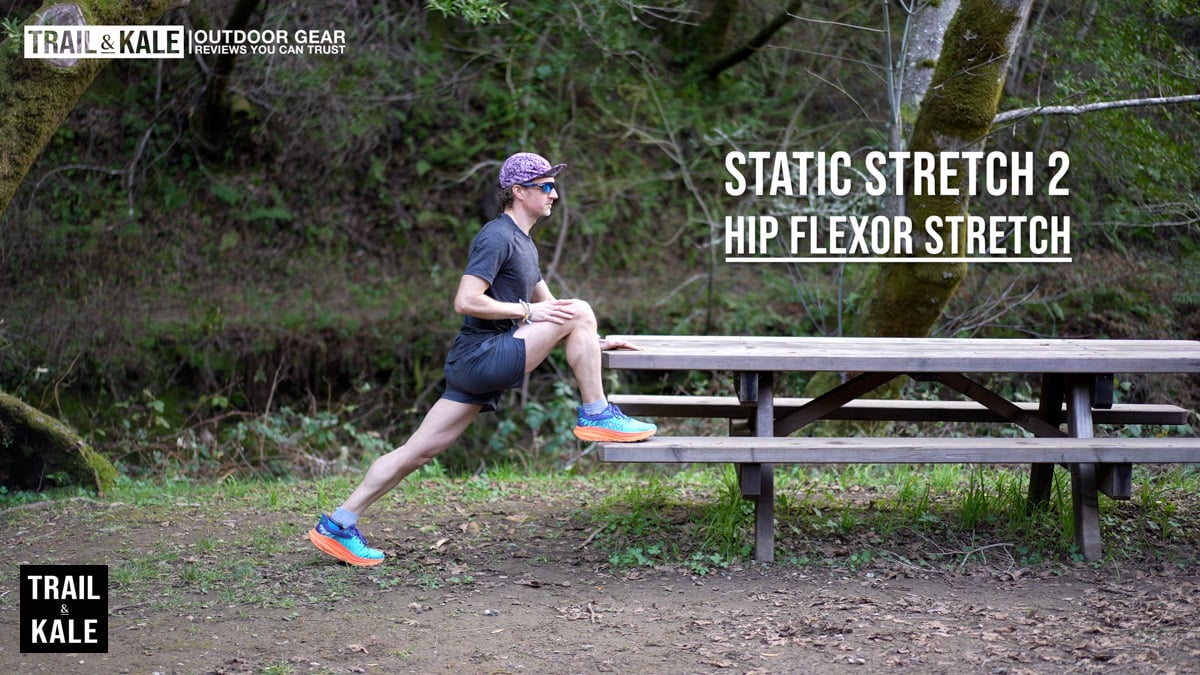 This is one of the best stretches for runners to loosen up tight hip flexors, which does happen over time when you're trail running and hopping over rocks and trail obstacles.
To do this runner's lunge, place your right foot forward and left leg back behind you in a long lunge.
Bend your left knee so it moves down toward the ground.
Keeping your upper body upright, bring your hips forward until you start to feel your left hip flexor stretch.
Hold and gently lean forwards (if it feels good) for as long as you're enjoying the stretch – or at least 30 seconds.
Repeat on the other leg.
Optional modifications
If you're somewhere you can place your left knee on the ground then you can also do this to help with balance and deepening the stretch. If not, then as an alternative you can place the front foot up on a rock or bench.
---
3. Side lunges (hip adductor stretch)
After doing the lunge, I like to move to stretch the hip adductors, which are a muscle group located in your inner thighs. They also work hard when you run, and deserve a stretch out.
Stand with your feet apart in a wide stance, both feet flat on the floor and legs straight.
Keeping your left leg straight, bend your right knee until you feel a stretch in your left inner thigh.
Repeat on the opposite leg.
---
4. Hamstring stretch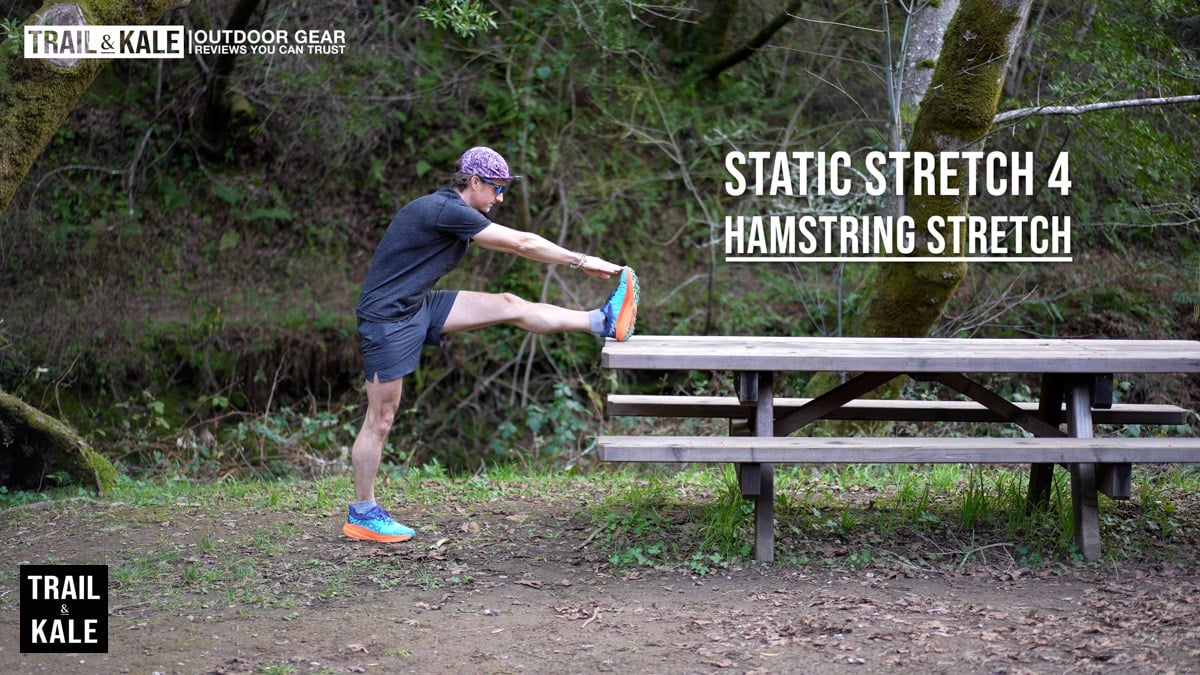 If you're confident with balancing then the greatest hamstring stretch you can do for the back of your thighs is by placing your right foot on an elevated place such as a bench or rock, keeping your left foot flat on the floor.
From this position, lean forward and reach down your right leg towards your toes, until you feel a stretch down the back of your right thigh.
If your flexibility is more limited your hand may not be that far down your right leg – generally, most people will be reaching somewhere between their right knee and ankle, if they can't quite reach their toes.
Switch sides to stretch your left leg.
Optional modifications
You can also do this stretch sitting on the floor if you have somewhere clean and dry to do so.
Some people also like to do it as a lying hamstring stretch by lying on their back, lifting one leg in the air, and pulling it towards their body with their arms.
---
5. Standing quad stretch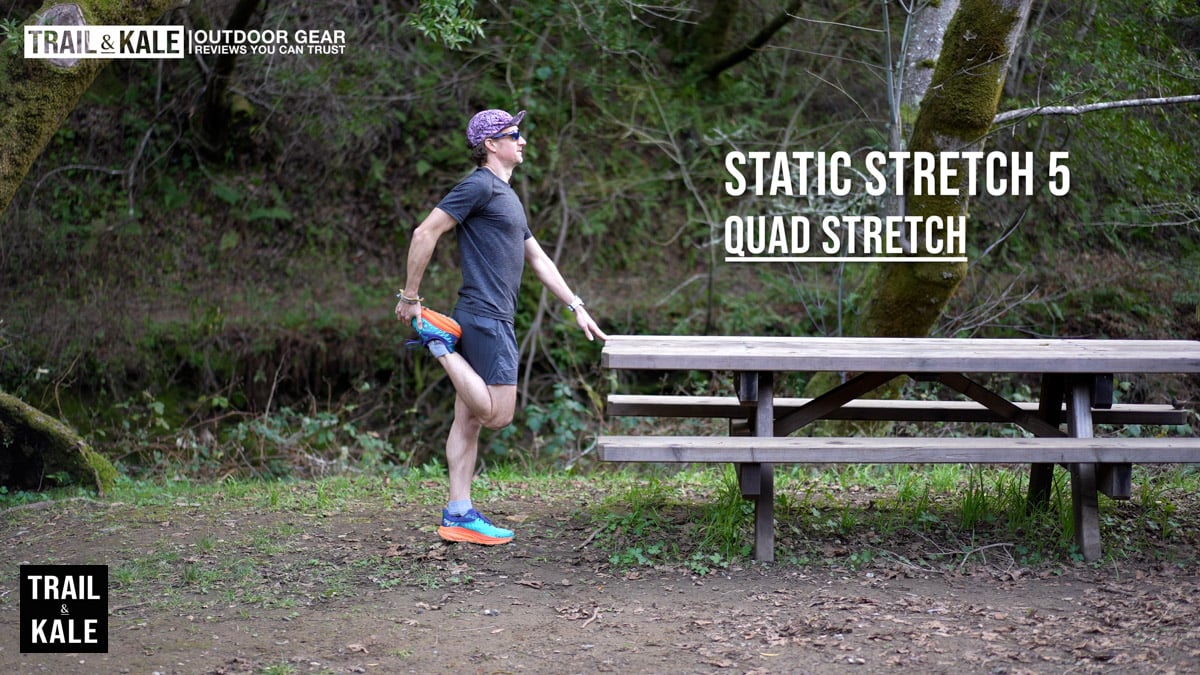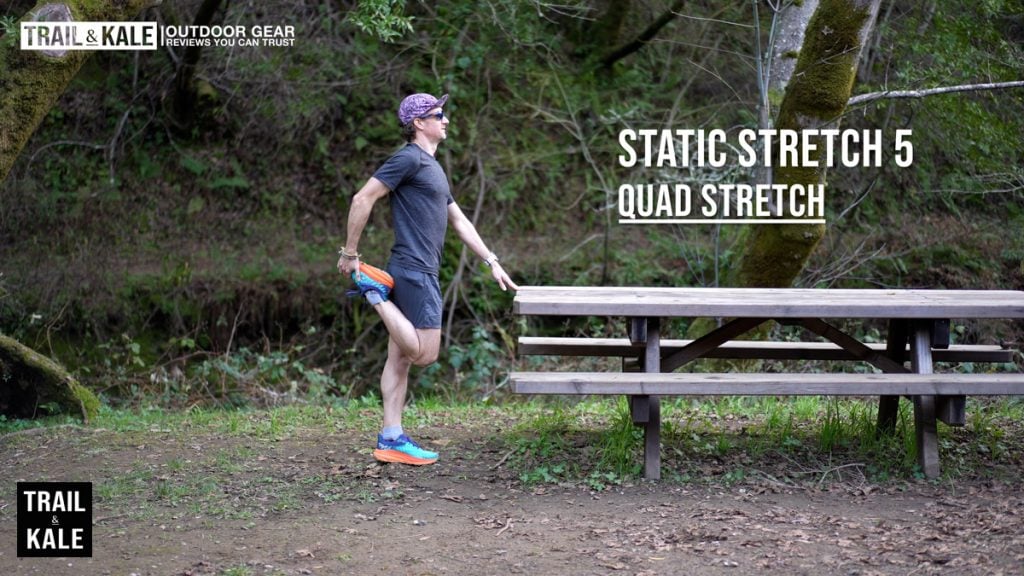 This is a classic runner's stretch that will stretch your quad muscles (the large muscle at the front of your thighs) as well as your hip flexors if done correctly.
The starting position is standing with both legs straight and feet hip-width apart. It helps to stand near a fixed object, such as a bench, post, or wall to help with balance.
Lift your left leg up behind you and with your left arm, reach down and grab hold of your left ankle with your left hand. If this is difficult, try and grab the toe of your left shoe, instead.
Use your right arm on the bench or post to maintain your balance. Keep your right leg straight and stand straight up.
To achieve a good stretch in your left hip flexor muscles, aim to gently pull your left foot to move your left knee down so it's in line with your right knee.
You should feel a stretch all down the front of your abs, left hip, and left thigh. It can be quite intense so don't stress if you can't get the full stretch the first few times you do this one.
Slowly release your ankle and let your left leg straighten until your foot is flat on the floor.
Repeat on the other leg.
---
6. ITB stretch
Although the iliotibial band (aka the ITB or IT band) is not a muscle, this ITB stretch can really help stretch it out after running.
This often-unknown stretch is especially useful to do after a run if you've had experience with IT band syndrome associated with running and you find it's particularly tight after a run.
By the way, if this is a problem you experience, these tips on developing proper running form should help you, too.
Start standing with feet together, then place your right foot across and in front of your left foot, with both feet flat on the floor.
With both arms, reach down towards your toes, dropping your upper body. You should feel a stretch down the outer side of your right leg. For a deeper stretch, reach with your right arm further down and over to the left.
Switch sides and repeat on the opposite side.
---
7. Glutes (and piriformis) stretch (aka the figure-4 stretch)
For some reason, gluteal muscles sometimes get forgotten when it comes to stretching after a run, which is a shame because they are such an important large muscle group that works so hard and needs to be cared for just like your leg muscles do!
This is one of the best stretches you can do for your glutes, and it's really easy to do.
Assuming you're sitting (my favorite way to do this stretch), place your right ankle on top of your left thigh.
Lean forward slightly until you feel a deep stretch in your right gluteal muscles (aka your butt).
Do this for at least 30 seconds then switch sides and repeat on the other side.
Optional modifications
You can do this stretch sitting (as described above), lying down or even standing, if you have a wall or post to help you balance.
---
Thank you for reading/watching this guide to the best stretches for runners.
I know stretching adds time to your overall running window but I promise you'll be so thankful that you stuck to them in the long run for all the benefits outlined at the beginning of this post.
If you enjoyed reading this post, you'll also enjoy these popular articles: