These are the best plant based protein powders for athletes, all of which are vegan protein powders and made from high-quality ingredients – many are also certified organic.
Our vegan protein powder buyer's guide also includes tips for how and when to use plant-based protein powder for runners and endurance athletes, for maximum benefit.
Contrary to popular belief, protein powders are not just for body-builders and muscle building – they can be a key component of an effective post-workout recovery strategy for runners, including ultra-marathon runners, as well as other endurance athletes, to help with muscle repair after running and strength training.
You also don't have to be a vegan or even vegetarian to use vegan protein powders for your nutrition and recovery shakes rather than whey protein versions.
Many people prefer the taste and health benefits of using plant-based protein powder to make their shakes and smoothies, compared to using milk-based (whey protein) options.
And of course, if you are lactose-intolerant then you'll want to make sure your recovery shakes are dairy-free and made using plant proteins such as:
pea protein
quinoa protein
brown rice protein
peanut protein and
chia protein.
---
Table of contents
---
The Best Vegan Protein Powders
1. Naked Nutrition NAKED SHAKE [CLEANEST PROTEIN POWDER]
Primary plant protein: Pea
Cost per canister: $41.99 for 30 servings
Approx cost per serving: $1.39
Serving size: 2 scoops (31g)
Grams of protein per serving: 20
The verdict: Smooth tasting, great if you don't like chocolate or vanilla flavors, effective recovery benefits
This USA-made pea protein-based vegan powder is the tastiest protein shake we've come across, and definitely something to look forward to after an intense workout. These are just two of the reasons Naked Shake tops our Vegan protein powder reviews.
It's a high-quality protein powder that makes delicious dairy-free protein shakes that taste like strawberry banana milkshakes and deliver 20g of protein and only 5g of sugar.
Not only is it plant-based, but its ingredients are non-GMO, dairy-free, gluten-free, and soy-free, and we love that it doesn't taste overly sweetened, as other protein shakes we've tested often do.
We've experienced rapid post-workout recoveries after tough endurance efforts as a result of using this protein powder.
NAKED SHAKE also has the nicest texture / consistency on this list when simply mixed with water.
---
2. Gnarly Nutrition Vegan Plant Protein
Primary plant protein: Blend of pea, chia seed, and cranberry seed proteins
Cost per can: $55.31 for 16 servings (when bought on subscribe & save)
Approx cost per serving: $3.46
Serving size: 2 scoops (50g)
Grams of protein per serving: 20
The verdict: Great-tasting, a super-smooth texture, and additional fiber, vitamins and minerals
This NSF-certified vegan protein powder from Gnarly Nutrition is something special.
It's not just a post-workout recovery shake, but also, due to the balance of other macros, vitamins, and minerals it contains, it's classified as a vegan meal replacement – justifying its higher-than average cost per serving.
By combining all the plant proteins listed above, Gnarly Vegan contains all 9 essential amino acids and is a rich source of antioxidants, and healthy fatty acids.
One serving provides 20g of protein, 7g of fiber, and 14 vitamins and minerals, and equates to 200 calories when blended just with water.
Pro tip: Boost the shake into an even more satisfying meal by using nut milk and adding other nuts, fruit, or veg when you blend it.
---
3. LyfeFuel Performance Shake [HIGH PROTEIN WINNER]
Primary plant protein: pea, brown rice, quinoa
Cost per bag: $40.00 for 24 servings (when bought on subscribe & save)
Approx cost per serving: $1.67
Serving size: 1x 37g scoop
Grams of protein per serving: 25g
The verdict: Super smooth, great tasting, low calorie plant-based protein powder.
Lyfe Fuel is an exciting California-based vegan nutrition brand that offers a range of plant-based shakes and meal bars, including this Performance Recovery shake as well as their bestselling Daily Essentials Meal Replacement Shake.
With 25g of protein per serving, this LyfeFuel vegan protein shake provides one of the highest portions of protein compared to other powders on this list, with a fantastic price per serving of only $1.67, making it one of the best value plant-based protein powders on this list, too.
To learn more about LyfeFuel and their meal replacement shake option (which at 18g protein is also another option for consuming post-workout recovery) read our Lyfe Fuel review.
---
4. Plant Works Nutrition
Primary plant protein: Blend of pea, mushroom, pumpkin and rice
Cost per bag: $35.99 for 15 servings
Approx cost per serving: $2.40
Serving size: 2 scoops (45g)
Grams of protein per serving: 20
The verdict: Great-tasting, blend of plant-proteins and a super-smooth texture
Plant Works Nutrition is our runner-up for best plant-based protein powder.
We first discovered it at the Hood to Coast Pacific City relay event in Oregon when we were given some to try at the finish line. [By the way, if you haven't done a Hood to Coast event before, DO IT!]
Each serving of Plantworks protein has 20 grams of plant-based protein from Pea, Mushroom, Pumpkin, and Rice proteins.
It contains 0g of sugar and 7g of fiber, the ingredients are non-GMO, as well as dairy free, soy free, and gluten-free. It is also mixed with adaptogens and super herbs to help improve your recovery times. Plant Power, baby!
5. Organifi Complete Protein [ORGANIC PROTEIN POWDER WINNER]
Our exclusive Organifi coupon code 'TK15′ will get you 15% OFF your total order when purchased via the links in this review. Available only at organifishop.com.
Primary plant protein: Blend (details above) including superfoods
Cost per canister: $67.96 for 30 servings, with our 15% discount
Approx cost per serving: $2.25
Serving size: 1 scoop (39g)
Grams of protein per serving: 20
The verdict: Quite possibly the perfect organic plant-based protein powder and superfood smoothie blend.
Organifi Complete Protein includes plant protein and also superfood meal ingredients which means it can be used as a complete fully-balanced organic meal, your daily multivitamin, and 20 grams of protein all in one easy-to-mix shake.
I'm often hungry after intense exercise, so drinking a plant-based protein powder that combines a healthy superfood meal that keeps me full for long enough until my next meal is a huge time saver.
This could be the ultimate recovery powder for those who run during their work lunch break as you won't have to spend time buying/eating food in the traditional manner.
It makes for a nice healthy breakfast option too. Because of its multi-use purpose and additional superfood ingredients, Organifi Complete Protein is our favorite organic plant-based protein powder.
The superfood ingredients included are pea protein, quinoa, pumpkin seed, coconut, vanilla bean, monk fruit, real whole food vitamins, and digestion soothing enzymes. It's also dairy-free, gluten-free, soy-free, USDA Organic, and 100% vegan.
By the way... Organifi has a fantastic super greens powder product, too – read our Organifi Green Juice review to learn more about it.
Although cheaper when bought at organifishop.com with our coupon code, it's also available at Amazon.
---
6. Orgain Sport Protein Powder (Vanilla or Chocolate)
Primary plant protein: pea, rice and chia
Cost per canister: $35.24 for 16 servings when bought using subscribe & save
Approx cost per serving: $2.20
Serving size: 2 scoops (57g)
Grams of protein per serving: 30
The verdict: Another great choice organic, vegan protein powder for sports recovery
Another great choice for clean, organic plant protein powder, this Orgain powder packs in a hefty 30g of protein per (two scoops) serving, with ingredients including tart cherry, fermented turmeric, and ginger.
This powder is designed to support muscle recovery and reduce muscle soreness, especially after intensive sporting efforts.
Being from a quality protein brand such as Orgain, it almost goes without saying that this powder is gluten-free, soy-free, and, of course, vegan, as well as being USDA organic.
When it comes to choosing a flavor, we are particular fans of the vanilla option, with chocolate being the other option.
---
7. Tailwind Nutrition Rebuild Recovery Mix [GREAT FOR RESTORING ENERGY LEVELS]
Primary plant protein: Brown rice protein
Cost per bag: $39.99 for a 15 serving bag
Approx cost per serving: $2.66
Serving size: 2 scoops (61g)
Grams of protein per serving: 11
The verdict: A great choice if you feel wiped out after intensive endurance training.
The protein in Tailwind Nutrition Rebuild Recovery shake is mostly organic rice protein supplemented with amino acids to build a complete amino acid profile.
Tailwind's Rebuild Recovery protein powder also has added carbohydrates, some healthy fats from coconut milk, and just the right amount of electrolytes (sodium, potassium, calcium, and magnesium) for endurance athletes. All ingredients are vegan, soy-free, Non-GMO and gluten-free.
Tailwind specializes in sports nutrition for ultra-endurance athletes, and has developed this plant-based blend specifically to help you recover after intense endurance efforts where you may feel sore and low on energy.
Tailwind Rebuild repairs muscles efficiently, restores energy fast, and generally makes you feel better sooner, which is down to the added carbohydrates and healthy fats as well as the rebuilding effect of the protein ingredients.
It comes in 'single-serve' stick packs or in 32 oz packs for $38.99 which provide 15 servings, a great way to reduce packaging waste.
The 'single-serve' sticks are however a convenient way of taking your recovery drink to work or the gym, and at around $3 a stick, it isn't too expensive.
---
8. PBFit + Vegan Chocolate Peanut Butter Protein Powder
Primary plant protein: Pea, Peanut
Cost per canister: $14.99 for 10 servings
Approx cost per serving: $1.50
Serving size: 3 scoops (44g)
Grams of protein per serving: 20
The verdict: Chocolate PBfit Plus' subtle chocolate peanut butter flavor means the taste mixes well with smoothies, shakes, oatmeal, pancakes, etc.
As an alternative to chocolate or vanilla, and if strawberry banana (from Naked Nutrition) is not your thing, how about chocolate peanut?
PBFit + Protein powder uses mostly pea protein but has a really nice taste of chocolate peanut butter flavor because it contains a large amount of peanut flour (and also cacao powder).
This protein powder comes in two varieties, whey protein, and vegan plant-based protein, but we have only tried the plant-based vegan version (make sure you buy the right one!).
It packs in 20g of protein per serving which mixes well with oat milk and almond milk in particular. To make things even easier, just mix with water, that's how we generally take it.
PBfit PLUS Vegan contains Organic Pea Protein powder, Organic Peanut Flour, Organic Erythritol, Organic Coconut Palm Sugar, Organic Cacao Powder, and Natural Flavor.
Simple ingredients are why I love all the powders on this list!
---
9. Vega Sport Premium Protein
Primary plant protein: Pea, Pumpkin Seed, Sunflower Seed
Cost per canister: $42.99 for 20 servings
Approx cost per serving: $2.15
Serving size: 1 scoop (44g)
Grams of protein per serving: 30g
The verdict: If you're looking for 'bang for your buck' when it comes to grams of vegan protein to help build muscle, NSF-certified Vega comes in top at 30g per serving
With each serving of Vega Sport Premium Protein you get a whopping 30 grams of plant-based protein (the most on this list), BCAAs, 2 billion CFU of probiotics (bacillus coagulans), and tart cherry to support recovery.
Vega Sport Premium Protein includes pea protein powder, organic pumpkin seed protein, organic sunflower seed, and alfalfa with other sport-specific ingredients like tart cherry, turmeric extract, providing an Amino Acid profile containing 9 essential amino acids.
It's also gluten-free, non-GMO, and certified vegan, with no artificial flavors, colors, or sweeteners.
This Vega Protein powder is also NSF certified, which is great to know if you're a competitive athlete.
We love that the company is also a certified B-Corp, which means that they are committed to meeting rigorous standards of social and environmental performance, accountability, and transparency.
---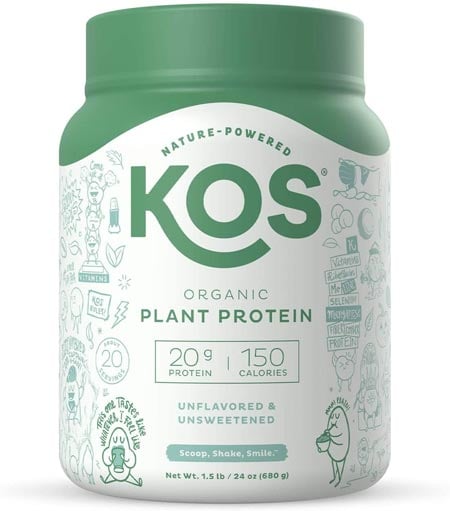 10. KOS Unflavored Protein Powder [BEST FLAVORLESS VEGAN PROTEIN POWDER]
Primary plant protein: Organic pea protein, flax seed, quinoa, pumpkin seed and chia seed
Cost per canister: $34.99 for 20 servings
Approx cost per serving: $1.75
Serving size: 2 scoops (34g)
Grams of protein per serving: 20
The verdict: Great option for an unsweetened, unflavored clean organic protein powder.
If you're looking for a clean organic plant-based protein powder that isn't flavored with the usual chocolate or vanilla tastes, then give this KOS unflavored protein powder a try.
It's obviously not really 'flavorless', it does have a taste to it, but it's more natural and less sweet than other alternatives, so a good choice if you want to mix it with dairy-free milk alternatives for shakes, or in smoothies without having chocolate or vanilla flavor as part of that mix.
This powder is naturally vegan as well as USDA Organic and keto-friendly (according to the Paleo Foundation), soy, and gluten-free.
This KOS organic plant protein is a complete protein blend made up of Pea, Flax Seed, Quinoa, Pumpkin Seed & Chia Seed proteins, plus additional essential vitamins and minerals.
---
Guide to the Best Plant-Based Protein Powders for Athletes
It can be difficult to choose a vegan protein powder to help with post-workout recovery as well as everyday nutrition or even muscle-building when there is so much information and choice out there.
This is especially so when you want to find a good quality non-whey protein powder with no animal products. And for anyone out there wondering… no, whey protein is NOT vegan.
Why we use protein shakes for recovery
Protein is largely responsible for repairing and building muscle mass.
During your long run, speed session, hill-reps or strength training at the gym you're actually creating microscopic tears to your existing muscle.
Muscle mass increases as those muscles are repaired (thanks to protein), making you stronger than you were before your exercise.
It's the protein that we eat that gets broken down into amino acids that give us the nutrients needed to repair these damages, and so drinking protein shakes after a workout can help those repairs more quickly and efficiently.
The faster you're able to recover, the more running you can do, which ultimately is the goal when training to become a better, faster, and stronger runner with minimal risk of overtraining injuries.
I use protein powders much more regularly during training blocks for races because this is when I'm training most intensely, and need to recover much faster.
Plant-based protein should therefore be considered by any endurance athlete looking to improve their performance as part of a well-rounded training plan, particularly if, like us, you are a trail or ultra runner.
Why choose plant-based rather than whey protein
Whey protein is one of the main proteins found in cow's milk and is highly processed before it makes its way to your recovery shake blend.
The main motivation most of us have for choosing dairy-free, plant-based protein powders is as part of a bigger picture choice to reduce or eliminate dairy from our diets, either as part of a wider lifestyle change to eating plant-based or going vegan, or because many people are lactose-intolerant.
As part of living a cleaner, plant-based lifestyle, we also seek to minimize the amount of processed food we consume.
This way we can understand exactly what we are eating, where it came from, how it was made and what nutritional value it promises.
You don't have to have any of these reasons to consume shakes or smoothies made using vegan protein powders, however.
It has other benefits over whey protein while still offering good quality proteins to aid with strength and recovery from running and other workouts.
Plant-based proteins tend to be lower in calories and fat than animal proteins, as well as being higher in fiber and essential nutrients, and their ingredients are more environmentally sustainable.
So in our opinion, they are the healthiest type of protein powder for us, and the environment.
How to choose the best vegan protein powder for you
As with any packaged food, it is important to read the label carefully when choosing a protein powder, because even dairy-free powders marketed as being 'healthy' or 'clean' may have additives that are undesirable.
Many manufacturers will be very quick to tell you what their product does NOT have, for example, that it's 'sugar-free' but omit to make it obvious that while there is no sugar, they've added a lot of other sweeteners or artificial flavors.
The plant-based protein powders on this list are widely regarded as being the cleanest protein powder choices for anyone looking for vegan alternatives to whey protein.
You may also be looking for clean ways to take on post-run and workout recovery nutrients, and we've highlighted some of the key ingredients and features in each review above.
The amount of protein per serving is likely to be the first thing most people are going to want to check, especially if you are looking to maximize the amount of protein you are getting from your recovery shake.
When it comes to plant-based protein powders it's worth noting that serving sizes and quantity (grams) of protein per serving can vary significantly between different brands of plant protein.
This is very much dependent on the type of protein and the blend, although 20g per serving is pretty typical, the range tends to be between 10-30g.
I suggest also reading the label and full ingredients lists for each product to ensure you know everything that's in them to work out which one is right for you.
Other things to check for
IS IT ORGANIC? Ensure that if having organic protein powder is important to you, the one you choose is certified organic. It's also checking for other information about the source of the ingredients, such as whether the ingredients are Non-GMO, and what type of plant the protein is made from (more on the different types of plant proteins below).
CHECK FOR ACCREDITATIONS – for example, the Vega Protein option on this list is NSF certified, which may be important to you if you compete as an athlete.
Consider the level of sugars and sweeteners – these aren't necessarily bad things in moderation, however, if you have a strong preference for a sweetener-free and low sugar protein powder then it pays to read the labels carefully.
TASTE AND FLAVOR – how does the protein powder get its flavor? Is it 'flavorless' or does it have added flavors such as chocolate or vanilla? Flavor is also a personal preference and can also be linked to the amount of sugar or sweeteners in your powder's blend.
Flavorless protein powder could be the best choice if you plan to mix it into a smoothie blend, but could be overly earthy or nutty to mix simply with water and be enjoyed.
The Different types of plant-based protein powders
Without going into too much detail, proteins are made up of 20 amino acids, and the human body is able to create only 11 of them.
The remaining 9 amino acids, referred to as the essential amino acids, can only come from your diet.
There are quite a few complete protein plant-based foods that contain all 9 of these essential amino acids (to provide you with a complete amino acid profile) while others may only contain a few of them (this is one reason why a varied diet is so important).
Some examples of plant-based whole foods with all 9 essential amino acids are quinoa, buckwheat, soy, rice, beans, hemp seeds and chia seeds.
Unless made with one of these plant proteins (which is uncommon), plant-based protein powders are typically made from a blend of different plant proteins in order to provide a complete protein source.
The most common plant proteins used for making vegan protein powders are:
Pea protein
Brown rice protein
Hemp protein
Pumpkin seed protein
Sunflower seed protein
Although less common than pea protein and the others listed above, Flax, Quinoa, Peanut, and Chia are also included in some of the plant-based protein powders on our list.
NOTE: You can also find vegan protein powders made from soy, however as this has often come from GMO sources and there are some health concerns around-consuming too much soy in your diet this is not a recommended main source of healthy plant-based protein.
How and when to use protein powder
If you're wondering when is best to drink protein shakes, it's generally recommended that protein is consumed within the first hour of finishing a workout, intense run, or race.
We have also heard that it's recommended that women should have protein within 30 minutes, while men have a 60-minute window for optimal muscle repair.
Either way, our simple rule is to have a shake made using vegan protein powder as soon as possible after an intensive workout.
Whether that ends up being 15 minutes or two hours later, there should still be some benefit as you replenish the protein and other depleted nutrients in your body.
It's also worth noting that we don't have protein shakes after every run, only the ones where we've really worked – the long runs, the intense tempo runs or the hill or speed interval training sessions.
You could have a protein shake after other runs, too, however it may not be necessary if it was a shorter or easy session, and it can get expensive having that many shakes if you run frequently!
What to mix it with
Most manufacturers of vegan protein powders will offer suggestions and recommendations for what works best to mix with their product.
Generally, we use either water or plant-based milk such as oat milk if making a plant protein shake.
Making smoothies with vegan protein powders
A smoothie is a great way to mix your protein powder with other natural ingredients such as fruit.
A recovery smoothie can become an entire meal replacement in itself (especially if you use a plant protein that has plenty of added nutrients).
See our list of the best vegan protein powders
Now you've read our guide to finding the best plant-based protein powder for you, click here to jump back up to see our top recommendations.