There's a lot of choice when it comes to GPS running watches, however, there are some specific features that you'll need to ensure your GPS watch has, in order to make it suitable for not just road marathon running but also mountain running, trail navigation, and ultrarunning, which narrows down your options.
Some of these specific features are generally good to have even if you don't run ultramarathons, because having a battery life that lasts for more than 24 hours during an activity, or a design that makes a running watch comfortable to wear all day is something that you'll come to love; I'll explain why later in this guide.
Whether you're into running roads, trails, ultra-marathons or even multi-day efforts such as stage races, fastpacking, or hiking long weekends, a good GPS running watch needs to stand up to the task of accurately and reliably tracking your location.
It also needs to be suitably durable, have a long battery life, and help you track other key performance indicators such as heart rate and heart rate zones (while you're training for that marathon, and even when you're not during the day and night), effort levels, recovery time and for trail runners like myself, provide excellent navigation features too.
Scroll down to read more about the key features used in our selection criteria when picking out the best running watch for your specific style of running and workout training.
Side note: If you enjoy running in off-the-grid locations I would also recommend looking into getting yourself a Satellite Messenger and Personal Locator beacon combo in case you get lost or find yourself injured with no means to make it back to civilization without help.
The Best Running Watches – Our Top Picks
The 5 leading brands that manufacture the best running watches include Garmin, Coros, Apple, Suunto, and Polar. With that in mind our list of the best watches for runners is concise because when we say the best, we really mean it.
Each one of these running watches is a great option but read our reviews of each as they do vary in price and features – and there's always going to be one that's best suited to you, your needs, and your budget.
We've also explained when it makes sense to wear a smartwatch for running, such as an Apple Watch Series 8 (or the Apple Watch Ultra), and the pros and cons of training with a smartwatch instead of a running watch that's attempting to also be a smartwatch.
While we've included reviews of each of the best running watches below, we have first listed a brief summary of each running watch's key features to help you choose which is best for you, based on budget, battery life, navigation, and much more.
It's worth noting that ALL of the Garmin, Apple, Suunto, and Polar GPS watches on this list are waterproof down to at least 50m, and have on-wrist heart rate monitoring as standard.
They can also all track elevation gain and loss, and all the watches we tested have proven quick to pick up a GPS signal and are very accurate when it comes to GPS tracking.
If you'd like to read more about each one of the best running watches on this list, click the review links to jump down and read more details and our thoughts on each watch's pros and cons.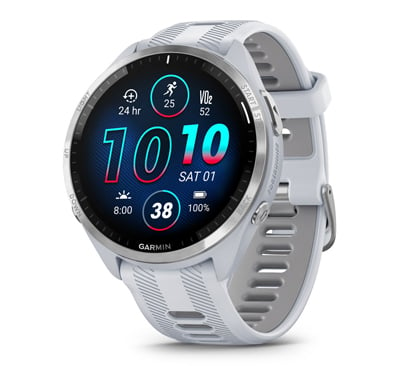 1. Garmin Forerunner 965 ($600)
"Overall Best Running Watch"
Amazon.com
$591.99

18 new from $591.97

See Deal
Garmin.com
$599.99
See Deal
Rei.com
$600.00
See Deal
Last Amazon price update was: 28th September 2023 10:30 pm
I've tested every running watch on this list and many that didn't quite make it on, and the 1.9oz Garmin Forerunner 965 is the best running watch for the money right now, in my opinion. It's the one I choose to use on my long grueling road and trail runs/races.
It wasn't long ago, however, that I was wearing the Fenix 7 Sapphire Solar running watch because it had most of the features of this watch but with extra durability, a bit of a longer battery life, and also water resistance up to 100m.
All this came at a much higher price however, and one I don't believe is worth it for runners who want a feature packed watch with a screen that easily outclasses the Fenix series – so this is where I stop talking about the Fenix and make way for the Forerunner 965.
Click the "Read Review" button above to learn more about this epic running watch.
---
2. COROS APEX 2 PRO ($499)
"Best Budget-Friendly GPS Watch for Ultra Running"
The COROS Apex 2 Pro is a lightweight (1.9oz), durable, and highly capable running watch that's intuitive to use and has a long battery life that won't let you down. With COROS' EvoLab fitness evaluation system, Apex 2 is the best running watch for marathon or ultra runners on a budget.
Click the "Read Review" button above to learn more about this impressive (and very affordable) running watch OR read my in-depth Coros Apex 2 Pro review.
---
3. Apple Watch Ultra ($799)
"Best smartwatch for running"
Apple Watch Ultra is the ONE watch that does it all, from daily jogs to ultra marathons and health monitoring through the day/night (including heart rate, HRV, irregular rhythm notifications, steps, Blood Oxygen, calorie burn, sleep data, respiratory rate, and more).
There's so much to share about Apple Watch Ultra including the third party apps necessary to make it track runs like a Garmin or COROS, so click the "Read Review" button above to learn more about this super smart running watch.
---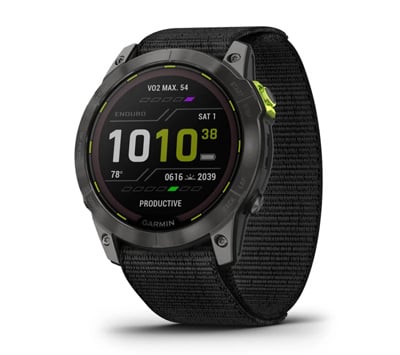 4. Garmin Enduro 2 ($1,100)
"Best for extreme multi-day ultramarathon, long treks, and backpacking"
The Enduro 2 is a rugged solar charging Garmin running watch with an extraordinary battery life that's hands down the best running watch for multi-day ultra-endurance efforts like extreme 50, 100, and 200-mile ultra marathons, and even multi-sport racing like Iron Man triathlons.
Garmin Enduro 2 is the ultimate running watch for ultrarunners, and although it has an epic price tag, it's worth it for those who love to run for days. Click the "Read Review" button above to learn more about this impressive running watch.
---
5. Suunto 9 Peak Pro
The Suunto 9 Peak Pro is their most powerful multisport watch yet, with a battery life that lasts 40 hours in the most accurate GPS mode and military-grade durability. The ultra-thin and design makes it very attractive to wear when you're not running, too.
Click the "Read Review" button above to learn more about this great running watch.
---
6. Polar GRIT X ($430)
The Polar Grit X is a great value running watch with accurate heart rate & recovery monitoring and activity tracking features including sleep data. It's very comfortable to wear (even on small wrists) during the day/overnight (for sleep tracking), and running long distances.
Click the "Read Review" button above to learn more about the Polar Grit X.
---
Running watch reviews (A detailed look at our top picks)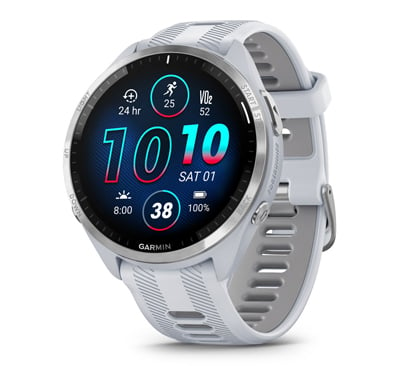 Garmin Forerunner 965 review
The Garmin Forerunner 965 is a really feature-rich running watch for those who want it all, with full customizability on the watch display while running (thank you data screens!), excellent battery life, outstanding navigation features, and a beautifully vibrant AMOLED display.
This really is the best running watch right now – let me explain why…
The Forerunner 965 weighs a cool 1.9oz which is neck and neck with the Coros APEX 2 Pro sitting at number 2 in our list.
I've rigorously tested all the gps running watches on this list in wild environments here in Northern California and the Garmin is the one I trust to take with me on all my long trail runs.
It's not just about trust though – it's the only running watch where I can have all my favorite features, and use them intuitively and in the way I want to whether I'm training for a race or during race day itself.
There's no end to the customization of watch faces that you can add to the always on display, and many of these data points are actionable and can be used to outwit, and outperform other runners while racing – if you know what you're doing (more on that in a moment).
This data can also improve your consistency in effort while training for a half marathon, marathon or ultramarathon for example, with data points like Garmin's 'PacePro' to keep you on your desired pace and their 'ClimbPro' which can be used to see real-time information on your current and upcoming climbs, including gradient, distance and elevation gain — as well as descents and flats.
ClimbPro is such a powerful feature for trail racing because I know exactly how much climb I have remaining on any given pitch or grade during a race or training run.
This helps me maintain an exertion level (based on my heart rate training) that will get me to the top of my climb with spare gas in the tank ready to speed up when I reach the top – I use this feature all the time! To use it you need to follow a GPS course/route for the option to become available.
You can create courses for free within Garmin Connect (their training platform & trail finder app).
Cadence is also a great indicator of how tired you may be during a race, and serve as a reminder to keep that running cadence ticking over like a metronome as well as useful data such as 'stamina', 'stride length', 'vertical oscillation', and 'ground contact time' over time.
Having good running form is very important for endurance runners (any runner for that matter) because it will reduce the risk of you picking up running-related injuries and also allow you to run faster, more efficiently, and run for much longer.
Forerunner 965 can also tap into the Connect IQ library of third party apps to install useful apps like one I use that gives me reminders to take running gels at certain calorie burn limits, or consistent time intervals, if I'm not running over mountainous or hilly terrain that is.
I probably use 70% of the watch's total features (maybe less), with my favorite ones being able to accurately follow routes with best-in-class navigation, and I love how you can customize watch screens to have all the data you need while running.
Some of my other favorite custom watch face settings that i use for training and racing include:
Notifications when I get to 5km and 1km from the end of a race – this is when I know to push hard and never give up when nearing the finish line.
Distance remaining and estimated time remaining in my run when following a course – also useful on race day.
ClimbPro which plots each climb on my route and gives me data like how steep it is through out the grade, how long it is, total height, vertical speed and much more!
Although I don't use every single function on this watch, I know they're there when I need to.
This watch really does have every feature you could want in a running watch for road, trail, and ultra running, including music, and also a great range of features for other sports and workout types.
For ultra runners who run serious multiple day stage races and want premium Garmin features, but need EVEN LONGER battery life, like 150 hours long in GPS mode, then take a look at the Garmin Enduro 2 below – it will be a better option for you.
The Forerunner 965 is the ultimate running watch – feel free to ask me anything about it in the comments below or simply read my more detailed review below.
BATTERY LIFE:
Smartwatch mode: Up to 23 days
GPS-only mode without music: Up to 31 hours
SatIQ (AutoSelect) GNSS mode: Up to 22 hours
All-Systems GNSS mode + Multi-Band: Up to 19 hours
NAVIGATION – The navigation features are excellent and in my opinion, the best in class. High resolution, color TOPO maps (thanks to the AMOLED screen) featuring trend line popularity routing to help you find and follow the best paths.
This is a fantastic feature that blows the competition away in terms of navigation. It's simple to set up a course/route and then send it to the watch, ready for following during your run.
Then when the route is displayed back to you on the watch, the detail is excellent. When navigating a course you can also see the route profile with elevation gained and elevation remaining.
Being able to see the trail lines on the watch map that you shouldn't take makes it so much easier to see the ones you should, hence reducing the chances of getting lost.
The other awesome Navigation and safety feature is called LiveTrack and as long as you have a cellphone connected to the watch while running, this free feature will send a text or email to the contacts you tell it to when starting a run so that they can track your location live.
We both use this when we are running ultramarathons abroad so that our friends and family can track us during the race and they have peace of mind that we aren't lost somewhere savage – and I've had some moments in the Washington wilderness running around volcanoes where I almost got lost.
DURABILITY – Rugged design with Corning Gorilla Glass 3 DX.
ALTIMETER, BAROMETER AND ACTIONABLE FEATURES – For accurate altitude/elevation tracking and weather tracking. When following a programmed course, you can set a real-time 'ghost' competitor which shows a marker on the running watch display to motivate you to keep up with it.
It also features a Pulse Ox2 sensor. For altitude acclimation or sleep monitoring, this sensor uses light beams at your wrist to gauge how well your body is absorbing oxygen.
Super useful when running at altitude or when used as an extra indicator for current fitness levels.
SOFTWARE – Garmin Connect is a fun platform to store your runs on. There's a wealth of data stored there so you can stick to built-in training plans and compete against friends.
It can be used to track daily steps, heart rate, and sleep data too, provided you wear the watch all day and through the night.
Garmin Connect is essential your daily trainer too and it will give you tips on how to train, and how long for, to ensure you're always getting stronger without the possibility of overtraining.
MUSIC – You can download songs and playlists from your Spotify, Deezer or Amazon Music accounts for phone-free listening.
OUR VERDICT – For the reasons outlined above, this is why we've rated Garmin Forerunner 965 as the overall best running watch.
---
COROS APEX 2 Pro review
The COROS Apex 2 Pro is an excellent value, lightweight (1.9oz), easy to use running watch with outstanding battery life suitable for ultra marathon training and racing, yet it's small enough to wear comfortably every day to record daily health metrics – all important for training success.
This small form factor means you can actually use all the great features that expand this sports watch's capabilities outside of it simply being one of the best GPS running watches or for other sports like cycling and triathlon.
For example, it has brilliant sleep-tracking features that give you so many insights in the morning which also gives the Coros trainer heart rate recovery data to determine how intense you should be working out that day, in order to build on your fitness without overtraining.
It, of course, tracks heart rate too, among other things throughout the day which is essential to the COROS EvoLab AI training software which evaluates your workouts, your recovery, and more to provide you with best-in-class fitness analysis.
In my tests, the COROS EvoLab came out best when it came to an app that tracks all your data in a nice digestible dashboard in the smartphone app. Closely followed by Garmin's Connect dashboard which is also excellent but could use a refresh.
Offered at a very reasonable price point and in two base models, the APEX 2 and the APEX 2 Pro, either one of these units is a serious running watch made even better with best-in-class AI training software (EvoLab) that comes with it for free.
The Apex 2 running watch is offered in two options, the Apex 2 and Apex 2 Pro.
BATTERY LIFE:
| Size | Regular Use | Full GPS |
| --- | --- | --- |
| Apex 2 | 17 days | 45 hours |
| Apex 2 Pro | 30 days | 75 hours |
What's also great about the battery on the Apex 2 is how quickly it takes to charge – just under 2 hours to be precise.
NAVIGATION – COROS' intuitive navigation system gives you the tools you need when exploring the outdoors. It has free global offline Landscape and Topographical maps so you can access critical navigation information in the most remote locations.
The digital dial on the COROS APEX 2 and APEX 2 Pro makes it very easy to zoom in and out of your map, while the touchscreen allows you to drag the map with your finger.
The digital dial also has nice haptic feedback which means its a pleasure to use when accurately dialing in on something.
The navigation features are still a little less sophisticated and detailed than the Garmin Connect App, but it's improving fast and wont be long before it's as good as Garmin.
The COROS App will add a new route-planning feature to our robust navigational ecosystem soon. This will allow you to open your app, start drawing your preferred route, and let Route Planner choose your optimal path based on the closest trails or streets available. Check distance and elevation, save it, transfer it to your watch, or share it with your friends.
With this update I think Garmin will have some seriously stiff competition in the Navigation department.
DURABILITY – The COROS Apex 2 features a sapphire glass screen as standard for extreme protection and can operate at temperature extremes of -4°F to 122°F (-20°C to 50°C)-4°F to 122°F (-20°C to 50°C) should you ever find yourself going for a swim in a volcano.
We like the simple clean look of the Apex 2 because it means you can also wear it to work without it standing out or feeling bulky.
ALTIMETER, BAROMETER AND ACTIONABLE FEATURES – The APEX tracks course, speed, time, pace – all the usuals, as well as elevation gain / loss, weather (via the built-in barometer) cadence, calories and heart rate.
From this data, the watch also calculates estimated fitness levels including VO2Max and lactate threshold, and the efficiency of your aerobic and anaerobic training activity, and it can estimate your recovery time based on past training history.
SOFTWARE – Once you've finished your workout, the COROS App will give you a complete graphical analysis of your training including VO2 max, recovery advise, threshold pace, last-7 days training load, personal fitness index and plenty more.
Proper recovery allows you to train harder. With the Apex 2 you can monitor your sleep quality, which tracks deep, light, and REM sleep – all crucial stages of your sleep cycle.
When you wake up, you can take a quick heart rate variability (HRV) measurement to determine how prepared your body is to take on the stressors of the day.
Another cool feature is that if you're training at altitude, you can turn on Altitude Mode or manually check your blood oxygen level (SpO2) to monitor your body's adaptation.
Additionally, you can connect to your favorite 3rd party applications such as STRAVA and TrainingPeaks and automatically upload your workouts.
OUR VERDICT – The COROS Apex 2 Pro is an excellent value, easy to use running watch with outstanding battery life suitable for ultramarathon training and racing, yet it's small enough to wear every day and through the night to get all those important heart rate and sleep data which will give EvLab the information it needs to track your fitness and recovery.
Also, consider the COROS Vertix 2 which is their flagship GPS watch with additional features and longer battery life – to read more about it, head to our COROS running watches comparison guide.
---
Apple Watch Ultra review
The launch of Apple Watch Ultra has created a whole new running watch category and it is undoubtedly the best smart running watch that money can buy right now.
When you think about all the sensors the unit has, and the variety of third party apps available, it has more features that you could possible imagine.
To have a smartwatch this capable, one that can seamlessly integrate sport and daily health tracking, with a lightweight, comfortable desgin that you can wear all day is astonishing.
Apple Watch Ultra is a sleek option for runners who want the best of both worlds – Integrated lifestyle tech with powerful and durable running watch capabilities.
Now lets get the elephant out of the room by addressing the battery life. Almost every ultrarunner or endurance athlete you speak to who is debating whether to buy an Apple Watch Ultra or a Garmin for example will be thinking about battery life.
Battery life is the obvious pitfall of the Watch Ultra when you look at it's specifications on paper, and it's true, for a running watch to even be named an 'Ultra' it certainly does lack in extended battery life even though by many standards it does have good battery life while gps tracking with the most accurate gps setting enabled.
I too would be worried about whether it could last some of the gruesome mountain 50k ultrmarathon races that I enjoy participating in – so that takes anything more arduous like a 50 mile race and longer off the table for this watch for me.
Apple's battery life tests say that Apple Watch Ultra is capable of providing the following battery life in various situations:
Up to 17 hours outdoor multisport workout with GPS and LTE in Low Power Mode – I don't generally recommend going into low power mode as GPS accuracy is reduced and metrics like distance/navigation will be innacurate.
Up to 12 hours outdoor workout with GPS – so this is the most accurate battery life for most people who just want to use the Apple Watch Ultra to track marathons or ultra marathons. 12 hours is very good but it won't be enough for anyone wanting to run 50 miles and above in the mountains.
Up to 10 hours outdoor workout with GPS and LTE
This running watch really can do it all though with the right apps and when you ignore the 12 hour battery life limitation.
Most of the people who will shy away from it are ultra runners who plan to run for longer than 12 hours while those with a very tech-connected lifestyle will gravitate towards this smart watch.
It provides so much for those living in the Apple ecosystem and who own an iPhone, macbook, or even a pair of Apple's wireless headphones for running.
The fitness features available when connected to headphones and smart gym equipment is epic to say the least.
Although the majority of people don't need to track an activity or a run for more than 12 hours, most aspiring ultrarunners will find that $780 pill very hard to swallow as it will limit their options as they progress into the world of ultrarunning.
If you need extreme battery life in your running watch, look toward the Garmin Enduro 2, APEX 2 Pro or the Garmin Fenix 7 Pro that are also on this list.
Battery life aside the Apple Watch Ultra is an excellent running watch that many people will really enjoy using.
With the right apps, you can use this powerful smartwatch to navigate new trails on your long runs, get training suggestions and health data that will keep you on track with improving your fitness, and of course connect to smart gym equipment like Tonal and Peloton.
The App I use on my Apple watch to turn it into an AI fitness trainer is the Athlytic App.
I wear my Apple Watch overnight to record my sleep data which includes heart rate, resting heart rate, sleep efficiency, heart rate variability (HRV), breathing rate, and Sp02 blood oxygen levels.
With this data Athlytic is able to build a picture of how well I recovered through the night, and as a result it can tell me how intensively I should be training that day. Mosts days I start off with 30 minutes of high intensity cycling on my Peloton bike which puts me in good stead for the day.
If Athlytic thinks I can train more that day then I'll go for a run and maybe do some weights on Tonal in order to increase my exertion for the day so that I'm with in the recommended 'target exertion zone'.
I rarely take off my Apple Watch unless I go on a very long run, in which case I use my Garmin Forerunner 965 which send the activity's data into Apple Health which in turn gets sent to the Athlytic App – so I'm never losing any fitness data throughout the day.
When the day comes to a close I charge my watch for 30minutes or so before bed and start the cycle over again – this process has been working so well for my training recently and I have Apple and Athlytic to thank for that.
EDIT: I now just use my Forerunner 965 to track all my runs and daily/nightly health metrics.
If you need an App that allows you to follow routes during long runs then look into the App called WorkOutdoors – that should give you the functionality you're looking for.
Most smartwatches, and the popular Apple Watch in particular, are much smaller and more lightweight than other running watches and as a result, they're also very comfortable to wear all day, including while running.
The Apple Watch Ultra, although larger in dimensions than the Apple Watch Series 8, still doesn't feel overly large or heavy while on your wrist – this is down to the good design of the unit itself and how it sits against your wrist, its low weight, and a watch strap that fastens comfortably and quickly.
The more comfortable a running watch feels when you first put it on, the more comfortable it will feel after 10 hours of running through the mountains with it. Even some of the newer silicone watch bands that you see nowadays aren't as comfortable of form-fitting as Apple Watch sport loops/bands.
Advantages of wearing the Apple Watch Ultra for running
The great thing about wearing an Apple watch for running include:
Accurate GPS tracking and on-wrist heart rate monitoring
Integration with your workout / training app of choice, for example, Strava (we use ours with Strava, Tonal, and Peloton Bike+) or Runkeeper – or, if you buy the Apple Watch Nike edition, your running watch comes with a sports band and the Nike+ Run Club app already installed
Location sharing via Google or Apple maps
Listen to music while you run – store music and play from your watch
If you have an Apple watch with cellular then you don't need to take your phone with you while running.
You can go diving with this watch
The screen is very bright, and has full color
It has a high decibel siren in case you need a sound becon of sorts to alert people of your whereabouts
Emergency SOS
An Apple watch also has some advantages over some of the dedicated running watches reviewed above, including the hundreds of other apps you can use with it in your day-to-day life when you're not running, and seamless integration with your iPhone, assuming you own one.
OUR VERDICT – For runners who already own an Apple Watch, or are attracted by the other, broader features of owning a smartwatch, an Apple Watch Ultra is a sleek and feature-packed option when it comes to tracking your runs with GPS and using all your health data to help you train smarter.
This running watch wont be for ultrarunners who see themselves running races over 10 hours (as a 12 hour high accuracy battery life just wont cut it for ultra endurance athletes) but for everyone else whoc likes to keep fit and has an iPhone, the Apple Watch Ultra is a truly awesome running watch (and a whole lot more!).
We also love all the other ways the Apple watch can be used to record fitness – like with a Tonal, and Peloton Bike or Tread for example.
---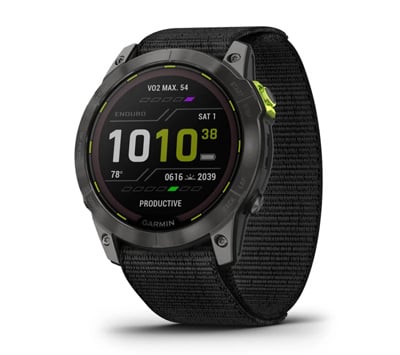 Garmin Enduro 2 review
Yes, another Garmin made it onto this list, they really do make some of the best running watches for all types of runners, but the Enduro 2 is a totally unique running watch that doesn't really have much competition in it's class.
With Solar charging you can get up to 46 days in smartwatch mode and 150 hours in GPS mode assuming worn continuously and the watch face is exposed to 50,000 lux conditions (sunlight).
I love all the navigation features and the lightweight UltraFit band that offers a secure, comfortable fit during all your long endurance activities. Learn more about this beast of a watch in my more detailed review below.
It also features a bright flashlight on the side (in white or red) to help guide your way in low-light conditions which is a nice differentiator. It's twice as bright as the Garmin Fenix 7X (the largest of the Fenix 7 series running watches) flashlight – the other smaller Fenix 7 watches (7S and 7) do not have a flash light built in.
The Garmin Enduro 2, is built for extreme endurance athletes – and in particular, it is well suited to ultra running as well as events like multi day stage races, thru-hiking, and backpacking on account of its exceptional battery life solar charging capabilities.
It also has a robust range of features allowing it to last up to 150 hours in GPS mode (assuming you're using it in sunlight and it's charging as you're using it.
BATTERY LIFE – To say this running watch has an incredible battery life is an understatement. Up to 150 hours in GPS mode (with solar), and up to 264 hours / even more with solar in 'max battery mode'. This is truly market-leading, if you want to be able to accurately track your location with GPS continuously for as long as possible.
You can also easily change which sensors are active, while on-the-go, to help conserve battery life as needed.
NAVIGATION – The navigation features have been vastly improved over the Enduro 1 and you'll now get much more detailed mapping when following routes. I'm so glad Garmin updated this as it was the only complaint I had of the first edition Enduro.
Garmin's TopoActive maps are very detailed and when combined with NextFork™ map guide you'll basically never make a wrong turn again.
DURABILITY – This Garmin GPS watch has a lightweight, scratch-resistant titanium bezel and a sapphire lens which is super durable.
I love the ultra light-weight elastic nylon hook and loop strap on the Enduro 2 and really wish is was available for the Fenix series too.
It seems like a minor thing, however having a comfortable webbing strap can make a big difference over the silicone/plastic straps that can start to get annoying with longer wear durations, especially if you want to wear your watch overnight to track your sleep.
This strap also contributes to its light weight of 70g.
This running watch has a ton of high-end features, and some of the altitude/barometer driven features include:
Climbpro – Use this ascent planner to see real-time information on your current and upcoming climbs, including gradient, distance, and elevation gain
Navigate your next trail with ABC sensors, including an altimeter for elevation data, barometer to monitor the weather and 3-axis electronic compass
A pre-loaded 'backcountry ski' profile, which can distinguish between skiing and climbing. It automatically shows metrics specific to either ascent or descent. There's also preloaded SkiView maps, so you can view run names and difficulty ratings for more than 2,000 ski resorts worldwide.
I also really like the concept of the 'ultrarun' rest timer, which you can use to track your time in and out of checkpoints and rest stops during ultramarathon races, very much like a triathlete would track their transition time. So you can see how much of your race you spent sat down eating fruit, cheese, and noodles!
PULSE OX SENSOR – The Enduro has a Pulse Ox sensor, which is used for altitude acclimation or sleep monitoring – the Pulse Ox sensor uses light beams at your wrist to gauge how well your body is absorbing oxygen.
This is used together with the heart rate and breathing rates to support some of the following features, among others:
Trail run VO2 Max which estimates the cardiovascular fitness level of trail runners by adjusting based on the varying trail and terrain conditions that can affect run performance. Other running watches can only provide VO2 Max accurately when you run on flat surfaces.
Recovery advisor (how long to recover between workouts/runs)
Advanced sleep monitoring
'Body battery' energy monitoring
SOFTWARE – As mentioned above, I highly rate the Garmin Connect App platform, and the software on the Garmin Enduro ultra running watch itself is easy to use and navigate on the go.
OUR VERDICT – The Enduro 2 is a fantastic running watch with an excellent battery life that will stand up to multi-day ultra-endurance efforts, including not just ultra marathons but also multi-sport racing, skiing, skitouring, thru-hiking and backpacking adventures.
All this comes at a price but it's worth it if you're going to put it to good use and want the best in any environment. Learn more about the Enduro 2 via the button link below.
---
Suunto 9 Peak Pro review
The Suunto 9 Peak Pro is a reliable companion to have with you on your runs. It features comparative battery life of similar-sized running watches of up to 40 hours in the best GPS mode.
BATTERY LIFE – 40 hours of battery life with best GPS mode and 21 days in daily use mode. And whats quite astonishing is how quickly it is able to charge…
In just 10 minutes it will give you 10 hours of training and it can charge from 0 to 100% in just 1 hour. Thats pretty awesome for anyone who is prone to forgetting their watch before their morning run. haha.
NAVIGATION – is available but not as feature-rich as the Garmin Forerunner 965 running watch.
I find myself often taking the wrong turn when running new routes because of the lack of detailed maps on the watch but this is not a big issue if you don't require detailed navigation features and would rather not pay for those features.
DURABILITY – Handcrafted in Finland, Suunto really know how to make sport watches that last!
The robustness of the Suunto 9 Peak Pro was tested according to US military standards. It is waterproof up to 100 meters like most of the running watches on this list, and it is built from the highest quality materials, such as sapphire glass, stainless steel and titanium in selected versions.
The Suunto 9 Peak Pro is the thinnest GPS multisport watch on the market according to Suunto. It's certainly one of the most attractive with its minimal bezel design.
As the name suggests, this watch offers accurate altitude/elevation tracking and weather tracking.
SOFTWARE – Suunto's Movescount is pretty feature-rich although the options for visualizing data are not as comprehensive as Garmin Connect or COROS EvoLab.
OUR VERDICT – Another excellent GPS running and multi-sport watch with great battery life and a rugged build designed to withstand big days in the mountains and on trails.
The Suunto 9 Peak Pro comes with a sapphire face for increased scratch resistance as standard, making it a super durable choice if you're taking it to challenging environments, and a more affordable price point than the Garmin running watches on this list – oh it looks really attractive too.
---
Polar Grit X review
The Polar Grit X is a running watch that has almost all the features you could possibly want, and for such a great value price point, you can see why it's getting so much attention within the trail running community.
If you're not familiar with Polar, they're a company that likes to put a strong focus on heart rate training, which is important as your heart is the only real constant in knowing how fit you are at any given point in time.
As well as being a running and multi-sport watch, the Polar Grit X is designed to be used for actively tracking your sleep, provided you wear it to bed at night.
This watch looks good enough to be worn for everyday life too (not just running), and is comfortable, too – hence why the Polar Grit X is rated as the best running watch for heart rate training.
BATTERY LIFE – The Polar Grit X has 40 hours of battery life in training mode (full GPS and wrist-based heart rate) or up to 7 days in watch mode with continuous heart rate tracking. I like that there are multiple power save options available too.
40 hours is the sweet spot for many mid range ultra races, and this is a great battery life for such a competitive price point.
Some other great features include FuelWise which aims to help you know when the best time is to refuel during a run, because the Polar Grit X is smart enough to know what fuel you're burning the most; whether it's carbs, protein or fats.
The other feature we really like is 'Hill Splitter' which gives detailed data about your performance on the uphill and downhill sections of your session – for anyone who enjoys running up steep hills or mountains, this watch will make those efforts even more enjoyable to sweat for.
If you don't think you enjoy running up hills, our guide to the benefits of running uphill will change your mind (and help you get faster and more efficient in the process!).
Learn more about all the smart Polar Grit X features here.
NAVIGATION – The only downside to this Polar Grit X in my opinion is the limited navigation software/features. It is available but not as feature-rich as the Garmin Forerunner 965.
You don't really get a map on screen when following a route, instead, similarly to the Coros APEX, you get a line to follow with turn notifications which leaves margin for error in choosing the wrong route when navigating trails that may be close together.
To create routes you'll have to step outside of the Polar environment and use another service called KOMOOT.
This unfortunately leads to a bit of a clunky experience when you want to create and follow new trails.
If you're not interested in running/exploring new routes in areas you're unfamiliar with, then this won't be an issue for you.
DURABILITY – The Polar Grit X has passed several MIL-STD-810G tests (military-level durability tests), including extreme temperatures, drop and humidity which makes it a very reliable tool to have with you when you're in the mountains. It's also a very lightweight running watch, at 64g.
ALTIMETER, BAROMETER AND ACTIONABLE FEATURES – The Grit X tracks accurate incline, ascent, and altitude tracking during your runs.
SOFTWARE – The Polar Flow online software and smartphone app is really well-constructed and easy to use. It's a pleasure to use to track your training in a nice visual manner.
OUR VERDICT – A great value running watch with excellent heart rate and recovery monitoring and activity tracking features, making it the best GPS watch for heart rate training, especially for people with smaller wrists who want a watch they can wear every day and overnight (for sleep tracking) as well as when running.
---
The 10 Key Features of Great Running Watches
These are the key features that running watches must have to make them worthy of being a long-term investment as your go-to watch, whether it's for trail running, ultra marathon training or hiking. These features form our base selection criteria when selecting the best GPS watches for this list.
a very long battery life to be able to track vast distances over many hours, sometimes even days. There's nothing worse than having your watch die on you in the middle of an ultra marathon.
actionable features that help us know when to adjust our effort levels, like a heart rate monitor, for example. Being able to know exactly how much climbing/elevation gain you have accumulated, with an estimate of how much still remains is invaluable data to an ultra runner.
navigation features in case you get lost in the mountains and need to find your way back on course or back to safety. Also very important if you want to explore new trail routes, without having to carry a map.
an on-wrist heart rate monitor – which is infinitely more comfortable than wearing a chest strap monitor while running, especially with a hydration pack wrapped around you!
good durability to withstand hours in the mountains during varying weather conditions, from being waterproof to outlast rainstorms and submersion in river crossings, to still working despite being used the extreme cold (or heat).
a comfortable fit for usage over many hours, especially important if you have small wrists and don't want to be carrying a heavy weight around with you for hours on end.
a barometer to help us know our current elevation and when a potential lightning storm may be on its way so that we can take cover if necessary.
a good software platform for analyzing activity data and tracking our training performance over time.
the ability to play music, ready for when you need that pain-cave pick-me-up! Not all watches on this list have music capabilities, but it's a nice added feature for those who want it.
multi-sport tracking features – most of these watches are great waterproof multisport watches that will track a wide range of activities, including swimming, cycling, watersports and other workouts.
It's also worth noting that for most people, these may primarily be used as running watches, however all of these GPS watches have the capability to track and record data for other multi-sport activities, which is great if you're looking to get a broader picture of your fitness and training, over and above simply logging your runs.
---
Suunto vs. Apple vs. Garmin vs. Coros vs. Polar
In summary then, If you're looking for an all-round performer that has feature-rich navigation, On-wrist HR + Pulse OX, a long battery life suitable for most runners, and a very comprehensive online platform to store and analyze your activities then the Garmin Forerunner 965 is my recommended choice.
If on the other hand, you don't think you need all those features, and would prefer a less expensive, durable running watch that has an impressive battery life and a simple interface, then the Suunto 9 Baro or the Coros Apex are both great choices.
Also consider the Polar Grit X for its heart-rate focused features, price point good looks for everyday wear.
For the extreme endurance athletes seeking best-in-class ultra-specific training and recovery features, plus exceptional battery life, the Garmin Enduro is built with you in mind.
And last but not least, if you want a comfortable, smaller watch you can wear everyday and listen to music while tracking your run with GPS, the Apple Watch Ultra or Apple Watch Series 8 is a great choice and the option we recommend as the best smartwatch for running.
---
Wearing a Smartwatch Running
If you're reading this running watches buyer's guide you may be wondering about the pros and cons of using a smartwatch for your running training.
Using a smartwatch for running can be a great option especially if you already have a smartwatch such as an Apple Watch, which is undoubtedly the best smartwatch for running in terms of ease of use and integration with other apps such as Strava.
Even though most watches on this list have onboard music storage, Only the Apple watch has an intuitive way of getting your music onto the watch and then playing it back, especially if you own an iPhone – I mean it all just works incredibly well together.
There are some limitations to using an Apple Watch for running, which are explained in our review above, mainly around the impact that training with your smartwatch has on its battery life for the day, but it can be a sleek option if you are a more casual runner or run shorter distances and like to listen to music when running without having your phone with you.
Now you've read about the key features used in our selection criteria, click here to jump back up and read the GPS running watch reviews for each of our top recommended watches.
If you head out running in remote places for hours at a time, then you may also want to check out our buyer's guide to choosing between the best running hydration packs. Wearing one of these running backpacks is pretty much the only great way to carry essentials with you on those long runs and races.
---
I really hope you enjoyed reading this overview of the best GPS running watches. If you did, please give it a share, and if you have any questions at all, please leave it in the comments below, I always love talking about running watches! 🙂