If you're training for a marathon or ultra marathon, the chances are you're having to run early in the morning, late at night, or maybe you just like to train during the darker hours.
Whatever your reason for needing a high-quality headlamp, our expert guide to the best running headlamps is here to help, and we've picked out the best for wearing when trail running, running on pavements and other activities such as hiking.
Because head torches can be expensive, It's important to invest in a high-quality headlamp that will stand the test of time and of course, perform as expected without failing you.
If you're short on time, my top pick right now for the all round best running headlamp is undeniably the BioLite HeadLamp 800 PRO for all the reasons outlined below.
A headlamp failure could be drastic if you're out on the trails alone at night – whether that's the obvious issue of a dead battery or simply poor or unreliable lighting that can make it more likely that you'll trip on an unseen or unclear obstacle.
The headlamp reviews on this list will tell you that each headlamp is great for running in the dark and low light conditions and because they make great running headlamps.
These headlamps are also excellent choices if you are looking for a headlamp for camping or hiking, including thru-hiking (which is, after all, a slower version of a multi-day ultra marathon!).
We've also included some headlamp alternatives including running waist lights, which may be of interest if you don't enjoy wearing headlamps for running at night.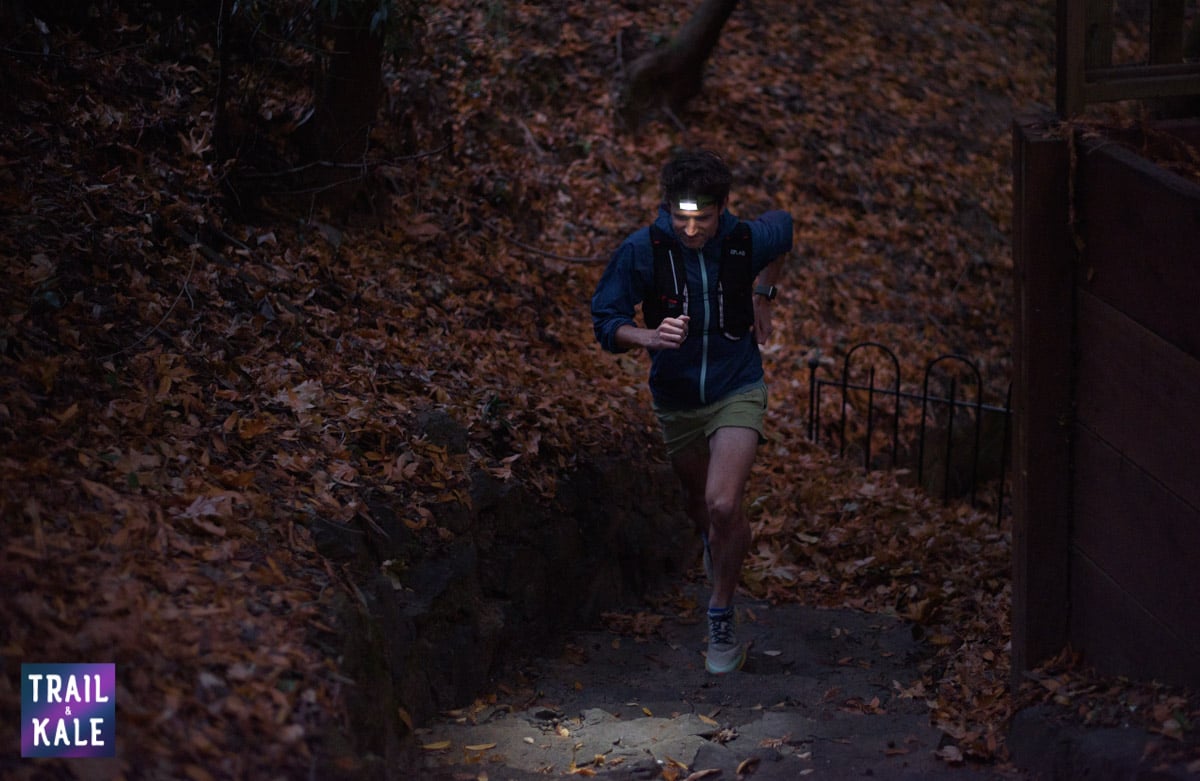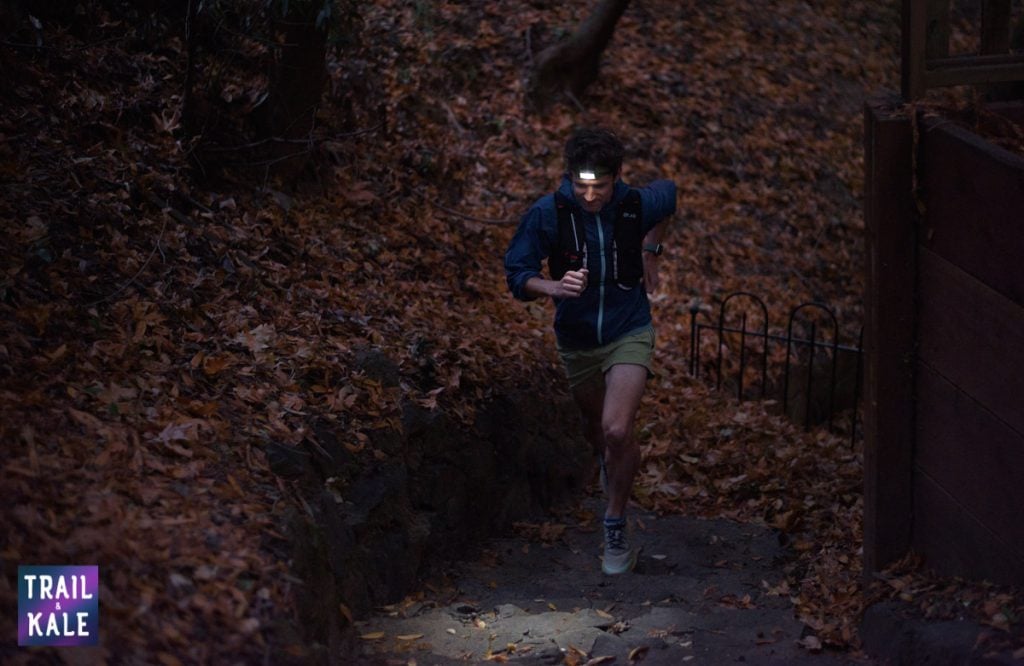 To read more advice on choosing the best headlamp for you, scroll past our headlamp reviews of the best running headlamps to find our educational section.
---
Best Running Headlamps – Table of Contents
---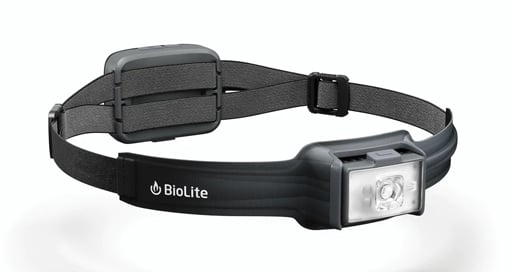 1. BioLite HeadLamp 800 PRO – [Editor's Choice] | Overall Best Running Headlamp
Weight with Batteries: 5.3 oz. (150g)
Battery Life: High=7 hours / low=150 hours
Max Light Output: 800 lumens (with 30sec burst)
Price: $100
Beam distance: High=135 / low=15 meters
Beam Type: Highly Adjustable – read my review to learn more
Water-Resistance Rating: IPX4 (water-resistant to splashes from any direction)
To learn more about this high-performance headlamp, read my BioLite HeadLamp 800 review next.
The BioLite HeadLamp 800 is the trail and ultra running headlamp I have been waiting years for someone to create, and now it's finally here, I wonder how I managed without it?!
To get 15% OFF your BioLite order, best sure to use our exclusive code TRAILANDKALE15 at checkout.
This pro-performance rechargeable headlamp has every light mode you could possibly want for trail running or hiking, including a constant (or strobe) red light at the rear, and passthrough charging to extend battery life more than you'd ever need.
A red light is a mandatory requirement for many ultramarathon races, and an important safety feature for road running, too.
The Headlamp 800 has a button that activates a 30-second burst power output of a huge 800 lumens, and a VERY long battery life.
To extend battery life even further this headlamp has the ability to use its built-in pass-through charging mode when connected to BioLite's portable battery charger to extend the battery life as long as you like.
All this comes in a lightweight package of 5.3oz and at the cost of under $100 – how BioLite has managed this I really don't know – the value for money on this headlamp, really is amazing.
The HeadLamp 800 PRO is secure and has a very comfortable fit for running and customizable beam modes and brightness settings which are very easy to use on the go, and even while running in deep winter when you may be wearing running gloves.
It has a 7-hour battery life in high-beam 500 lumens mode with a backup reserve of 8 hrs at 5 lumens so you'll never get left running in the dark.
HeadLamp 800 is IPX4 Water-resistant which means it will handle most wet scenarios while running in the rain, and there's also a sweat-wicking headband to keep sweat out of your face.
All these features for the price make the BioLite HeadLamp 800 the best running headlamp particularly when it comes to trail running and ultramarathon racing.
---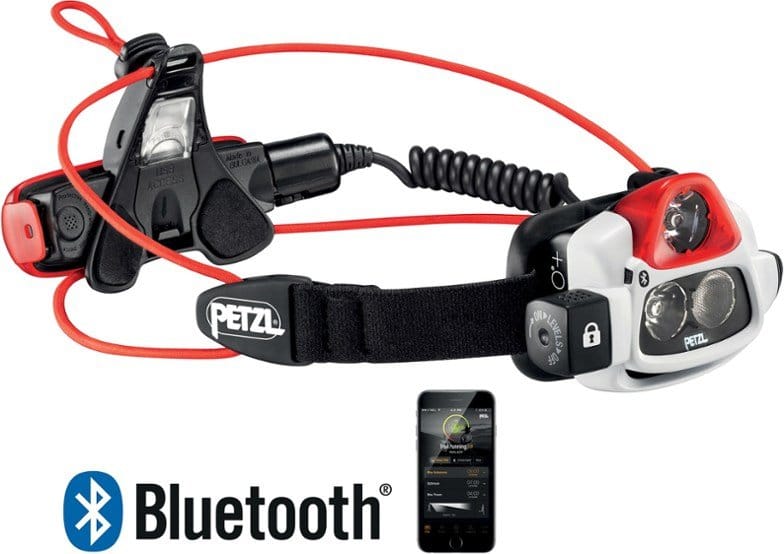 2. Petzl NAO+ Headlamp | Best Running Headlamp for Technical Trail Running
Weight with batteries: 6.5 oz. (184g)
Battery Life: High=1.5 / low=12 hours
Max Light Output: 750 lumens
Price: $199
Beam distance: High=140 / low=65 meters
Beam Type: Adjustable
Water-Resistance Rating: IPX4 (resistant to water splashes from any direction)
The Petzl NAO+ is another rechargeable headlamp that is capable of a similar brightness to the Biolite, putting out 750 lumens, and has multiple-beam options, Bluetooth capabilities, and automatic adjustment of the light intensity based on your needs.
Once set up with the free MyPetzl Light app, this Petzl headlamp is an excellent hands-off approach to sustainable lighting that's effective and will last longer than most of the other options on this list (with respect to brightness output), 12 hours at 120 lumens, to be exact.
If you need longer for a multi-day event, then I suggest buying an extra rechargeable battery which you can easily swap out when needed or look towards the Petzl Swift RL headlamp instead.
The battery pack attaches to the back of the running headlamp which distributes the overall weight so that it's not all towards the front, reducing the risk of 'bounce' and increasing the level of comfort.
The headlamp's battery pack also has a red flashing light on it for extra safety.
Some mountain trail running races require you to wear a red light so that you can be seen from behind, so having this feature built-in is great.
The MyPetzl Light app will also allow you to adjust beam patterns, burn time, and brightness on your headlamp without ever needing to take the headlamp off your head, so you can keep it on when running or hiking in darkness.
The app also shows the remaining burn time.
All these extra features though do come at the cost of a little extra weight, but the adjustable headband is comfortable and has an additional top strap for technical activities that will keep it steady and feeling comfortable during long runs.
This Petzl headlamp is my choice for the second-best headlamp for running, beaten by the BioLite on cost and weight as the Petzl NAO+ is twice the price and heavier.
Last Amazon price update was: 29th September 2023 6:30 pm
---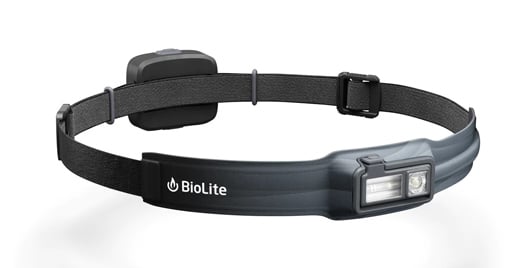 3. BioLite Headlamp 425 | Best Value Lightweight Running Headlamp
Weight with batteries: 2.75 oz.
Battery Life: High=4 hrs / low=60 hrs
Max Light Output: 425 lumens
Price: $60
Beam distance: High=85 meters
Beam Type: Flood / Spot / Strobe / Red / Red Strobe
Water-Resistance Rating: IPX4 (Is resistant to water splashes from any direction)
To learn more about this fantastic headlamp, read my BioLite HeadLamp 425 review.
The BioLite Headlamp 425 has a really slim fit construction with 9mm front profile and is hyper-lightweight at 2.75 oz. (and you can get even lighter with the BioLite HeadLamp 325), providing a bounce-free fit and experience while running or hiking.
This also makes it the most comfortable headlamp on the list.
This Biolite headlamp really is excellent value for money with a 4-hour battery life on the highest setting which uses two beams, wide and focused, firing out 425 lumens of light.
This headlamp is ideal for everyday running and hiking.
The BioLite Headlamp 425 has multiple light modes too, including dimmable spot, flood, spot+flood, red night vision, and strobe, and now red beam and red strobe on the rear battery pack.
Because each beam can be dimmed, you can actually run the headlamp for much longer than 4 hours but not at its brightest level.
This is also a rechargeable headlamp that can be charged via USB-C or passthrough charging with a BioLite Charge 20 PD power bank – this allows you to run the headlamp almost indefinitely – smart!
---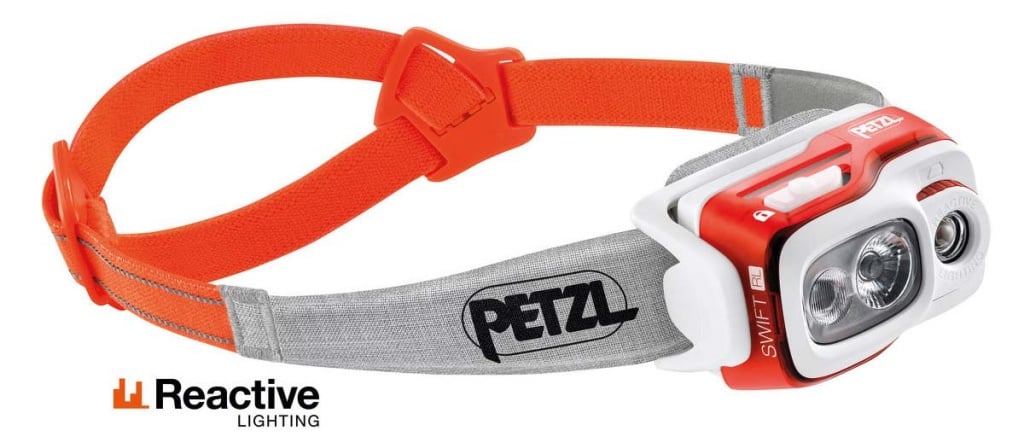 4. Petzl SWIFT RL | Brightest Headlamp for Running and Hiking
Weight with batteries: 3.5 oz.
Battery Life: 900-lumen = 2h to 30h / 300-lumen = 5h to 40h / 100-lumen = 10h to 50h
Max Light Output: 900 lumens
Price: $120
Beam distance: High=150 / low=35
Beam Type: Mixed / Flood
Water-Resistance Rating: IPX4 (Is resistant to water splashes from any direction)
Like the NAO+ this Petzl headlamp automatically adapts light intensity to the needs of the user, and with 900 lumens of max light output, the Petzl SWIFT RL offers a lightweight (only 100g), intelligent, rechargeable solution for hours of nighttime running and hiking adventures with a super bright 900-lumen beam.
This headlamp also has the MyPetzl Light app with similar options to the NAO+.
If you're not where you need to be when night falls, you're going to be in a lot of trouble without a headlamp to light your way for running or hiking multiple hours at a time.
The SWIFT RL can technically burn for up to 50 hours in the low 100-lumens Reactive Lighting mode setting which is still just about bright enough to lead the way.
That said, I would recommend using at least the 300-lumen setting to avoid any accidental trips.
The beam can burn for 2-30 hours (reactive lighting) in the brightest 900-lumen mode, which is why it is top when it comes to the 'brightest headlamp for running' category on this list.
Although technically the Fenix headlamp below can go a little brighter, it can only do that for up to 48 minutes, this is not sustainable for most runs.
This is a very reliable, comfortable, and high-quality headtorch for most nocturnal running and hiking adventures, as well as other uses such as camping and backpacking.
Last Amazon price update was: 29th September 2023 6:30 pm
---
5. Fenix HM60R | Best Waterproof Headlamp for Running
Weight with batteries: 5.5 oz.
Battery Life: Turbo=2hrs / high=8 hrs / med=24 hrs
Max Light Output: 1200 lumens
Price: $80
Beam distance: Turbo=126 yards
Beam Type: Flood
Water-Resistance Rating: IPX68 (underwater to 1 meter up to 30 minutes)
The Fenix HM60R rechargeable headlamp has the ability to cast an impressive 1200 lumens of light on turbo mode, banishing any fears of the dark!
On high mode, it will cast 350 lumens and last up to 8 hours, which is plenty bright for running and other nocturnal activities.
The high mode would be your typical usage for this headlamp when worn running.
The headlamp body is also impact resistant and makes this a waterproof headlamp as it can be submerged up to 1 meters and still work, impressive.
Last Amazon price update was: 29th September 2023 6:30 pm
---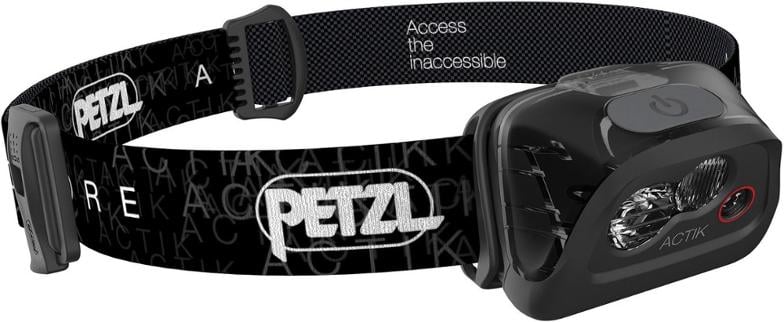 6. Petzl Actik Core | Best Budget Petzl Headlamp
Weight with batteries: 2.9 oz.
Battery Life: High=2 hours / standard=7 hours
Max Light Output: 350 lumens
Price: $75
Beam distance: 95 meters
Beam Type: Adjustable / Flood
Water-Resistance Rating: IPX4 (Is resistant to water splashes from any direction)
The rechargeable Petzl Actik Core headlamp offers 350 lumens light output and mixed beam options.
This headlamp is ideal for running as well as other outdoor activities such as backpacking and mountaineering.
The battery life to light beam output isn't quite as good as the other options listed above but it's a great entry-level Petzl headlamp that will perform for shorter runs.
If you need an all-night solution, look toward the Petzl NAO+ or Reactik+.
This rechargeable running headlamp is rechargeable via USB port but it's also compatible with 3 standard AAA batteries (sold separately) without the need for an adapter.
I also like that it offers wide and mixed beams with several lighting modes to meet the need for high-performance lighting for everything from cooking in camp to running at night.
As well as these mixed beams, there's red lighting too which preserves night vision and prevents blinding other members of your group if you use it for other activities such as camping.
It's also very cleverly equipped with an emergency whistle for rescue situations, and the Actik Core can withstand rain showers.
If you're set on getting a Petzl headlamp rather than the similar Biolite option above, then this is a solid choice.
Last Amazon price update was: 29th September 2023 6:30 pm
---
Running Headlamp Alternatives
If headlamps make you feel nauseous then you do have other options.
Many people find that running with a headlamp can make them feel that way, and you can overcome this by complementing your headlamp with a different light source – and that doesn't have to be a handheld torch!
These options allow you to attach lights to your running hydration pack, backpack or waist, and are great for running as well as hiking and other activities at night where you need light and want to keep your hands free.
7. Kogalla Ra | Super Versatile Torch For Running & Hiking
Weight with batteries: 8.2 oz.
Battery Life: 3 hours (800 lum.) / 8 hours (225 lum.) / 3 days (15 lum.)
Max Light Output: 800 lumens
Price: $180
Beam distance: –
Beam Type: 20 brightness settings
Waterproof
The Kogalla RA is a high-lumen torch option that shines brighter than most headlamps, runs longer than a rechargeable headlamp, and covers a wide area like a camping lantern.
If you're going to be mixing up your adventures like camping, hiking, or running at night, the Kogalla RA is a great option!
As you probably know by now, being able to clearly see the environment around you is key to staying safe and performing your best.
Having a great lighting system could mean the difference between a PR and a DNF when running a mountain ultramarathon through the night.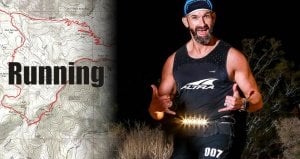 I love that each of the waterproof Kogalla Ra's five lighting modules is as bright as a high-quality headlamp.
But instead of lighting up a spot, the Kogalla Ra lights up an entire area, making it easier to navigate even the roughest of terrain as you get a different perspective on the ground and shadows that can affect how you see uneven terrain.
With its magnetic fastening system, you can also get creative with how you attach the strip lights of the Kogalla Ra to your clothing or just strap it around your waist.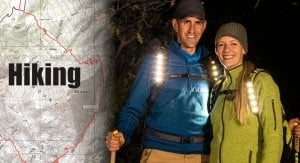 It fits really well on the waist or shoulder straps of running hydration packs, for example, as well as hiking backpacks.
---

8. UltrAspire Lumen Collection | Best Waist Light for Running
Weight with batteries: 7.2 oz.
Battery Life: 8 hours
Max Light Output: 600 lumens
Price: From $65
Beam distance: –
Beam Type: Adjustable / Flood
Water-Resistance Rating: IPX7
With the extra-bright UltrAspire Lumen rechargeable waist light collection you can avoid the "tunnel vision" effect of a focused beam of light, which will make nighttime running feel a little more like a daylight run.
I would personally wear this belt as well as a headlamp, not instead of one, to provide a better perspective and more lighting of the trails ahead of me when running.
Having the lower angle of a waist-mounted flood cone light increases the depth of field, providing greater detail on your path, e.g. rocks, or dips.
This running torch waist belt is adjustable so that it doesn't bounce, and the light offers 4 settings: low, medium, high, strobe, with an average burn time on high of 8 hrs.
I like that this UltrAspire running waist light belt also has a rear pocket so you can carry things like your phone (check yours will fit) or keys.
Last Amazon price update was: 29th September 2023 6:30 pm
---
Best Running Headlamps Buyer's Guide
A high-quality running headlamp can truly make or break a night run or race! The key reasons for a headlamp-related night-run fail may include:
having a dead headlamp battery at the start, or even worse, in the middle of your run
an uncomfortable fit on your head where the headlamp or headband is too tight or puts pressure around your head when you secure it
feeling nauseous because of dim lighting (low lumens) or ineffective light spread/range. This is common where people use headlamps not designed for running and which don't have enough power or lumens to light up the trail sufficiently.
Key features of a great running headlamp
All of the running headlamps on this list are here because they have met our key selection criteria.
The 7 key features to look for that make a good headlamp great for running or wearing while hiking is that it should:
1. Be comfortable on the forehead when worn for extended periods of time. For example, during an ultramarathon, you may wear a headlamp for trail running through the night for many hours
2. Have a long battery life and ideally be a rechargeable headlamp (all of the headlamps on this list have rechargeable batteries and some have the option to use them with separate power packs)
3. Have good light quality, including using LEDs, with good brightness when it comes to lumens, as well as spread options (how widely the headlamp illuminates the trail you are running or hiking on)
4. Be as lightweight as possible, and well balanced from front to back of your head (which helps the headlamp stay comfortable)
5. Adjustable light distance and brightness settings
6. Be durable if you intend to be out on the trails a lot and wearing your headlamp for running in the rain.
7. Ideally have a red light setting as required by some ultramarathon race organizers. This is also a very useful feature for camping so you can avoid dazzling other people with your regular bright light setting.
If you run trail marathons or ultra marathons, or are in training for your first marathon, you may be also interested to read some of our other trail running gear buyer's guides, including our GPS running watches and running hydration packs guides.
Understanding Headlamp Lighting Modes
If you're new to choosing a headlamp it's easy to think that you simply need to get the brightest headlamp you can find.
However, it's important to consider three other related factors, the beam width and distance settings that are best for your intended use, and also the impact the brightness of the headlamp has on its battery life.
Some of the headlamp options above, such as the Petzl NAO+, have 'reactive' lighting technology, where the beam is adjustable in both width/spread and distance as well as overall light brightness, and you can also customize the settings to your preference.
The Best Headlamps for Hiking
If you're researching hiking gear then all of these headlamps also make great choices for hiking as well as trail running [read more on hiking gear, including our day hiking checklist in this post].
If they're great for hiking and have the red light setting, that also makes them great for use when camping, too.
Click here to jump back up to see the complete list and find the light that suits your needs the best.
A great addition to a headlamp while camping is to get a camping lantern to improve the quality of light at night. Visit our Best Camping Lanterns buyer's guide next to learn more on how to choose your next camp light.
RELATED POST: The Best Trail Running Shoes of the year (so far…)
This list of the 'best headlamps for running' is continually updated, so make sure you check back before buying your next running headlamp.
---
I hope you enjoyed this best running headlamps list and buyer's guide. If you're gearing up for some running training and adventures you may also be interested to read some of our other running buyer's guides, including the best running sunglasses, the best running caps and hats and best winter running hats and headbands for road and trail running.