In this post, I'm sharing everything you need to know about running a half marathon, and our free half marathon training plans for runners of every level, including if you're entirely new to running and have your sights set on building up to running your first half marathon race.
Like our other popular training plans (including our full marathon training plans), we have created some of the best free half marathon training programs available online, which follow the tried-and-proven principles of training for endurance running.
Key elements of every half marathon plan on our site, regardless of your running speed or finish time goal, is that they will all help you train up through gradually increasing mileage and long runs, incorporating speed work and tempo runs, allowing for adequate rest and recovery, and tapering in the weeks leading up to your half marathon race day.
As part of the training guidance and advice you'll find throughout our website, we also provide advice covering topics such as mental preparation, effective recovery methods, strength training, cross-training, and the importance of proper nutrition…
Because effective training is as much about what you do when you're not running, as when you are!
This post is in partnership with Nike. If you're looking for a supportive running shoe with enough cushioning and response to help you complete your half or full marathon training; the Nike InfinityRN 4 could be the perfect choice for you. Read my in-depth Nike InfinityRN 4 review to learn more.
If you've landed here for our free printable pdf half-marathon training plans, scroll down for links to download them!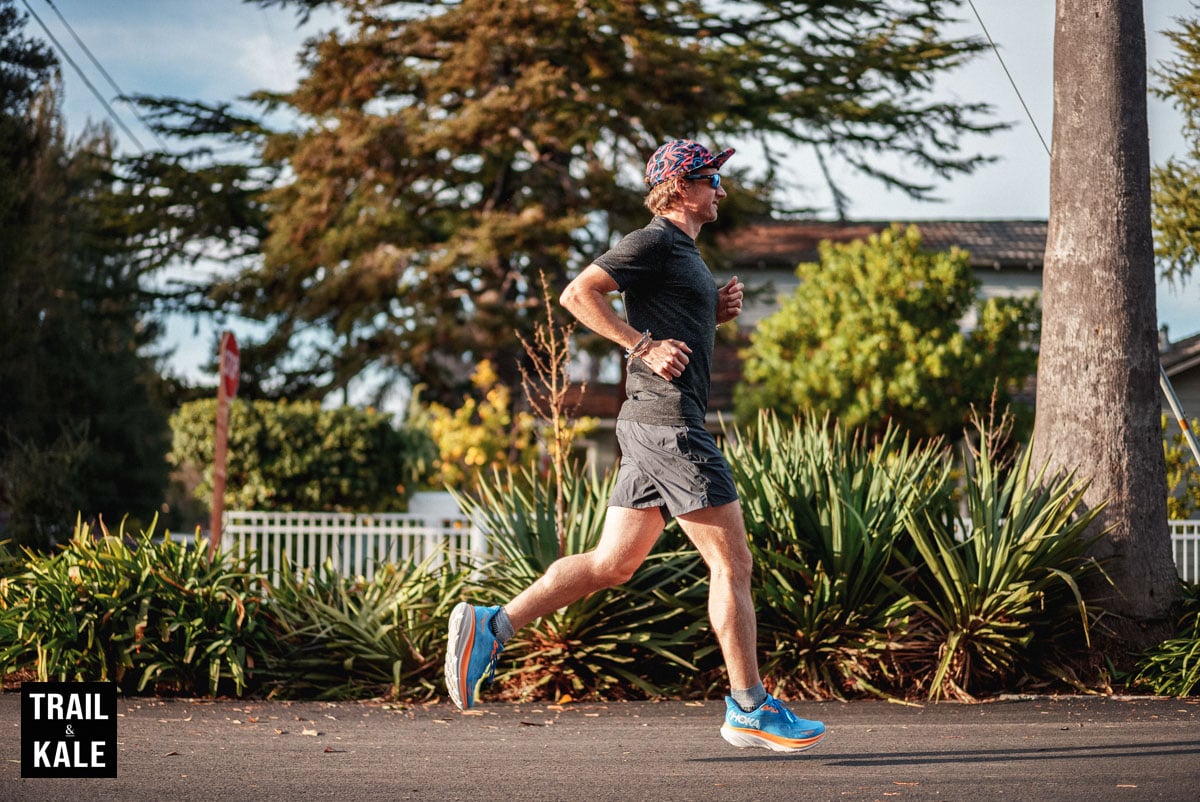 In this post, you'll learn
---
How far is a half marathon in miles?
A half marathon is 13.1 miles long, which is approximately 21.1 kilometers in length.
To put this distance into context, it is roughly equivalent to running a little more than 50 laps around a standard 400-meter running track or running from the bottom to the top of New York City's Central Park twice.
How long does it take to run a half marathon?
The time it takes to run a half marathon varies greatly depending on a person's fitness level, training, and running pace.
Generally, a beginner runner may take anywhere from 2 to 3.5 hours to complete a half marathon, while an experienced runner may finish in 1.5 to 2 hours. Elite runners can complete the distance in less than 1 hour.
Here are some examples to help provide a clearer idea of how long it takes to run a half marathon:
A runner who maintains a 10-minute per mile pace would finish a half marathon in approximately 2 hours and 11 minutes.
Someone who runs at a faster pace of 8 minutes per mile would complete the distance in about 1 hour and 45 minutes.
A runner who averages a slower pace of 12 minutes per mile would finish in around 2 hours and 37 minutes.
It's important to remember that these are just general estimates and individual results may vary. Factors such as terrain, weather conditions, and race course elevation can also affect a runner's finishing time.
What is a good half marathon running pace?
A good half marathon running pace is one that is challenging but sustainable for the entire race. This means that the ideal pace will depend on your individual fitness level, experience, and goals – and it's going to be different for everyone!
For most recreational runners, a 'good' half marathon pace is around 9-12 minutes per mile, which would result in a finishing time of 1 hour 57 minutes to 2 hours 37 minutes.
However, some faster and more experienced runners may aim for a faster pace, such as 7-8 minutes per mile, which would result in a finishing time of 1 hour 31 minutes to 1 hour 45 minutes.
Here are some average half marathon running paces to give you an idea of what kind of average pace you'd need to run throughout your race (and ideally beat, in order to provide a few seconds of time buffer) in order to achieve milestone finish times: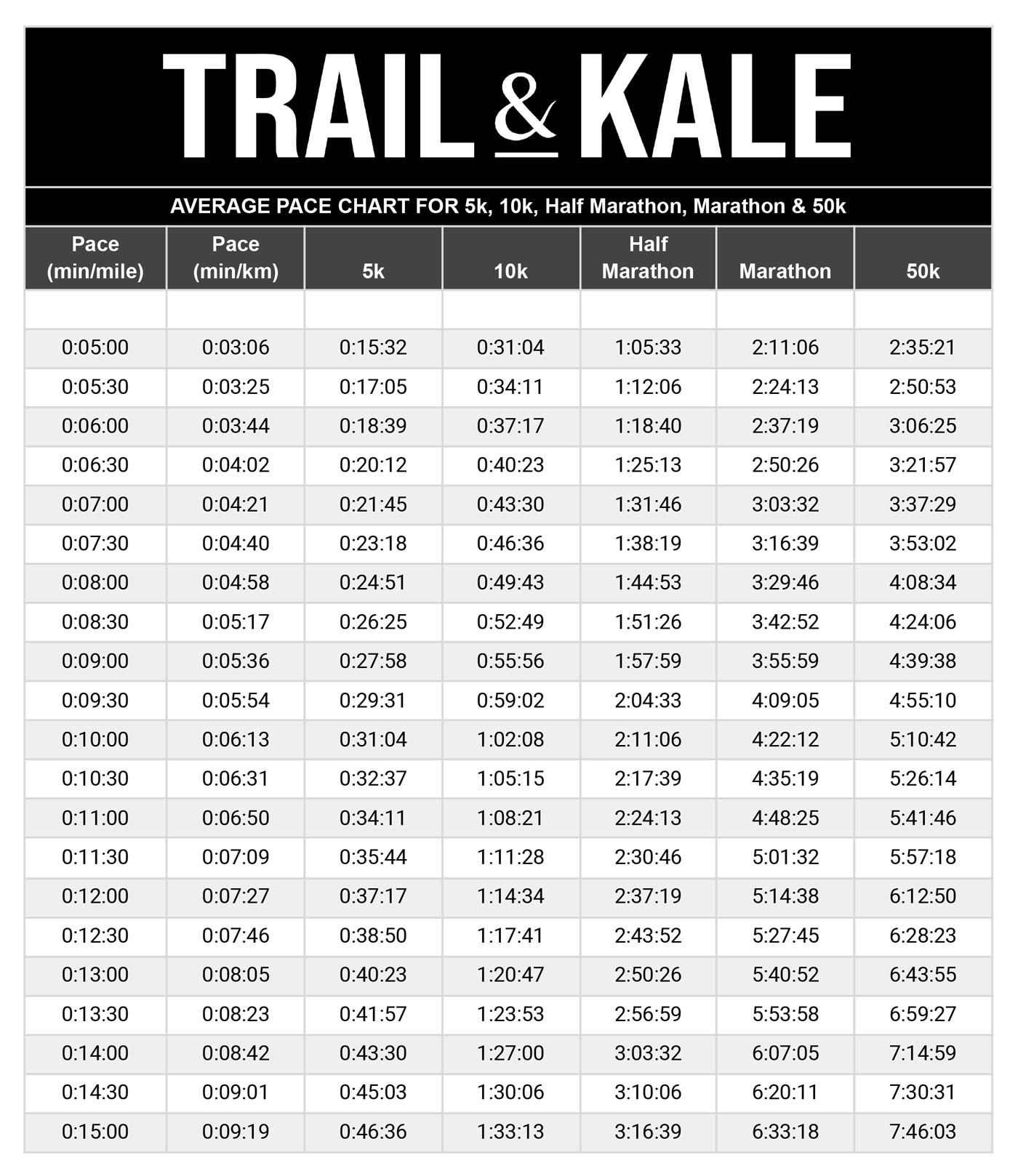 If you're curious about what kind of half marathon finish time your current or expected half marathon running pace would get you, this chart will help you work it out: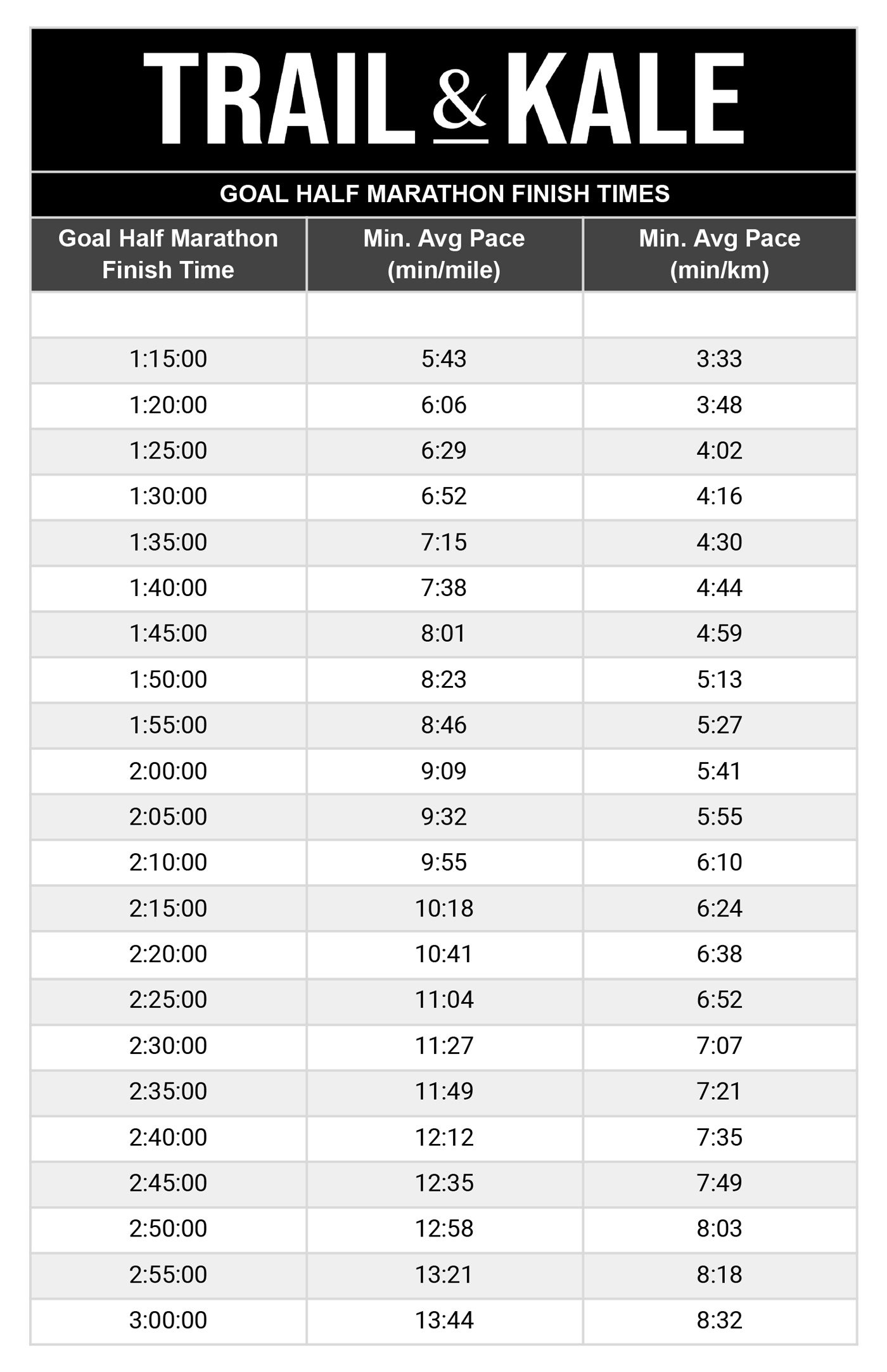 To allow a little buffer, make sure you're aiming to run with a faster pace than shown above, to ensure you don't miss your target time goal by a few seconds (or hundreds of a second)!
All that said, if you're new to running altogether and are setting your sights on going from couch to half marathon, then it's important not to get too focused on a target running pace or time.
I mean, just running that far at all is an impressive achievement, whether it takes you 1, 2 or 4 hours!
Instead, stick to the guidance in your half marathon training program, stay focused on each training session, and maximize your rest days, and a faster pace will come with time as you build endurance, strength, and speed.
Sticking to your plan and not overdoing your training will also benefit you by reducing your chances of picking up a running injury (which is a problem for many new runners who do too much too soon, especially in the early weeks!).
How long does it take to train for a half marathon?
Our half marathon training plans are suitable for most runners, whether you're a beginner or experienced and have run half marathons previously.
Our plans are designed to take between 6 and 12 weeks to train you up to race day.
These plans involve 3-4 training days of running per week, including a long run on weekends that gradually increases in distance.
The weekday runs may range from 30 minutes to an hour, while the long runs, which are normally programmed for weekends, range from 60 to 120 minutes or more.
On average, you should expect to spend 3-5 hours per week running.
Additionally, our plans include rest days, and days allocated to strength or cross-training, not running.
We do not consider it necessary or necessarily good to run every day during half marathon training, as rest and recovery days are important for preventing injury and allowing your body to adapt to the training load.
Instead, to build overall fitness, cross-training activities such as cycling, swimming, or yoga can be incorporated on non-running days to build strength, flexibility, and endurance.
It's important to listen to your body and adjust the training plan as needed. If you experience pain or fatigue, it may be necessary to take an extra rest day or reduce the intensity of the workouts.
With consistent training and proper preparation, most runners can successfully complete a half marathon within 3-4 months of training.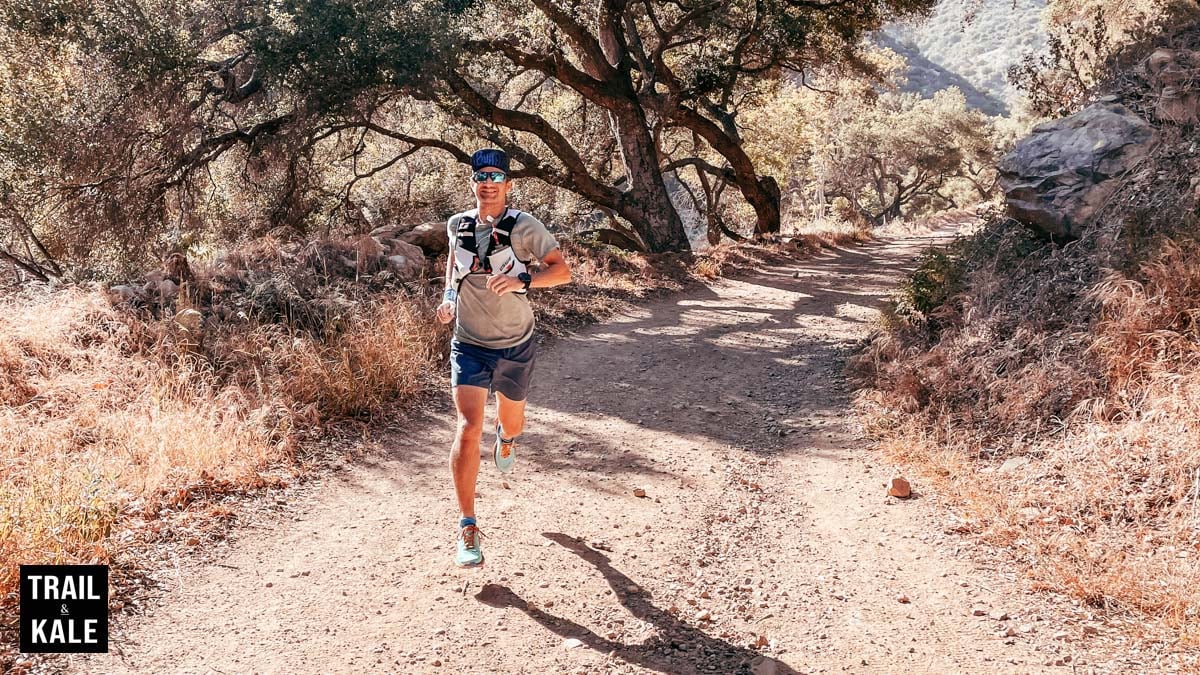 How many miles should you run each week when training for a half marathon?
Our half marathon training plans gradually build up your weekly mileage to around 20-28 miles a week in the peak training weeks leading up to race day, before your mileage tapers off in preparation for race week.
---
Our FREE half marathon training plans
Choose the best half marathon training plan to suit your current level of fitness, half marathon goals and available weeks to train.
---
Types of running referenced in our half marathon training schedules
Our beginner training plan is designed to allow sufficient time to build up your running distance over 12 weeks to prepare you for running 13.1 miles non-stop.
The 12-week beginner's training plan builds up to a total of 20 miles per week, with 3 runs per week, plus a day assigned to strength training.
Your three runs follow a similar format, with different distances each week:
Weekend 'long run' – run at an easy pace
Weekday 'easy run' – run at an easy pace
Weekday 'tempo run' – run at a moderate pace.
The 6 week half marathon training plan assumes you already have a good amount of experience running and regularly run a few times a week, of distances up to 10k.
This more advanced half marathon training plan includes 4 run days a week and a day assigned to either cross-training or core strength, yoga and flexibility, and incorporates speed-work (such as interval training) with the goal of increasing your VO2 max and baseline running speed for race day.
Regardless of which type of run you're scheduled to do that day, pay particular attention to ensuring you're moving with good running form, as this will help you run with an efficient, strong and less-injury-prone style.
What to do if you miss a few weeks of training
If you've missed more than a few weeks of training leading up to race day, don't panic or attempt to make up for lost time by doing extra training. Forcing too much training in a short period can increase your risk of injury and fatigue, and even harm performance during the race.
Instead, adjust the training plan by decreasing the mileage and intensity of runs leading up to the race while maintaining a consistent running routine and incorporating cross-training to sustain fitness and prevent further injury.
Additionally, it's important to be honest with yourself about your fitness level and listen to your body on race day. Modifying your pace or expectations for the race based on the missed training is necessary, with the focus on completing the race rather than achieving a personal best time.
Overall, stay flexible, and patient, and prioritize injury prevention and general well-being before race day to ensure that you're injury-free and prepared to run come race day.
Other half marathon training tips and FAQs
What to wear when running a half marathon
The important thing when choosing your race day outfit is to choose comfortable, breathable clothing that is appropriate for the weather conditions.
Generally, you should aim to wear lightweight, moisture-wicking fabrics that will help keep you cool and dry while you run the half marathon race.
For warm weather races, shorts and a moisture-wicking shirt are typically sufficient, but I would highly recommend you wear a running hat, cap or visor to keep the sun off your face, and take a pair of running-appropriate sunglasses to keep sun, debris, wind and glare away from your eyes.
For cooler weather races, you may want to wear long sleeves or a lightweight jacket (possibly a waterproof jacket if it's forecast to rain), and may consider running gloves and a winter running hat or headband to keep your hands and head warm.
What running shoes should I wear for marathon training and race day?
Your choice of running shoes should be appropriate for you and provide you with adequate support and cushioning for running the half marathon distance.
This should be the same pair of running shoes you've been training in, so you can be confident they are sufficiently supportive and comfortable and won't rub or cause blisters over the hours you'll be running your race.
---
If you're looking for a supportive running shoe with enough cushioning and response to help you complete your half or full marathon training; the Nike InfinityRN 4 could be the perfect choice for you!
Read my in-depth Nike InfinityRN 4 review to learn more.
---
To learn about all the best running shoe brands and to find the best for you, head over to our road running shoes buyer's guide for our top recommendations that will have you matched up with the best running shoes for you.
What to eat before, during and after a half marathon
Before the race, it's important to eat a meal that is high in carbohydrates and easy to digest. This will provide the necessary energy for the race without weighing you down.
A good pre-race meal could include oatmeal with banana and honey, toast with peanut butter and jelly, or a bagel with cream cheese and fruit.
During the race, stay hydrated with water and fueled with easily digestible carbohydrates, such as energy gels or chews.
Experiment with different fueling strategies during training runs to find what works best for your body.
After the race, replenish lost fluids and nutrients as soon as possible to aid in recovery.
Within 30 minutes of finishing the race, try to eat a snack or meal that is high in carbohydrates and includes some protein, such as a smoothie with fruit and Greek yogurt or a sandwich with turkey and avocado, or a simple plant-based protein shake.
How to recover after a half marathon
In the hours and days following the race, it's important to continue to eat a balanced diet that includes plenty of whole grains, lean proteins, fruits, and vegetables. This will help your body recover and rebuild after the physical stress of the race.
Here are some other things you can do to aid in your recovery after running a half marathon:
Running a trail half marathon
If you like the sound of running a trail marathon and are less concerned about running the distance in a certain time, and more interested in running 13-ish miles around somewhere scenic, then a trail half marathon may be more your thing!
At Trail & Kale we're trail running experts, so if this sounds appealing, check out our trail running-specific content, including our beginner's guide to trail running if off-road running is completely new to you.
---
Pin this post!