So you're looking for the best running shorts for men that look great, last the test of time, and perform at the highest level… well you've definitely come to the right place.
But before I share our running shorts reviews, let me quickly talk you through my testing environment and explain the feature requirements that allowed these mens running shorts to make it this far.
FOR WOMEN: Looking for our Best Running Shorts For Women buyer's guide instead?
---
My
testing environment

for these running shorts

If I'm not deep in our local mountain trails testing trail running gear, I can usually be found cruising our local bike/running paths, working on my speed, and endurance training.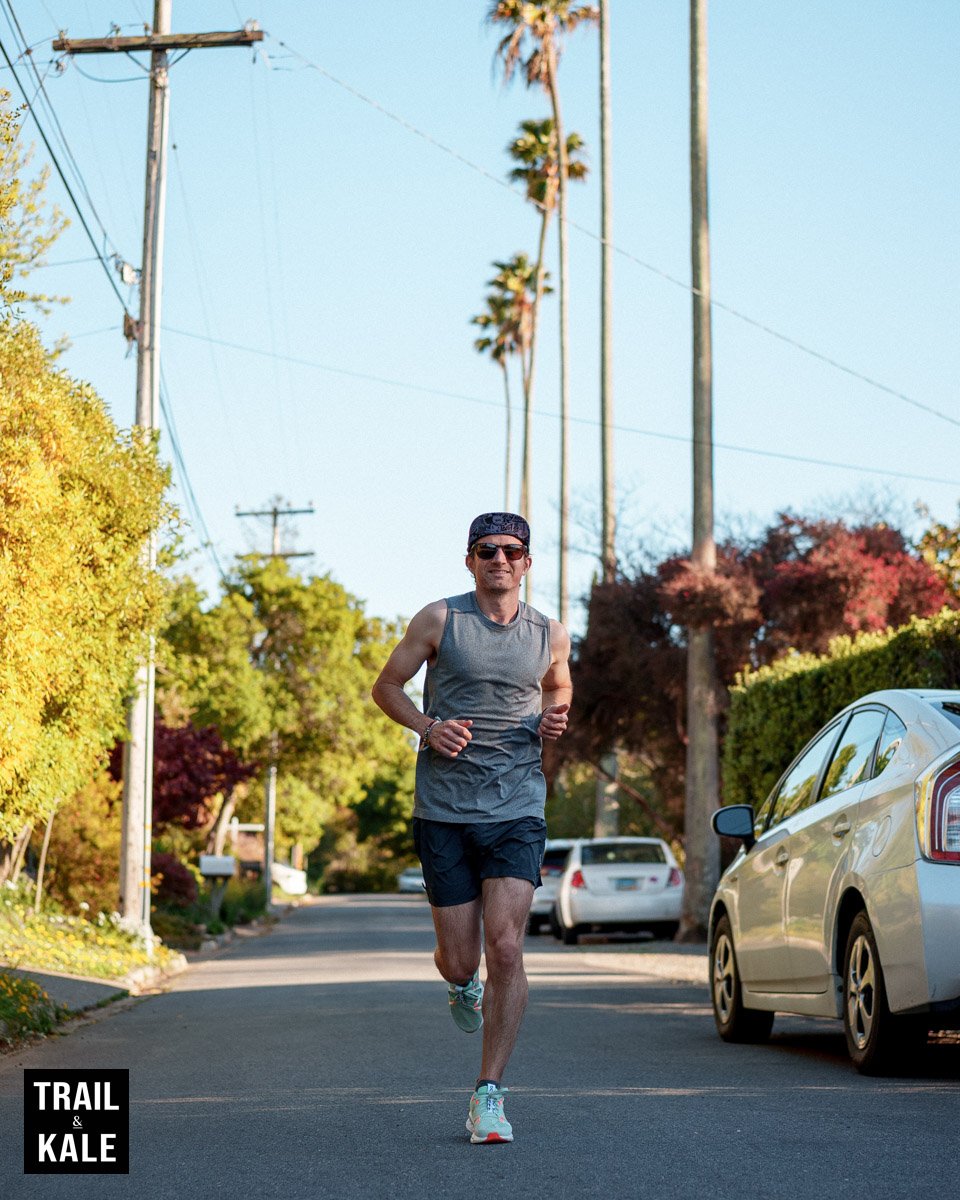 My local stomping grounds in Northern California offer some of the most diverse, epic trails in the world, and beautiful paved running routes. It's super important for us to have such a varied training environment so that we can test outdoor gear thoroughly.
Follow our Strava group for more insights on my (and our community members') runs, and our Instagram feed shares some of the beautiful places we test outdoor gear for Trail & Kale.
---
The
feature requirements

to pass as best running shorts

Men's running shorts have a few differences when it comes to the features needed for trail running as opposed to running on the pavement.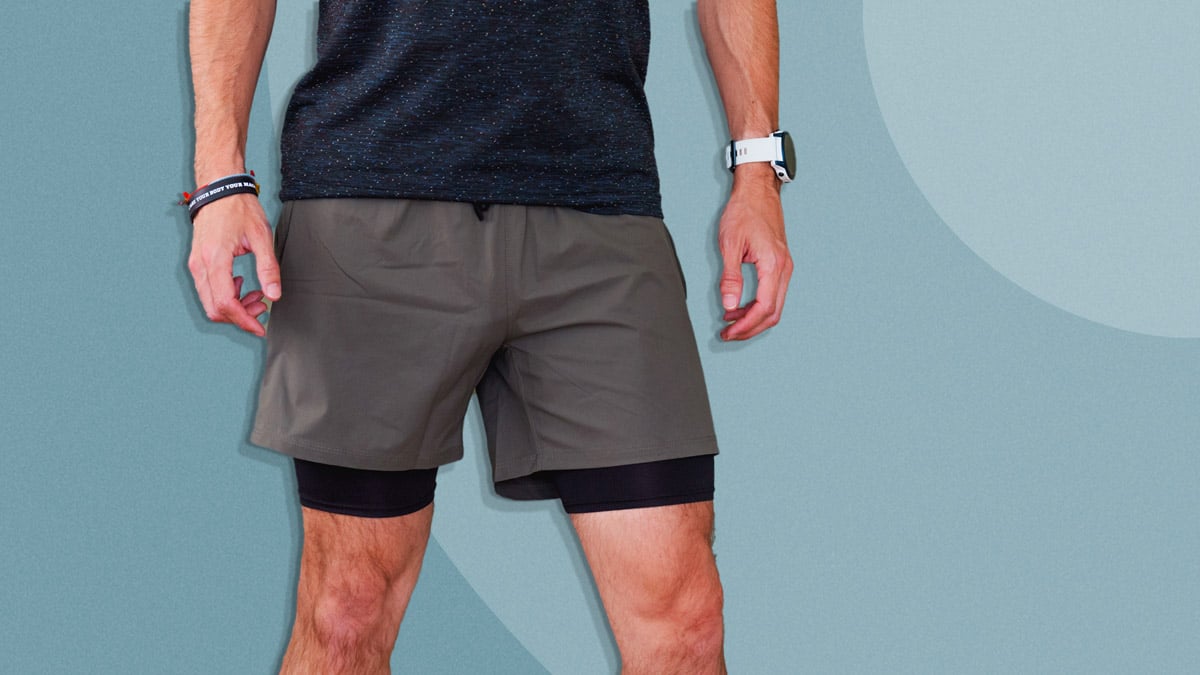 In my experience, it's the trail running shorts that have the most features and have been designed with more thought for a runner's needs.
You will not find any budget, or cheap running shorts on this list as in my experience when you pay any less than $30 for a pair of running shorts you get what you pay for – and that's something that's not very comfortable or lacks durability.
So, this list of the best men's running shorts includes both types of shorts (those designed for road and trail use) because, at the end of the day, I'm here to help you find the best men's running shorts for your requirements, whether you enjoy jogging, 5km races, mountain running, marathon racing, or even trail ultramarathons.
We enjoy all kinds of running and never pigeonhole ourselves to one niche within a sport – otherwise, we would never find growth within ourselves.
While compiling this list of the best running shorts for men there are a few key feature requirements for these running shorts that needed to be met in order for them to be worthy of making it onto this list.
Feature requirements include, but are not limited to:
Shorts must have a breathable, sweat-wicking, odor neutralizing inner liner. Whether that be a 2-in-1 short with liner, modular liner/outer short design, compression liner, or standard brief-lined.
The liner must contain and support the 'crown jewels' while running.
Shorts must have storage pockets, either on the outside or attached to liner.
They must have a comfortable adjustment mechanism around the waist. This means no constricting, and conversely no riding up as you run for long periods of time.
Must be lightweight.
Must not have an overly long inseam, or flap around while running. Every inch of fabric needs to have a purpose.
Must look stylish! I don't ask for much, do I? 😉
---
The Best Running Shorts For Men | With Reviews
Path Projects

Sykes PX – 5″ Short [$49] |

WINNER

When Path Projects first began, back in 2017 they hit the market with a concept that would become something that I would find myself adopting for road and trail running adventures.
Path Projects realized that there is no perfect liner material for all weather conditions and distances. I'm inclined to agree with them there because, during my testing, I quickly discovered they produce some of the best running shorts for men.
Shorts and liners can benefit a runner by being separate – that way runners are able to pair them to their specific needs. It actually makes a lot of sense when you start mixing and matching all the different running shorts and liners together as I have done over the years.
For example, if you plan on running long distances, then a base liner with a bit more compression will suit you better. On the other hand, if you need a longer, more protective liner for cold weather running, or conversely a more breathable lightweight liner for summer running in hot weather, Path Projects has options for that too.
However you plan to run, Path Projects has your legs covered, so to speak!
I've tried many different shorts with liner combinations from Path Projects but my favorite has to be the Sykes PX 5 inch inseam shorts with the Lynx PD 8 inch liner.
The three pockets at the rear are perfect for storing a smartphone, keys, and some nutrition. I use the center pocket for my phone. Check out all the colors available at pathprojects.com.
---
lululemon Road to Trail Lined Short 6″ [$69] |
RUNNER UP
The lululemon Fast and Free Road to Trail Lined Short is meticulously designed for running, whether you're running on asphalt or exploring new trails. These 6″ shorts offer a relaxed fit that provides ample room through the glutes and thighs, giving you the freedom of movement that is essential for a smooth stride.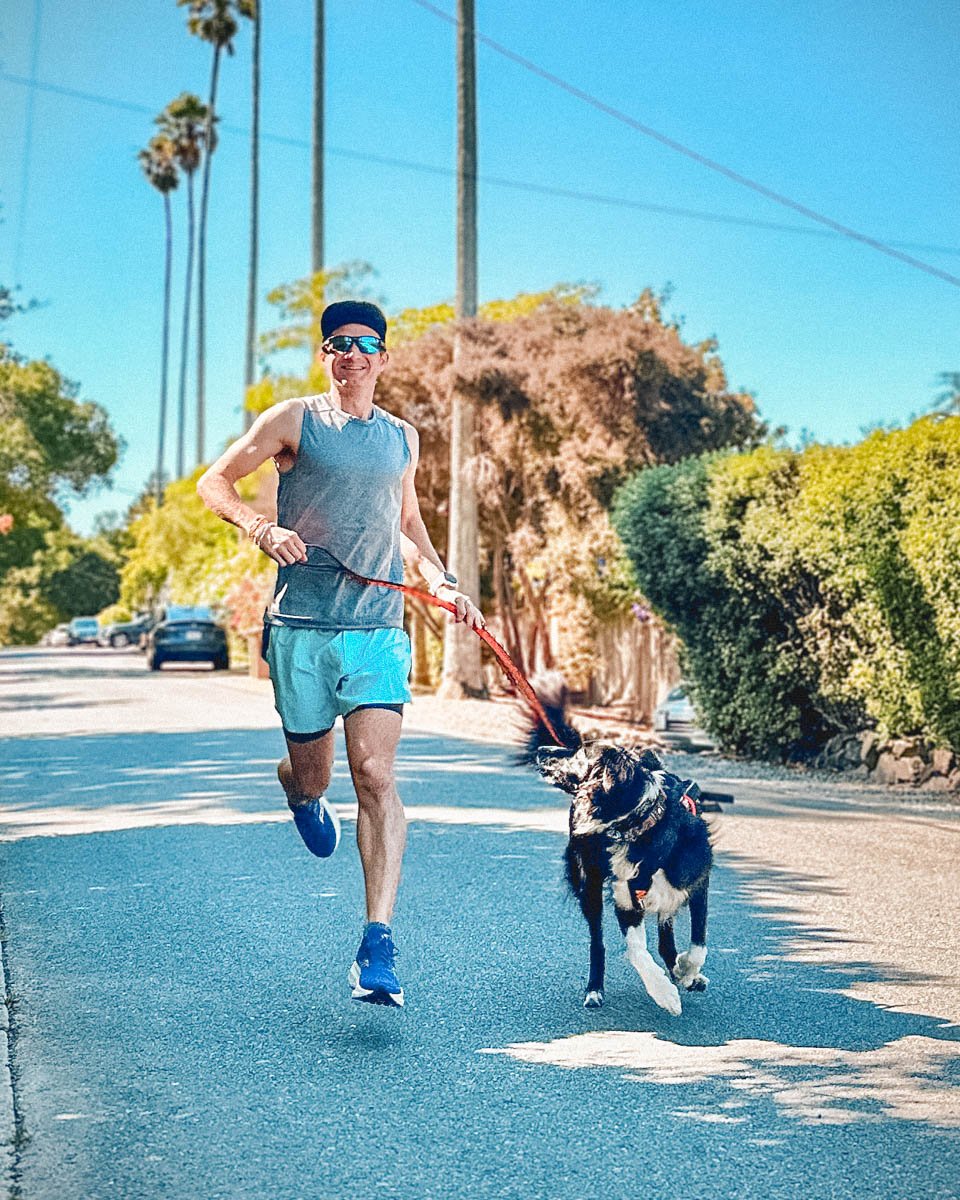 I'm wearing these lululemon shorts lots lately because they're made with lightweight, perforated Swift fabric, that are not only light but also include four-way stretch, sweat-wicking, and quick-drying features – perfect for warm weather runs! I also love the Cyan color when paired with a black or grey top! Bonza!
The black mesh liner adds to the sweat-wicking and quick-drying properties, creating a comfortable experience even during intense runs. Plus, 100% of the polyester in this product is recycled, making it an eco-friendly choice.
Functionality and convenience are at the core of the design, with a liner (the black tight shorts you see in the pic of me running with Kepler) that features a supportive built-in pouch and a pocket for drawcord strings. The low-bounce side zippered pocket, drop-in pockets, and liner pockets provide versatile storage solutions for essentials.
A loop at the rear allows you to stash your t-shirt should you get too hot and feel like showing off your beach body, and reflective details enhance visibility for those early morning or evening runs.
With its lightweight design, eco-friendly materials, and thoughtful features, these shorts stand out as a worthy addition to any runner's wardrobe, seamlessly transitioning from urban landscapes to the natural beauty of the trails – just how I like to roll! 😉
---
Nike Trail Second Sunrise short [$57] |
RUNNER UP
The Nike Trail Second Sunrise shorts are engineered specifically for trail running enthusiasts who crave a breathable and supportive running experience, although I'm wearing them both on and off the trail because they work great for both.
These shorts not only provide quality but also reflect a commitment to sustainability. The sweat-wicking feature, aided by Nike's Dri-FIT technology, ensures you remain dry and comfortable by rapidly evaporating sweat from your skin while you run.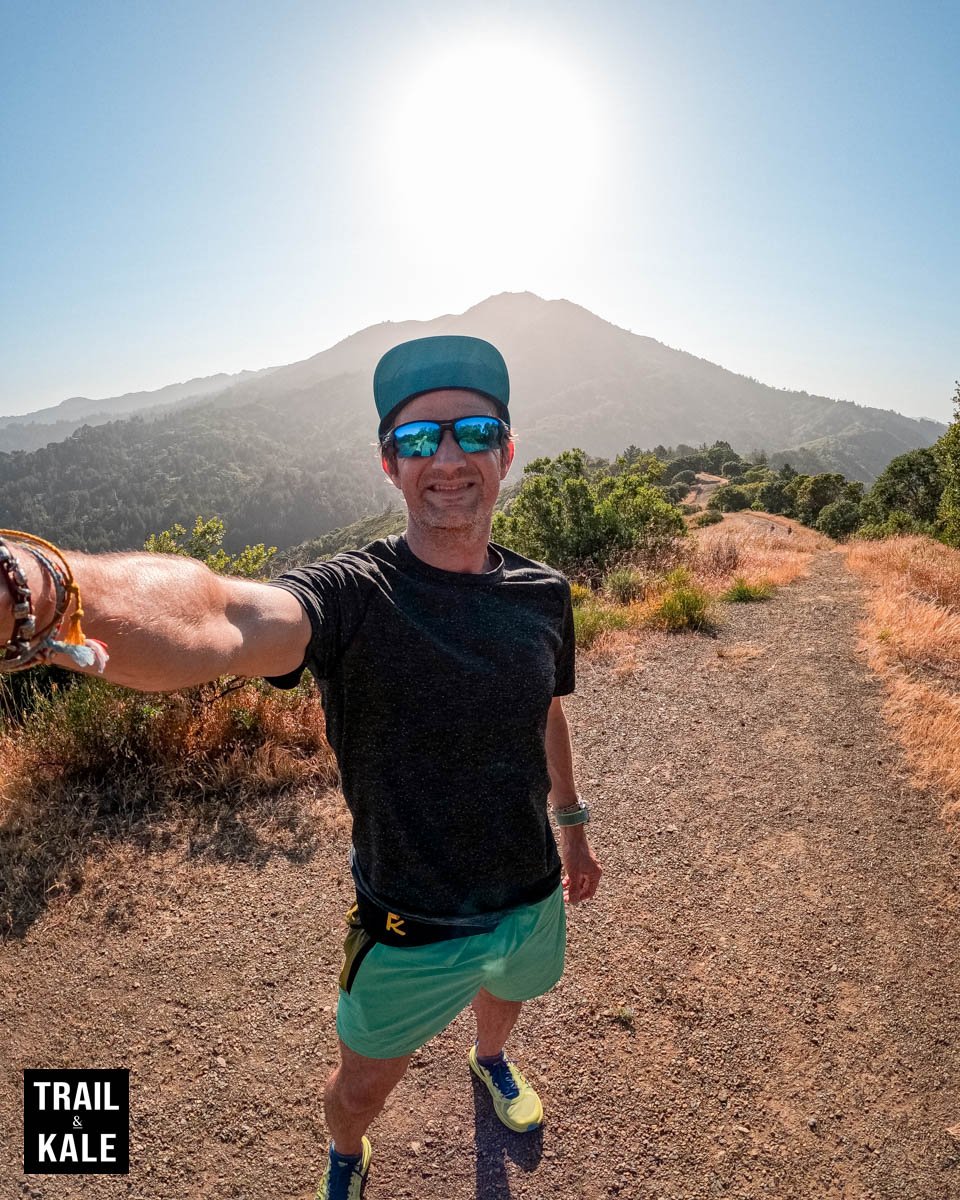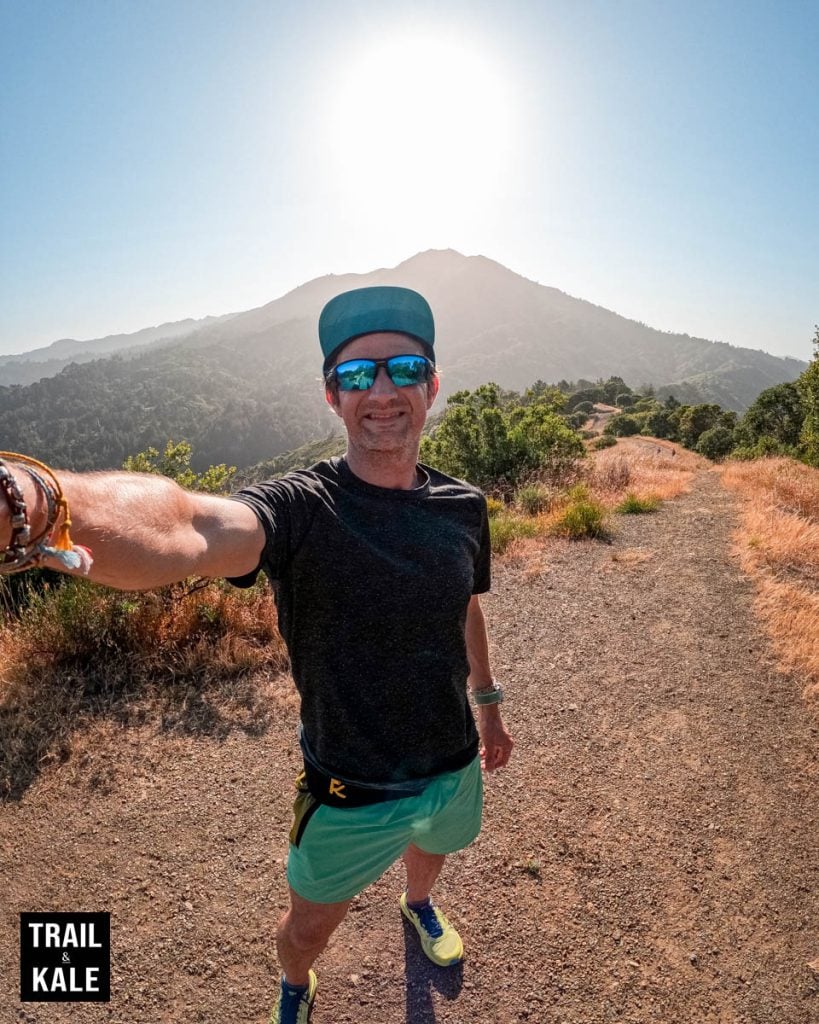 The breathable woven fabric coupled with side vents designed specifically for trail athletes affords a smooth and cooling feel too which I really appreciate as most of my runs here in California are hot ones.
One of the standout features of these 5″ shorts is the array of pockets. With a total of 7 pockets, including drop-in, side, and zippered hand pockets, there's ample storage space for your keys, cards, phone, and any other pre- and post-run gear. The back pocket is thoughtfully sized to accommodate a phone (although I wear a running belt whenever I run with my phone), ensuring your essential items remain secure and within reach.
Additional benefits include a compression waistband that ensures a snug fit, an elastic hem, and a multi-colored drawcord. Reflective Swoosh adds a touch of visibility for those low-light trail runs.
---
Janji

AFO Middle Short [$62]

One of the many things I love about the Janji brand is how brave they are with their colorways and patterns. When it comes to Janji's running shorts, I wear the AFO Middle Short 5 inch running shorts but they are also available in 3″ inseam or a 7″ inseam to fit your style.

I have collected so many different colorways of these shorts over the years as Janji collaborates with local artists from the places that inspire each collection. When I want to feel happy and vibrant while running, I grab my Janji shorts.

Each Janji collection is inspired by a region of the world where they collaborate with local artists. You can check out their latest collection here.

These running shorts with liner (a comfortable moisture-wicking brief liner, I might add) are made with high-grade, post-consumer recycled plastic instead of virgin synthetics. This helps Janji lower the impact of this product on the planet without sacrificing durability, comfort or performance.

I really like how the pocket at the rear can fit a smartphone for when you don't want to take a running hydration vest with you on a run (sometimes minimal runs are what you need).

Janji is a running brand that truly speaks to us (Trail & Kale) on so many levels!
---
Nike

Dri-FIT Flex Stride [$60]

Comfort and utility are a must when you're out on the trail. These mens running shorts have 5 pockets (2 at the side, 2 drop-in pockets, and 1 zippered pocket at the back that fits most phones).

There are also multiple waistband loops to help keep your essentials like keys, gels, or protein bars secure.

The Nike Trail collection of apparel makes for a more unique style even when running on the road – visit the Nike Trail page to view their entire range of apparel.

The Nike Flex Stride shorts uses Dri-FIT technology to move sweat away from your skin for quicker evaporation – this helps you stay dry and comfortable for longer.

They also have stretch-woven fabric at the front and a breathable fabric at the back – this results in a soft feel that allows for movement in any direction without the restriction of movement.

If you're interested in trying the Nike Trail shoes range have a read of my ultimate Nike Trail running shoes comparison post next, to make sure you choose the right pair for you.

I like the elastic waistband with a drawcord because it lets you adjust the fit just how I like it, without having to do them up too tight. Check out all the available colors via the button below.
---
lululemon

Pace Breaker 7″ – 2 in 1 running shorts [$68]

One of my favorite 2 in 1 running shorts for jogging is the Pace Breaker by lululemon. I really like the layer of compression that the attached liner provides.

lululemon offers these shorts in various great colorways so visit the 'Pace Breaker Lined Short' product page to see them all. lululemon also sells other Pace Breaker jogging shorts with a standard brief liner if you prefer that style.

Click here to see the entire Pace Breaker men's running shorts range, and read our guide to the best lululemon men's running shorts to see their other styles I rate highly.

I've also been using Pace Breaker shorts for at-home workouts on my Tonal home gym (which by the way is insanely awesome!) because they are lightweight, have 4-way stretch, are sweat-wicking, have compression in the liner, and provide simple zippered pocket storage.

For lululemon running shorts with a liner, $68 is a very reasonable price to pay.
---
Brooks Sherpa Running Shorts [$64]
Another super comfortable pair of sweat-wicking, stretchy and breathable men's running shorts, Brooks Sherpa shorts are a great choice for both road and trail runners.
The Sherpa shorts are available in 3, 5 and 7 inch lengths as well as 2 in 1 options, and come with two gel pockets and a rear zippered pocket for small essentials.
---
On Running Lightweight Shorts [$79.99]
At a minimum inseam length of 8 inches (depends on the size you go for) the On Running Lightweight Shorts are longer than the others on this list – this will suit taller runners.
The shorts are also designed to sit higher than traditional men's running shorts so they may feel more like a 7-inch inseam to most. They work when worn higher up due to the unique elasticated waist band which hugs your waist and keeps the shorts in place when running.
The waistband is where the pockets can store things like your phone, gels, keys etc. It's nice that On Running didn't add a zip closure on the pocket – but instead opted for a fabric flap, so less to go wrong with them over time and it holds your phone in perfectly.
READ NEXT: Best On Running Shoes Ranked With Reviews
There is a small loop inside the pocket too, to secure a key if necessary. The fabric is very lightweight and dries quickly, plus you'll find a small reflective logo on both legs for additional safety when running in low light conditions.
---
I hope you enjoyed reading this 'best running shorts for men buyer's guide' with insightful running short reviews, and that it helped guide you to your next favorite pair.
If you have any questions on the shorts on this list, please let me know as I have tested them all myself and should be able to help with any queries.
Don't forget to subscribe to our newsletter for all the latest and greatest outdoor gear reviews.