When it comes to running, finding the perfect pair of running shoes is often the top priority for most runners – and rightly so. But what about the best running socks?
The right pair of running socks can make a world of difference in your comfort and performance, not to mention help prevent blisters.
At Trail & Kale we specialize in testing and reviewing the best of the best in running and outdoor lifestyle gear, and as experienced road, trail and ultra runners we've tried out hundreds of pairs of running socks.
In this comprehensive buyer's guide, we'll walk you through the key features to consider when shopping for the best running socks of 2023, and answer some frequently asked questions. Let's dive in!
---
How To Choose The Best Socks For Running
There are several great running sock brands to choose from – they all have in common the key features that make them great for running, including technical material that wicks sweat and dries quickly, a snug fit that won't move around or rub and cause blisters as you run, and quality construction so you know they'll last for many miles.
Which brand and style are the right socks for you personally is going to come down to the specific features of each sock, including fit, cushioning, length and value for money.
The best sock choice for you may also depend on what sock and running shoe combination you wear, and whether you need them to wear with your road or trail running shoes, as well as the climate and weather conditions you run in.
This means you may end up with favorite socks from a few different brands, in a variety of different levels of cushioning and lengths, to suit your choice of running shoes, whether it's hot, wet or cold outside, and whether you're road running or trail running.
Below our sock recommendations, you'll also find our comprehensive running sock buyer's guide, which explains the key features that make running socks great, and why these brands and styles of socks are our top recommendations for runners.
---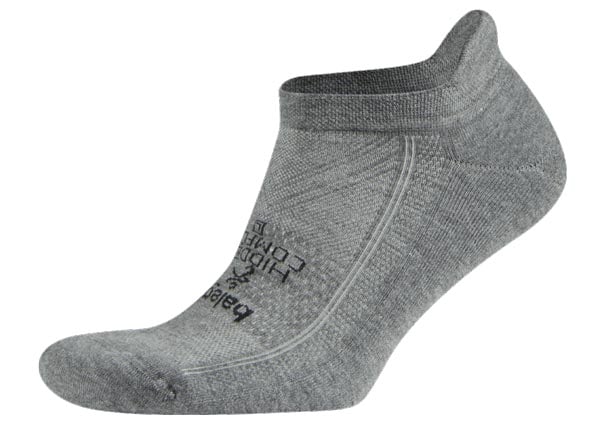 Balega Hidden Comfort Socks ($18)
"Overall Best Running Socks"
Price: $18
Available lengths: no-show (look at the Enduro for ankle / crew-length)
More cushioning options: Balega offers the full spectrum from ultra-light to high cushioning (with the Balega Blister Resist style of socks)
The Balega Hidden Comfort socks offer comfortable cushioning, excellent performance, and durability; these are features that make them a great choice for ultrarunners and my pick as the best overall running sock to consider.
These comfortable socks are made with extra-fine yarn that gives a plush protective cushion without added bulk.
We're also big fans of the Balega Enduro V-Tech socks, which also offer a comfortable balance of cushioning and soft, unrestrictive material, making them a great choice for trail runners and those who want the additional cushioning and ankle coverage.
Balega uses their proprietary synthetic Drynamix moisture-wicking fibers with reinforced microfiber mesh ventilation panels to keep your feet dry and cool while also allowing for some level of breathability.
All Balega socks offer toe seam-free comfort, which provides an added level of confidence with the reduced risk of blisters.
If you choose the no-show variety, the heel tab at the rear is extra padded which helps prevent the sock from slipping into your shoe if that's ever an issue for your feet.
---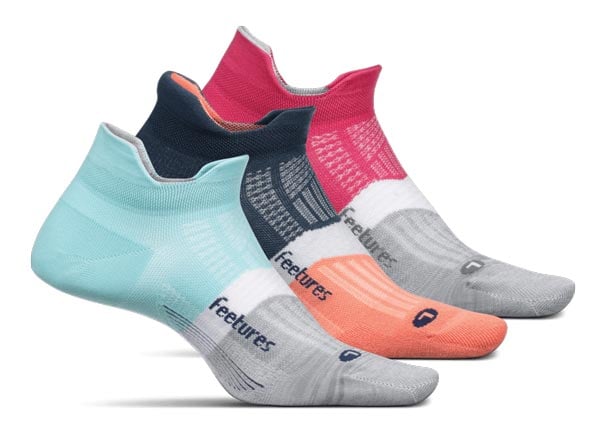 Feetures Elite Light Cushion No-Show Tab ($18)
"Best No-Show Running Socks"
Price: $18
Available lengths: No-show, quarter high
More cushioning options: Max cushion, light cushion, ultra-light cushion
The Feetures Elite Light Cushion No-Show tab socks are some of the most comfortable running socks on the market.
These tab no-show socks have been designed with an anatomical fit and targeted compression, which provides a fit that's almost custom, and a reduced risk of blisters because of it. They make great performance socks for running all distances and are a personal favorite for hot summer runs, including long marathon training runs and race day.
I particularly like that Feetures' light cushioning doesn't take up any unnecessary room inside your running shoes, which can sometimes lead to the shoes feeling too tight.
There's just enough cushioning under the heel, forefoot, and toe regions with more around the Achilles heel area, although I consider these to be minimal cushion low-cut socks and so other socks are better options if you feel you need more in the way of padding and cushioning in those areas.
In the remaining areas is structured, directional compression which supports regions like the arches and the top of your feet. There are also no seams around the toes which makes them very comfortable as your toes splay and flex while running.
This applies to all their styles of socks that I have worn for running over the years, like the crew version, which is a good option if you prefer a taller sock.
These lightweight socks are made with 95% Nylon and 5% Spandex which is able to wick moisture away from your feet and toes to keep them cool, dry, and hopefully blister-free.
---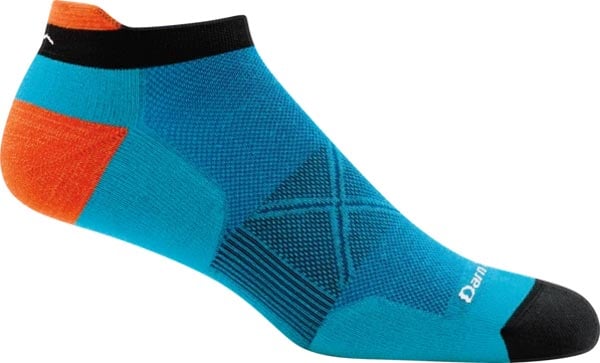 Darn Tough Ultra-Light Cushion Running Socks ($17)
"Excellent Cushioned Socks For Running Long Distances"
Price: $17
Available lengths: No-show tab, quarter, crew
More cushioning options: Ultra-lightweight, no cushion
Darn Tough socks are incredibly soft and form-fitting. These socks are seamless too, making them some of the most comfortable socks for running, with minimal risk of rubbing and blisters.
With the ultra-lightweight cushion version, there's also a nice soft layer of cushioning along the bottom of the sock for extra protection when running long distances.
They're made with 50% Merino wool. I'm a huge fan of Merino wool for its ability to keep you cool in warm weather and warm in cool weather while maintaining breathability and controlling odors – it's a great material for socks, baselayers and other sweat-wicking apparel.
I tested this pair on various runs including a grueling 35km trail race where it was raining throughout. My feet had been in so much water for so much of my race, yet my feet were immaculate by the end of it.
When it comes to running socks that are ideally suited for long distance runs and races, you can't go wrong with them.
I was very impressed with how quickly the socks began to dry out every time I was done with a wet section of the course during the race mentioned above, this is a testament to their sweat-wicking capability.
---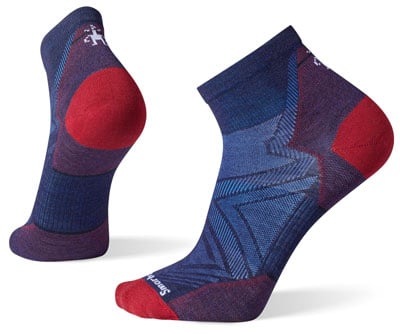 Smartwool Performance Run Socks ($18)
"Top Merino Blend Running Socks"
Price: $18
Available lengths: Low ankle, 1/4, crew, calf
Cushioning options: Targeted cushion (heel and ball of the foot), zero cushion
Smartwool also makes some excellent Merino wool blend socks for running. Smartwool Performance socks feature lightweight cushioning in the ball and heel of the foot for shock absorption with minimal in-shoe volume.
These ankle socks also have foot-contoured mesh ventilation zones on the top section which help with breathability and also wick sweat away from your feet.
They also have a virtually seamless toe box for extra toe comfort while running, and compression where it's needed, in the arch zone.
The no-show style has a tab at the back too, designed to keep the socks from falling down and to give additional cushion to your Achilles.
PhD is Smartwool's high-performance line of products built to perform to the highest degree so you can imagine, how much testing and iterations have gone into these socks, one of Smartwool's best sellers.
They are made in the USA with 56% Merino Wool (imported), 41% Nylon, 3% Elastane in a patent-pending construction method for exceptional durability and comfort.
---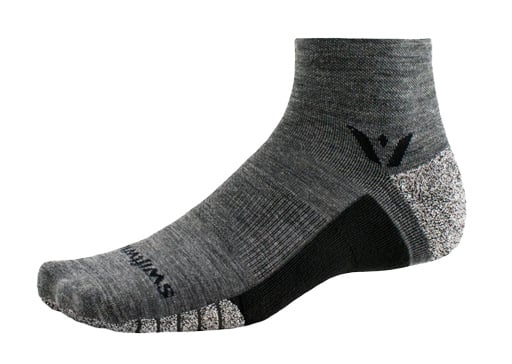 Swiftwick Flite XT Trail Ankle Socks ($27)
"Best Crew Socks With Ankle Support"
Price: $24
Available lengths: 2 inch ankle, 5 inch ankle
Cushioning options: Medium
The Swiftwick Flite XT Trail socks have a lot of features that add stability on uneven terrain – and they do just that with plenty of comfort underfoot.
The Flite XT Trail are packed with technical features, a highlight of which is Swiftwick's AnkleLock Technology that supports your ankles and GripDry™ Fiber in the heel and forefoot to keep you stable within your shoes – great if you're going to wear them trail and mountain running, and one of the reasons why I love these socks.
Merino wool naturally moves moisture away from your feet while also regulating temperature – which is why we love it so much. It can keep your feet cool in the heat and warm as it gets colder, staying dry and comfortable for your entire journey, no matter the elevation gain.
---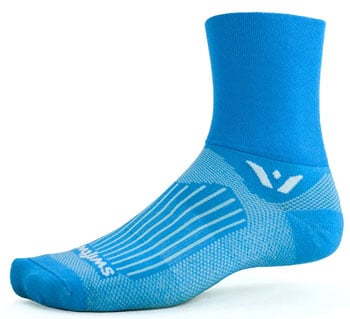 Swiftwick Aspire Running Socks ($20)
"Best Compression Socks for Running"
Price: $20
Available lengths: No-show, ankle, crew, over-the-calf (knee high)
Cushioning options: Light
Compression socks can really help with swelling and reducing fatigue, especially in the arch area if you feel you could benefit from the added arch support but don't want to wear running insoles in your running shoes.
Wearing compression socks when you're running also helps to provide stability and comfort for your feet when you have shoes on – and so are especially beneficial for longer endurance running efforts.
Swiftwick's Aspire socks are thin socks that are breathable, with firm compression and light cushioning.
They're available in the full range of lengths from no-show through ankle socks, crew and over-the-calf knee-high socks styles, with the Swiftwick Aspire Zero being the most popular with people who like the no-show sock look.
---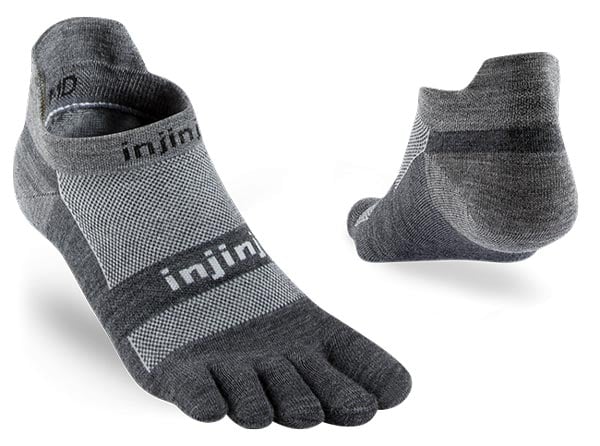 Injinji Run Lightweight Running Socks ($17)
"Best Toe Socks"
Price: $17
Available lengths: No-show, mini-crew, crew
Cushioning options: Lightweight, midweight
You've probably heard of Injinji socks – they're the best known toe sock brand out there. If you haven't tried toe socks before, you must, because these Injinji socks may be just what you need.
Now, they aren't for everyone but many swear by them, and I enjoy wearing Injinjis too. My current favorite styles are the Injinji Ultra Run Tab and Mini-Crew socks but really if you like this style then any of their run-specific socks are great.
So, what are the pros and cons of wearing this sock style for running? Well, the key benefit of wearing them is that these socks help prevent toe blisters while running, provided you have a good pair of running shoes that fit, and of course, the socks fit you properly too.
The downside is that they take a little longer to put on, a small caveat if they prevent blisters for you though.
The reason for such good blister prevention is because each toe is protected with its own glove-like sock, which wicks sweat/moisture away from your toes and there's no way for your toes to rub against each other because of the material separating them.
---
Finding the best running socks for you – what to look for when choosing a pair
Understanding the key features to consider will help you choose the best pair of running socks for your running style, shoe choice and personal preferences when it comes to cushioning, level of compression and cuff height.
Fabric – Moisture-wicking and breathability
The best running socks are made of moisture-wicking, breathable fabrics that help keep your feet dry and comfortable while running.
Materials like polyester, nylon, and merino wool are excellent choices for running socks (as well as other technical apparel, such as baselayers) because they wick away sweat, provide some stretch, and allow your feet to breathe.
These materials also offer antimicrobial properties, helping to reduce odor and keep your feet feeling fresh.
It's hugely important to choose socks that are made with a blend of these technical fabrics, and steer clear of cotton socks, which includes cheap athletic socks. Cotton socks tend to retain moisture and can contribute to blister formation.
Seams
Well-placed or even seamless construction is crucial in a good run sock. This helps to reduce friction and the likelihood of developing blisters from rubbing.
Flat, smooth seams or completely seamless designs minimize irritation and chafing, ensuring a more comfortable running experience.
Some premium running sock brands use advanced manufacturing techniques to create seamless designs that feel like a second skin on your feet.
Durability (and value for money)
When it comes to running gear, durability is essential. The best running socks are designed to withstand the wear and tear of long runs, trail running, and everyday training. Look for socks made with high-quality materials and reinforced in high-wear areas like the heel and toe.
Investing in quality running socks helps ensure they last longer and translates to better value for money in the long run (see what I did there?!).
This is especially important if you run a lot, run long distances, or are training intensively for a race such as a half marathon, marathon or 50k ultramarathon, and need socks that won't let you down during those long training runs, not to mention race day.
Speaking of training – if you're planning to train up for a race in the coming weeks or months, head over to our training plans page for our free, downloadable training plans for all these distances and more, and check out our Running 101 page for more running advice.
Additionally, consider the sock's warranty or satisfaction guarantee, as some brands, such as Darn Tough, stand behind their products and will replace socks that wear out prematurely.
Arch support
Some running socks offer support for specific parts of your feet, like arches. This helps keep the sock snug and fitted on your feet, reducing the chances of developing blisters due to rubbing.
Arch support can also provide additional comfort during long runs and help alleviate strain on your feet's muscles and tendons. Look for socks with targeted compression or elastic bands in the arch area to ensure a secure and supportive fit.
Cushioning (sock thickness)
Running socks come in various levels of cushioning, from thin to thick – sometimes called minimal to maximal, or other words to that effect, depending on the sock brand.
The cushioning preference is subjective and depends on your preference as a runner, and the type of running shoe you're choosing to wear.
Thicker socks typically provide more cushioning and support, while thinner socks offer a lighter, more minimal feel.
Most runners tend to stick with thinner socks that have a relatively small amount of cushioning. This can help keep feet cool as you run, as well as add comfort in the shoe when you're feet warm up (and swell a little as they do so). Thinner socks should also minimize the possibility of the sock moving around or rubbing.
Key areas that should have cushioning include the heel, toe, and ball of the foot, which are subject to the most impact and pressure during a run. Some brands also offer zoned cushioning, providing extra padding in specific areas where runners need it most without adding bulk to the entire sock.
Sock height
Socks for running come in different lengths, including no-show (tab) socks, ankle-length, quarter socks, and crew socks.
No-show socks are popular for their low profile, while trail runners often prefer longer ankle-length or crew socks for added protection against trail debris.
Ultimately, the choice of sock height comes down to personal preference and the specific running conditions you encounter.
Each sock height has its benefits: no-show socks provide a minimalist aesthetic, often with just the heel tab visible above the shoe, ankle socks offer a balance of coverage and breathability, and crew socks give added protection against debris, dirt, and even ticks during trail runs.
Fit
Finding the perfect fit for your running socks may require trying different brands and styles.
Most running sock brands offer men's and women's sock sizes to accommodate various foot shapes and sizes.
A well-fitting sock should feel snug but not too tight, with no bunching or slipping during your run. It's also essential to consider the sock's compatibility with your running shoes, as a too-thick sock might cause discomfort or an improper fit within your shoe.
If you already have a brand and style of running shoe you prefer to run in, choose a sock brand and style that provides a good fit with that shoe. If you don't have a shoe brand preference, consider finding a brand (or brands) of running sock that you love, and wear those socks when you try on new pairs of shoes, to ensure they're compatible.
Compression
Compression in running socks can help improve blood circulation and provide some support to the feet and lower legs. However, this feature is a personal preference and may not be necessary for every runner.
That said, many runners choose to wear compression socks after their runs to aid in recovery.
Post-run compression can help reduce muscle soreness and fatigue by promoting blood flow and reducing inflammation. If you're considering compression socks, look for ones with graduated compression, which applies more pressure at the ankle and gradually decreases as it moves up the leg.
This design helps promote better blood flow and reduces the risk of blood pooling in the lower extremities.
---
More FAQs about buying running socks
Do you need different socks for hot and cold weather?
Yes, the type of running sock you choose may vary depending on the weather and you'll have different sock preferences for running in the winter compared to the summer when it's warmer.
For hot weather, look for lightweight, breathable, and moisture-wicking socks to keep your feet cool and dry. Some socks even feature mesh ventilation panels for enhanced breathability.
In colder weather, opt for thicker, insulated socks made from materials like Merino wool to keep your feet warm and comfortable. Winter running socks should also wick moisture away to prevent dampness and chills.
Which running socks will prevent blisters?
High-quality running socks can help prevent blisters by reducing friction and moisture on your feet.
Features like seamless construction or flat seams, moisture-wicking materials, and a proper fit all contribute to minimizing the risk of developing blisters during a run. Learn more about preventing blisters from running.
Should running socks be thick or thin?
The choice between thick and thin running socks depends on personal preference and the type of running shoe you wear.
Thicker socks provide more cushioning and support, while thinner socks offer a lighter, more minimal feel. Some runners prefer the added cushioning of a thicker sock for longer runs, while others enjoy the lightweight feel of a thinner sock.
It's essential to consider your comfort, the fit of your running shoe, and the specific running conditions when choosing between thick and thin socks.
How long do running socks last?
The lifespan of running socks depends on factors such as the quality of the socks, how often you wear them, and how well you care for them.
Even the best running socks will wear through eventually, but in general, a good pair can last for several months or even a year, depending on usage.
To prolong the life of your socks, follow the care instructions on the label, which typically involve washing them in cold water and air drying them.
Rotating between multiple pairs of socks can also help extend their lifespan.
How to choose socks for trail and ultra running
When selecting socks for trail and ultra running, prioritize durability, cushioning, and protection. Trail running often involves running on uneven terrain and through debris, so you'll want a sock that can withstand these conditions.
Look for socks with reinforced toe and heel areas and zoned cushioning for added support.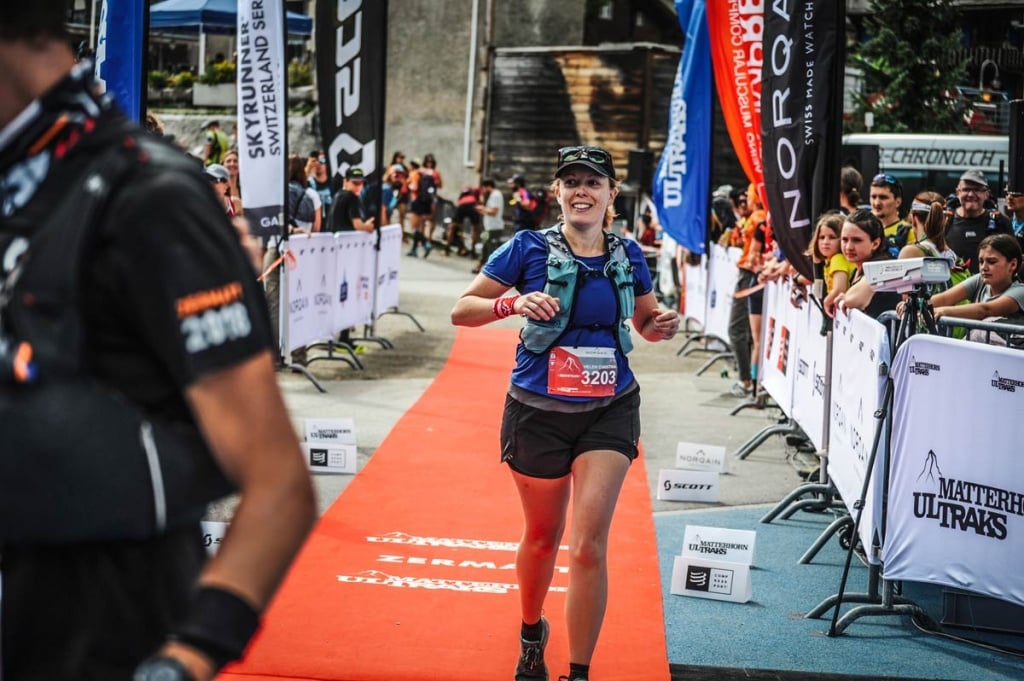 Additionally, consider a higher sock height, like ankle-length or crew socks, for added protection against dirt, rocks, and other trail debris.
Are waterproof running socks good?
While waterproof running socks might seem like a good idea, they're generally not recommended for most runners. Waterproof socks can limit breathability, making your feet hot and sweaty during a run, which can lead to discomfort and even blisters.
Instead of waterproof socks, opt for moisture-wicking and quick-drying socks that can manage sweat and light moisture effectively.
If you'll be running in very wet conditions, consider investing in Gore-Tex waterproof running shoes and ankle gaiters to prevent water from entering your shoes in the first place.
What to do if you get blisters from running
As mentioned above, you may be reading this post because you're looking for ways to stop getting blisters when running – and making sure you're wearing the right socks is definitely one of the first things to consider.
If you experience blisters from running, on a recurring basis, it's worth also walking yourself through some 'diagnostics' to work out what the cause of the blisters is. Read this post to learn more about the causes of running blisters and how to fix them.