The Nike Trail running shoes range has been evolving super quickly of the past few years, in terms of design, performance, comfort, and the number of different trail running shoes available (and clothing too, including shorts, running hats, running vests, and sunglasses.
Nike itself needs no introduction as they've been manufacturing some of the world's best running shoes for many years now, but it's the growth in the trail running space that interests me the most.
Nike Trail's growth is very much in line with the increasing popularity of trail running as a sport in itself – and for good reason, it's super fun, plus trail running has other great benefits over road running.
The release of the latest Nike Trail running shoes has come with a bit of confusion surrounding which are the best Nike Trail running shoes for a particular type of terrain, and also for the ability level of the runner who plans to wear them.
In this Nike Trail Shoes buyer's guide, I'm going to make it super easy for you to choose the perfect pair of Nike Trail running shoes for you, and how you plan to run with them.
MY FAVORITE: If you're short on time – my favorite all-round Nike Trail running shoes are still the Terra Kiger 8.
To discover the best trail running shoes and the best road running shoes right now, bookmark those two linked posts for later.
All the Nike Trail running shoes in this buyer's guide offer neutral support, and are available in both men's and women's; the features are the same for both, the only difference is the colorways which Nike likes to update regularly. The currently available colorways can be explored using our links below.
There are now 5 different Nike trail running shoes to choose from in the Nike Trail running shoe range, and you should be able to quickly identify the best Nike Trail running shoes for you by clicking our 'jump links' below. These links will scroll you down to the best Nike Trail shoes for the category you click.
So, all you have to do is prioritize what you need from your Nike Trail running shoes (by choosing 3 links to click below), then click those links, and whichever shoe pops up the most frequently is the trail running shoe for you!
Nike running shoes generally have medium arch insoles in them – this makes them suitable for most people with average feet but if you do feel you need extra arch support then I would recommend getting yourself a pair of good insoles to help improve comfort and running form.
---
Best Nike Trail Running Shoes [Jump Links]
---
1. Nike Air Zoom Terra Kiger 8
Nike Terra Kiger 8 – All-Round Best Nike Trail Running Shoes
Weight: 10.4oz (295g) – for men's size US 9
Cushioning: Moderate | Rock plate: Yes
Drop: 4mm
Price: $140 at nike.com
To learn more about these great trail running shoes, read my Nike Terra Kiger 8 review.
The Nike Terra Kiger 8 is a lightweight trail running shoe for fast and light trail runs and trail races. Nike has updated the outsole in this latest edition, for improved performance on wet terrain and variable trail conditions.
The Terra Kiger 8 is the most minimal trail running shoe from the Nike Trail running range, it boasts the lowest drop from heel to toe.
They are the only Nike Trail shoes that still use some Air Zoom units (there's also some React foam in there) in the midsole which is a REALLY good thing, as it means they are very responsive on the trails without the loss of control on technical terrain.
The Air Zoom Terra Kiger 8 is Nike Trail's second lightest trail running shoe option but feels the most minimal.
The mesh upper is flexible, breathable, and supportive with a snug lacing system that gives you a much-needed comfortable and supportive fit for rocky and technical trail sections.
The Terra Kiger 8 are my favorite Nike all-terrain shoes this season.
---
2. Nike Pegasus Trail 4
Nike Pegasus Trail 4 – Best Door to Trail Nike Trail Shoes
Weight: 9.7oz/275g – for men's size US 9
Cushioning: Maximum | Rock plate: No
Drop: 9mm
Price: $140 at Nike.com
For a more detailed look read my Nike Pegasus Trail 4 review.
The Nike Pegasus Trail 4 is a high-performance trail running shoe for those running light, or buffed / hard-packed trails.
The 9mm drop forces a more forward-leaning stance which is typical of a running shoe for runners who want to run fast and keep that forward momentum pushing them forward.
The Pegasus Trail 4 is well suited to running fast downhill and they also pack a punch while running uphill due to the aggressive tread on the outsole and that super-cushioned React foam in the midsole
The React foam midsole protects the bottom of your feet from spiky rocks extremely well too.
The Nike Pegasus Trail's construction is very durable and you'll be the envy of other trail runners due to how nice the design is.
---
3. Nike Wildhorse 7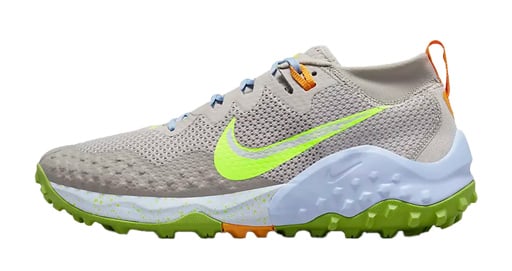 Weight: 11.14oz/328.4g (Men's size 10)
Cushioning: Moderate | Rock plate: Yes
Drop: 8.0mm (Forefoot: 14.5mm, Heel: 22.5mm)
Price: $130
The Nike Wildhorse 7 is the 'Nike Trail' trail running shoe that will suit many trail runners of beginner to intermediate experience.
It has a mid-range drop from heel-to-toe, good cushioning underfoot, and it really feels like this particular Nike Trail running shoe has been designed for hitting the trails hard, like a work-horse.
The Nike Wildhorse will keep your feet warm while running in cooler temperatures.
Like some of the other Nike Trail running shoes, the Wildhorse 7 also has a rock plate to help protect your feet from sharp rocks and provides a comfortable feeling mid-range drop of 8mm from heel to toe.
The Wildhorse 7 are a great workhorse shoe that will tackle many different terrains and it's also a great shoe choice for anyone looking for Nike hiking shoes – as they are a great lightweight alternative to more traditional hiking boots.
---
4. Nike Pegasus Trail 3 GORE-TEX
Weight: 11.8oz/334.5g (Men's size 10)
Cushioning: Moderate | Rock plate: No
Drop: 9.5mm (Forefoot: 15mm, Heel: 24.5mm)
Price: $160
The Nike Pegasus Trail 3 GORE-TEX is the waterproof version of the popular Pegasus Trail 3.
It's actually quite remarkable how Nike has managed to keep the weight down while waterproofing the Pegasus Trail 3.
It's only 15 grams heavier than the non-waterproof version, and you get full Nike Gore-Tex waterproof protection – that's impressive.
The upper uses GORE-TEX technology, to provide waterproof protection without sacrificing fit or feel.
This is still a flexible Nike Trail running shoe, is still lightweight, and will keep your feet dry while running through wet trails.
There are also quick-drying properties to help keep them fresh, and ready for your next trail run.
---
5. Nike Juniper Trail
Nike Juniper Trail – Cheapest Nike Trail running shoes
Cushioning: Moderate | Rock plate: Yes
Price: $70
The Nike Juniper Trail delivers a consistent ride for your off-road runs. It's built for rocky trails, helping beginners to stay focused on the path ahead.
Tough traction mixes well with a lightweight design so you can keep moving when tackling challenging terrain.
The rubber outsole has tapered lugs on it which gives good traction on rocky roads. It's also designed to increase efficiency while running up and down hills.