There are two key ways to store your gear, nutrition, water, and essential items while running; a hydration pack and/or a running hydration belt (also known as a running belt, or fanny pack). In this post we've picked out the best running belts for carrying your phone, other small essentials, and even water, and included brief review summaries for each belt, explain what features to look for when it comes to choosing which option will work best for you.
ADVERTISEMENT
All of these belts are perfect as stand-alone storage wearables, particularly for shorter runs where you may not want to wear a hydration pack because you want to run fast & light without the extra weight. There's a certain kind of freedom gained from not wearing your race vest when you're going for a run and want to boost your chances of hitting PRs, so in that case a regular running hydration belt could be exactly what you need.
Click here to read more on how to choose the best running belt for you, or keep scrolling to see the recommended belts.
---
1. CamelBak Ultra Belt 17oz | Editor's Choice
The CamelBak Ultra Belt 17oz is CamelBak's lightest, most minimal hydration belt that can store a 17-oz (500ml) Quick Stow flask (comes with the belt) that molds to the shape of your body (Other soft flasks are available in case you need a spare). Soft flasks are the only way to go when it comes to running hydration belts because once you've finished the drink inside, they can simply be folded and stowed away in the belt without taking up unnecessary storage space, I mean who likes extra bulges on their waste unless absolutely necessary, right?
The well-cushioned 3D mesh material is breathable which is essential for hot summer runs, and the extra stretch pocket keeps gels, keys, and credit cards safely tucked away without the possibility of them falling out. The cushioning is in all the right places to make it comfortable enough for endurance running and there's also a specific phone pocket with a zipper to ensure your most valuable running accessory, your mobile phone, doesn't go missing in the wild. This is a great running belt for phones due to the specific pocket.
As with most of the running water belts in this list, the Ultra Belt 17oz features an integrated trail running poles carrying system for those extra technical trails. Attaching trail running poles to a belt is faster, and often more comfortable than storing them in your race vest which is why some ultrarunners will opt to wear both at the same time. Oh, and this belt features reflective decals to help ensure you're seen while running in the dark. This is also the best running hydration belt on this list – it even comes with a collapsible water bottle.
| | | |
| --- | --- | --- |
| Weight | No. of pockets | Bottle included? |
| 2oz. / 70g | 4 | Yes |
Last Amazon price update was: 7th December 2022 3:00 am
---
2. Ultimate Direction Utility Belt
The Ultimate Direction Utility Belt looks rather minimal at first glance, but it packs in a lot of great features. This lightweight running hydration belt is sleek but also durable and has enough storage for most runs.
It can carry a 500ml soft flask, trail running poles, a mobile phone, a jacket, and other small valuables with no bounce due to its stretchy yet rugged outer mesh material.
It has one small secure pocket and three other non-secure ones, however mesh systems like this are very good at keeping contents contained and locked in place. The correct orientation for this hydration belt to be worn is with the UD logo at the front, but feel free to wear it in the way that suits you best.
This belt comes in five different sizes, but note you need to buy the soft flask water bottle separately.
| | | |
| --- | --- | --- |
| Weight | No. of pockets | Bottle included? |
| 2.25oz. / 64g | 4 | No |
---
3. Salomon Pulse Belt
The Salomon Pulse Belt has ample storage for your phone, water, and other essentials. The front pocket will comfortably store a phone (even an iPhone Plus size), while the rear pocket fits a soft flask with a capacity of 500ml or less.
The rear pocket will hold a jacket and a headlamp, and this belt has a key clip to make sure your keys don't go missing. This belt has a great fit which minimizes bouncing and riding-up/down while running even if it has quite a few items stashed in it.
There are also elastic straps on the rear for your hiking poles (ensure the fit of this belt is snug and not over-filled when carrying poles as you may experience a little bounce). You're also spoiled for choice with all the different colors to choose from.
| | | |
| --- | --- | --- |
| Weight | No. of pockets | Bottle included? |
| 2.18oz. / 62g | 4 | No |
Last Amazon price update was: 7th December 2022 3:00 am
---
4. UltrAspire Fitted Race Belt
The UltrAspire Fitted Race Belt is designed with a conical shape and unique stitching pattern that gives a nice smooth feel against the body. This hydration belt can easily carry your cell phone, nutrition, hydration (250ml soft flask, the smallest hydration capacity on this list), and your wallet & keys in a secure zippered pocket. Two bungee loops can also be cinched down to securely hold a running jacket or a pair of collapsible trail running poles.
This belt is available in five size options, which will help ensure a really snug fit.
| | | |
| --- | --- | --- |
| Weight | No. of pockets | Bottle included? |
| 2.4oz. / 68g | 5 | No (max capacity 250ml) |
Last Amazon price update was: 7th December 2022 3:00 am
---
5. Naked Running Band
The Naked Running Band comes in 12 different sizes based on waist sizes in inches/cm making for a really accurate fit and although this running hydration belt doesn't come with a water bottle, it can carry one! It uses a four-way stretch mesh for carrying your soft flask.
The Naked Running Band is a great choice of running belt for carrying a phone – it can fit any model of the newest large format smart phones. Two silicone-backed elastic straps at the rear (or front depending on how you prefer to wear it) can secure your jacket or running poles.
| | | |
| --- | --- | --- |
| Weight | No. of pockets | Bottle included? |
| 2.3oz. / 65g | 3 | No |
---
6. Lululemon Fast and Free Run Belt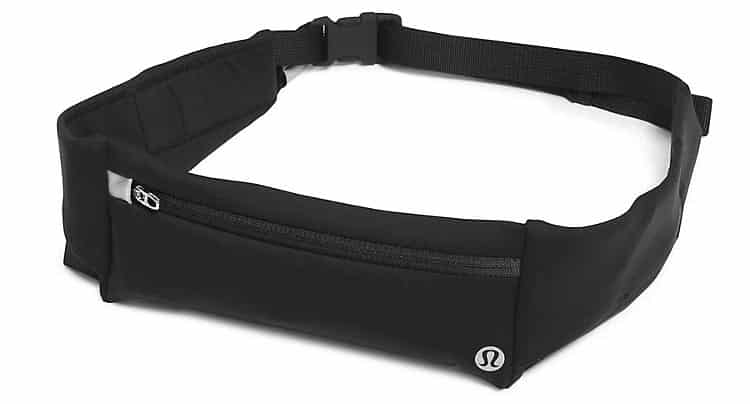 If you don't need to carry a water bottle on your run then you can get away with a more minimal running belt, such as this Lululemon option.
We like the simplicity of the design, which includes a zipper to keep your valuables safe – the pocket is large enough to stash a phone, key, some cash and small snacks, and there's a clip to attach your key to for extra security.
The Fast and Free Run belt comes in two sizes, and the waistband is fully adjustable.
| | | |
| --- | --- | --- |
| Weight | No. of pockets | Bottle included? |
| n/a | 1 | No (not a hydration belt) |
---
Buyer's Guide: How to choose the best running belt for you (aka running fanny packs)
Here are our key criteria for ranking these best running belts, whether you plan to wear them for short local daily runs, long-distance trail runs or even to accompany your hydration pack on an ultra marathon. A great belt for running:
Must be comfortable and lightweight for extended use during an ultramarathon or for fast high-intensity runs.
Must stay in place and not ride-up or slip-down your waist. In other words, stretch and conform to the body.
Must be able to store essential items for trail runners including a mobile phone, trail running poles, water, nutrition, jacket, and keys.
Preferably has a waterproof section.
Running hydration belts for carrying water
When it comes to carrying water in a running belt, the location of the pocket for the water bottle is important (to minimize bounce and discomfort), as is the style of water bottle the running hydration belt is designed to carry.
All the belts on this list that are designed to carry water bottles in are intended for use with soft flasks, as opposed to hard-sided water bottles. For more on the advantages of soft flasks over regular water bottles, read this post.
For each running belt review above, we've noted the size of water bottle the belt is designed to carry, as well as whether or not the belt comes with the bottle or you'll have to buy it separately (unless you already have one that fits).
Wearing hydration belts for trail and ultra running
If you already wear a hydration vest for trail running and ultras, you may wonder why a running belt could also be beneficial. The main reason you may want to wear both is to distribute the load so it's not all in a pack on your back and chest.
Another advantage of stowing essentials in a belt is that you can more easily reach around the back of the belt to reach small essentials and snacks, and a belt may more easily and securely fit your phone than the front pockets on your hydration running vest does.
Some of the best running belts that are suited to long-distance trail running and mountain efforts also feature pole loops so you can carry and stow trail running poles on your belt, too.
Now you've read our brief buyer's guide, click here to head up and see the best running belts in ranked order with short concise summarized reviews. This gear guide is updated regularly so bookmark this post and remember to check back when you're ready to buy one.