We've run many thousands of trail miles to test, review, and bring to you this shortlist of the best hydration packs for men and women.
If you're running distances over a half marathon, including marathons and ultras, and want to know the best way to carry water while running then one of the packs from this list is what you need!
In fact, these running hydration packs (also known as hydration vests, running vests or running backpacks) are becoming popular not just among trail and ultra runners but anyone who wants a convenient and comfortable way to carry water as well as their phone and other essentials when running.
---
The Best Hydration Packs For Running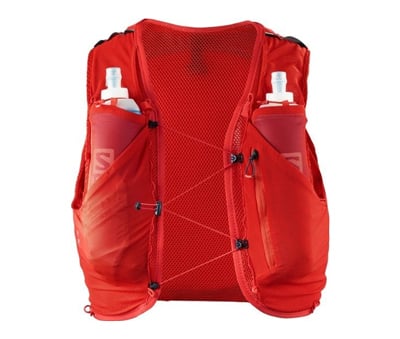 1. Salomon Adv Skin 5 Set [Best Overall]
Volume: 5 liters
Weight: 228g (8oz)
Cost: $140
Pros: Can carry poles, comes with 2x500ml soft flasks
Cons: Not the best option if you prefer to use a hydration reservoir rather than bottles
The verdict: The overall best running vest for trail running distances from 10km to 50 mile ultras.
Salomon is known for making some of the best hydration packs out there, and the unisex Salomon running vest is popular, for good reason.
The Advanced Skin 5 Set pack offers a snug, precise, comfortable fit for both male and female runners. It balances the load between front and back, and the sternum strap is adjustable and elastic, flexing around your body shape, and as you move.
Salomon has included plenty of well-thought-out features for runners, including a zippered pocket for your phone, the ability to carry collapsible trekking poles and a useful back 'kangaroo' stuff pocket you can reach without removing the pack.
If you like the sound of this pack but need a larger volume than 5 liters, also consider the Salomon Adv Skin 12 Set, which is a 12 liter version, which has similar features.
Last Amazon price update was: 1st June 2023 7:30 pm
---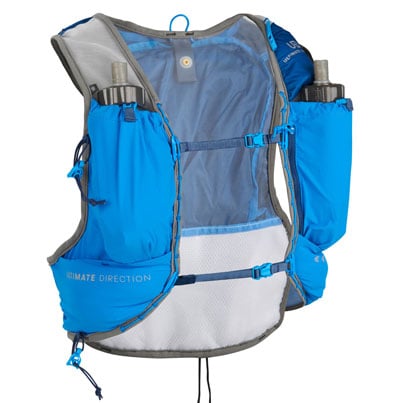 2. Ultimate Direction Ultra Vest / Vesta
Volume: 10.8 liters
Weight: 180g (6.3oz) without bottles
Cost: $140
Pros: Water reservoir-compatible, soft flask water bottles included, zipper pockets, pole storage
Cons: Lacking the useful back kangaroo pocket of the Salomon vest
The verdict: With so many versatile storage options you can customize your pack to use it exactly how you like it – and it can handle long runs including ultra marathons with ease.
Ultimate Direction is a US brand offering some of the best running hydration packs for men and women, including these popular Ultra Vest and Vesta styles.
This Ultimate Direction running vest (or 'Vesta', for the women's fit version), offers plenty of storage, including zippered pockets up-front for your phone and essentials, and attachment straps for stowing collapsible trekking poles.
Plus, it comes with two 500ml soft flask water bottles for hydration, and features a cord on the back for compression when you're not using the whole volume, to stop the contents moving around when you run.
---
3. Ultimate Direction Mountain Vest / Vesta
Volume: 13.4 liters
Weight: 8.1oz (230g)
Cost: $165
Pros: Carries folded trekking poles up front, convenient zip pockets, bungee storage for quick access, comes with two soft flasks
Cons: Difficult to fault this pack
The verdict: Best running vest for big mountain trail runs. If you're running ultras where you need to be self-sufficient for long periods (including overnight) this pack has your back!
These Ultimate Direction hydration packs are specifically designed for long mountain days and epic adventures.
They offer lightweight stretch construction and well-thought-through pockets, with zip pockets at the front and rear and usage of the space at the side of the vest for additional storage.
This Ultimate Direction Vest and Vesta also feature an external adjustable bungee on the rear, which can be used to compress the contents of the hydration pack as well as secure items such as waterproof jackets for quick access if you get caught in a rainstorm.
Last Amazon price update was: 1st June 2023 7:30 pm
---
4. Nathan Pinnacle 4L
Volume: 4 liters (also available in 12 liter size)
Weight: 142g / 5 oz
Cost: $175
Pros: Comfortable, form-fitting and easily adjustable pack with great zippered pockets and soft flasks stored up-front
Cons: Rear kangaroo pockets lack compression
The verdict: A good value all-round hydration pack for trail runs of all distances.
This Nathan running vest comes in a range of men's and women's size options and is made from soft, body-contouring sweat-wicking materials, offering easy-to-adjust side and chest straps to get that bounce-free fit.
It also comes with 2x 20 fl oz soft flask water bottles with flexible straws.
Additionally, the two zip-up pockets at the front are perfect for storing important items that you need to secure upfront, such as your mobile phone.
Last Amazon price update was: 1st June 2023 7:30 pm
---
5. Salomon S-Lab Sense Ultra 5 Set
Volume: 5 liters
Weight: 190g / 6.7oz (including bottles)
Cost: $160
Pros: Lightweight, minimalist hydration vest with bottles included
Cons: Relatively expensive and to carry poles you need to buy an add-on 'quiver'
The verdict: This lightweight Salomon running vest is the best minimal hydration pack for runners who like to run fast and light.
Part of the premium S-Lab range from Salomon, this is a lightweight, minimal hydration vest but still packs in a 5-liter capacity and plenty of features, including several zip pockets, stretch mesh pockets, and the back kangaroo pocket for stashing essentials such as your waterproof running jacket.
This breathable and moisture-wicking unisex race pack also includes a whistle (a requirement in many long mountain trail races), reflective decals for safety if running at night, and 2x 500ml soft flasks for hydration.
Last Amazon price update was: 1st June 2023 7:30 pm
---
6. CamelBak Ultra Pro
Volume: 6 liters
Weight: 160g / 5.6 oz
Cost: $120
Pros: Can carry folded trekking poles, plenty of pockets, breathable mesh
Cons: Less contour-fitting and less breathable than the Salomon hydration vest options
The verdict: A contender for the best lightweight running pack, at a better price point than the Salomon S/Lab vest
This Camelbak running vest is made from a lightweight breathable mesh that makes it the best Camelbak for comfortably running long distances.
It comes with 2x 500ml soft flasks included however it is also designed to be used with a 1.5-liter hydration reservoir if you prefer (bought separately).
The dual adjustable sternum straps stabilize the pack, reducing any bounce as you run. There are plenty of easy-to-reach pockets for stashing a layer, snacks, energy gels, and whatever else you may need, including a pocket with zip closure on one of the shoulder straps.
Last Amazon price update was: 1st June 2023 7:30 pm
---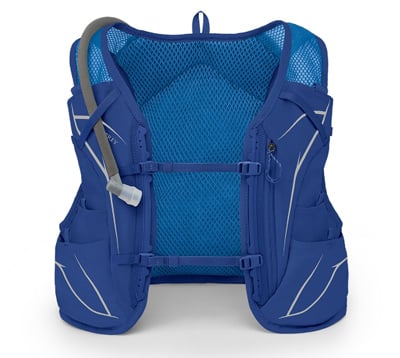 7. Osprey Duro / Dyna
Volume: 5 liters (size S/M) or 6 liters (size M/L), also available in 1.5 liter and 15 liter
Weight: 312g (11oz)
Cost: $120
Pros: 1.5-liter water reservoir included, plenty of pocket storage options, holds poles
Cons: Heavier than alternative running vest options
The verdict: This Osprey pack is the best budget hydration pack, for all the features and low price point, you're getting a great deal.
The Osprey Duro (men's) and Dyna (women's) packs offer room for extra layers and plenty of pockets for fueling long days out on the trails.
Osprey encourages using the rear of the pack for your hydration storage, in the 1.5-liter water reservoir that comes with the race vest.
This is not surprising given Osprey specializes in hiking backpacks with hydration reservoirs.
There are front panel stretch-mesh compression pockets and a vertical zipper stash pocket for a phone.
Last Amazon price update was: 1st June 2023 7:30 pm
---
8. REI Swiftland 5 Hydration Pack
Volume: 5 liters
Weight: Not stated on REI's website but comparable to the Ultimate Direction Vest
Cost: $100
Pros: Easily adjustable, multiple sizes, comes with 1.5 liter reservoir
Cons: Only available in one color
The verdict: Another contender for best budget hydration pack at a great price of under $100, particularly if you prefer to carry water in the back rather than bottles on your chest.
This REI hydration pack offers versatile storage options and a comfortable fit. It comes in a range of sizes from S/XS and 2X-3X, which is great if you normally struggle to get a good fit in one-size or more limited-size ranges.
The pack is easily adjustable around the sides and across the front of your chest and features plenty of pockets for storage on the front and back – including two large pockets on the front, which fit most hydration soft flasks as well as a phone, snacks and other essentials which you may need to access quickly while running.
To learn more about this running vest read our REI Swiftland hydration pack review.
---
Best Hydration Packs For Running: The Buyer's Guide
A running hydration pack is basically a small backpack for running, and is a great way to carry everything you need on long trail runs, for everything from 10ks and half marathon distances up to ultra marathons.
Most trail runners will own at least one hydration pack as they are the best, and most efficient way to carry essentials including water, energy food, spare clothing (including your running hat when not being worn), mobile phone, keys, and even trekking poles… the list goes on and is only limited to your creativity :).
If you're relatively new to trail running and you've seen other runners with these small backpacks on then you may be curious to know more about them and the pros and cons when it comes to buying your own, as well as which is the best hydration pack to choose.
You may have also noticed they can be expensive (often much more than $100) so it's worth doing some research to find the best one for you that will fit well, be comfortable to wear for hours at a time, and store all the water and gear you need to carry when running trails.
While hydration packs have been popular among trail and ultra runners for many years now, they are starting to be more popular among road runners as a comfortable and easy way to carry water while running, as well as other essentials such as your phone and waterproof jacket on longer runs.
If you are just getting into trail running then visit our beginner's guide to trail running for more tips on technique and what gear to take with you.
What is the difference between a running vest, pack and backpack?
The terms to describe a small running backpack are generally used interchangeably – many people choose to call them hydration packs (or backpacks) and others call them hydration vests, or simply running vests. We refer to them in these ways in our content.
Technically, a running hydration vest is a smaller running backpack, whereas a running pack indicates that it has a larger volume, but in reality, the description varies by brand and style and you should normally take both terms to mean the same thing – a small pack you wear on your back to carry essentials while trail and ultra running.
We also sometimes refer to them as 'race vests' as this is common terminology used to describe this piece of trail running gear in the UK and Europe, where we lived for many years.
How to choose the best running pack for you
Firstly, and most importantly, having a good-fitting, comfortable hydration pack is almost as important for running as having a comfortable pair of shoes on.
If it's uncomfortable then the whole running experience is less enjoyable – nobody wants to run around with an uncomfortable pack that moves around or is difficult to access on-the-go.
This means that when it comes to choosing a running hydration pack, generally most women are going to be better off with a women's-specific running vest than a men's version, as these versions have been designed to fit women's bodies and are more likely to offer a comfortable fit that doesn't shift around when you run.
The one exception is with the unisex Salomon packs. Salomon have managed to create designs and use fabrics that fit so well to most peoples' bodies that they are hugely popular with women, despite not being made in women-specific fits.
Other considerations when choosing a good running hydration pack are:
Storage capacity and weight
Options for carrying water
Durability and construction
Style and cost
Storage capacity and weight
Running hydration packs come in a range of sizes, often measured in liters, with the smallest generally starting at around 4 liters (which is around 1 US gallon, although you can find smaller), and larger packs going up to around 12 liters (3 US gallons) before they start to become larger and more like hiking daypacks.
If you are going on a short day hike then a running hydration vest could be a great, lightweight option (for more on what to pack for day hikes, visit our hiking for beginners guide).
Generally, I would not choose to run with a running hydration vest larger than 12 liters in volume, unless I am going fastpacking and need to carry extra food and overnight supplies.
For most people, something in between 4 and 12 liters is going to work well, with the most popular options (if you expect to run for up to 3-4 hours at a time) being between 4 and 6 liters.
That said, if you're not sure and you expect to be running ultra marathons and trail marathon distances in the foreseeable future, then it may be worth investing in a larger volume hydration pack.
The weight differential isn't that much between smaller and larger volumes, and good hydration packs feature straps and bungees that allow you to compress them to stop the contents moving around when the pack is half-empty.
Carrying water in a running hydration pack
There are two main options for carrying water with you in a running hydration pack – either in bottles (preferably for most people – soft flasks) or in a hydration bladder.
Depending on the capacity of your hydration vest and how much water you need to take, you could even take a hydration bladder as well as a bottle or two.
Most of the packs we have included in this list come with either soft flask water bottles, or a hydration bladder, but are so versatile that you could choose an alternative combination if that's your preference.
Durability and construction
A hydration pack is an investment and something that should be able to stand up to snags, falls, moisture, dirt, and more and last for many years. So tough, technical yet breathable material is desirable – and the lighter weight, the better.
It also almost goes without saying that soft fabric with minimal, thoughtfully placed, seams will help reduce discomfort or any potential for chafing during your long runs, especially around the shoulder straps, under your arms and around your chest where the sternum straps attach.
Style and Cost
Style and cost are more matters of personal preference and budget rather than key elements for a running hydration vest's function, however, if you can get a great hydration vest for a good price and which also looks great, then all the better!
---
Brands offering the best hydration packs for men and women
Popular brands offering running packs are specialist hydration pack companies such as Nathan, Camelbak and Ultimate Direction, as well as long-term players in the trail running and mountain sports equipment arena such as Salomon.
Other brands entering the running hydration pack market more recently include backpack brand Osprey, and larger running brands such as Nike.
Alternatives to running packs
For ultra running there aren't really any viable alternatives to hydration packs, unless you're running a very fast ultra and have support crews and places to resupply.
If you need to be self-sufficient on the trails and in the mountains then a hydration vest is the way to go, but for shorter runs consider handheld water bottles and the option of running with a waist belt or fanny pack if you're not carrying too much gear with you.
Now you've read our running vest buyer's guide, click here to jump up and see our full list of the best hydration packs for running.