You've probably heard of fish oil supplements and perhaps already take some yourself, such as supplements that provide you with Omega-3 essential fatty acids that your body can't produce itself.
But what about Fatty15? Funny name, sure, but what's so great about this fish oil alternative?
In this Fatty 15 review, I explain what this vegan essential fatty acid supplement is, what makes it so different and potentially superior to fish oil supplements, the stated benefits of taking it and, of course, my first-hand experience after taking one Fatty15 capsule a day for the last 60 days.
---
About Fatty 15
Put simply, Fatty 15 is an essential fatty acid supplement that is similar (but not the same as) the Omega 3 (and/or Omega 6) supplements you may be familiar with.
The essential fatty acid in Fatty 15 is called C15:0 (aka Pentadecanoic Acid).
It's the first essential fatty acid to be discovered since the omegas—over 90 years ago, so you could say it's a pretty big deal.
It's not something we make naturally – it's found in some foods that we may consume on a regular basis, including full-fat dairy, and it's actually a saturated fat – but a GOOD saturated fat that your body needs and has scientifically backed studies to support the reported benefits.
To get a regular dose of this particular good fatty acid by eating dairy, you'd also be consuming a whole load of other fats and elements that are not considered good for you. So taking just the good stuff in supplement form is appealing!
Plus – get this – the C15:0 in the Fatty15 supplement is vegan. It's not based on any fish oil or dairy extract.
One interesting aspect of this fatty acid's origins story is how it was discovered in the first place. The founder, Stephanie Venn-Watson, had the enviable job of studying pods of dolphins when her research led her to discover C15:0.
You can learn more about the story on this page of their website, which includes a TedX talk that's worth watching, too.
---
What is a C15:0 supplement good for?
There are three main areas where the benefits of taking this essential fatty acid as a daily supplement are being reported:
1. Cell health
Strengthening cells, repairing mitochondria and improving cellular signaling. These are three 'hallmarks' of aging that the supplement is intended to work on.
It's actually been reported to not only slow or delay aging, but actually REVERSE ageing through these cell strengthening and repairing properties.
2. Healthier body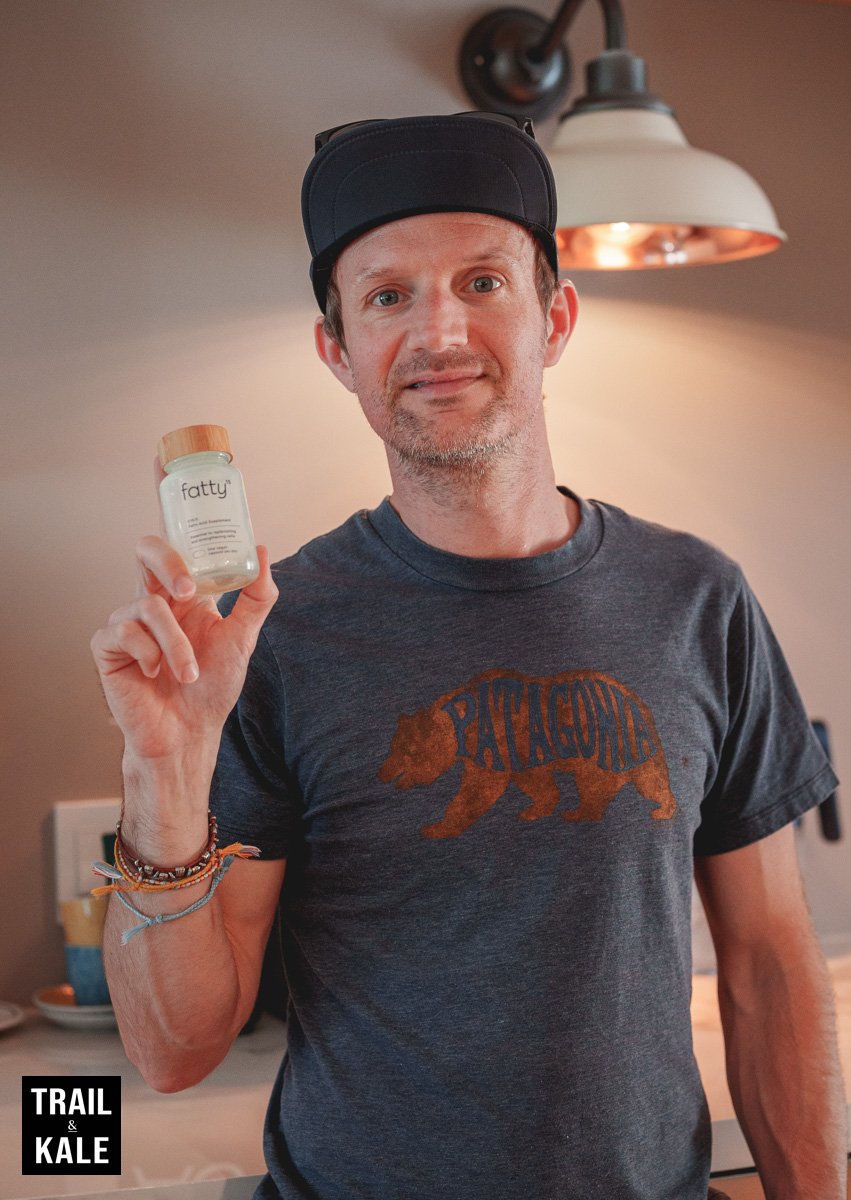 Improved metabolic, heart, liver and immune health.
3. Healthier mind
Supports a calmer mood and deep sleep.
As well as studies by the founders and company behind Fatty15, there are loads of other studies in these areas which you can find on this webpage.
---
What are the Fatty 15 supplement's ingredients?
There is only one ingredient – pure C15:0 (in the brand's pure, patented powder form, named FA15), within the capsule. And that's it.
So it's totally vegan, with no animal by-products or other fillers or ingredients.
This was one of the big appeals to me when deciding whether or not I wanted to try a new essential fatty acid supplement – as regular Trail & Kale readers will know, we aim to eat clean, whole foods and supplements with ingredients that are natural and that we can pronounce!
---
How is Fatty15 different from Omega-3 fish oil supplements?
In case you were wondering, yes, Fish Oil supplements are derived from certain types of fatty fish. Fish oil is a rich source of omega-3 fatty acids, which can help support heart, joint, and bone health.
However, fish oil is not suitable for vegans and can have side effects, as well as the obvious fishy smell – some people even complain about having fishy burps – gross!
As I mentioned above, the patented single ingredient in Fatty15 is vegan, plus it's made ready-to-absorb, which means it doesn't need to be broken down by our bodies through digestion first.
Additionally, it seems that based on the scientific studies and research done into essential fatty acids, C15:0 offers some cellular health benefits over the omegas.
So, while they do slightly different things you'd probably want to choose to take one or the other, rather than both – but, of course, consult your doctor before taking or changing your supplements!
---
My experience after taking Fatty 15 for 60 days
I have been working my way through my first 90-day supply of Fatty15.
You receive the kit as a refillable glass bottle (with a bamboo lid), and 3x packets which each have 30 capsules in them, to make up a 90-day supply as you take just one per day.
You can also choose a 30-day supply if you want to try it for a shorter term initially.
Taking just one a day definitely appealed to me – with some other supplements wanting you to take two or sometimes more tablets in one go, this is refreshing.
The pills themselves are also small – see the photos in this review.
This was another simple way the delivery and packaging appealed to me – some of those fish oil and other supplement tablets can be the size of suppositories, which can make them very unpleasant to swallow!
As expected, there is no taste or odor when you're taking them, or afterwards.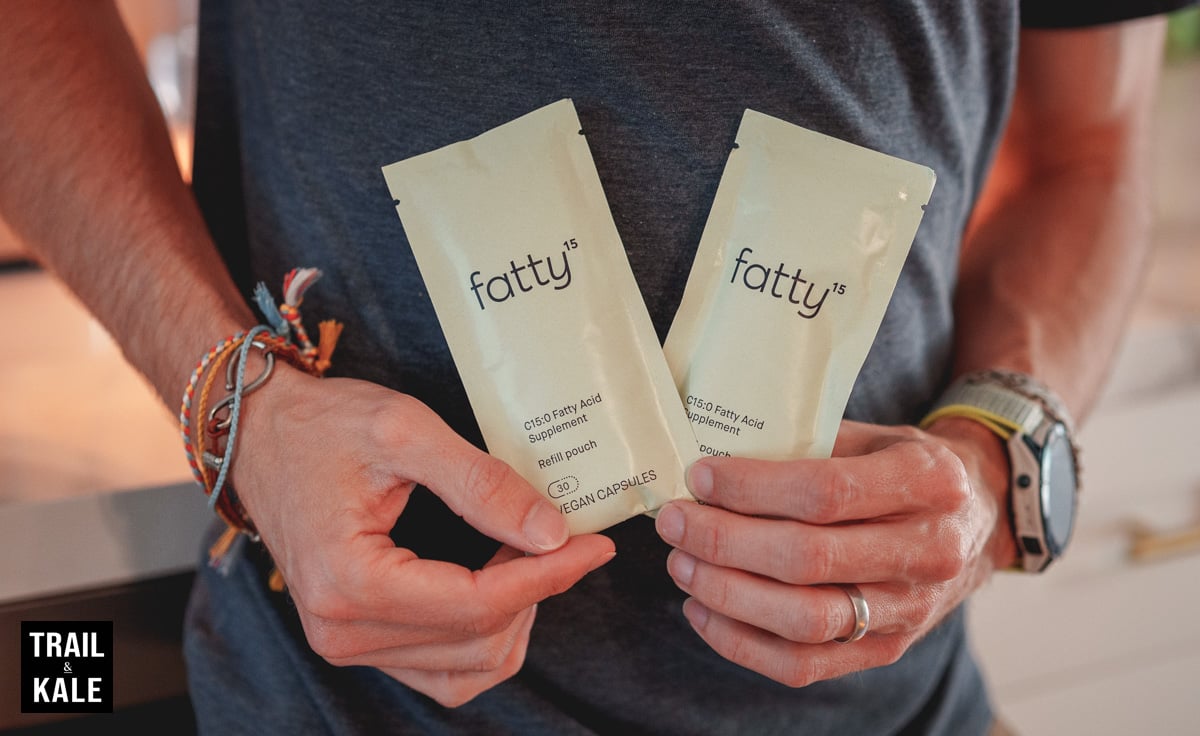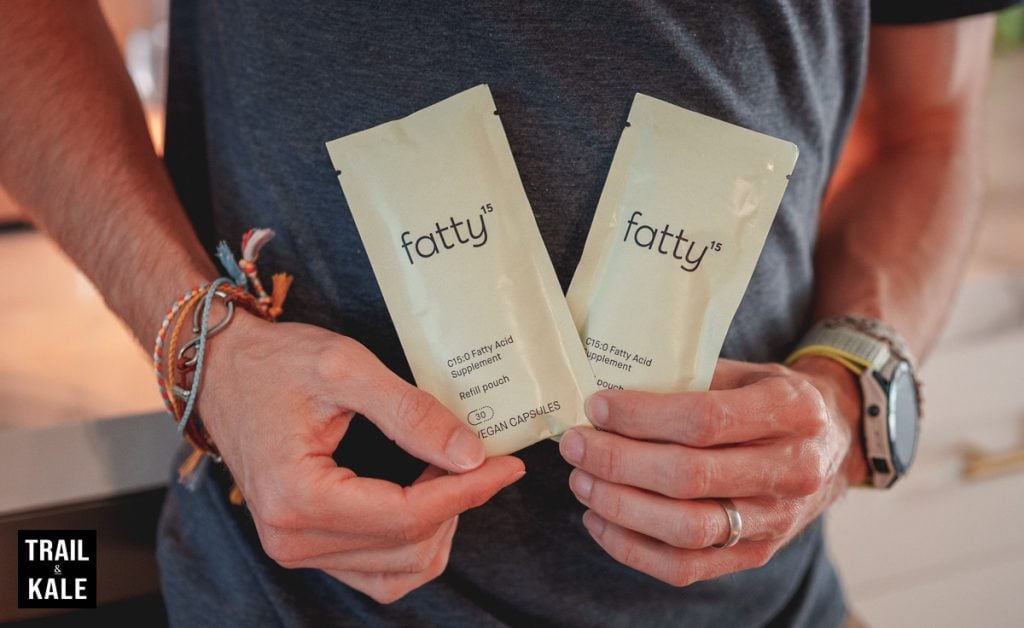 Noticeable benefits based on my experience of taking Fatty 15 for 60 days
Of course, like with many supplements designed to support your longer-term health, you may not notice a dramatic change in your body or mood overnight, however, according to the company, some benefits of taking appropriate supplements can be seen and felt within around 1-3 months of regularly taking one capsule.
Spoiler alert I am going to continue to take Fatty15 after feeling the benefits for the last 60 days. So to give context on how highly I rate it, I now only take 2 supplements daily Fatty15 and Athletic Greens, and I don't think I've ever felt healthier.
If you count a running training plan as a health supplement, in that it's an amazing way to improve your fitness, then I'm taking 3 supplements. 😉
I'm currently documenting my fitness gains in our Instagram Stories while following our 6-Week Half Marathon Training Plan, and I think you'll be amazed at how my health metrics, including heart rate variability, resting heart rate, blood pressure, VO2 Max, and race time predictions are taking an obvious trend of improvement in my Garmin dashboard.
Ok, here's a bit about my experience while taking Fatty15 for the past 60 days then:
As an avid runner and co-founder of Trail & Kale, I'm always on the lookout for ways to optimize my performance and overall well-being.
I recently came across a unique supplement called Fatty 15, which contains C15:0 (Pentadecanoic Acid), an essential fatty acid that's been hailed as a groundbreaking discovery in the world of nutrition.
Intrigued by the reported benefits, I decided to embark on a 90-day journey with Fatty 15, documenting my experience along the way.
By the end of week 2: The Rejuvenation
During the first 2 weeks, I noticed some profound changes in my mood and sleep quality. I found myself feeling calmer and more focused, allowing me to tackle my busy days at Trail & Kale with renewed vigor.
My sleep became deeper and more restorative, leaving me energized and ready to take on my half-marathon training plan each day.
By the end of week 4: The Metabolic Boost
As I continued my Fatty 15 trial, I started to observe improvements in my metabolism. I felt less inclined to snack, and my appetite seemed more balanced.
This newfound metabolic harmony helps me to fuel my half-marathon training plan more efficiently.
By the end of week 6: The Immunity and Heart Health Upgrade
As I approached week 6, I began to experience some of the longer-term benefits of Fatty 15. My immune system felt more robust, and I found myself powering through my workouts without any signs of fatigue.
Moreover, I could sense my heart working more efficiently, providing me with the running endurance that I need in order to tackle those challenging long runs – as proven by my Garmin stats which I find remarkable in how well-aligned the data is with what I would hope it could be.
By the end of week 8: The Culmination of all this
As the final week of my 60-day journey with Fatty 15 approached, I could clearly notice the transformation I had undergone. I was not only physically stronger but also mentally sharper and more resilient in my run training.
A huge part of my job here at Trail & Kale HQ also involves regularly reviewing running shoes, so I need to be able to run spontaneously with energy, mental sharpness, and an enthusiastic and passionate mindset for when I'm on camera presenting reviews for our YouTube Channel.
Moving forward, I've decided to continue taking Fatty 15 alongside Athletic Greens as my only two go-to supplements. The combination of these two products has left me feeling fantastic, and I'm excited to see how they will continue to support my run training in the future.
With its unique blend of cellular, metabolic, immune, and heart health benefits, Fatty 15 has earned its place as a staple in my daily routine.
---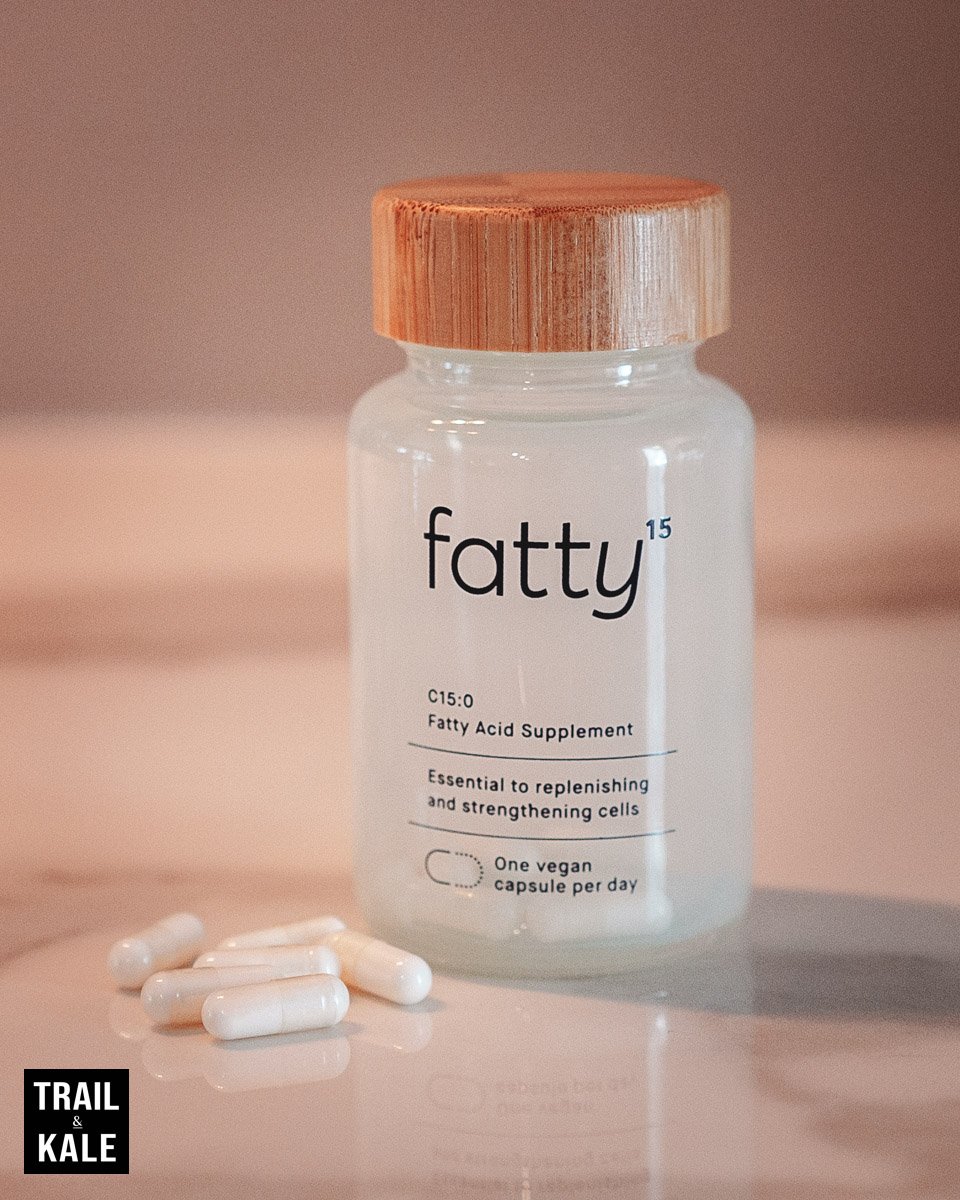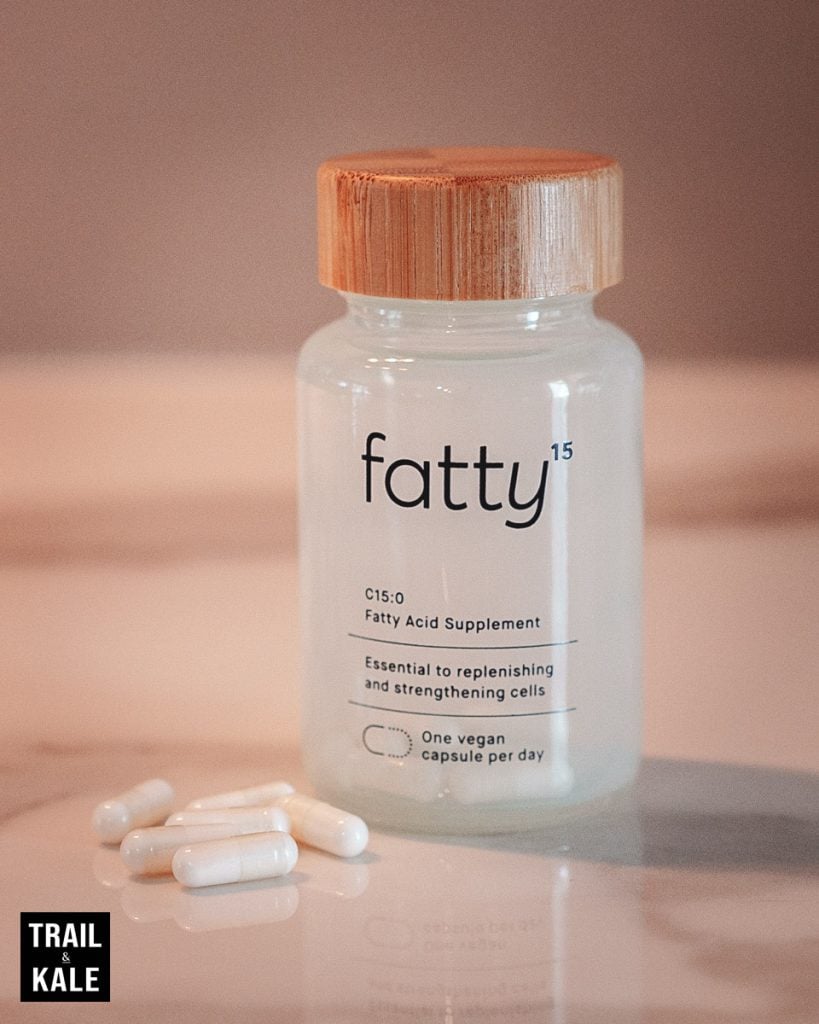 How much does Fatty 15 cost, and where to buy it
It's easy to order a starter kit of Fatty 15 on the company's website – and all the orders get free US shipping.
I definitely suggest that as their subscriptions are no-commitment as you can cancel any time, you consider doing the 90-day subscribe-and-save option – it means you get to order your tablets with a significant discount compared to buying without a subscription!
At the time of writing this review, Fatty 15 costs:
To order some, or check prices and check for any deals or discounts, visit the shop page of their website:
---
Review Summary
Fatty15 Review
PROS
Very easy to take daily as it's a small capsule and you only need one a day. It also has no taste.
Good value for money as I do feel it's improving my mood, energy and health. And I tend not to put a price on my health.
I like that if you have a good varied healthy diet then this is really all you need to take as a supplement. I also take Athletic Greens though to ensure I get all my essential nutrients each day.
The health benefits appear to actually be noticeable for me - which is hard to say for a lot of supplements out there nowadays.
CONS
A little expensive but so far it feels worth it for the benefits - hence why I'm choosing to renew my subscription.
---
Image Gallery