In this fastpacking gear guide we'll cover an introduction to fastpacking and what it involves, what to take fastpacking, and how fastpacking is different to trail running, as well as sharing a list of some of the best gear currently available that is well-suited for multi-day trail running and fast backpacking adventures.
What is really exciting right now is how so many great brands are starting to develop some high-quality, ultralight technical gear designed specifically for fast hiking, lightweight backpacking, trail running and – yes – even specifically for fastpacking.
In this fastpacking gear guide we've sought out the best gear for fastpacking – and it is constantly updated when we learn of new gear for fastpacking – including trail running, backpacking and hiking gear that is sufficiently technical, functional and lightweight to make the list.
If you're looking for a hiking gear guide, you may also be interested to read our complete beginner's guide to hiking next, which includes plenty of hiking tips as well as a gear checklist for day hiking (link opens in a new tab).
---
Fastpacking Gear Guide – Table of Contents
---
What is Fastpacking?
So, before we get into the full gear guide, let's take a moment to cover the first question you may have about fastpacking, (being 'What is fastpacking?') so that we're on the same page…
Fastpacking is essentially a blend of ultralight backpacking and multi-day trail running. Depending on your background and hiking/ running preferences, you can think of fastpacking as either:
ultralight backpacking with the goal of having a higher intensity adventure than regular backpacking, where you're carrying less weight and covering more ground and consequently, getting to see more of the great outdoors.
trail running over long days and a night or more, which provides the benefit of being able to trail run further and truly immerse yourself in the wild, for more than just a day, if you want to camp out overnight.
Regardless of how you describe fastpacking, the main point to note is that there is an emphasis on carrying a minimal, light 'pack', so that you can move quickly over varied terrain. There aren't many people out there who enjoy trail running with too much weight in their pack, but if you're going to be spending more than a day out on the trails and sleeping out overnight, then you naturally need to carry more gear than you would for a regular day hike or trail run.
---
Why Might I Want To Go Fastpacking?
Carrying just the necessary amount of equipment means a fastpacker can move quickly while still being self-sufficient, even in really remote locations.
Fastpacking is for any hiker or trail runner who wants to push further into the trails, and not just for elite or super fit runners. Make sure you do your research before setting out on your first ultralight backpacking adventure though, as dangerous situations can easily arise in the great outdoors when you're not properly prepared.
This fastpacking gear guide should help anyone wanting to learn more about the sport and of course the gear that makes it possible and just as importantly, enjoyable. Whether you're a trail runner keen to explore more remote locations or an experienced backpacker looking to lighten your pack, fastpacking is going to be a fun experience.
---
The Best Fastpacking Gear Guide
Let's get started with our fastpacking gear guide. CLICK THE LINKS BELOW TO JUMP TO specific fastpacking gear recommendations, or scroll down to read the full list:
---
Fastpacking Shoes
Most fastpackers who will be traveling on trails and uneven terrain will choose to wear lightweight trail running shoes which are designed to be lightweight and provide off-road grip in wet and dry conditions. Depending on the climate and terrain where you'll be going, specific features to look for in your choice of trail running shoes for fastpacking are:
Quick-draining OR waterproof running shoes
Your feet could get wet, depending on the weather and the terrain of the trails that you plan to run on. Generally in warmer climates we prefer to let our feet get wet but ensure the shoes are breathable and will drain the water quickly to help dry your feet out, whereas in colder climates we prefer gore-tex waterproof trail shoes that will keep water out and help keep our feet warmer.
Comfort when trail running and hiking over long periods of time
You're potentially going to be running/hiking for full-on days and back-to-back days, a long time, covering big distances with a small pack on your back adding to the weight, so your shoes should be comfortable and have the right amount of cushioning. Don't cheap out on your shoes, if your feet are suffering, you're going to be having any fun. A fastpacking adventure is not generally the best time to try out running in minimally-cushioned shoes, unless that's what you already run with. However, we do prefer shoes without too much cushioning, to ensure good ground-feel and stability rather than too much wallowing in squishy soft footbeds.
The best trail running shoes for fastpacking
With all that said, here are our picks of the very best trail running shoes for fastpacking:
Salomon S-Lab Ultra 3
The latest in Salomon's S-Lab Ultra range, the S-Lab Ultra 3 is a lightweight trail running shoe designed for covering great distances. This Salomon trail shoe features enhanced cushioning, Salomon's quick-lace closure system, and a highly durable sole that is designed to perform especially well on terrain including both wet and dry, and hard and loose surfaces – a great all-rounder for fast and light hiking as well as trail and ultra running.
This is a unisex shoe so if you're looking for the women's trail running shoes version, it's on the same links below.
Recommended US online stores for Salomon S-Lab Ultra 3
Recommended UK online stores for Salomon S-Lab Ultra 3
Hoka One One Speedgoat 4
Named for Karl Meltzer aka "The Speedgoat", who holds the record for the most 100-mile trail race wins and epitomizes the "go everywhere, run everything" attitude, this shoe is designed to attack all kinds of technical trail. The aggressive Vibram® MegagGrip lugs will hold up to all kinds of rugged terrain and there's extra heel support and midfoot lockdown in the upper. The Speedgoat 4 is one of the fastest and toughest trail running shoes out there.
Recommended US online stores for Hoka One One Speedgoat 4
Recommended UK online stores for Hoka One One Speedgoat 4
Salomon S/Lab XA Amphib 2
The XA Amphib 2 is one shoe, in and out the water. It's fast and super efficient both wet and dry which is why it's the perfect shoe for Fastpacking through terrain that could have river crossings or very wet segments. They drain so well that your socks and feet will dry very quickly, should you ever have to get wet. This is a unisex shoe so if you're looking for the women's version, it's on the same link below.
Recommended US online stores for Salomon XA Amphib 2
Recommended UK online stores for Salomon XA Amphib 2
Salomon Speedcross 5 GTX
If you'd rather not get your feet wet at all then you should go for a completely waterproof running shoe. The Salomon Speedcross 5 GTX is the latest edition to an extremely popular shoe amongst runners who love to get dirty on the trails. It's a lightweight trail shoe, especially considering it's waterproof and offers a very aggressive grip on technical, soft trails. On top of all that, the GORE-TEX® waterproof protection means your feet will stay dry as you run through puddles and snowfields, while your foot's heat is allowed to escape thanks to the highly breathable construction. This shoe offers tons of support too, which makes it a popular choice for hikers who don't want the bulk of a traditional hiking boot. And finally, there's the Quicklace adjustment system that so many people love as it's so fast and easy to do up and doesn't come loose as standard laces can.
Recommended US online stores for Salomon Speedcross 5 GTX
Recommended UK online stores for Salomon Speedcross 5 GTX
---
Fastpacking Packs – What to Look For in a Pack
When you are trail running long distances and fastpacking, your backpack will be your best friend or your worst enemy. Choose your pack wisely and be sure to test it out ahead of time on long training runs.
Choosing a backpack for fastpacking
The main considerations when choosing the best pack for fastpacking adventures are:
Fit – for most people, a regular backpack or daypack will be the best choice for fastpacking. While a regular backpack may be great for hiking, a good pack that is suitable for fastpacking needs to be particularly secure and comfortable when moving more quickly at a running or jogging pace. For this reason, many fastpackers choose packs that are designed for trail running or even specifically for fastpacking, so it will fit snugly and will not sway, shift around and rub when running.
Capacity – depending on your choice of fastpacking style, your pack may need to have enough capacity to carry some form of lightweight tent and/or sleeping bag, so it's going to generally need to be bigger than a regular trail running pack. That said, some good trail running hydration packs have enough loops, bungees and eyelets that you can get pretty creative with how you secure some of that other gear to carry on or in your pack.
Weight – in order to help ensure you are keeping your fastpacking gear as lightweight as possible, you should start off with a lightweight pack.
What Are the Best Packs for Fastpacking
Bearing in mind the backpack considerations above, here are our picks of some of the best packs for fastpacking currently available.
UltrAspire Epic XT Hydration Pack
This lightweight hydration pack was designed for long days and multi-day adventures, including fastpacking, so it's an excellent choice if you specifically looking for fast hiking and fastpacking gear.
With a 25 liter capacity and empty weight of 2lbs 1oz, plus breathable mesh construction, the UltrAspire Epic XT is capable of fitting most of the sleeping options listed below, plus room for food and emergency kit.
We like that it is very adjustable so should be comfortable for both men and women to find a good fit with minimal bounce and sway. Additional gear can be attached to the outside using the exterior straps, which is good to know if you plan to have something a bit bulkier like a sleeping bag or hiking poles with you.
NOT IN THE US? If you can't find these products in your country (e.g. you're in the UK or Europe) this 'MY US' international package service (which we have used) can receive your US shopping and send it to you! You'll save 20% on shipping on your first shipment – click here to learn more and get the discount.
Ultimate Direction Mountain Vest 5.0 (men's) and Mountain Vesta 5.0 (women's)
We have long been fans of Ultimate Direction's hydration packs, and they do a great job of designing packs that are specifically intended for long days or multiple days in the mountains.
The Mountain Vest and Mountain Vesta hydration packs are equipped to carry the gear that will enable successful summit bids or long days out on the trails and in the mountains. Whether it's trekking pole holders that snap out of the way when not in use or lat pockets that will store requisite emergency items, every detail has been thoughtfully covered in one of the lightest vests for the volume available, at 11.6oz.
That said, this vest may not be large enough if you plan to take a larger sleeping setup and is unlikely to fit in any cooking equipment, so it's definitely more suited to the shortest and fastest fastpacking endeavors (as well as plenty of trail and ultra running) – consider the Fastpack 35 below and the UltrAspire option above if you want to take more gear with you.
Recommended US online stores for Ultimate Direction Mountain Vest 5.0 – Men's
Recommended UK online stores for Ultimate Direction Mountain Vest 5.0 – Men's
Recommended US online stores for Ultimate Direction Mountain Vesta 5.0 – Women's
Recommended UK online stores for Ultimate Direction Mountain Vesta 5.0 – Women's
Ultimate Direction Fastpack 35
For multiple days out on an ultralight backpacking adventure, you probably need a more substantial pack that can carry things like a bivy, clothes, pad and sleeping gear and still feel comfortable putting in 30 mile days. The Ultimate Direction Fastpack 35 is full of features and won't let you down when it comes to comfort and storage. It's also lighter than the UltrAspire option above, at 1lb 9oz.
See the video below for more details on the Ultimate Direction Fastpacking range – but note, they no longer make the Fastpack 45, which previously made this list.
Recommended online stores for Ultimate Direction Fastpack 35
---
Choosing a Fastpacking Sleep System
When it comes to your fastpacking sleeping system, it pays to get creative and work out where you sit on the spectrum of comfort vs. weight, size and cost. You may need a few trial trips to work out the best system for you and your adventures through a bit of trial-and-error!
Inevitably, a lightweight fastpacking sleeping system that is very small when packed-down as possible, is going to likely be pretty minimal and / or expensive, but you can make some sensible choices and compromises so that you don't feel like you're carrying too much in your pack to justify getting a reasonable night's sleep.
Key considerations when planning your fastpacking sleep system that will affect the weight, volume, comfort and cost of your setup are:
Do you really need a sleeping bag, or will you be fine with a good sleeping bag liner?
Do you want a lightweight fastpacking tent or would you consider a bivy bag or tarp and shelter combination?
Are you fastpacking alone or with company who can help spread the weight of a tent?
How much overall weight do you want to carry in your pack when comes to your sleeping bag and shelter?
What is the climate where you will be going fastpacking? If it's cold and/or wet then you probably need more shelter and protection from the cold.
In this fastpacking gear guide we share some great choices when it comes to sleeping bag liners, sleeping bags, shelters and tents – although there are so many options out there so it pays to really think about your personal needs when shopping for the best sleep setup. Our personal recommendation for your first fastpacking trip: aim for warm weather fastpacking and a simple sleeping bag liner, tarp and shelter setup for a fast-and-light combination.
Fastpacking Sleeping Bags and Sleeping Bag Liners
A Lightweight Sleeping Bag Liner
A quality sleeping bag liner like this Cocoon Merino Wool Mummy Liner (pictured) is made with very fine, non-scratchy wool for excellent comfort when you're traveling and camping out.
You can slip it inside your sleeping bag or use it alone. We love Merino wool products as Merino is moisture-wicking, breathable and resists odors. It folds down small and will fit in any pack – the packed down size in its bag is 3.5 x 7 inches and it weighs less than 1lb.
For an even smaller and lighter-weight option (albeit a less warm one), also check out this silk sleeping bag liner.
A Lightweight, Packable Sleeping Bag
We went in search of the lightest sleeping bag that could pack down into a very small size – and found the Sea to Summit Traveller Trl 50 Sleeping Bag.
It is truly tiny when packed, and the regular length version weighs only 14.8lb. This would be a great choice for summer fastpacking ventures, and you could pair it with a sleeping bag liner like the options above, if you need the extra warmth and have space to carry both. Another option is to invest in the 30F rated version of this sleeping bag, that is designed for cooler temperatures than the Trl 50 sleeping bag – and a more technical (although more pricey) bag from the same company that would be great for fastpacking is the Spark Trl 40, which would be worth checking out, too.
Recommended online stores for the Traveller Trl 50 sleeping bag
RELATED READING: If you're going fastpacking as a couple, also check out the ultralight sleeping bag and quilt options in our best double sleeping bags buyer's guide – they're ideal for ultralight backpacking and also good options for fastpacking if you plan to share a sleeping bag and share the weight/bulk of the sleeping system between two people.
Bivy Sack for Fastpacking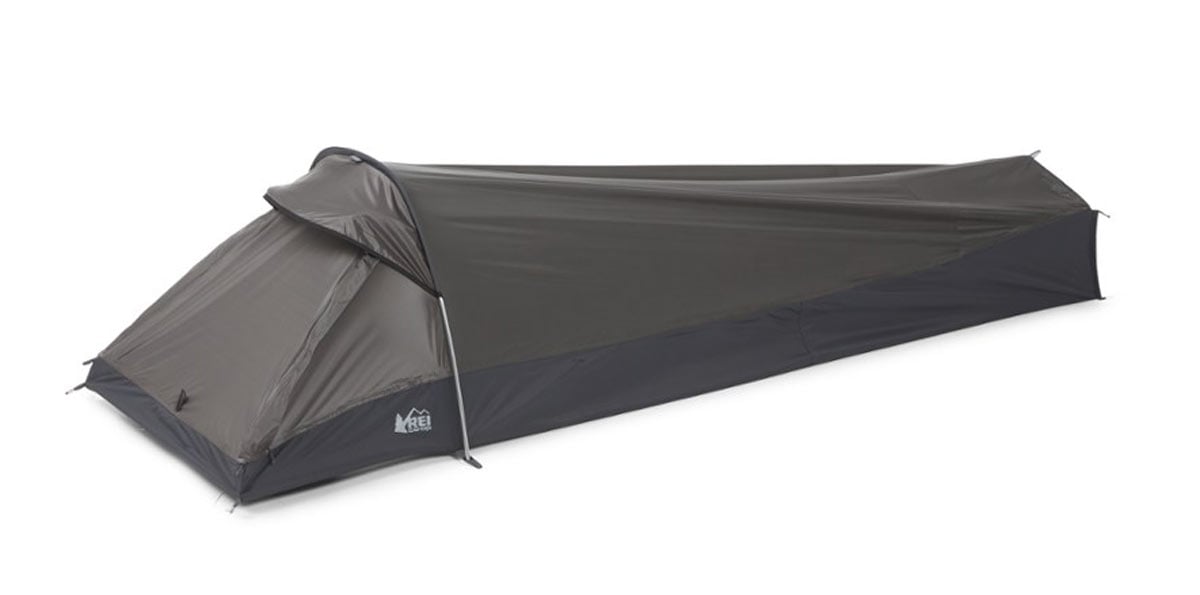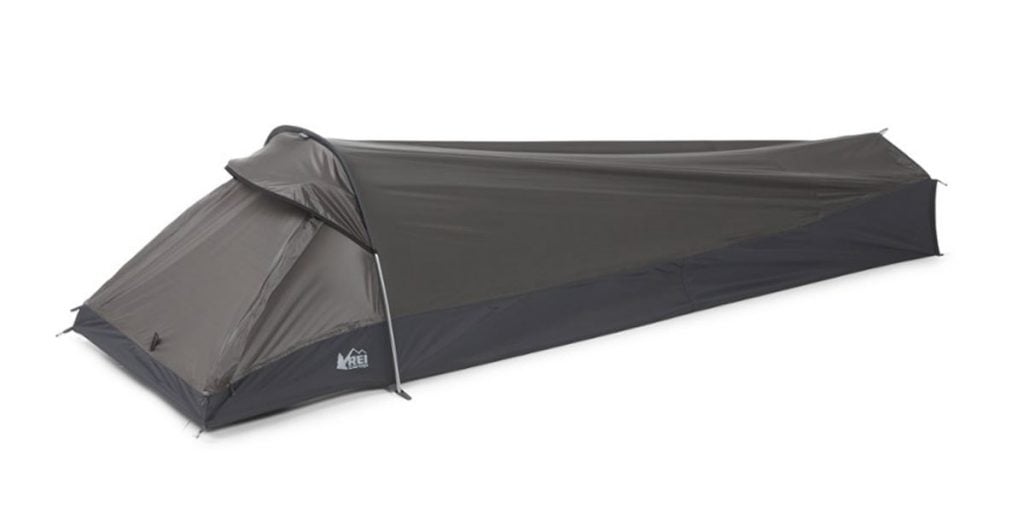 A bivy is a neat solution if you're looking for a compact shelter that doesn't take up as much space as a tent. THey're quick to set up, and a good option to consider if you're going to be fastpacking alone. However, it can be tricky to find lightweight bivy bags that are also good at being waterproof yet breathable – one way or the other, it's not nice to wake up wet or damp, whether through precipitation or condensation!
IF you're thinking of going the bivy sack route, we suggest also considering a tarp overhead so that you may be able to sleep with the bivy not fully closed – to reduce the accumulation of condensation within the bag as well as protecting you from rain if the bag doesn't stand up to it.
This 3- season lightweight REI bivy bag weighs 1lb 6oz and is well-suited to fastpacking especially if you take the extra steps to keep yourself dry when using it!
---
Fastpacking Shelter
Carrying a tent isn't always practical while Fastpacking (unless, perhaps, it's an ultralight backpacking tent and you can share the weight and bulk with a companion). Instead it can be better to go a bit more basic, using only a tarp for shelter, together with a ground sheet.
While this type of fastpacking tarp-shelter setup won't have the best protection from bugs or the cold, it does offer the freedom of fastpacking with this sacrifice. If, however, your fastpacking plan will likely involve more hiking than running then carrying a larger pack with a full ultralight tent can also be an option for you, so I've included a lightweight tent option below too.
It's worth also noting that some trails will have backcountry huts open for public use, which you could plan to stay in to get some additional shelter. If that sounds like a good idea, make sure you check first and book it out if necessary.
There are lots of great options when it comes to lightweight tarps and shelters. Our top pick is the premium Hyperlite Flat Tarp, pictured, which is probably the most minimalist, ultralight tarp shelter for backpacking. It features fully bonded seams, adding near-total impermeability to a long list of attributes, including exceptional durability and UV resistance. Using adjustable trekking poles for set up makes is a very clever use of gear that you'll probably already have with you. We suggest pairing it with the Hyperlite Ground Cloth, which is also super lightweight and will help protect you from moisture, mud and dirt when on the ground.
For some other options, see the current range of lightweight tarps and shelters at REI, Backcountry and this great option at Amazon.
Our Top Pick For an Ultralight Tent – The Hyperlite ULTAMID 2 – ULTRALIGHT PYRAMID TENT
The UltaMid 2 can accommodate couples and a dog, or a solo fastpacker who'd like to keep their gear covered at night.
When it comes to portable shelter, few designs have been as thoroughly time-tested and proven as those built in the pyramid-style. They're easy to set up, efficiently spacious, and because of things like physics, incredibly capable of providing sanctuary in all but the most extreme weather.
While the 1.17 lbs. (0.5 kg) weight of the UltaMid 2 will be a welcome reduction to any kit's overall mass, it hasn't been at the expense of durability. The 100% waterproof Dyneema® Composite Fabrics will outlast regular silnylon materials many times over. This tent will make camping-out overnight a much more comfortable experience.
You'll want to get the mesh insert and no-floor to go with this tent for the full experience, which makes this an expensive way to sleep out, but I thought I'd give you the option as this could be a great investment if you plan to do a lot of fastpacking or other lightweight camping adventures where you want a top quality tent and are happy to pay for the best.
Recommended US online stores for Hyperlite ULTAMID 2 Tent
Big Agnes Tiger Wall 2 Platinum
At a packed weight of around 2lb 4oz / 1.02kg the Big Agnes Tiger Wall Platinum 2 tent is another great choice for fastpacking, it comes at a great price point too considering all the features. With ultralight materials and simple architecture, the Big Agnes Tiger Wall Platinum 2 tent is an ultralight backpacking companion that's quick and easy to set up in the dark, in a storm or by yourself.
This tent takes two-door tent life to a crazy light new level. Two doors, two vestibules, free-standing and with tons of extras found on many full-featured tents from Big Agnes – including pre-cut guylines, color-coded webbing, buckles and storage pockets. For weight-conscious backcountry travelers (great for fastpacking too), this is the ultimate overnight companion – just check that it will fit in or attach to your fastpacking pack.
---
Fastpacking Jackets & Clothing
The goal of fastpacking is to keep moving as fast as possible, which makes technical running gear very important. We would definitely recommend choosing trail running gear over regular hiking gear, if possible, as it tends to pack down smaller and be lighter in weight.
As with your backpack, make sure you test clothing out ahead of time. In the mountains, weather can change quickly, so plan for cold temps at night, as well as for the possibility of rain and lightning. Expect the worst, and hope for the best.
A Fully Waterproof, Lightweight And Breathable Jacket
Especially if you're in the mountains or somewhere with changeable weather, make sure you have the right clothing and are prepared for a change in temperature and precipitation with a suitable jacket. I get cold when tired, so I also find a jacket useful towards the end of a long run, especially if I am running downhill or into a brisk breeze.
Also, without being too negative, imagine if you hurt yourself and have to wait for help or hobble slowly back to civilization… a jacket could really help reduce your exposure to cold and wet weather, and also sunburn, if that's a risk.
If you need full-on rain protection, make sure you have a waterproof jacket, not just a windproof or water-resistant jacket: both will soak through quickly in wet conditions. My current favorite waterproof running jacket is the On Waterproof Anorak, which is designed to keep you dry in even the foulest downpour and made it on to our list of the best waterproof jackets for trail running.
---
RELATED: 5 Best Waterproof Running Jackets for Trail Running & Ultrarunning
---
There are so many great technical running shirts and shorts available – as long as they are fast drying and don't chafe then they will be great for fastpacking. The shorts that I love at the moment are from Path Projects. What's great about these shorts is that the base-liner is separate from the outer shorts. So in the case of fastpacking, you can just pack an extra pair of inner shorts, if you want to stay smelling fresh.
It's also worth taking a technical running hat with you for protection from the sun's harmful rays.
Getting your socks right is also very important, blisters could be your worst enemy when out running/hiking for long periods. If you suffer from blisters, check out these posts which should help prevent you from getting them in the future:
Socks that work really well for me, and have never given blisters are the Injinji Performance Trail socks, reviewed here: Injinji Trail Running Socks Review. The reason they prevent blisters so well is that each toe is covered with it's own compartment, much like hand gloves. This means that sweat is wicked away from the skin and no abrasive rubbing can take place.
---
Fastpacking Food and Cooking
As for food, fuel is essential to your success. Not enough food is detrimental, while too much food will weigh you down. This makes choosing your food quite the challenge. For day adventures you can probably get away with energy bars like Clif Bar, No Cow, and lightweight packaged foods like peanut butter sachets.
If on the other hand, you are camping out, adventuring for multiple days or just want some real meals, you may want a Jetboil stove for brewing your coffee or cooking some 'Just Add Water' meals, like sachets from Mountain House, for example. You can also get bulk options, like their Just in Case… 5 Day Emergency Food Supply pack that has 37 total servings and approximately 1,850 calories each day. I love that these meals come with a '30 years shelf-life & taste guarantee' too, so you won't have to worry about them ever going out of date. Mountain House meals are the top choice in the USA for camping food.
Don't forget your reusable cutlery and a sturdy coffee mug. I recommend the Hydro Flask Coffee mug for its durability, insulation and how easy it is to keep clean. A full review of that clever little mug can be found HERE.
The Jetboil MicroMo Cooking System should be sufficient for cooking noodles and brewing your morning coffee, video below.
If you're considering taking food to cook and a stove to cook it with then this will definitely up your pack weight quite significantly, so we're not suggesting this is a good idea if your idea of fastpacking is more on the 'slow trail running' end of the spectrum – it's probably more of a 'fast hiking' piece of gear, and even better if you are with someone else who can help spread the load a bit.
---
Fastpacking Accessories
Water Purification – Filters and Tablets
A method of storing and purifying water is crucial when in the mountains!
In addition to bottles of water (we use soft flasks for minimal slosh and to minimize wasted space), a device that can help filter your water when you fill your bottles is a pretty key piece of gear.
A compact option is a Lifestraw water filter, which filters out protozoa (e.g. giardia) and bacteria (e.g. salmonella and e.coil).
You can also take things a step further and use iodine tablets to also eliminate any viruses that may be present in your chosen water source.
A Lightweight, Long-Lasting Running Headlamp
A headlamp such as the BioLite Headlamp 330 is a necessity for overnight fastpacking trips. The Biolite 330 is our top pick, as it has a really slim fit construction with 9mm front profile and is hyper-lightweight at 2.43 oz. (easily the lightest headlamp in its class at the time of writing), providing a bounce-free fit and experience while fastpacking, running or hiking – We regularly wear these headlamps on nighttime and low-light runs.
This headlamp really is excellent value for money with a 4-hour battery life on the highest setting which uses two beams, wide and focused, firing out 330 lumens of light.
This headlamp also has multiple light modes too including dimmable spot, flood, spot+flood, red night vision, and strobe. Because each beam can be dimmed, you can actually run the headlamp for much longer than 4 hours but not at its brightest level. It also uses a rechargeable battery that can be charged via micro USB with the Goal Zero Venture 70 Recharger for example.
Weight with batteries: 2.43 oz.
Battery Life: High=4 hrs / low=40 hrs
Max Light Output: 330 lumens
Beam distance: High=75 meters / low=16 meters
Beam Type: Flood / Spot
Water-Resistance Rating: IPX4 (Is resistant to water splashes from any direction)
Recommended online stores for the BioLite Headlamp 330 Headlamp
Biolite HeadLamp 330 Headlamp Reviewed
---
RELATED: 5 Best Headlamps for Trail Running & Ultrarunning this year (So Far)
---
True wireless headphones – If you love listening to music or podcasts
Some people aren't big fans of wearing headphones when out running and hiking – but at times, they can be a great companion on the trails. Whether you are listening to music or audiobooks, or perhaps learning another language, then true wireless headphones are the way to go.
Jaybird VISTA true wireless headphones have an extended battery life of 32 hours, are IPX7 waterproof, sweatproof, crushproof, and are the lightest, most comfortable true wireless headphones we have ever tested. Having such durability and long battery life like this makes the Jaybird VISTA the perfect earbuds for fastpacking and thru-hiking.
VISTA has other unique design features that improve their usability far beyond the RUN XT, (their last true wireless earbuds) which I talk about in detail in my full Jaybird VISTA review.
COUPON – GET 11% Off Jaybird VISTA (or any other single Jaybird product) using our links and exclusive coupon code: TrailandKale11 – That's the BIGGEST Jaybird Sport discount currently on the Internet.
The Jaybird VISTA is one of several great wireless headphones that made our list of the best wireless headphones for running, and ultrarunning. I have also given them an Editor's Choice Award.
FULL REVIEW: Jaybird VISTA Review: Editor's Choice Award Winner
---
A Basic First Aid Kit
Maybe when you're out fastpacking somewhere with few other people around you slip and cut yourself, roll your ankle or get a blister that needs treatment, or even get stung by an insect. It happens!
Whatever it is, it's important to make sure you're able to treat yourself in an emergency – whether something minor or something potentially life-threatening.
A simple first aid kit is cheap to buy and essential to carry with you on a mountain adventure in case you or a fellow trail user gets injured.
This small first aid kit on Amazon.com also doubles up as a survival kit, and includes the basics you should have with you when fastpacking.
Lightweight, Folding Trekking Poles for Fastpacking
If you plan to be out in the mountains for extended periods of time I would advise taking some lightweight trail running poles with you.
The poles we love are Black Diamond Distance Carbon Z Trekking Poles – Being built with carbon, they are very lightweight and are designed to fold up for stashing away, important if you need to place them back in your race vest while not in use.
---
RELATED: 5 Best Trail Running Poles (Buyer's Guide): For Ultrarunning & Hiking too!
---
Some advice on using poles while trail running, including advantages and disadvantages, have a read of this informative article:Trail Running With Poles: Benefits, Disadvantages And Advice.
Recommended online stores for the Distance Carbon Z Running Poles
---
GPS Watches for Fastpacking
Choosing a GPS watch for fastpacking very much depends on you and how many features you want. That said, if you plan to track yourself for say two full days (stopping it at the end of each day) then you need a GPS watch that can handle 20+ hours of tracking without running out of battery. We also find it very helpful to be able to track and monitor other health and route-related features, such as our heart rate, ascent and elevation, and good navigation features could be important for more remote adventures in particular.
We've suggested a couple of great GPS watches for fastpacking – the Garmin Enduro and Coros VERTIX, as explained below. These both are high-end GPS watches with long battery lives that are built for long days and multiple days out on the trails. You can also check out our guide to the best GPS watches for trail and ultrarunning, which includes other options, too.
Garmin Enduro
New in 2021, Garmin's Enduro GPS watch is specifically built for extreme endurance athletes. It offers up to 80 hours of battery life in GPS mode, and can get power from solar charging to contribute towards this extended battery life. I love that you can very easily change the mode specific to how much battery life you need, so it can switch off all other unnecessary features on demand, in case you're nearing the end of adventure and need to extend GPS tracking for longer.
For a new GPS watch of this caliber, you can also expect excellent navigation features, that we have talked about a lot on our website, and a full suite of health monitoring features, covering everything from heart rate and pulse Ox, and even your heat and altitude acclimation. The latter is super useful if you turn up to a new environment that's maybe hotter or at a higher elevation than you're used to and you want to ensure your body has adapted sufficiently before race day, or your big fastpacking adventure. This is truly a great GPS watch that's durable, and does it all!
Compare prices for the Garmin Enduro GPS Watch:
Coros VERTIX: An excellent alternative GPS Watch with Long Battery Life and good Navigation Features
The Coros VERTIX GPS Adventure Watch provides the features and durability required to take on the most demanding adventures. Imagine having a battery life that can last an entire mountain climbing expedition in the coldest conditions, or thru-hiking the John Muir trail without ever needing to be charged, amazing!
Battery Life
The VERTIX's extreme durability and altitude acclimation assistance make it the perfect choice for anyone thinking about taking on a multi-day fastpacking adventure, or even a Himalayan summit. Its lightweight corrosion-free titanium frame/bezel and scratch-proof sapphire glass screen further add to its durability.
Some other great features include its 24/7 blood oxygen monitoring (the only Coros watch to include a Pulse Oximeter) with Altitude Mode, to provide daily acclimatization evaluation. It can also suggest when it is safe to climb higher.

The VERTIX has the most features and the longest battery life of all Coros GPS watches, and so earns its place as Best Overall Coros GPS watch.
---
RELATED: Coros GPS Watches Compared: Which one should you buy?
---
Recommended online stores for the Coros VERTIX
Have a read of my Best GPS Watches for Ultrarunning & Trail Running post, it will help you decide which GPS running watch is best for you. The article compares two of the best GPS watches for ultrarunning right now. They both have excellent battery life, storm alarms, navigation features and are super durable. This makes them perfect for fastpacking adventures.
Trail & Kale Trucker Hat
Trucker hats are all the rage on the trails nowadays. This is why we designed our subtle yet distinctive "Stealth Edition" Trucker hat. You can buy it in any colour, as long as it's black (and very stealthy). It features the Trail & Kale Mountain logo embroidered in a grey/silver colour on the front. Trucker hats are great for keeping rain, sun and sweat out of your eyes and face during trail adventures.
Our Classic Trucker is also available and comes in 4 colour combinations and all products in our Online Store ship worldwide!
Trail & Kale Classic Trail Running Trucker Hat Review
Leatherman Lightweight Multitool with Knife Combo
A Detailed Map
Don't rely on technology, you never know when it may fail. You won't have signal in many remote areas and smartphones can run out of battery quickly in the cold.
While I love my tech gadgets and the great range of high-functioning GPS running watches out there, I always find myself carrying a paper (ideally laminated) map when I'm venturing in new places or going out for long periods of time. Having a good old fashioned map with you could stop you from getting lost in many situations.
Toilet Paper
For reasons that do not need explaining… These coin tissues are compressed so they don't take up important space in your pack. Regardless of whether you go for these coin tissues or regular toilet paper, make sure you pack out TP in a zip-lock bag and dispose of it correctly at the end of your trip.
A Loud Whistle
A loud whistle should be part of every trail runner and fastpacker's emergency kit. This is why they are also often listed as mandatory kit for big mountain trail and ultra races. If you fall off a cliff or get lost off-trail, this could make all the difference between getting stuck there and someone finding you.
Sunscreen & Bug Spray
Don't forget to take sweat resistant sunscreen and deet bug spray!
---
I hope you've enjoyed reading through this fastpacking gear guide and it has helped you pick out some awesome gear for your own fastpacking adventures. As mentioned above, we regularly update this list when we learn of new gear that deserves a place on it, so if you have any recommendations for great fastpacking gear that has not yet made this list, tell us about it in the comments section below!