Having experienced a few emergency situations we understand the value of emergency preparedness and having a well-stocked emergency kit bag at home so that we can get by the best we can in that given situation.
ADVERTISEMENT
Camping gear is some of the best kit to have organized at home for an emergency, as it is designed to be versatile, portable, and help you live without the modern conveniences that you have at home – such as fresh water, heating, and a mains electricity supply.
In this post, I've put together a list of the best camping gear to have for an emergency that you can buy at REI, which are items that are also ideal for a survival kit and could make the difference between a rough few days/weeks or living in relative comfort.
Thank you to our favorite outdoor gear merchant, REI for being such a big supporter of Trail & Kale and for sponsoring this article.
An example of other non-emergency situations where camping gear can be very useful is when we (and a lot of other California residents) experienced 72 hours with no power due to the nearby California wildfires.
A similar situation (or possibly worse) could occur in the event of another natural disaster such as flooding or an earthquake – so it's sensible to be prepared for survival when the unexpected happens.
Even the latest global Coronavirus pandemic gives us all cause to reflect on how prepared we are to be able to survive in an emergency or just get by when the situation changes from 'normal life'.
That is not limited to how much toilet paper we have stockpiled, especially given toilet paper is something we could actually all live without if we have to.
---
1. Means of treating and storing fresh water
A means of accessing clean water for drinking, cooking, and personal hygiene should be one of the top priorities for an emergency situation.
Having access to clean water is also a top priority when camping, so water treatment and filtration equipment, as well as a container for storing water in, are essential pieces of camping gear that you may already have waiting for your next camping trip.
To treat water, filtering it is important, but it's also important to purify your water, as filtration removes bacteria and other contaminants but does not remove viruses.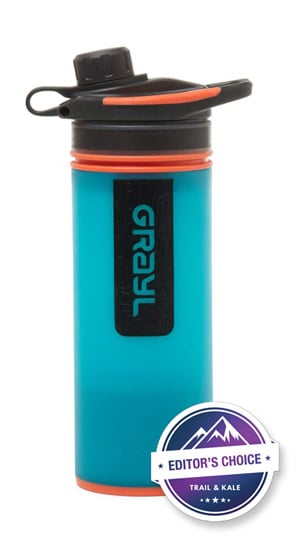 This Grayl Geopress water purifier is an all-in-one solution that's great for traveling as well as hiking, fastpacking, and backpacking.
For a complete guide on filtering and purifying your water in the backcountry or wilderness, read our backpacking water filters & purifiers buyer's guide.
---
2. A first aid kit
Having grown up with parents who love to be prepared and took a comprehensive first aid kit on every trip and vacation, I saw the benefits of being prepared for a minor medical emergency and so I too carry a first aid kit wherever I travel.
Having a decent first aid kit at home and in the car is just as important to me as when I go on adventures such as camping.
The trick with first aid kits is to keep them fully stocked; it's easy to dive into it and take out a bandage then not get around to replacing it – then you're missing it next time you need the bandage!
A good head-start is to get a pre-prepared first aid kit so you know that you have the emergency first aid essentials.
---
3. A three (or more) day supply of food
The official US government advice (published at Ready.gov) is to have ready at least a three-day supply of non-perishable food.
Getting a stock of non-perishable food that is already pre-portioned and packed is easy if you buy meals designed for camping and backpacking.
This link will take you to a list of vegetarian camping meals at REI – there's loads of choice! Or use this link to see all long-shelf life backpacking food.
---
4. A means of eating said food: a mess kit (per person)
A mess kit is an ideal way to ensure you have a packable set to eat with.
f you are stocked up on camping gear, then you likely have one of these camping dinnerware sets that is also ideal for an emergency.
These portable mess kits are also great for taking your lunch on everyday adventures (or to work).
---
5. Lighting – Solar lanterns and headlamps
Irrespective of the type of emergency you may face at home, one of the first things to go is often the power supply.
In parts of California, the power companies have started widespread blackouts for days at a time, during periods of high fire risk.
It's good to know they are taking measures to reduce the risk of devastating fires, but going about your everyday life is more of a challenge when there is no lighting and you can't cook with electricity or charge anything.
To solve the lighting challenge, a basic camping essential and one of the best pieces of camping gear to have for an emergency is a good headlamp.
If you don't have one already, I recommend getting something like the Biolite Headlamp 425, which is a great value headlamp, that we use regularly and reviewed in detail here.
For other great headlamp options, head over to our buyer's guide.
For longer periods with no power, a camping lantern that you can charge via solar power provides better-dispersed lighting than a headlamp.
The lanterns that we love right now are the BioLite AlpenGlow lanterns, reviewed here.
---
6. Multi-tool – for a multitude of uses
If you need to leave home or fix something in a hurry, a good quality multi-tool can be an invaluable piece of gear to have in your emergency gear bag.
Multi-tools are great to have around the house as well as one of the best pieces of camping gear to have with you, as they are so versatile – whether it's making a repair on the fly or opening a tin of food (or bottle of wine 😉 ).
Plus, a good quality multi-tool like this Leatherman Wave Plus should last you years and years, if it is looked after.
---
7. A portable power station
A portable power station is a rechargeable battery with sockets built-in for powering and charging your electronic devices – including those that need to run off 100v (i.e. mains) power.
LEARN MORE: Read our 'Best Portable Power Stations' Buyer's Guide next.
Brands such as Ecoflow, Jackery and Goal Zero make a range of high-quality lithium-battery based power stations designed for camping and other adventures, as well as for use in an emergency, which have 12v, USB and 110v sockets.
These portable power stations can be charged from your vehicle's 12v outlet or the wall at home, as well as by solar panels (which you can buy separately).
One of Goal Zero's smaller models, the Yeti Lithium 200X, for example, will provide 187-watt hours for charging your gadgets.
---
8. Pocket radio
When the power is out, WiFi is down and cell networks are overloaded, a pocket radio is handy to have around to keep track of weather and emergency alerts.
---
9. Sleeping bags and blankets
When the power goes out, chances are the heating is out. Or perhaps you have to leave home in a hurry.
Having a warm sleeping bag (like one of these) and/or an insulating blanket can make all the difference.
We love our Rumpl puffy blanket – it lives on the sofa with us for cold winter nights, comes in the car on road trips, is lightweight, and packs down small (to learn more, read our Rumpl review).
Double sleeping bags are also a great step up in luxury when it comes to camping as a couple – and of course very useful in case the heating goes off, too. [Click here see our list of the best double sleeping bags for camping (or power cuts!)]
In addition to sleeping bags and blankets, the type of warm breathable clothing that you may use for camping, hiking, trail running and other outdoor pursuits is also useful to have easy access to use or take with you in a hurry, even if it's the 'off-season'.
---
10. Hiking boots
Never underestimate the value of a good pair of hiking boots.
Not only are they important for hiking and backpacking, but they're great for when you need to spend time outdoors in the elements, as a good pair of hiking boots will keep your feet warm, dry and protected.
It is recommended that you keep your hiking boots and a suitable pair of socks nearby when you're sleeping in case you need to leave the house in a hurry.
Perhaps keep them in a container or bag if they're a bit stinky, though 🙂
If you're in need of a pair of hiking boots head over to our list of the best hiking boots currently available, which will help you work out which brand and style of boots is best for you.
---
11. Paracord is a survival and camper's friend
Another item that is really useful to have around is some paracord.
Paracord has a myriad of uses, the possibilities are endless – from unthreading it into smaller strands to use as a fishing line, or simply using it to attach say a tarpaulin to a tree.
A bundle of paracord is small and lightweight and great to have with your camping and emergency gear.
---
12. Windproof lighter and fire-starting kit
Like the multi-tool and paracord, every good set of camping gear should have a windproof lighter to whip out in case of an emergency – or just to light a fire quickly.
Also consider having a fire steel and tinder to hand as a backup – given they're so small and have the potential to make a big difference to your comfort and situation, these should be stowed in any emergency gear pack.
---
13. Gas camping or backpacking stove
For many, a gas stove for cooking is an essential piece of camping gear, and it's also pretty handy for emergencies.
For regular cooking, a larger camping stove is better, but in a true emergency, if you needed to cook or a small amount of heat water, a small portable backpacking stove like the Jetboil Flash would do the trick.
For more on lightweight, portable stoves, head over to our buyer's guide to backpacking stoves.
---
14. Other camping gear that is useful for leaving home in a hurry
These larger pieces of camping gear may be useful to have ready in case of a prolonged emergency, especially if you have to leave your home: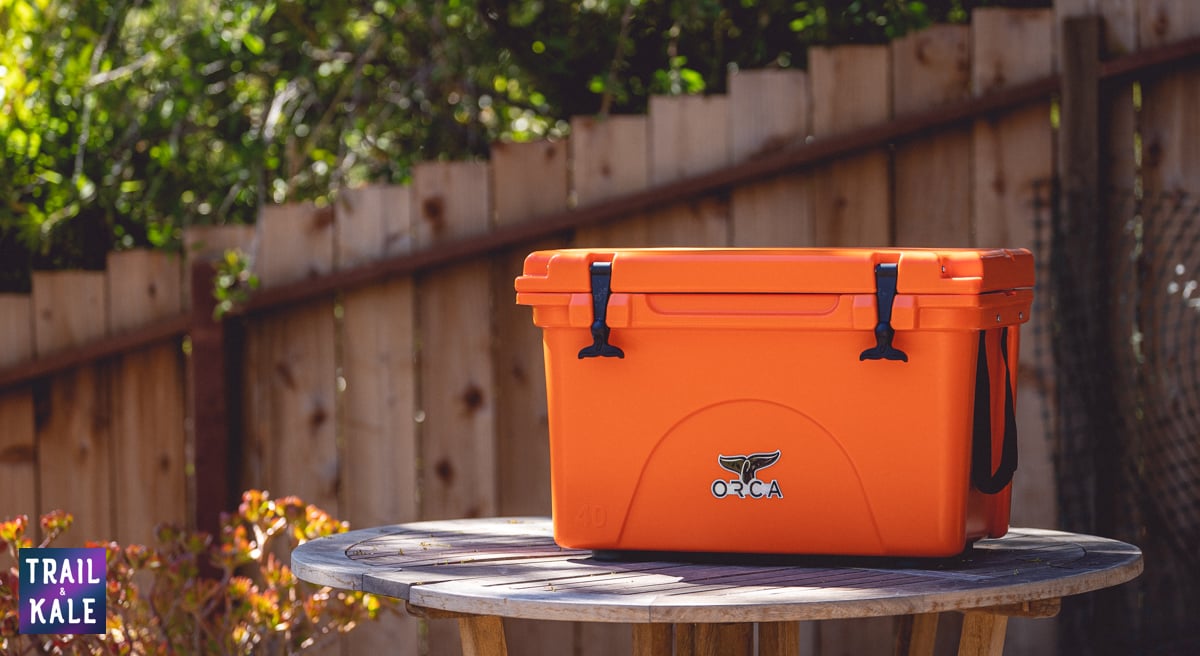 Cooler
Assuming you can get your hands on some fresh food and drink, but cannot refrigerate them, a portable cooler is useful for storing your food and keeping it cool – especially if you can obtain ice or ice-packs.
For more on ice coolers including our list of the best options currently available, head over to our cooler buyer's guide.
Tent
Tents and general camping sleeping equipment (inflatable mattresses, camping chairs, etc) may be useful if you find yourself unable to stay at home.
A good tarpaulin is also worth having handy. Our backpacking tent buyer's guide includes some good options.
Folding saw
Ever since we did a wilderness survival course I have wanted to get my hands on a folding saw.
A folding saw can be used for quickly gathering firewood and also, in a true emergency in the woods, you could use it to help build a shelter.
---
Where to get the best camping gear for an emergency
We are big fans of REI, which offers a huge selection of quality camping gear, as well as an easy-to-navigate website.
They also have superb service in-store and for online purchases. For more reasons why being an REI member is a must-do for any outdoor-loving person, read this post.
You can essentially get everything you need for hiking, camping, trail running, backpacking and a load of other outdoor pursuits, all in one place, and their stores are a pleasure to explore and check out the gear that is available – especially during one of their big REI Co-op sales, which can discount up to 25% off certain items!
The links to products in this post will take you to the product or relevant category of products on REI's website.
As well as selling quality new camping and outdoor gear, other services that REI offers and may be of interest are:
REI Classes and Events – REI offers a wide range of interesting and practical classes, including courses in first aid, wilderness survival and navigation
REI Used Gear – where you can buy preloved outdoor gear from REI at significant discounts. Great for bargain-hunters and if you're on a budget and enjoy browsing the available gear online
---
Other non-camping gear for an emergency
Other non-camping gear that is important to have prepared for an emergency includes personal hygiene equipment, additional clothing, and food/supplies for pets and infants.
A full list of the recommended kit to have for an emergency is listed on the official government website, ready.gov.
---
The Best Camping Gear to have for an Emergency – In Summary
I hope this list has helped you think through your current and future camping gear and how it can also be useful to have in an emergency.
I personally find it very satisfying getting prepared and knowing I have gear that I can use for fun and adventures that will also double up if needed for an unexpected situation – whether simply a power cut or a more extreme survival situation in the face of a natural disaster.
On the theme of being prepared, I also wrote a post on the essential trail running gear for unexpected emergencies, which you may find useful.
This comprises smaller pieces of gear that I take with me on trail runs to help me stay safe or handle an emergency situation while out on the trails.
---