Well hello there HOKA Mafate Speed 4… where have you been all my trail running life? Oh well, it doesn't really matter, you're here now!
Yes, you're quite expensive, and yes, you're outrageously orange but damn we've already had some amazingly fun times out on the trails and we're only just getting started!
I foresee boundless adventures with you in the future!
Looking for discounts on HOKA gear? Visit HOKA's Sale page to find discounts of up to 40% OFF!
Earlier this year the Nike Terra Kiger 8 stole my heart for its incredible traction and control while running over technical terrain.
That shoe wasn't perfect, however, as I explained in my detailed Terra Kiger 8 review, it was however the best choice trail running shoe at the time.
The HOKA Mafate Speed 4 takes things to a whole new level, and as a result includes much of what I loved in the Terra Kiger 8 with hugely increased traction, responsiveness, cushioning, and even durability.
All these additional benefits over the TK8 come at the same overall weight of 10.3oz, for a size US(M)9; my size – which to me, is incredible!
I couldn't believe my eyes when I read the statistics of this shoe after testing, and cross-referencing it with the Nike Terra Kiger 8.
They both share that perfect 4mm drop from heel to toe, and the same exact weight (for the Terra Kiger 8 in size US 8.5 – I had to size down half a size to get the right fit for them).
This never happens, and I find it incredible how they are so similar in those respects.
It's probably why they both perform so well, and why I consequently chose them as the top 2 trail running shoes in my 'Best Trail Running Shoes' buyer's guide.
This HOKA Mafate Speed 4 review, like all our outdoor gear reviews, is in no way sponsored by the brand.
Often brands will send us gear to get our honest opinions in a review but we don't take payment and sometimes we just go out and buy products ourselves to speed up the process.
HOKA Mafate Speed 4 sizing and fit
These HOKA trail running shoes fit true to size (as most HOKA running shoes do) when compared to other popular running shoe brands like On Running, Nike, Adidas, Allbirds, and Salomon to name a few examples.
I've read some buyers' Mafate Speed 4 reviews on the HOKA website to see how others got on with the fit, and most agree that they fit true to size.
There was one exception where someone wanted to use their own orthopedic insole; they ultimately went for a half-size-up and were happy with that.
The HOKA Mafate Speed 4 is extremely comfortable right out of the box, with no breaking-in period being necessary – as there shouldn't be with a well-matched trail running shoe.
For on-foot video footage, watch my Mafate Speed 4 video below.
The materials used in the upper are very soft too, and there's plenty of padding in the walls – all of this contributes to that feeling of comfort.
Key features worth knowing about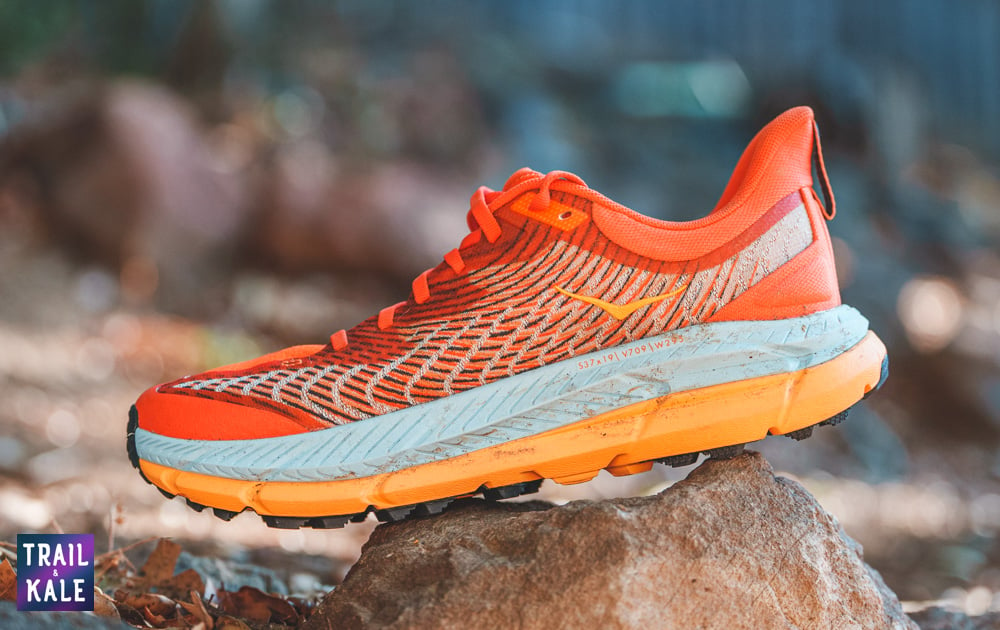 Price – $185 at Hoka.com
Weight – 10.3 oz. (292g) for a US M9
Width – medium
Midsole – A two-part PROFLY midsole with the lightest, most responsive HOKA foam just underfoot.
Drop – 4 mm drop. This is perfect for technical trails and all-mountain running.
Let's go over some of the key features in more detail then.
The best price I've found for the Mafate Speed 4 is $185 at hoka.com, which is expensive for any running shoe but I'll let you know later in this review whether or not I believe they're worth that price.
It weighs 10.3 ounces for a size US 9 men's which is very lightweight for a shoe with so much protection, padding on the upper, and cushioning in the midsole.
The Mafate Speed 4 has a relatively low stack height when compared to what you may be used to seeing with some other HOKA running shoes.
The height of the heel stack to the forefoot stack height results in a drop of 4mm from heel to toe – and I love how this feels.
It's no secret I much prefer a lower drop when it comes to my trail running shoes, and for very good reason…
The control and trail feel you get from having a lower drop is far superior when running technical trails.
I have always recommended a lower drop as in my experience it reduces the chance of getting the most common running injuries like plantar fasciitis, Achilles tendinitis, and shin splints.
Not only does it give you a better feel for the trails but it puts you in a more natural running stance, resulting in a better running form. With a low drop and a low stack, you can really feel the trail and use the proper biomechanics of your ankles and feet.
There are a lot of bones in your feet – so it's really important to be able to have your style and stance as natural as possible when you're on the trails.
This is because there's a lot of stabilization that your joints, bones, and muscles need to be doing in order to trail run like a boss.
So, the more you can leave things like stabilization to your biomechanics, the better. I don't like these big midsoles that you sometimes see on trail running shoes because it takes too much of your natural biomechanics out of the equation, which is a bad thing.
READ NEXT: My post all about how to try barefoot running explains the reasoning behind why you should give low-drop (or zero-drop) running shoes a try.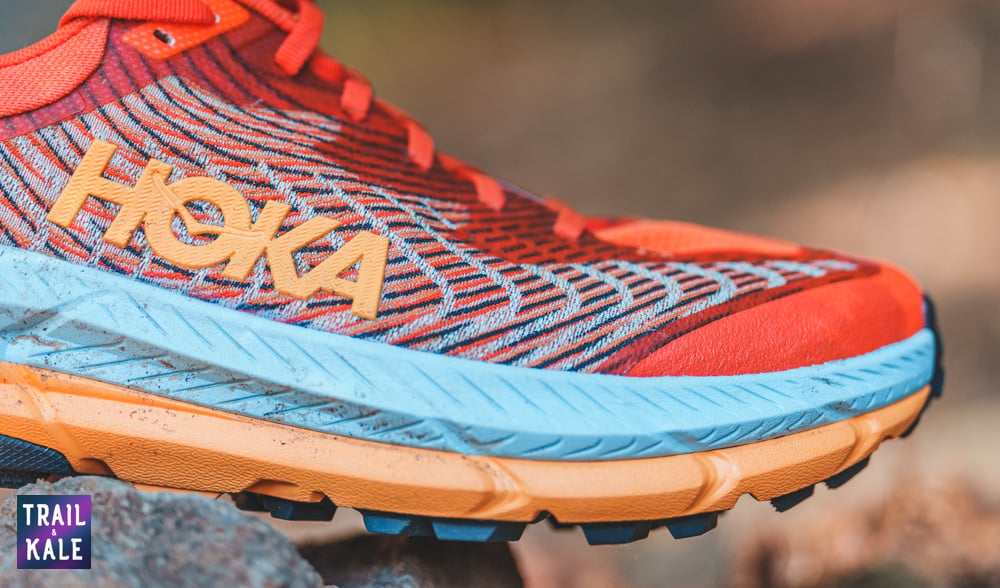 This midsole is one of the standout features of the Mafate Speed 4 HOKA shoes.
This midsole has just the right amount of cushioning to provide total comfort underfoot while at the same time the perfect amount of responsiveness as you leap over puddles, and from rock to rock, as you can see in my YouTube Shorts Mafate Speed 4 video below.
There's enough midsole protection to stop any spiky rocks on the trails from actually being felt when you run over them, but not soo much that control is lost – I just love what they've done with it.
The Vibram Megagrip with Litebase construction and 5mm traction lugged outsole is quite remarkable in its traction, and durability.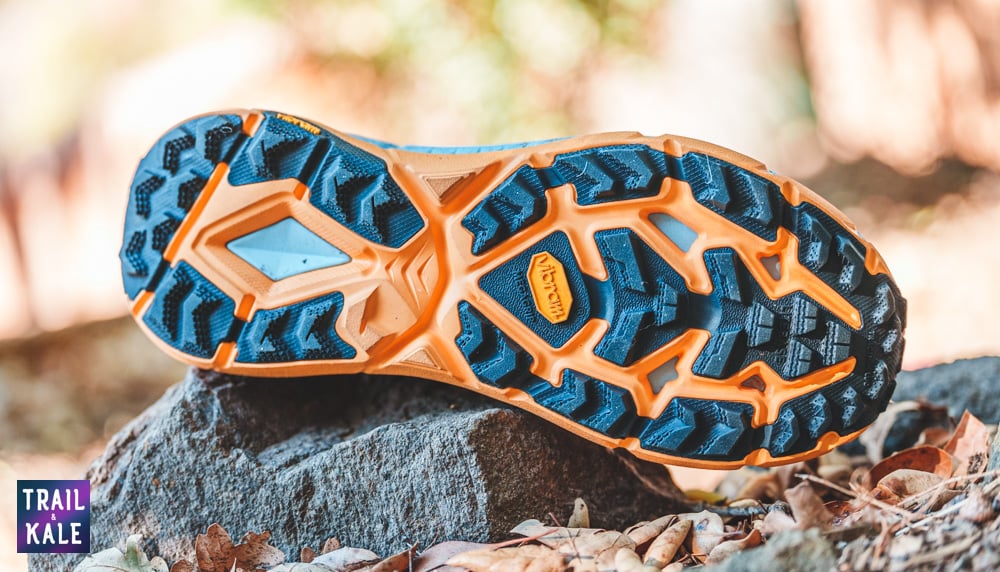 Along with how comfortable and bouncy the shoes are to run with, the outsole performance probably struck me the most.
I have total control when running down steep hills, and also while running over slick wet rocks at speed – it's something that needs to be tried to believe how well it works.
These HOKA sneakers are medium width and there's enough room in the toe box for your feet to splay which keeps your feet happy during long runs.
The tongue has lots of padding but I think there's room for improvement in the way it is held in place as it does slip a small amount.
This doesn't feel uncomfortable while running, I just see a little room for improvement there – yes, nothing gets past me, lol.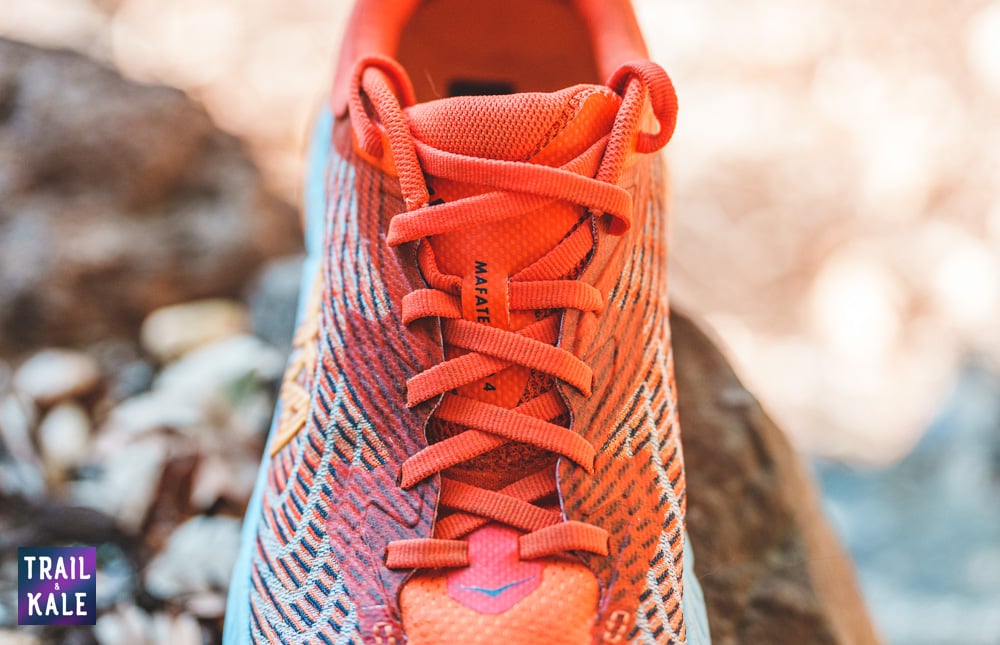 The laces are simple but very effective at what they're designed to do, which is do up, stay done up, and provide a small amount of stretch as your feet move during a run.
There's a finger loop at the rear, which makes getting the shoes on nice and easy.
Whilst I'm at the rear of the shoe, I need to mention that awesome backstay/heel counter. I love shoes that have this feature, as it is such a great way of supporting the Achilles heel.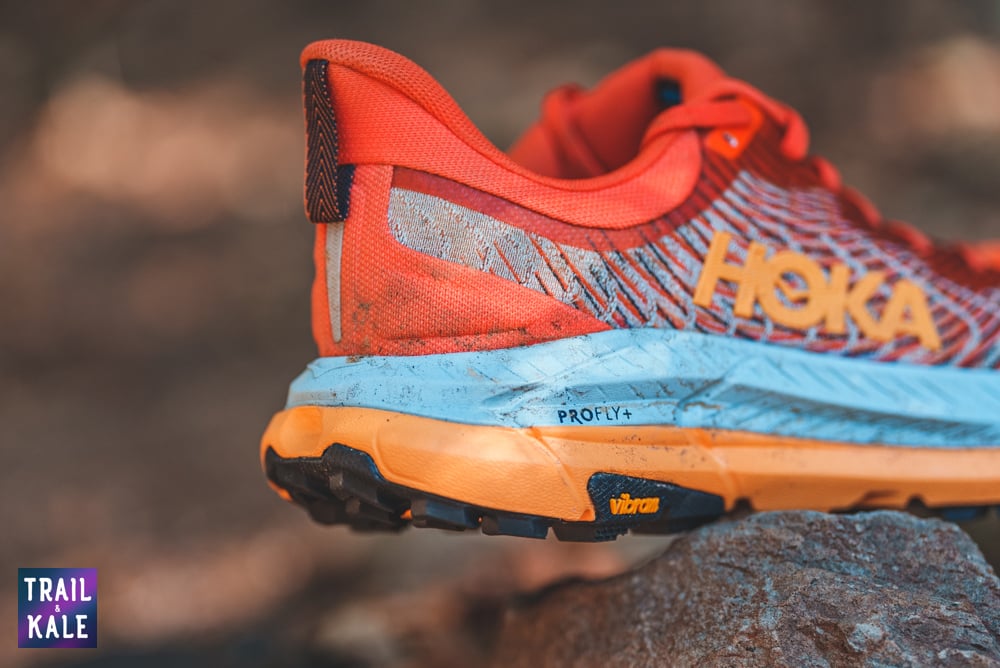 If you've ever had Achilles tendinitis in the past, you'll love this feature! There are more pictures of this heel support feature in the gallery below.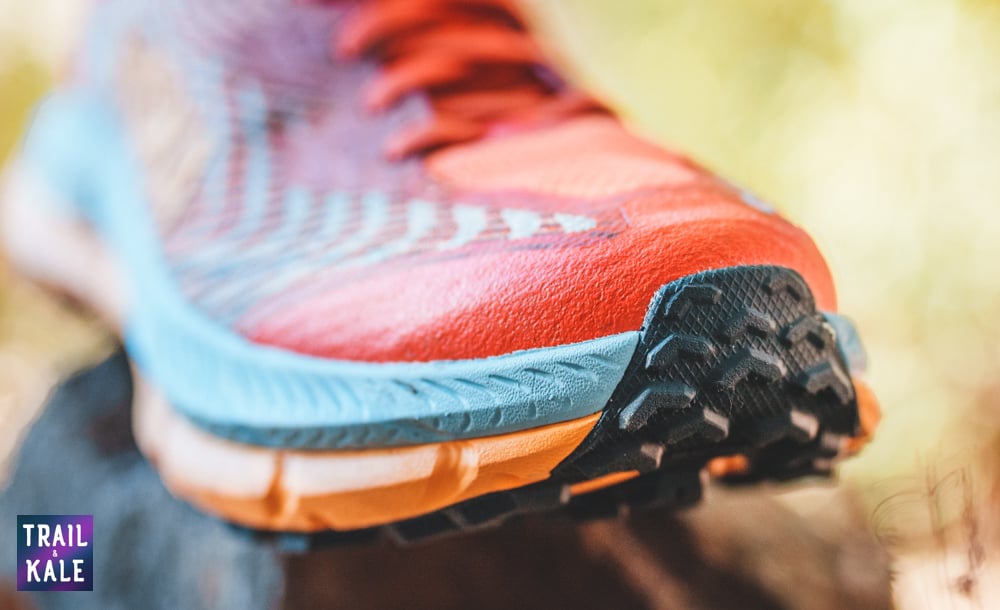 There's also a solid toe cap at the front which will protect your toes if you stub any rocks or roots.
The upper is very well made, highly durable, and has a nice design. It's also breathable, however, it's not the most breathable shoe out there – the Terra Kiger 8 wins in that regard.
The fact they aren't super breathable makes them the perfect shoes for shoulder season running, running in cooler conditions, or simply if you prefer to keep your feet at a mild temperature, rather than cool while running.
HOKA Mafate Speed 4 performance review
Moving on to the Mafate Speed 4 performance review. So, how do they actually perform while running different types of trails?
My little YouTube Shorts video below should give you an idea of how well they performed on my first trail run in them which was during a very wet, rainy day.
This run uninvolved plenty of mud, wet rocks, roots, and tarmac.
Running on road surfaces
Let me start with what they are like when running on asphalt, tarmac, or concrete pavements/paths.
I have a 1 mile run on pavements before I get to my local trailhead, and oh my goodness, the Mafate Speed 4 performs superbly on hard tarmac/concrete surfaces.
They perform so well in fact, that they feel like road running shoes but with extremely sticky deep lugs on the outsole.
I put this down to that incredible cushioned yet responsive two-part PROFLY midsole.
How do they perform on different types of trails?
On most trails and mountain terrain including rocky, hard-packed, gravel, dusty, or forested single track they are absolutely amazing. This goes for all the same types of trails in the wet too!
Thankfully it recently rained a ton here in California so I managed to test them in some serious wet weather conditions, as you can see from my YouTube shorts video above.
The HOKA Mafate Speed 4 is now my overall favorite all-around trail running shoe due to how well it performed in my testing across multiple terrain types – it stole the title from the Terra Kiger 8 by quite a large margin!
If you follow my training on Strava you'll see the sorts of trail routes I like to run, and use to test new trail running shoes.
I like to climb steep and descend fast over technical trails, so my trail shoes need to be able to cope with that type of running – and these HOKA One One shoes do it better than anything other trail shoes I have tested to date.
Oh, if you are on Strava, be sure to join the Trail & Kale running club with thousands of other runners.
I have convinced Helen to buy the women's Mafate Speed 4 to try out, as I know she's going to love them as much as I do.
It takes a lot for a brand to come along and actually take that Best Trail Running Shoe title. If you follow that link up there, you will find my best trail running shoes buyer's guide which now has a new king, yes the Mafate Speed 4.
The tread on the outsole has aggressive 5mm traction lugs made with a very sticky rubber that tears into the trails and clings on like nothing I've experienced before.
The durability of this rubber so far has been very good too, which is not typical of sticky rubber on outsoles. This durable highly-effective traction alone makes them worth the $185 price tag.
Most sticky rubber outsoles I've experienced in the past have durability issues that are noticeable after my first trail run.
To be fair, I do tear up the trails when I test new shoes, and there are 2 miles of tarmac included in my test route.
What are they like for running/hiking steep uphills?
As I mentioned earlier, the tread on the outsole is exceptionally sticky and the high-traction lugs roll right around the front of the shoes to the toe cap, resulting in amazing traction when running up steep hills (see image below).
The Mafate Speed 4 really hooks into the trail and allows me to push hard during climbs, whether they are persistent gradual inclines or short steeper climbs.
What are they like for steep downhill running?
My local trails have lots of rocks and roots to navigate over or around, and that's on my downhill sections too. The Mafate Speed 4 is a real pleasure to run on these trails with.
A lot of this is down to the midsole responsiveness, and its 4mm drop – It puts me in a nice running stance going downhill, and that insane outsole traction allows me to run fast without worrying about slipping or losing control.
I haven't felt trust-in-traction like this, in a fast, lightweight, cushioned trail running shoe for a long time!
So far the HOKA Mafate Speed 4 has performed exceptionally in every way I have tested it. You can probably tell I'm very excited about it.
These are also the best HOKA trail running shoes for me right now – did I mention that I have awarded them the coveted Trail & Kale Editor's Choice Award? Well I Did! 😉
How do they compare to other trail running shoes available at the moment?
Well, to be honest, they blow the competition away right now. Sure you pay for the pleasure of having probably the best trail running shoes but when do you not pay highly for buying the best?
Read more about them, and other great trail running shoes on my Best Trail Running Shoes buyer's guide.
Are they worth your hard-earned money?
YES! I'm 100% confident you'll be happy with your purchase if you decide to level up your trail running game with the HOKA Mafate Speed 4.
I hope you enjoyed reading this HOKA Mafate Speed 4 review – leave a comment down below if you did and join our Newsletter for more outdoor gear reviews just like this one.
Still not sure which HOKA running shoes are for you? Head over to our Best HOKA Running Shoes Buyer's Guide next.
HOKA Mafate Speed 4 review summary (rating with pros and cons)
HOKA Mafate Speed 4 Review
PROS
Outsole traction is exceptionally effective over all trail types I tested them on - even in very wet conditions.
Midsole is very cushioned and responsive. It almost feels like a road running shoe. Love it.
Very lightweight for such a well cushioned shoe with lots of padding in the upper.
I really like the shape of the heel support at the rear. It really reduces pressure on the Achilles.
Very durable upper and outsole.
Lacing system works well and the tongue has lots of padding.
CONS
Hopeful for more colorways soon, there are only two at the time of writing this review. I do Like the orange Puffin's Bill / Summer Song color I have however.
Tongue could be locked in place a but better.
I have left you with some more photos of the Mafate Speed 4 below, and also my YouTube video review. Enjoy, and see you on the trails!
More Mafate Speed 4 Photos