The Biolite BaseCharge 1500 is a 1521 Wh rechargeable power station designed for you to access home-standard power in off-grid environments, whether that's at home during a power cut, camping or while you're on the road traveling.
I've reviewed a number of portable power stations here on Trail & Kale, the best of which are featured in our portable power stations buyer's guide, so I was excited to see how Biolite's newest power product stands up to the competition.
This Biolite BaseCharge 1500 review covers all the key features, what I love/dislike about it, and how it performs in a variety of scenarios.
As regular Trail & Kale readers will know already, this review, like our other outdoor gear reviews (including many Biolite Energy products), also includes plenty of photos of the power station's key features and details of what it's like to use.
MORE BIOLITE REVIEWS: BioLite HeadLamp 750 Review / BioLite HeadLamp 200 Review / BioLite HeadLamp 330 Review / Biolite AlpenGlow Lantern Review / BioLite AlpenGlow Mini Review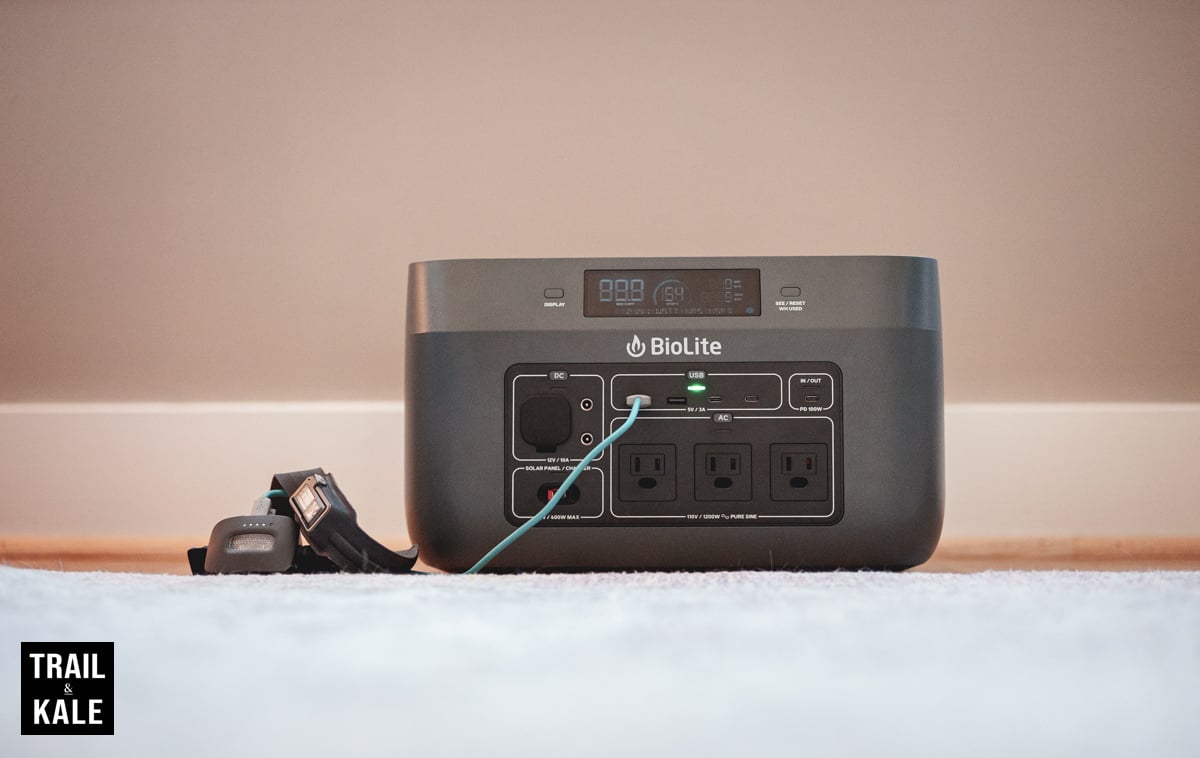 ---
BioLite BaseCharge 1500 review contents:
---
BioLite BaseCharge 1500 – overview of this rechargeable power station's key features
The BaseCharge is a neat portable power station designed for a range of uses in and around the home as well as for camping, traveling and off-grid use.
Here are its key features and differentiators.
It has a wide range of outlets, from regular household 120v AC to USB-C ports and 12v outlets
You can connect as many devices as you want (up to the maximum output capacity) using the variety of outlets which are all on the front of the power station.
Wireless charging on the top deck for phones and small devices
You can also charge one device on the top deck using its wireless charging capability.
A maximum output of 1200W, which goes up to 2,400W in Surge mode
You can easily monitor the combined output of all connected devices using the clear, easy-to-read LCD screen.
The LCD screen allows you to easily monitor energy usage and consumption
As well as monitoring how many watt-hours have been used and how much time you have until the device needs recharging, you can see live the current watts on the input (if you're charging it) and output (based on what's using its power) in the top right of the screen.
I find this very helpful when using the BaseCharge to power devices as it helps predict when the power station will need to be charged up.
I also use it when testing electronics for other gear reviews on Trail & Kale (such as my recent reviews of the Lomi and Reencle composters) as it gives me a good idea of their energy consumption while in use.
It has a handy resettable energy odometer
You can reset the number of watt-hrs used by pressing the reset button shown to the right of the screen.
You can also turn off the screen display or toggle it back on again by pressing the 'display' button that's on the left.
You have a range of options for recharging
The BaseCharge comes with its own 120v AC adaptor so you can plug it into a regular household outlet to charge it up.
However this isn't the only way to charge it, and it's probably the least exciting!
You can charge it using a vehicle's 12v outlet while driving – you just need to get the 12v charging cable to do that.
Solar panels are the cleanest way to charge this power station.
If you plan to use it off-grid or in an RV, campervan or camping, then you can actually buy it bundled with one, two or four solar panels (the maximum number you can connect) – and these bundles represent great value deals compared to buying them separately (more on pricing etc later in this review).
Whichever way you charge it, you can still use it at the same time to power your devices – but of course that will slow down how quickly the battery gets to fully-charged.
It's designed to be portable – no wheels required
The two handles on the sides provide a comfortable and secure grip.
At 28.5lb it's not super light but easily portable for taking places and getting in and out of your vehicle, for example.
By the way, it's also worth noting that Biolite sells a range of other portable power options, such as pocket-sized power banks and a smaller portable power station, the BaseCharge 600, so if you feel you don't need to power devices for as long, or that require as much intensive use of power, then that smaller model could be a good option to explore.
Learn more about the BaseCharge 600 on Biolite Energy's website (including a comparison to the 1500 model).
---
Battery life – How long does the BioLite power station last between charges?
How long the BaseCharge will last between charges really depends on the mix and intensity of what you plug into it.
Examples include refrigerators, power tools, medical devices, laptops, portable coolers for camping, charging batteries for cameras, drones and other gadgets, and powering power tools when you're working on home or backyard improvement projects without easy access to a home outlet.
If you're considering this as a backup power supply for the event of a power blackout then the stats given on Biolite's website include that it could power a refrigerator for 20 hours, or a CPAP machine for 31 hours. It could charge a laptop 22 times or a smartphone 117 times!
There are loads more examples of how it can be used, together with battery life for those uses, on the BaseCharge 1500 product page.
---
How many devices can the BaseCharge power at once?
You can use it to power or charge as many devices as you want, at the same time, assuming that:
you have enough power ports for them
the total power required to charge/power them all is within the BaseCharge's max output wattage.
This is where the live monitoring on the LCD screen comes in handy, as you can see how close you're getting to its maximum output limit, as you connect/turn on each device.
---
How to recharge the BaseCharge power station
There are 4 ways to recharge the power station.
1. Wall outlet
Charge it on a regular wall outlet. The BaseCharge comes with an AC charging adaptor to do this, so it's going to be the easiest method for most people.
Using the wall outlet takes 13.5 hours according to Biolite's website. This time will be quicker, of course, if it's not really low when you plug it in.
2. 12v DC (in-vehicle)
Another popular option is to charge it in your vehicle using a cigarette lighter-style DC carport adaptor. The adaptor is available as an optional extra accessory you can buy.
I have not used this method with this particular portable power station, but I have with others – and this is by far the easiest way to charge if you're traveling around or road tripping in a car, campervan or RV as you just plug it in and charge it up while you drive!
3. USB-C
If you have a way to charge it using USB-C, and a suitable cable then this is quicker than regular charging from a regular wall outlet, around 8 hours.
4. Solar panels
The last, and most exciting option for off-grid use of the BaseCharge, is to charge it using solar power.
You can actually buy the BsaeCharge 1500 bundled with 1, 2 or 4 (the maximum) solar panels, from Biolite.
If you go for all four panels, which are 100w each, Biolite states you can get a full charge from solar in around 4 hours (assuming ideal conditions). This is crazy fast charging!
With just one solar panel, the stated charge time is up to 80% in 12 hours. That's still pretty good!
If you're familiar with lithium batteries, including electric vehicles, then you'll appreciate that it's a lot quicker to get up to around 80% of full – the last 20% of charging time always takes disproportionately longer.
---
Cost and where to buy the BaseCharge 1500
The BaseCharge 1500 costs $1,699 (before applying our exclusive discount code) and is available directly from Biolite Energy on their website with free shipping and a 2-year warranty.
This is a really nice, premium portable power station that's very capable of powering most gadgets and appliances you'd want to use it with. It feels premium, is well-made, and, in my opinion, is worth the money.
If you're interested in saving some money with bundles, then the following bundles caught my eye:
BaseCharge Home Emergency Kit – this includes the power station, three Alpenglow Lanterns (which I LOVE), a headlamp and pocket-sized power bank – all for $1,799 (this lot would normally set you back more than $2k when bought separately!).
BaseCharge Solar Generator 1500 Kit – the BaseCharge 1500 plus 1x 100W Solar Panel for $1,934.
You can see the details of these bundles (and others) on this page of Biolite's website.
---
BioLite BaseCharge 1500 Review Summary
Biolite BaseCharge Review
This is a powerful, easy-to-use and attractive portable power station that's hard to fault. Great for home backup, use away from the home, and charging or powering devices while camping or road tripping.
PROS
Extremely simple and user-friendly to use
Clear energy usage and status monitoring on the LCD screen
Plenty of outlets, including several USB-C ports
Tidy and attractive design - it looks and feels like a premium product
CONS
The fan can get noisy when it's working hard
If you don't need a power station of this size (and weight/cost) then consider the smaller BioLite BaseCharge 600, its smaller sibling
---
Image Gallery