I've used hiking poles a fair amount in training and on a few big races (hilly/mountainous trail marathons and 50ks). Based on these experiences, here is a summary of the pros and cons of trail running with poles and some advice on how and when to use them to best effect.
Benefits of trail running with poles
Make light work of uphill climbs on steep (eg mountainous) routes.
This is the biggest advantage I see in having them. It's like climbing uphill with four-wheel-drive, as planting them in front of you provides balance and guidance – I can definitely climb steeps a lot more quickly with, than without these running sticks.
Saves your legs on long, hilly races
If you're using trail running poles and your arms/back/shoulders to help you up and downhill when it gets tough, then your legs (especially your quads) will be fresher for longer than if you hadn't used running poles.
Rhythm!
Trekking poles definitely help me more easily find a sustainable pacing and step rhythm that I can maintain for long stretches. I'm more likely to get puffed out when I am not using them.
RELATED: 5 Best Trail Running Poles: For Ultrarunning & Hiking too!
They can help probe and balance on steep descents
I find they help me with large, steep steps down, particularly when the terrain looks (or is) slippery or made of loose rock. But they can be a hindrance on many other downhill sections so I don't use them often, as in many cases it's more likely I'll end up tripping myself up with them than helping myself.
Space (and self) preservation on busy races
Sometimes it's necessary to fight fire with fire. At 5ft 3 and being in the middle (or near rear) of a pack at a race start and the first climb, I have to fight to stand (or walk/run) my own ground.
The trail running poles help ensure someone doesn't side-step into the space immediately in front of you, either with their own poles or legs. They are also handy for batting off wayward poles that can get waved or slip towards you in a crowd. This was invaluable at the start of the Lavaredo Ultra Trail where I spent the first 45 minutes in a tightly-packed crowd up the first climb.
---
Get to know us better, learn more about the latest trail running and adventure gear, and discover new trails - Visit Our Feed
---
I think most people are completely oblivious to the nuisance and hazard they pose, so it's not productive to let it wind you up – just be prepared!
Downsides to trail running with poles
It's extra kit to carry
In terms of things to remember, store and additional weight, poles mean two more relatively large pieces of kit.
Carrying poles also makes doing other things (like eating) more tricky when on-the-move.
You won't want to use them all the time
I just use them on the steep climbs and some descents. So you have to either carry them or pack them away when not using them (which is a bit of a faff).
If you train with poles, then you may not want to race without them
So there's a risk of them becoming like crutches that you get dependent on. I don't want to be dependent on them – imagine if you felt you NEEDED them, and then you lose or break one/both? Gah!
Hiking poles are not permitted on some trail running races
It's worth checking your race rules. But generally, if it's a mountainous race of 30k+, particularly in Europe, then you'll be in the minority without them.
Tips for using hiking poles trail running
Buy the lightest you can afford. This helps not just with your pack weight, but your arms when in use.
Folding/collapsible poles will save you space when stowed in your race vest (or carried)
Carry them both in one hand when not in use, with the pointy end facing forwards. This way you are less likely to catch it on your feet or swing the sharp end back into someone else
Be careful how you use and hold them – if you hit or trip someone else (or yourself – eminently possible) then it could cause a very nasty injury. It's also very annoying when someone actually, or very nearly does this to you
Watch where you plant them in front of you – pick a firm-looking spot that isn't wedged between two rocks/roots (as this could result in breaking the pole if it gets stuck on its way out) and is far from your (and other peoples) feet
Alternate or simultaneous pole-ing? I find that sometimes it helps to plant both poles together out in front, to help me up steep sections with speed. Otherwise, I prefer placing them alternately.
Best hiking poles for trail running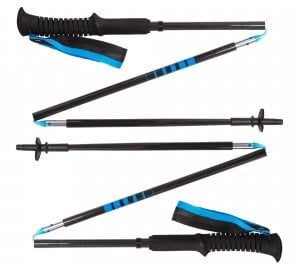 There are many brands out there now offering trail running (or lightweight hiking) poles, particularly around Europe where they are very popular. We are also seeing an increase in popularity of mountain and technical running in America, and so I expect more people will be needing to get their hands on hiking poles for trail running in the US.
These carbon Z Black Diamond poles are perfect for trail running and long days in the mountains, as they are folding, have a good hand-grip and fold down small.
Find the Best Price for Black Diamond Distance Carbon Z running poles
Amazon.com
$159.95

4 new from $159.95

3 used from $114.20

See Deal
Backcountry.com
$169.95
See Deal
Rei.com
$169.95
See Deal
Blackdiamondequipment.com
$169.95
See Deal
Last Amazon price update was: 21st February 2021 11:00 am
RELATED:
If you liked this post you may want to check out:
Or click 'Advice' and 'Gear & Kit Reviews' in the menu to browse our other posts.
Call for comments
Do you run with or without poles for your hilly/mountain runs? Which poles do you use and why? Share all in the comments section below, we'd love to hear your thoughts 🙂