Our guide to the best camping chairs features a selection of portable, folding chairs that you can use for outdoor seating, whether that's chilling on your lawn, or smaller, more lightweight options to take camping, road-tripping, backpacking, tailgating or to the beach, concerts and festivals.
ADVERTISEMENT
To help choose the right one for you, we've written plenty of portable camping chair reviews for different types of uses, budgets, and preferences, from great all-rounders to luxury, high-comfort heated and reclining camping chairs and ultralight camping chairs that fold down small and fit in a backpacking backpack or even a hiking daypack.
If you want to read more about the key features to look for when choosing, click here to jump down to our buyer's guide. Otherwise, keep reading to see the list.
---
Best Camping Chairs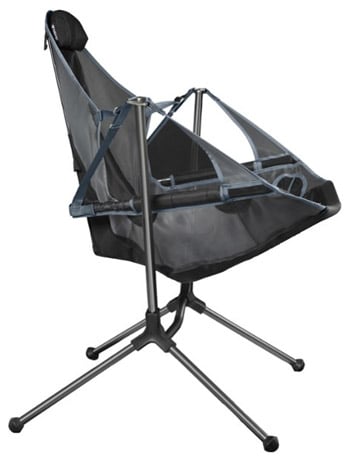 NEMO Stargaze Reclining Chair | Best All-Rounder
Great for: Rocking, snoozing, sitting in comfort and watching the sky
Weight: 6lb 5oz
Cost: $250
Weight capacity: 300lb
Folded dimensions: 7 x 24
Choose if: You want a comfortable reclining (and rocking) chair that's perfect for camping in style.
This NEMO chair has every feature we would want in a comfortable, durable camping recliner.
From the smooth rocking chair movement, adjustable headrest and padded arm rests to the smaller features such as the cup holder, pockets, and water-resistant mesh, we can definitely spend long periods of time snoozing, reading, chilling, or stargazing in this luxury aluminum option.
At $220 it may not be for everyone, but if you don't mind the cost this is the best camping chair to go for, whether you're actually taking it camping or want a luxe lawn chair to chillax in at home.
Amazon.com
$219.95

15 new from $219.95

See Deal
Backcountry.com
$219.95
See Deal
Nemoequipment.com
$219.95
See Deal
Last Amazon price update was: 4th July 2022 8:00 pm
---
---
CLIQ Camping Chair | Runner Up
Best for: Camping, the beach, travel, festivals
Weight: 3.5lb
Cost: $100
Weight capacity: 300lb
Folded dimensions: 3.4 x 3.4 x 13
Choose if: You want a highly portable, lightweight camping chair you can take pretty much anywhere.
Referred to as the 'most funded portable chair in crowdfunding history', the CLIQ compact outdoor chair is designed to use anywhere, by virtue of its lightweight, small packed size and ease of setup.
It takes 5 seconds to put up and can hold 300lb while still only weighing 3.5lb and being the size of a bottle when folded.
At less than half the price of the NEMO Stargazer, the aluminum Cliq chair is a great choice if a smaller size and lighter camp chair for excellent portability.
Last Amazon price update was: 4th July 2022 8:00 pm
---
---
REI Co-Op Camp X Chair
Best for: Camping, the beach, tailgating and parties
Weight: 7lb 3oz
Cost: $50
Weight capacity: 300lb
Folded dimensions: 7 x 33
Choose if: you want a robust, durable camping chair at an affordable price point.
If you're looking for a comfortable, all-around folding camping chair that won't break the bank but should last you many years, then this REI option is our top pick.
It features a durable steel frame, drink cup holder, pocket for your phone and small accessories, and a quick-draining mesh, which is tensioned just right to distribute your weight and not sag.
---
---
GCI Outdoor Wilderness Backpack Chair | Budget-Friendly Recliner
Best for: Camping in style, kicking back at home
Weight: 8.6lb
Cost: $60
Weight capacity: 250lb
Folded dimensions: 28 x 24.4 x 3.5
Choose if: you want a budget-friendly reclining chair that's equally at home on your lawn or at the campsite.
For a selection of more budget-friendly outdoor reclining and rocking chair options, look at GCI Outdoor chairs' range, most of which cost in the region of $55 to $80.
We've gone for their Wilderness Reclining Backpack Chair as our top pick as it's sturdy, comfortable, and portable (aided by the backpack-style straps), but it's worth exploring the full range in case particular extra features stand out for you, such as side tables, foot rests and sun-shades.
Last Amazon price update was: 4th July 2022 8:00 pm
---
---
Helinox Chair Zero | Best Lightweight Camping Chair
Best for: Backpacking, festivals, anywhere you need a portable, ultralight camping chair
Weight: 1lb
Cost: $130
Weight capacity: 265lb
Folded dimensions: 13.8 x 3.9 x 3.9
Choose if: you want the lightest, most compact folding camping chair there is – ideal for backpacking or traveling light.
At a crazy-light weight of 1lb and no-frills to add to the weight, meet the Helinox Chair Zero.
This ultralight chair also folds down small and will fit in any backpack or duffel bag for ultimate portability.
We keep two of these in our camper van full-time, where they take up a minimal amount of precious space when not in use. If you want to take a chair backpacking, this is the one to get.
Last Amazon price update was: 4th July 2022 8:00 pm
---
---
REI Co-op Flexlite Air Chair | More Affordable Lightweight Alternative
Best for: Backpacking, festivals, anywhere you need a portable, ultralight camping chair
Weight: 1lb
Cost: $70
Weight capacity: 250lb
Folded dimensions: 5 x 16
Frame material: Aluminum
Choose if: you're on a budget but saving weight and portability are high priorities.
This ultralight camping chair from REI is another great option if you're looking for an ultralight chair.
While it doesn't fold down quite as small as the Helinox Chair Zero, it's a similar weight, at a significantly lower price point, so definitely worth checking out.
Because of the leg layout, this chair has more front-to-back stability than side-to-side stability like the Helinox.
---
---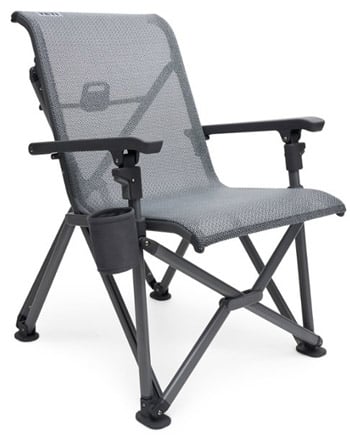 YETI Trailhead | Most Comfortable Camp Chair
Best for: When sitting upright, comfortable, is your top priority
Weight: 13lb
Cost: $300
Weight capacity: 500lb
Folded dimensions: 10 x 8 x 43
Choose if: a comfortable camp chair is your top priority.
If a comfortable seat is important to you and you don't need a particularly compact or light chair, then invest in this premium YETI camp chair that should last a lifetime.
While we have other comfortable folding camp chairs here that are great for chilling and even sleeping in, this chair is ideal for sitting up, whether eating, drinking, reading a book or hanging out around a campfire.
As you would expect from YETI it's great quality, and over-built so it's super sturdy.
Last Amazon price update was: 4th July 2022 8:00 pm
---
---
Gobi Heat Terrain | Best Heated Camping Chair
Best for: Cool evenings and soothing aches from a busy day
Weight: 11lb
Cost: $199
Weight capacity: 325lb
Choose if: you want a comfortable chair that heats your seat and back
With up to 9 hours of heat per charge, this heated camping chair from Gobi Heat is a luxe seating option for your campsite or backyard.
Even without the heat, this is a comfortable, stable, and padded camping chair with a high back, great for sitting for long periods.
Last Amazon price update was: 4th July 2022 8:00 pm
---
---
Kelty Loveseat | Best Double Camping Chair
Best for: When you need a camping chair for two people!
Weight: 15lb
Cost: $140
Weight capacity: 400lb
Choose if: you want to share your seat with another person (or pet).
This high-quality double camp chair is durable and sturdy with one or two people in it.
The fabric is tough and easy to clean, and it folds down neatly into its own roll tote for ease of portability. We also like the insulated drink holders on each of the adjustable arms.
Last Amazon price update was: 4th July 2022 8:00 pm
---
---
ALPS Mountaineering King Kong | Heavy Duty
Best for: Stability, extra weight capacity, durability
Weight: 13lb
Cost: $70
Weight capacity: 800lb
Folded dimensions: 41 x 7
Choose if: you want a sturdy, heavy duty folding chair that has a higher weight capacity than most.
For a very stable and chair option that is relatively high off the ground, this ALPS Mountaineering chair is one of the best out there.
It also has a higher weight capacity than other chairs on this list, which contributes to the sturdiness.
We also like that it's available in a range of colors in addition to the blue version, pictured.
Last Amazon price update was: 4th July 2022 8:00 pm
---
---
ENO Lounger DL Chair | High Back Support
Best for: Using as a beach chair, chilling at a campsite, napping anywhere
Weight: 4lb 10
Cost: $125
Weight capacity: 250lb
Folded dimensions: 23 x 7
Choose if: you want a camping chair you can relax and even nap in, that's just at home at the beach as at the campsite or in your backyard.
ENO knows all about relaxation – they also make a great range of camping hammocks!
With a high back and integrated pillow, this lightweight aluminum ENO chair is designed for relaxing and snoozing in.
The adjustable legs can be switched between 3 and 10 inches, meaning you have the option of sitting low to the ground, which you may prefer to do when using it as a beach chair, for example.
Zappos.com
$112.99
See Deal
Amazon.com
$139.95

2 new from $139.95

See Deal
Rei.com
$139.95
See Deal
Last Amazon price update was: 4th July 2022 8:00 pm
---
---
Camping Chairs Buyer's Guide
Choosing a good folding camping chair can be overwhelming because every store seems to sell them.
However, if you want one that is actually comfortable and enjoyable to use as well as being durable, then our buyer's guide will help you narrow down the options to make a good choice.
All the options on this list have one thing in common, which is that they are all folding outdoor chairs that are portable, whether that's to carry a short distance and fold-out on your lawn, or to take to the beach, camping, backpacking, tailgating, concerts or festivals, however, they each have something different to offer.
The most suitable option for you will depend on how and where you are going to be using your chair, as well as any particular style, budget and comfort preferences you have.
Here are some considerations to bear in mind when choosing.
Comfort
When it comes to comfort, you can get very basic camping chairs which are just something you sit on that is better than the ground… but we can do better than that. A good camping chair should at least have some good supportive, breathable mesh, or for a plusher option, have some good padding.
Higher-end seats also have headrests, padded arms and you can get swinging, rocking and reclining camp chairs to take that comfort level up a notch further.
It's worth also thinking about how high off the ground you want to sit, as well as how important having a high backrest is to you.
Some of these camp chairs sit you a few inches off the ground, and are good for casual chilling, as beach chairs, and taking to festivals etc – but not good if you want to sit in them to eat a meal or you may struggle to get up out of them.
Other chairs are very tall and have full-length backs, which are generally more comfortable for chilling in when camping, but, of course, larger (and you may not want to sit in one of those at a concert if it is going to upset everyone behind you).
Price
In this buyer's guide we're focusing on quality folding camp chairs, because as with most things, you get what you pay for. For purchases to be sustainable, we place emphasis on investing in quality outdoor gear that you won't need to replace, at least not often.
For a good portable outdoor chair you can expect to spend upwards of around $50, with the more feature-packed chairs (such as the reclining versions) costing up to the region of $200.
Weight and portability
The first thing to consider when looking at foldable camping chairs is how much the weight of the chair matters to you, as this will narrow down your options.
If you're looking for an ultra-lightweight chair that folds down small, then check out our recommended backpacking chairs.
These chairs weigh less than 2lb and are designed to be highly packable and portable. Made with aluminum, rather than steel frames, they also feature thin (yet strong) woven mesh material to keep the overall weight to a minimum.
While more serious backpackers probably won't take a chair at all (to save on overall pack weight when hiking), you may want one not necessarily for backpacking but to have a small chair that folds up small for you to take to places like festivals, camping and the beach.
Are packing and portability less important to you because you're not going to be carrying the folded chair that far (perhaps from your car to the campsite or beach, or at least not walking with it for more than a mile!)?
If this is the case, then you can consider either less-expensive, simple camping chairs, as well as the fancier high-end swinging and reclining chairs which offer extra features such as headrests and added storage.
How that camp chair it folds
Foldable camping chairs generally fold in one of two ways.
They either fold flat by lifting the front of the seat up against the backrest, or the poles used to give the chair structure fold in on themselves into a narrow bundle that stows in a roll or stuff sack.
Chairs that fold flat are more awkward to carry but usually quicker to set up. Unless… you're comparing them to the innovative CLIQ chair!
Other features that may be important to you
As well as the features mentioned above, depending on the style of camping chair and your needs, you may also place value on other features such as whether the chair has:
A drink holder (and whether it's insulated)
A headrest and/or footrest
Adjustable back and/or arms
A side table
Pockets
Good mesh drainage
Padding
A quick assembly and packing time.
Now you've read the camping chairs buyer's guide, click here to jump up and see the full list.