Welcome to our Best Running Headphones guide in which we have selected the best wireless earbuds and over-ear headphones for running, whether that's on roads as well as trail running and ultra marathons.
The features that make these the best headphones for running, also make them great headphones for workouts, the gym, hiking, and day-to-day use.
Wireless headphones, including in-the-ear earbuds, are much more affordable than they used to be and the Bluetooth connection is so much more stable, so all headphones in this list are wireless and connect to your music device (for example, your phone) using Bluetooth.
MY FAVORITE: If you're short on time – my favorite headphones for running are still the Shockz OpenRun Pro, for all the reasons listed below.
Some of these running headphones are attached to each other, which has its pros and cons which are explained in the brief reviews for each of the wireless running headphones below.
After reading our best running headphones list you will find more information on choosing the best running headphones for you, including the key features you should be aware of, and a comparison between outside-the-ear headphones, over-ear headphones, and in-ear earbuds.
---
Table of Contents
---
The Best Running Headphones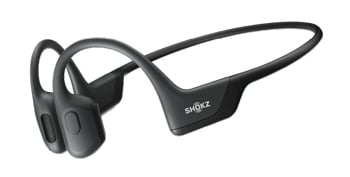 1. Shokz OpenRun Pro
Price: $179.95 at Amazon
Sound quality: Good
Waterproof rating: IP55 water-resistant
Weight: 1.02oz (29g)
Battery life: 10 hours
Reasons to buy: Ideal if you want to hear your surroundings while running and listening to music. They're also less likely to make you feel nauseous as some in-ear earbuds can do. They're also very durable and can have a concurrent connection with two devices. There are two microphones for taking calls, they also cancel noise while on calls, to make the sound quality better.
Downsides: Less immersive sound quality than in-ear buds.
The Shokz OpenRun Pro is ranked number 1 for good reason – in our running tests they outperformed other running headphones in most (but not all) categories
Learn more about some of the disadvantages of bone conduction headphones in my detailed Shokz OpenRun Pro review. The OpenRun Pro is Shokz's most premium 'outside ear' bone headphones, and are also the best bone conduction headphones for running right now.
We love that they sit outside the ear because this gives you the ability to clearly hear everything that's going on around you, in your immediate environment, as well as listen to music.
Outside ear headphones like these are also great for running because your ear canal isn't sealed off.
This allows for much greater breathability, and airflow through your ears, hence helping you stay cool while running and reducing symptoms of nausea.
So, for anyone who gets nauseous running with earbuds – outside ear, bone conduction headphones are definitely for you.
Don't expect audiophile top-tier sound quality with these headphones, as that's not how bone-conduction technology works.
This means that although they may not be the most versatile headphones for everyday use, they are in my opinion, the best headphones for running. Read my OpenRun Pro review to learn more about these and why I rate them so highly for running.
Last Amazon price update was: 28th November 2023 2:30 pm
---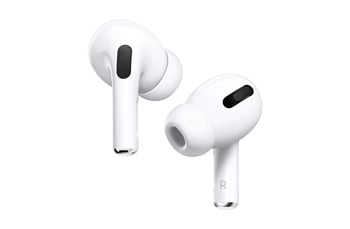 2. Apple AirPods Pro
Price: $249 $174.98 at Amazon.com
Sound quality: Excellent.
Waterproof rating: IPX4 – Sweat and water-resistant
Battery life: 24 hours total with charging case.
Active Noise Canceling: Yes
Transparency Mode: Yes, great for awareness of your surroundings
Wireless charging: Yes
Reasons to buy: Reliable connectivity with Bluetooth 5.0, all-round excellent earbuds that are durable and fit into the Apple ecosystem seamlessly. You can't go wrong with the AirPods Pro.
Downsides: Expensive – but worth the cost in my opinion due to their huge feature set and versatility.
The Apple AirPods Pro are the best earbuds for running and also the most versatile choice as they'll tie into your lifestyle perfectly. This is especially so if you own an Apple smartphone, laptop, or iPad.
So if you're after headphones that do it all, rather than just excellent for running, then go for the Apple AirPods Pro, if you want the best headphones for running (but not the most versatile headphones for other use cases in life) then go for the Shokz OpenRun Pro above.
The AirPods Pro is so feature-rich that it was a hard decision to put them in the number 2 spot on this list. To be fair the only reason they're not number one is that I just don't believe earbuds are the most comfortable music listening experience when running.
Yes, the AirPods Pro does have 'transparency mode' which uses the external microphones to allow for ambient noise to pass through.
They even have a vent system for pressure equalization, but it's just not the same as having full access to sounds around you.
'Outside ear' headphones are hard to beat when it comes to awareness of your surroundings, and breathability/airflow in and out of your ear canals – an often overlooked factor when it comes to running headphone reviews out there on the web.
I love that they have premium noise cancellation tech built-in. This is great for real immersive sound quality when you're in the pain cave, and you need total motivation.
They even have Apple's proprietary spatial audio with dynamic head tracking – a fricking cool feature that truly immerses you when watching tv shows and movies.
Back to running then, you'll get around 24 hours of listening time when you have the charging case with you for charging – 4.5 hours of constant playback before you need to pop them in their case for a quick charge up.
And I mean QUICK; 5 minutes in the case provides around 1 hour of listening time or around 1 hour of talk time. Hit the link below to learn more about all the features.
Last Amazon price update was: 28th November 2023 2:30 pm
---
3. Jaybird Vista 2
Sound quality: Excellent.
Waterproof rating: IP68 (waterproof and sweat-proof).
Battery life: 24 hours total with charging case.
Active Noise Canceling: more immersive sound with ANC.
SurroundSense: Helps keep you safe running in busy environments by amplifying ambient sounds while listening to music.
Wireless charging: with wireless charging pads
Reasons to buy: Waterproof (can be submerged), super durable and robust for wireless earbuds.
Downsides: On the more expensive side – but worth the cost in my opinion due to their insane durability.
The Jaybird Vista 2 true wireless headphones, which I have had the pleasure of running many trail miles with, are really great sounding earbuds, with extreme durability for running and mountain adventures.
Jaybird Vista 2 wireless headphones are IP68 waterproof rated, sweat-proof, crushproof, and are some of the lightest, most comfortable true wireless headphones we have ever tested.
While they shouldn't fall out of your ear when you're running, if you drop them then due to the high level of durability they should survive the fall, wherever you drop them.
Jaybird Vista 2 earbuds have plenty of unique design features that improve their usability beyond many other competitor sports earbuds, which I talk in detail about in my in-depth Jaybird Vista 2 review.
Last Amazon price update was: 28th November 2023 2:30 pm
---
4. KLH Fusion
Sound quality: Excellent
Waterproof rating: IPX5 (waterproof and sweat-proof)
Weight: 0.35oz (two earbuds together), 2.4oz with case
Battery life: 7 hours per earbud, extends to 28 hours with charging case
Reasons to buy: Feature-packed, noise canceling, great battery life
Downsides: At $200, they are one of the more expensive running headphone options
This was such a close call for us to make but the KLH Fusion True Wireless Earbuds sit just below the Jaybird Vista 2.
The only reason they didn't quite beat Vista 2 is that they don't have SurroundSense tech which is awesome when running in busy environments as you can hear sounds around you, making you run that bit safer.
They were awarded the coveted Trail & Kale Editor's Choice Award due to their excellent sound quality and rich feature set, relative to cost! Key features of these KLH earbuds include:
They have great noise-canceling for in-ear earbuds and support 48kHz/24-bit music quality over Bluetooth, which means it's possible to hear even the smallest details in your music.
The Bluetooth connectivity is very stable and responsive and I have not experienced any audio lag while watching YouTube or Netflix videos on my laptop or smartphone.
These earbuds are very comfortable to wear for long periods as they are so lightweight and fit securely fit with no worry of them falling out when you're working out.
They are also IPX5 waterproof (so you can wear them in the rain but don't submerge them), and they're sweatproof. To learn more about them, read my detailed KLH Fusion Wireless Earbuds review.
Last Amazon price update was: 28th November 2023 2:30 pm
---
5. Beats Powerbeats Pro
Sound quality: Excellent
Waterproof rating: IPX4 (water-resistant)
Weight: 0.71oz
Battery life: 9 hours (total 24hrs+ with case)
Reasons to buy: Excellent sound quality from over-ear headphones
Downsides: Bulkier case and may interfere with sunglasses over your ears
The Beats Powerbeats Pro headphones have a pretty impressive battery life of 9 hours on a single charge, which is enough for many runners and even many mid-distance ultrarunners.
It also means you could wear them non-stop for all, or at least most of your work day (depending on how many hours you work) without having to charge them.
A 5-minute quick charge delivers 90 minutes of playback. They're rated IPX4 which protects them from sweat and light rain but not submersion.
This running earphone style is a good choice if you don't get on well with the in-ear earbud-style headphones.
The over-the-ear headphone design is slim enough for if you wear a cap/hat whilst running but if you wear sunglasses too then these may get in the way.
Last Amazon price update was: 28th November 2023 2:30 pm
---
6. Bose Soundsport Pulse
Sound quality: Excellent
Waterproof rating: IPX4 (water-resistant)
Weight: 0.81oz
Battery life: 5 hours
Reasons to buy: Excellent Bose sound quality and headphones wired to each other to minimize drops
Downsides: IPX4 water resistance is designed for splashes so not the best choice for running in heavy rain
Given the Soundsport Pulse Wireless Headphones are made by Bose, you can expect excellent sound quality, so they're a great choice if you're really into your music for workouts, whether that's in the gym or out running trails.
These Bose headphones have a built-in heart rate sensor, which means that with the Bose Connect app you can monitor your heart rate readings in real-time.
This is a great feature if you run or work out without a GPS running watch, or one which doesn't have a heart rate monitor, as you can do so through your headphones instead.
Note the headphones are wired to each other and connect to your phone or music device (such as the Mighty Vibe) wirelessly via Bluetooth.
You may prefer this style because if you knock one out by accident then it will land on your back or shoulder (assuming the other earbud is still in your ear) rather than falling to the floor.
Last Amazon price update was: 28th November 2023 2:30 pm
---
7. Adidas RPT 01
Sound quality: Very good
Waterproof rating: IPX4 (sweat-proof and water-resistant)
Weight: 1.06oz
Battery life: 40 hours
Reasons to buy: Ideal if you need long battery life, don't like using earbuds, or like to wear headphones over a beanie hat when running in the cold. Good price.
Downsides: Sound quality isn't as immersive as earbuds with active noise canceling
The RPT 01 Adidas wireless headphones from the 'Adidas Headphones' department of the brand are ideal for those super intense workouts.
These best on-ear headphones for running feature an impressive 40 hours of playback time (the benefit of a larger form factor), have super-fast USB-C charging, and sound that's pretty impressive for on ear headphones of this price.
We like how the ear cushions are washable as you'll likely be getting your sweat on while using them for running or at the gym and they are IPX4 rated so they are sweat-proof and water-resistant.
The joystick button on the side has plenty of programable options with the Adidas Headphones app, and the equalizer helps you get a rich sound that will suit your listening preference.
I was surprised at how well these on-ear wireless headphones stay in place, even when running fast and doing HIIT workouts at home.
Last Amazon price update was: 28th November 2023 2:30 pm
---
Wireless Running Headphones Buyer's Guide
Compared to choosing wireless headphones for everyday use, there are specific features that a good pair of headphones need to have in order to be suitable for wearing when running and working out.
Key features to be aware of when buying running headphones
These are the most important features to be aware of when choosing headphones for running, and are therefore also the key criteria used in selecting the wireless earbuds and over-ear headphones that made it onto this list:
1. Fit
They must feel comfortable, and fit securely so they don't fall out while running fast or climbing over uneven terrain on a trail run.
2. Weight
If they are lightweight then they won't become a burden when running for long periods of time.
3. Sound Quality
The better the sound quality, the more you'll enjoy the overall experience.
4. Battery Life
Ultrarunners, hikers, and thru-hikers will prefer headphones with a long battery life. Don't get left without music when it's needed the most, in the pain cave. It's also generally just more convenient to not have to charge your headphones after every use.
5. Durability
Generally we runners need headphones to be as weatherproof as possible, to protect them from sweat, dust and preferably rain too!
Being robust is also helpful when it comes to workouts and running on roads, because even if earbuds stay in your ears, you can accidentally drop or knock them out and it would be preferable for them to still work after being dropped, when you're spending so much money on wireless headphones.
Are true wireless earbuds good for running?
With the introduction of faster, more secure wireless connection technologies like Bluetooth V5.0, true wireless earbuds are in my opinion are the way to go! Some, like the KLH Fusion wireless headphones even come with noise-canceling technology now and many are very comfortable to wear in your ear for extended periods of time.
Wearing wireless earbuds for running is so much more enjoyable than managing a cord between your phone and headphones, and stopping it flapping around, getting caught or pulling your headphones out of your ears when you run.
The best true wireless earbuds come in a compact, robust case that also holds some battery charge.
This means that you can put your earbuds back in the case when they're low on battery, and charge them fully (or at least partially) to extend the number of hours of playtime you can get from them before having to plug them in.
This is a great feature to look out for if you are planning to run long distances such as ultra-marathons or do multi-day running or hiking weekends where you intend to use your headphones for long periods and don't want to have to worry about them running out of battery.
Are over ear headphones good for running?
Yes, nowadays it is possible to find good over-ear / on-ear headphones that work well for running.
For example, the lightweight, formfitting Adidas RPT 01 wireless headphones for sport stay put even when rigorously working out in the gym – they're also sweat-proof, and you can remove and wash the ear cushions.
They're just one example of great on-ear headphones for running.
One of the things in particular that we love about sports headphones that use bone conduction technology (another form of non-earbud headphones), such as the Aftershokz Tredz Air, is that you can listen to music but still be aware of ambient sounds from the world around you.
This includes sounds from people trying to get your attention while you're running or working out, potential hazards, like cars or bikes, but also the wonderful sounds of nature while on the trails.
Having the luxury of being able to listen to music and ambient surrounding sound, does however mean that the sound quality will never be quite as immersive as wireless earbuds. "Horses for courses" as they say, and many people will love these for the safety benefits while running.
Are Airpods good for running?
If you have an iPhone, and especially if you are used to using your iPhone regularly for phone calls and listening to music while commuting or at work, you have probably considered whether you can go running with Airpods and if they'd be good for running.
In my experience, Airpods are really comfortable to wear for long periods of time, including long conference calls and listening to music at work and commuting.
You can definitely wear Airpods for running, and if they are comfortable and don't fall out when you run, then that's great!
However, the main downside to Airpods when it comes to wearing them for running and workouts, and that is that they are not the most robust, and are prone to breaking if you drop them.
Additionally, I have found my Airpods to have a relatively short battery life, so this makes them less-well-suited to running than the other wireless headphones on this list.
Why do so many people enjoy running with headphones?
You can listen to your favorite music to help you through challenging moments in your workout.
If you use a Virtual Trainer app then you need headphones to get your real-time coaching as you run.
You can listen to your favorite podcasts or Audio Books that you may not be able to find time for in the rest of your day.
If absolutely necessary, you can answer phone calls without requiring access to your phone. I don't recommend talking on the phone during a run though, that time should be yours and only yours, so don't let yourself get distracted.
Inadvertently let people know that you don't want to be disturbed/asked for directions to the local tourist attraction, you tend to not get asked questions when wearing earphones.
Safety considerations when running with headphones
A quick word on safety considerations when running with headphones, especially if you're wearing in-ear earbuds.
If you are running near or around traffic or other people, it is sensible to either take your earphones out, turn the volume down very low, or run with only one earbud in.
By doing this you can pay greater attention to what is going on around you and who is near you – for your safety and that of other people.
Some runners swear that running with headphones makes them even more aware of their surroundings (by limiting your hearing perhaps you are more vigilant than you would otherwise be).
However, in our experience, it's best to err on the side of caution and save the earbuds for quieter areas, parks, trails, and workouts in the gym, and if you really want to listen to music in busy places, consider bone conduction wireless headphones, instead.
Now you know what features to look out for when picking a pair of wireless headphones for running and workouts, click here to jump back up to see the list.
---
Key of running headphones water protection ratings
IPX4: Is resistant to water splashes from any direction.
IPX5: Can resist a sustained, low-pressure water jet spray.
IPX6: Can resist high-pressure, heavy sprays of water.
IPX7: Can be submerged up to 1 meter in water for 30 minutes.
---
I hope you found this list of the best running headphones useful, and if you have any questions drop us a comment below!