Micro-adventures such as stargazing are a great way for families and friends to experience the joy of being in nature. This stargazing for beginners guide is aimed at those who want to learn more about the celestial night sky, or need an excuse to escape outdoors in order to satisfy adventurous urges.
Stargazing is a fun way to learn some science at the same time. Despite popular belief, when you're a beginner you really don't need much equipment for Stargazing and to get a taste for the wonders of the night sky – not even a telescope.
Telescopes can be expensive and tricky to carry to your desired observing location.
Ditch the telescope for some binoculars, get some lightweight collapsible camping chairs, throw in a warm blanket for good measure and suddenly you'll be much more likely to commit a few hours towards making this adventure happen.
This stargazing for beginners guide explains the best times to stargaze, where to observe from, what to look out for, and a few essential items to make your first stargazing micro-adventure as fun and informative as possible.
Benefits Of Being An REI Member
We have been REI members since moving to the USA, and love that REI is a co-op and invests in causes that we care about.
If you're not familiar with REI, signing up for membership (only $20 for a lifetime) provides you with a member dividend of 10% back on what you spend, in spring each year, as well as access to exclusive member-only events and sales.
To learn more about REI's values, what they do and what makes them different, click HERE.
And… If you're planning an adventure such as stargazing, hiking, or camping, or want to learn a new outdoor skill, local REI stores host a diverse range of training events, local and international trips.
This is an awesome way to meet like-minded people in your area and skill up for future adventures!
Introduction to Stargazing for Beginners [Video Guide]
When is the best time to go stargazing? Is tonight a good night for stargazing?
There are a few things to think about when planning your stargazing micro-adventure:
The best seasons to go stargazing are Autumn, Winter, and Spring
The atmosphere is crisper and long-distance visibility is much improved.
The sky also gets dark sooner during these months, which makes observing times much more accessible for most.
Stargazing in the summer means you'll have to be up much later into the night before the sky gets really dark.
Also, when clocks go back in October night falls 1 hour earlier, until the time they go forward again in March.
Pay close attention to the lunar cycle
Your chances of seeing brighter stars will be far greater when there is no bright moon in the sky to wash everything out.
Think about how bad your visibility is when someone shines a torch right into your eyes, it's a similar effect but not as extreme. Yes, you may be fumbling around in the dark more but you'll get a much more exciting stargazing experience.
Taking a small headlamp with you will make the experience much less of a struggle.
Tip: use the red light on your headlamp so that you don't get temporarily blinded when the light reflects back at you or your friend looks at you with their headlamp.
Getting a flash of white light in your eyes will affect how bright the stars appear when you look back up at them.
Remember it takes roughly 1 hour to 1.5 hours for it to get truly dark after sunset
This is when the best observing begins. The further north you live, the longer it will take for true darkness to arrive after sunset.
If the sky is completely overcast then you're better off leaving it for another night
Always check the weather forecast as conditions can always change at a moment's notice.
Where's the best place to go stargazing?
If you live in a city where light pollution or buildings may obstruct your views of the night sky, get to the highest point available (please don't go scrambling up buildings or anything else that may cause you accidental harm).
I personally recommend journeying out of the city if you can, the whole experience will be so much more immersive and the light pollution will be less of an issue.
Having 360-degree views to the horizon (think hills/summits) will allow you to see many more celestial objects in the sky too, so try to avoid any areas where there are too many trees close by.
If you want to plan a much bigger adventure and get the best stargazing experience possible then these are the worlds best dark sky regions (according to National Geographic):
Natural Bridges National Monument, United States.
Rhön Biosphere Reserve, Germany.
Aoraki Mackenzie International Dark Sky Reserve, New Zealand.
Cherry Springs State Park, United States.
Pic du Midi, France.
Sedona, United States.
Mont-Mégantic, Canada.
How to Stargaze: What to look for in the night sky
The Starwalk app is a great way to find celestial objects because that's what it's designed to do. It even has an augmented reality feature to identify whatever you point your phone at.
I have listed some of the most arguably interesting things to look out for below:
Sirius, is the brightest star in the Northern hemisphere. The brightest star in the sky is Sirius, also known as the "Dog Star" (It's Kepler's favorite one).
The moon. Earth's very own satellite looks epic when viewed with binoculars, the craters appear so much more detailed, it really is a sight to behold. Scroll down to find out which Nikon binoculars we use.
Mars. It's called the red planet for a reason, and it's so cool to be able to see the color through binoculars. It's too far away to pick out any major details with binoculars but you can still see the red glow.
The International Space Station. NASA has a website dedicated to tracking the ISS.
It shows where the Space Station is right now and its path 90 minutes ago (-1.5 hr) and 90 minutes ahead (+1.5 hr).
For the geeky ones out there, here's the ISS's location displayed in real-time. At the time of writing, the ISS is moving at a speed of 17,139 mph.
Constellations. These are so fun to try and spot when stargazing. My favorite is Cassiopeia because it can help guide you to identifying Polaris (The North Star).
If you can positively identify the North Star in the night sky then you can navigate using the stars, how cool is that!?
Cassiopeia looks like a big 'W' on its side and the slightly less acute endpoints roughly to Polaris towards the arm of the Big Dipper (Ursa Major).
The Milky Way (the Galaxy we live in). The galaxy sits low in the sky during winter, and high in the summer but it's beautiful whenever you're viewing it.
Shooting stars. These are just cool to see. We once went to Glastonbury in the UK specifically to watch the Perseid Meteor shower, which was so epic to see! Don't forget to make a wish when you see your shooting star!
"Stargazing is also a romantic activity for a date!"
And that's really all there is to it!
You don't have to be an expert to have fun stargazing, you just need to know when to look up, where to be to get a good unobstructed view of the stars, what features and constellations to look out for, and a few essentials items to take stargazing with you, which I have listed below.
The Best Stargazing Gear to Get You Started
Here are 7 essential items that will make your stargazing adventure more rewarding and enjoyable:
1. A comfortable, lightweight camping chair
Our chair of choice is the Helinox Chair Zero, a light, comfortable, four-legged camp chair that packs down to the width of a standard 32 oz. water bottle and weighs a single pound.
Seriously, it's crazy how small these chairs pack down, and just how ridiculously lightweight they are, you can pick one up with your thumb and forefinger!
The packed-up chair will fit in most backpacks' water bottle holders in the side
It's much more comfortable to stargaze while seated, and as the ground gets colder and damper, it's nice to be elevated 11 inches off the ground rather than being sat low on a blanket.
2. A Pair of Waterproof Binoculars
If you're going to really look at the stars but aren't at the level of bringing a telescope with you, then a good pair of binoculars is a must!
A highly-rated pair of binoculars like Nikon's selection of 8×42 magnification ones are great as most of them feature a high-resolution, fog-proof, and waterproof design.
They also have excellent light transmission, so they're perfect for stargazing and also all your other outdoor adventures – they're a popular choice for bird-watchers, for example.
The Nikon Monarch and Prostaff Binoculars are easy to use even when you're wearing gloves, and if you do drop them in water or have them out when it's wet out, know that they can be submerged up to one meter (around 3ft) of water for up to 10 minutes.
3. A Warm, Insulated Camping Blanket
So it gets cold at night… yup. Especially when you're not moving, you may be in the mountains, and it may be winter.
Warm clothes and layers are a must, and it is much warmer if you can also bring along a lightweight puffy blanket to share (and therefore also share some body-warmth with your stargazing buddy).
The Nanoloft version of Rumpl's puffy blanket range is filled with a recycled synthetic filler, as an alternative to down.
We love these Rumpl Puffy blankets – they do a great job of keeping us warm when out in the cold (and also snuggled on the sofa), and it's great that you can give them a shake and dirt/pet hair etc comes off readily.
We also appreciate having a down-free option in the Nanoloft version. and the only problem with them is choosing which gorgeous design to choose! To learn more about these blankets, read our Rumpl blanket review.
4. A Reliable Headlamp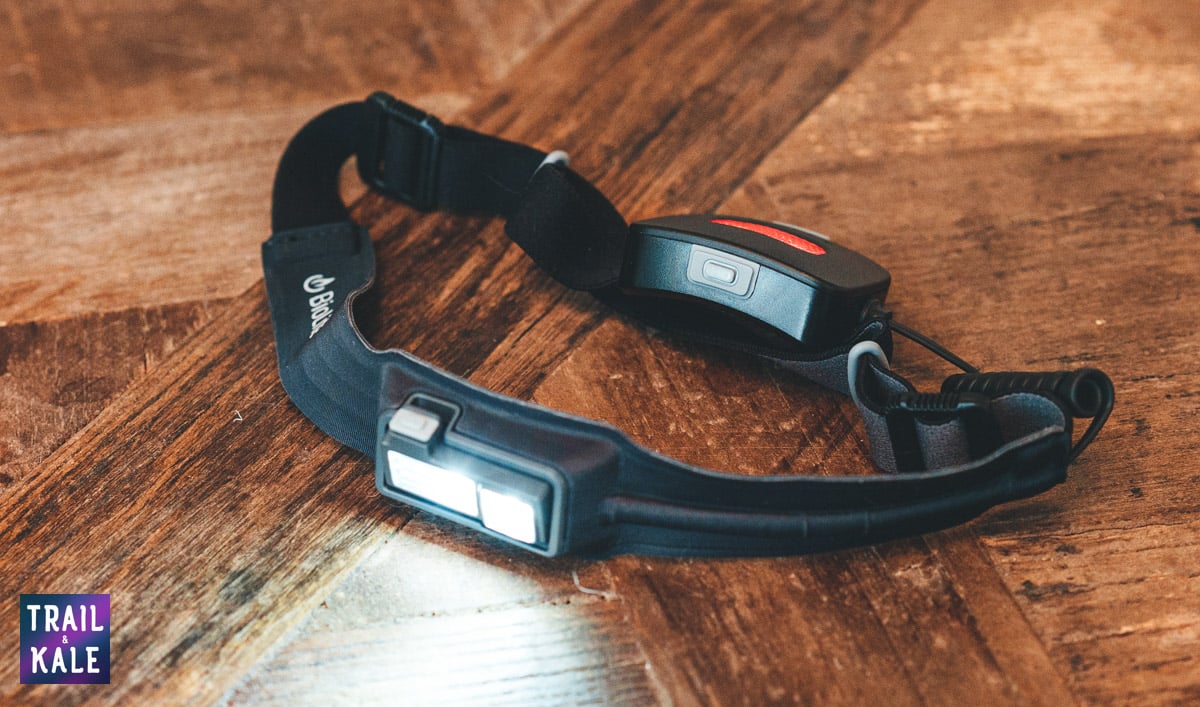 The lightweight Biolite Headlamp 425 is perfect for stargazing, and also trail running, and hiking, so another versatile product to have in your gear bag!
It's particularly useful for stargazing and camping, as it features a red light setting (on the front and rear), which is very useful for seeing what you're doing but not ruining your night vision or that of your stargazing companions.
To learn more, read my Biolite Headlamp 425 review next.
5. The Best Stargazing App
No stargazing guide for beginners in this modern age would be complete without including a special app to help you out.
StarWalk 2 is the best app for stargazing if you need some guidance on where to look in the night sky and details on what you're looking at!
With this stargazing app open, you hold your phone up to the sky and the app will tell you what you're seeing, as well as offering some information on each of the planets, stars, and constellations.
The Starwalk 2 stargazing app also notifies you of upcoming events such as meteor showers so you can keep an eye out for them or plan your stargazing trip around those dates.
6. A Warm Drink in an Insulated Flask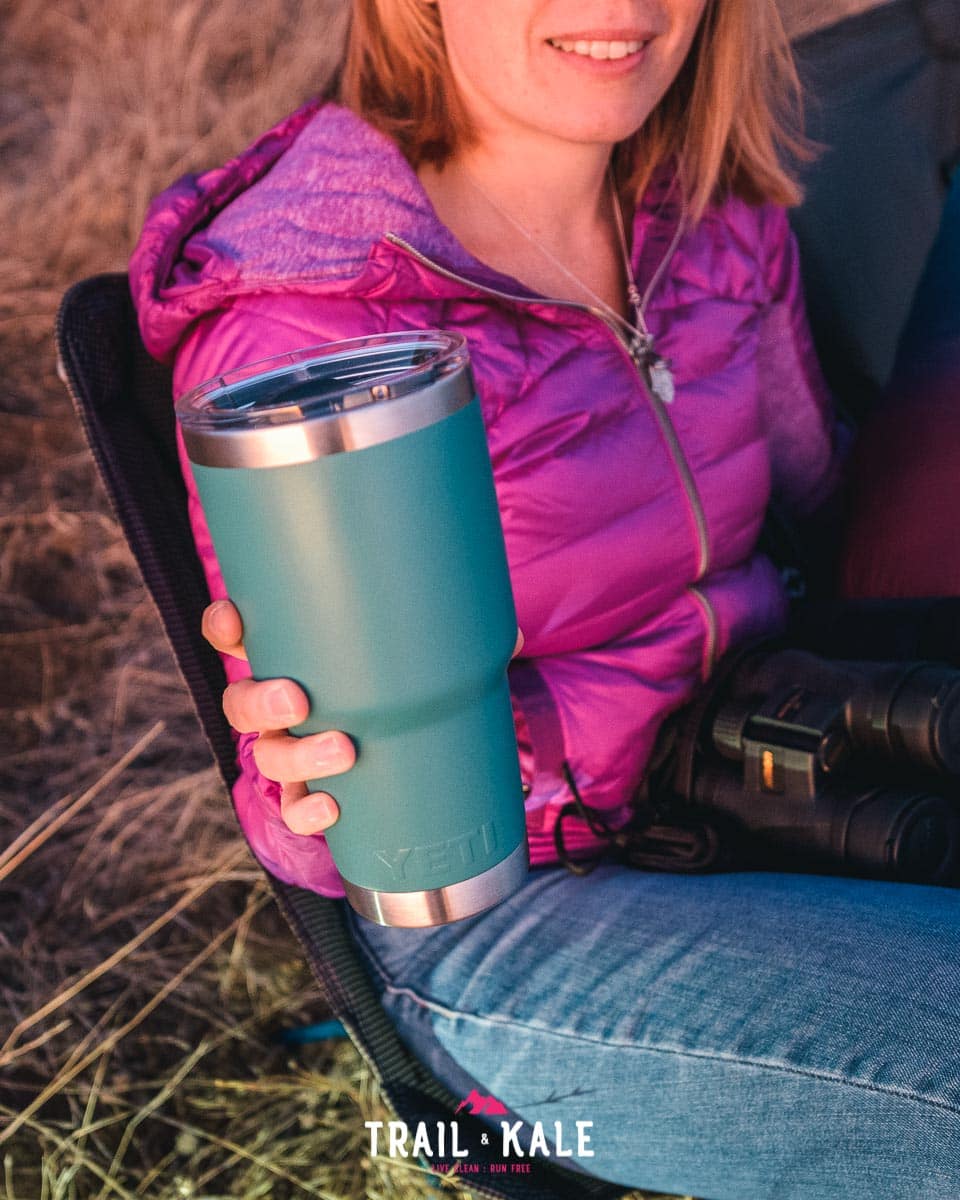 A welcome companion on a stargazing trip is this insulated YETI Rambler Tumber, for keeping hot drinks warm for however many hours you plan to be out.
It's so large that if filled to the top it definitely lasts me all night. I love the splash proof and spill-resistant lid, which is useful if you're prone to splashing or spilling your drink (you know, when you're holding coffee and binoculars in a field, in the dark, these things happen!).
The Tumbler is also really versatile and you can use it for your normal daily activities, morning coffee or daily water, and the tapered shape means that it will fit in most car cup holders for commuting or road trips.
7. Marshmallow Roasting Fork
Well, because, if you do have a campfire in your stargazing location (for example, if you're at a campground), then the opportunity to toast a few marshmallows over the open flame is too good to pass up, even if having a fire nearby does affect your night vision!
They are also useful for roasting hot dogs, of course.
If you're going to have a fire in your location though please make sure it's safe and legal to do so and ensure it's fully extinguished and cleared up when you're done.
---
I really hope you enjoyed reading our simple guide to stargazing for beginners (without a telescope), and hope it kickstarts a future full of micro-adventures with your family and friends.
There's so much adventure out there and we want to help you do it in a fun and accurately informed manner.