This post contains our shortlist of the best men's and women's hiking daypacks.
If you are planning to spend a day hiking on trails near you then there are some essentials you need to carry with you on your hike, and that all requires a backpack suitable for putting them all in.
This guide will help you find the best backpack to suit your hiking style and preferences when it comes to the most desirable features, such as hydration options, pockets, waterproof backpacks and whether the backpack has a frame or is 'frameless'.
If you're looking for a pack more suited to multi-day hikes or backpacking adventures read our Best Backpacking Backpacks Buyer's Guide next.
To read up on the features to look out for, jump down to our daypacks buyer's guide, or keep reading to see the packs.
---
Overall Best Hiking Daypack: Camelbak Men's Rim Runner 22 & Women's Helena 20 [$100]
These Camelbak hydration packs (Rim Runner 22 for men and Helena 20 for women) include all the features we desire of a great backpack for day hikes.
These packs have plenty of pockets, including rear stash and side pockets that will fit bottles, and the hip belts include zips for small storage (tissues, lip balms, wallet, etc).
There are also compression straps for when you haven't used the daypack's full volume, to stop things moving around as you hike.
Being Camelbaks they come with 2.5 liter hydration reservoirs included in the price, so you don't need to spend extra in this area.
The volume (22 liters for the men's Rim Runner and 20 liters for the women's Helena) is a good size for all but the more extreme climates when it comes to packing for day hikes.
They're frameless but come with plenty of padding on the back and shoulder straps, and the lack of a frame keeps the weight down.
All in all, these Camelbaks are highly versatile for day hikes, in both men's and women's fits.
Total capacity (liters) 22/20 / Weight: 1lb 9oz / Hip belt: Y / Waterproof: N / Frameless
Last Amazon price update was: 29th September 2023 11:32 am
---
Ultimate Direction Fastpack 20 and FastpackHer 20 [$150]
If you're looking to hike fast and light then consider a day hiking pack that's designed for such endeavors – such as these men's and women's packs from Ultimate Direction.
They're specifically designed to be suited to fast hikes, long trail runs and other lightweight adventures – including multi-day fastpacking adventures.
You don't have to be planning any especially adventurous hikes to use these, and it's great having a lightweight pack with all the storage up front, including the included soft flask water bottles which make a nice alternative if you're not a fan ofwater hydration reservoirs.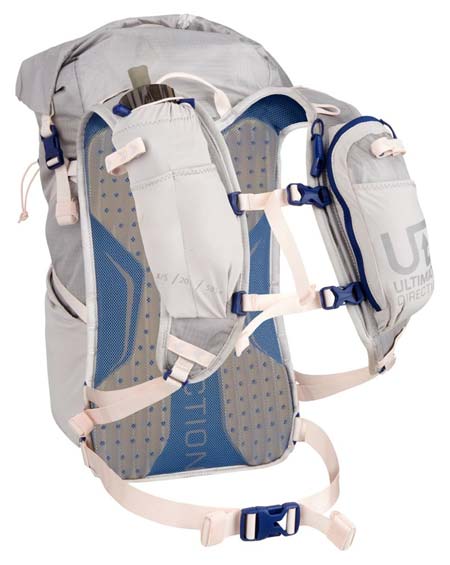 The up-front storage in these Ultimate Direction packs is also great if you have limited flexibility and find yourself having to take your pack off to reach around to your hiking pack's side pockets.
There's plenty of room for snacks, small essentials, your phone and other items you need to access quickly in the front pockets, as well as the water bottle.
These packs are from a company that's known for providing excellent running hydration packs (as featured frequently on this site and worn by us) and so if you want a lightweight, frameless hiking backpack that you can also use to run or speed hike with on full-day outings then these are a great option.
Total capacity (liters) 20 / Weight: 1lb 3oz / Hip belt: Y / Waterproof: N / Frameless
Last Amazon price update was: 29th September 2023 11:32 am
---
Best Daypack With Frame: Osprey Stratos / Sirrus 24 [$140]
There is a good reason why Osprey day packs are so popular, and the men's Stratos and women's Sirrus are a tried and true choice.
At 24 liters, they offer plenty of space for carrying all you need for day hikes and this sweet-spot size and all the features make them all-round great packs for hiking with if you're looking for loads of features, comfort and quality that should last you many years.
The structure of these Osprey packs is provided by their internal frame, which adds comfort to long hikes, especially if you have a tendency to pack quite a bit of gear.
Differentiating them above more basic bags, these Osprey packs include several thoughtful storage pockets in addition to the main compartment and they are, like most great backpacks, hydration bladder compatible (although a reservoir is not included).
The suspended mesh panel in the back area works with the internal frame to provide good air-flow around the back, which helps to reduce heat and sweat accumulation on intense hikes.
The torso length is adjustable to get the perfect length to fit your body shape.
Additional features include a loop for stowing trekking poles and an integrated raincover that you can put over the pack in the event of a downpour.
Total capacity (liters): 24 / Weight: 2lb 12oz / Hip belt: Y / Waterproof: Rain cover included / Internal Frame
Last Amazon price update was: 29th September 2023 11:32 am
---
Gregory Citro and Juno 30 H2O [$150]
If you want a larger pack with the versatility and structure to carry a good amount of gear on your day hikes then these packs are significantly larger in terms of volume compared to the Osprey packs above.
These men's and women's Gregory hiking backpacks are capable of carrying everything you need (and possibly more), with a 30 liter capacity and including a 3 liter hydration reservoir in the price.
The Gregory packs are lighter-weight packs and while they don't include a rain cover, you do get a 3 liter bladder included in the price.
The ventilated mesh suspension on the back helps with airflow and keeping you cool, and the padded hip belt with zippered pockets helps take some of the weight and balance the load.
The stretch mesh pockets on the sides and back are ideal for stowing quick-access essentials.
The top zippered pocket has a soft lining, which is a nice touch as items stored in there such as your sunglasses are better protected and less likely to get scratched.
These Gregory hiking packs make a great choice for full-day hikes or if you're carrying enough stuff for two people (or your kids) and you need that extra volume – especially on cold weather hikes where you may need to carry more bulky clothing layers and waterproof gear.
Total capacity (liters): 30 / Weight: 2lb 1oz / Hip belt: Y / Waterproof: No / Internal Frame: Y
Last Amazon price update was: 29th September 2023 11:32 am
---
Best Small Hiking Backpack: Deuter Speed Lite 20 Backpack [$80]
If you're looking for a more compact, lightweight hiking backpack that is great for most hikes (assuming you don't need to carry a lot of spare clothes or gear with you), then check out this Deuter backpack, which is loaded with features and can hold up to 20 liters of gear – and weighs in at only a touch over 1lb despite having an internal frame.
Despite this Deuter Speed Lite pack having some great features it still manages to look and feel like a minimalist backpack.
Given that you may not feel the need to use a chest strap or hip belt for a 20 liter volume and therefore smaller day pack, it's good to know that the hip belt is small enough to be tucked away or even removed altogether if you don't need to use it (which depends on personal preference and how much weight you're carrying).
There are good-sized side water bottle pockets and this Deuter pack can hold a hydration reservoir up to 2 liters (not included).
This is a unisex pack and due to the shoulder straps being relatively close together compared to other men's-specific packs, it has proved to be a great daypack for women as well as men.
That being said, if you have particularly broad shoulders then another pack with a men's specific fit such as the REI Co-Op option may be a better choice.
Total capacity (liters): 20 / Weight: 1lb 1oz / Hip belt: Y / Waterproof: No, DWR treated / Internal Frame
Last Amazon price update was: 29th September 2023 11:32 am
---
Gregory Nano H2O 18L Hydration Pack [$70]
This Gregory pack is 18 liters in capacity and includes with it a 3 liter water reservoir (a notable differentiator from the Gregory Nano backpacks that don't have 'H2O' in their name).
It's a sleek, compact backpack for hikes and other short trips, with the main access via the top compartment which has a clip and drawcord closure.
What also makes the Gregory Nano great for the size and price is that it also has a side mesh pocket on one side and a zippered pocket on the other side and top, for quick access to essentials.
It also features webbing loops on the rear for attaching cord and additional gear as needed, so you don't need to dive into the main compartment to stow and grab essentials while you're hiking.
This unisex pack also has a removable hipbelt (which you may not need if you're not stuffing it with heavy hiking gear).
If you like the design and concept of this pack but want some additional volume, the Gregory Nano H2O is also available in a 22l version.
Total capacity (liters): 18 / Weight: 1lb / Hip belt: Y / Waterproof: No / Frameless
---
Lululemon Hiking Backpack: LiftOS 25L [$198]
If you're looking for something a bit different then check out the LiftOS pack from Lululemon's range of hiking gear, launched in 2022.
The range includes this super versatile 25l pack that's made from water-repellent fabric: perfect for day hikes as well as everyday adventures.
This pack includes several storage compartments and organization features, including zippers that allow you to access your gear from the top or bottom of the pack.
The LiftOS name refers to a unique organizational system that helps you comfortably distribute weight.
While not included, there is also a compartment for a hydration bladder, that can also be used to carry a laptop when you're using the bag for everyday activities rather than hiking.
Total capacity (liters): 25 / Weight: n/a / Hip belt: Y / Waterproof: Water-repellent fabric
---
Best Value: REI Co-Op Trail 25 Pack [$80]
You can trust REI when it comes to outdoor adventure gear, and their REI Co-Op branded Trail 25 packs, which are available in both men's and women's sizing, are hugely popular for day hiking… and it's easy to see why.
For the price ($80 at full price) you get a 25 liter hiking day pack that has an internal frame and can fit a 3 liter hydration reservoir.
This is a great amount of capacity for a full on day out on the hiking trails, so with this pack you can head out pretty much anywhere without feeling like you don't have a backpack that can keep up or do enough for you to be comfortable all day.
In addition to the size and capacity to accommodate a large hydration reservoir, these REI backpacks also come with a raincover included in the price, which makes it a great option if you need to make your hiking backpack waterproof (or at least protect it from the rain).
Other features that make this a great option are the straps on the back that can be used to attach gear such as hiking poles, the stretch mesh pockets on the sides – ideal for water bottles, maps etc and zip up pockets on the top outside and inside the pack for keeping smaller items securely stowed but easy to access.
This pack doesn't have as many 'luxe' features as the similar-sized Osprey pack on this list (such as a padded hip belt with zippered pockets), but for the price you get a relatively lightweight, versatile pack that is ideal for day hiking as well as many other uses including travel and commuting.
Total capacity (liters): 25 / Weight: 2lb / Hip belt: Y / Waterproof: Rain cover included / Internal Frame
---
Pre-Owned Discounted Backpacks at REI
Did you know that there is a wide selection of packs available from REI's 'good and used' used gear website?
This is a great, cost-effective (not to mention more sustainable) way to find a hiking backpack as you can buy pre-owned backpacks – some of which have barely been used and are like new – with significant discounts compared to the retail prices.
The items are generally items that REI members have traded in, or items that have been bought in-store and returned.
As the inventory changes all the time when used gear becomes available and is then sold, the brand and volume of the available packs change, however to give you an example of a couple of great deals at the time of writing, check these packs out:
The pictured Women's Deuter Trail 28 Backpack $140 new, $80 in REI's Used Gear store (42% discount)
Osprey Stratos 24 Daypack (as featured on this list above), which is $140 new, $84 in REI's Used Gear store (40% discount)
---
Best Lightweight Backpack (Also Waterproof!): Hyperlite Mountain Gear Daybreak Ultralight Daypack [$210]
No list of the best hiking daypacks would be complete without the inclusion of this ultralight backpack from Hyperlite..
With a weight of just over 1lb, this is a super light backpack for hiking and mountain adventures. Hyperlite are known for creating great quality, high-end ultralight camping and adventure gear and their Daybreak pack is perfect for day hiking endeavors.
The fabric used in its construction is exceptionally tough (despite being ultralight) and it is water resistant, with water-resistant zippers to help keep water out.
At a stated internal volume of 17 liters, this is one of the smaller packs on this list, and a great choice if fast-and-light adventures are your thing and you don't intend on carrying too much with you – only the most compact and lightweight essentials.
You can add an additional several liters of 'stuff' onto the outside if you need to, such as hiking poles, jackets and warm layers – the manufacturer states the overall capacity as being 25 liters once this external storage capacity is considered.
What makes this Hyperlite pack a great choice for day hiking over other Hyperlite options is the addition of externally accessible mesh storage on the rear (with bungee cords) and sides, so it's easy to stow your hiking essentials you need to access without diving into the depths of your pack's main compartment.
Being a non-gender-specific style, the same pack is intended for use by both men and women, so selecting the right size can be important – this day pack comes in three sizes, S, M and L, and the sizing guide is shown on the product page on Hyperlite's website (hit the button below to go straight there).
Total capacity (liters): 25 / Weight: 1.27lb / Hip belt: Y / Waterproof: Yes / Frameless
---
Sea To Summit Ultra Sil Dry Day Pack [$60]
Another very different choice when it comes to a great ultralight and waterproof hiking backpack is the Ultra Sil Dry Day Pack from Sea to Summit.
This Sea to Summit pack is significantly less expensive than the waterproof Hyperlite Pack above, although it is simpler and boasts fewer pockets – and is by far the lightest pack on this best daypacks list – at only 3.8oz.
With this weight, this is a hiking backpack for when you don't even want to know you're wearing a pack (assuming you don't stuff it with a lot of weight).
If you're familiar with Sea to Summit's popular dry-bags, this is a similar concept, it's a dry-bag with backpack straps and external bungee cord storage, made from siliconized cordura fabric.
Another distinct advantage of this backpack over most other packs is how small it compresses, making it a great pack for travel as it can be folded down very small for storage when within a larger duffel bag, for example.
Total capacity (liters): 22 / Weight: 3.8oz/ Hip belt: Y / Waterproof: Yes / Frameless
Last Amazon price update was: 29th September 2023 11:32 am
---
Best Camera Backpack For Hiking: Hex Brand Back Loader Camera Backpack [$190]
If you're in search of a backpack that's designed for you to comfortably carry a DLSR camera, drone and camera accessories then this backpack from Hex Brand is our top pick.
It has tons of pockets, padded storage, durable construction and – importantly – doesn't look like a camera bag, more like a regular backpack, whether you're on a day hike or carrying it around on some urban vacation sightseeing.
Total capacity (liters): 20 / Weight: 3.25lb/ Hip belt: No / Waterproof: No, fabric is water resistant against splashes / Frameless
Read the full Hex Brand Backpack Review (plus a video review and more photos): Hex Brand Hiking Camera Backpack.
---
Coolest-looking Instagram-Worthy Backpack: The Revelry Drifter [$130]
If your backpack's weight isn't an issue and you're in the market for a good-looking, vintage style roll-top backpack that will work great for short day hikes as well as everyday activities such as commuting or school, check out the water-resistant Revelry Drifter Pack.
We have this pack and it's great for picnics, short hikes or slinging a laptop and other essentials in to take places.
Although it's at the heavier end of the spectrum, it feels chunky in a good way and is solidly built, including a waterproof taped zipper, secret stash pockets, laptop storage and 'smell proof' properties.
This is a great quality backpack if you're looking a hiking pack that's little different that isn't made from ripstop fabric and you're not planning on hiking too far or anywhere too challenging.
Total capacity (liters): 23 / Weight: 4lb / Hip belt: No / Waterproof: Water-resistant and taped zippers/ Frameless
Read the full Revelry Drifter Backpack Review (plus a video review and more photos): Revelry Drifter Review.
---
Guide to Choosing the Best Hiking Daypack For You
What is a hiking daypack and why do you need a backpack specifically for hiking?
In its simplest sense, a backpack is something to carry stuff in, whatever you are doing – whether that's going to work, school, commuting or traveling as well as other sports such as skiing or mountain biking.
A hiking daypack is essentially a small backpack for hiking, which differs from other types of backpacks and rucksacks in that firstly, it is specifically intended to have the size, volume and features that offer you a versatile range of options to carry what you need on a day hike.
If you are new to hiking and you simply need a bag to put your hiking essentials in, then definitely the first place to look is your existing gear stash and see if you already have a small backpack that will be suitable for taking on day hikes.
Using gear you already own is the most sustainable and cheapest (FREE) option, after all!
If you're initially doing short hikes of up to a couple of hours, then most backpacks will probably be just great for this type of hiking and you shouldn't need to worry about having any hiking-specific features.
As you start to move up the spectrum of the length and duration of your day hikes, and head into more extreme technical terrain and weather conditions, then you may start to feel the need for a more specific bag that will be better suited to those activities.
Desirable features include being more breathable, lightweight, having more varied pocket and storage options, as well as more comfort-focused padded straps and a hip belt to help hold the pack in place and stabilize your load as you hike.
---
What are the key features of a good hiking daypack?
All good hiking day packs have a few key features that are worth being aware of so you can look out for them and check that your chosen backpack has those that are important to you and your style of hiking.
Backpack pockets and access
Most of these packs have one main pocket where you'll store most of your stuff.
The most versatile will also have a top zip-up pocket, and side pockets which are great to store hiking gear that you may want quick access to, including a water bottle, your phone and snacks, for example.
In addition to the main pockets, many hiking backpacks also have straps or bungee sections on the back which are great for stuffing layers of clothing you may want in a hurry if the weather changes, such as a waterproof jacket or a sun hat.
Internal and external pack compression
If you buy a larger backpack for hiking with, you don't necessarily want to fill it to capacity each time you use it.
If the backpack has compression straps or bungees built into it, this is great for holding your gear in place and stop it from moving and shifting around while you are hiking.
Water bottle or hydration bladder storage
Being able to carry enough water for your hike is one of the most important reasons to take a backpack hiking in the first place, and you have two main options when it comes to how to carry water in the pack: either a water bottle or a hydration bladder (also referred to as a hydration reservoir).
Hydration bladders are typically included with smaller packs designed for other sports such as mountain biking and skiing (as well as, of course, running hydration packs).
However, they are now also included with some hiking backpacks – and if not included, most good packs are designed to accommodate one so that you can carry the water on your back and drink out of a flexible hose that clips to your front.
This is a neat way to carry water while hiking, although as you can't see the water bladder it's more difficult to monitor your intake and how much water you have left while you're hiking.
If you plan to take a water bottle hiking it's easier to monitor your intake and ensure you don't run out during your hike.
Water bottles are also easier to refill while you're on the move, but you do need to ensure your hiking backpack has an easy-access side pocket that will fit your water bottle.
Hip belt and sternum strap
Larger volume backpacks will have hip belts which are designed to help you carry some of your pack's weight on your hips (rather than it all sitting on your back and shoulders).
Hip belts also help keep the back snug against your back and stop it swaying around and affecting your balance.
These tend to be padded and some include zip-up pockets for small essentials. They also have a 'sternum strap' that clips across your chest for support higher up.
Once you have a backpack with a capacity of less than 25 liters like most of the packs in this list, a large, padded hip belt is not always necessary because the pack is smaller and you're assumed to be carrying less weight than you would in a larger backpack.
For this reason, if there is a strap on your daypack, it's typically quite minimal and not padded.
---
Should you get a backpack with a frame or a frameless one?
A backpack frame helps balance weight within the pack and on your hips, and provides structure to the bag before you've put anything in it.
As soon as you start looking at backpacks larger than around 20-22 litres, then you'll find they generally include a frame to help with the heavier loads you'll be putting in the bag if you're using all the volume.
If you are looking at backpacks with frames, it's particularly important to ensure they fit you comfortably to ensure the frame works with the contours of your body the way it is intended, and reduces the possibility of the pack rubbing.
Hiking daypacks which do not have frames are naturally more compact and generally lighter in weight as they don't have as much framing and structure to them.
The absence of a frame in these smaller packs also means they pack down smaller when you aren't using them.
Frameless hiking packs also tend to be less expensive than those backpacks with a frame built into them.
Whether you choose a model with or without a frame depends on how much gear you're going to be carrying, how heavy it is and your personal preference for carrying that weight without the support of the frame and associated hip support that will help take the weight off your shoulders.
---
Waterproof hiking daypacks
Not many hiking backpacks are marketed as being waterproof, and although many do have waterproofing properties such as DWR, they may be water-resistant but not 'water-tight' so in a heavy downpour water can still get inside your pack.
If you want to have the most waterproof hiking backpack, look for DWR coating and taped zippers, or hiking packs made out of water resistant fabric such as Dyneema (as is the case with the Hyperlite daypack featured in this list), which also tend to be lightweight options.
Even if you do buy a water-resistant option we would recommend putting any gear you don't want to get wet inside a dry bag before putting that inside your backpack, to be on the safe side.
If you don't have a dry bag you could use a plastic bag instead.
If yours is not made from waterproof materials a simple solution to protecting it from rain is to buy a separate waterproof rain cover for it, to use on days where it may be needed.
Some of the more premium hiking packs in this list, like the Osprey backpacks, include rain covers in the price.
---
What is the best size to choose?
Typically hiking daypacks can range in volume capacity from 10 litres up to as much as 50 litres – and you can of course get backpacks for backpacking over several days or longer that are much larger than this.
However, for day hiking in most places other than the most extreme climates where you may need extra clothing and emergency equipment, for example on remote winter hikes in the mountains, the majority of hiking backpacks are at their most practical and versatile with volumes of between 20 and 30 liters.
It's also worth noting that hiking backpacks which are 30 liters and over tend to get heavier and require additional hip support to help balance the load on your back, so are not the best choice for most people doing day hiking and not staying out overnight.
If you think you need to carry that much weight for a day hike then you may need to review your hiking gear packing list – compare your gear to our recommended day hiking packing checklist and see if there is anything you can cut down on to lighten your hiking load.
If you are looking for a very small hiking backpack that is compact and lightweight then you may want to consider looking at getting a running hydration pack instead of a rucksack that's marketed as being a hiking backpack.
Running hydration packs have smaller volumes but are designed to carry volumes of up to around 12 litres of gear, including water and hydration bladders or bottles, so they can be a great choice for fast and light day hiking as well as running.
Based on the size ranges explained above, our list of the best day hiking backpacks focuses on those with a volume capacity of between 20 and 30 liters.
If you also plan to do winter hiking and snowshoeing then these would all be great choices for snowshoeing, too.
---
Why are there specific hiking backpacks for women?
The main reason why there are specific hiking backpacks for women is that women tend to have a shorter length torso than men. Another reason is that women tend to have narrower shoulders.
So, when it comes to designing hiking backpacks for women, brands typically design them to fit women's shoulders and shorter torsos more closely.
This means the shoulder straps and hip straps are different lengths compared to the men's version, and the shoulder straps tend to be attached closer together at the top of the pack.
In this list we've selected backpacks that are available in both men's and women's fits so you can choose the style that will suit your needs the best.
The women's versions of these backpacks are sometimes a couple of liters smaller in capacity (and a couple of oz lighter) but have similar features to the men's versions.
Some daypacks are sold as unisex and these tend to be suitable for most women although may not offer the best fit for men who are particularly large or have broader than average shoulders (in which case, a specific men's hiking backpack may be a better choice).
---
How to pack for a day hike
There is a right way, and many wrong ways, to pack!
These tips will help ensure you've packed your day hiking backpack in a way that balances the load when it's on your back, as well as so that you can easily access the hiking essentials you are most likely going to need to access more frequently while you're out on a hike.
The main thing to think about when packing for a hike is the balance of weight.
The aim is to keep the heaviest items as close to the center of your back as possible. If heavy items are too high or too low in your pack, or right on the outside (i.e. further away from your back) or weighted to the left or right side then this can put you at more risk of getting off balance.
This is a good reason why hydration bladders are great for hiking, because they place your water reservoir, which is one of the heavier items you'll be carrying on a day hike, right in the center of your back.
Second to the balance of weight in your backpack, store items you are going to want to access quickly during your hike somewhere you can access them easily without rummaging around in the center of your pack.
Examples of these items include your water bottle (unless you're using a hydration bladder for your water), a rain jacket, bear spray, toilet supplies, bug spray and a multi-tool, as well as other gear such as GPS handhelds and related devices such as a LynQ people compass.
Related Reading: How to Find Trails Near You for Hiking, Snowshoeing and Trail Running
---