Welcome to our Best Trail Running Poles guide which features the best lightweight trekking poles for trail runners, ultrarunners and fastpackers. If you're training for a mountain race and think you'll be needing poles on race day too, then you've come to the right place.
ADVERTISEMENT
Generally, I would recommend going for the lightest running poles you can afford, which are typically made from carbon (rather than aluminum). Consider folding/collapsible poles too, if you plan to stow them in a running hydration vest while not in use.
All poles in this list are made from carbon and have a foldable/collapsible mechanism because I believe the best running poles should have these features as standard.
This guide is regularly updated so remember to bookmark this page and check back before buying your next pair of trail running or hiking poles. If you're looking for our best trekking poles for hiking guide, click here.
---
What are the benefits of using trail running poles?
Below are some of the main reasons why you may want to consider using poles while running.
They make light work of uphill climbs on steep (eg mountainous) trails.
They save your legs on long, hilly races.
They allow you to get into a rhythm!
They help with balance on steep descents by allowing you to probe for stable ground.
They allow for space (and self) preservation during busy races.
RUNNING WITH POLES GUIDE: If you haven't used trail running poles before, have a read of our Trail Running with Poles advice guide which explains in-depth, how best to use them while running in the mountains, plus their pros and cons.
It's not just trail runners that can benefit from cutting down on the overall weight of their poles and other gear that gets carried over the trails and mountain passes!
If you've arrived at this page because you are looking for some new lightweight trekking poles for hikes including thru-hiking and fastpacking, then you've come to the right place.
Lightweight poles that are marketed to, or suitable for, trail runners, are often referred to by stores and the brands as being lightweight hiking poles (or sometimes also 'lightweight trekking poles') for a reason, after all – although you'll usually find us calling them 'trail running poles' most of the time given that we are typically using them for mountain running.
These trail running poles are therefore also great for hiking if keeping the overall weight of your hiking gear is a concern.
For more on hiking, including our full-day hiking gear checklist, read our hiking for beginners guide next (link opens in a new tab).
What to consider when choosing hiking or trail running poles
Weight – Go for hiking poles that are as lightweight as you can afford.
Durability – When running with hiking poles, they can get bashed
Length – As a general guide, while holding the pole with your arm at your side and elbow at a 90-degree angle, your forearm should be parallel the ground. Have your shoes on while measuring.
Folding or fixed length – this list includes only folding hiking poles, as we consider these to be the best options for trail and ultrarunning.
Now you know what to look out for, have a browse through our 5 best trail running poles below.
---
The best trail running poles for mountain running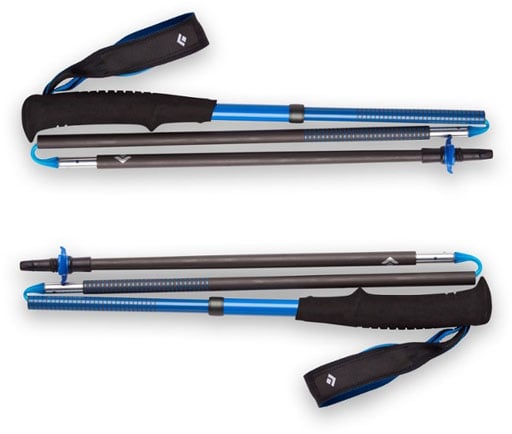 1. Black Diamond Distance Carbon Z
At less than 10 oz. for a pair, the Black Diamond Distance Carbon Z Trekking Poles are the gold standard for lightweight, collapsible trail running poles which is why they earn the 'best trail running poles' title.
Similar to the other best running poles on this list, the Distance Carbon Z poles are made with carbon, which is why they're so lightweight.
They are also designed to fold up into 3 small pieces, which is important if you need to store them back in your hydration pack while not in use.
Black Diamond's latest Distance Carbon Z's joint support has been further improved, making them 30% stiffer, and they're now more durable with reinforcements around the locking mechanism and upper shaft.
There are also non-scarring rubber tips and a lightweight EVA foam grip. With a reasonable price point too, these are our current top pick for the best lightweight running poles.
These Black Diamond poles are also very popular with backpackers and hikers due to their strength, light weight, and how easily they store in a backpack when not in use.
Weight: 10 oz. (pair)
Last Amazon price update was: 4th July 2022 10:00 am
---
2. LEKI Cross Trail FXOne Superlite Trekking Poles
These Leki trekking poles are specifically designed for trail running, and are great for quick transitions when running long, ultra-distance races or for lightweight hiking trips.
The push-button breaks down the poles quickly and once you stow them away in your bag they'll weigh even less than your water.
The breathable, lightweight mesh in the wrist strap offers support and closes around the hand securely so you can focus more on the terrain and less on your grip as you maneuver on scree and technical steeps.
Whether you're training for the Ultra-Trail du Mont-Blanc (UTMB), or another mountain race of that caliber, or maybe the local steeplechase you don't want your trekking poles weighing you down, weighing in at under 12 ounces, these certainly won't!
Weight: 11.4 oz. (pair)
---
3. KOMPERDELL Carbon Ultralite Vario 4
The Komperdell Carbon Ultralite Vario 4 Compact trekking poles have a four-section folding system that minimizes extra material and allows the pole to pack down to just over a foot in length, excellent for storage!
And at just over six ounces per pole, the Carbon Ultralite Vario 4 is Komperdell's lightest running pole, so it won't weigh you down on ultramarathons or multi-day treks.
Carbon keeps these hiking poles light, yet extremely stiff for reliable support. Carbon is also corrosion resistant which means these poles, as with the others on this list, won't stick when you're trying to adjust them.
The padded straps and extended handles will help you keep a secure, comfortable grip on steep and rocky sections, which is really important when navigating technical terrain.
The tungsten and carbide tip is also hard enough to use on tough glacier snow and packed dirt trails, while the Ice Flex baskets will prevent your poles from sinking too deep.
Weight: 12 oz. (pair)
UPDATE: – These Komperdell poles are not currently widely available, we'll be updating this post soon when new ultralight folding trail running poles come on the market – if you want to be notified when this post is updated, as well as when new posts are published, subscribe to our newsletter!
Last Amazon price update was: 4th July 2022 10:00 am
---
---

4. REI Co-op Flash Carbon
These REI Co-op Flash Carbon trekking poles are ideal for quick-moving trips along troublesome trails.
They are lightweight, easily adjustable in length and have versatile grips that fit a variety of hand positions.
Constructed with a 3-section design that offers just enough sturdiness, these poles collapse down rather than fold which means they don't go as short in length when collapsed, so check your running hydration pack can carry these before purchasing.
The handle grips are nice and light and are made from breathable EVA foam, while the adjustable wrist straps help you control your poles.
The REI Co-Op Flash Carbon is a great entry-level running pole.
Weight: 13.6 oz. (pair)
I hope you enjoyed reading this best trail running poles buyer's guide, if you have any questions, please drop me a comment below.