When you are sleeping next to your partner at home it's pretty unlikely that you're both wrapped in individual sleeping bag cocoons next to each other, so why do this when you go out on camping adventures together! There is now a lot of choice out there when it comes to double sleeping bags, which are designed to be double-wide sleeping bags for two people to share, which can be great for couples on backpacking and camping trips, as well as car camping and sleeping in a camper van.
Another advantage of sharing a two-person couples sleeping bag with your partner is that many of the available 2-person sleeping bag options are lightweight compared to the combined weight when you each need to sleep in separate individual bags. This could be particularly useful on backpacking trips when you're trying to keep your backpack weight as light as possible – and you can even take things a step further and go backpacking with an ultralight camping double quilt, which can weigh even less than a lightweight double sleeping bag.
In this buyer's guide to the best double sleeping bags for couples, we're sharing some of the top-rated 2-person sleeping bags currently available and highlighted their key features and functions, including weight, zip openings, filling (whether down or synthetic), and what seasons they are most suitable for – including warm double sleeping bags for winter camping and lightweight 2-person bags for summer hiking trips.
Even if you are going camping alone, perhaps you just want that extra wide sleeping bag to give you more comfort and room to stretch out at night (or perhaps you have a canine companion who likes to snuggle…). If you are not carrying your sleeping bag and camping gear very far, for example, car camping, using a roof top car tent or sleeping on the back of a truck, then perhaps a double sleeping bag is a great option for you to have a more luxurious experience and better night's sleep on your camping trips.
In addition to finding the best double sleeping bag, you'll probably also want a 2 person sleeping pad to go with it. Having a comfortable sleeping pad is key to a good night's sleep when you're camping, especially if you are camping in winter when the ground is cold. In this post we've also included our picks when it comes to tracking down the best double sleeping pad for camping, including some more comfortable and luxurious options, such as self-inflating camping mattresses.
Click here to jump straight down to our shortlist of the best double sleeping bags and 2 person sleeping pads for camping, or read on to learn more about the key features to consider when buying a double sleeping bag and pad.
---
Key features to consider when buying a two person sleeping bag for camping
Sleeping bag insulation material and temperature rating
What seasons are the sleeping bag designed to be used in (for example, 3-season sleeping bags are not intended for use in cold winters, but 4-season bags are), and what temperature is the sleeping bag rated for in order to most people sleep comfortably?
This information is, however, only guidance as we are all different in terms of how warm or cold we tend to sleep comfortably at, and it depends on other factors such as how warm the clothes you're sleeping in are, and if you are sleeping on a sleeping pad or mattress, which keep you off the cold ground.
Sleeping bags are generally insulated with either down or synthetic fill. Down sleeping bags tend to be more lightweight but need to be enclosed in material that minimizes its exposure to moisture as the feathers can get saturated and do not insulate as well when wet.
Synthetic sleeping bags can be made with recycled materials and have the advantage over down in that they are more efficient at insulating when wet. However, synthetic sleeping bags don't 'loft up' as well as down, and therefore generally don't compress down as small as down alternatives.
Sleeping bag weight and portability
If you are planning to take your double sleeping bag backpacking or hiking, then weight and size (when packed) can be important – the lighter the better when you have to carry it everywhere! However, lightweight sleeping bags, and especially double sleeping bags, are usually more expensive than heavier options, so if you intend to be doing more car camping and not hiking places with your sleeping gear then this is less of a concern.
While we're on the subject of car camping, if you're thinking about what to bring on a road trip, check out our adventure road trip essentials checklist, which includes a full packing list for what to take with you (the link opens in a new tab).
Sleeping bag shape, overall width and length, zips and extra features
Most double sleeping bags are rectangular in shape, although some taper towards the feet end. This is not normally as drastic as the solo 'mummy' style sleeping bags which can have a very narrow width when you get to the foot area.
It's also helpful to keep an eye out for extra features such as zips on both sides, and a hood to hold pillows in place, if you and your sleeping partner will find these helpful and convenient to have on your 2 person sleeping bag.
Does your adventure dog need a dog sleeping bag for camping with you?
Don't forget the adventure dog when you're shopping for sleeping bags!! If you are going hiking or camping with your dog and need a warm place for them to sleep, consider getting them their own dog sleeping bag – no, really.
Our dog Kepler loves his dog sleeping bag so much that he sleeps in it every night, whether he's in his crate when he's at home, on the road in our camper van or out camping with us – so it was definitely worth the investment. Plus, it's very cute to see your adventure dog snuggled up in a sleeping bag for a post-hike nap 🙂
---
Key features to consider when buying a double sleeping pad for camping
Sleeping pad insulation and R-rating
An R-value rating represents a sleeping pad's ability to resist heat loss – the higher the rating the better and therefore higher-rated pads are better suited for cold weather camping. The rating also tends to relate to the height off the ground of the sleeping pad, which can be up to 5 or 6 inches.
Foam or air sleeping pads, manual or self-inflating?
Air sleeping pads tend to be the most lightweight and best suited to hiking and backpacking, however the smaller and lighter they are the more expensive they get!
Self-inflating foam pads contain expandable open-cell foam, and inflate with air as well as due to the decompression of the foam once the pad is unfolded and removed from its bag.
They're more durable than air pads and offer great insulation from cold ground, and can be pretty luxurious when camping – although they are heavier than air sleeping pads.
You can also get closed cell sleeping pads, however because they tend to be bulky and not as comfortable as air or foam self-inflating sleeping pads, we haven't included any in this gear list.
Sleeping pad compatibility with double sleeping bags
There's sometimes an advantage in buying the same brand sleeping pad as your sleeping bag, as many sleeping bags come with attachment points to secure the sleeping pad and prevent the bag from sliding off in the night.
For more advice on what to bring camping, including a full camping checklist read this post next (opens in a new tab).
---
The Best Double Sleeping Bags For Couples
1. SPACIOUS SLEEPING BAG FOR TWO
Big Agnes Sleepy Bear 35 FireLine Core Sleeping Bag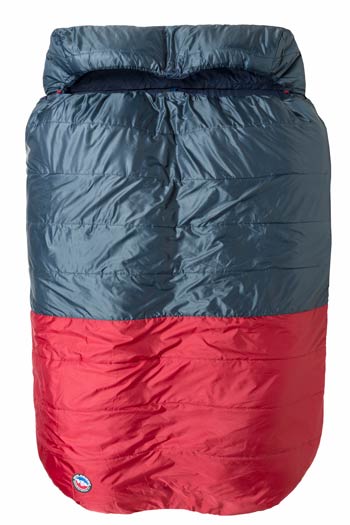 This is a spacious double-wide sleeping bag and our pick for tall people and those who want plenty of room with no compromise when it comes to comfort or quality.
This Big Agnes Sleeping Bag boasts a built-in bag retainer that boosts comfort when used with a camping pad, and double zippers allowing entry from either side of the bag. It's lighter weight than most other full double sleeping bags on this list and features synthetic insulation and a moisture-wicking, soft lining.
Why this Big Agnes double sleeping bag is great
Polyester ripstop face fabric for durability
Top corner hand pockets let you snuggle up like you are at home
Double zippers
Key stats for comparison
Sleeping bag temperature rating: 35F
Weight: 5lb 10
Sleeping bag width: 128 inches at shoulder, 125 at hips and 106 at feet (halved is 64, 62.5 and 53 inches)
Length: maximum stated user height is 6ft6
Compressed dimensions in stuff sack: 25 x 53 inches
---
2. BEST VALUE ECO-CONSCIOUS OPTION
The North Face Double Sleeping Bag: Eco Trail Bed 20F Synthetic
This great value, lightweight 2-person sleeping bag from The North Face is made from 100% recycled polyester, including a soft polyester fleece inner insulation.
This eco-friendly option offers warm insulation for two people in temperatures down to 20F and has added features such as an internal pocket for essentials such as your phone or headlamp, and a drawcord that cinches in the hood if needed to shield from cold winds.
Why this North Face sleeping bag is great
Available in two lengths: regular (78 inches) and long (84 inches)
You can unzip and make it into two one person sleeping bags if you need to
Great value option
Key stats for comparison
Sleeping bag temperature rating: 20F
Weight: 7lb 8oz regular (or 8lb 1oz long)
Sleeping bag width: 160 inches
Length: 78 inches (or 84 inches long)
Compressed dimensions in stuff sack: 13 x 24 inches
---
3. BEST FOR ULTRALIGHT BACKPACKING
Therm-a-Rest Vela Double 20 Quilt
Rather than a double sleeping bag, double camping quilts are becoming popular lightweight double sleeping bag alternatives for hiking especially – and with good reason.
This Therm-a-Rest double camping quilt takes up less space than a sleeping bag due to the lower volume, and can be less claustrophobic than being zipped into a sleeping bag but still offer enough space for both people to tuck it in around them at either side for warmth. It also features a thoughtfully designed footbox for your feet and which can be tucked over a sleeping pad to prevent drafts.
A double quilt is a particularly great double sleeping bag alternative if you like to stick your legs out of the sleeping bag at night, get hot when you're sleeping or if you're tall and need more room to stretch your legs than a regular sleeping bag envelope offers you.
Why this Therma-a-Rest double sleeping quilt is great
A great option for lightweight backpacking, and for camping when you want the freedom to move without being confined to a couples sleeping bag
Down insulated double sleeping bag made with responsibly-certified hydrophobic down, which absorbs 90% less water than regular down and dries 3 times faster without using PFCs
Key stats for comparison
Sleeping bag temperature rating: 20F (to be most comfortable it is recommended for down to 32F)
Weight: 2lbs 13 oz
Quilt width: 82 inches
Length: 80 inches
Compressed dimensions in stuff sack: 16 x 9 inches
READ NEXT: Lightweight 2-person tents for ultralight backpacking and hiking trips
---
4. MOST VERSATILE DOUBLE SLEEPING BAG
The North Face Double Sleeping Bag: Dolomite One 15F Synthetic
This North Face double sleeping bag has two layers, which can be used separately with either 50F (summer / hot weather) or 30F rating, or combined together to achieve a cold weather rating of 15F.
This makes it a super versatile sleeping bag for couples as well as families, and can be used most of the year.
As the Dolomite One sleeping bag is essentially two double sleeping bags in one, it is one of the heavier options when it comes to couples sleeping bags for camping, but it is a great, cost-effective option if you're car camping or not traveling far to pitch your tent.
Why this The North Face double sleeping bag is great
Versatility of three different temperature ratings, to sleep comfortably from late spring to late fall
Cosy fleece-lined mid layer
Key stats for comparison (based on 'Long' double sleeping bag option)
Sleeping bag temperature rating: 50F, 30F and 15F
Weight: 8lb 14
Sleeping bag width: 120 inches (60 inches in half)
Length: 77 inches
Compressed dimensions in stuff sack: 24 x 13 inches
---
5. BEST SMALL BUDGET DOUBLE SLEEPING BAG
Coleman Tandem 3-in-1 45 Big and Tall Double Sleeping Bag
This more affordable double sleeping bag from Coleman is ideal when you're on a budget and looking for a sleeping bag for two (or two plus a child) to sleep in on summer camping trips so don't need the added insulation or cost of a cold weather / 4 season double sleeping bag.
This 2-person Coleman sleeping bag features synthetic polyester insulation and comes with a thin removable sheet, too.
Why this Coleman double sleeping bag is great
Another great option for tall people or if you need extra space. It's designed to accommodate two people up to 6ft 4 tall
Zips on both sides and features a patented system which plows fabric away from the zipper to prevent snags and frustration. Plus, it can zip apart into two sleeping bags
Key stats for comparison
Sleeping bag temperature rating: 45F
Weight: approx 9lb 10
Sleeping bag width: 66 inches
Length: 81 inches
Compressed dimensions in stuff sack: approx 13 x 14 x 18 inches
---
6. WARM LIGHTWEIGHT DOWN SLEEPING BAG FOR TWO
Big Agnes King Solomon 15
This highly compressable down-filled double sleeping bag is ideal if you don't want to compromise on luxury when car camping or backpacking.
At a weight of 4lb 8 but with exceptional warmth offering comfort down to temperatures of 15F overnight, this is the luxury warm option for two people when you want to share a sleeping bag.
Why this Big Agnes double sleeping bag is great
Very lightweight double sleeping bag for the weight, especially when that weight is shared between two people – excellent warmth to weight ratio
Luxurious warm down 2-person sleeping bag with soft lining and water-repellant coating, for all but the coldest winters
Key stats for comparison
Sleeping bag temperature rating: 15F
Weight: 4lb 8
Sleeping bag width: 105 inches at shoulder and hip, 84 at foot
Length: Users up to 6ft
Compressed dimensions in stuff sack: 10 x 21 inches
---
The Best Double Sleeping Pads and Mattresses for Camping
Ok so we've covered some of the best 2-person sleeping bags, but how about double sleeping pads and self-inflating mattresses for couples? Especially if you are camping or car camping, you may be wondering what to sleep on in terms of a mattress and some insulation from sleeping on the ground, which can get cold at night, even in summer.
Many double sleeping pads are now more mattress-like rather than simply being air mattresses, with self-inflating features and made using foams as well as relying on air to pump up the internal volume to get a firm, yet comfortable, pad to sleep on.
Here are our top choices for double sleeping pads and mattresses, which are great choices for car-camping or for having guests staying over at home (much better than your old purely air inflated mattress).
---
CAMPING MATTRESS LIKE YOUR BED AT HOME
Sea To Summit Double Mattress: Comfort Deluxe Self-Inflating Pad
This Sea To Summit double camping mattress is a luxurious double sleeping pad option – definitely more of a mattress than a pad. It is very comfortable to sleep on (I can tell you from first-hand experience) and features plush foam and a 30D stretch knit fabric on the upper surface for a warm feeling when it's cool and cool feeling when it's hot.
This self-inflating camping mattress is well insulated and designed to keep you warm and well elevated off the ground when camping in all four seasons, and is quiet to lie on and when you move around during the night.
The flip-over multi-function valve makes packing up the mat relatively easy – it prevents air from being drawn back into the mat as you roll it up.
R-value: 6.5 (well-insulated for all four seasons)
Dimensions: 51 inches wide x 79 long
Weight: 9lb 13oz
Pad thickness: 4 inches
---
LIGHTWEIGHT SLEEPING PAD FOR BACKPACKING
Exped Synmat Duo Sleeping Pad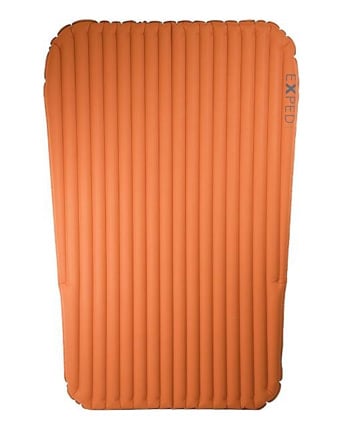 This Exped double sleeping air pad is specifically built for two people using a lightweight design that offers good insulation against the cold, hard ground. This pad uses microfiber insulation, which is laminated to the top and bottom, providing lightweight, efficient 4-season warmth.
A great feature of this sleeping pad is that each half fills separately with a separate valve, so you're less likely to disturb your partner's sleep when you move around.
The sleeping pad includes a Schnozzel pumpbag for inflation (weight: 2.1 oz.), a stuff sack for protection during transportation, and a repair kit with adhesive and fabric patches. Unlike the more luxurious mattress-style camping pads in this list, this lightweight double sleeping pad tapers so it's narrower at the foot end.
R-value: 4.8 (good for cold weather)
Dimensions: Long Wide: 77.6 x 51.2/40.6 inches, Regular: 72 x 41.3/32.3 inches
Weight: Long Wide: 4 lbs. 5.7 oz, Regular: 3 lbs. 1.4 oz
Pad Thickness: 2.8 inches
---
DOUBLE SLEEPING BAG & MATTRESS SYSTEM IN ONE
Complete Double Camping Sleep System: REI Co-op Kingdom Insulated Sleep System 40
This complete double camping sleep system from REI is a great all-in one solution for couples car camping, or even as a guest sleeping arrangement at home for friends or your kids' sleepovers. It would also be great to throw in your car for an easy-to-set-up sleep system on a weekend camping micro-adventure.
This REI camping sleep system includes a queen-size air mattress, padded cover, insulated quilt and a topsheet, using synthetic insulation (down-free), and comes with a hand pump and storage bag.
R-value: 3.6 (comfort down to 40F)
Dimensions: 79 x 56 x 6 inches
Weight: 15 lbs. 9 oz.
Pad Thickness: 6 inches
---
I hope that this post has helped you find the best two-person sleeping bag for you, together with a suitable double sleeping mat for your needs. If you're also looking at camping tents, particularly for lightweight 2-person backpacking and hiking tents, read this post next!