Hello, fellow runners, I'm Alastair from Trail and Kale, the place to help you run smart with our training advice, gear recommendations, and superfood recipes. If you're anything like me, you know that finding the right pair of running shoes is like finding your soulmate, and when you do, it just clicks, and you're off to the races.
In the world of running, two brands have been making a lot of noise lately: HOKA and On Cloud. I have been reviewing shoes from both brands for years now, so I'm really excited to share this HOKA VS On Cloud comparison with you all!
Having reviewed every On Cloud and HOKA running shoe, I'd consider myself a bit of an expert in both brands, so I'm really excited to get stuck into this post and help you decide which brand is best for you, and why.
Spoiler alert, it may be that you'll want to run in shoes from both brands like I do, and I'll explain why in just a bit.
Now, I know what you're probably thinking; one promises ultimate cushioned comfort due to their traditionally high stack midsoles (HOKA), and the other shoe brand, 'On', literally has the word 'Cloud' in the name of all their running and walking shoes, but are these assumptions even true anymore and what REALLY sets these two shoe brands apart? 🤔
---
More popular HOKA and On Cloud buying guides:
---
Get comfortable, because I'm going to be diving deep into this On Cloud VS HOKA running shoes debate and even offer insights into which I prefer for a particular type of running and why (I have multiple On and HOKAs in my running shoe rotation), after having tested every running shoe from both brands.
So, whether you're into road running, hitting the trails, or just looking for something comfortable for walking that can keep up with your active lifestyle (and maybe even your dog or kiddo!), this post will give you all the information you need to decide which brand is your perfect match.
What are the main differences between On Cloud and HOKA running shoes?
First off, let's talk general style and initial impressions; HOKA shoes tend to have this maximalist cushioned vibe, rocking thick midsoles (or high stack heights to give its proper term), that scream "cushion for days!".
Their shoes are also very vibrant (something I have come to love as I like to express my mood and personality), but they also offer more muted colors to suit a wide variety of preferences.
On the flip side, On Cloud shoes sport these very distinctive sole pods, known as CloudTec technology.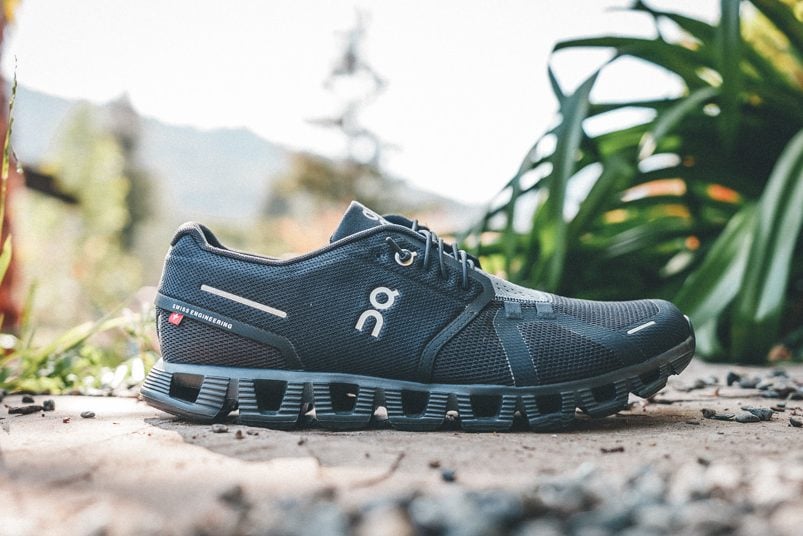 It's not just a gimmick, this proprietary technology really works and it's the same innovation that brought the brand into the spotlight years ago when the company started; more on this and their other technologies in a moment.
Both brands also offer incredibly lightweight, and cushioned shoe options, as well as a few models that strike a balance between the two.
Now, let's look at some other important differences and similarities between the two brands.
How does the fit and feel compare between HOKA and On?
Both Hoka and On Cloud shoes are extremely comfortable right out the box and tend to have neutral support and a medium width.
Some of the more popular models even offer wide and narrow versions for those who need it! Visit my 'Best On Running Shoes' or 'Best HOKA Running Shoes' guides to find out which models offer wide versions.
When it comes to cushioning, both brands now offer responsive and plush/cushioned running shoes; but I'd say HOKA sways slightly more towards cushioned running shoes rather than firm and responsive.
HOKA does have some models that provide a perfect balance between responsive ride and excellent cushioning that's truly incredible to run in, however.
Speaking to the incredible comfort of both brands, I frequently see HOKA and On offering a free try on for a few hours or sometimes even 24 hours at various running events because both brands know that if they can just get people to try them out for a day, the shoes will sell themselves.
Marketing doesn't get any better than that, does it? This type of marketing of course only works when shoes truly perform in comfort and performance, like both these brands do.
Now, when it comes to fit, on average I'd say about 95% of the running shoes I have tested from both brands fit true to size, with the exception of some of the hiking boots from both brands coming up a little larger (roughly a half size) to allow for extra room when wearing thick hiking socks.
With all that said, when it comes to buying your next pair of HOKA or On running shoes, stick with your usual sizing.
Both brands have the right shoe for your run; here are my top HOKA VS On Cloud picks for various running disciplines
HOKA and On Cloud both have something special to offer whether you're training to run faster, putting in quality tempo miles, or planning to run longer by stepping into the world of marathon training and ultra endurance events.
For a full breakdown of the best On and HOKA running shoes visit the posts below:
Below are some examples of the types of running you may be into, and my top picks for each run type from HOKA and On:
Everyday running, including daily jogs and recovery runs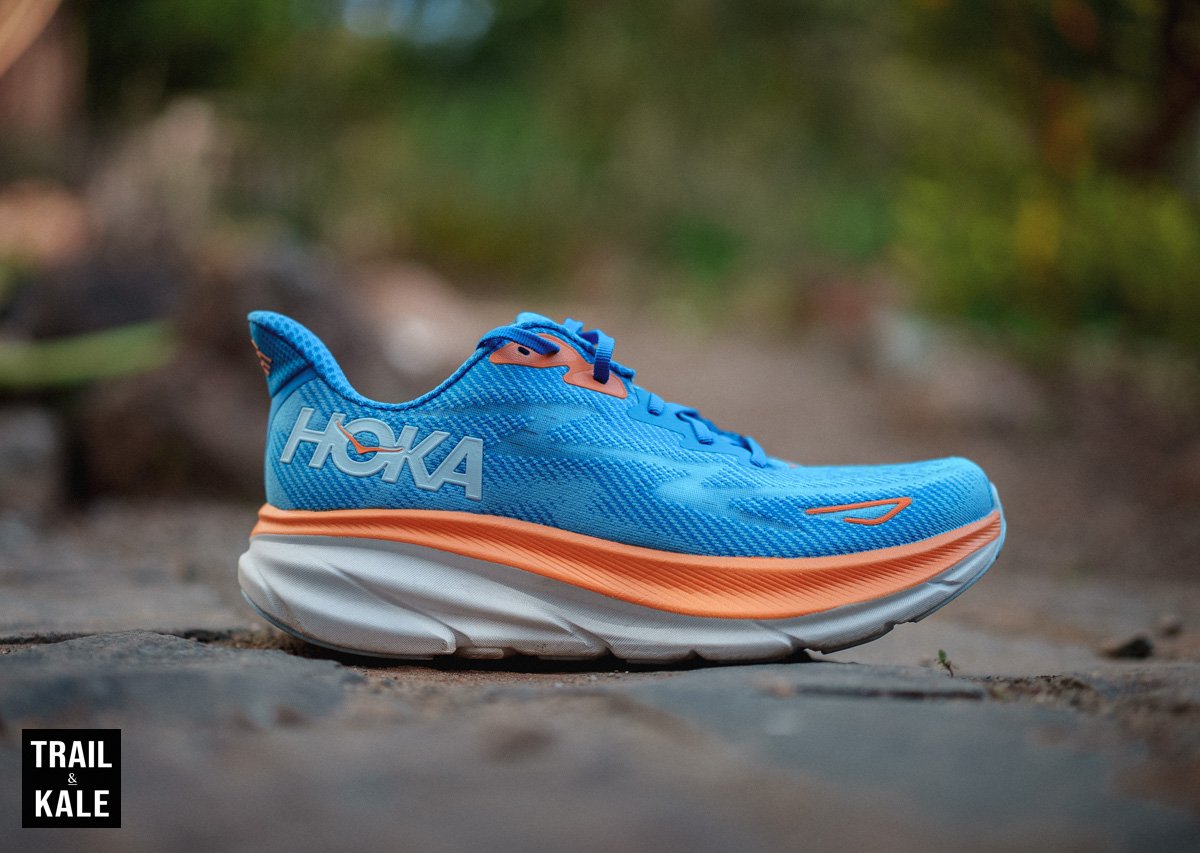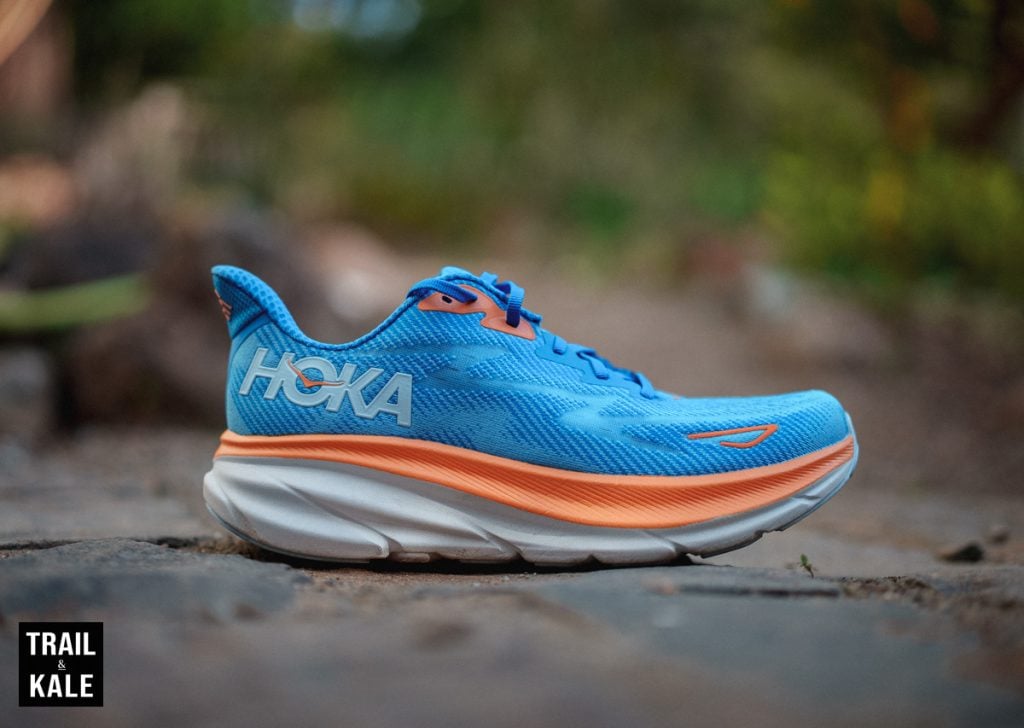 Every running brand has an entry level running shoe that's either targeted at beginner runners, or those who want a reliable daily trainer that helps you bag easy miles and doesn't break the bank.
Here are my top picks for HOKA and On:
---
➡ I hope you're enjoying reading this HOKA VS On Cloud comparison post; as always, please share your own thoughts and experiences in the comments down below and if you enjoyed this post or our blog in general, please share it with a friend to help keep this running community thriving! 🏃‍♂️💚
Remember to Follow us on Instagram for updates on new running shoes in for review, and also a look behind the scenes.
Join our Strava club too, and be part of the joy that running brings to our lives.
---
Tempo training
Ah, the art of the tempo run; fast but not too fast, right? These shoes offer a blend of cushioning and responsiveness that can help you maintain that tricky "comfortably hard" pace during your next tempo run.
---
Marathon training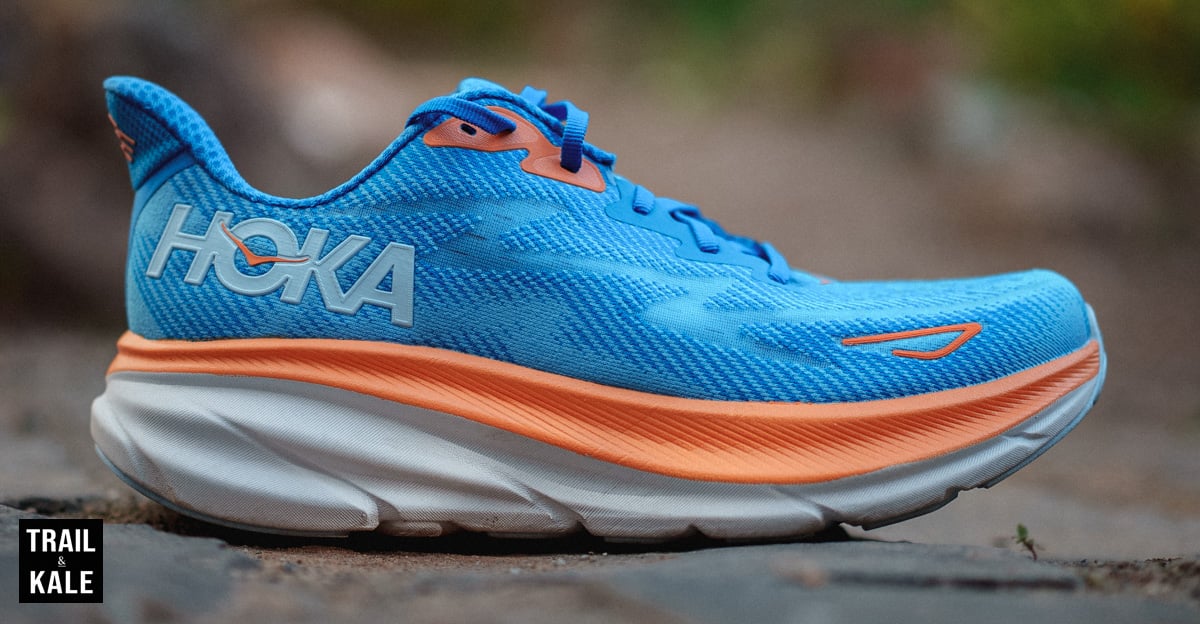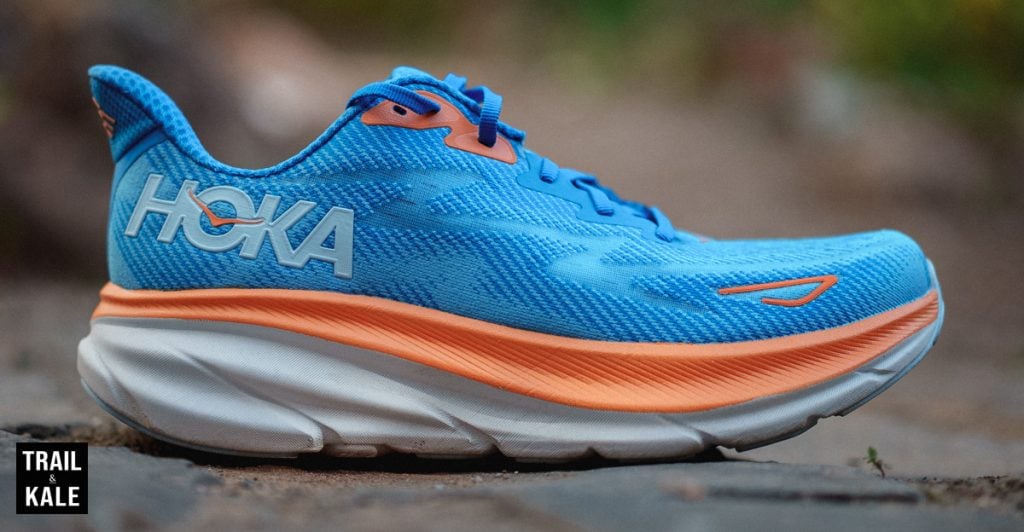 Marathon training, as you would expect, involves alot of mileage which means you need a running shoe that is cushioned but also has enough responsiveness to help you keep your speed up, here are my top picks for this type of running shoe.
---
Marathon racing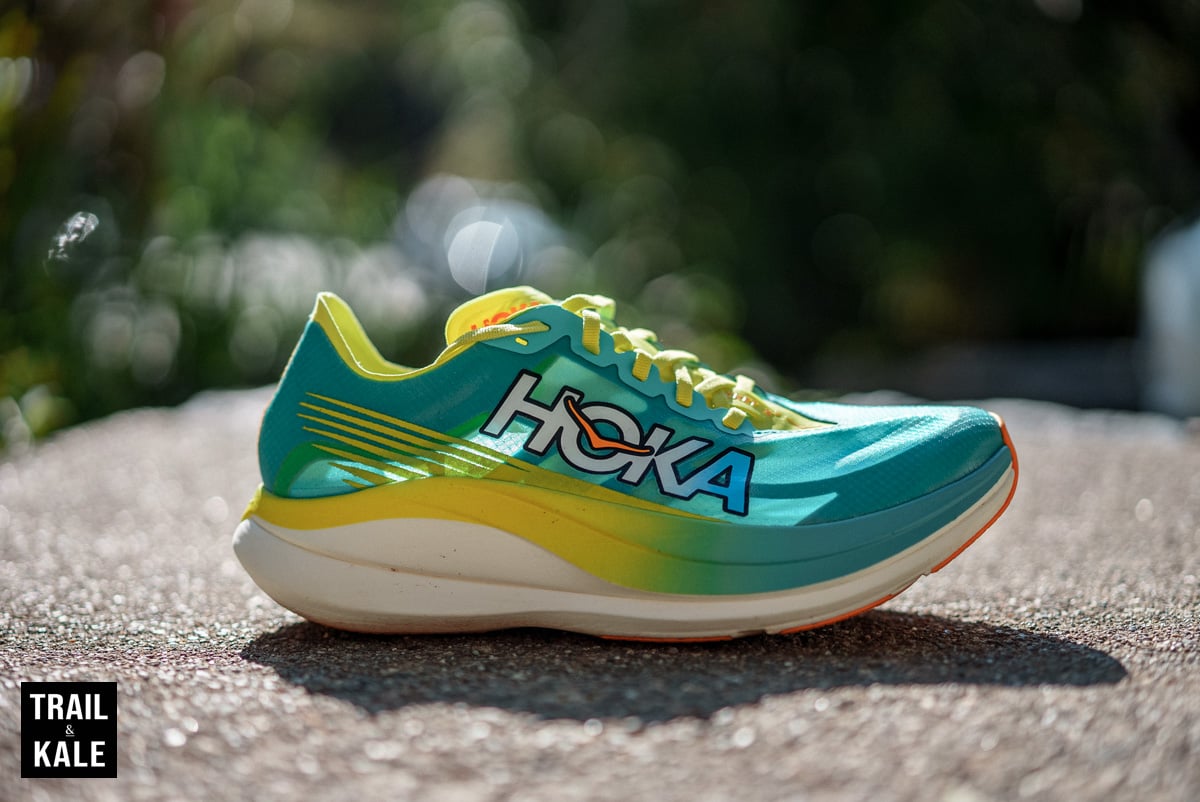 Now we're talking endurance and PR speed, combined! With marathons, you want something that can go the distance without feeling like you're lugging around bricks on your feet.
Here are my top picks for runners looking to get a new Personal Best time at their next marathon race:
---
Trail running & ultrarunning
If you're hitting the trails, you need something that's cushioned (for comfort over ultra distances and long time periods), is responsive, grips like a mountain goat, and provides control and stability on a mixture of different surfaces – us trail runners don't ask for much, do we?! haha! Here are my top picks for trail running:
So, there you have it, whether you're sprinting, cruising, or going the ultra distance, both Hoka and On have got you covered, and all my shoe testing over the years has led me to be able to provide you with the aforementioned shoe recommendations for each case.
I hope those top picks helped narrow down the best choice options for you, but if I missed the type of running you enjoy, or you have more specific needs, please just ask me anything in the comments below; I love chatting about On and HOKA shoes and generally reply quickly. 🙂
Let's compare HOKA VS On Cloud proprietary features
Now for the nerdy part of this comparison! HOKA and On both have their own proprietary technologies but each are comparable to one another, if you know what they are.
So, in this section I'm going to do my best to explain the matching technologies for both brands, and let you know whether HOKA or On is best in each area.
1. Rocker VS Meta-Rocker geometry
What is a rocker anyway? In simple terms, it's a curved shape in the shoe's sole that promotes a rolling motion as your foot hits the ground and pushes off again.
Imagine a rocking chair, now, translate that curved, rocking base to the bottom of your shoe – that's your rocker!
Why does It matter?
The rocker's primary job is to help with what we runners care about most: efficient energy transfer in your stride.
When your foot rolls smoothly from heel to toe, you're not just getting a smoother stride; you're also conserving energy, which is golden whether you're doing a quick 5K or grinding out a marathon or ultramarathon.
Types of rockers
You'll often see two main types:
Forefoot Rocker: This one's situated at the front of the shoe, helping to push you off more efficiently on toe-off. Great for up-tempo runs or races.
Heel-to-Toe Rocker: This runs the full length of the shoe, helping guide your foot through the entire stride cycle. Super helpful for long distances and easy runs.
Brands like Hoka are known for incorporating this feature heavily in their shoe designs. It's one reason why they're popular for long runs and marathons. But many other brands, including On Cloud, are also starting to add rockers to their models for that extra oomph in your stride.
Here are 2 great examples of rocker geometries from each brand:
On the left is the On Cloudsurfer 7, sporting a heel-to-toe rocker, and on the right is the Rocket X 2 sporting a clearly defined early stage (or forefoot) rocker, designed to encourage pure speed.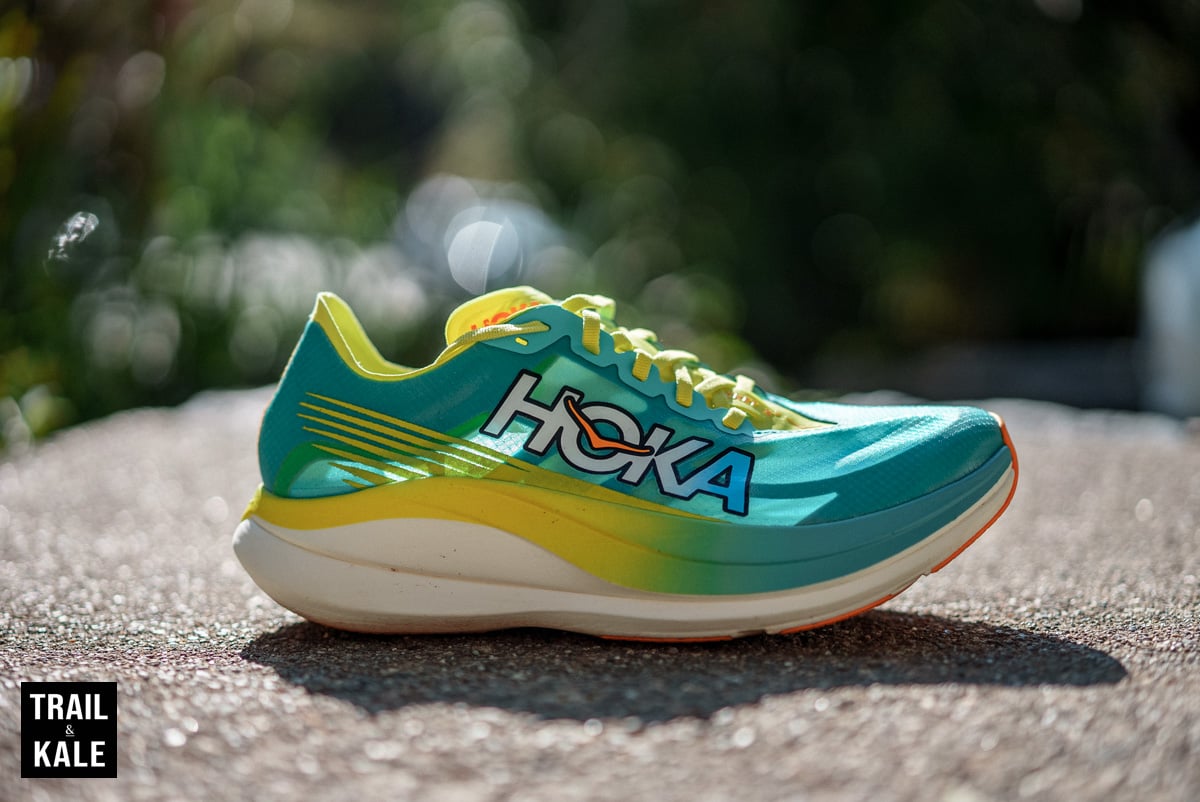 Both brands have their own names for their version of a rocker silhouette. HOKA calls theirs the Meta-Rocker, available on some running shoes as an early stage meta-rocker (like the Rocket X 2 pictured above) and others as a late stage meta-rocker.
The difference between the two types of rockers is where along the bottom of the foot, the rocker begins; and this affects how efficient the stride is when you're running at different speeds.
For example a faster runner with more of a forefoot landing will benefit from an early stage meta-rocker, whereas maybe a heavier runner with more of a heel strike will benefit more from a late stage rocker.
On simply calls their rocker, …well a 'rocker' and it does the same job as HOKA's meta rocker, so I'm going to call this comparison a tie!
2. On's CloudTec and Helion midsole VS HOKA's ProFly midsole
The midsole in any running shoe is an important factor in terms of how successful your training is going to be with the shoes. It's responsible for cushioning, responsiveness, longevity of cushioned response, and the stability of your ride.
Sometimes they even have a carbon or PEBAX plate running through it to help propel you forward even faster, both brands offer super fast running shoes with Carbon fiber plates too; great examples include the On Cloudboom Echo 3 and the HOKA Rocket X 2.
On's CloudTec and Helion foam midsole
CloudTec: This is On Running's flagship tech, best explained by picturing a series of rubber "clouds" on the outsole. These little pockets compress upon impact and spring back to shape during push-off. The result? A smooth, responsive ride that's high on energy return. this technology is perfect for tempo runs and even races.
Helion Foam: If CloudTec technology is the "spring," then Helion foam is the "cushion." This midsole material aims to offer the best of both worlds; soft landings and firm push-offs. It's also designed to be super durable and work well across temperature ranges. For those looking for versatility and comfort, Helion foam is your pal.
Below are examples of On's CloudTec and HOKA's ProFlyX midsoles: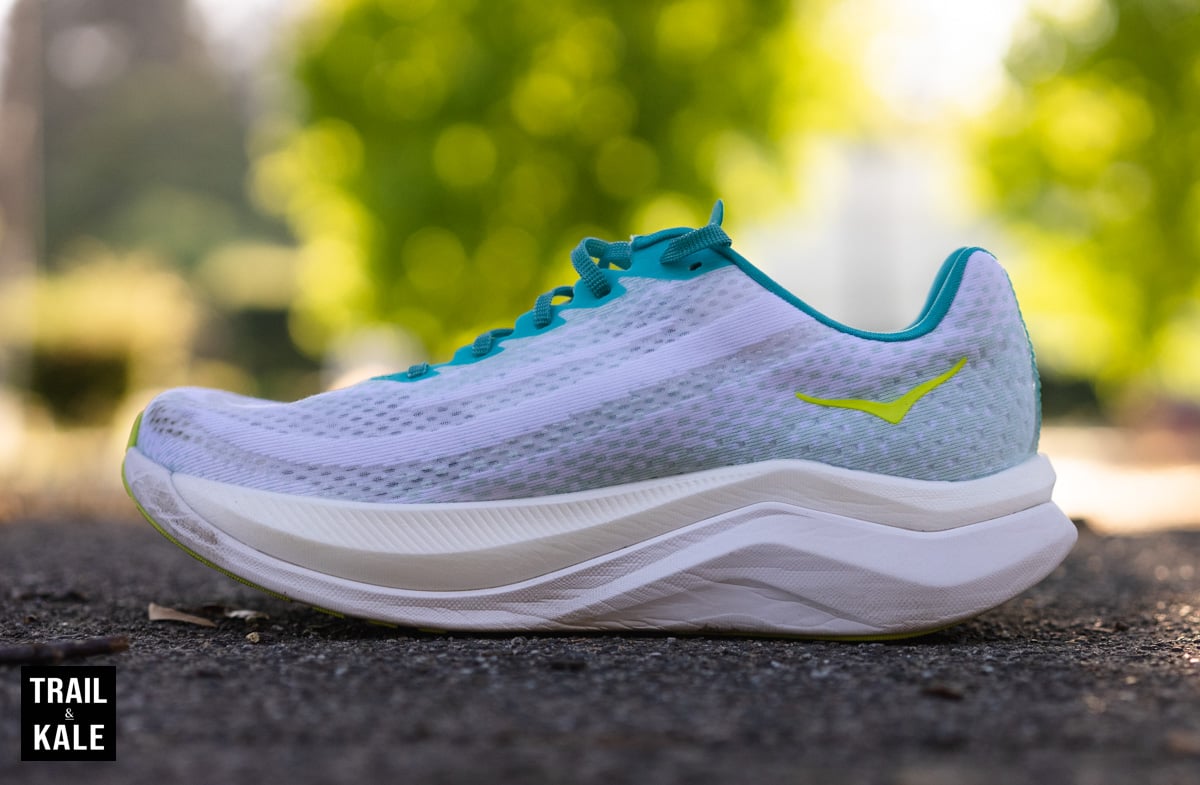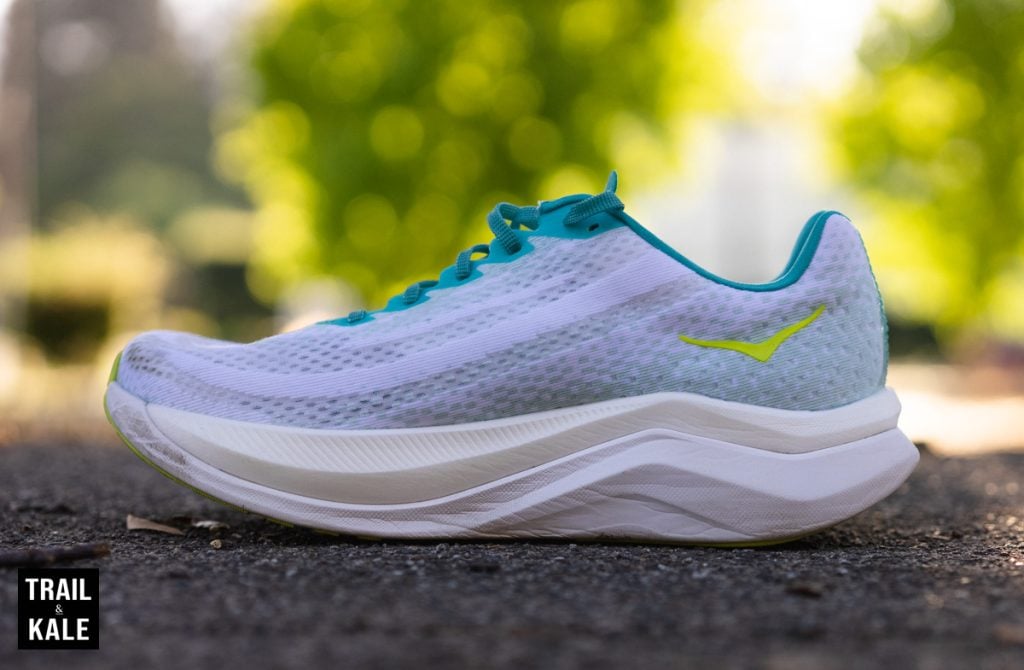 HOKA's PROFLY Midsole: What's the hype?
HOKA brings its A-game with PROFLY, a dual-density midsole that features softer foam at the heel and firmer foam in the forefoot. This tech is all about a cushioned landing and a responsive toe-off.
It's a lot like getting a "friendly" bear hug and a high-five at the same time! If you're eyeing a marathon race, or even just long weekend runs, PROFLY offers that marshmallow-like comfort and bounce we all crave.
Head-to-head: Which one's for You?
For Speedsters: If you're all about that pace, then On Running's CloudTec and Helion Foam combo can really propel you forward. You'll feel quick and agile, perfect for nailing those PBs but at the same time HOKA does offer ProFly+ which offers a more responsive foam density and the ProFlyX version which includes a carbon fiber or PEBA plate which brings you cushioning and ultimate speed, like the Rocket X 2 for example.
For the Long Haul: If you're clocking miles that make your running watch do a double-take, HOKA's PROFLY is the cushioned sanctuary your feet will thank you for when running longer distances.
Terrain Versatility: HOKA's PROFLY shines in a wider variance of trail types, and trail running shoes like the Speedgoat 5 have a wider surface area in the midsole/outsole which offers superior control and cushioning over technical terrain that requires it.
Feel: On Running offers a firmer, more responsive ride, while HOKA, on the other hand, gives you that plush, floating-on-clouds sensation that's more conducive to running longer.
For me, the ProFly midsole is the winner for me as it works just as well on HOKA's trail running shoes as it does on their road running shoes. On's CloudTec midsole works better on their road running shoes rather than their trail range.
On Speedboard VS Carbon Plate
I'm sure you've heard of carbon plates in running shoes, it's part of how marathon runners are able to break so many records of late – that and and all their countless hours and dedication to their training of course.
Well the Speedboard is what On calls theirs; some of their shoes use carbon fiber for the speedboard, other less expensive models use a plastic compound that's not quite as springy but better than no plate at all.
On is however starting to use carbon fiber in their speedboard on select premium running shoes like the Cloudboom Echo 3, for example.
HOKA uses carbon more frequently in their ProFlyX midsole and on more models, infact all models containing X in their names, that include shoes like the Carbon X 3, Tecton X 2, Mach X, etc.
I'm going to give this win to HOKA as they offer more shoes with carbon plates, including the Tecton X 2 in their trail running shoe range.
How does a carbon plate work?
For those not familiar here's a really quick lesson in how carbon fiber plates work. Picture a thin, curved carbon fiber plate sandwiched between layers of cushioning in the midsole of your running shoe.
This isn't just there for show (because most of the time it's actually hidden!) or to bump up the price tag (although that's exactly what it does, lol); it serves a very functional purpose. When you run, the carbon plate acts like a lever, storing energy as your foot lands and then springing it back as you push off.
The benefits of carbon fiber plates for runners
Thanks to the lever-like action, the energy return you get can actually reduce the muscular work your calves and other leg muscles have to do. This means you can maintain a faster pace with potentially less fatigue.
It also improves your running economy, definitely not in the dollars-and-cents kind of way, but in terms of how efficiently you use oxygen while running. The carbon plate can help you run faster for the same level of effort, which is golden whether you're tackling a quick 5K or grinding out a marathon.
A carbon plate gives your toe-off an extra bit of explosivity, making each stride snappy and powerful. For runners who love breaking their own records (myself included), this is a dream come true.
The rigidity of the carbon plate can encourage a better foot strike and a more forward lean, essentially nudging you toward better running form without you even realizing it.
While speedsters in 5Ks and 10Ks can definitely benefit, where the carbon plate really shines is in the half marathon and marathon distances.
When fatigue sets in during those later miles, the carbon plate can help maintain your pace and form, which is like having a second wind built right into your shoe.
NOTE: Carbon-plated shoes aren't a magic bullet; they won't instantly turn you into Eliud Kipchoge, and they might not be the best for everyone's biomechanics or for softer trails (if you have one in your trail running shoes).
But if you're keen on shaving off those seconds (or minutes) from your PR, they are worth checking out. Just prepare your wallet; the future of running doesn't come cheap!
On MissionGrip VS Vibram MegaGrip outsole use on many HOKA trail running shoes
This is the technical term that each brand gives their outsole. I'm going to keep section quick; even though On's MissionGrip is a much better performer than most brands' proprietary outsoles (rubber compound and tread pattern), it's not as good as Vibram's MegaGrip rubber compound with Traction Lug formation.
Here are examples of On's MissionGrip and HOKA's use of Vibram's MegaGrip with Traction Lugs outsole: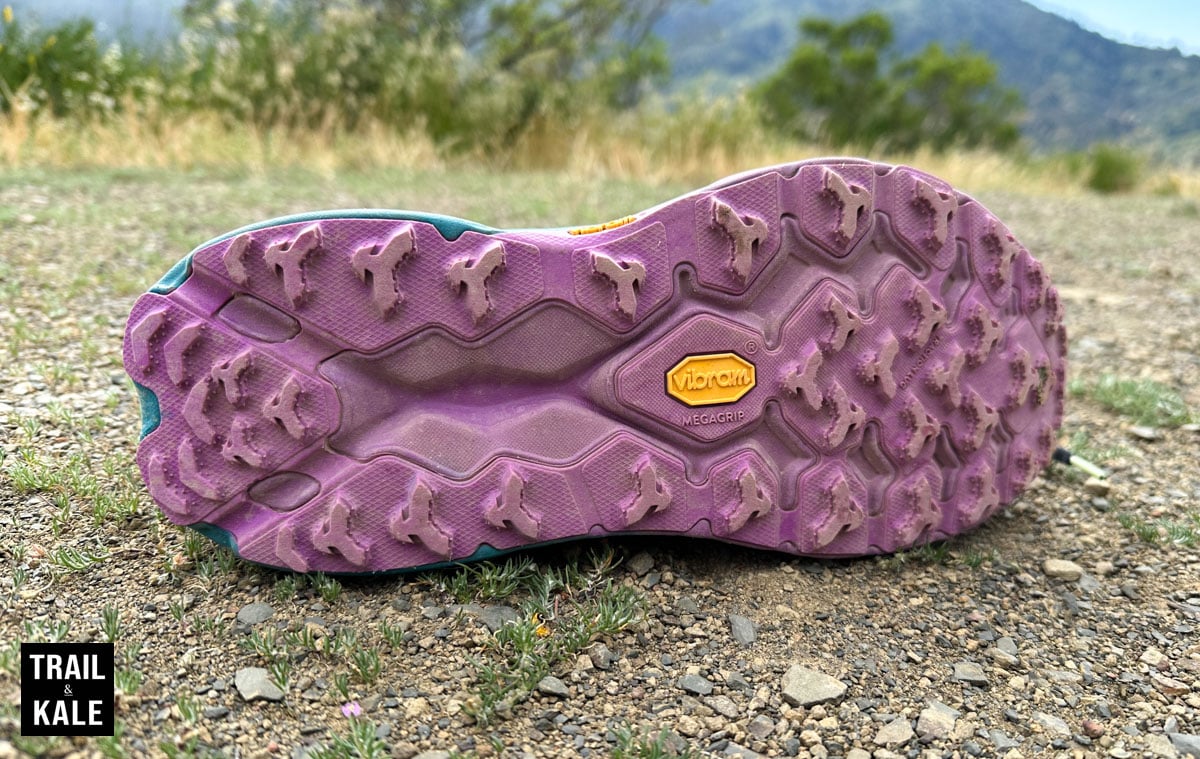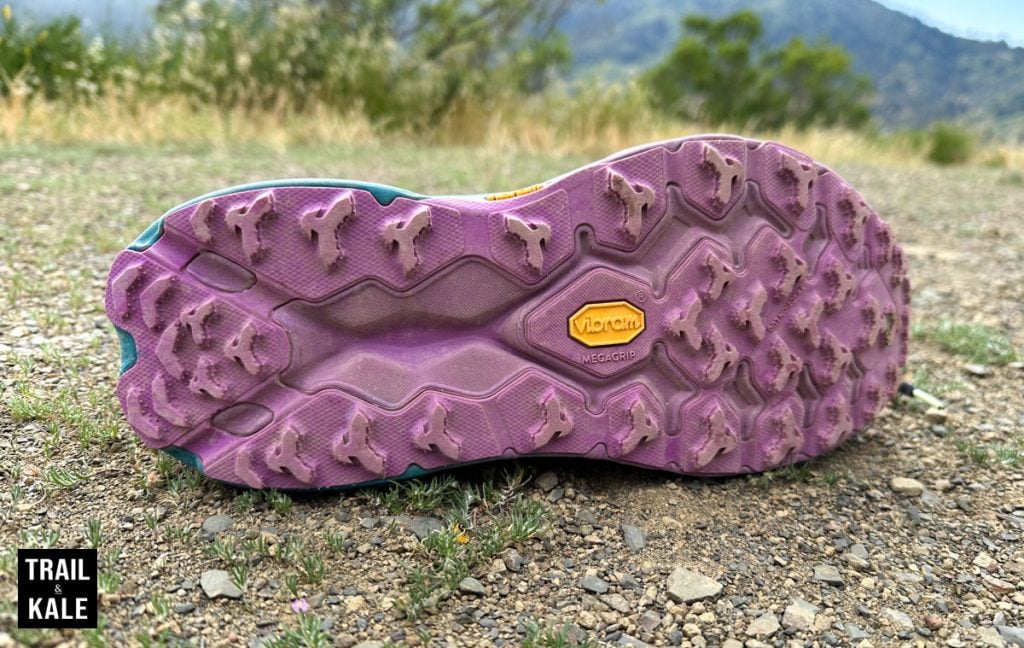 There's a reason trail running shoes from other brands like the Arctery'x Norvan SL 3 and the Dynafit Ultra 100 both choose to use the same outsole – it's damn good, and has kept me upright on so many occasions where other outsoles just wouldn't have.
A reliable and trustworthy outsole that you can rely on to give you grip and control is incredibly important while trail running, not only does it open up the trail, giving you more potential foot landing positions but it also gives you confidence to run more aggressively on challenging descents and steep ascents that require you to claw into the trail to maintain vertical speed.
You guessed it, HOKA wins in the outsole realm.
Do cushioned running shoes hurt or help and what's the alternative?
For completeness, let's dive into a topic that has the running community divided: cushioned running shoes and whether they a benefit or a hindrance, and what the alternative is.
Why cushioning could be your best friend
Shock Absorption: If you've got joint or muscle pain, cushioning in running shoes (HOKA or On) can really save the day and give you a pain free run. The extra padding can absorb a lot of the shock that would otherwise go right up your legs and into those sensitive areas.
Long-Distance Comfort: Anyone who's banged out a marathon—or, hey, even an ultra—knows that comfort is king; plush running shoes can feel amazing on your feet during those long runs.
Injury Prevention: Cushioning can act as a buffer, especially for those with a history of stress fractures or other impact-related injuries. Sometimes a softer landing is just what you need.
Why highly cushioned shoes may not be for you
Lack of Ground Feel: If you're someone who loves to feel every pebble and groove in the road, cushioned running shoes can mask a lot of that connectedness to the trail or road. This could mess with your proprioception and, for some, might even lead to clumsiness or tripping.
Potential for Bad Form: With too much cushion and a high stack height, you might get lazy with your form, and heel strike more than you probably should. Bad form can lead to injuries over time, and too much cushioning might just mask the problem until it's too late – that's why I believe it's always wise to stroike the perfect balance of just enough cushioning with an also responsive running shoe.
If running shoes have less cushioning, they tend to be more responsive; and that's the alternative – a shoe that may not be as comfortable over longer distances, or on road surfaces and hard packed/rocky trails.
But that's ok too because a more responsive shoe means they react faster to the muscle movement in your toes and feet, allowing for additional control and a faster ride.
There are of course running shoes that strike the perfect balance between cushioning and responsiveness, and when a shoe like that comes along, with a breathable upper that also hugs your feet in a comforting way, well… that's when you've got yourself a winner in my opinion.
For road running, this shoe for me is the On Cloudmonster, and for trail running it's the HOKA Speedgoat 5.
HOKA vs On differences in price
Both HOKA and On have an average shoe price of around $160 when you look at their whole range.
When it comes to pricing, both HOKA and On Running shoes can be a bit of an investment, but they're targeting different segments within in the running world.
HOKA tends to start at a slightly higher base price, with many of their popular models like the Clifton and Bondi hovering around $130-$160. Their specialized trail shoes and carbon-plated racers can go up to $200 or more.
On the other hand, On's lineup has a broader range when it comes to price. You've got options from around $140 like the Cloud 5 (my favorite everyday lifestyle shoe – has been for years!) and Cloudflow, going up to the swanky Cloudboom Echo 3 at a whopping $289.99.
It seems like with On, you're often paying a premium for specific technologies or ultra-trendy designs.
When you dive into these two brands, the price can also reflect the type of running experience you're after. HOKA is renowned for their excellent cushioning, which is perfect for long runs and recovery days, and even for standing on your feet/walking all day.
If you're clocking ultra distances or just want to feel like you're running on clouds (the actual clouds, not On's CloudTec 😄), then HOKA might be your go-to even at a slightly higher base price as I feel like you're potentially getting better value for money in their durability and versatility.
On's shoes are generally designed for a responsive ride and a different kind of underfoot feel, which many people absolutely swear by, myself included.
If you're into tracking metrics, dialing in on different types of runs, and love that Swiss engineering, On gives you a lot of options at different price points. Plus, you've got to admit, their design is pretty sleek!
If you made it all the way to this point then hopefully you enjoyed reading this HOKA VS On Clouds roundup, and if you did, you can now consider yourself a bit of an expert in both brands! 🙂
Thanks for reading, please share this guide with a friend who also loves HOKA and On running shoes, and I'll catch you on the next one! -Alastair