I always enjoy testing and reviewing new running shoes from 'On' because they love to innovate just as much as I love to test new innovative gear, and when it's a trail running shoe, then even better because I get to put them to the test on my favorite local trails here in Northern California.
Interested in getting up to 40% OFF On running shoes? Visit On's Classic range page to see their latest deals.
The On Cloudultra 2 is a trail running shoe that's cushioned with all-terrain capabilities in the Cloudtec Helion superfoam midsole and MissionGrip outsole for long distances and ultrarunning; so let's see if On has remained true to the original Cloudultra, and whether the updates are in fact improvements.
In this On Cloudultra 2 review, I'm going to shine a light on the key features that I love (and a couple that could be improved), how well they perform while trail running, how they compare with the other On running shoes right now, whether they're worth $180, and finally my rating out of 10 with a list of pros and cons.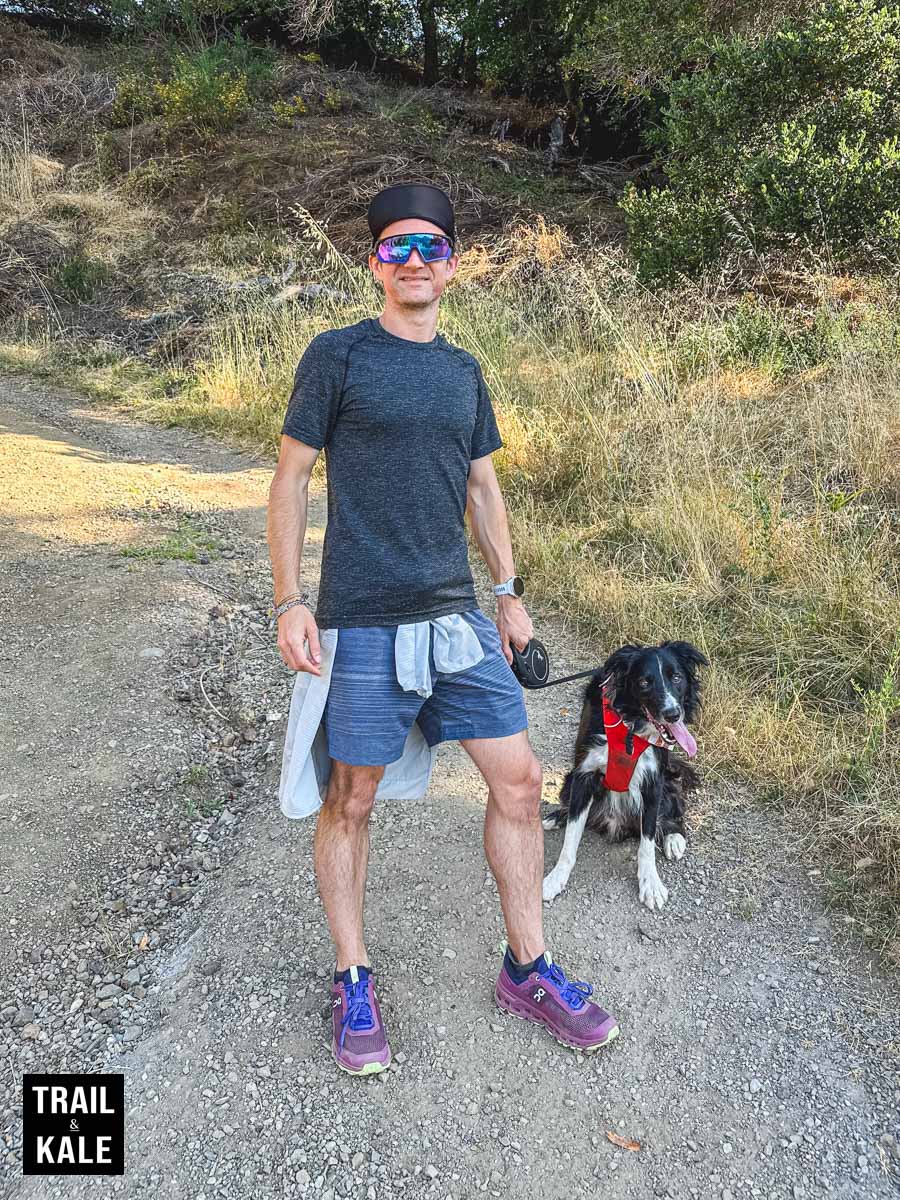 If you're an avid hiker as well as a trail runner, and are looking for a great pair of On Cloud shoes for walking on trails, you'll be pleased to hear that the Cloudultra 2 is our top pick in that category for walking.
Key specifications of the On Cloudultra 2
Price: $180 at on-running.com
Usage: A cushioned, all-terrain trail shoe for long distances and ultrarunning, with soft Helion superfoam and Missiongrip. Also great for hiking!
Weight: 10.2 oz (289g) for a size US(M)9 (my pair)
Drop: 6mm
Toe box width: medium width
Stability: Neutral
Cushioning: Maximum cushioning
---
General fit and comfort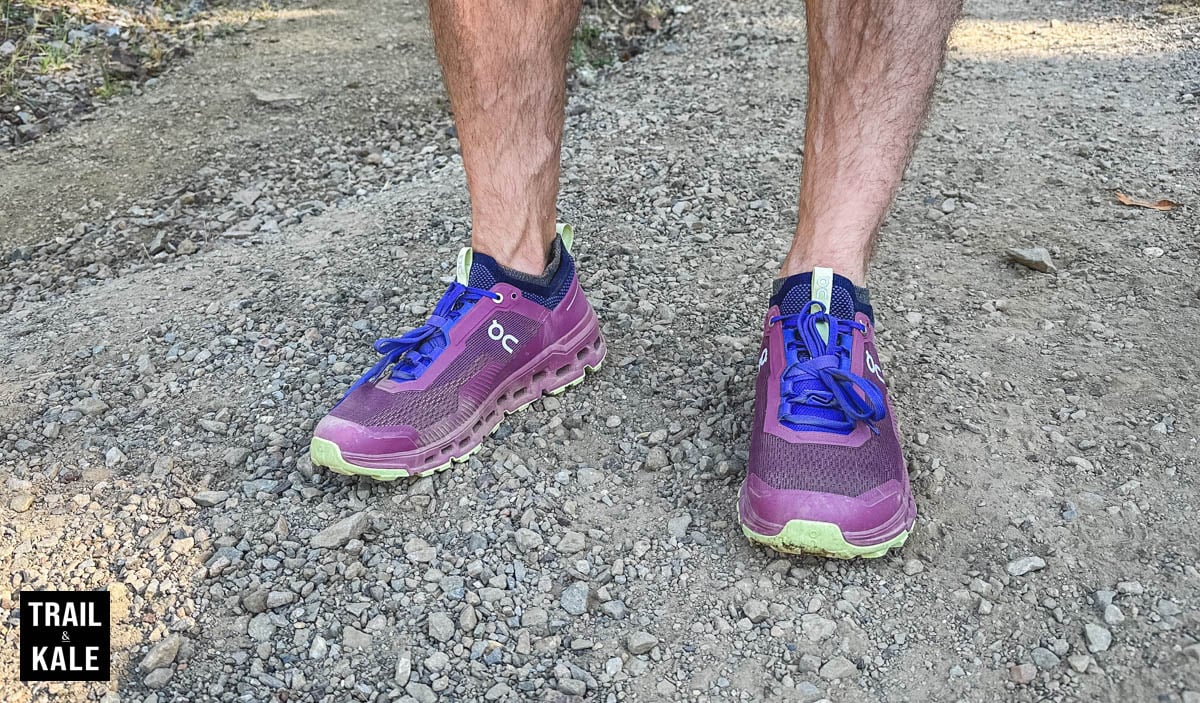 Let me start by saying the sizing and fit of the Cloudultra trail running shoes are consistent with all other On running shoes I have tested and other brands including HOKA, Brooks Running, Salomon, and Nike Trail for example.
They are easier to get on than the previous model thanks to the knitted upper heel enclosure, and there's also more volume inside the shoes and they fit true to size – I usually wear a size US (M) 9 and that's what I went with for the Cloudultra 2.
On recommended sizing up a half size on the original Cloudultra, and maybe that was more to do with making them easier to get on because they were snug around the entry, with little stretch. Plus I went with my usual sizing for them, and when I got them on they felt true to size too.
If you run in a brand I haven't listed here, drop the brand you use in the comments below, and if I'm familiar with them I'll let you know how they fit relative to them too.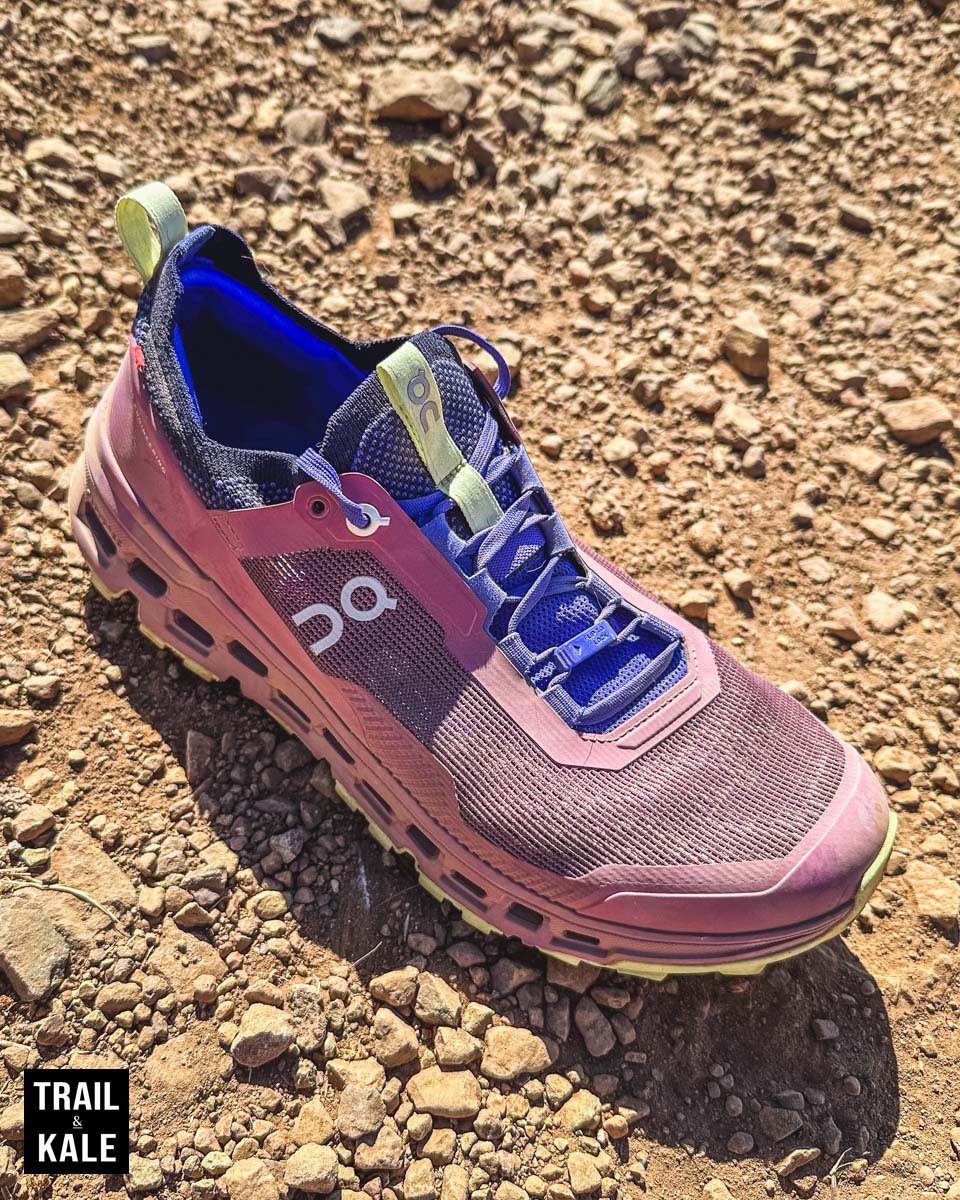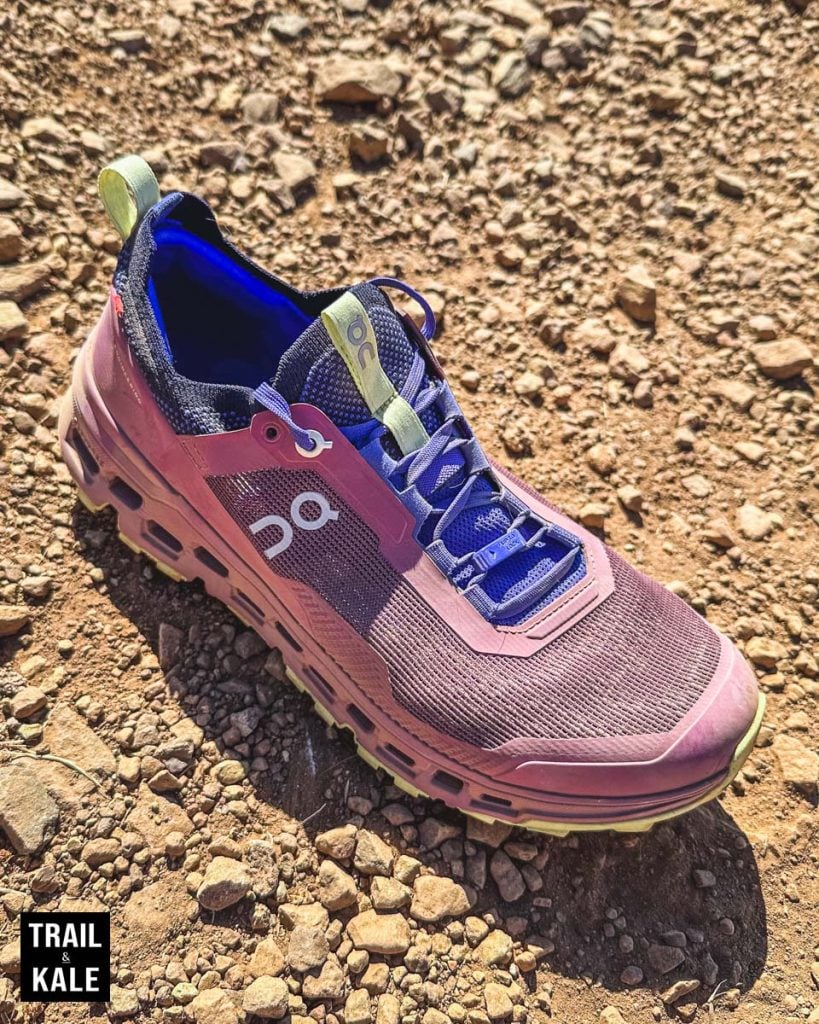 The On Cloudultra 2 is a very comfortable shoe out of the box and there was no need to break them in, which is something I felt I had to do in the original Cloudultra.
These trail running shoes are for those who need a shoe that will support them over long distances, with very generous cushioning and a TPU Speedboard that will help propel you forward, even when your legs are feeling tired towards the end of a long run or ultra marathon.
To find the best trail shoes for running right now, read our trail running shoes buyer's guide next, and if you like to run on the road too (variety is the spice of life!) here's our road running shoes buyer's guide too.
The Cloudultra 2 feels incredibly comfortable while running on very hard surfaces (more so than the original Cloudultra), like tarmac, concrete, buffed trails, and rocky terrain, fire roads, and gravel surfaces.
This comfort is 100% down to the double layer Helion superfoam midsole which provides very impressive cushioning underfoot.
The grip on the outsole is also noticeably better than the original Cloudultra on hard surfaces too thanks to the new MissionGrip outsole that provides 50% more ground contact, and a shallower gulley that runs down the middle of the shoes.
The On Cloudultra 2 is neutral in its support type, with an arch that will suit most runners with average arches, and this is actually consistent with all the other On running shoes, I have tested to date.
The toe box and shoe, in general, is of medium width too.
Design features that stand out
1. Double layer Helion Superfoam midsole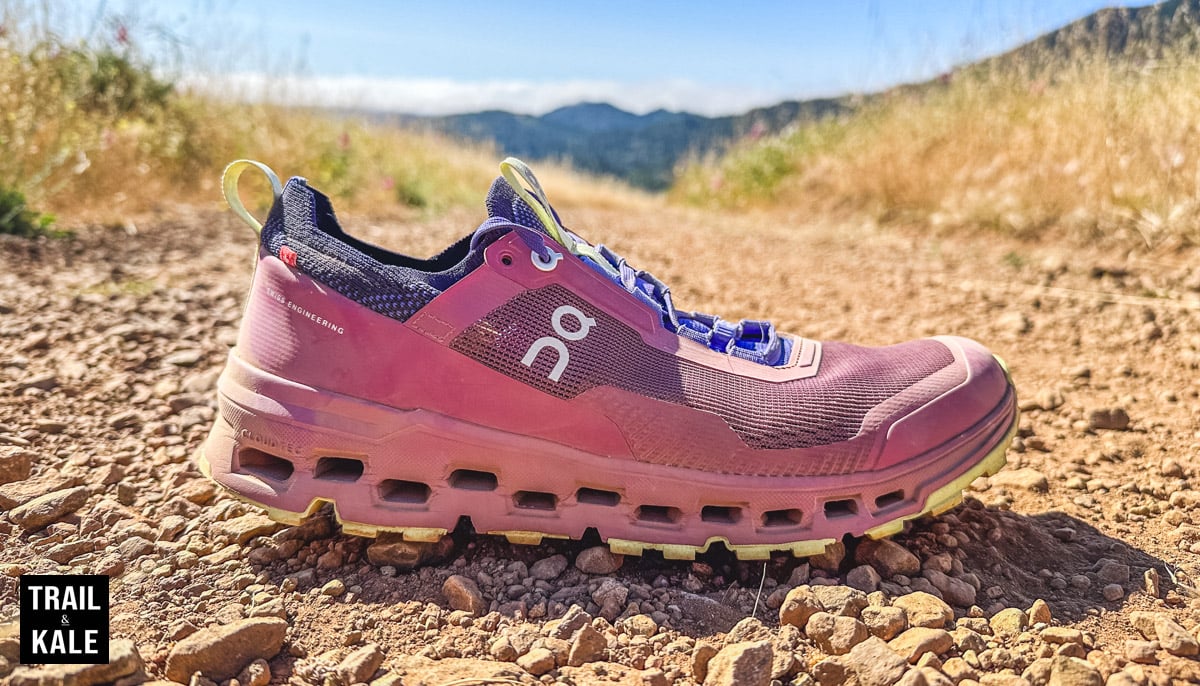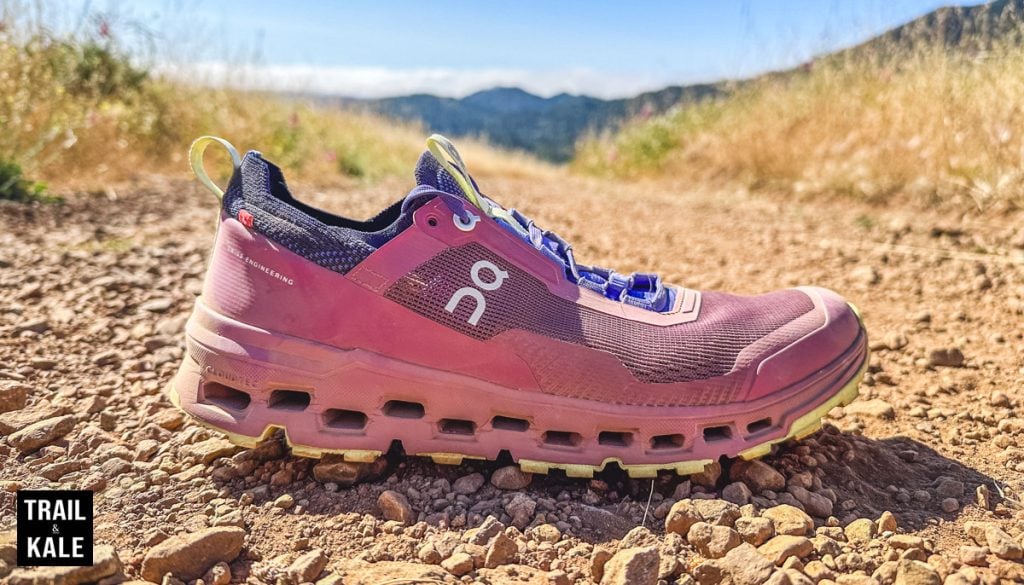 We have seen this sandwiching of two layers of Helion superfoam in a few On running shoes now – the original Cloudultra, Cloudstratus and Cloudboom shoes come to mind, and this design really does give a pretty special plush and bouncy sensation while running.
If you're unfamiliar with Helion, it's On's cushioned yet responsive midsole foam, that features on most On running shoes.
This is a running shoe built for going long distances over mixed terrain but mostly hard ground, and forested trails and it's clear that this is On's intention due to this cushioned double layer Helion midsole.
2. Upper mesh construction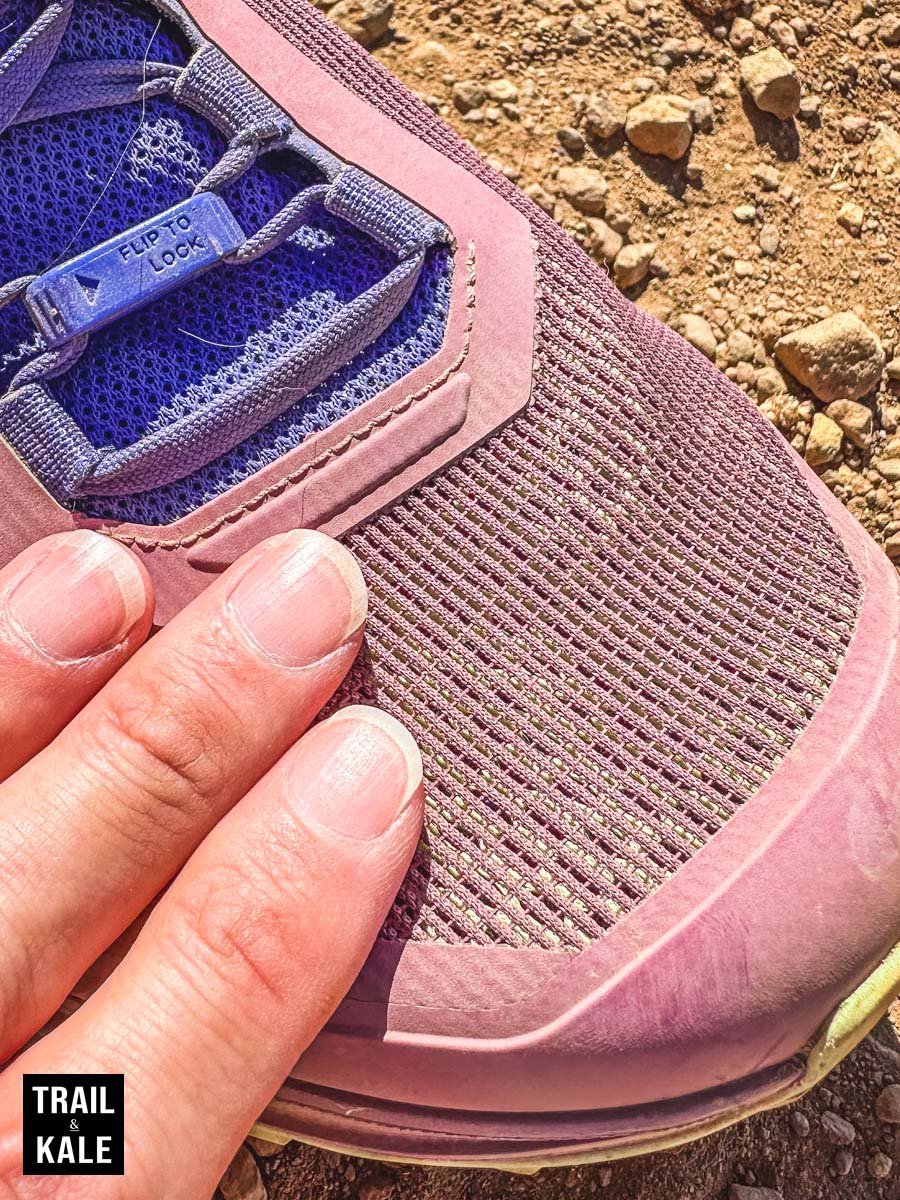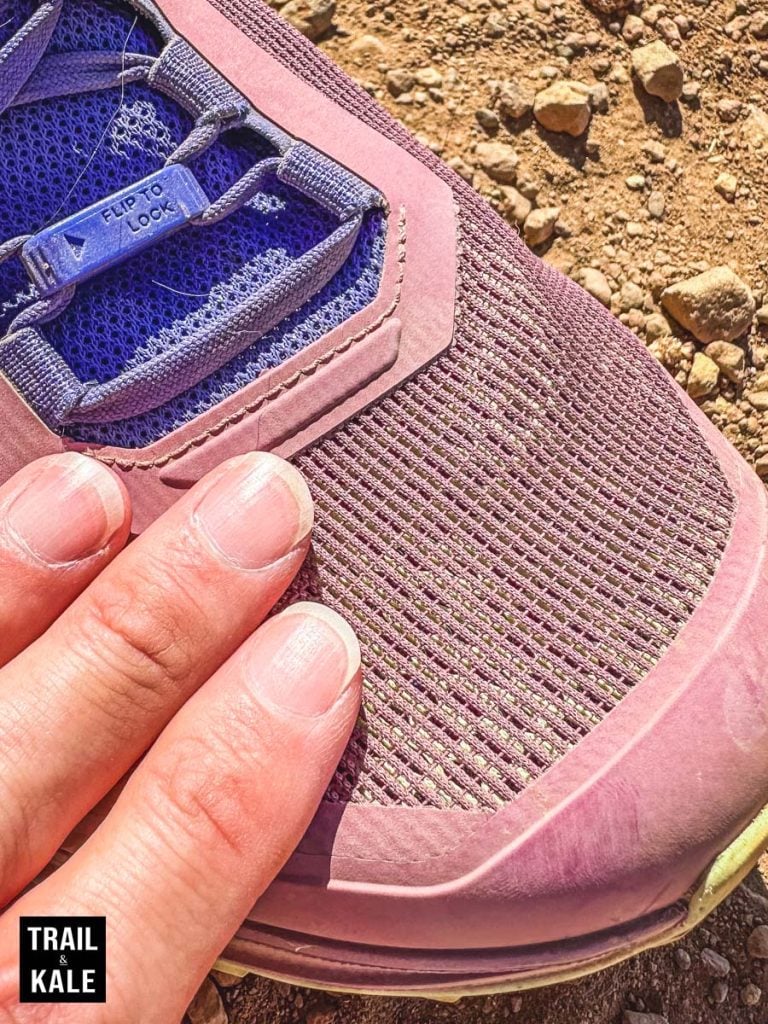 The upper mesh is a two-layer construction reinforced with lightweight TPU for durability. The interior wall is soft to ensure your feet feel comfortable throughout long runs.
The construction has more breathability than the previous version, which was lacking somewhat, so I'm really happy On has improved this.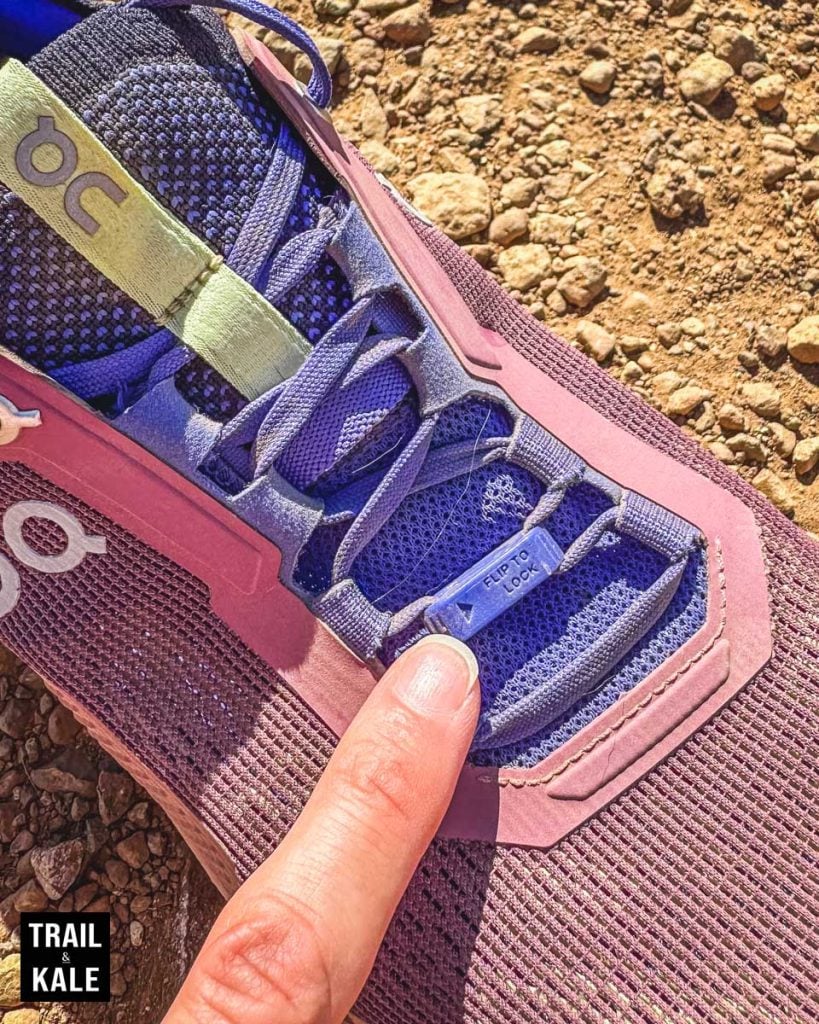 On Running introduced their FlipRelease system on the original On Cloudultra which exists to help you find the perfect fit much more easily when your feet expand due to intense exercise or running in hot environments.
It's a pretty simple yet effective system that allows you to flip the switch upside down to give your feet extra room, instantaneously.
The purpose of this is so that you can quickly give your feet more room to breathe during a run, as feet tend to expand and contract depending on their temperature – feet get warm during running.
So halfway through a hot long run, you may notice your shoes getting a little tighter, well with the Cloudultra, you can quickly flip that switch and give your feet extra space to breathe – pretty smart!
They have kept this feature alive with this new version of the Cloudultra, although it always felt like a bit of a gimmick to me, more on that in a moment in my performance review, however.
3. A far improved MissionGrip outsole design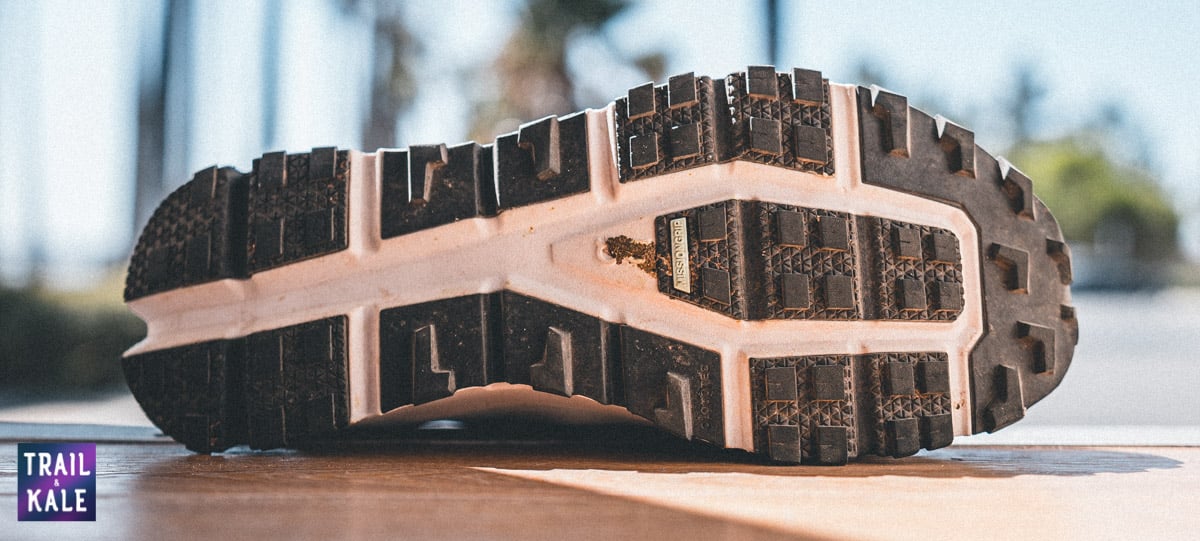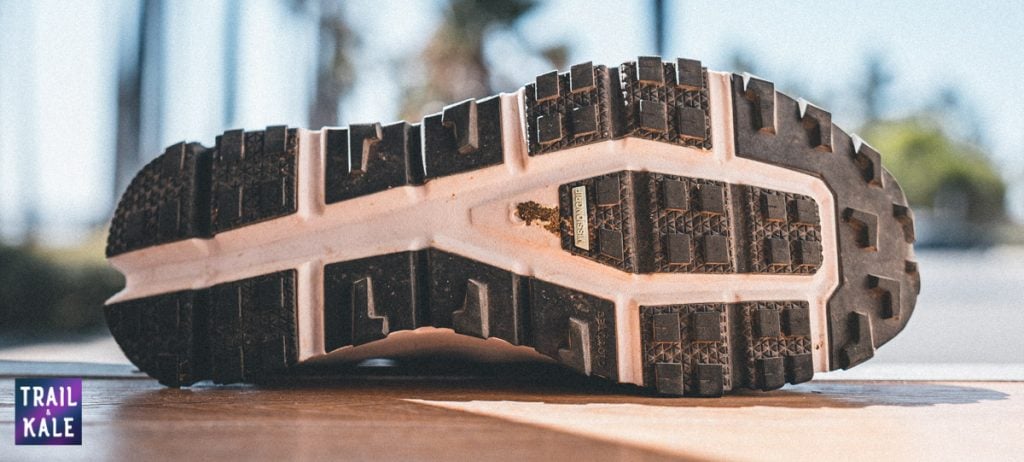 The On Cloudultra outsoles feature a brand MissionGrip outsole that provides 50% more ground contact when running. You can see how the new outsole compares to the previous version in my photo above.
Granted this 50% ground contact improvement isn't particularly obvious at first glance but I certainly feel that I get more control on steep descents in the Cloudultra 2 than the original.
It has the same great Missiongrip rubber compound as other On trail running shoes, which gives good traction over mixed trails; you can see more images of the outsole in the image gallery below.
4. The new knit upper enclosure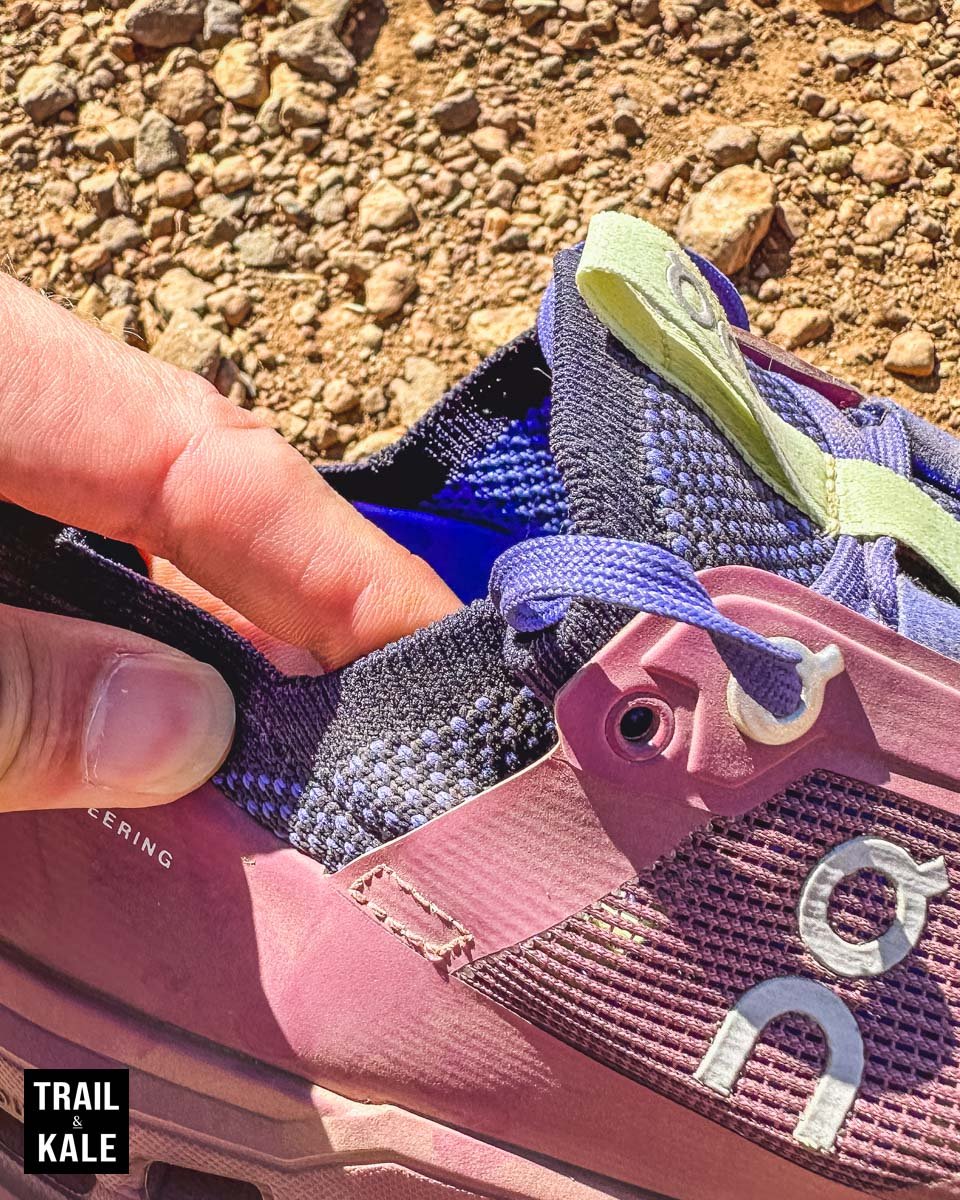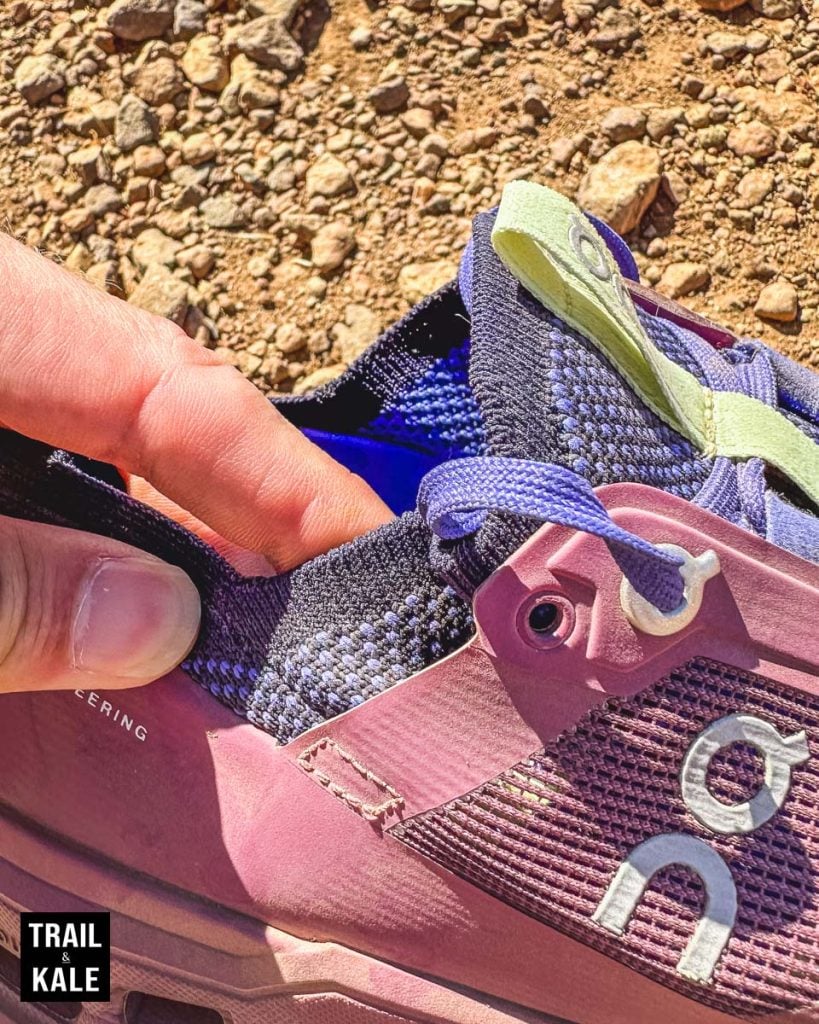 There's no real tongue so to speak of as On Running has gone all out in making the Cloudultra a knitted sock-fit construction, which wraps around your foot.
This new upper makes the Cloudultra 2 much easier to put on than the original version. It's also a lot more comfortable and the fit is much better.
Once your feet are in, they are very secure and locked in place very comfortably thanks to this new design and a new lacing system that compliments it.
There's also an elastic loop to tuck your laces under which stops them flapping around while running, which is a nice touch that really does offer value to the overall enjoyment of running in these trail shoes.
You can see how they look tucked in the loop in my performance video review below, plus you get to see my beautiful local trails that I test running shoes on for Trail and Kale! Don't forget to subscribe to our channel for videos just like this one! 🙂
---
On Cloudultra 2 performance review
The On Cloudultra 2 has been designed for trail runners who love taking on long distances, so that's endurance runners like marathon runners, and ultra runners – and the On Cloudultra hits it out of the park for delivering on its promises.
Watch my performance video review below to get an idea of how they perform in the real world on some of the most beautiful trails in California! I brought Kepler (our Border Collie) with me on this run so you can see some guest appearances from him too! 🙂
The Cloudultra certainly looks quite similar to its predecessor but it feels very different.
With that in mind I was very keen to test the performance to see how they compare to the previous version.
Some of the key changes of the Cloud Ultra 2 and how they affect performance: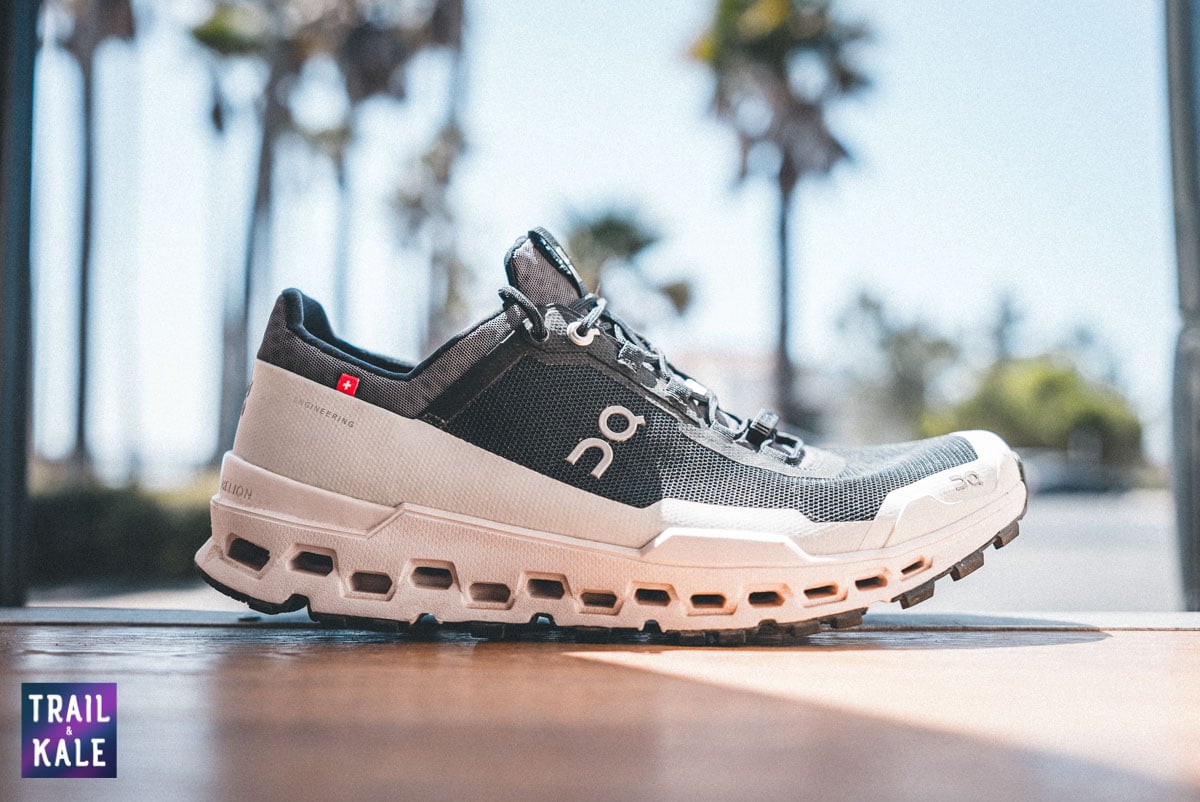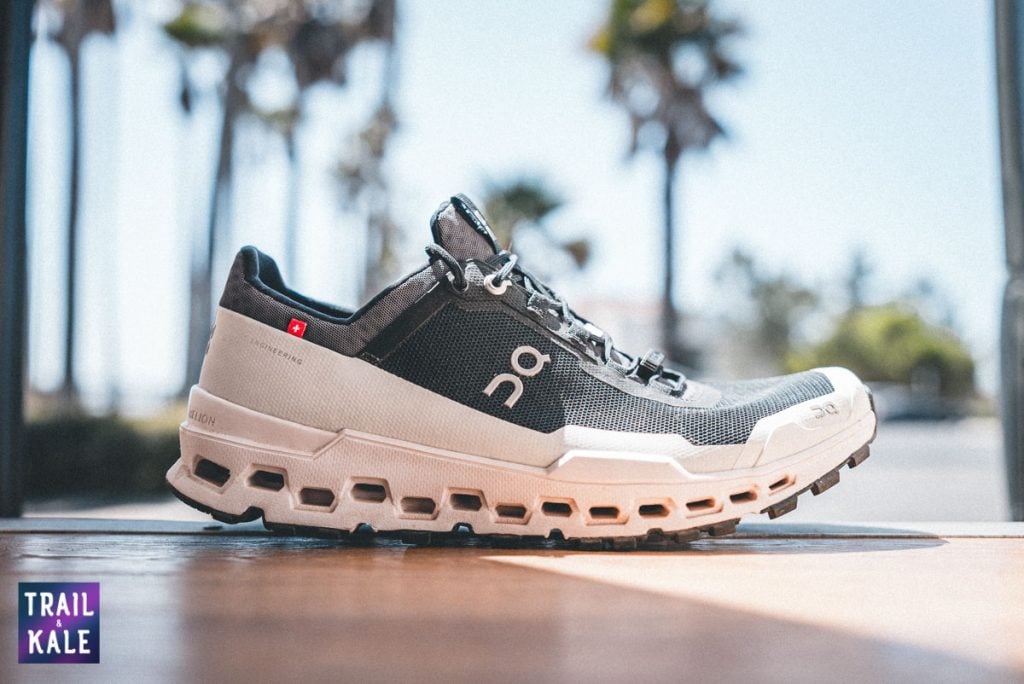 It's lighter – It's a touch lighter than the Cloudultra (original) which is certainly a positive if you plan to run longer distances with more ease, simply because your muscles will have less work to do.
The MissionGrip outsole has had a complete shuffle up – this means there's 50% more ground contact now, and I really notice that I'm getting better grip on steep downhills because of it.
There's now a lower drop – Also the drop has been reduced to 6mm from 7mm. This one millimeter reduction is really helping on trails and this is an ultra-endurance shoe designed for going long distances; hence the type of running shoes that you really don't want a high drop on.
Nothing about a high drop makes sense when running on varying terrain that's also gnarly, I mean you need a flat-ish surface on the bottom of your shoes to be able to effectively navigate the rolls and bumps in terrain, so this is definitely a step in the right direction for the CloudUltra 2. A high drop only makes sense when trail running on very light, easy trails.
It's more flexible and slips on much more easily now – it's definitely a lot more flexible out the box now, when compared to the previous version.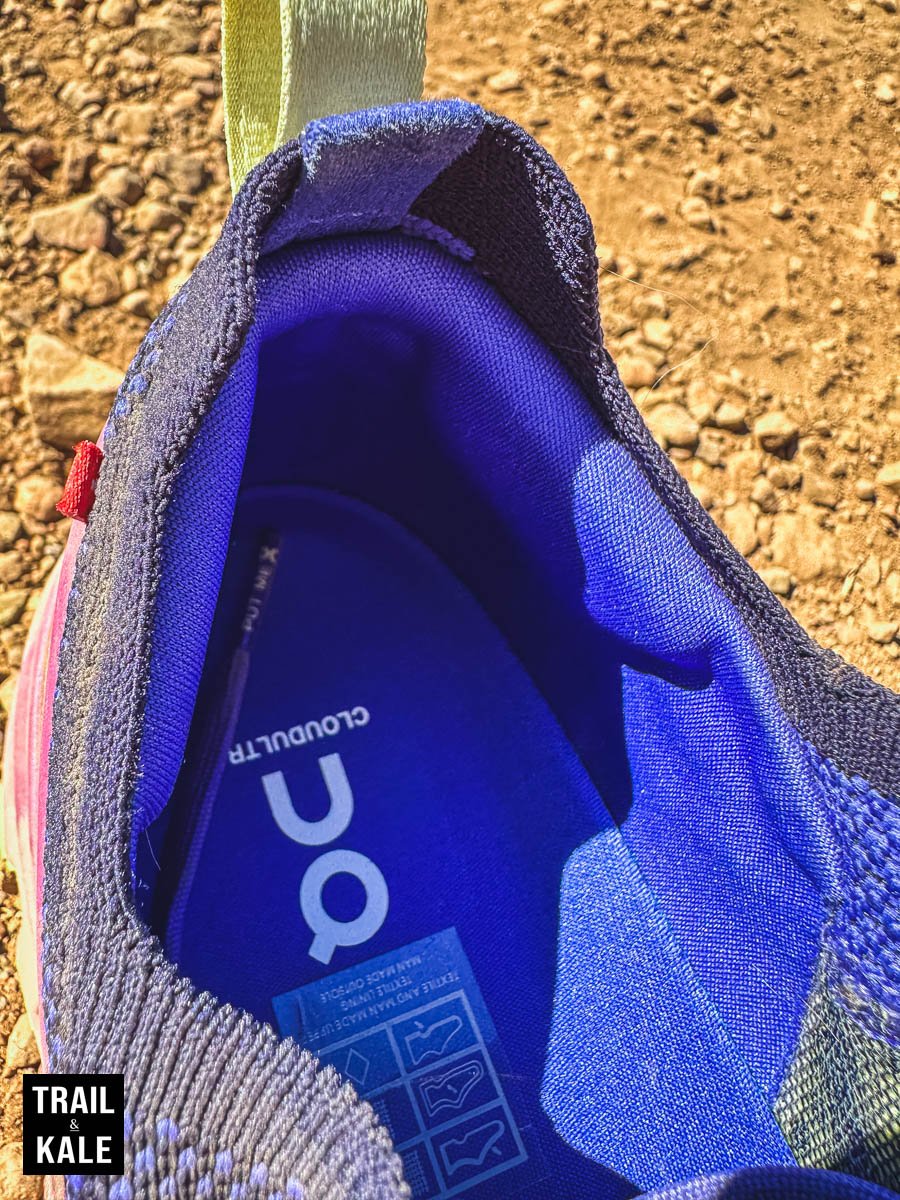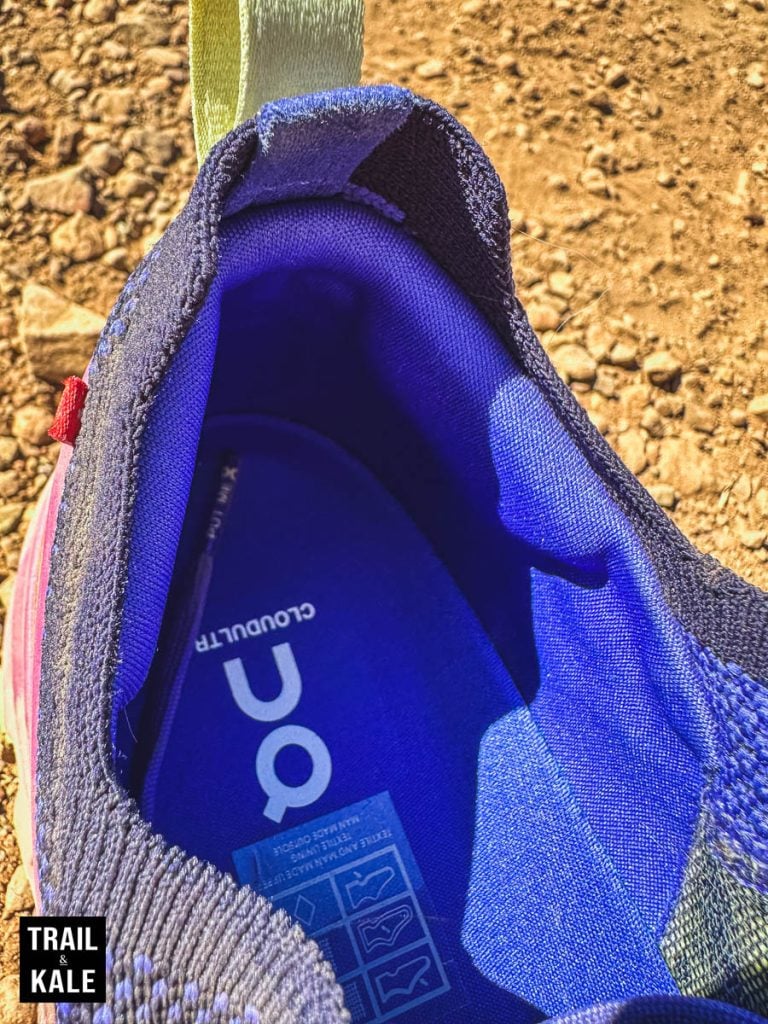 They're also more comfortable around your heel and ankles thanks to the cushioned pads, pictured above.
Increased cushioning – On has softened the Helion foam making the midsole feel more cushioned on the trails which means more comfort on harder surfaces, for longer. On's calling it maximum cushioning but if this was a HOKA shoe it would probably be medium cushioning.
They are now more breathable – the upper has been improved to allow for more airflow in and out of the shoes.
There's a new knitted upper – this knitted upper sock-like enclosure is really comfortable around your heel/ankles, makes them easy to slip on and also hugs your feet, acting as a gaiter to keep trail debris out of the shoes too.
So overall, the updates are certainly improvements. Some things that are the same include the snap lock enclosure that allows you to flip it and it instantly to give you extra room inside the shoe when your feet get hot.
In my experience, however, it's a bit of a gimmick. Although it does work, it just goes from one size to a much bigger size and I just believe a trail running shoe or running shoe in general needs to be able to expand, flex and stretch to your feet as they expand due to heat.
These shoes do that without the need for that flip lock and therefore I have it unlocked all the time, and I just fasten my laces as I normally would.
It still has that elastic loop to store your laces away too, which I really like.
I've been wearing the CloudUltra 2 on some hiking adventures too with Helen as she can't run right now because she's about two weeks away from giving birth to "baby spinach" which we're really excited about!
I really love them for hiking, there's tons of grip and they feel really comfortable, highly supportive, very breathable and they rate really highly in our Best On Clouds Shoes For Walking buyer's guide.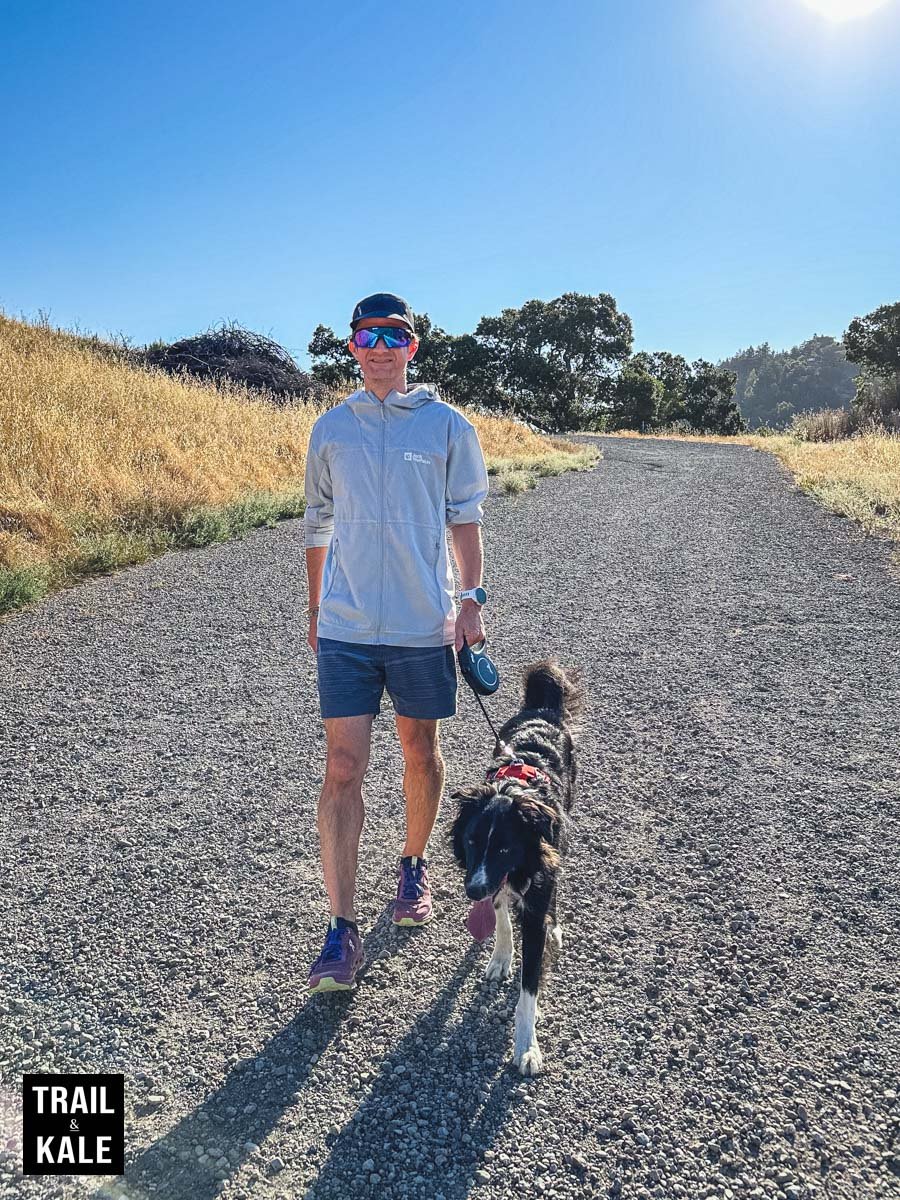 If you're wondering how they compare to the On Cloudvista for trail running, the On Cloudultra 2 takes the win for me, and is my favorite trail running shoe from On Running. I mention that shoe as it is their second most popular trail running shoe – see images below to see how they compare style wise.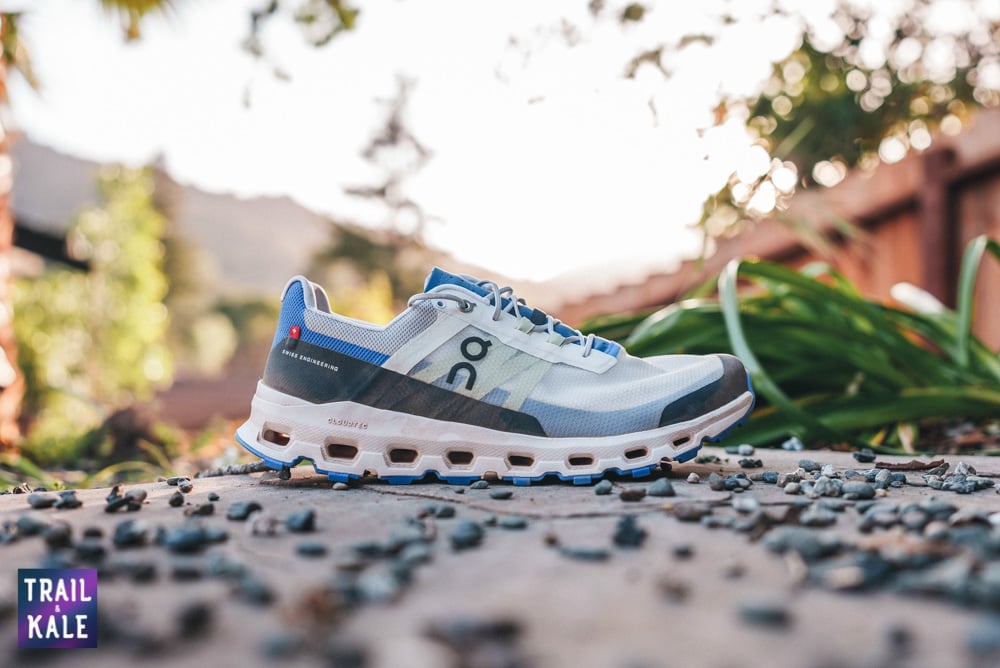 Go check out my On Cloud Vista review next if you want to learn more about them, but yeah highly rate the On Cloudultra 2 so far.
Okay, so running on the flat, the On Cloudultra 2 is really nice and fast, and I'm really loving that new six millimeter drop which helps it feel like a nice road running shoe thanks to the cushioned yet responsive ride.
Downhill performance in the On Cloudultra 2 is equally fun thanks to the confidence and control provided by the new Mission Grip outsole, and the comfort of the Helion midsole.
The outsole is so much better than the previous version not because of the rubber compound but more so the the pod formation that gives you more surface area contact with the ground, which is what you want with trail running shoes and it just really sticks to the trails.
Also, I haven't had any rocks get stuck in the outsole which is obviously a good thing!
---
Are they worth it and where to buy them
Absolutely, Yes! If you're looking for highly cushioned shoes to run long distances on the trails, the On Cloudultra 2 is most definitely for you. The On Cloudultra 2 are in my opinion, the best On Running shoes for trail running.
While $180 may seen expensive, you're getting a premium running shoe that's very versatile, thanks to their all-terrain (and all distance) capabilities, and you'll likely enjoy hiking in them too, like I do!
---
How do they compare with other On Running Shoes?
The On Cloudultra 2 feels fairly similar to the Cloudventure but in my opinion, has better cushioning underfoot and feels more responsive as a shoe overall.
The outsole is definitely improved over the original Cloudultra (and Cloudventure) too, due in part to the much shallower gully that runs down the middle of the shoe.
The much deeper gully on the Cloudventure had a tendency to leave you with an unpredictable footing when running over technical terrain.
---
On Cloudultra 2 Review Summary
On Cloudultra 2 review
PROS
The shoes are comfortable right out of the box; no break-in period needed.
The Cloudultra 2 provides excellent support for long distances, thanks to its generous cushioning and a TPU Speedboard that propels runners forward.
The new MissionGrip outsole provides more grip on hard surfaces and steep descents.
The upper mesh construction is more breathable than the previous model.
The new knit upper enclosure ensures a more secure and comfortable fit. Also easier to slip on than previous model.
They are versatile, suitable for both trail running and hiking.
CONS
The $180 price point might be seen as expensive for some runners.
Although lighter than the previous model, it's still a relatively heavier trail running shoe for the price.
Jump over to our Best On Running Shoes Ranked and Reviewed buyers guide to find out how well the On Cloudultra 2 ranks against other On trail running shoes, HINT – They're rocking it!
---
On Cloudultra 2 Photo Gallery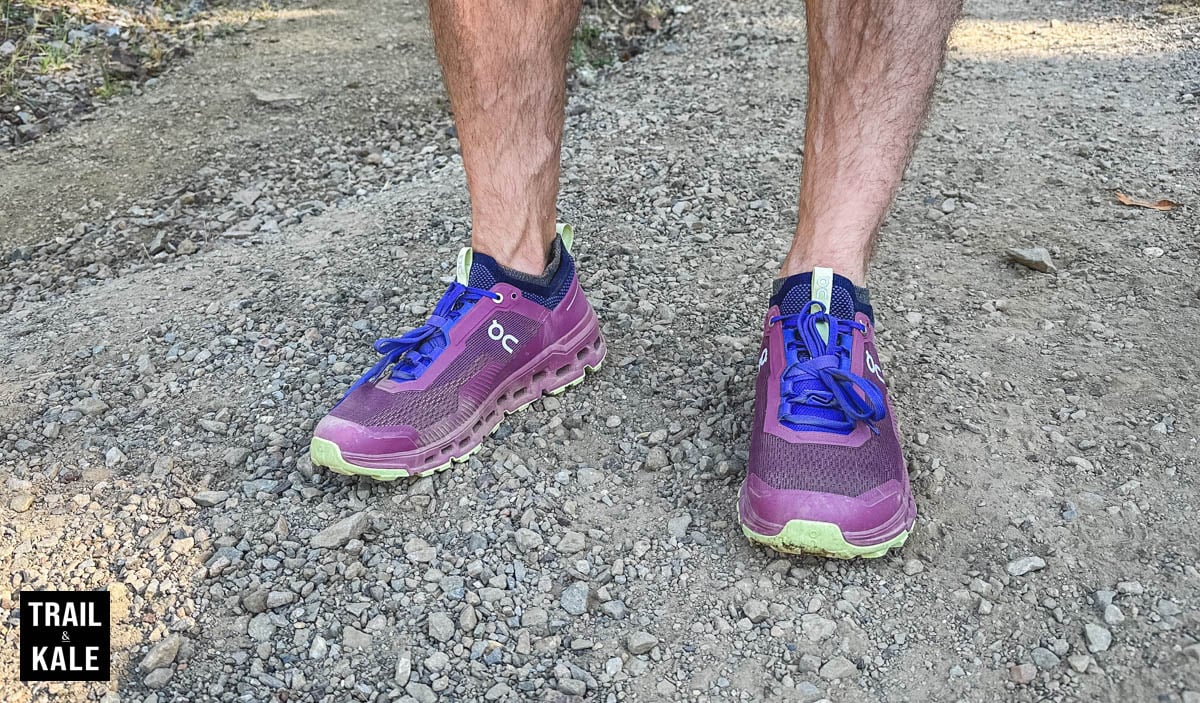 ---
I hope you enjoyed this On Cloudultra 2 review – if you have a question about these trail running shoes, drop it in the comments below 🙂 -Alastair.