The On Cloudflow is (finally) back with a radical new design that gives these popular running shoes a completely new feel to the previous version (and all the other On running shoes too), but filled with improvements.
Although the Cloudflow 3 was a nice running shoe in its own right, it lost its pizazz that made it such a hit in the first place and I put that mostly down to the very minimal and firm midsole that made running anything longer than 10km a bit of an ordeal.
The On Cloudflow 4 looks nothing like the previous version, which excited me because it means that On has been getting innovative to bring the Cloudflow line back to the forefront of On running shoes.
---
On Cloudflow 4 at a glance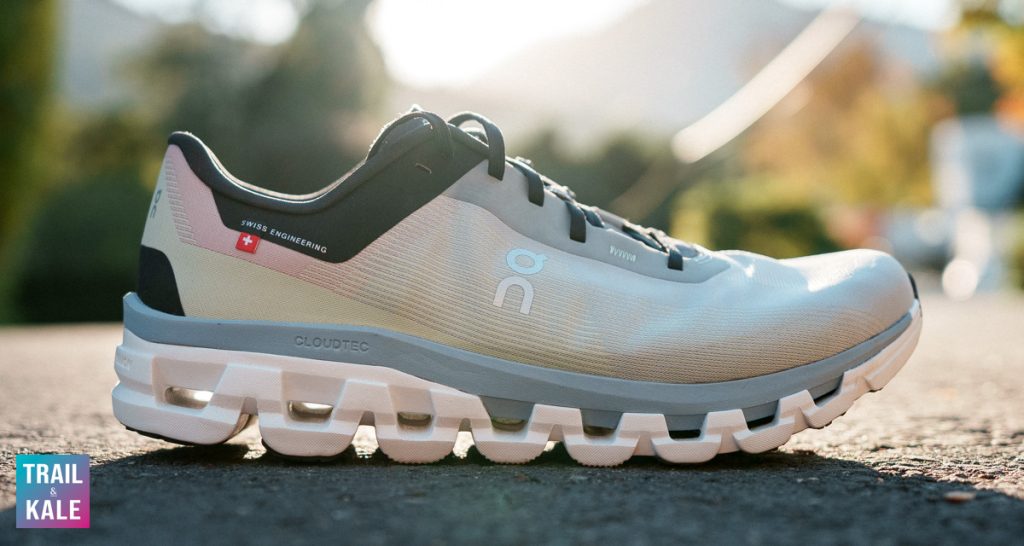 Weight
8.7oz / 247g for a size US(M)9 (my pair)
Drop
8mm / Stack height: 31mm/23mm
Width
Medium
Support
Neutral
Cushioning
Firm and responsive but slightly more cushioned compared to the previous version.
Price
Key Features PROS & CONS
🟢 More comfort on long runs
🟢 Enhances running momentum
🟢 Durable and breathable material
🟢 Unique rolling momentum
🟢 No more stuck stones
🟢 Very lightweight
🟠 Laces need extra loosening
🔴 Pricier than previous model
Usage
This is what On calls a "forward rolling" running shoe, meaning it's designed with a Rocker geometry around the forefoot area to help keep you moving forward – and it works!
What's new in this version?
HUGE improvements over the Cloudflow 3, including a new engineered woven upper (same as the Cloudboom Echo 3), new dual density Helion midsole with spoon shaped speedboard, new outsole with closed channel (no more stones caught in your shoes). It's lighter, better energy return with an enjoyable feeling of rolling momentum, and there's more cushioning underfoot.
Closest competitors
HOKA Mach 5, HOKA Mach X, On Cloudmonster, Brooks Ghost Max
---
This in-depth On Cloudflow 4 review will focus on the key features of these running shoes, how well they perform while running, and as always how well they rank against other On running shoes.
Some regulars readers of Trail and Kale have been in alignment with me when I pointed out some issues with the previous version of this running shoe, so I know they'll be pleased to read how it has been spiced up with this new release.
---
More On buying guides:
---
The Cloudflow 4 feels more cushioned, more responsive and has that early rocker geometry that helps bring momentum to your runs in a way that well… just feels right! I'll go into all the reasons why the Cloudflow 4 is such a hit with me, and ultimately why it's now my favorite tempo running shoe.
The On Cloudflow 4 is a 5k to half-marathon training shoe for tempo runs, and racing. For those who are training for a marathon I'd recommend either the Cloudsurfer 7 or Cloudmonster for an even more cushioned ride for those long easy runs.
And if you're looking to switch the Cloudflow 4 to a racing shoe come race day, and you want On's fastest ever running shoe, check out my On Cloudboom Echo 3 review next – those things are insane.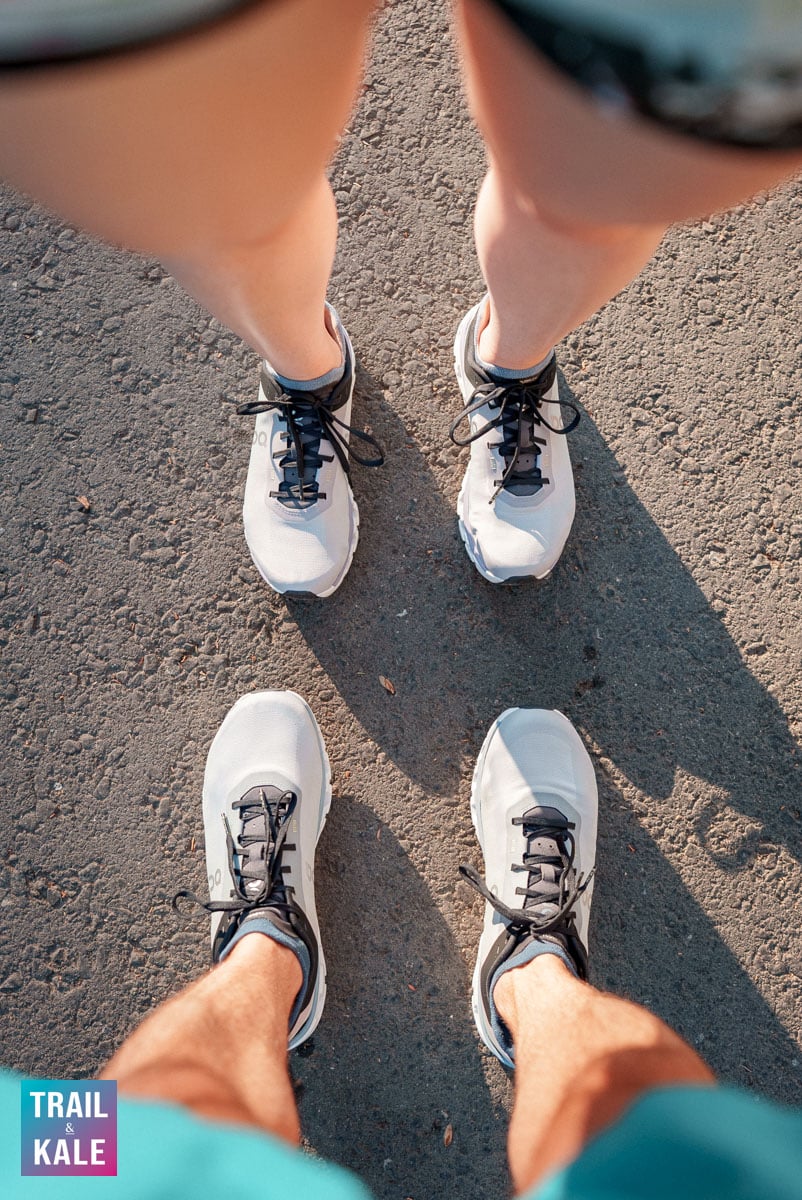 This On Cloudflow 4 review should answer all the pre-purchase questions that you may have but if not, please feel free to ask me anything in the comments section down below, I usually respond within a few hours – you can also reach me on Instagram
---
On Cloudflow 4 Sizing and Fit
I can confirm that these running shoes do indeed fit true to size and the medium width accommodates average-sized feet perfectly.
So, if you're used to running or walking in On running shoes, go with your usual sizing. If you're new to On but use brands including HOKA, Brooks Running, Nike, Saucony, then they fit consistently with them too.
Comfort has always been is an important factor for On, and the Cloudflow 4 brings this back to the forefront, whereas the previous version had kind of lost it's way in terms of cushioning and comfort in the upper, and midsole.
This new upper is breathable, flexible, and has plenty of room for your toes to breathe while running.
My experience running in the On Cloudflow 4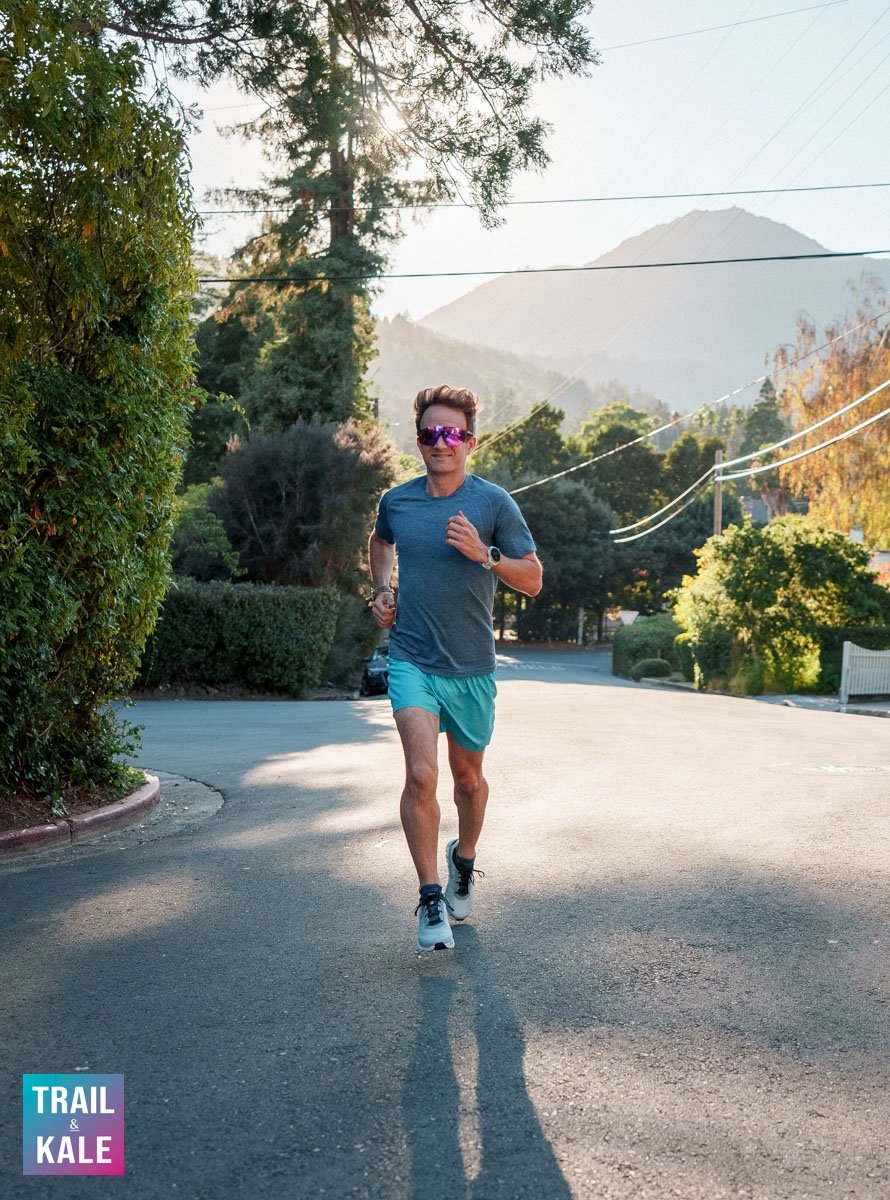 The day I laced up the On Cloudflow 4 (scratch that, my experience told me that they would perform well just by looking at them for the first time), and headed out for my first run in them, it was the new dual density Helion midsole that initially stood out to me.
The way the midsole feels when walking and running was the one thing I couldn't have predicted from looking at them.
The rocker geometry when combined with the new spoon shaped Speedboard that runs through the middle of the outsole just feel joyous in the way it helps you smoothly roll forwards and on to your next stride.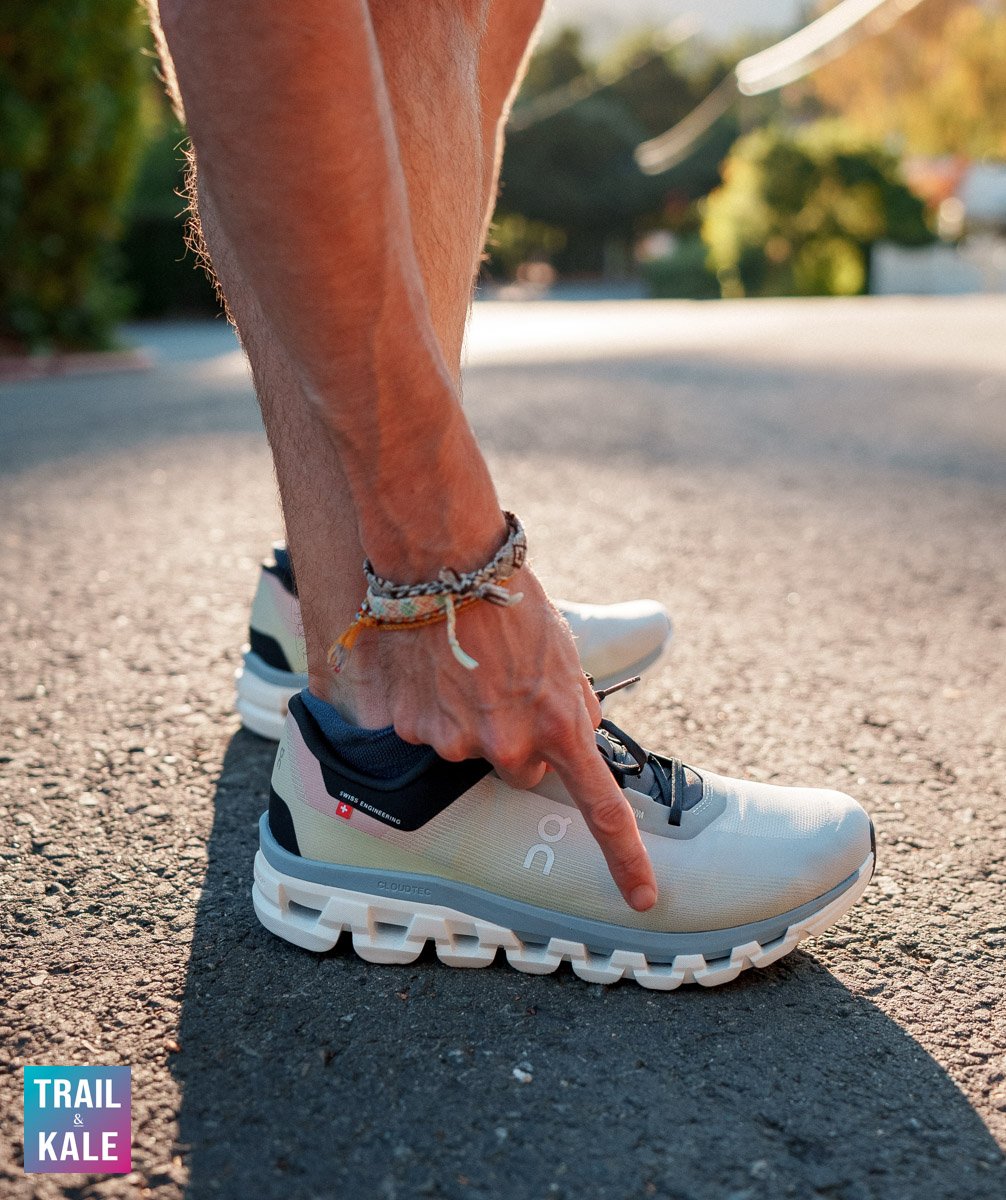 The rocker is situated toward the forefoot, and this really helps me run more on my forefoot, focusing on better running form, increased speed with an explosive toe off, and improved endurance thanks to that smooth transition – and better yet, this all just feels totally natural, and I just want to keep running in them.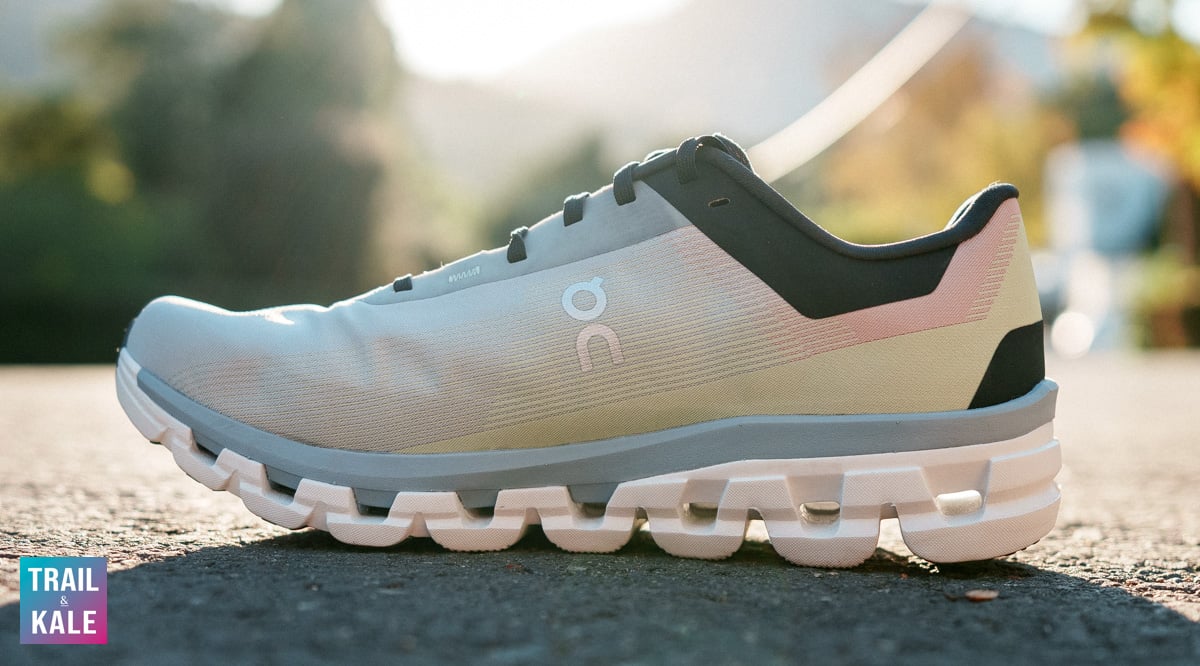 I review A LOT of running shoes each month, and it's not very often that a gem of a running shoe like this graces me with its performance and comfort, and it's even less frequent that I decide to bring a running shoe into my shoe rotation.
The On Cloudflow 4 is one of those special running shoes for me, and Helen agrees with regard to the women's version!
The Cloudflow 4 now features On's latest high-tech woven upper with engineered zones for high breathability. It's extremely light for your feet and light for the planet because the base material is made out of 100% recycled polyester.
Additionally, a new lining and heel construction offers better comfort and heel lock than before, and you'll know this as you will need to loosen those laces plenty, in order to slip them on.
This is good news for you run but does make them a few seconds slower to get on, but once on, they really do provide a very secure fit.
The upper is also very breathable and provides a nice amount of room inside for your toes and feet to breathe and you're stepping up the pace.
My first run in them was during our late heatwave here in California where the temperatures were over 30C (around 90F), and my feet did not overheat at all; that impressed me.
And finally let's quickly talk about the outsole, another feature that has been revamped for the better.
The outsole is much better now, with better traction and a construction which finally closes the channel without affecting Cloudtec performance in order to prevent the collection of stones. Yes, that was a real problem with the Cloudflow 3 that came before.
There are also rubber pads on the outsole now, which are strategically placed for high traction and durability in wet and dry conditions.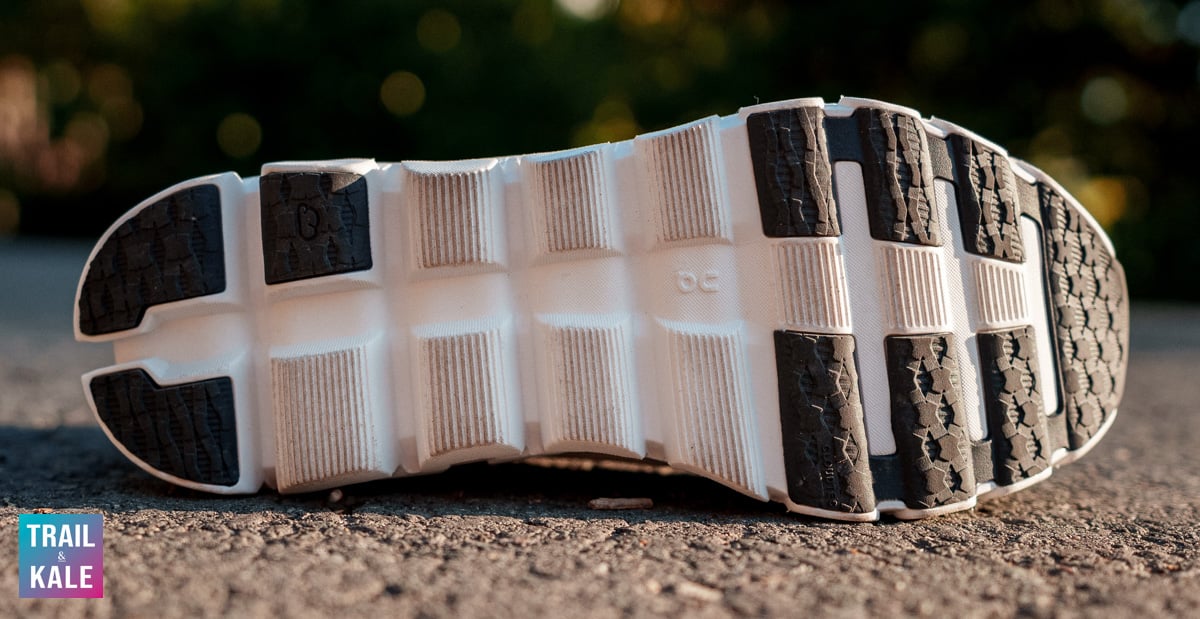 Here is a closer look at the outsole (more images in my photo gallery below):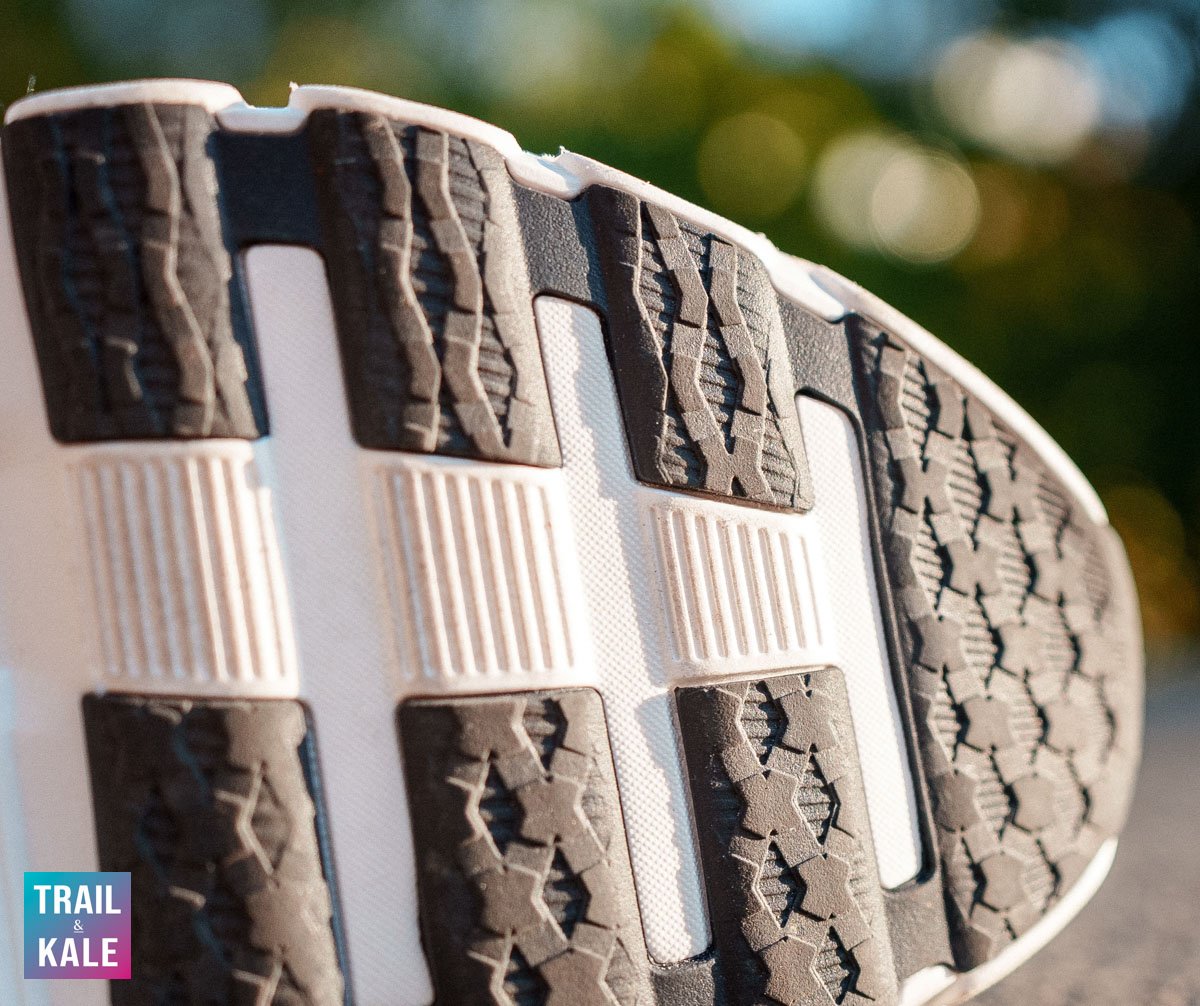 But the Cloudflow 4 isn't just about performance; it's also about principles. I love how On incorporates sustainably made, recycled materials into their running shoes.
So that's really the story of why, and how the new Cloudflow has made its way into my shoe rotation as my new favorite tempo training shoes.
I'll be putting down a lot more miles in these running shoes so please drop any questions you have about them in the comments, and I'll do my best to add new notes there, as I rack up the miles in them.
Are they worth your hard-earned money?
100% YES! The On Cloudflow 4 is a true hit for me; it's a high performance, moderately cushioned, and eco-friendly running shoe that I know you guys are going to love.
If you're familiar with the Cloudflow series, this really doesn't feel anything like it, instead I would describe them as being a blend of the Cloudsurfer and the Cloudboom Echo 3; not in looks, but how they feel!
It's more than just a shoe; it's a running partner that will find a special place in many a runner's running journey.
For only $160 at on.com, I highly recommend giving the Cloudflow 4 a try, especially if you're after a new tempo training shoe.
Whether you're an experienced runner like me or just starting out, these shoes have something for everyone; I also love how they look, and right now there are 5 different colors to choose from (in both men's and women's).
If you do end up getting these running shoes (or you already own a pair) for your run training or leisurely jogs with family and four-legged friends do let me know in the comments down below – I love seeing how you all get on with my recommendations! 🏃‍♂️💚
---
On Cloudflow 4 review summary (rating with pros and cons)
On Cloudflow 4 review
PROS
A better midsole means more comfort during longer runs, addressing the main concern with the Cloudflow 3.
Helps bring momentum to runs, enhancing the overall experience and encouraging better running form.
Made from the same material as On's fastest running shoe, it offers both durability and breathability.
New Dual Density Helion Midsole with Spoon Shaped Speedboard provides a unique rolling momentum during runs and excellent energy return.
Better traction and the closed channel design means no more pesky stones getting stuck.
Lightweight
On's commitment to sustainability shines with their use of 100% recycled polyester in the shoe's base material.
CONS
The new design means you need to loosen the laces a lot more to slip them on, but this does provide a very secure fit when running which is a very good thing!
Quite expensive when compared to the previous Cloudflow which was $140 but given the upgrades and performance, $160 is a reasonable investment for such a shoe.
---
On Cloudflow 4 Photo Gallery