The On Cloudsurfer has always been designed with speed, comfort, and fun in mind and that ethos has held true for each generation of the shoe as shown in every On Cloudsurfer review I have published over the years – yes I've run in all of them, albeit in varying levels of innovation and performance.
Fun fact – the On Cloudsurfer was my first ever On running shoe way back in 2012, and it's the only On running shoe that still had those original iconic cloud pods on the outsole – which by the way, have finally made it to heaven because they no longer exist in any of the On running shoes currently available.
If you're wondering whether that's a good or bad thing, well you'll just have to read my review to the end. 🙂
Oh and in case you're wondering; whenever there's a new version of an On Cloud shoe, I tend to update my preexisting review post, which shares how the new version compares to the previous model (the Cloudsurfer 6 in this case), as well as everything that's new and commendable.
Here are the last 3 versions so you can see how the Cloudsurfer has evolved over time:
Hopefully, this On Cloudsurfer review (Cloudsurfer 7) answers all the questions you have before buying them but if not, please feel free to ask me anything in the comments down below – I'm always happy to talk about On running shoes. 🙂
If you're curious about how I rank the Cloudsurfer amongst all the other On Running shoes, definitely read my "Best On Running Shoes Ranked & Reviewed" post next, and if you're also an avid walker, you'll be pleased to know that the Cloudsurfer is our top pick as the best On Cloud shoes for walking.
Interested in getting up to 40% OFF On running shoes? Visit On's Last Season page to see their latest deals.
Okay, let's get straight into this review of the On Cloudsurfer 7.
Fit & Design
The On Running Cloudsurfer shoes are very comfortable and don't need any breaking in whatsoever – and the sizing is consistent with other On running shoes, and in line with brands like HOKA, Nike, Brooks, Adidas, and most other popular running brands I have tested.
They have neutral support (like most On Clouds shoes), a medium-width toe box, and you'll find them very plush underfoot.
➡ If you have any experience with the previous version of the Cloudsurfer and want to know if this version is better, my answer is a resounding yes!
"Why?" I hear you ask, well for 3 key reasons! I'll list them below and go into more detail in a moment:
1. The Cloud pods have gone! This is a bit of a double-edged sword because those retro cloud pods did offer incredible bounce BUT they were not very durable, and quite often stones would get caught between them if you ever ran on gravel, which was rather annoying.
The Cloudsurfer 7 actually has a better ground feel with a more comfortable plush feel now however, due to the brand new computer-optimized CloudTec Phase™ midsole which to put in layman's terms is sequentially collapsing Clouds that creates a silky-smooth ride – more on this in a bit.
2. The upper provides a much improved, comfortable fit. Due to a superior lacing system, and a softer more padded upper construction, the Cloudsurfer feels incredibly comfortable when you step into them, a feeling that continues throughout your whole run – and I don't say this lightly – they're probably some of the most comfortable running shoes I have ever worn.
3. They're SO MUCH LIGHTER. The previous version weighed 11.6 oz while the Cloudsurfer 7 weighs a mere 8.2oz. That's a 30% weight saving which is HUGE, and I really notice it when running in them.
---
Alright, so that's how the new Cloudsurfer has been improved over the previous version, now let me go into more detail about what I love and the only thing I feel could be improved for next season's Cloudsurfer 8.
Key specifications of the Cloudsurfer 7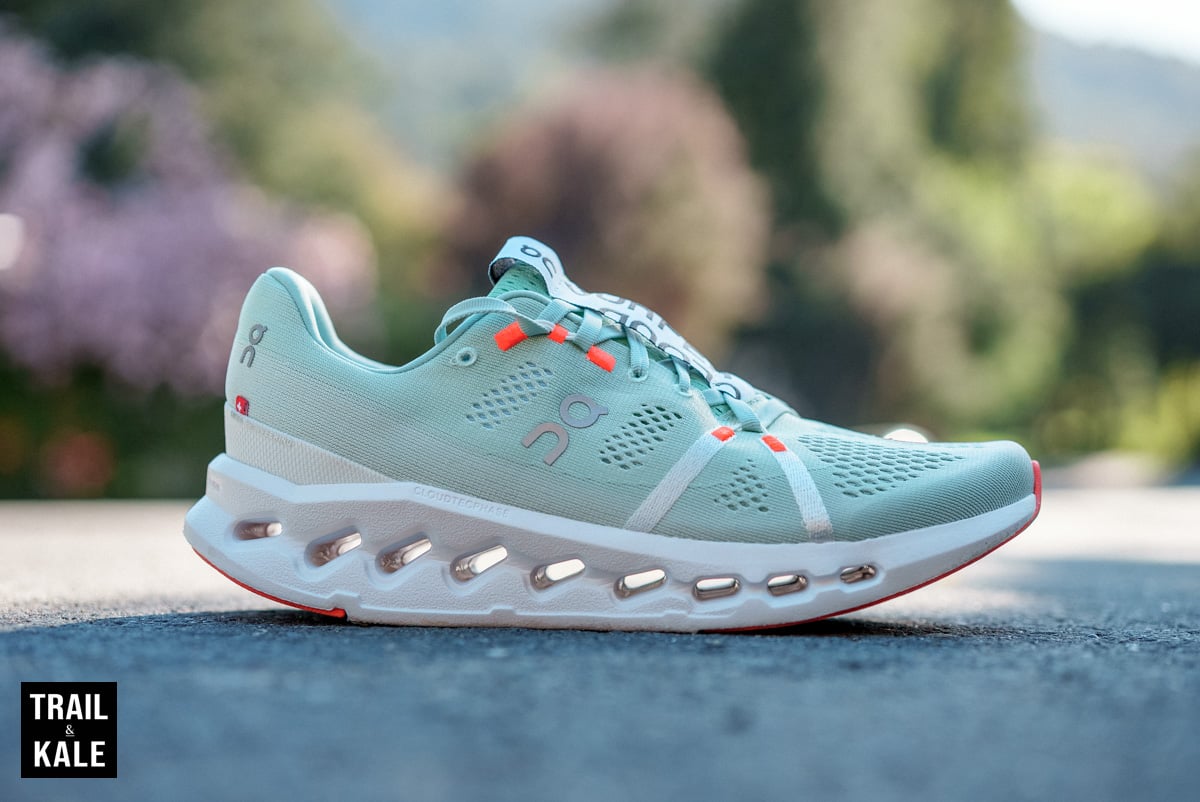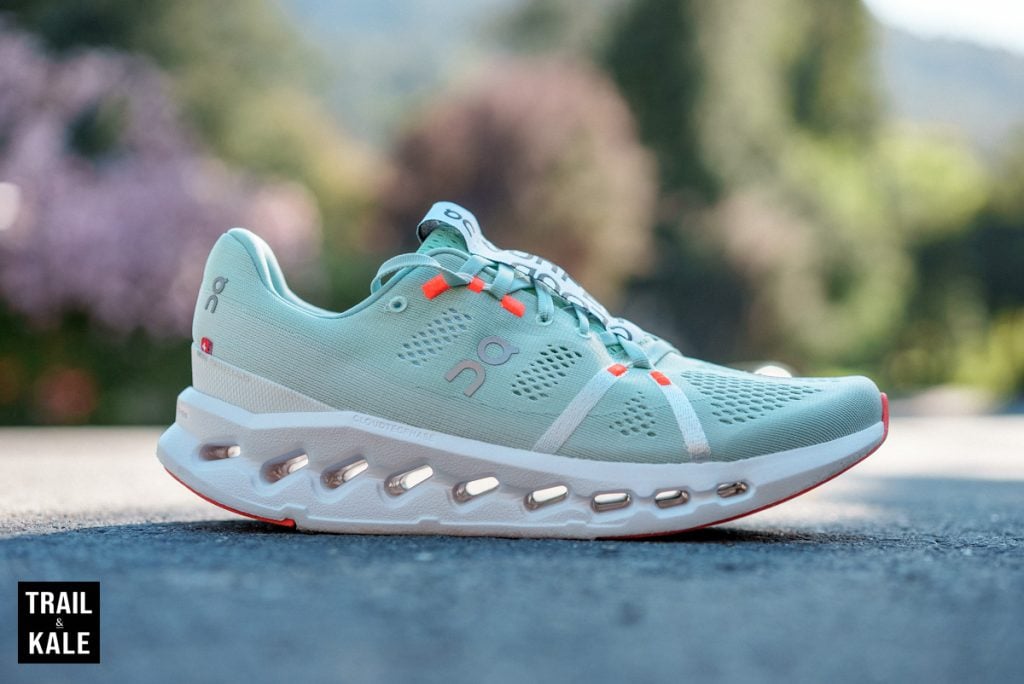 Price: $159.99 at on-running.com
Weight: 8.20 oz (232g) for a size US(M)9 (my pair) – That's super lightweight for a shoe at this price!
Drop: 10mm (unusually high for On but feels great for a plush shoe like this)
Toe box width: medium
Stability: Neutral
Cushioning: plush
Recycled materials: Yes, total recycled content: about 30% – total recycled polyester: about 85%
Upper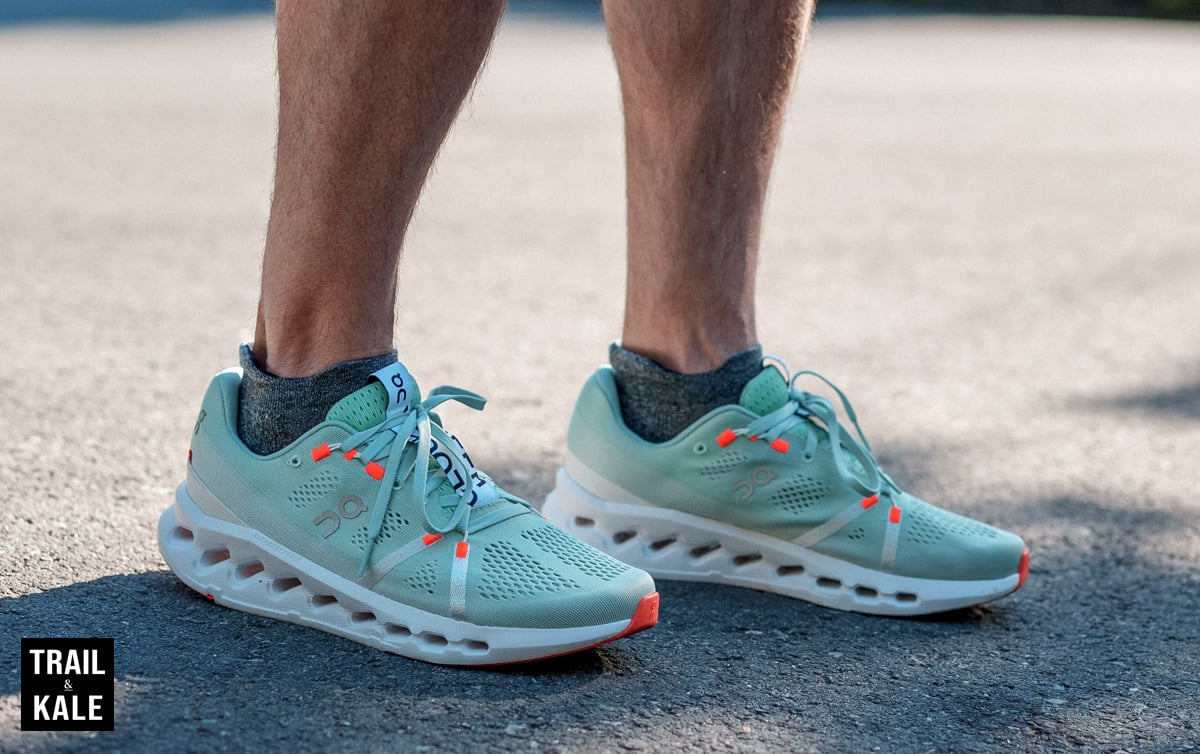 The mesh material on the upper is breathable and has a two-layer system. The internal layer has a little bit of stretch and offers some soft cushioning for the top of your foot, while the outer layer has that breathable knit that holds the foot firmly in place.
This is the main area that I believe On should look at improving, while the upper is breathable, it could have better zoning to allow for more airflow in key areas of the upper – this would help temperature regulation in the shoes when running on very hot days.
On is also using an interesting lace attachment system, akin to Nike's Flyknit and totally new from On, which helps provide flexibility in the fit of the shoes as you run and move your feet.
In the image below you can see that right next to the bright orange threads, there's a white string – that's what I'm talking about, and it works really well.
Looking at the heel cage at the rear, you can see the Cloudsurfer 7 has vastly padded out this area making it feel as plush around the sides of your heels as it does underfoot. This is what stepping into a cloud should feel like!
I have in the past had an Achilles tendinitis issue with some shoes putting unnecessary pressure on my Achilles and agitating the tendon but these On shoes do not, so I love them for that!
Inside the new Cloudsurfer
The footbed is very nicely cushioned for extra comfort and the inside of the upper material is very comforting on top of your feet – it's a win for me.
There's also an inner sock that attaches the tongue to the forefoot area, similar to many other On running shoes.
This keeps the tongue in place and prevents debris from coming between your foot and the shoe walls. It plays a huge role in that you shouldn't ever get chafing or blisters as there are fewer seams inside for your foot to run against.
Tongue & Laces
The tongue is very plush and comfortable, which is great and the tongue doesn't slip down, or move from side to side – I like it!
The laces that come with the shoes provide some stretch and therefore don't add any unwanted pressure to the top of the foot either, so that's a positive.
The new CloudTec Phase™ midsole
One of the most interesting features of the Cloudsurfer 7 is On's brand-new game-changing shoe technology called CloudTec Phase, developed by the innovative folks at On Running.
Picture this: you're out running, and each step you take feels like you're gliding on clouds. That's precisely the sensation On Running aims to deliver with their CloudTec Phase technology.
This innovation brings together two key components: the CloudTec cushioning system and the Phase transition material (Helion).
The CloudTec cushioning system is designed to provide a soft landing with each stride as it cleverly adapts to your unique foot strike, ensuring optimal cushioning and support.
The real magic, though, lies in how the Helion foam midsole sequentially collapses as you land, essentially phasing a soft landing based on your speed and weight.
It does the same in reverse as you take off – all this is made given smoother because of the rocker silhouette of the shoes.
It's very clever and I feel this innovation working to make my runs more efficient so that I'm less fatigued by the end of them.
Outsole Upgrades
The outsole has been improved in durability and no longer picks up stones if you run over gravel paths – yes that was a thing with the previous Cloudsurfer version.
The outsole tread works very well thanks to the micro pattern and large surface contact area with the ground.
When you run in the Cloudsurfer you'll notice a nice forward lean stance thanks to that 10mm drop from heel to toe. This helps to encourage more of a forefoot landing experience when moving at speed but also allows you to use some of the plush heel cushioning if you need to reduce your speed and recover a little.
Drop & Weight
There's a drop of 10mm from heel to toe which seems a popular number with On shoes.
I've usually a fan of keeping the drop as low as possible to aid better form and a more natural footfall but when it comes to plush long-distance running shoes like this, it always pays to have a slightly higher drop.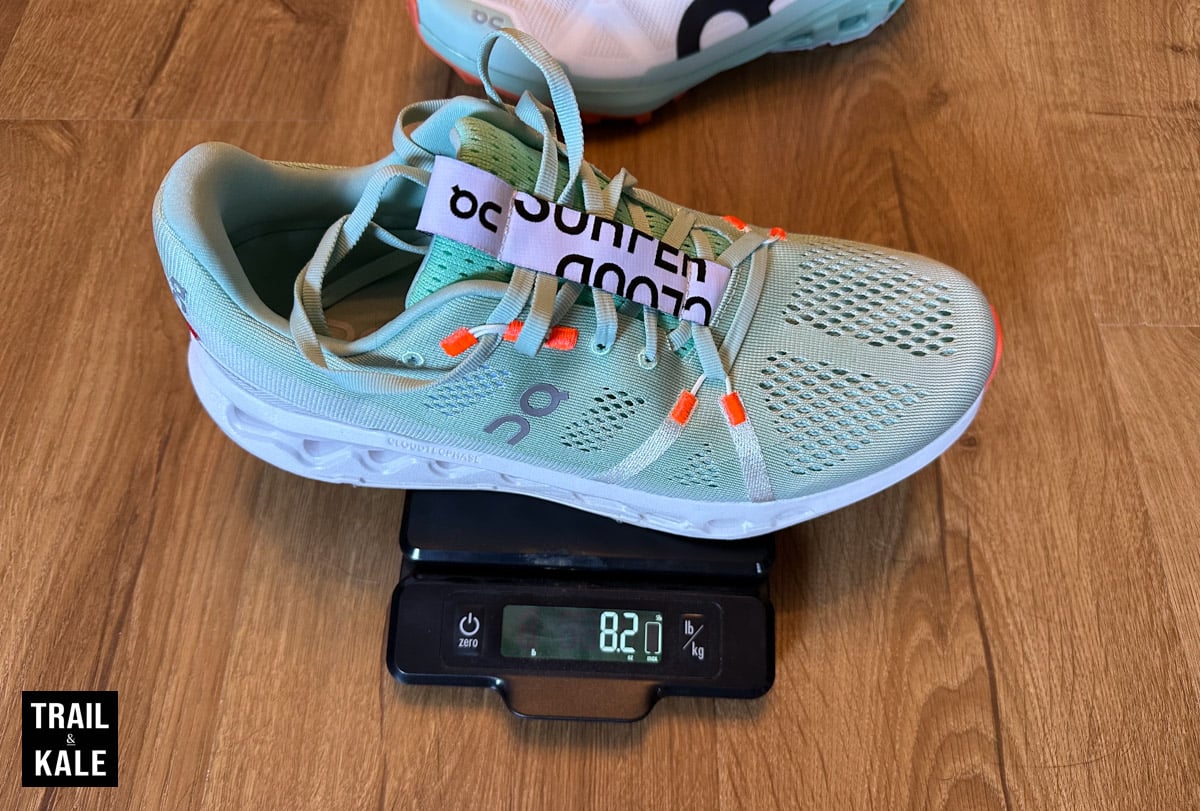 Weighing in at 8.20 oz (232g) for a size US(M)9 (my pair), this is a very lightweight On running shoe, and as I mentioned earlier it's 30% lighter than the previous version.
If you want to go even lighter and are after the lightest, fastest On shoes, also check out the Cloudboom Echo running shoes which feature a carbon fiber plate in the midsole to help you reach your top speed when racing 10ks, half marathons, and marathons.
---
On Cloudsurfer 7 video review
---
Where to Buy
The On Cloudsurfer is available for purchase at on-running.com for $159.99.
Alternatives to the On Cloudsurfer
If you're weighing up your options and looking to discover other comparable plush running shoes from other top running brands I could recommend looking at these two shoes:
Both of which have a similar feel and are for the same types of running, which is long runs, recovery runs, half marathon training and marathon running.
---
On Cloudsurfer Review Summary
If you're looking for a shoe that's going to keep your feet feeling comfortable for all types of road running, but more specifically runs where you need plush comfort (underfoot and around your feet) the On Cloudsurfer shoes are an excellent choice.
They are currently ranked in the top 3 of my ON Running Shoes: Best On Running Shoes Reviewed and I have awarded them the highest award from Trail & Kale which is our Editor's Choice Award.
Editor's Choice awards are only awarded to outstanding products that we choose to keep using ourselves after reviewing them – I am keeping the Cloudsurfer in my running shoe rotation for long, recovery runs where I need to keep base mileage high without raising my acute training load too high.
They enable me to keep running and training even after high-intensity run days.
On Cloudsurfer
Pros
Very plush and have a fun bouncy ride that's also fast thanks to the Helion Phase midsole
Very comfortable for long runs
Extremely lightweight
Springy CloudTec Phase is just amazing! Congrats to the On dev team for this accomplishment
Much more durable than the previous Cloudsurfer
My favorite On shoe for long road runs by far!
Cons
Could be a bit more breathable in the upper
---
On Cloudsurfer Review Image Gallery
---
Still not sure which On Running Shoes to buy?
Visit our Best On Running Shoes Guide for an ordered list of the top ON shoes for road and trail running, each with links to our On Shoe reviews. Designed to make your buying decisions clearer.