The Tecton X 2 may not have the sleek aerodynamic silhouette of say a Mafate Speed 4 or a Challenger ATR 7 but 'holy trailhead', can these trail running shoes shift!
With a carbon fiber plate, early-stage meta-rocker, HOKA's immense PROFLY-X midsole, and lightweight construction, the Tecton X 2 glides like the Rocket X 2, and thanks to the Metagrip with Vibram rubber outsole it also sticks to the trails like the Mafate Speed 4 – this trail racing shoe means serious business.
This HOKA Tecton X 2 review, like all our outdoor gear reviews, is in no way sponsored by the brand but HOKA did send us the shoes to get our honest opinions in this review – and maybe even get some advice on how to improve the design for the Tecton X 3 next season.
HOKA Tecton X2 sizing and fit
These HOKA trail running shoes fit true to size when compared to other popular running shoe brands like On Running, Brooks Running, Nike Trail, Adidas, and Salomon to name a few of our favorite trail running brands.
The HOKA Tecton X 2 is extremely comfortable right out of the box, with no 'breaking-in' period being necessary – as there shouldn't be with a well-matched trail running shoe with a premium price tag.
They're medium-width trail running shoes with neutral stability and responsive cushioning in the midsole thanks to that wonderful dual-layer PROFLY-X midsole – more on that in a bit.
If you have slightly wider than average feet then these should fit you well too!
For on-foot video footage, watch my Tecton X 2 video review below, where I put these trail racing shoes through their paces on one of my favorite local 10km routes (+300m ascent).
The materials used in the brand-new lightweight breathable Matryx upper are very soft too, and there's plenty of padding in the walls – all of this contributes to that feeling of comfort.
Key features worth knowing about
Key specifications
Price – $225 at REI.com or hoka.com
Weight – 9.1 oz. (258g) for a US M9 – That's super lightweight if you're wondering!
Width – medium
Midsole – A two-part PROFLY-X lightweight midsole with a carbon fiber plate sandwiched in between.
Outsole – Vibram® Megagrip with Litebase that's built for speed, precision, and efficiency on the trails.
Drop – 5 mm drop. This is perfect for technical trails and all-mountain running.
Let's go over some of the standout features in more detail then.
The HOKA Tecton X 2 racing shoes are very lightweight
For anyone who let out a gasp when they read that price tag of $225 above, the Tecton X 2 are HOKA's most premium trail racing shoes, which means they are super lightweight and have that ever-so-desirable carbon fiber plate which makes them fast and responsive.
Find out later on in this review, if I think they're worth that hefty price tag.
The Tecton X 2 weighs a mere 9.1 ounces for a size US 9 men's which is very lightweight for a shoe with so much protection, padding on the upper, and cushioning in the midsole.
I mean 9.1 oz is lightweight, even for a road running shoe!
To give you some running shoes to compare that to, within the HOKA lineup:
Tecton X 2 – 9.1oz – trail racing shoes
Challenger ATR 7 – 9.0oz – hybrid road/trail running shoes
Mafate Speed 4 – 10.3oz – trail running shoes
Clifton 9 – 9.2oz – road running shoes
Rocket X2 – 7.6oz – road racing shoes | Yes that's insanely lightweight!
The PROFLY-X Midsole is my favorite part of these shoes
The PROFLY-X midsole in these trail racing shoes has a carbon fiber plate added to the middle of it.
What makes the PROFLY midsole so special is that HOKA uses a softer more cushioned foam for the top half, and a firmer foam for the bottom half.
What this does is give you a nice cushioned ride while maintaining a very responsive experience due to the firmer foam on the bottom. Combine this experience with a carbon fiber plate and you get an even more responsive ride with a true propulsive element to your stride and cadence.
The Tecton X 2's midsole also has a relatively low stack height when compared to what you may be used to seeing with some of the earlier model HOKA running shoes.
The height of the heel stack to the forefoot stack height results in a drop of 5mm from heel to toe – and I love how this feels.
It's no secret I much prefer a lower drop when it comes to my trail running shoes, and for very good reason…
The control and trail feel you get from having a lower drop is far superior when running technical trails.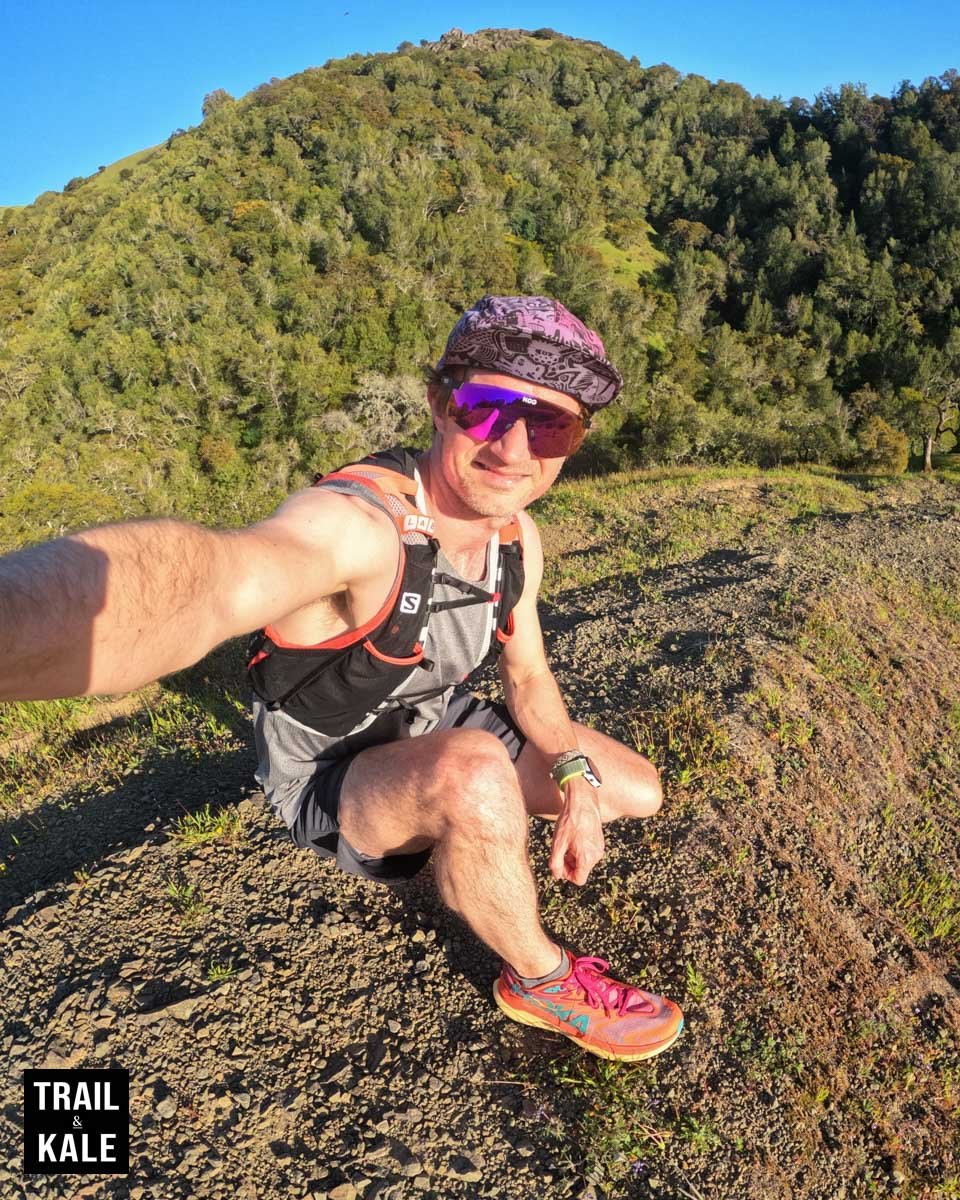 I have always recommended a lower drop as in my experience it reduces the chance of getting the most common running injuries like plantar fasciitis, Achilles tendinitis, and shin splints.
Not only does it give you a better feel for the trails but it puts you in a more natural running stance, resulting in a better running form, and ultimately a faster more efficient run.
With a low drop and a low stack, you can really feel the trail and use the proper biomechanics of your ankles and feet.
READ NEXT: My post all about how to try barefoot running explains the reasoning behind why you should give low-drop (or zero-drop) running shoes a try.
There's enough midsole protection to stop any spiky rocks on the trails from actually being felt when you run over them, but not soo much that control is lost – I just love what they've done with it.
Vibram Megagrip with Litebase construction outsole grips the trails well
The Vibram Megagrip with Litebase construction and gripy outsole is quite remarkable in its traction, and durability.
I will say however, the lugs are not as deep as they are on the Mafate Speed 4 (which are 5mm) – this is where the Tecton X 2 could be improved in my opinion.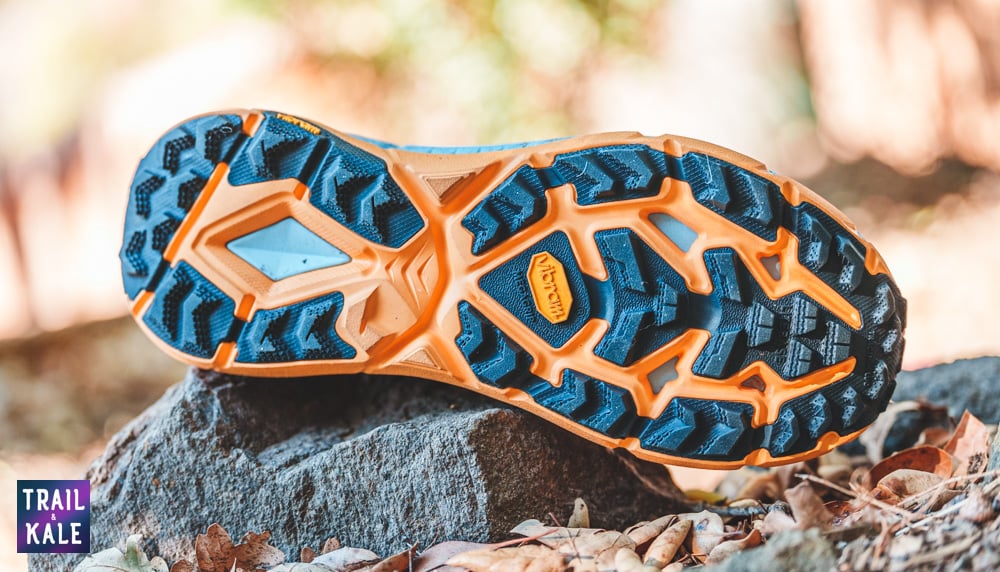 Along with how comfortable and bouncy the shoes are to run with, the outsole performance manages to keep up with the rest of the great features on these trail racing shoes.
I have really good control when running down steep hills, including fire roads with loose dirt and gravel – see my video below to get an idea of my local California trails (they're soooo gorgeous, and make the video review worth watching just for them haha).
The Matryx upper is brand new from HOKA, and it's very impressive
Matryx is a woven fabric made from extremely strong tensile fibers, which gives it exceptional durability.
This material is also lightweight and breathable, making it an ideal choice for trail racing shoes as you'll likely be working your VO2 max to the limit during your trail race.
The weave pattern of the fabric is also designed to provide targeted support to different areas of the foot, ensuring a comfortable and secure fit in the right places.
The tongue has a gusseted design which mitigates trail debris and there's a loop on there that the laces go through to help keep it in place as you run. No one like a tongue slipping out of place mid race.
The laces are simple but very effective at what they're designed to do, which is do up, stay done up, and provide a small amount of stretch as your feet move during a run.
There's no finger loop at the rear, which can help with the process of getting your shoes on easily but these are racing shoes so anywhere where there can be weight savings, HOKA's going to rightly take them.
HOKA Tecton X 2 performance review
Moving on to the Tecton X2's performance review then. So, how do they actually perform while running different types of trails?
Well my video below probably describes it best as I'm actually reviewing them mid run, as and when I hit uphills, downhills, flats, and technical sections but I'll try to summarize it into words too!
How do they perform on road surface, when getting to your local trails?
They perform very well when running on asphalt, tarmac, or concrete pavements/paths due to the PROFLY-X cushioned yet responsive midsole, the early-stage meta rocker that helps your feet transition from landing to take off, and of course that mightily powerful carbon fiber plate which stores energy and releases it as you take off in the form of forward propulsion.
It is a responsive shoe more than a cushioned shoe however, and after a period of time running on hard surface trails or roads, your feet will start to feel that minimal ride, especially if you have a lot of downhill running in your race or training routes.
This is why I choose the Mafate Speed 4 for my training runs, and will be switching out for my Tecton X 2's, come race day. Both of these trail running shoes have an extremely similar fit but the Mafate Speed 4 offers a more cushioned ride, and better outsole grip in my opinion.
It's so great having a more refined, or shall I say race-tuned trail running shoe that I can swap out on race day, however, knowing it will have that similar feel of the Mafate Speed 4 that I love so much.
So, to summarize my shoe rotation then, I'm currently using the Mafate Speed 4 for all my trail running training except for the runs where I want to push past the exertion of tempo runs to improve my VO2 Max, in which case I will be using the Tecton X2.
And then come race day, I'll be lacing up the Tecton X 2 carbon fiber plate trail racing shoes to squeeze out any additional performance improvements I can get from wearing these trail racing shoes.
How do they perform on different types of trails?
On most trails and mountain terrain including rocky, hard-packed, gravel, dusty, or forested single track they are great.
If you follow my training on Strava you'll see the sorts of trail routes I like to run, and use to test out new trail running shoes each week.
I like to climb steep and descend fast over technical trails, so my trail shoes need to be able to cope with that type of running – and the HOKA Tecton X 2 can keep up with me very well.
Oh, if you are on Strava, be sure to join the Trail & Kale running club with thousands of other runners.
The durability of this rubber so far has been very good too, which is not typical of sticky rubber on outsoles.
Most sticky rubber outsoles I've experienced in the past have durability issues that are noticeable after my first trail run but this Vibram Megagrip holds up extremely well. To be fair, I do tear up the trails when I test new shoes, and there are roughly 2km of tarmac included in my test route.
What are they like for running/hiking steep uphills?
They dig in really well when running or speed hiking up steep hills, you can get more of my thoughts on this in my video above, where I even demonstrate my running on one of my favorite trail loops in them
The Mafate Speed 4, on the other hand, does dig in better due to the deeper and more agressively shaped lugs on the front of the outsole.
What are they like for steep downhill running?
My local trails have lots of rocks and roots to navigate over or around, and that's on my downhill sections too. The Tecton X 2 is a real pleasure to run on these trails with.
A lot of this is down to the midsole responsiveness, and its 5mm drop – It puts me in a nice running stance going downhill, and the Megagrip outsole traction allows me to run fast without worrying about slipping or losing control.
So far the HOKA Tecton X 2 has performed very well in every way I have tested it. You can probably tell I'm very excited about it.
These are also the best HOKA trail racing shoes for me right now – did I mention that I have awarded them the coveted Trail & Kale Editor's Choice Award? Well I Did! 😉
How do they compare to other trail running shoes available at the moment?
Well, they certainly sit in a bit of a niche within a niche – they're premium carbon fiber plate trail running shoes design for racing – so to be honest there's not a lot of competition out there right now.
Yes, you pay for the pleasure of having probably one of the best trail running shoes available right now, but when do you not pay highly for buying the best?
Read more about them, and other great trail running shoes on my Best Trail Running Shoes buyer's guide.
Still not sure which HOKA running shoes are for you? Head over to our Best HOKA Running Shoes Buyer's Guide next.
Are they worth your hard-earned money?
YES! With a caveat. I'm 100% confident you'll be happy with your purchase if you decide to level up your trail racing performance with the HOKA Tecton X 2.
If you feel like you don't need the carbon plate and the slight edge in speed that they may (or may not) give you come race day, then opt for the Mafate Speed 4 instead.
They're $40 less expensive and offer more comfort and better grip. I'm a lucky chappy, becuase I get to use both in my rotation. 🙂
I hope you enjoyed reading this HOKA Tecton X 2 review – leave a comment down below if you did and join our Newsletter for more running shoe reviews just like this one.
HOKA Tecton X 2 review summary (rating with pros and cons)
HOKA Tecton X 2 review
PROS
PROFLY-X dual layer midsole with carbon fiber plate and early-stage meta rocker is FAST while maintaining great response and control on the trails.
The new Matryx upper is very lightweight, durable, and breathable.
Very lightweight trail running shoes
The gusseted tongue is comfortable and stays in place when running.
Overall a very fun and fast trail running shoe that's 100% race ready!
CONS
Not many colors available at the time of writing this review (release day 14th Apr 2023)
Expensive - but they're carbon fiber racing shoes so that's to be expected.
Outsole tread could be more aggressive. I'd like to see deeper lugs and tread on the mid section of the outsole - in fact, just slap that gorgeous Mafate Speed 4 outsole on there! 😉
I have left you with some more photos of the Texton X2 below. Enjoy, and see you on the trails!
More HOKA Tecton X2 Photos