In this Arcteryx Norvan SL 3 review, I'll be going over some of the key specifications of this trail running shoe, including the features I really like (and some that could be improved), I'll also compare it to other similar running shoes currently on the market from HOKA, and Salomon for example.
As a trail runner, if you live for the feel of the earth beneath your feet and want a firm, responsive ride, then you're in for a treat with the Norvan SL 3.
The incredibly lightweight geometry blows the competition away right now when it comes to overall weight; at just 6.3oz (for my size US 9 pair), you might just forget you're wearing them.
When it comes to high performance premium outdoor gear, Arc'teryx know what they're doing.
---
The key specifications of the Arcteryx Norvan SL 3
Price: $160 at arcteryx.com
Usage: An extremely lightweight, responsive trail running shoe for all terrain with great performance on the climbs and flats. People who enjoy feeling connected to the trail with a firm ride will enjoy these trail running shoes. Best for up to half marathon distance.
Weight: 6.3 oz (178g) for a size US(M)9 (my pair)
Drop: 7mm (heel height is 19mm and forefoot height is 12mm)
Toe box width: medium
Midfoot width: medium to narrow
Lug depth: 3.5mm
Stability: Neutral
Cushioning: Responsive
---
Arcteryx Norvan SL 3 sizing and fit
When it comes to sizing, the Norvan SL 3 does run true to size although there are some things you need to know about the width of the shoes.
Although they have a medium toe box, they do have a fairly narrow midfoot fit, which does provide a snug fit if you have medium width feet but if you have wide feet these won't be for you.
I've noticed that the upper can fold somewhat when tightened, and while it's not noticeable on the top of the feet in terms of comfort levels, I just don't like how it looks.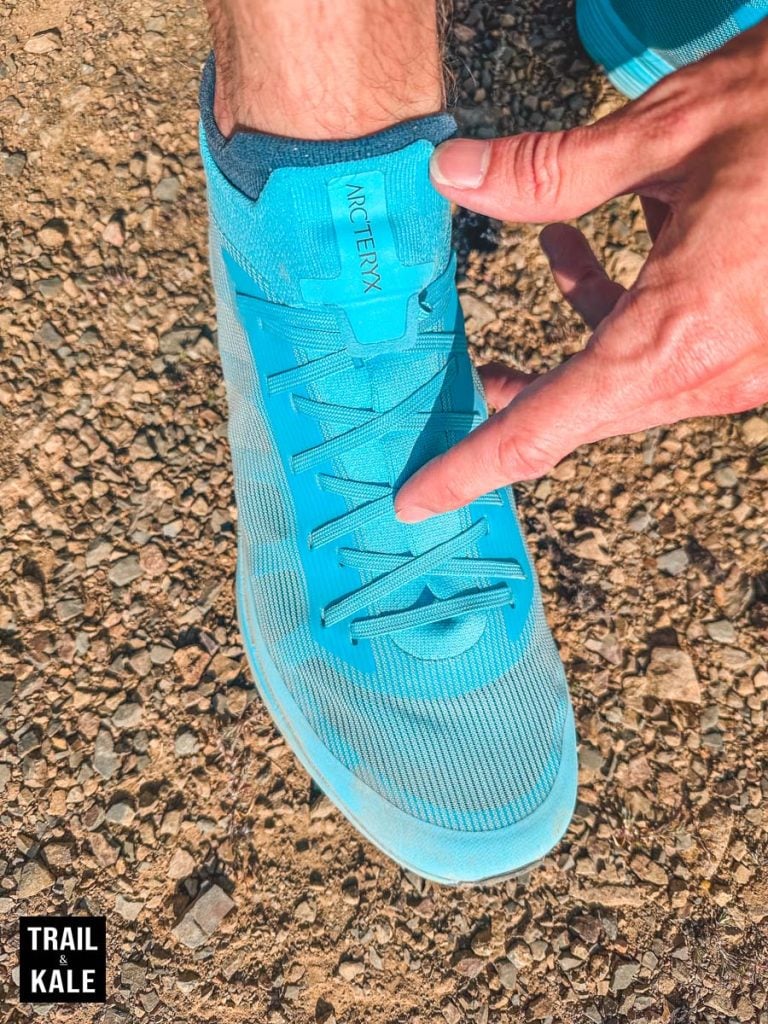 You can get a better explanation of this 'upper folding' in my performance review video below, as well as get a peek at my gorgeous local trails.
The high heel counter might cause some discomfort if your socks don't rise above it, so taller socks might be a good idea with these shoes.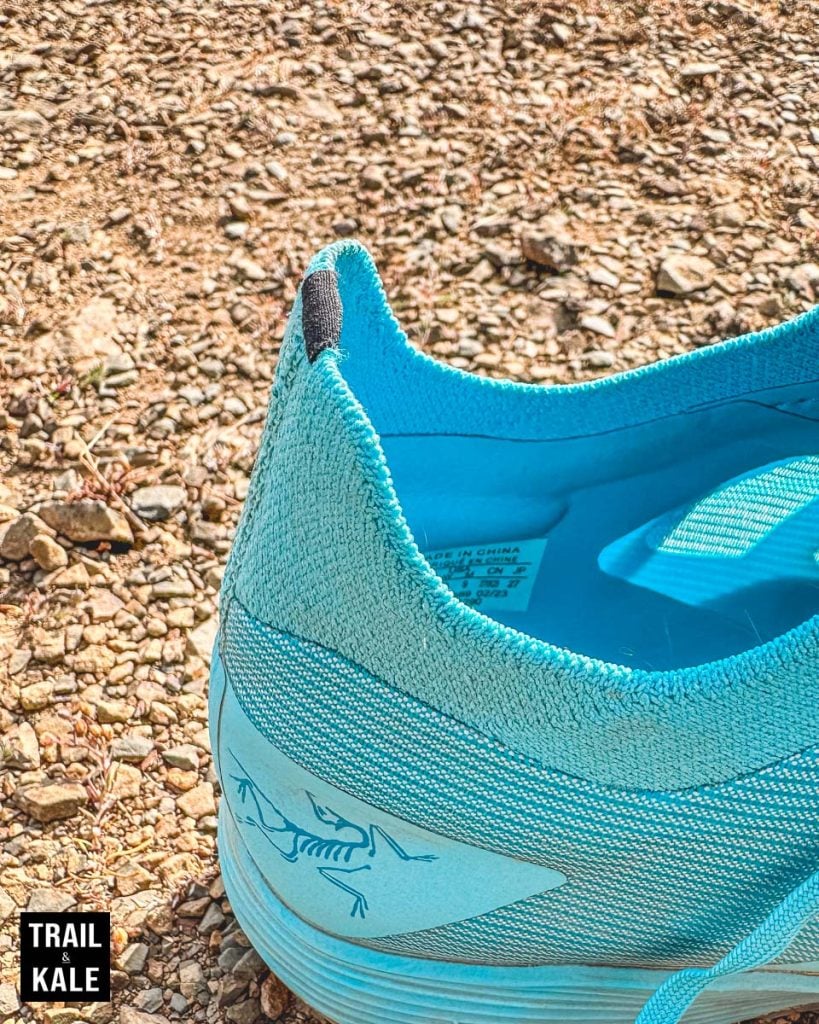 Key features worth knowing about
1. Weighing only 6.3oz, they are insanely lightweight
One of the defining features of the Arcteryx Norvan SL 3 is its insane lightness. Weighing in at just 6.3oz (for a size US 9 pair), these trail running shoes take the meaning of 'lightweight' to a whole new level.
This feat of engineering is no small matter; when you're running long distances or pushing through those final miles, every ounce counts; and these are certainly, some of, if not the lightest trail running shoes I have ever reviewed
The weight reduction can be attributed to Arcteryx's precise and meticulous design approach, stripping away any unnecessary elements while maintaining durability and performance.
This is the kind of shoe that once you lace up, you might just forget you're wearing anything at all, and as a result they become an extension of your body, and despite their lightweight build, they are also very durable.
2. Vibram MegaGrip outsole provides excellent traction on all trail surfaces
The outsole of the Norvan SL 3 sports the Vibram MegaGrip compound, a sticky outsole I have become all too familiar with since many HOKA trail running shoes use the very same compound; it provides excellent traction on all terrains.
The Vibram MegaGrip offers superior grip on wet, dry, hard, or loose surfaces, ensuring you can run with confidence no matter what type of trail you find yourself running on next.
The lug pattern bites into the trail, allowing for reliable traction during ascents and descents, although it could be improved with a more aggressive lug pattern with more smaller lugs.
Whether it's a rocky mountain path, muddy forest trail, or a scree slope, this shoe's traction shouldn't let you down and you'll have a feeling of security and stability, which is especially beneficial on challenging, technical trails.
3.The upper is very breathable and keeps my feet cool during hot runs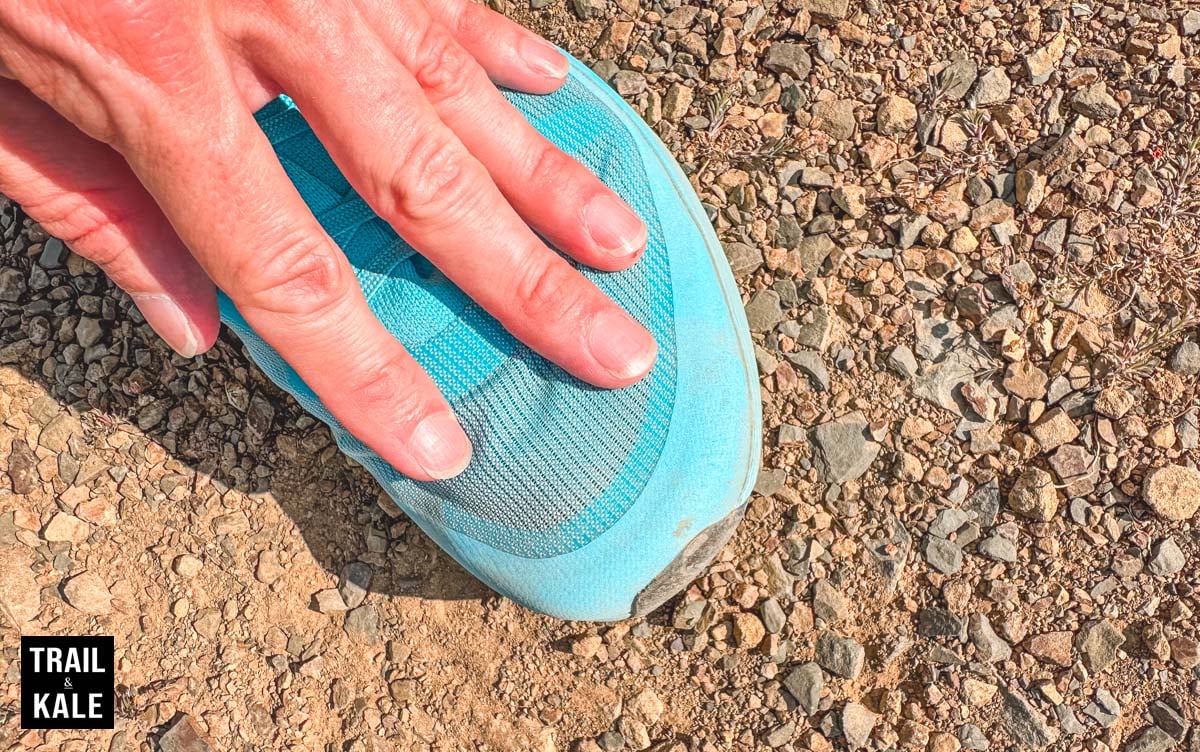 Keeping your feet cool and comfortable during a strenuous run is super important during the summer months, and the Norvan SL 3 delivers with a highly breathable upper.
The upper mesh is designed to let hot air escape and cool air enter, ensuring your feet stay dry and fresh, even during those long, hot summer runs – or just most runs in California!
But it's not just about breathability, the mesh will also drain very quickly should you come across any river crossing, or get caught in a downpour during your run.
The snug knit collar creates a sock-like fit around your ankle, locking your feet in place while running.
It's snug yet flexible, providing a balance of comfort and stability that makes a world of difference on uneven terrain.
Additionally, the collar/built in gaiter acts as an effective barrier against debris, preventing pebbles, dirt, and other trail nuisances from invading your shoe.
4. The secret pocket at the top of the tongue stores laces away very well
One of the lesser-known but highly appreciated features is the secret pocket at the top of the tongue, as seen in my photo below.
When you're tackling rough terrain or pushing for a new personal best, the last thing you want to worry about is your laces coming undone, getting snagged, or just flapping around annoyingly.
With this little pocket, you can tuck away the laces, keeping them secure and out of your way during your run.
This is an attention-to-detail kind of feature that adds to the overall minimal running experience the Norvan SL 3 provides.
The image above shows how they look with the laces tucked away, tidy.
5. I really like how they look, that minimal racing style is gorgeous
The Norvan SL 3 has a really attractive minimalistic design that is not just visually pleasing, but also functional.
The clean lines, sleek silhouette, and lack of unnecessary embellishments result in a shoe that's as stylish as it is high-performing.
Beyond the aesthetics, however, the minimalistic design contributes to the lightweight nature and overall performance of the shoe.
The only caveat is the limited color options available at the time of writing this review. While I am personally a fan of the existing color schemes (Blue, Purple, Black), it would be great to see a wider range of choices to cater to every runner's style preference.
Features that could be improved
While the Norvan SL 3 is a strong contender in the sea of trail running shoes on teh market right now, it's not without a few shortcomings.
The very nature of the sock-like upper design means not everyone will get a perfect fit, and when tightened, the upper does fold over somewhat, for me at least. You can see this in the images throughout this review, or in my performance video review below.
The ride is firm, due to the low stack height and foam being used, which means hard trails will be felt underfoot.
It's not a deal-breaker for short distances, but for those venturing on long rocky trails, a bit of a foot beating could be expected.
Some sort of rock plate in the midsole, or simply increasing the stack height could potentially alleviate this.
The midsole itself is made from a durable EVA/Polyolefin blend which is a plus in providing shock absorption and propulsion.
Arcteryx Norvan SL 3 performance review
So, how did the Norvan SL 3 fare on the trails? Pretty darn well actually! Whether it was hard, rocky terrain, forest trails, asphalt, or gravel, these shoes held their own very well but it did perform better in some areas more than others.
I've been testing them on steep climbs and descents and found them to be very responsive with great control. They definitely perform better during climbs than descents however, more on that and a my full performance review can be watched in my video below.
Durability seems promising, and out of the box, comfort is top-notch, although the midsole does offer a firm ride on hard trails.
I particularly like the Vibram's MegaGrip rubber compound for all-terrain running as it offers excellent traction in most conditions and on most types of trails.
The knit collar comfortably hugs and holds your feet in the shoes and does an excellent job of keeping debris out while the secret pocket for stashing laces away is a handy little feature that does its job perfectly.
Watch my video above for my full trail performance review, with deep insights into how they perform on various types of terrain, plus exactly who I believe will enjoy them the most (and who won't like them).
How do they compare to other similar trail running shoes available at the moment?
Arcteryx Norvan SL 3

VS

HOKA Zinal 2

vs.

Salomon S-Lab Pulsar 2
Significantly lighter – 6.3oz VS 7.1oz VS 6.7oz
Drop – 7mm VS 5mm VS 6mm
Outsole – While the Norvan SL 3 and HOKA Zinal 2 both use Vibram MegaGrip, the Zinal 2 has a better lug formation with better traction as a result. The Pulsar 2 uses Salomon's Contagrip and has a good lug pattern resulting in very good traction also.
Cushioning: All three of these trail running shoes have a firm, responsive ride but the Zinal 2 has more cushioning out of all of them, and the better ride overall, in my opinion.
Upper: All three shoes use a sock-like system with a stretchy knit upper collar. The Zinal 2 and Norvan SL 3 both have a similar mesh upper but the Norvan SL 3 is much more breathable. The Salomon S Lab Pulsar 2 uses the Matryx mesh upper which is softer and more flexible that the other two, and slightly more breathable than the Zinal 2 but not as breathable as the Norvan SL 3.
Lug depth: The Norvan SL 3 and Zinal 2 both have 3.5mm lugs while the Pulsar 2 has less deep lugs of around 2.5mm
Against competitors like HOKA Zinal 2 and S-Lab Pulsar 2, the Norvan SL 3 holds its own. It is the lightest of the three and while the others also offer excellent traction, the Norvan SL 3 has a more breathable upper. However, in terms of cushioning, the HOKA Zinal 2 takes the crown.
Are they worth your hard-earned money?
Considering their performance, style, and unique features, I'd say they are worth the $160 price tag if you're the type of runner that enjoys running in minimal shoes that offer responsiveness over cushioning.
While there are areas for improvement, I was overall very pleased with the Arcteryx Norvan SL 3. They're great for anyone who loves fast & light runs, and those with a quick cadence and light-footed running form.
However, for ultrarunners, a shoe with more cushioning like the HOKA Speedgoat 5 might be more up their alley.
The Arcteryx Norvan SL 3 trail running shoes offer an enticing blend of lightweight construction, great traction, and a modern, minimal design. They may not be for everyone, but for the right runner (as described in this review and my video above), they are a dream come true.
Get your pair, hit the trails, and you might just set a new personal best!
Last Amazon price update was: 24th September 2023 7:31 am
---
Arcteryx Norvan SL 3 review summary (rating with pros and cons)
Arcteryx Norvan SL 3 review
PROS
At just 6.3oz for a size US 9 pair, the Norvan SL 3 is one of the lightest trail running shoes on the market (and that I have ever reviewed), which aids in reducing runner fatigue.
The Vibram MegaGrip outsole offers great grip on all types of terrain, providing confidence on the trails.
The upper is designed for maximum breathability, helping to keep your feet cool during hot runs.
The knit collar provides a secure, comfortable, sock-like fit and helps to keep debris out.
A unique feature that allows you to tuck away the laces, stopping them from flapping around, and preventing them from coming undone during your run.
The minimalistic design is modern and attractive, a standout in the world of trail running shoes.
CONS
The upper may fold over itself when tightened, which might be aesthetically unappealing to some, even if it doesn't impact your run.
The sock-like upper design might not be a perfect fit for everyone. The midfoot runs a bit narrow, so if you have particularly wider feet, these will feel too tight.
The low stack height results in a firm ride which may not provide enough cushioning for longer distances or extremely hard trails.
The heel counter rises quite high, so you need to ensure your socks rise above it to prevent rubbing.
While the existing design is sleek and modern, more color options would cater to a wider range of style preferences.
---
More Arcteryx Norvan SL 3 Photos