I was so excited when HOKA offered to send over a pair of their latest carbon plate running shoes, geared towards elite runners, or quite frankly, anyone who wants to run faster and score more personal bests like I do.
The HOKA Rocket X 2 truly does fly, but that impressive speed does come at the cost of a couple of disadvantages that some will either find too annoying to live with, or acceptable for the speed gains that they are rewarded with.
In this HOKA Rocket X 2 review, I share advice on sizing and fit, my favorite features (and some that could be improved), my performance review, who I believe they're best for (and who they're not for), how they'll help you run faster, the distances they're best for, and finally whether these premium running shoes are worth your money.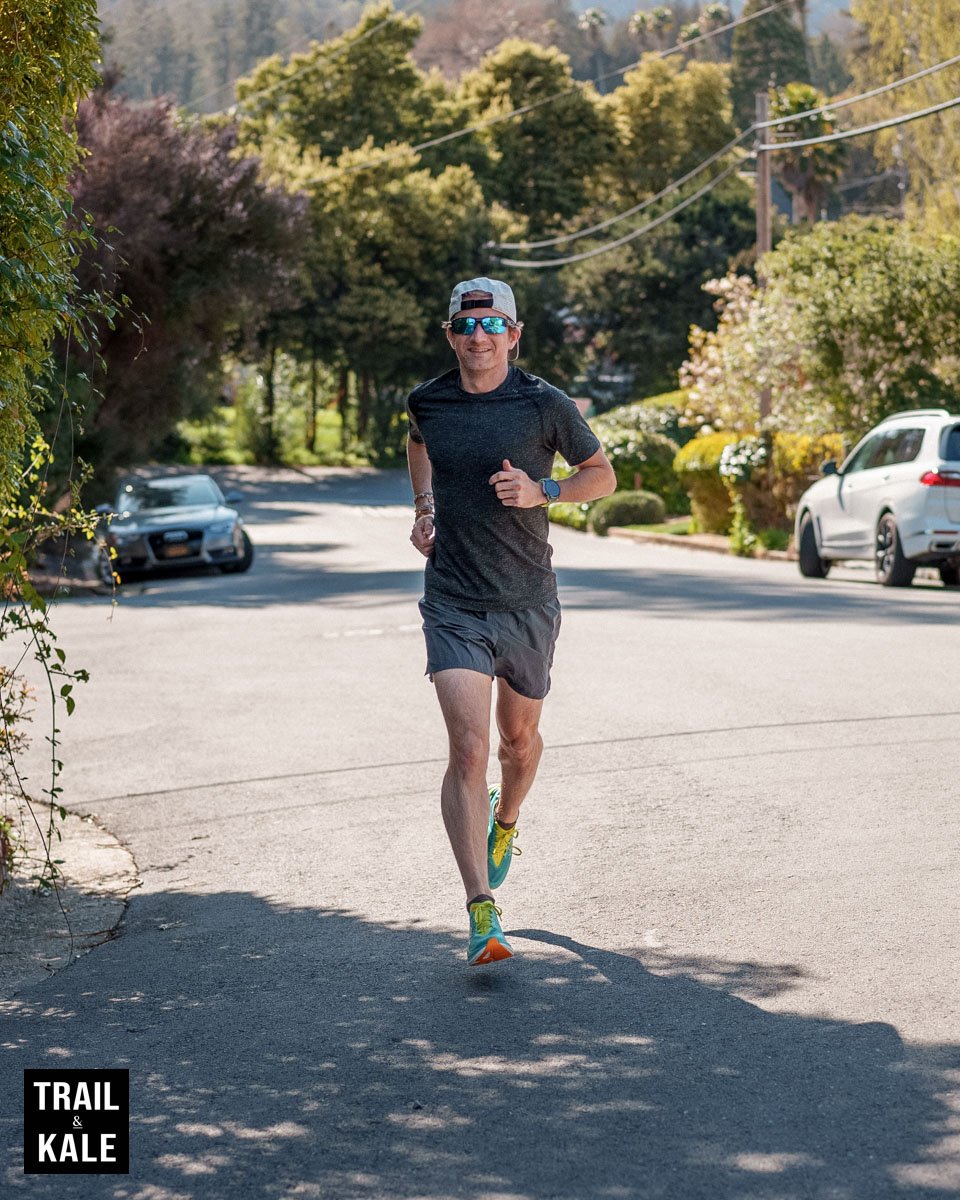 HOKA Rocket X 2 sizing and fit
As with all other HOKA running shoes that I've reviewed over the years, the Rocket X2 fits true to size so I would recommend sticking with your usual shoe size if you normally run in HOKAs.
They're also consistent with other popular running brands like Brooks Running, On Running, and Nike, to give you a few examples.
They have a medium width with neutral stability and responsive cushioning, just what you'd expect for a shoe with such great energy return, thanks to that carbon fiber plate.
Need to know specifications
Weight: 7.60 oz (215g) for a size US(M)9 (my pair) – That's super lightweight by the way!
Drop: 5mm (a very popular drop height for HOKA, and one that I love)
Carbon Fiber Plate: Yes
Toe box width: medium
Stability: Neutral
Cushioning: Responsive
Recycled materials: Yes
How does the Rocket X 2's compare to the Rocket X?
The new Rocket X 2 has undergone a complete overhaul from the upper to the outsole, with revamped geometries, a fresh upper design and materials, and an innovative new foam material for the midsole.
The Rocket X2 running shoes have been elevated to a whole new level of performance, and it shows in how they perform.
The Rocket X 2 is also lighter and has a more pronounced rocker geometry that really compliments the carbon fiber plate in generating crazy impressive energy return. This update is FAST!
The key features worth knowing about
HOKA Rocket X 2's technical synthetic mesh upper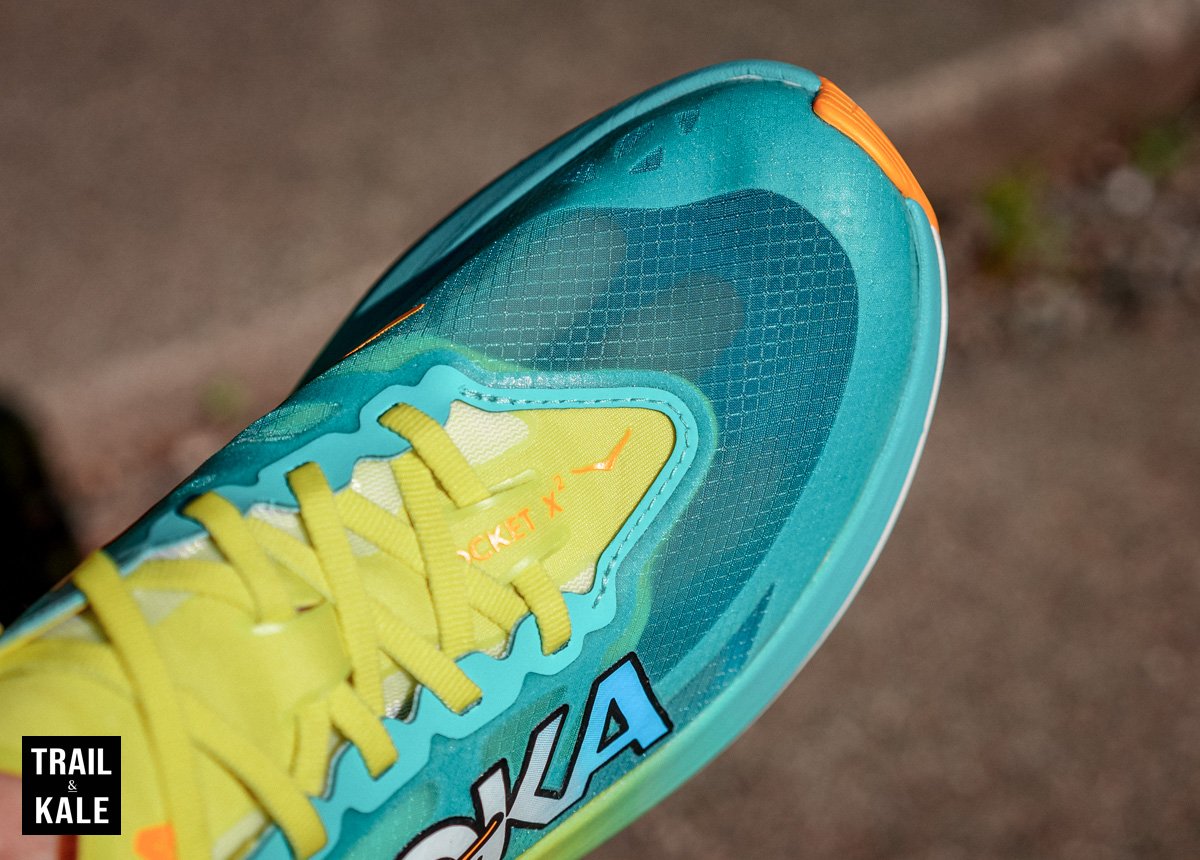 The Hoka Rocket X 2 features a new technical synthetic mesh upper that is designed to provide a snug and secure fit for the foot.
The mesh material is lightweight, ultra-breathable, and flexible, allowing for natural movement of the foot while running which is a 'must' if you plan to run long distances at speed.
To get an idea of just how breathable and thin the upper mesh is in places, look at my photo below, as I hold a shoe up to the light.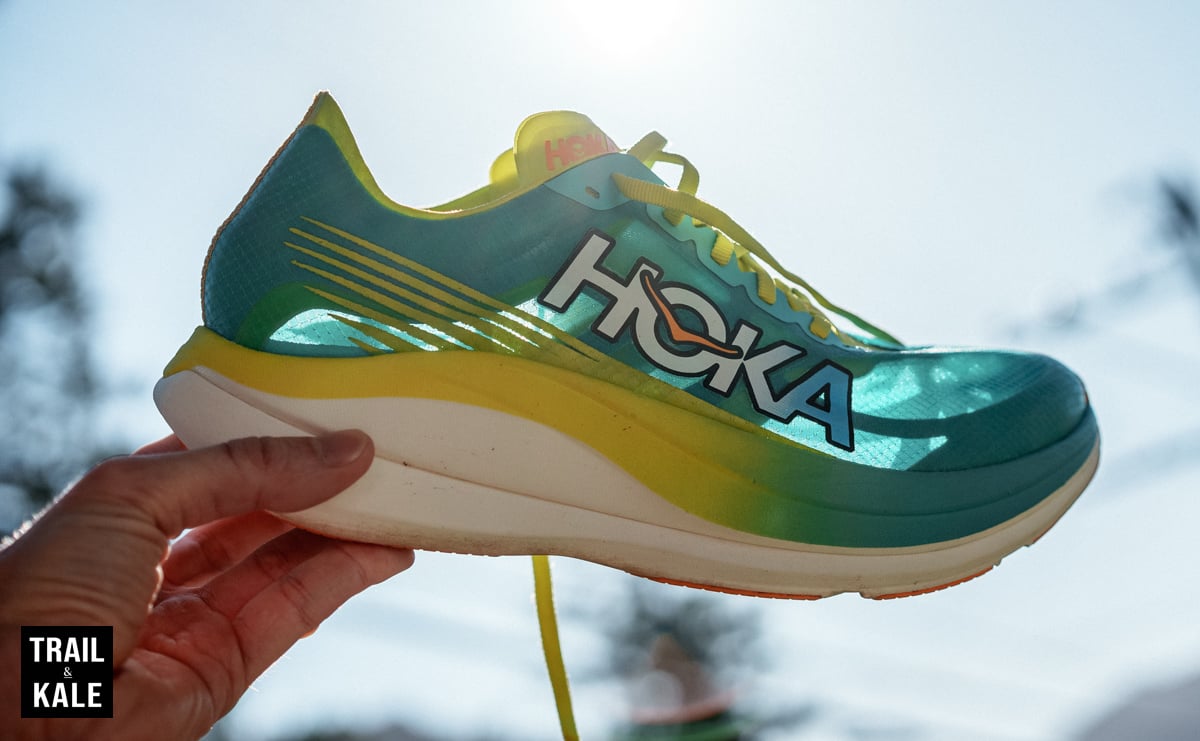 The upper also features a gusseted tongue, which helps to keep debris out and provides added comfort and support to the midfoot. The Rocket X 2's upper also includes an internal midfoot cage, which is a supportive structure that helps to keep the foot locked in place during high-intensity activities.
This combination of features in the technical synthetic mesh upper provides a comfortable, secure fit and helps to enhance the overall performance of the shoe BUT it's not all rainbows and unicorns for the upper, unfortunately…
Although the upper is an impressive feat of engineering it does also present some issues that I wish weren't there.
If you take the eye-watering price of $250 out of the equation (yes, they're expensive but they're premium carbon plate racing shoes, so that's to be expected), then there are really only two issues with the Rocket X 2 in my opinion.
Both of the issues that I have picked up on stem from the same part of the shoe, and that's the 'heel counter' and the rim around the opening of the shoes.
The first problem is that the HOKA Rocket X2 is a real pain in the ass to get on your feet, and the only way to do it without screaming some naughty words is to loosen the lacing system more than you're probably used to, so that there's more than enough room to slip you feet into the shoes without the side walls getting in the way.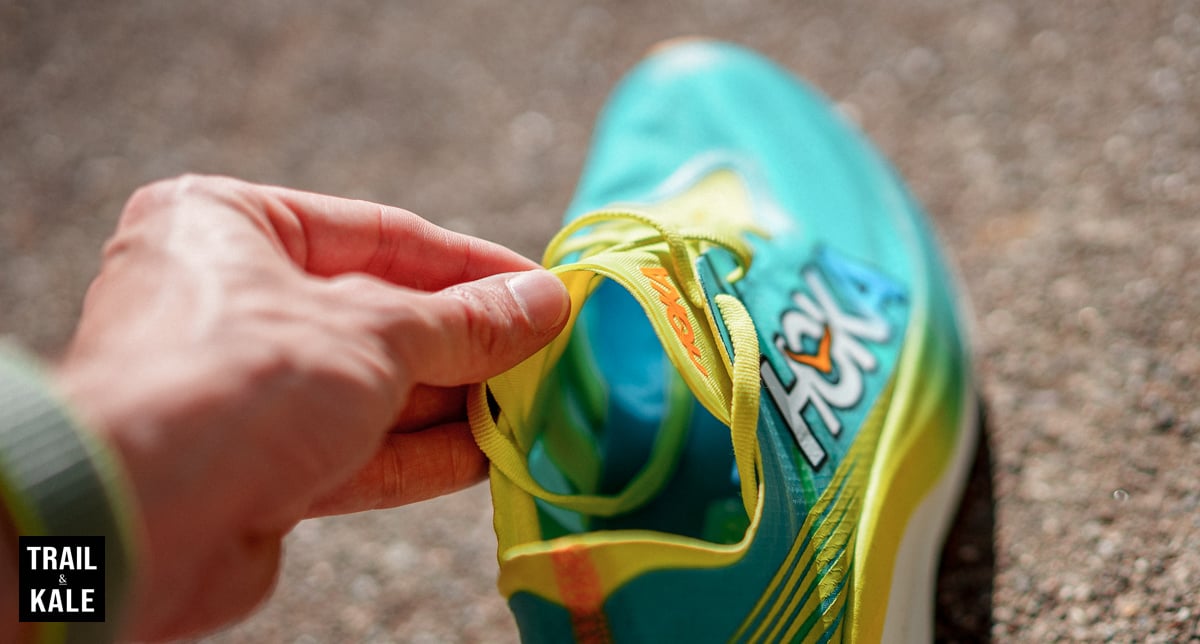 This is because the upper material in this region is somewhat grippy, and so thin that it loses shape and just folds under your feet as you try to slide them in.
As I said, however, open up your lacing system more than usual and you'll have no problem getting them on. For me, it was just having to relearn a new technique for putting my running shoes on that annoyed me the most, but I eventually got over it.
The second problem is with the heel counter (the area that sits against your achilles heel at the back of the shoes.
The material here is very thin and lightweight for performance reasons but because of this design, if you don't do the shoes up just right (not too loose, not too tight), then you'll likely notice this area rubbing on the back of your heel – just look at what they did to my poor socks in the photo below.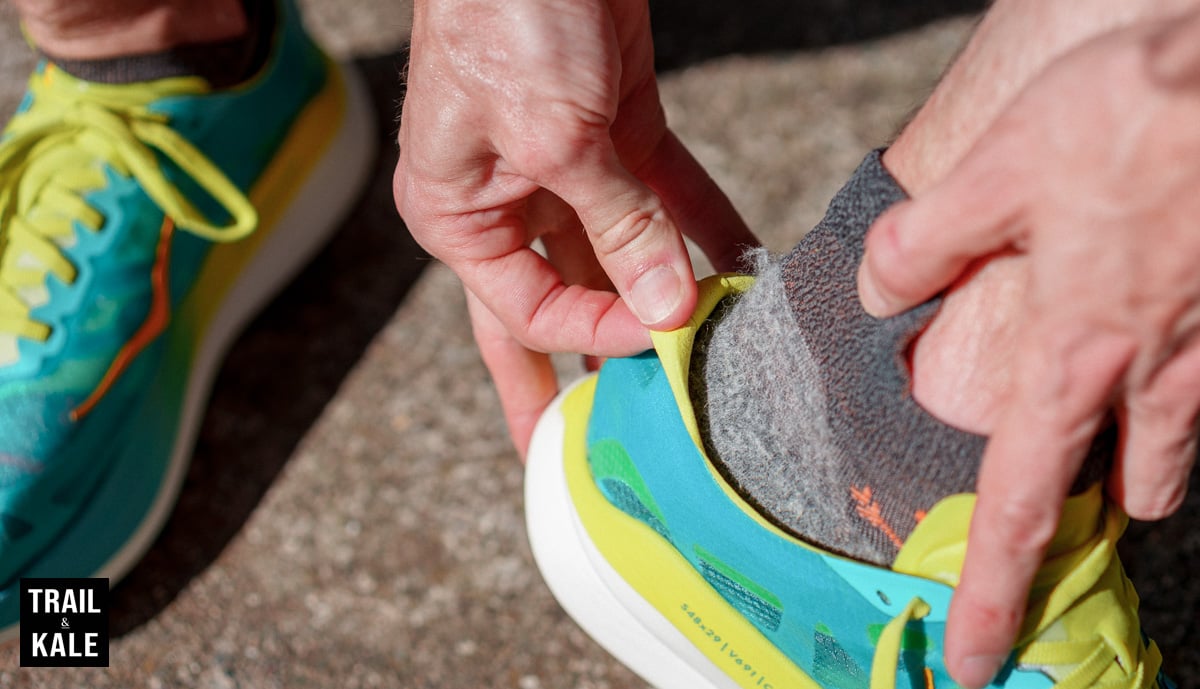 Again though, there is a way to ensure this doesn't happen to you, and I only worked this out on my second run in the shoes, and that's to ensure they're tighter than you may usually wear your running shoes.
So, those are the only two issues I have with the Rocket X 2 and they are both due to the design of the upper, and both are avoidable with a little experience and know-how.
The carbon fiber plate that will make you run faster, FACT
Carbon fiber plate shoes are designed to enhance running performance by providing 3 key benefits that can contribute to increased speed and endurance:
1. Energy return
Carbon fiber plates are a thin, stiff carbon layer that is usually embedded into the midsole of a running shoe and stretch across the part of the shoe that flexes the most.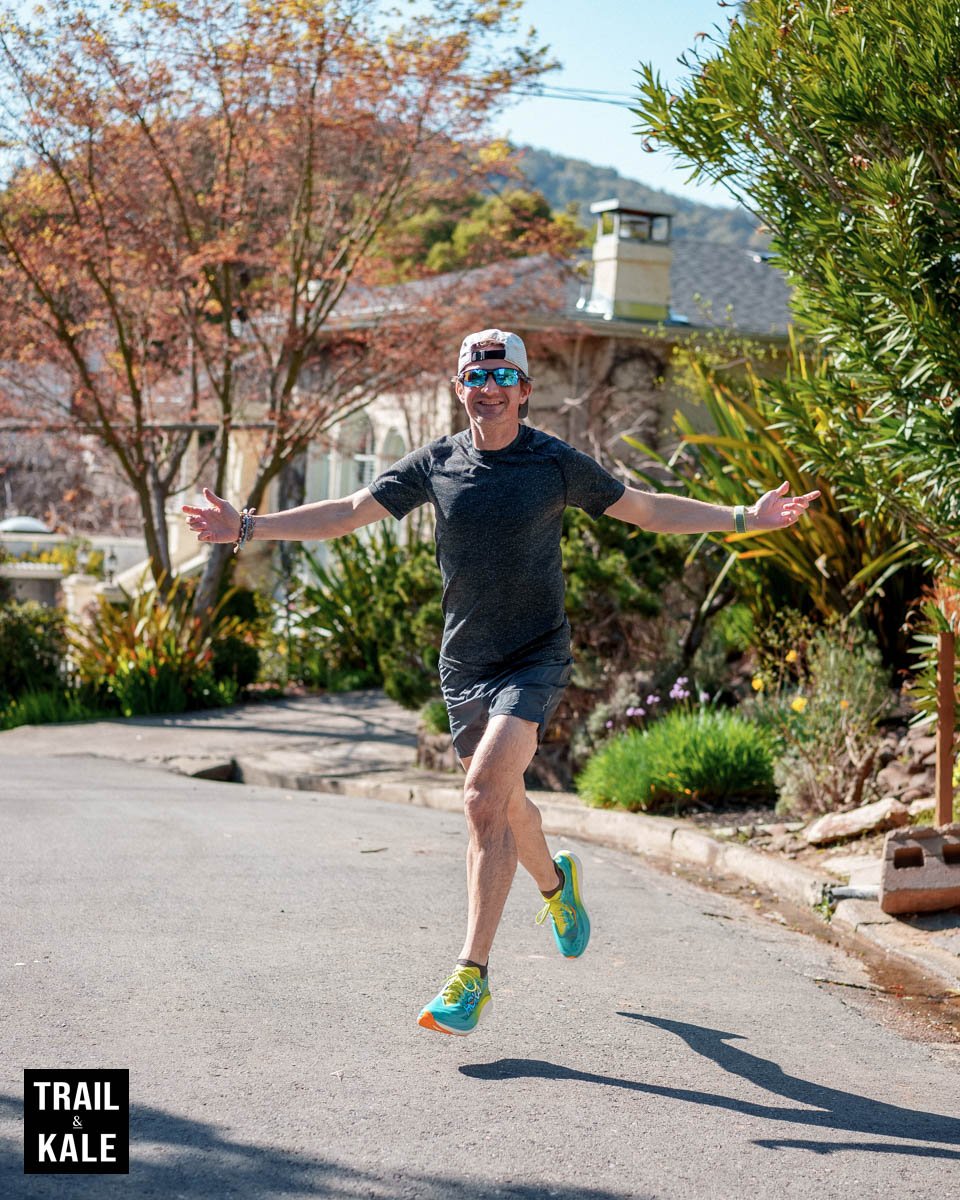 Their key role is to store and release energy.
When you land on the Rocket X 2, the carbon fiber plate flexes, storing energy during the impact phase, and as you push off, the plate then releases that stored energy, providing an additional propulsive force that helps propel you forward with less effort and increased efficiency, resulting in faster speeds.
2. Stability and support
Carbon fiber plates can also help provide stability and support to the midfoot and forefoot, which can lead to a more efficient running gait.
The plate acts as a rigid lever, reducing the bending and strain on the foot's muscles and tendons, allowing for a more efficient transfer of energy from the foot to the ground and hence better endurance.
3. Reduced muscle fatigue
They can also help to reduce the amount of work that the muscles in the lower leg and foot have to do during the running stride by providing additional support and stiffness. This allows runners to maintain a faster pace for longer periods of time.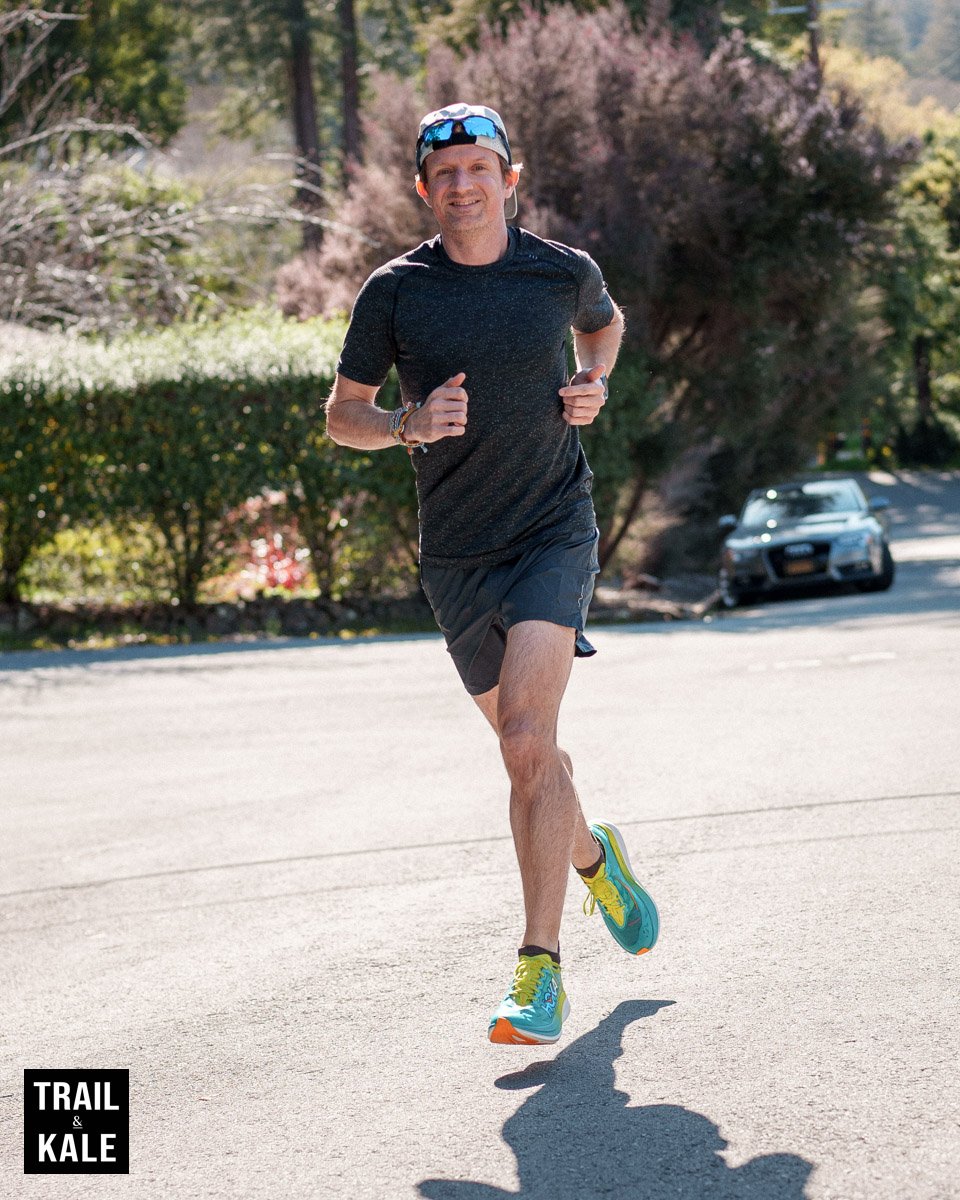 It's important to note however that while carbon fiber plate shoes can contribute to faster running speeds, other factors such as individual biomechanics (good running form), fitness level, training, and terrain also play crucial roles in overall running performance.
It's always recommended to find the best running shoes that fit your running style and comfort preferences.
HOKA's early-stage Meta-Rocker that compliments the carbon fiber plate so well
HOKA's early-stage Meta-Rocker is a unique design feature used in many of their running shoes that aims to promote a smooth and efficient running gait.
The Meta-Rocker is a specific shaping of the midsole that resembles a rocker or a rounded shape, with a pronounced curvature from the heel to toe, much like the feet on a rocking chair.
The early-stage Meta-Rocker helps guide your feet through a natural and efficient rolling motion during your running stride; this promotes a quick and smooth transition from heel strike to toe-off, reducing the risk of energy loss and improving running efficiency as a result.
The 'early-stage' part of the rocker shape of the midsole is intended to encourage a more forward-rolling motion, allowing for a smoother and more natural running experience.
This 'early-stage Meta-Rocker is typically positioned towards the front of the shoe, under the metatarsal area, where the foot naturally bends during the toe-off phase of the running stride.
The whole concept behind it is aimed at improving the overall running experience by promoting a more natural and efficient running gait, which contributes to increased performance and reduced fatigue during longer runs.
Combine that rocker with the carbon fiber plate mentioned above, good running form, efficient breathing practices, and a proper cadence and you'll have a real recipe for speed and improved endurance over long distances like half marathons and marathon races.
HOKA's PROFLY-X construction midsole with resilient PEBA foam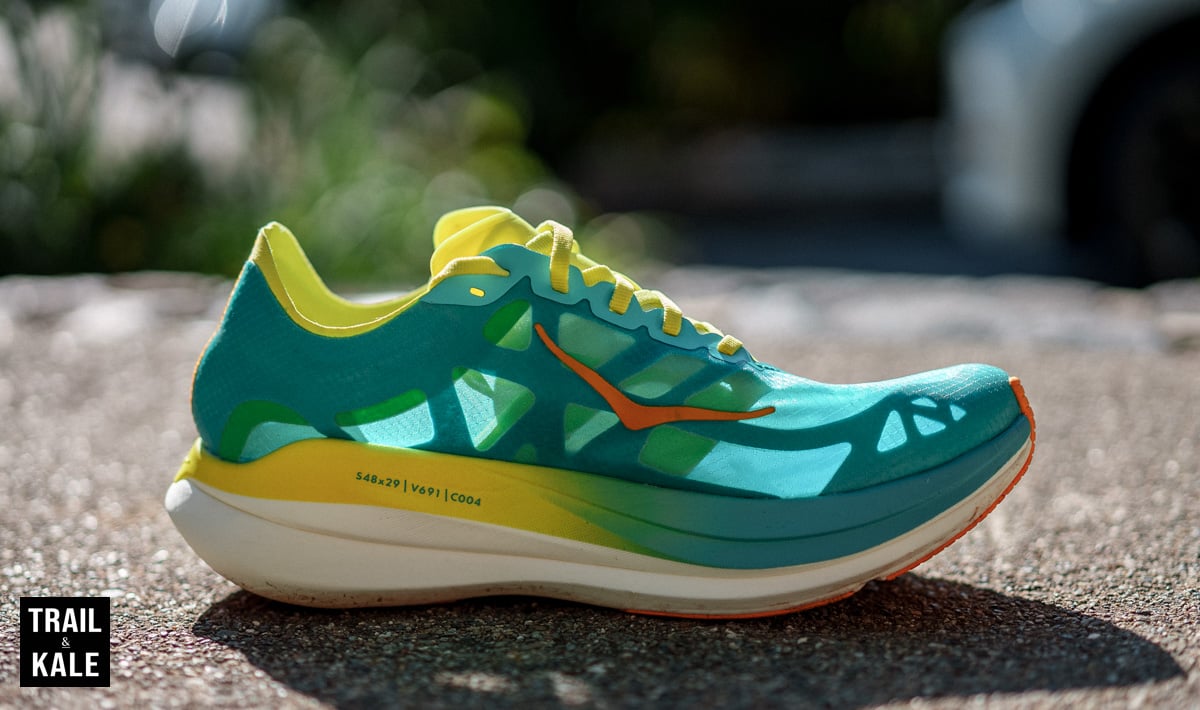 HOKA's PROFLY-X™ construction is a shoe technology that features a dual-density midsole, that in this case uses the resilient PEBA foam that has excellent durability and energy return.
The midsole is made up of two distinct layers of foam – a soft top layer for cushioning and a denser bottom layer for propulsion.
It's an awesome feeling that gives a sense of cushioning while maintaining a responsive ride.
This allows for a smooth transition from heel to toe and a more efficient stride, helped even further by that early-stage meta-rocker I talked about earlier.
The PROFLY-X™ technology is used in many of HOKA's high-performance running shoes, including the Mach 5 and Mafate Speed 4 trail running shoes, and is a key factor in their reputation for providing a high-performance, lightweight, comfortable, and supportive ride.
Durabrasion zoned rubber outsole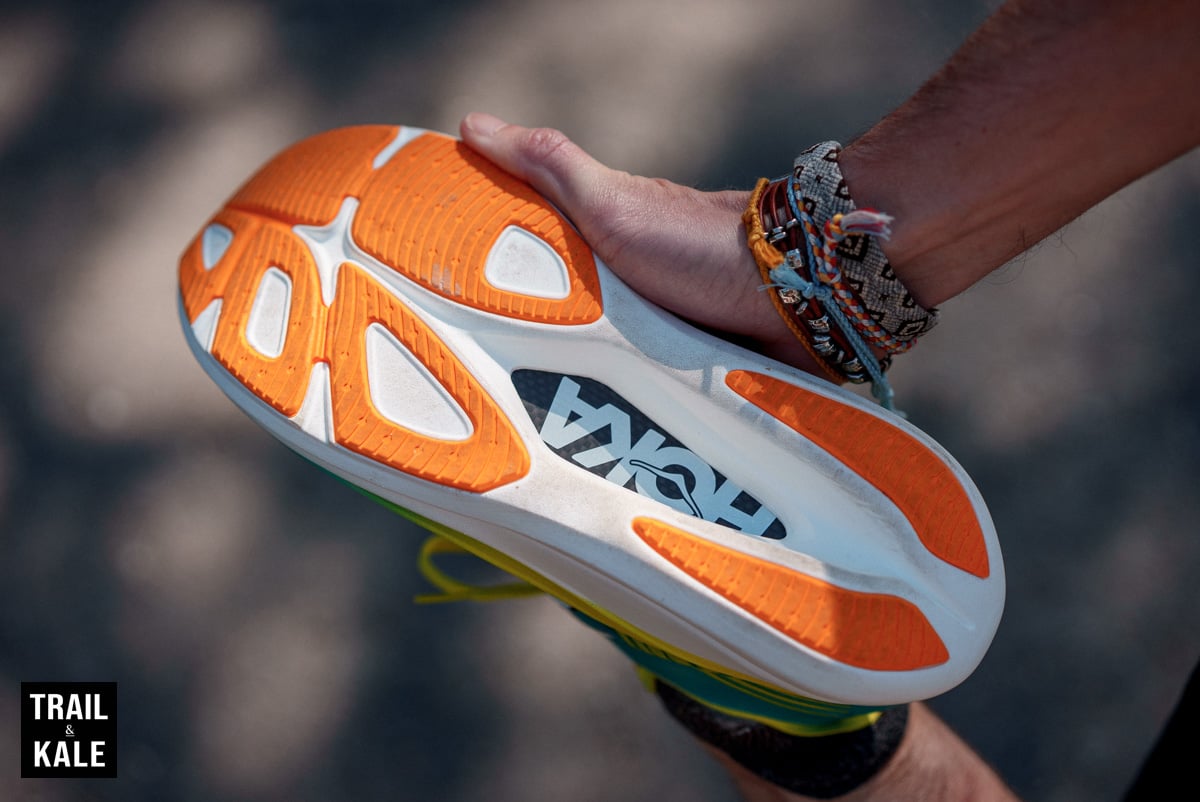 HOKA's durabrasion, zoned rubber outsole is what gives the shoes added durability and grip in the areas where it's needed the most while keeping the weight of the Rocket X2 down by not having it all over the outsole – smart!
See below for a closer look at the tread on the outsole.
It's an insanely lightweight shoe that's tuned for performance
This isn't really a feature as such but I have to drive home this point about how damn lightweight the Rocket X 2 running shoes are.
I mean 7.6oz for a size US9M) 9 is just incredible, and you really benefit from this when you're running long distances like half and full marathons.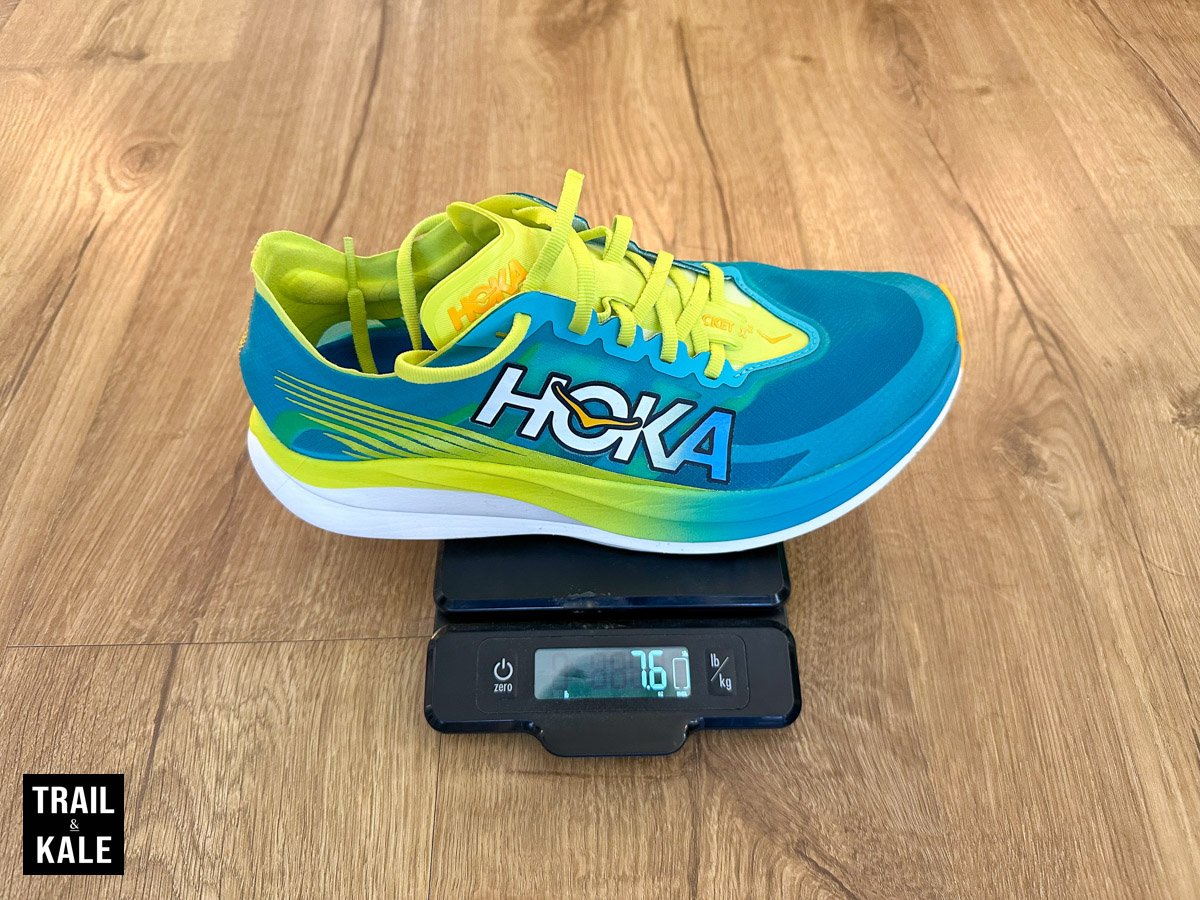 HOKA Rocket X 2 performance review
As someone who's had the pleasure of using the Rocket X 2 for a few weeks now, it really is a running shoe that's in a league of its own, when you get past those two annoyances mentioned earlier.
HOKA engineers (and marketers) will tell you they're designed specifically for elite runners, but they're really for anyone who wants to run faster and hit new personal bests on race day, and that could be for any distance from 5k racing, all the way up to marathon races, and everything in between.
And that's me… I'm not an elite runner but I love to run hard and compete against myself at most distances, including 50km ultramarathon.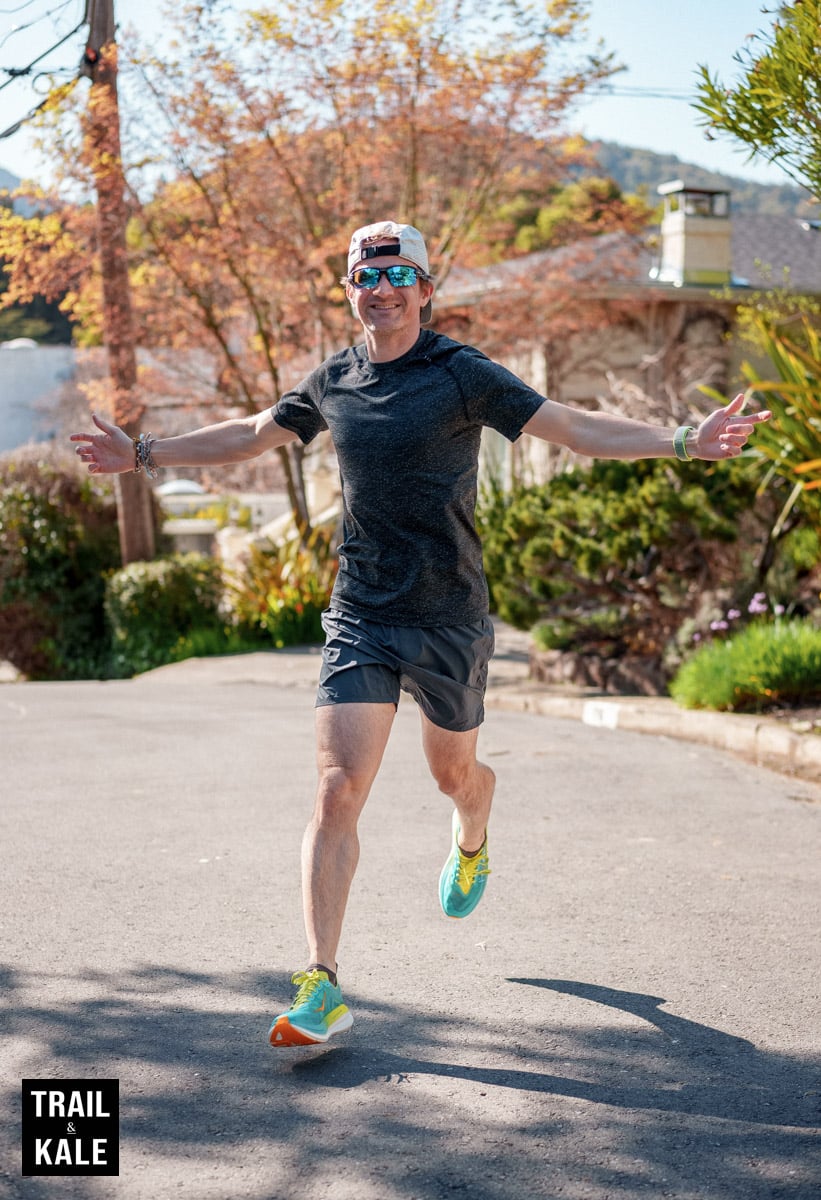 This shoe's geometry (the midsole and outsole more specifically) is something really special. The early-stage rocker when combined with HOKA's ProFly dual-layer foam, and of course that shiny carbon fiber plate creates an incredibly propulsive experience that will have you running faster than you normally would, and that's pretty much a fact – well it certainly was for me at least!
That combination of clever engineering in the midsole and upper also provides a smooth and comfortable ride which is just as important as speed when you're running for multiple hours training for a marathon, and also racing one!
While the technical synthetic mesh upper does provide a very nice and snug fit for medium-width feet, it can be somewhat of a pain to get your feet into the shoes as described earlier in this review.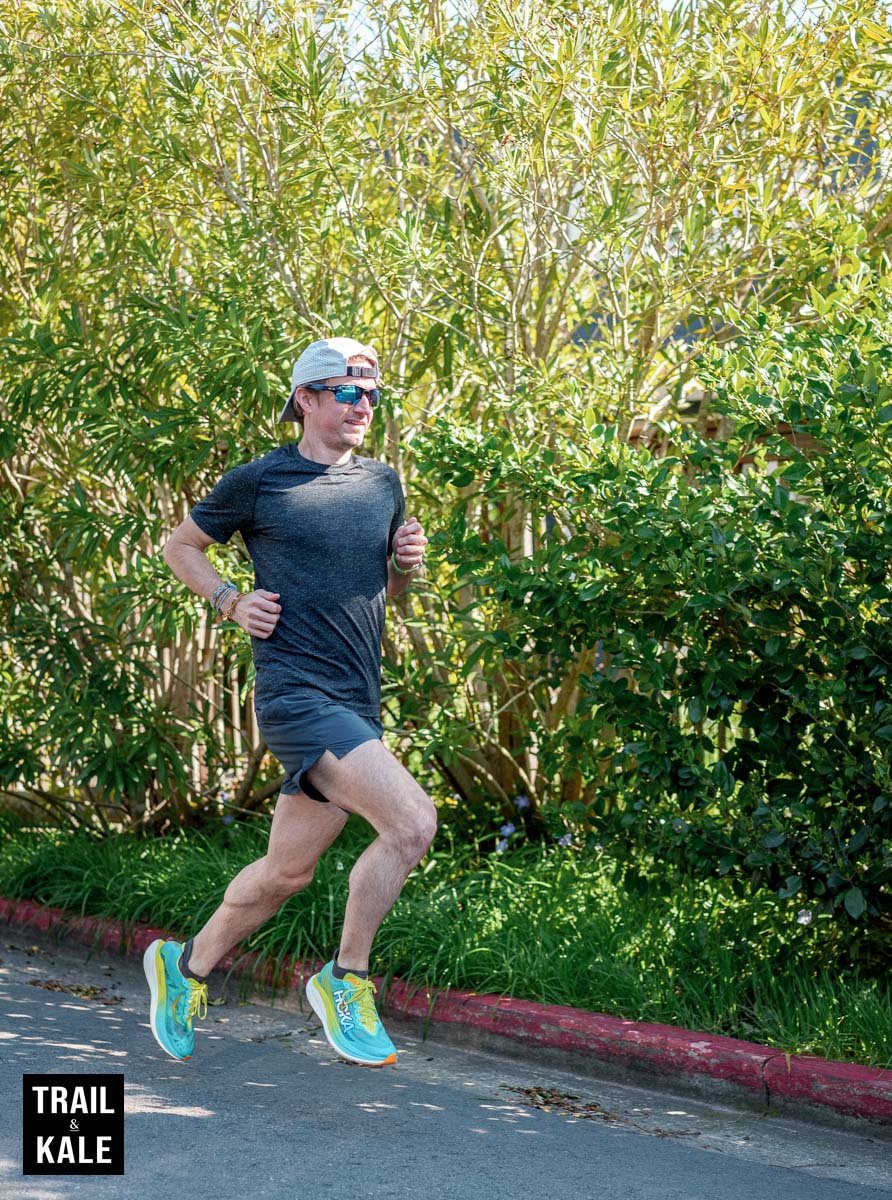 The gusseted tongue and internal midfoot cage is partly why the Rocket X 2 fits so well, and keeps your feet locked in and race-ready (once you figure out the optimum lacing tightness).
Are they worth your hard-earned money?
If you're someone like me who is always striving to run faster through well-structured training plans and the latest innovations in running shoes, and seeing the $250 price tag doesn't make you flinch too much, then yes they're worth the money.
There's really not much competition out there, except for the usual suspects like the Nike Air Zoom Alphafly, On Cloudboom Echo, Brooks Hyperion Elite, Saucony Endorphin Elite, and the Adidas Adizero Adios Pro to name a few, all of which have very similar price points.
I think after reading my review, you'll know if they're for you, and if they're worth your money. To learn more about the Rocket X 2, use the buttons below.
Still not sure which HOKA running shoes are for you? Head over to our Best HOKA Running Shoes Buyer's Guide next.
---
HOKA Rocket X 2 Video Review
---
HOKA Rocket X 2 review summary (rating with pros and cons)
HOKA Rocket X 2 Review
PROS
Undoubtedly some of the fastest running shoes I have ever run in! I can't wait to do my first race in them.
Very breathable upper.
Extremely lightweight at only 7.6oz for a size US(M)9.
They're very responsive thanks to the combination of ProFly, rocker midsole, and carbon fiber plate.
An absolute joy to run in whether your trying to hit a 5k PB or a marathon race PB.
I like how they look.
CONS
Tricky to put on unless you really loosen up the laces alot
Expensive but all premium carbon fiber plated running shoes are.
the heel counter can rub unless you do the laces up sufficiently tight
Only 1 colorway available at the time of writing this review
---
HOKA Rocket X2 Image Gallery
I hope you enjoyed reading my HOKA Rocket X 2 review, if you have any questions at all for me, drop them down below in the comments section – or just use them to say hello! 🙂