Today I'm reviewing the latest in HOKA's Mach series, which by the way, shock horror.. isn't the Mach 6! Instead HOKA has released their first in the Mach X series which is a super versatile running shoe designed to perform just as well for tempo training as race day.
The Mach X is an extremely comfortable, lightweight, everyday trainer for those looking to increase speed while still being able to enjoy a cushioned comfortable running shoe, and one that improves upon the Mach 5 in many areas but not all, which I'll explain in this review.
In this HOKA Mach x review I'm going to share my advice on sizing and fit, the key features worth mentioning, my performance review, how they compare to other HOKA running shoes including the Mach 5, if they're worth the money, and finally my rating out of 10 with some pros and cons.
I hope this review answers all your HOKA Mach X pre-purchase questions, but if I missed something, feel free to drop a comment below with any questions.
Key specifications of the HOKA Mach X
Price: $180 at hoka.com
Usage: A versatile tempo running shoe that's also a great choice for racing. It's comfortable enough for endurance efforts and responds equally well to pace increases.
Weight: 9 oz (255g) for a size US(M)9 (my pair)
Drop: 5mm
Toe box width: medium width
Stability: Neutral
Cushioning: Responsive – that's HOKA speak for firm but fast (although there's plenty of cushioning in them too)
HOKA Mach X sizing and fit
I usually wear a size US (M) 9 and can confirm that the HOKA Mach X fits true to size, so go with your usual size and they should fit you just fine.
They feel comfortable, lightweight, and cushioned right out of the box and continue to feel great while running too – learn more about that in my performance review in just a moment.
HOKA running shoes generally fit consistently and true to size; it's one of the many things I love about the brand.
The HOKA Mach X is a medium-width shoe that is also medium in the toe box area.
The key features worth knowing about
HOKA's ProFlyX midsole featuring a Pebax plate and PEBA foam (this is where the magic happens)
One of the things I love about most about the HOKA Mach X is the new ProFlyX midsole which now features a Pebax plate, rather than what we are all most familiar with, yes you guess it… a carbon plate.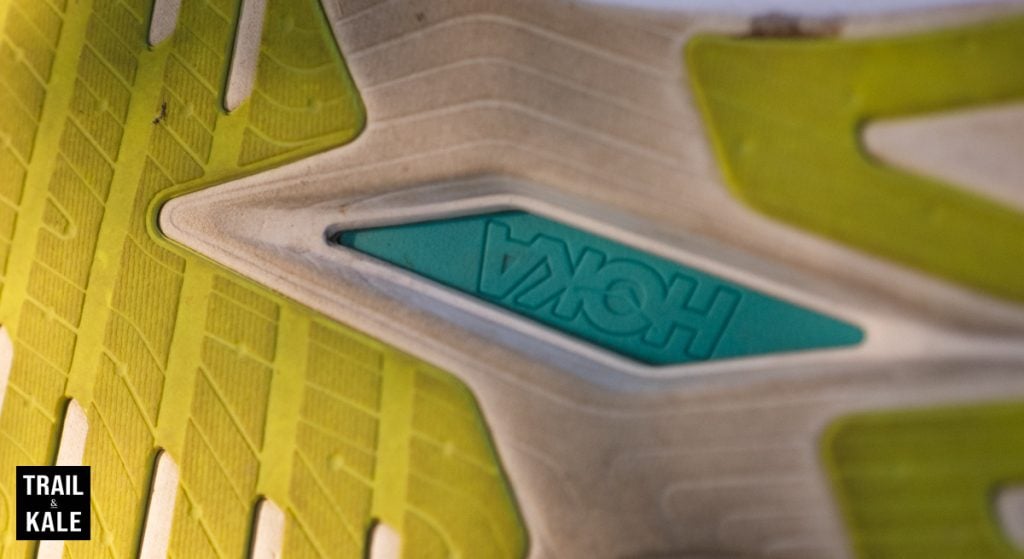 "What is Pebax, and is it better than using carbon fiber in a plate?" I hear someone say at the back of the room. Thanks for asking, well Pebax is a plastic that essential does the same thing as a carbon fiber plate in that is flexes, when you land, stores that force, and releases it as energy when you take off.
It makes your running shoes stiffer, just as carbon fiber does, but ultimately gives you better running economy in the same way that a carbon plate does.
What's probably even more notably, however, is the PEBA foam that HOKA is using, which is a Pebax foam that gives the Mach X 34% more resilience than the Carbon X3 foam.
There have been studies to suggest (according to 'Drs of Running') that Pebax foam when used in conjunction with a carbon fiber plate (or a Pebax plate in this case), can help improve running economy by up to 10% in most people – I find that pretty incredible!
The ProFlyX midsole which combines a Pebax plate and dual density foam (PEBA and EVA) for a soft landing and a firm takeoff, all built into an early stage metarocker geometry designed for a smooth ride.
Mach X's mesh upper is breathable and durable
Let's talk about the Creel jacquard upper, what makes it stand out for me, and also what it lacks.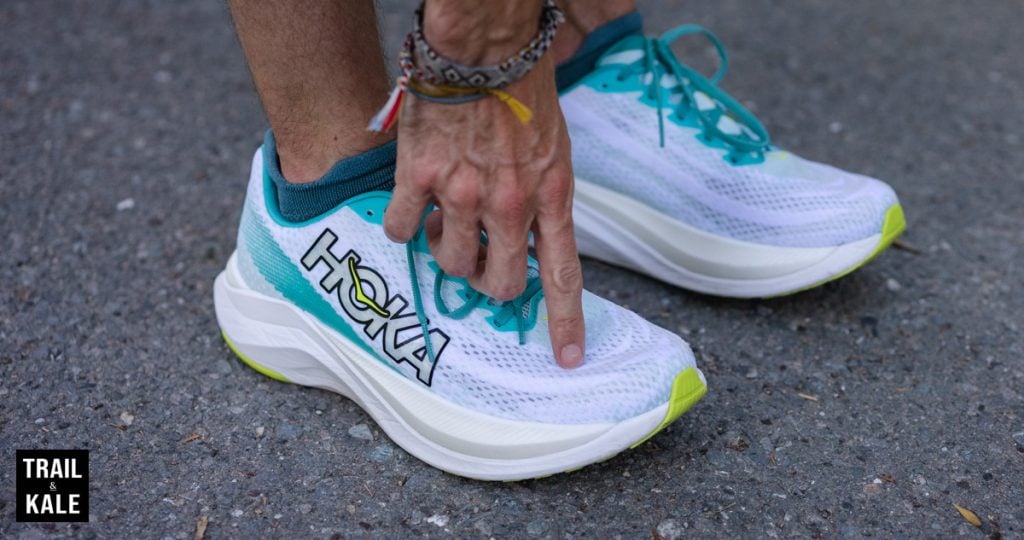 The Creel Jacquard engineered mesh upper is incredibly lightweight, durable, and breathable, which is everything you want in a running shoe upper.
The Mach 5 also had this style of upper, and I'm happy to see it stuck around for this iteration of the shoe.
The breathable upper is also very soft to the touch on the inside, so if you like to wear running socks that are on the thin side then you will appreciate this more than those who are on the thick socks boat.
One thing that stood out as slightly unusual to me was relating to the tongue which although very comfortable on the top of my feet, doesn't have a loop for the lacing system to go through – this means that the tongue does slip down a little while running.
I mentioned this same point about the Mach 5, and similarly the Mach X also has a short tongue.
I still don't know why they use such a short tongue especially when there's no means to pin it in place better while running – see my photo above.
Now, while the tongue doesn't slip much (a few millimeters max), it does seem a bit of an oversight, and I'd love to hear the reasoning behind that design choice. If you're reading this and you know why, let me know in the comments below.
The tongue does however have a nice bit of padding to protect the top of your feet from the pressure of the laces when done up tightly, I like this! The image above shows what I mean by that.
While I'm talking about the tongue and lacing system, this is certainly an improvement over the Mach 5.
They stay put and don't come undone like the laces on other running shoes can do, and this is most certainly to do with the material of the laces which has ridges of sort, and it helps the laces stay locked together when done up.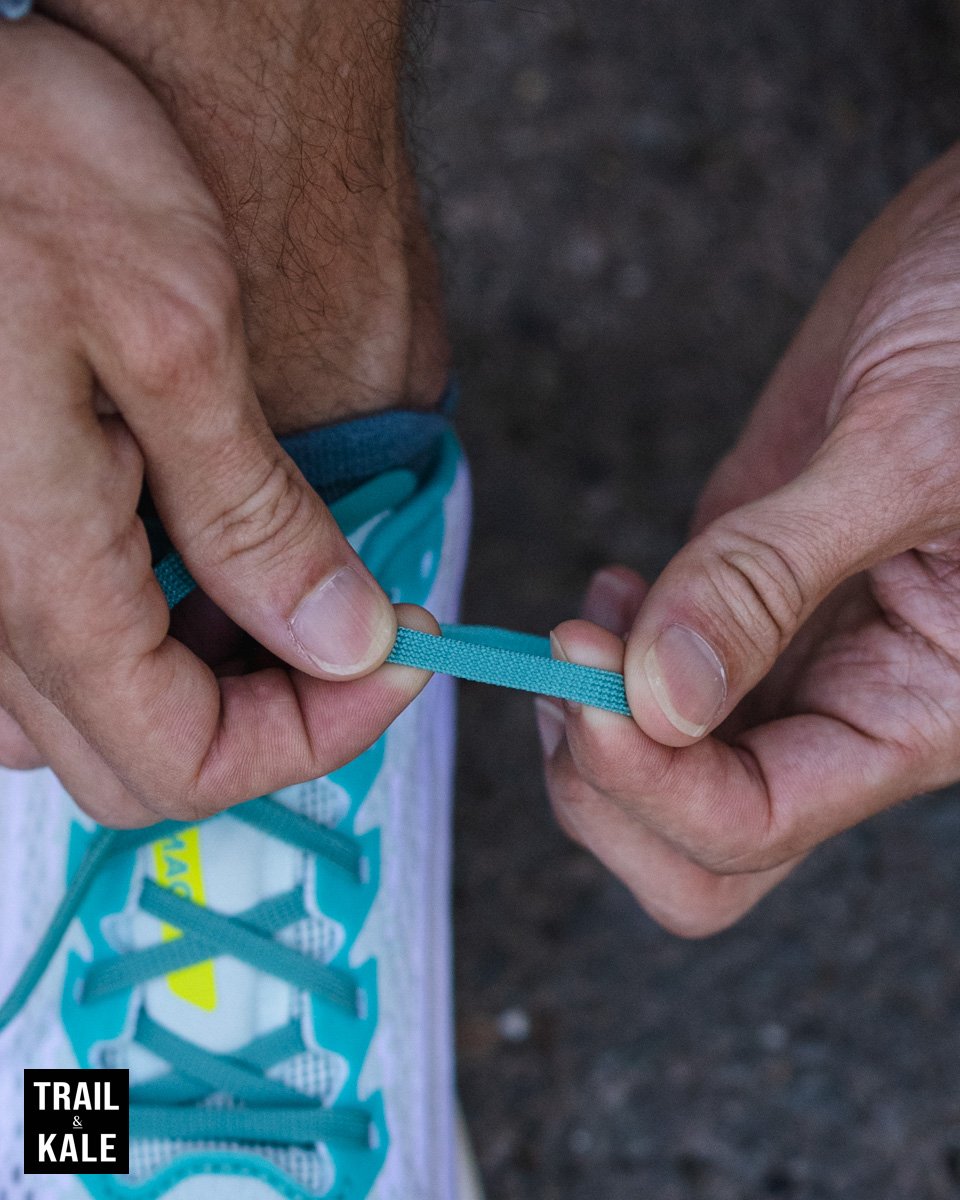 You can see what I mean in the image above, this is something that's new to me on running shoe laces and an innovation from HOKA that works really well.
Looking towards the rear of the upper, unfortunately, the Mach X doesn't have the same articulated heel counter found on the Mach 5 – which is a shame.
The ProFlyX Dual Density Midsole foam is a win
HOKA's stacked, dual-layer ProFlyX midsole foam setup that uses Pebax and EVA foam, provides a very responsive ride and a higher stack height than the Mach 5 which gives it more of a cushioned ride; one that you may have come to expect from HOKA running shoes or their great lineup of walking shoes.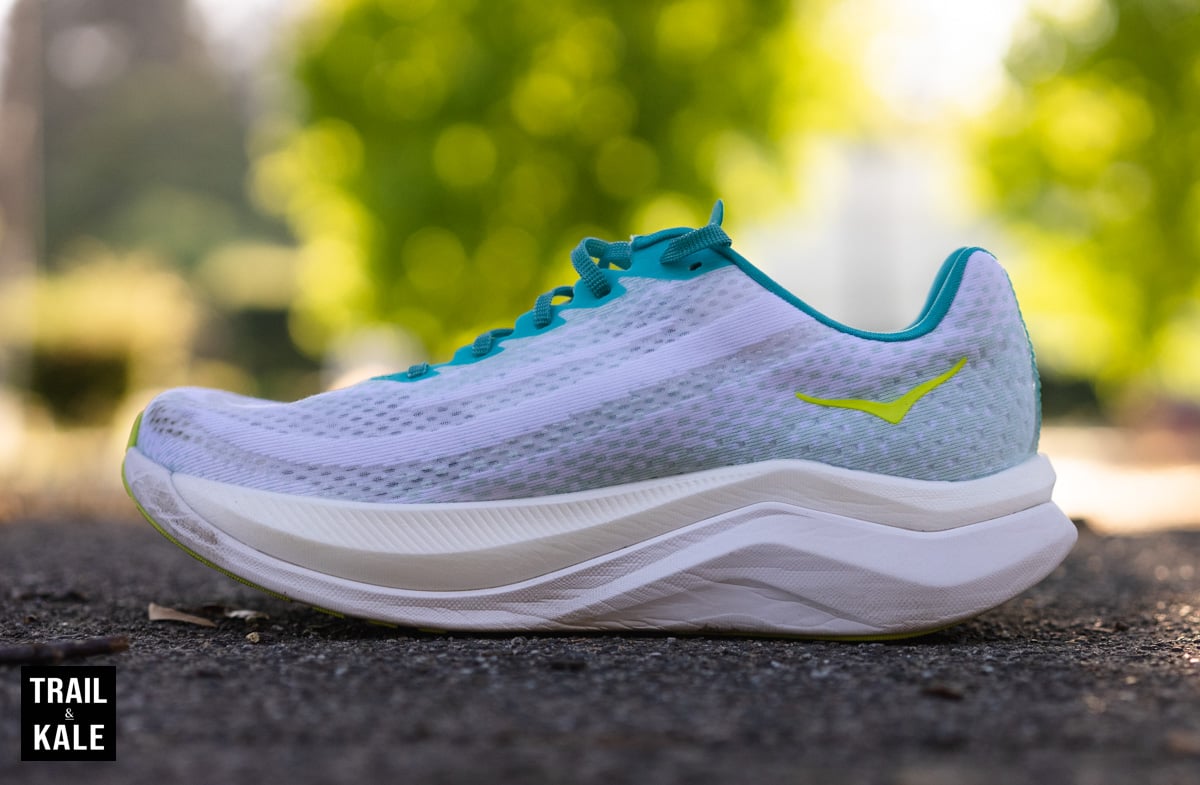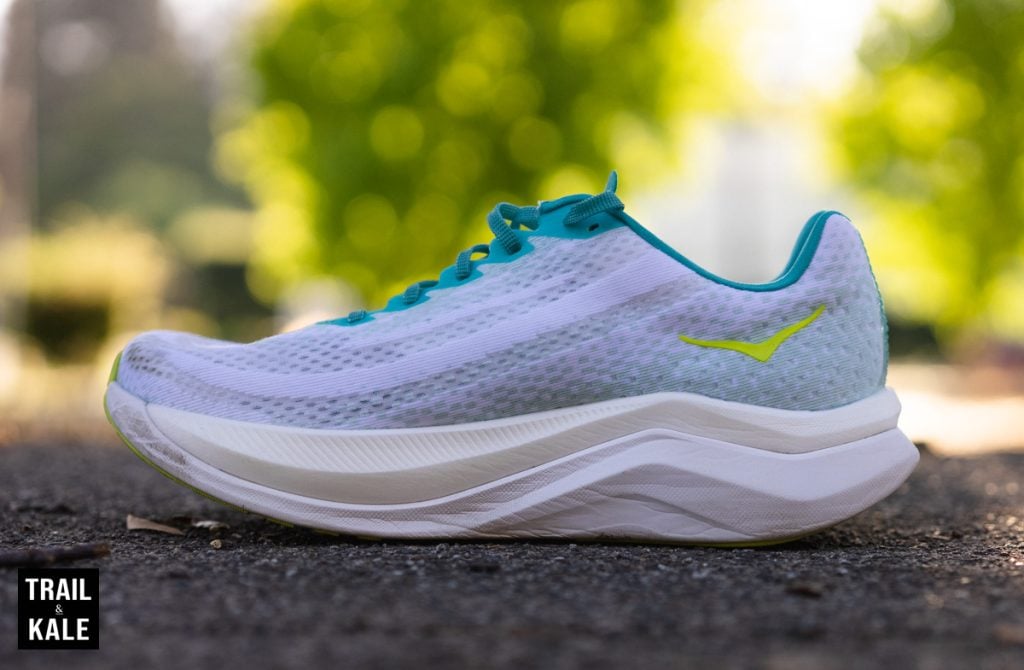 With that said, if you prefer a more lightweight, minimal ride with better ground feel you may be inclined to stick with the non 'X' series of Mach running shoes which is currently the HOKA Mach 5.
The HOKA Mach X, however, does have somewhat of a firm ride that provides an efficient push-off and that's thanks to the ProFly midsole which allows for a soft landing and a explosive takeoff.
That when combined with HOKAs early stage metarocker geometry and Pebax plate makes this running shoe extremely fast yet comfortable – hence why it's now my go-to tempo training shoe.
So, this all makes the HOKA Mach Z a great choice if you're looking for an everyday performance trainer which can also be used on race day to help you get to the finish line, FAST.
I really enjoy that super plush feeling for my recovery runs in shoes like the On Cloudsurfer or HOKA Clifton 9 (and later), for example, but when it comes to tempo, fartlek, intervals, and racing, I need something with a bit more performance in its DNA, like the Mach X or Rocket X 2 for example.
The HOKA Mach X has a drop of 5mm from heel to toe, thats the same as the Mach 5 by the way, which adds to that feeling of control and responsiveness while running. I really like how HOKA shoes tend to err on the side of a low drop.
The HOKA Mach X has a symmetrical bed of cushion under the heel which helps provide just enough support to your feet and it would be classified as a neutral support shoe.
The zoned outsole has much better traction in wet conditions than the Mach 5
I've had the pleasure of taking the HOKA Mach X for a spin in early morning damp conditions too, and I was really happy at how well they stuck to the tarmac and asphalt paths where I run, and although the Mach 5 had surprisingly good traction too (for an EVA foam outsole), the Mach X is far superior.
This is because it now has proper rubber compound in zones, rather than just EVA foam, this add better grip and also gives the outsole much better durability over time.
Durability in the outsole was one of my gripes with the Mach 5, even though I love the shoe, and still use it for the occasional tempo run.
It's a lightweight shoe (but not as light as the Mach 5)
The Mach X weighs 9 oz (255g) which is very lightweight for a shoe with this much cushioning but it's not as light as the Mach 5 which is 8.20 oz (232g) for the same size US(M)9.
I really like the design and there are so many great colorways
Ok, so this one isn't a feature but the design of these shoes in my opinion is really nice, unfortunately there are only 2 colorways to choose from right now, however.
The men's and women's HOKA Mach X each have the same 2 colors to choose from. To see all the current colorways available (more may have now been added), visit the product page here.
HOKA Mach X performance review
For those who are familiar with HOKA running shoes, the HOKA Mach series has never had a speed plate of any kind until now, and the Mach has always been designed for pushing your pace on tempo runs and even race day – and it has become a popular favorite among many runners.
My video below shares some more insights on how I have been running in the HOKA Mach X, as well as roundup of my favorite features and some I feel need some improvement.
But now we have the Mach X which introduces a Pebax plate and PEBA foam, bringing a totally new experience the the Mach series; and more importantly, more speed and efficiency over longer distances.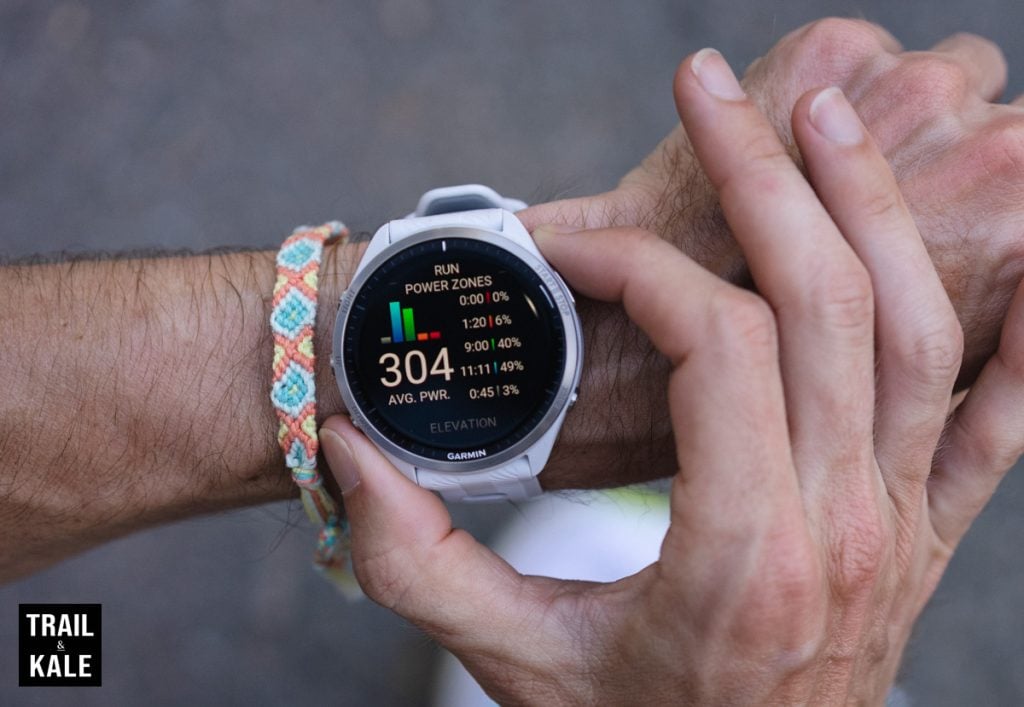 This means that the Mach X is a very lively pavement pounder that's built for performance and ready to race, and my Garmin stats agree with me!
The Mach X delivers a much snappier ride than the Mach 5, thanks to the combination of the ProFlyX dual density midsole with Pebax plate sandwiched in the middle, and a rocker geometry to smooth out the process of landing to take-off.
This all adds up to great things when it comes to actually running in the HOKA Mach X, including a comfortable, lightweight, responsive, and most importantly a FAST, snappy ride and running experience that still manages to give you a cushioned landing (more so than the Mach 5).
I love how the HOKA Mach X is also race-ready, meaning you can race in the same running shoes that you train with! This is something that I tend to recommend to new runners when they're training for their first 10k, half marathon, or marathon race.
I've been running with the Mach X consistently for a couple of weeks now and am having so much fun with them. They're reliable, bouncy, responsive, lightweight, breathable, and look great – so I couldn't really be happier with them so far and I'm definitely upgrading from my Mach 5 to these as my go-to tempo training shoes.
Who are the HOKA Mach X running shoes for?
The HOKA Mach X is for you if you're looking for a relatively affordable, high-performance daily running shoe designed for speed, and responsiveness, and to be used for racing, not just training runs.
This is great for serious runners who don't want to bother with multiple pairs of running shoes (a daily trainer and a racing shoe) because the Mach X has you covered for both instances.
It's also a great road runner for the marathon distance because the PEBA foam supports you very well while running long distances.
The HOKA Mach X is not for you if you're looking for a super plush daily trainer to stack up easy miles because they'll have you running fast thanks to the Pebax plate and PEBA foam, and they just don't have that super plush feel you may have come to expect from HOKA; the super plush daily trainer you're looking for is likely the Clifton 9.
How does the Mach X compare to other HOKA running shoes right now?
Let's start by comparing the Mach X with the Mach 5 (the Mach running shoe that came before this one.
The Mach X is certainly in a class of its own when it comes to comparing with other HOKA shoes because it stretches its own class being a high-performance training shoe AND a racing shoe (and does both jobs really well).
The closest match in the HOKA lineup, I would say would be the Carbon X 3 which is a more expensive endurance racing shoe that's lighter (and less cushioned), and has a carbon plate (and no PEBA foam), rather than a Pebax plate, to help propel you forward more efficiently (and faster) while running.
The Mach 5 is about 1oz lighter than the Mach X, and it has that articulated heel counter that I love; it's also $40 less expensive.
The Mach X however is a faster, more efficient running shoe with a snappier ride, and more cushioning, offering the best of both worlds for those who want to run faster, and keep the cushioned ride.
Are they worth your hard-earned money?
For $180 the HOKA Mach X is totally worth your money especially if you're the type of runner I described earlier that will enjoy these lightweight, fast, and responsive runners with good cushioning in the midsole.
These are my go-to tempo training shoes now, and the ones I pickup when I just want to go run and have a good reliable performance out there.
The Mach X is also available at the following stores (prices are tracked daily):
Still not sure which HOKA running shoes are for you? Head over to our Best HOKA Running Shoes Buyer's Guide next.
---
HOKA Mach X review summary (rating with pros and cons)
HOKA Mach X review
PROS
Midsole has amazing balance of energy return and cushioning, and you'll notice an improvement in running economy over longer distances
Lightweight coming in at 9oz.
Lightweight and breathable upper is durable and soft on the inside.
Outsole is grippier even in the wet when running at top speed, and a lot more durable - it's an improvement over the Mach 5
Love the shoe design and silhouette.
CONS
At $180 they're more expensive than the Mach 5 but you get must better energy return, durability and cushioning over longer distances.
Only 2 color options so far.
The tongue could be longer.
---
HOKA Mach X Image Gallery