As an experienced running shoe reviewer, I am 100% committed to helping readers of Trail & Kale find the best footwear for their specific needs and budgets. In this post I share my expertise on one of the most innovative and performance-driven brands in the running shoe industry: On.
In this Best On Cloud Shoes For Walking Buyer's Guide, I'll provide an introduction to the brand and discuss the various factors to consider when selecting the perfect On Cloud walking shoe, as well as listing my favorite ones in ranked order accompanied with review summaries, taken from my in-depth review of each shoe, yes I've reviewed them all.
On is a Swiss brand (headquartered in Zürich, Switzerland) that was established in 2010, with the aim of designing running shoes that provide the ideal balance of cushioning, support, responsiveness, and style (whether you're walking or running). They now also sell a wide range of performance apparel.
---
More On buying guides:
---
One of the key reasons I recommend On Cloud shoes for walking is their great cushioning and innovative designs that help promote proper walking form, natural biomechanics, an efficient cadence, and more importantly, efficiency with reduced fatigue for walking or standing around all day.
This combination results in reduced impact on the joints, allowing walkers to enjoy longer walks and recover more quickly afterwards.
On Cloud shoes are also widely regarded for their durability and versatility, making them a worthwhile investment for any walker or runner.
Finding On's best shoes for walking that are well suited to your requirements, foot shape, and budget can be a daunting task, given the numerous options available – and that is exactly why I wanted to create this guide, because I know that I have the perfect experience and knowledge to help simplify this task for you.
I've meticulously tested and reviewed every one of their shoes over the years, so it made sense that my next On post be this one, sharing all that information in a concise list of On sneaker options in ranked order based on how they performed for walking.
To take a closer look at each shoe recommendation, be sure to click through to my full review (the links are at the top of each summarized review in my list below).
If you're also interested in learning about the Best On Running Shoes, I've written a buyer's guide for those too.
In this guide, I share summarized reviews of the standout models in the On Cloud shoe lineup, highlighting their best features for walking with, and also minor drawbacks worth considering – because no shoe is perfect and even if there's only one downside to a shoe, that may well be the very reason for you to choose an alternative instead.
Whether you are a seasoned On enthusiast or a newcomer to the brand, this comprehensive guide will help you make an informed decision when choosing your next pair of On Cloud shoes.
---
The best On Cloud walking shoes, if you're short on time
In case you're short on time; here are my top recommendations at a glance, for the best overall On Cloud shoe for walking, trail hikes, and hybrid walks (read on for my reviews and full list):
Scroll down to read each On Cloud shoe review to work out which Ons are the best choice for you, and to learn more about the brand's proprietary technologies and terms, jump to the bottom of the guide where I explain them all in layman's terms, as well as all the reasons that On Cloud shoes are so good for walking.
---
Table of Contents
---
The best On Cloud shoes for walking: lightweight and cushion for walking or standing all day long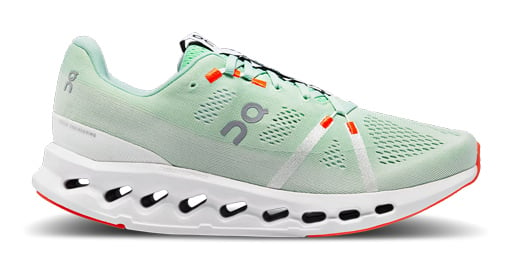 1. On Cloudsurfer ($159.99)
"Most cushioned, lightweight, and best overall for walking and standing all day"
Read my in-depth On Cloudsurfer 7 review to learn more.
My first pair of On cloud shoes, back in 2012, was the original On Cloudsurfer – and these were the shoes that epitomized the experience of running on clouds, and even walking on them for that matter.
The Cloudsurfer was so groundbreaking that it made the On brand immediately standout to me – and it's the reason that after so many years (and countless On cloud reviews), that I'm now the leading authority for On Cloud shoe reviews – yes, I've reviewed them all.
The On Cloudsurfer 7 has reclaimed that springy, joyous sensation that initially got me so excited about On Cloud shoes all those years ago but now, there's even more padding, comfort, and enhanced durability – and I've fallen even deeper!
These shoes will take your walks to a whole new level, thanks to the new CloudTec Phase midsole and snug fit that will have you looking for excuses to go out and walk more. They are also, hands down the most comfortable On cloud shoes whether you plan to walk, run, or stand all day in them,
The Cloudsurfer's engineered mesh strikes the ideal balance of breathability and stability while plushly cradling your forefoot as you transition from a soft footfall to an energetic stride.
When you pick up the pace, the re-engineered Cloudsurfer shoe absolutely keeps up. Prepare for longer strolls because you're going to truly enjoy walking in these On shoes. There's no doubt about it, they are a classic for good reason.
I cannot emphasize enough how much I love the Cloudsurfer 7!
If you're exploring alternatives to the On Cloudsurfer from different brands, I'd suggest giving the HOKA Clifton 9 a try – It's one of my favorite HOKA walking shoes.
KEY STATS: The Cloudsurfer 7 weighs 8.2oz (232g) for a size US(M)9, has a 10mm drop from heel to toe (although it feel lower than this), features a medium-width toe box, and fits true to size.
---
2. On Cloudmonster ($169.99)
"Most bouncy, fun and responsive"
Read my in-depth On Cloudmonster review to learn more.
Each year, On consistently unveils a new shoe model that reshuffles this Best On Shoes for walking leaderboard and also our Best On Running Shoes Buyer's Guide, often with a fresh reigning champion emerging at the top.
The On Cloudmonster claims that spot for running this year, and although it doesn't reign supreme for walking, it's certainly a close second, and here's why…
In my opinion, the Cloudmonster is one of the best On clouds for walking on hard ground like asphalt and concrete pavements – these cushioned and responsive shoes right here are truly something extraordinary (and monstrous! – Muwahahaha!)
The On Cloudmonster offers a huge amount of cushioning in the midsole, without compromising the energy return and responsiveness that makes it a fantastic shoe for long-distance walks or city explorations.
On accomplishes this by incorporating a springy speed board underfoot, which when paired with On's CloudTec midsole and intelligent rocker design, delivers a wonderful sensation of walking On Clouds with almost effortless forward momentum.
KEY STATS: The Cloudmonster weighs 9.7oz (275g) for a size US(M)9, has a 6mm drop from heel to toe, features a medium-width toe box, and fits true to size.
---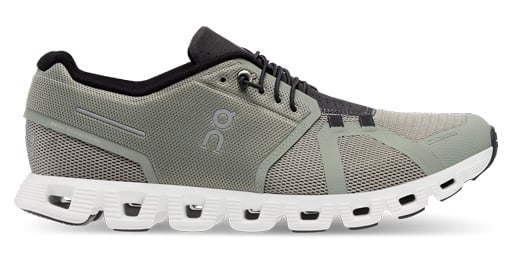 3. On Cloud 5 ($139.99)
"Best for all day wear, lifestyle, travel, and nurses"
Read my in-depth On Cloud 5 review to learn more.
The On Cloud 5 is an unbelievably comfortable shoe that I choose to wear all day, every day.
When I'm sporting my On Cloud 5s (which is practically a daily occurrence), I really love the freedom of being able to spontaneously set off for a brisk walk whenever the mood strikes, or if I'm in a bit of a rush – thanks to how easy they are to slip on and off, which is the benefit of On speed laces.
Its stylist design, and all day comfort are two of the key reasons why the Cloud is On's most popular shoe of all time – they appeal to all ages. I've had many folks over the years approach me, inquiring about the brand and where they can get a pair.
The Cloud 5 shoes are my 'go-to' lifestyle shoe, which also makes them one of my top choices for walking with, because their always on, and so versatile.
Many other walking shoes just don't have the fashionable appeal that makes me want to wear them all day, whether I'm at work or on a city exploration – and I love that they don't look too much like a dedicated running shoe.
They are a touch more minimal in the midsole cushioning compared to, let's say, the On Cloudsurfer and Cloudmonster for walking, which is not to say they're not cushioned because they are!
So, if you appreciate walking in a minimal shoe and want to look fantastic while doing so, then these shoes are for you!
The On Cloud 5 hold the number 1 spot for every day lifestyle in my Best On Cloud Shoes Buyer's Guide, they're also hands down the best On cloud shoes for nurses and other health care workers who spend lots of time on their feet, thanks to how easily the speed laces let you slip them on, the comfort, breathability, and lightweight geometry.
Another great attribute of the On Cloud 5 is that it's available in a multitude of color variations for both men and women at on-running.com, so you'll easily find a pair that complements your personal style.
KEY STATS: The Cloud 5 weighs 8.82oz (250g) for a size US(M)9, has a 8mm drop from heel to toe, features a medium-width toe box, and fits true to size.
---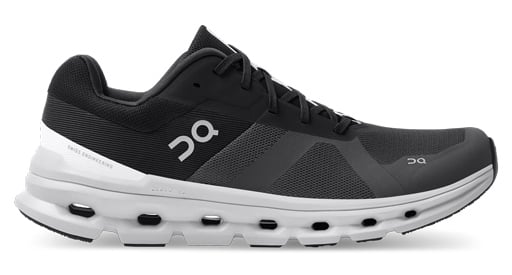 4. On Cloudrunner ($149.99)
Read my in-depth On Cloudrunner review to learn more.
The On Cloudrunner exceeded my expectations when I put them through their paces for my review – don't let the name fool you, these supportive running shoes are also one of the best On Cloud shoes for walking all day, thanks to their cushioning and support.
The ankle and heel support in these On clouds is one of the best, the midsole platform is also very stable, making it one of the best On Cloud shoes for standing all day.
You'l love these Clouds for 'long, leisurely strolls' where comfortable, and supported mileage is paramount.
The Cloudrunner's stability is so good due to the wide outsole under the forefoot. This sturdy platform minimizes the chances of lateral roll in your ankles and allows you to comfortably walk all day.
The Cloudrunner is generously padded around the ankle and heel areas too, while the cushioned CloudTec outsole with Helion foam ensures a really comfortable ride underfoot.
KEY STATS: The Cloudrunner weighs 10.58oz (300g) for a size US(M)9, has a 9mm drop from heel to toe, features a medium-width toe box, and fits true to size.
---
The best On Cloud hiking shoes for the trails
1. On Cloudultra 2 ($179.99)
"Best For Trail"
Read my in-depth On Cloudultra 2 review to learn more.
The On Cloudultra 2 is one of On's greatest ever trail running shoes and also for walking on trails, and it's their outstanding contribution to the ultra-distance and endurance trail running scene.
It has addressed my yearning for an On trail shoe that can adeptly manage technical terrain and continue to provide comfort mile after mile on trails and even streets, thanks to their comfortable Helion midsole foam and great traction Megagrip outsole.
They're exceptional trail walking shoes, suitable for any distance up to and even beyond the marathon distance, should you be planning to walk in a charity event for example.
KEY STATS: The Cloudultra weighs 10.2oz for a size US(M)9, has a 6mm drop from heel to toe, features a medium-width toe box, and fits true to size.
---
The best On Cloud walking shoes for road and trail surfaces
1. On Cloudvista ($149.99)
"Best hybrid for road and trail surfaces"
Read my in-depth On Cloudvista review to learn more.
The On Cloudvista is a brilliant addition to On's trail shoe for walking lineup.
Doing so much at such a reasonable price point, it makes mixed terrain walking much more attainable for beginner to intermediate walkers, and anyone looking to walk on light trails and road surfaces – hence it's hybrid nature.
The Cloudvista is ideal for anyone who enjoys flat or rolling loop or out-and-back routes that span a distance of up to around 21km.
If you're looking to dip your toes into trail hiking or advance from the beginner level, you can't go wrong with the Cloudvista.
KEY STATS: The Cloudvista weighs 9.88 oz (280g) for a size US(M)9, has a 7mm drop from heel to toe, features a medium-width toe box, and fits true to size.
---
How to choose the best On Cloud walking shoe for YOUR needs
Walking can be an everyday activity or a full-blown exercise routine but one thing's certain: you really need the right shoe for your specific requirements.
It's not just about the most expensive or trendy pair; it's also important to consider the best On Cloud shoes that can serve your specific needs. Read on to find out how can you choose the right On Cloud walking shoe for you.
What Should You Look for in a Walking Shoe?
A good walking shoe should be lightweight, with a breathable upper to keep your foot fresh and dry while reducing the fatigue that one may expect to experience when walking all day.
The shoe's midsole should absorb shock and pressure well, and this is especially so in the heel and the forefoot regions.
If you're walking all day, arch support is critical to prevent discomfort and knee or back pain, while comfort and good traction are also vital, especially on wet or slippery surfaces, all of which On does a really good job of providing.
---
Why Are On Cloud Shoes Good For Walking?
On Cloud shoes have been steadily making a name for themselves in the footwear industry, primarily for running, but also lifestyle, hiking and even tennis. I have witness this growth in popularity since I was there at the beginning, reviewing their very first Cloud releases.
On sponsored athletes have won races such as Boston marathon wearing On running, shoes and they're now taking the tennis world by storm thanks to Roger Federer's input in the engineering and design stages of On tennis shoes.
They aren't just good for walking though, On also make some of the best running shoes out there, and many have received T&K Editor's Choice awards over the years.
In the walking shoe category, they've proven to be a trusted name. Let me explain the key features that make On Cloud shoes good for walking.
Comfort With Excellent Midsole Cushioning, and Soft, Breathable Upper Materials
When it comes to comfort, On Cloud shoes are some of the worlds most comfortable and the company prides itself on its unique CloudTec cushioning technology that integrates zero-gravity foam for an unmatched soft landing, design to absorb impact strain, while providing a responsive take-off.
This characteristic of On Cloud shoes is central to their growing popularity among walkers as well as runners.
The cushioning isn't just about the comfort; it also serves a practical function which is to absorb impact, reduce stress on the foot, and make every step an enjoyable on that feels akin to walking on clouds; that's their slogan by the way, well if you switch out the word 'walking' for 'running'.
On Cloud shoes also feature upper materials made from sustainable, mostly recycled high-quality textiles and breathable mesh materials. This quality ensures your feet remain fresh and dry, regardless of how long you wear the shoes, hence why they're so good for wearing all day long.
This feature is especially crucial for those long summer walks when your feet are likely to get sweaty; if your feet tend to run hot like mine then you'll really appreciate this breathability.
And let's not forget the insole, which is made from EVA and is also removable. It provides additional comfort and can be easily replaced if necessary; when it comes to comfort, On Cloud shoes tick all the boxes.
They Aid Smooth Biomechanics Thanks to Their Rocker Geometries
On Cloud shoes aren't just about comfort (although that's a huge part of it :)); they also prode themselves on performance. A standout feature of these shoes is their unique CloudTec midsole unit, which provides a natural rocker geometry that supports the natural movement of your foot when walking.
This ensures that every step you take is as smooth as possible, reducing stress on your muscles, joints, and ligaments.
The engineering and workmanship that goes into each pair of On Cloud shoes is calculated to facilitate the smoothest running and walking experience possible.
So, whether you're walking around your neighborhood or traversing a hiking trail, you can be sure your shoes are working with you, not against you.
Support for Walking or Standing All Day
If you're someone who spends most of the day on your feet, then support is a very important factor in choosing the right shoe for you. On Cloud shoes offer excellent support, thanks to their structural design and the zoned materials used (in the right places).
Plus, the soft, cushioned insole provides good arch support for neutral (standard) arches, reducing foot fatigue and alleviating discomfort, something that is obviously important for those long days when you're either walking or standing for extended periods.
They Offer Many Color Options to Suit Most People's Styles
On Cloud shoes aren't just about comfort and performance; they also score high on style. The shoes are available in a wide range of colors, allowing you to choose a pair that suits your style perfectly. Whether you prefer understated neutrals or vibrant shades, there's an On Cloud shoe for you.
The diverse color options also mean that you can easily match your shoes with your wardrobe whether you're walking for exercise or using them as a day-long lifestyle shoe, you can always step out looking good, and feeling confident.
On Cloud shoes are a superb choice for walking for their comfort, smooth biomechanics, excellent support, and wide range of color options. Whether you're a casual walker or someone who spends the entire day on your feet, On Cloud shoes will deliver the comfort, support, and style you need.
---
Understanding Key On Cloud Technologies and Terminology
The On brand has been at the forefront of footwear technologies, constantly innovating to provide customers with a continually better experience.
As an experienced runner and passionate reviewer of running shoes, I've spent over a decade exploring the ins and outs of different footwear technologies.
While I'm not a certified running coach, I probably have more real-world running experience than most coaches – and because I'm so passionate about running and have a curious mind, I like to constantly ask questions and learn the science behind the sport – this also applies to walking, something else I enjoy doing a lot of with our border collie, Kepler.
I'm also a big believer in valuing experience over certificates when it comes to expertise and knowledge in a topic.
I hold On in such high regard because of all their great running shoes that scored so highly in my reviews; they have developed several unique features and terms that set its shoes apart from the competition.
One such technology is CloudTec, which significantly contributes to the brand's success in the running community, and in my On Cloud shoe reviews. Let's dive deeper into this and other key On technologies and terminology.
Helion Superfoam and CloudTec: Delivering a Responsive, Cushioned Ride
Perhaps the two most defining technologies in On Cloud shoes are the Helion superfoam and CloudTec. These two work hand in hand to create blend of comfort and responsiveness that sets On Cloud shoes apart from other footwear manufacturers – it's the differentiator thats helping the On brand grow in popularity.
I guess you could say that CloudTec is the at the heart of all On Cloud shoes. This Swiss-engineered technology, with a very appropriately name, provides a soft landing followed by an explosive take-off, essentially giving you the feeling of running or walking on clouds.
This technology is the secret behind the exceptional comfort you experience with each step in On Cloud shoes.
Paired with CloudTec is Helion superfoam, a midsole foam designed to enhance responsiveness and performance. This foam works in conjunction with CloudTec to deliver a smooth, effortless run, whether you're exploring the city or hitting the trails.
The combination of these technologies allows On Cloud shoes to deliver a responsive, cushioned ride that essentially adapts to your running form, cadence, and downward force.
Rocker geometries enhance the natural running gait
Many On Cloud shoes also feature a rocker design which enhances your natural running gait by guiding the foot through a smooth, rolling motion from heel landing, to toe takeoff.
By aligning the foot in a natural position during impact, the rocker design reduces the stress and impact on your joints and allows for more efficient movement.
MissionGrip for Traction and Control
The On Cloud range also includes trail running shoes that feature the MissionGrip technology.
This is a carefully crafted grip-rubber compound that provides enhanced traction, helping you to stick to the trail regardless of the terrain. It is found on the outsole of our top recommendations in the trail hiking and hybrid shoes sections above.
Whether you're running/walking on wet, slippery surfaces or rocky trails, MissionGrip ensures you have the control and stability you need for a safe and enjoyable hike.
Cyclon Recyclable Running Shoes
As part of their commitment to sustainability, On has launched their award-winning Cyclon initiative, which features recyclable running products. This initiative uses bio-based, high-quality, and highly renewable materials to create shoes and apparel.
Once the product has reached the end of its life, it can be recycled and transformed into new products; this move towards recyclable running shoes showcases On Cloud's commitment to sustainability without sacrificing performance or comfort.
---
I know that choosing the best On Cloud walking shoe from the On lineup can feel overwhelming (as there are so many) but now you should be armed with all the information you need to ensure you get the right ones for you.
I really hope you enjoyed reading this guide to the best On Cloud shoes for walking, and that I was able to help you find the perfect ones for you. Thanks for reading and please feel free to ask me anything On related in the comments below, I love to nerd out about On Cloud shoes. 🙂