If you're looking for an affordable pair of running shoes that can keep up with your training but don't want to sacrifice comfort, the HOKA Clifton 9 could be the running shoes you're after.
These cushioned running shoes are perfect for beginners who want a fun, neutral stability, plush support, and a comfortable ride for their easy runs, long runs, and recovery runs.
In this HOKA Clifton 9 review, I'll talk about sizing and fit, my favorite features worth mentioning (and some that could be improved), my performance review, who I believe they're best for (and who they're not for), what makes them a great choice for beginner runners, and also more experienced marathon runners, and whether they're worth your money.
So, if you want to find out why these shoes are currently the talk of the town, keep reading until the end!
HOKA Clifton 9 sizing and fit
As with all other HOKA running shoes that I have reviewed in the last couple of years, the Clifton 9 fits true to size so I would recommend sticking with your usual shoe size if you normally run in HOKAs.
They're also consistent with other popular running brands like On Running, Nike, and Brooks, for example.
Need to know specifications
Weight: 8.70 oz (247g) | 9.2oz Size US(M)9 (my pair)
Drop: 5mm
Toe box width: medium
Stability: neutral
Cushioning: plush
Recycled materials: YES
Vegan: YES
How are the Clifton 9's improved over the Clifton 8?
For those of you who are familiar with the Clifton 8 that came before, I want to quickly highlight how the Clifton 9 has changed.
The HOKA Clifton 9 is lighter, coming in at only 8.70 oz (that's about 0.14oz or 4g less), and more cushioned than before. HOKA has also added 3mm to the stack height, which is essentially how high off the ground you're raised due to the thickness of the midsole.
This makes a noticeable difference, through a more bouncy, energizing feeling with each stride, on top of this, the responsive new foam and improved outsole design make the running experience feel more like I'm running on clouds, not to try to take a tagline from the On Clouds running shoe brand.
I think what really sets the Clifton 9 apart, in my opinion, is the stripped-back upper design. HOKA has eliminated all those extra overlays and hotmelts, creating a sleeker, more streamlined look that's consciously crafted for more comfort, and It's really noticeable.
The articulated heel gets a plusher feel, there's a reflective heel panel, and a streamlined tongue with a single side medial gusset that all comes together to make a shoe that I think looks good and feels great.
The key features worth knowing about
HOKA Clifton 9's breathable engineered knit upper
The snug fit and immediate comfort of the upper on these plush running shoes are what I find most impressive. As a runner, the importance of a comfortable and secure fit cannot be overstated, and these shoes deliver on both fronts.
It's the upper that I'm going to talk about first, however, because of the great first impression it gave me when lacing up the shoes.
When I refer to the upper, I'm also talking about features like the tongue, lacing system, lace holes, heel, as well as the materials used and how they are all connected together.
The breathable engineered knit upper is indeed very breathable. I know this because I always test this by blowing through the upper material and seeing how much airflow comes through to my hand inside the shoe.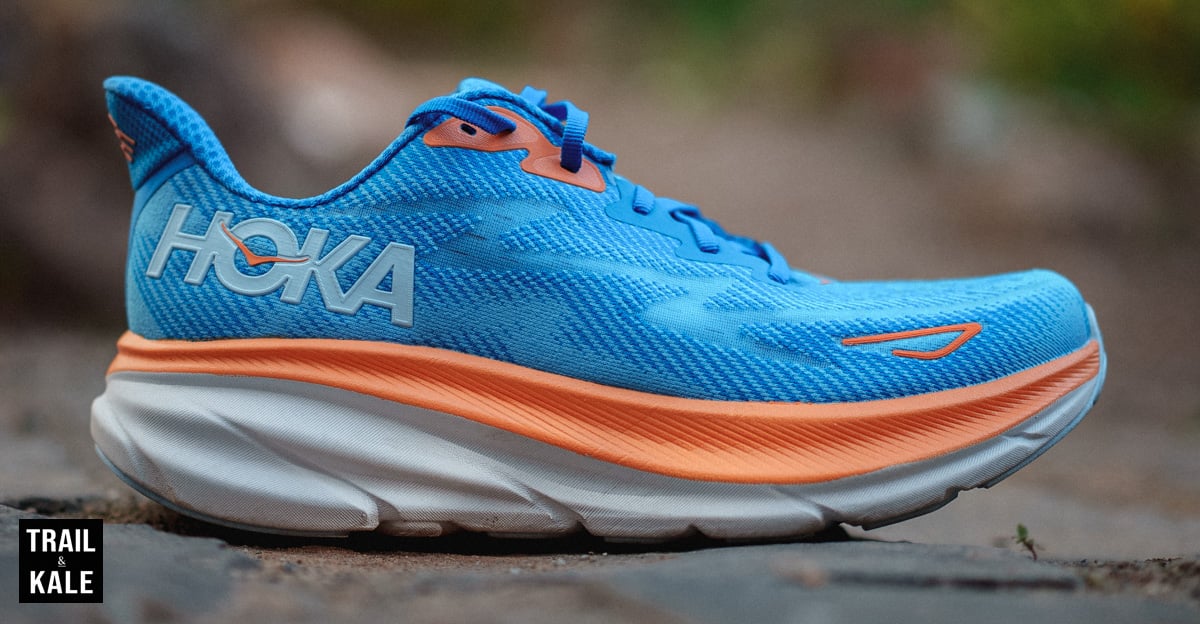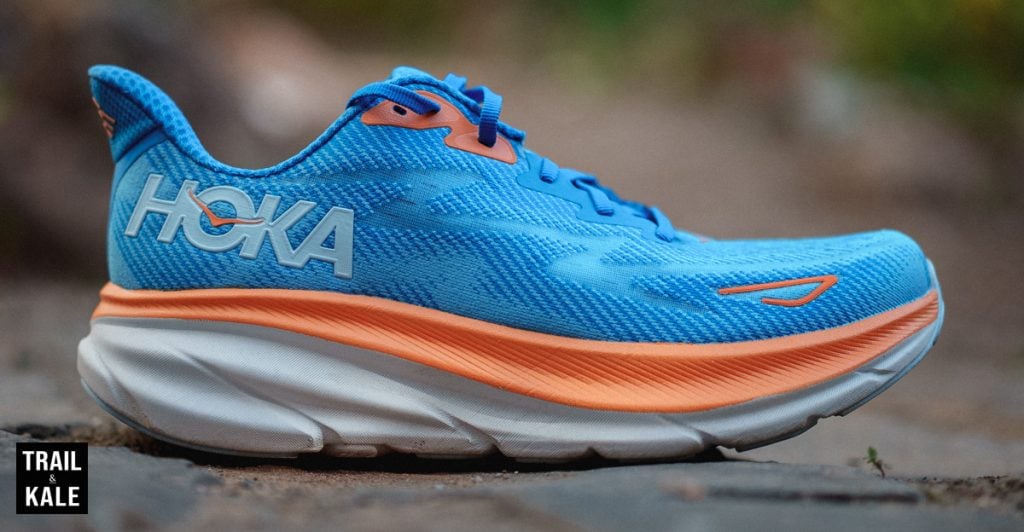 It's also very durable and I love how HOKA has done such a great job of ensuring the upper is made from one piece of material.
This 'one piece" upper eliminates weak areas within the construction where durability could become an issue, and when done right creates a really wonderfully snug fit that wraps around and hugs your feet.
I'm a big fan of the gusseted tongue for the way in which it wraps around the top of my feet so comfortably and how it helps to keep the tongue in place.
The tongue also has a loop on it to help keep the tongue from migrating as you run – it does a really great job of staying in place.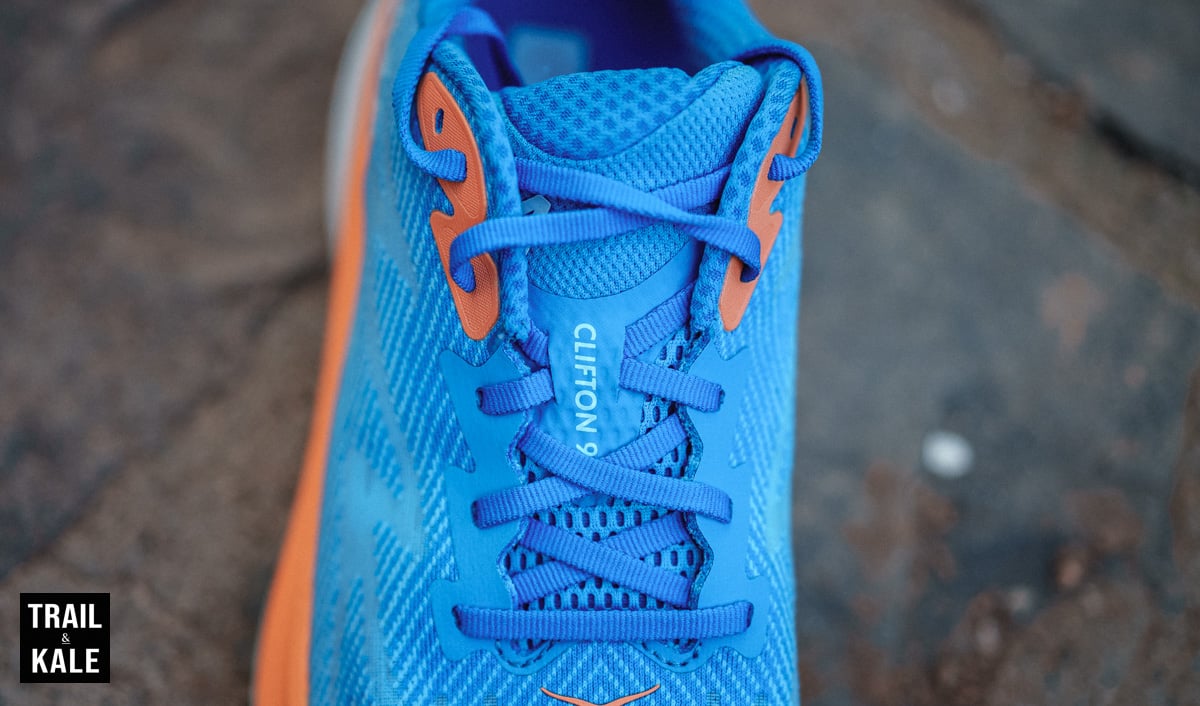 The lacing system is pretty simple but it does a great job of securing my feet in the shoes while maintaining comfort, and not the sensation of constriction.
HOKA Clifton 9's midsole is plush yet stable
The Clifton 9's compression molded EVA foam midsole is so much fun to run with, and as you would expect from looking at the side view of the midsole, it has plenty of cushioning and a very plush feel.
Although the HOKA Clifton 9 is not as plush as the Nike Invincible 3 right now, it does offer more stability and is very lightweight, weighing in at 9.2oz for a men's size US(M)9 (my size), whereas the Invincible 3 weighs 9.9oz.
After reviewing the Nike Invincible 3 recently, it's really difficult to find a shoe that feels quite as plush but while the Clifton 9 may not be quite as plush and bouncy, it will offer better stability and support for heavier runners and beginners alike.
HOKA's articulated heel support is always a hit for me
I'm always a fan of HOKA's articulated heel designs. Why, you ask?
Well, if you've ever experienced Achilles tendinitis after heavy training sessions, hill repeats or just through overtraining when you first start running, you'll appreciate how it allows your achilles to flex throughout your running cycle without putting any pressure on it.
It's also a great design for anyone wanting to prevent their Achilles tendon ever becoming agitated and tendinitis making an unwelcome return. Practicing running techniques like a proper running cadence and stretching before and after your runs will also help keep it at bay.
Durabrasion rubber outsole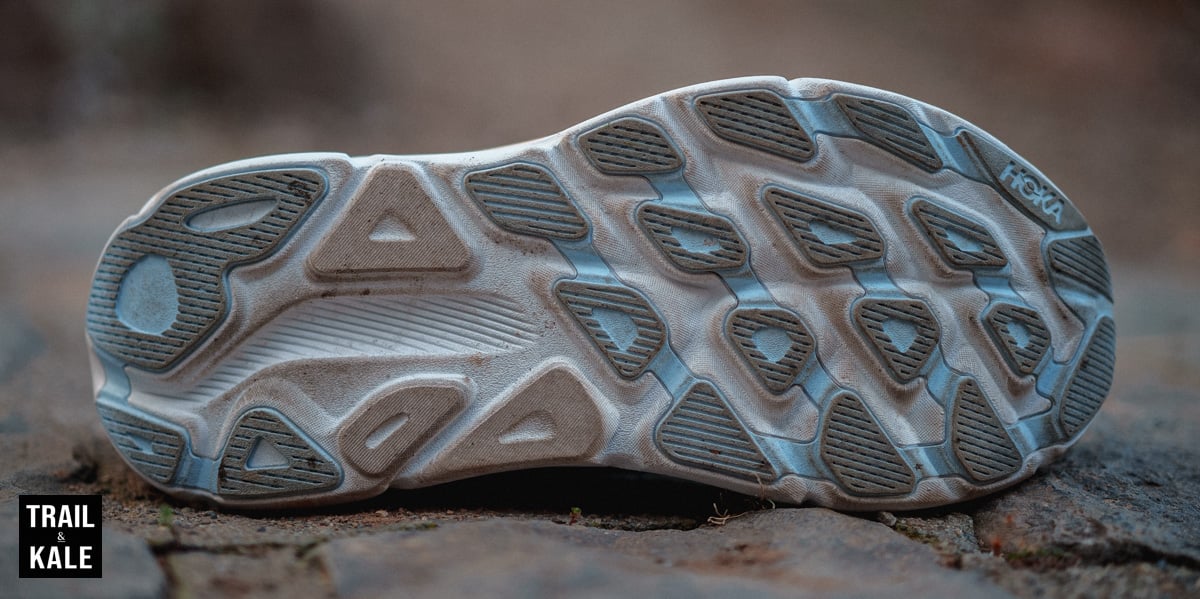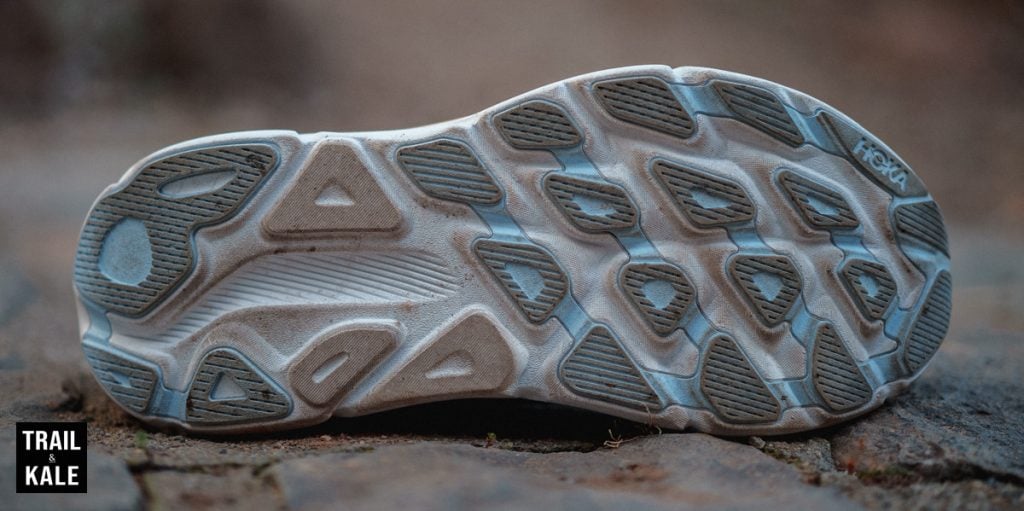 HOKA's durabrasion rubber outsole is what gives the shoes added durability, allowing you to run further in a new pair of running shoes.
This extended rubber longevity means you get better value for money on an already relatively affordable cushioned running shoe.
See below for a closer look at the tread on the outsole.
It's a very lightweight shoe (considering the extreme cushioning and comfort)
Considering all the cushioning on the upper, and that very plush midsole, I'm very surprised at how HOKA has managed to keep the weight down so much.
I'm guessing this is in part due to a very lightweight midsole foam, but either way, it makes for a perfect shoe for beginner runners and anyone training for a marathon because a lightweight shoe with great cushioning is key to running longer distances when you're new to running, or training for an endurance goal like a marathon.
HOKA Clifton 9 performance review
My first impressions of the Clifton 9 were of how plush and cushioned they were when I first put them on and did a customary walk around the house to get a feel for them.
Once I got to take them out for their first run I was impressed at how stable they were relative to how plush they felt.
That is a good thing because without stability, plush shoes would have you wobbling all over the place, and that's a recipe for picking up a running injury.
Running shoes with a stable platform and a relatively low heel-to-toe drop like 5mm is very important for beginner runners as they can help promote better running form, and that's why the HOKA Clifton 9 is such a great shoe for beginners.
It's also a good choice running shoe for marathon or half-marathon runners looking to increase base mileage during their training plan.
The plush cushioning and comfort of these shoes have a significant impact on your running experience, allowing you to run more effortlessly and without feeling entirely drained afterward.
This midsole also provides good energy return which puts a certain spring in your step when running, all these feelings of comfort and bounce do subconsciously help with the mental game for new runners and long distance runners looking to stay sharp during their run for longer.
These shoes aren't going to be for 10k or 5k runners looking to run their fastest times, as there's just not enough forward propulsion in them to reap the benefits of speed training, interval training, or racing shorter distances – for you, I'd recommend looking at the HOKA Mach 5, or Carbon X Series.
Are they worth your hard-earned money?
YES, $145 for the HOKA Clifton 9 is excellent value for money for such a lightweight, super plush running shoe with great stability and durability.
Still not sure which HOKA running shoes are for you? Head over to our Best HOKA Running Shoes Buyer's Guide next.
---
HOKA Clifton 9 Video Review
---
HOKA Clifton 9 review summary (rating with pros and cons)
HOKA Clifton 9 Review
PROS
Excellent cushioning in the midsole while keeping that very important stable platform.
The upper is very breathable, comfortable and has plenty of cushioning around your feet.
Love the 5mm drop and that articulate heel design just makes the ride extra comforting.
Very lightweight for such a plush running shoe.
Gusseted tongue does a great job of staying in place while running and provides plenty of comfort.
Beginner's and those in training for a marathon will both love them.
Very reasonably priced at $145
CONS
Although plush, I was expecting to feel more bounce, on par with the Nike Invincible 3, and it wasn't quite there - it did however outperform them in stability.
---
HOKA Clifton 9 Image Gallery