In this Dynafit Ultra 100 review, I'll be going over the key specifications of these ultra trail running shoes, what I love about them, what could be improved and finally whether I believe they're worthy of becoming a part of your running gear.
Near the bottom of this review, you'll also find my performance video review of how they actually perform on the trails and essentially what they're like in real-life conditions with all the marketing put aside. Okay, let's get straight into it!
The key specifications of the Dynafit Ultra 100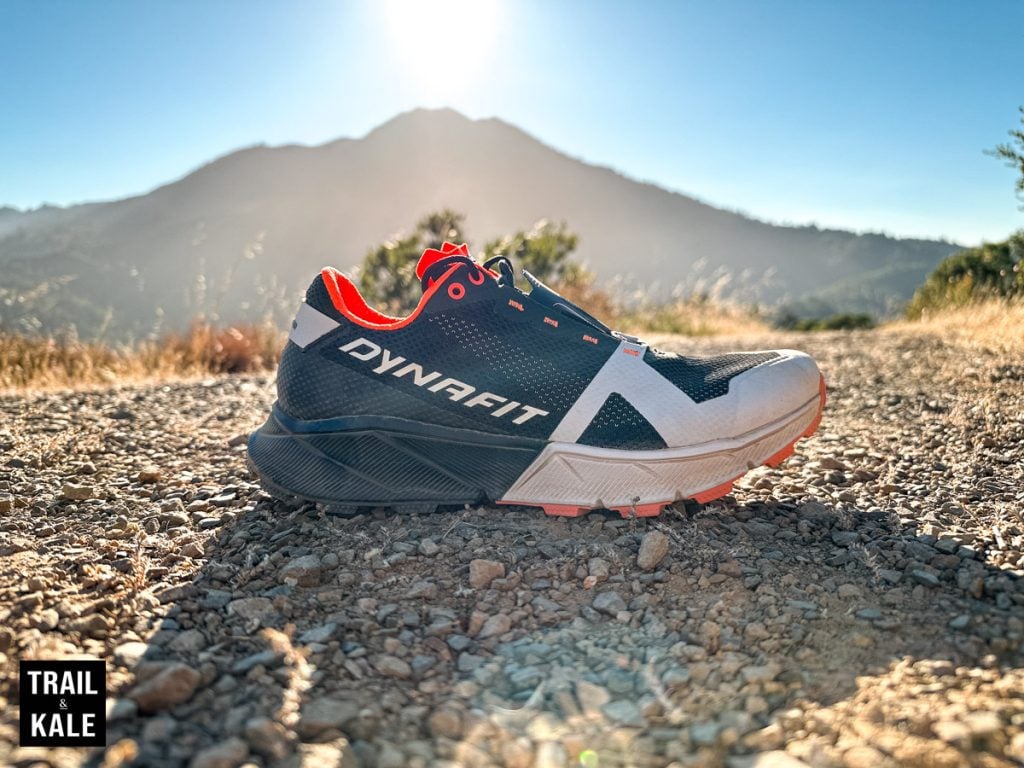 Price: $170 at backcountry.com or dynafit.com
Usage: all terrain running shoes for long distance of marathon and beyond.
Weight: 10.9 oz (309g) for a size US(M)9 (my pair)
Drop: 6mm
Stack height: 32mm
Toe box width: medium-narrow
Midfoot width: medium
Lug depth: 4mm
Stability: Neutral
Cushioning: Maximum
---
Dynafit Ultra 100 sizing and fit
It's pretty important I talk about the sizing of Dynafit running shoes before anyone rushes off and buys a pair before reading my review in full, because you'll definitely need to size up a half size.
In my experience, this is the case for most Dynafit trail running shoes; I'm usually a size US(M)9 but when running in Dynafit running shoes, I go for a US(M)9.5, and then they fit me perfectly.
I'm really happy with how they feel right out the box.
Key features worth knowing about
1. The midsole cushioning is very well balanced
If you're not familiar with the Dynafit Ultra 100 then, it is a running shoe designed for ultra running and suitable for mixed terrain trails. The fact that it's suitable for long distance efforts, also means it's a good choice for marathon and half marathon trail distances too.
However, anything over marathon distance on the trails is where the Ultra 100 really shines.
With that in mind, they are super comfortable, and very well cushioned with the benefit of still having a nice firm responsive feel to them.
The Ultra 100's midsole really does give them a nice balance that you kind of want if you're going to be running for many hours in the mountains.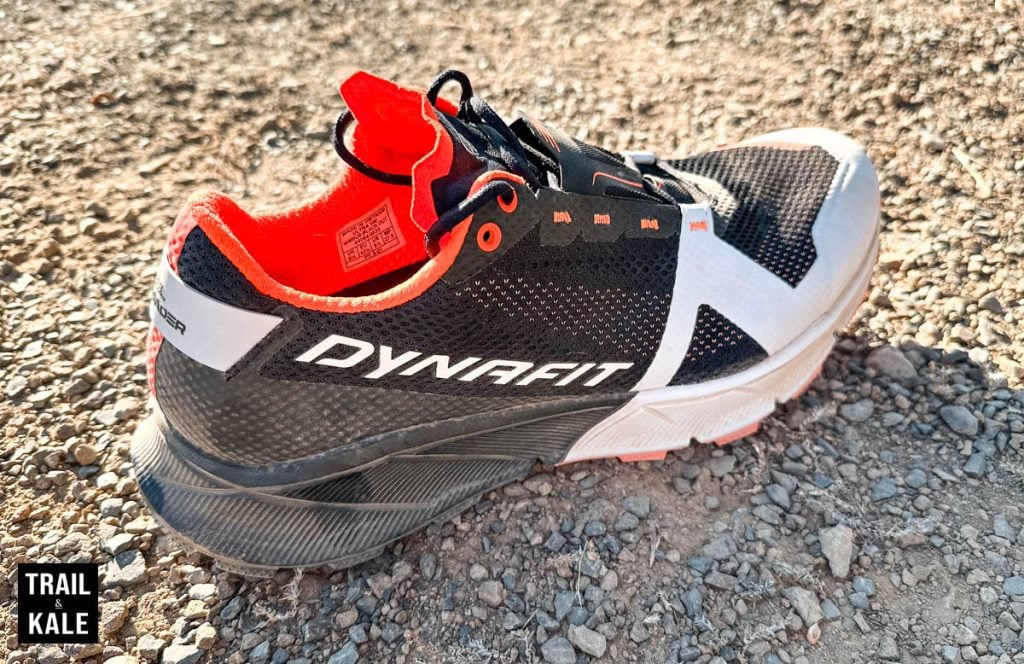 They have a 6mm drop from heel to toe, so I think most ultra runners will appreciate that. We don't tend to run in anything more than 6mm of a drop because that's just not very comfortable (or natural) over long distances.
So the Dynafit Ultra 100 is really nice to run in on the flats; it's a fast running shoe that's well cushioned but also has that firm responsiveness.
It's this responsiveness in the midsole that makes me feel like i can open up and run fast when I need to, and the 32mm stack height means I can cruise over sharp rocks without feeling any of it on the underside of my feet.
2. The Vibram MegaGrip outsole is immensely effective, as always
The Ultra 100 running shoes climb hills really well, and before even running and descents in them I knew they were going to perform really well there as well (and they did by the way), simply because they're using Vibram's MegaGrip and Traction Lug technology.
I felt total control and confidence in the Ultra 100's ability to ensure I didn't slip when maneuvering steep technical trails.
To anyone not familiar, MegaGrip is Vibram's outsole rubber compound which basically gives you amazing sticky grip, and Traction lugs is what they call the 4mm deep lugs and their formation.
These rubber lugs really hook into the trail going up and down and I know it's good because I've reviewed pretty much all of HOKA's trail running shoes which use the same technology. The Zinal 2 and Speedgoat 5, for example both have it and thse shoes are both just epically good, not just because of the outsole (but that's a huge part of it).
Also the Arcteryx Norvan SL 3 has that very same MegaGrip outsole with traction lug, so a lot of shoe brands are adapting that rubber compound into their outsoles rather than producing it themselves as a proprietary in-house rubber compound.
I think this is a really smart approach as it gives them the capacity to focus on other design aspects of their running shoes!
3. The upper is well constructed, breathable and has some useful features
Let's quickly talk about breathability then. It's super hot out here in California right now and much of my running is happening later in the day (around 4pm), right when the temperature appears to be nearing its hottest.
I'll have to work on my running schedule to make things a little easier on myself but for right now, the arrival of Baby Spinach has meant I'm doing mostly hot evening runs! haha.
I don't mind though because the light in the evening here is gorgeous! See image above, or my performance video review below.
So what are they like for running in such hot weather, or if you've been running an ultra and your feet have got really hot during that time?
Well, they're really breathable so your feet should regulate temperature really well. In my photo above you can see the breathable upper mesh which is where the airflow happens.
It's also very durable and protective, so Dynafit has done a great job with the upper.
4. The invisible lacing system works very well, the tongue is great too!
I really like the lacing system both in functionality but also how it looks.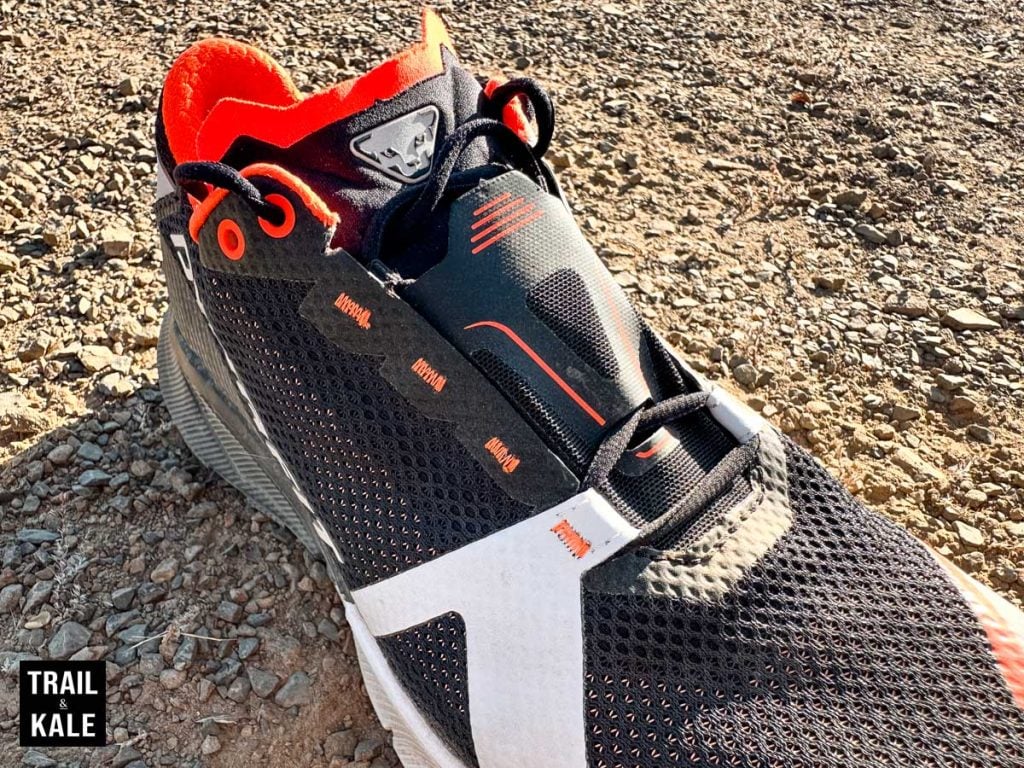 So the Ultra 100 has got this cover that also acts as a pocket where you can store your laces once you've done them up.
I like the way it also hides the lacing system to give a clean look to the shoes.
I was a little bit worried at first that the laces that are hidden by the pocket/cover would be difficult to adjust because the laces below it are inaccessible.
However, because the laces are quite tubular it's very easy just to pull from the top or from a midsection and they cinche all the way down to the bottom of the shoe, so you get a really nice snug fit because of that lacing system.
It's really nice, I like the way you can tuck the laces away, similar to Salomon's Quicklace system where you can just shove the laces back into the top of the tongue. I just works really well and I really like the look of them as well.
The tongue deserves a special mention too because it is just so well cushioned, so well so that it almost feels like it's filled with air. See the image below to see what I mean.
It's super comfortable on top of your feet when the laces are cinched tight, and you get to look at that awesome snow leopard Dynafit logo everytime you put your shoes on – BONUS! 🙂
5. They look great
Dynafit is very popular in Europe, so if you go to any of those European Mountain races, probably more than 50% of the people are going to be outfitted in some Dynafit trail running gear.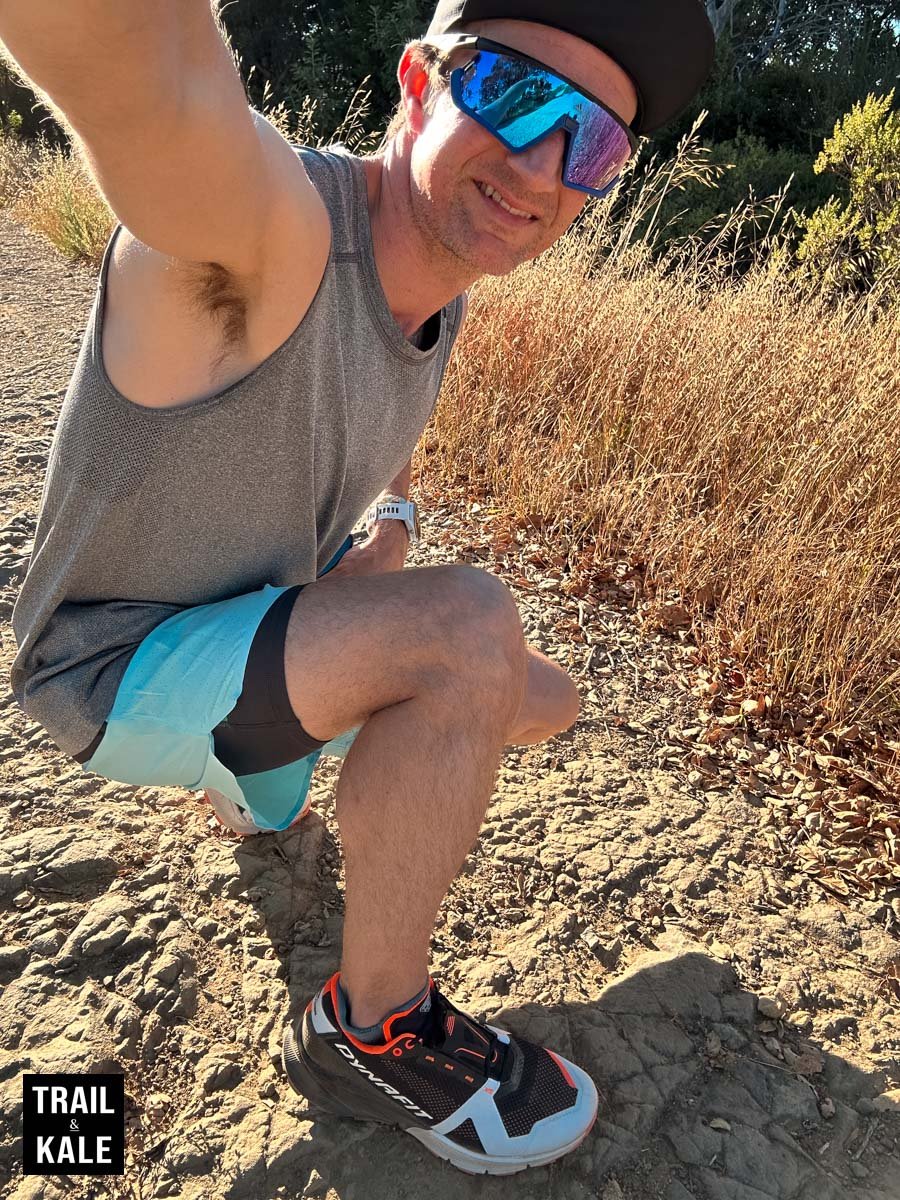 You can usually tell because their gear tends to be those bright pinks, oranges, and neon yellows. It's just awesome to see the vibrancy out there in Europe whenever we head over there for a summer trail race.
So yeah, here's hoping they get more popular in the US and hopefully I can help there by introducing Dynafit to some of our readers who haven't heard of them before.
But wait… there's always room for improvement
Here are some of the features that could be improved to make the Dynafit Ultra 100 and even better ultrarunning shoe.
It's a little heavy
Ok that's all I've got… the Ultra 100 is a really great trail running shoe but the only area I feel it could be improved would be in it's overall weight; 10.9 oz (309g).
This is when you compare it to a high performing trail running shoe that is also designed to go the distance, like the HOKA Speedgoat 5 for example, which weighs 10 oz (283g) for my size US(M)9; that's nearly 10% heavier by the way.
I should note however that it's still not a heavy shoe, but everything is relative.
The Ultra 100 is medium-narrow in the toe box
So, if you have wide feet the Dynafit Ultra 100 won't be for you as there's just not enough room in the toe box for expansion, and If you have medium width feet you'll just about be ok.
Dynafit Ultra 100 performance review (YouTube)
---
Are they worth your hard-earned money?
Yes, the Dynafit Ultra 100 is definitely worth the $170 price tag. To summarize why, the Dynafit Ultra 100 are really comfortable ultra running shoes for anyone who wants something a little bit different, especially if you are based in the USA.
Dynafit isn't hugely popular over here right now (I'm confident they will be soon however), so if you want high performance ultra trail running shoes that look cool, with a touch of European flare and vibrance, then I definitely recommend you go for these!
So yeah, they're super comfortable, and the performance is excellent as I would expect from Dynafit.
Remember to size up a half size if you do plan on getting these and enjoy running in them!
Last Amazon price update was: 23rd September 2023 5:30 pm
---
Dynafit Ultra 100 review summary (rating with pros and cons)
Dynafit Ultra 100 review
PROS
The shoes are comfortable, well-cushioned, yet still firm and responsive. They are suitable for long-distance runs and provide a comfortable ride even on uneven terrains.
The shoe features my favorite outsole, Vibram's MegaGrip and Traction Lug technology, offering impressive grip and control on various terrains.
The upper is durable, protective, and allows for good airflow, which can help regulate temperature during long runs.
The invisible lacing system allows for easy adjustments and a snug fit. It also offers a clean, neat look as the laces can be tucked away.
The shoes have a vibrant and stylish look, adding a touch of European flair.
Despite the weight (which really isn't heavy by the way, just comparatively), the shoes perform excellently in real-life trail conditions.
CONS
At 10.9 oz (309g) for a size US(M)9, the Dynafit Ultra 100 is a bit heavier compared to some other high-performance trail running shoes i have reviewd, such as the HOKA Speedgoat 5.
The shoes have a medium-narrow toe box, which will not be suitable for people with wide feet.
Quite expensive but they're worth it
Hopefully, this Dynafit Ultra 100 review has provided you with valuable insights to help you decide if this trail running shoe is the right fit for you.
If you enjoyed this review, say hello or drop any questions in the comments below. See you on the trails! -Alastair
---
Dynafit Ultra 100 Photo Gallery