Hey everyone, I'm Alastair from Trail and Kale, and today I'm reviewing the Hoka Carbon X 3. This is one of HOKA's road racing shoes, that is perfect for those looking to tackle 10ks, half marathons, or even marathons at a fast pace.
With its carbon fiber plate, this running shoe aims to help you reach the finish line quickly.
So, how does it differ from its predecessor, the Carbon X 2? The main differences lie in the performance knit upper, which offers excellent breathability and a lightweight feel, and the updated foam midsole.
Priced at $200, this carbon fiber plate racing shoe is about $50 cheaper than high-end models like the Hoka Rocket X 2, and it has a lot to offer for that price.
In this HOKA Carbon X 3 review, I'll cover everything you need to know before buying these HOKA running shoes including the key specifications, the features I love and how they contribute to the shoe's performance. Following that, I'll share my thoughts on the bad points, or the aspects of the Carbon X3 that I find less appealing.
And finally, I'll wrap up with my conclusion on the Hoka Carbon X 3, whether they're worth your money, where to purchase them, and some alternative running shoes currently on the market that you might want to consider.
The key specifications of the HOKA Carbon X3
Price: $200 at hoka.com
Weight: 9.3 oz (264g) for a size US(M)9 (my pair)
Drop: 5mm
Toe box width: Medium/ wide
Stability: Neutral
Cushioning: Responsive
The features of this running shoe that I applaud
Let's talk about the good things about this shoe then. What do I really like? What are the key features that stand out to me against the competition?
The carbon fiber plate
First and foremost, the Carbon X 3 features a carbon fiber plate, which you can get a sneak peek at in the black area within the X shape on the outsole.
When Hoka refers to the "X" in their shoes, such as the Rocket X 2 or the Carbon X 3, they're talking about the carbon plate that runs between the midsole layers.
The carbon plate is praised for its ability to help runners go faster. Its design stores up energy as it compresses and bends, which is then released during takeoff.
Running with a carbon fiber plate results in a noticeable increase in speed, and you're more likely to achieve personal records (PRs) while wearing them.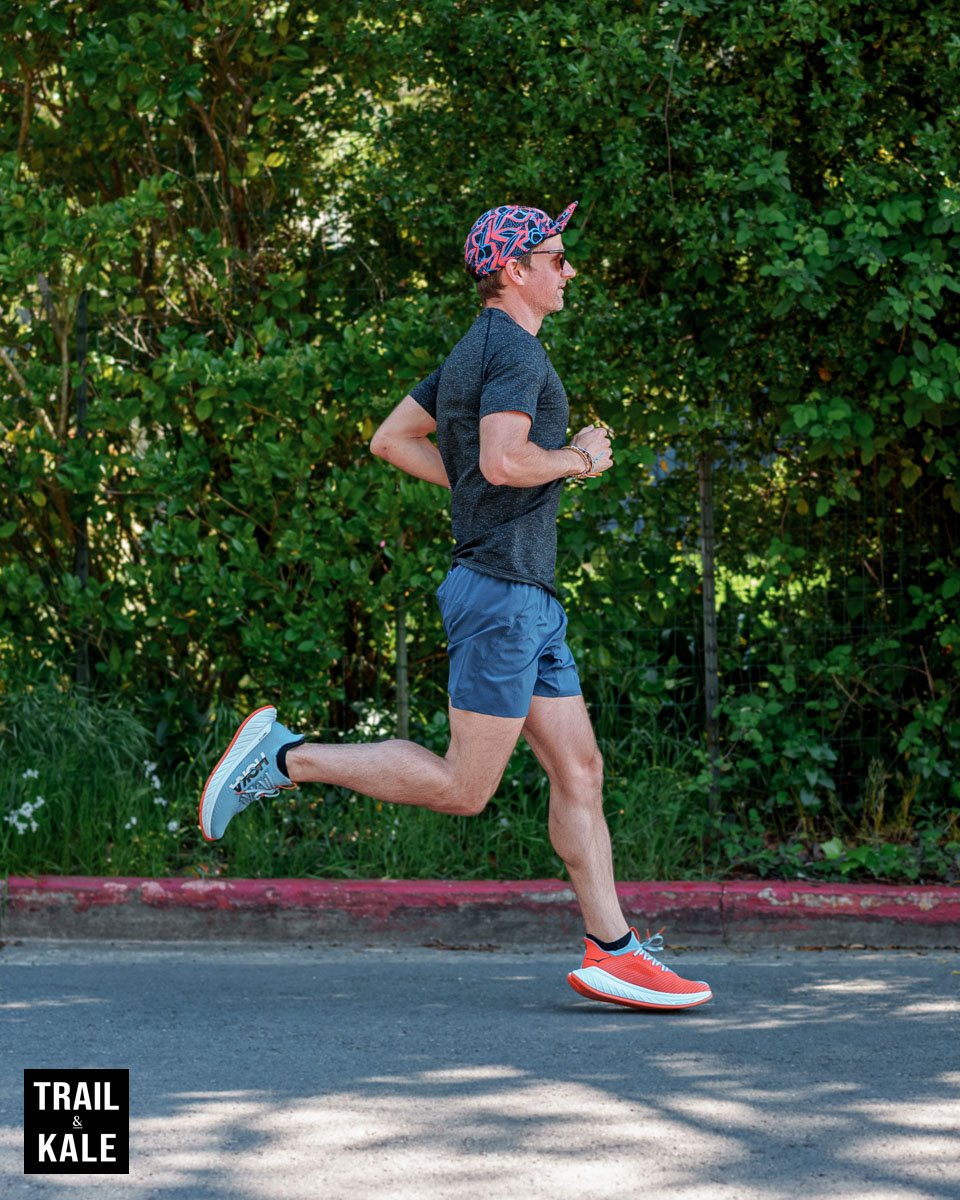 This is why carbon fiber plates have become so popular for half marathon and marathon races. If you're not running with carbon, you're at a significant disadvantage in my opinion. You can learn more about HOKA's carbon technology here.
HOKA's PROFLY X midsole is cushioned yet extremely responsive
Another feature I appreciate in the Hoka Carbon X 3 is the ProFly X midsole. ProFly is a dual-layer midsole, with the top layer being more cushioned than the bottom layer.
This design offers a soft, cushioned landing while also providing a responsive ride due to the firmer bottom layer. As a result, the ProFly midsole offers the best of both worlds and in this case, it's the ProFly X.
As mentioned earlier, "X" signifies carbon in Hoka terminology, so there's a carbon fiber plate running through the middle of the two layers.
Combined with the distinct rocker silhouette, which promotes a smooth transition from heel to forefoot, the ProFly X midsole, carbon fiber plate, and rocker silhouette work together to create a quick transition from landing to takeoff.
This is another aspect of the shoe that I really enjoy – it's super efficient with very little energy lost.
The extended heel tab is great for a couple of reasons
The third feature that I really appreciate in the Carbon X 3 is the extended heel tab at the rear. This design makes the shoes easy to slip on, almost like a built-in shoehorn if you will.
More importantly, however, if you've ever experienced Achilles tendonitis, where the back of the shoe can dig into or rub your Achilles, you'll appreciate this articulated heel design that Hoka incorporates in many of their shoes.
I used to suffer from Achilles tendonitis during hill training, but since switching to Hoka running shoes for most of my running, I haven't had that issue in a long time.
If you're struggling with Achilles tendonitis and want to find the best way to recover, I recommend reading my 'How To Recover From Achilles Heel Pain' article on the subject.
The performance knit upper is very breathable, lightweight, and comfortable.
The fourth feature of the Carbon X 3 that I enjoy is the performance knit upper. Made from a comfortable material with some flexibility, it offers a sock-like fit without a tongue.
This design ensures a snug fit when you slip the shoes on, and it works well even for those with wider feet, who might not even need the laces to secure their feet.
However, I do use laces for my medium-sized feet to secure the shoe properly. The upper is incredibly breathable, allowing for excellent airflow and temperature regulation. To test breathability, I like to blow through the upper with my hand inside the shoe to gauge the airflow going in and out.
This upper is a bit of a double edge sword for these racing shoes however, and it won't be for everyone – more on that below in my negative points about the shoes.
I love the look and design of them.
Lastly, then, the final feature I love about the Carbon X 3 is its appearance. It has a sleek, aggressive, and fast-looking design, and I especially like the split colorway running down the middle and the fact there are lots of different colors to choose from.
The not-so-impressive features
Now, let's discuss the downsides I've noticed with this shoe, and to be fair I've only identified two potential issues that might affect some users.
Fit of the upper can wrinkle, causing an uncomfortable fit for narrow feet
The first one relates to the upper, which I mentioned earlier. Although it's incredibly comfortable, if you have narrow feet, you may need to tighten the laces more than most people to secure your foot within the upper.
However, because there's no tongue and the upper is one piece, tightening the laces can create a wrinkling effect, as seen in my photo below (or better demonstrated in my video later in this review).
If you have extremely narrow feet, this shoe might not be the best option for you due to the potential discomfort from the wrinkling on top of your foot during a run.
Can feel a bit too firm underfoot for long distances if you're a beginner runner
The second downside is that the shoe might feel too firm for beginner runners who are increasing their distance.
In that case, you might prefer a more cushioned and supportive running shoe, like the Hoka Mach 5, which actually has a similar look to the Carbon X3.
On the other hand, if you're a light-footed, experienced runner with an efficient cadence, the firmness of this shoe may be exactly what you're looking for.
It provides a racing feel, allowing you to sense the ground while still offering a fast ride.
Conclusion
Congratulations on reaching the conclusion of this review – hopefully you've already got an idea whether or not these racing shoes are for you but if not, here's my summary on who they're for and whether they're ultimately worth your money!
Who will enjoy them the most?
The Hoka Carbon X 3 is best suited for experienced, light-footed runners with medium to wide feet who are looking for a fast, efficient racing shoe with a carbon fiber plate.
These runners will appreciate the shoe's responsive ProFly X midsole, rocker geometry, and breathable performance knit upper, and the Carbon X3 is ideal for those participating in half marathons or marathons, and seeking a shoe that offers a balance of comfort, speed, and support.
Some alternatives to the HOKA Carbon X 3
As for carbon-plated shoe alternatives that are similar to the Carbon X 3, consider On's Cloudboom Echo, which offers a fast-running experience with a firm feel and a carbon fiber plate.
A couple of other options are the upgraded version, the Hoka Rocket X 2, HOKA's first super shoe, which provides an extremely fast, more cushioned, and lightweight feel for long runs, or take a look at the Nike Air Zoom Alphafly or Vaporfly.
How much does the Carbon X 3 cost and are they worth your money?
So, is the Hoka Carbon X 3 racer worth the $200 price tag? Are you getting enough value from this shoe? The answer is, YES. The Carbon X 3 is a carbon fiber plate running shoe, and comparable shoes can cost up to $300.
If you want to experience a carbon fiber plate racing shoe, the Carbon X 3 is definitely worth trying. You'll be able to run faster and gain a better understanding of what it's like to run with a carbon fiber plate.
Still not sure which HOKA running shoes are for you? Head over to our Best HOKA Running Shoes Buyer's Guide next.
---
Where to buy the HOKA Carbon X 3
If you're interested in purchasing the men's or women's Carbon X 3, you can find all the available colorways for $200 at hoka.com.
---
HOKA Carbon X 3 review summary
HOKA Carbon X 3 review
PROS
Carbon fiber plate for increased speed and efficiency
ProFly X midsole offering a balance of cushioning and responsiveness
Extended heel tab for easy wear and Achilles tendon support
Breathable and lightweight performance knit upper
Attractive design with various color options
Competitive price point compared to other carbon-plated shoes
CONS
not great for narrow feet as the upper will wrinkle up when the laces are over tightened.
Will feel too firm over long distances unless you're an experienced runner with efficient cadence
---
HOKA Carbon X3 video review
---
HOKA Carbon X 3 image gallery