In this HOKA Zinal 2 review, I'll go over some of the key specifications of this running shoe, comparing it to its predecessor, the Zinal, and other similar running shoes currently on the market from HOKA and various other brands.
Then, I'll discuss some of the key features of the Zinal 2 that I really like. Following that, I'll share my performance review – how the shoes actually perform on the trail and what they're like in real-life conditions.
Forget about the stats on paper for a moment; how do they truly perform? I also share some video clips of me running in these shoes on my local trail route, which you can watch in my video review of the Zinal 2 later in this post.
This successor to the popular Zinal has had many of you chomping at the bit to learn what's new, what's improved, and what's stayed the same (I know I was curious!).
As a seasoned fan of the first Zinal model, you might be slightly on edge, seeing how different the Zinal 2 appears at first glance. However, despite the many updates, the Zinal 2 delivers a much improved performance that echoes its predecessor, and then some.
For those unfamiliar with the Zinal, it's a trail running shoe with a minimalist, lightweight design that gives a very responsive ride. They give a good sense of being connected to the trails you're running on, which ultimately makes them a whole lot of fun to run in.
The key specifications of the HOKA Zinal 2
Price: $160 at hoka.com
Usage: A lightweight, responsive trail running shoe for all terrain. People who enjoy feeling connected to the trail with maximum control and response will love these. For anything up to marathon distance but perform best up to half marathon distance.
Weight: 7.1 oz (201g) for a size US(M)9 (my pair)
Drop: 5mm
Toe box width: medium
Stability: Neutral
Cushioning: Responsive
---
HOKA Zinal 2 sizing and fit
But before we dive into the key specifications, let's discuss the fit. Straight out of the box, the fit is true to size. If you're familiar with HOKA running shoes, go with your usual size; you won't be disappointed.
They will fit you very well and are quite comfortable right out of the box, as with most HOKA running shoes that I have reviewed over the last couple of years.
So definitely go with your usual size, which is very consistent with other brands like On Running, Salomon, and Nike.
In terms of comfort, you won't need to break them in either. I took them on a pretty challenging long trail run for their first outing, and they performed excellently. Very comfortable, no complaints at all.
Key features worth knowing about
Now, onto the features of the Zinal 2 that I've really taken a shine to.
1. The brand new stretch knit upper
I'm going to start with the upper, as it has been completely redesigned, and is probably the most interesting feature of these trail running shoes.
It now features a stretch upper, specifically a knit stretch around the collar that makes the shoes very easy to slip on and comfortable while running.
You just grab the finger loop at the rear, give it a pull, and voila – your foot slides right in. This knit extends underneath the lacing system, adding a level of stretch and flexibility that's really nice (see image below).
However, you do need to ensure the laces are tight enough; otherwise, the shoes might feel a bit loose when going down steep hills (more on that later). The upper isn't without its flaws, though, but we'll get into that shortly.
2. They are extremely lightweight
The next thing I love about the Zinal 2 is its incredibly lightweight build. Weighing a mere 7.1 ounces, these shoes are lighter than almost any other running or trail running shoes I've got at the moment.
Their feather-light build makes them a great option for racing; I've got a half marathon trail race coming up in a few days, and I'm seriously considering wearing these (or possibly the Speedgoat 5). I'll keep you posted on that decision!
But it's not just their lack of weight that impresses me, the Zinal 2's design ensures you feel connected to the trail thanks to the low stack height, and responsive ride.
I also like that despite the shoes' minimalistic design, they don't skimp on cushioning, which is a major plus for anyone who enjoys running distances of up to a marathon.
3. They have a really great responsive ride to them
I can't ignore how responsive these shoes are – they're damn quick. If I do end up wearing them for my upcoming race, their responsive midsole will definitely play a big part in that decision.
The Zinal 2 propels you forward, making them feel faster than a more cushioned shoe, even though they still have plenty of cushioning, despite the low stack.
Key features that have room for improvement
Okay, moving onto areas that could be improved, specifically the rigid upper material pictured below.
The first thing you might notice about the upper material is the lack of flexibility. This might be a little hard to explain, but if you were to flex the shoe, it sort of pops. This is much better explained in my video below.
It just flicks into different positions due to its lack of stretch; I initially thought this might prove annoying or uncomfortable during a run, but honestly, it wasn't an issue in the end.
Nevertheless, I can't help but feel this is an area where HOKA could improve when they release the Zinal 3.
The material isn't as breathable as the previous version, either, and while it might be more durable, I personally think it's worth HOKA considering a more flexible, stretchy replacement.
The only other potential downside isn't a huge deal, but it's worth mentioning, if you wear low tab socks – socks without a collar – you might find the back of the shoe rubbing against your heel a bit.
This is because the shoe's collar, including the stitched loop, sits quite high. I usually wear low tab socks, but the ones I wore during my initial runs with the Zinal 2 were a bit higher, so I didn't really notice any discomfort.
That said, if you prefer invisible or low socks, this might cause a minor issue for you.
HOKA Zinal 2 performance review
Moving on to the performance review then. The Zinal 2s are incredibly good and a joy to run in on any terrain, for any distance but mostly up to half marathons.
It's nice to have a lightweight shoe like this that you can rely on and take on any trail; you can just grab this shoe, and it will perform excellently.
I'm even planning on doing some racing in these shoes this summer which I'm very excited about.
The trail I first took these shoes out on features around 300 meters of elevation gain with terrain that is mostly rocky, with lots of slippery, loose, hard dirt and also forest trails, as you can see in the video above.
The video above shares more insights into these running shoes and a look at my beautiful local mountain trails – don't forget to subscribe to our YouTube channel for more reviews just like this one.
How do they perform on road surfaces, when getting to your local trails?
My trail loop for testing trail running shoes starts with a bit of asphalt, allowing me to test the shoe's road performance.
So, how did the Zinal 2 fare on asphalt or hard road surfaces? Actually, surprisingly well! As I've mentioned before, the shoe is more responsive than cushioned, but there's still enough cushioning to keep things comfortable.
This held true on hard, rocky trails, a common terrain for my runs here in Northern California.
How do they perform on a variety of trail surfaces?
As for various terrains, the Zinal 2 handled them with ease. From forest trails to rooty, rocky paths, steep, dusty inclines, and descents – these shoes delivered.
The MegaGrip on the outsole, coupled with the 5mm lugs, provides excellent traction, making it a joy to run on these diverse trails.
The outsole performance really impressed me because this was the huge let down with the original Zinal.
It felt very similar to the Mafate Speed 4 and the Speedgoat 5 in terms of traction control, which is a really good thing. Although the lugs aren't as deep as those on the aforementioned models, they are deeper than the original Zinal's.
This deeper lug design definitely improved traction across a variety of trails, and I experienced no slipping. However, do ensure you have the laces tight enough to keep your foot securely in place, especially when running downhill.
All in all, the Zinal 2 makes an excellent all-terrain shoe considering its minimal geometry.
What are they like for running/hiking steep uphills?
As for uphill running, the Zinal 2 performs decently, though I wouldn't classify it as outstanding. My route takes me up some pretty steep trails to reach the higher elevation rolling trails I enjoy running on.
Here, the lug design of the shoe is a bit of a drawback as the deep lugs do not extend to, or wrap around the front of the shoe, which would otherwise help dig in and provide a push-off when climbing steep terrain. See image below for what I mean there.
Instead, the front section features a different tread pattern. While the shoe handles uphill runs pretty well, I think it could perform better on steep inclines.
What are they like for steep downhill running?
On the flip side, downhill running was significantly improved from the first Zinal. If you caught my review of the original Zinal, you'd know that I found its outsole traction disappointing, especially for downhill running.
Thankfully, the Zinal 2 has improved on this front thanks to the presence of more lugs in the midfoot area that greatly enhances traction, making steep descents much more controllable and enjoyable as a result.
What's their speed like when running flat sections?
When it comes to running on flat sections of the trail, these shoes are speedy. The responsive ride, and mildly cushioned midsole creates a lot of efficiencies in my stride.
It gives a pleasant sensation of propulsion, and over medium distances, the lightweight geometry really helps keep my feet feel less fatigued.
How do they compare to the previous version, and other trail running shoes available at the moment?
HOKA Zinal vs. HOKA Zinal 2
Firstly, there's a significant weight reduction in the Zinal 2. It weighs in at 7.1 ounces as opposed to the original Zinal's 8.5 ounces. That's a substantial decrease!
The stack height is also lower on the new model, bringing your foot closer to the ground for a better trail feel and improved control over technical terrain.
The outsole on the Zinal 2 is a massive improvement too. The lugs are not only deeper but there's also more of them in the midfoot area, which greatly enhances grip, especially when running downhill.
This was a major issue with the original Zinal which used a different, more slick foam with minimal tread, leading to some rather tricky downhill runs. The new version is much better equipped for challenging terrain.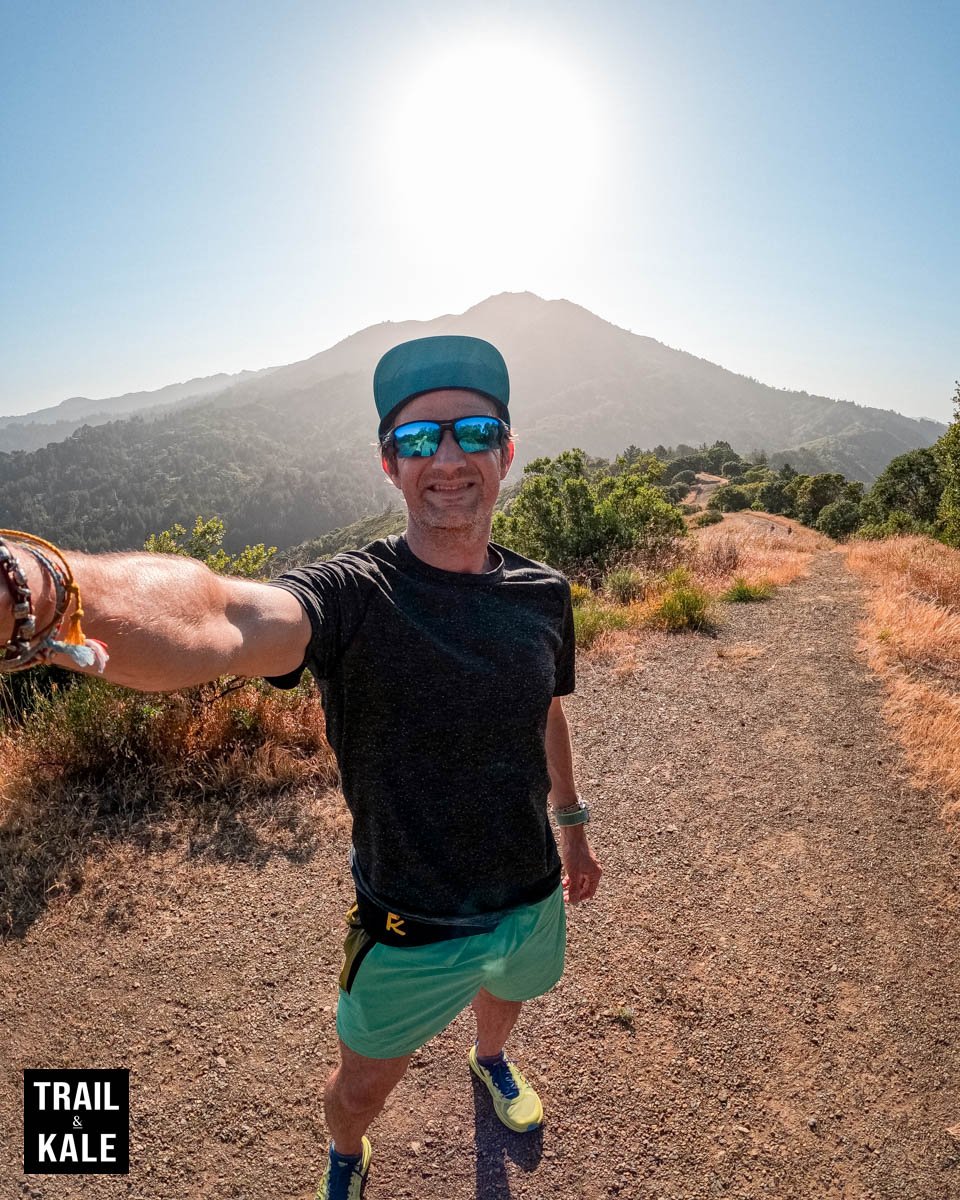 The midsole on the Zinal 2 is also more responsive, yet I found it to offer more cushioning, a combination that makes the overall performance of the shoe better.
As for the upper, the Zinal 2 feels better due to the stretchy knit and the integrated gaiter around the ankles and heel. This not only makes the shoe more comfortable but also contributes to the lighter weight.
However, I must point out that I'm not a fan of the material used in certain sections of the Zinal 2's upper. It doesn't breathe as well as the material used in the original Zinal's upper. So, there are both pros and cons to consider when comparing the new upper.
Both shoes have a drop of five millimeters from heel to toe, so no changes there and as for the price, the Zinal 2 costs $160, which is slightly more than the original Zinal's release price of $155.
The Zinal 2 stands as the clear winner when compared to the original. Yes, It may look like a completely different shoe and have a distinct feel to it, but overall, it's a huge improvement that I'm very much enjoying.
HOKA Zinal vs. HOKA Speedgoat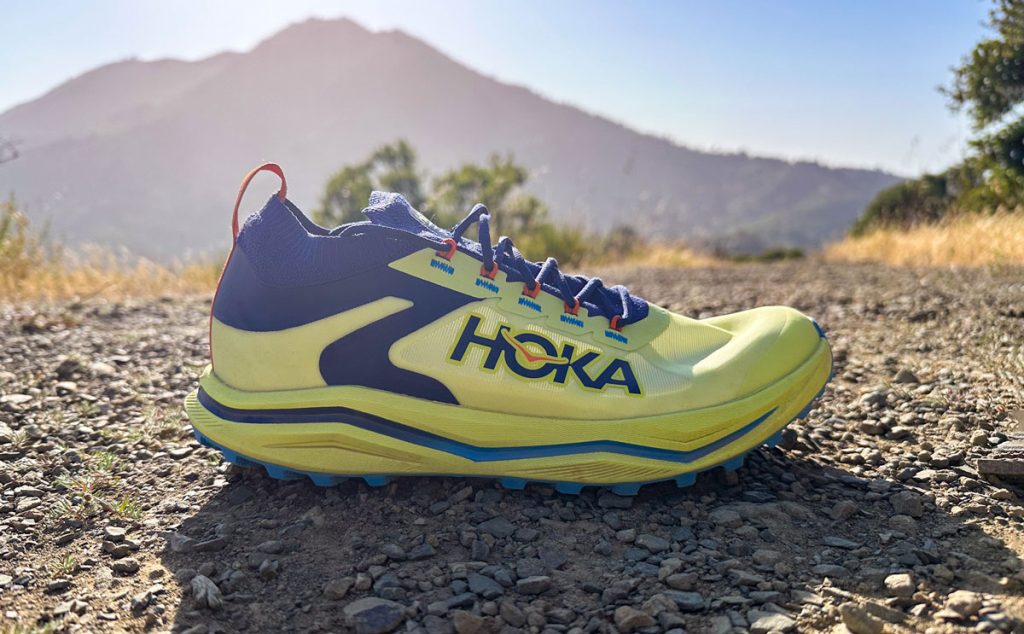 If you're looking for something more cushioned but also pretty lightweight, then you might want to consider the HOKA Speedgoat. It's traction is better on steep uphill gradients, and in general.
It is a little less responsive due to the extra cushioning but this is what makes it an excellent long distance trail running shoe.
Are they worth your hard-earned money?
At $160, the Zinal 2 offers considerable value for money, and I would definitely recommend trying it out for yourself.
This minimal, responsive yet cushioned shoe is highly versatile, suitable for a variety of terrains, and can perform just as well on concrete as on trails.
You could even use it as a racing shoe – I'm considering using it for an upcoming half marathon trail race!
Although I've pointed out a few areas for improvement, it's fair to say that the Zinal 2 is quite distinctive in its own right, boasting a variety of innovative features.
In this regard, I believe HOKA has done an excellent job of enhancing the design of the previous version – so, the Zinal 2 definitely gets a big thumbs up from me!
➡️ See how well they rank against other great trail running shoes right now, and the other HOKA trail running shoes on the market.
Thank you for reading my HOKA Zinal 2 review, I hope you found it informative and that it's given you a clear idea of whether this shoe could be the right choice for your next trail running adventure.
I'll be updating this review with comments and observations as I put more miles into these shoes as I am certainly going to be hanging on to them. Thanks again for reading, and I look forward to sharing my next review with you – don't forget to say hello in the comments! 🙂
---
HOKA Zinal 2 review summary (rating with pros and cons)
HOKA Zinal 2 review
PROS
They're consistent with HOKA's usual sizing, fitting comfortably right out of the box.
The upper has a new knit stretch around the collar, which makes the shoe easy to slip on and trail debris is kept out of the shoes.
At 7.1 ounces, these shoes are lighter than most trail running shoes, which enhances the feel of being connected to the trail, and means your legs get less fatigued over time.
Despite being minimal, the shoes offer a surprising amount of cushioning. They are very responsive, making them suitable for racing.
The new model boasts a better outsole with deeper lugs, which greatly enhances traction, especially when running downhill.
These shoes perform well on various terrains, including asphalt, hard rocky surfaces, forest trails, and loose scree.
The reduced stack height offers better trail feel and control.
CONS
The material used in the upper part of the shoe lacks flexibility, which creates this strange popping noise as it moves. This isn't noticeable when running but it's there!
Compared to the previous version, the Zinal 2's upper is less breathable, particularly in the rigid upper section.
The rear collar of the shoe is high and the inside loop has stitching, which might rub against the heel if you wear low-tab socks.
Although the shoe performs decently on steep trails, it lacks deep lugs at the front, which could improve grip when climbing steep trails.
More HOKA Zinal 2 Photos
Hopefully, the HOKA Speedgoat 5 review has provided you with valuable insights to help you decide if this shoe is the right fit for you. If you enjoyed this review, please say hello or drop any questions in the comments below. See you on the trails! -Alastair