Before I get stuck into this La Sportiva Bushido 2 review and how they perform while trail running, I'd like to quickly talk about the history of the company.
It's always nice to understand the level of experience and craftsmanship that goes into producing the products that you are going to be wearing for so many miles out on the trails.
La Sportiva was founded in 1928 by Narciso Delladio in Italy, so it's safe to say they've been in the mountain equipment game for a long time.
La Sportiva possesses a strong passion for the mountains and the environment which is why there is always a consciousness of what kind of impact their factory has on the outdoor world.
This really resonates with Trail & Kale as a brand and lifestyle.
The La Sportiva Headquarters is located in Ziano di Fiemme, a small mountain village in the heart of the Italian Dolomites.
So the tradition and heritage of handmade footwear live on in this magical alpine valley existing in the shadows of jagged limestone peaks and glaciated valleys where alpine masters such as Bonatti and Messner plied their craft.
The Dolomites also happens to be the perfect place to test their products, we know because we have run around the region ourselves.
When I first tried on the Bushido II shoes, it was clear to me that a lot of experience and thought went into their design.
On first impressions, they felt snug, lightweight, and super grippy. They felt so good in fact, I felt I had to drop what I was doing and take them straight to the trails of Marin, California.
Here's my run on Strava (with extra pictures of the Bushido 2 shoes). Why not join our Strava club while you're there? 🙂
Now, Let me try to explain why I enjoy running in the Bushido 2 trail running shoes so much.
---
Not sure where to start with trail running shoes? Here is my definitive list of the best trail shoes for running.
---
Bushido 2 Fit & Design
The Bushido 2 fit feels comfortably snug, due in part to their design and also because the sizing of these La Sportiva shoes come in a touch smaller than some other brands like Brooks Running, On, and Inov-8.
Having said that, they fit me well and feel more responsive as a result. Some of the snugness also comes from the padded tongue/inner sock feature.
When I talk about the Bushido 2 feeling snug, I don't mean they are too tight, but rather that they feel like they have stretch and are more form-fitting than some other running shoes. 'Race ready' if you will!
La Sportiva shoes are built on European half sizes which are smaller increments than US half sizes.
This gives them five extra sizes per size run, which gives you a better fit! You can check your size using the La Sportiva shoe size chart.
There's also very good cushioning in the midsole too, which is something that many high-performance mountain running shoes seem to lack.
The Salomon S-Lab Sense, for example, is a more minimal shoe with not too much padding underfoot.
Don't get me wrong, the S-Lab Sense are excellent shoes that I love, but I do think that if you can squeeze in some extra cushioning without sacrificing on weight or by adding a higher heel drop, then bring on that cushioning as it's going to make those long runs more enjoyable.
Bushido 2 Upper Construction
The Bushido II's upper has a slip-on construction that wraps your foot like a sock without compressing or exerting pressure points.
There's also localized, breathable mesh fabric that stretches to allow your feet to swell and contract as they warm up or cool down during a run.
La Sportiva is using a rubberized material for some areas of the upper for support and also strength in the shoe build.
What I love about this particular material is that it's very flexible and will not create any pressure point because of it is being molded in a particular way.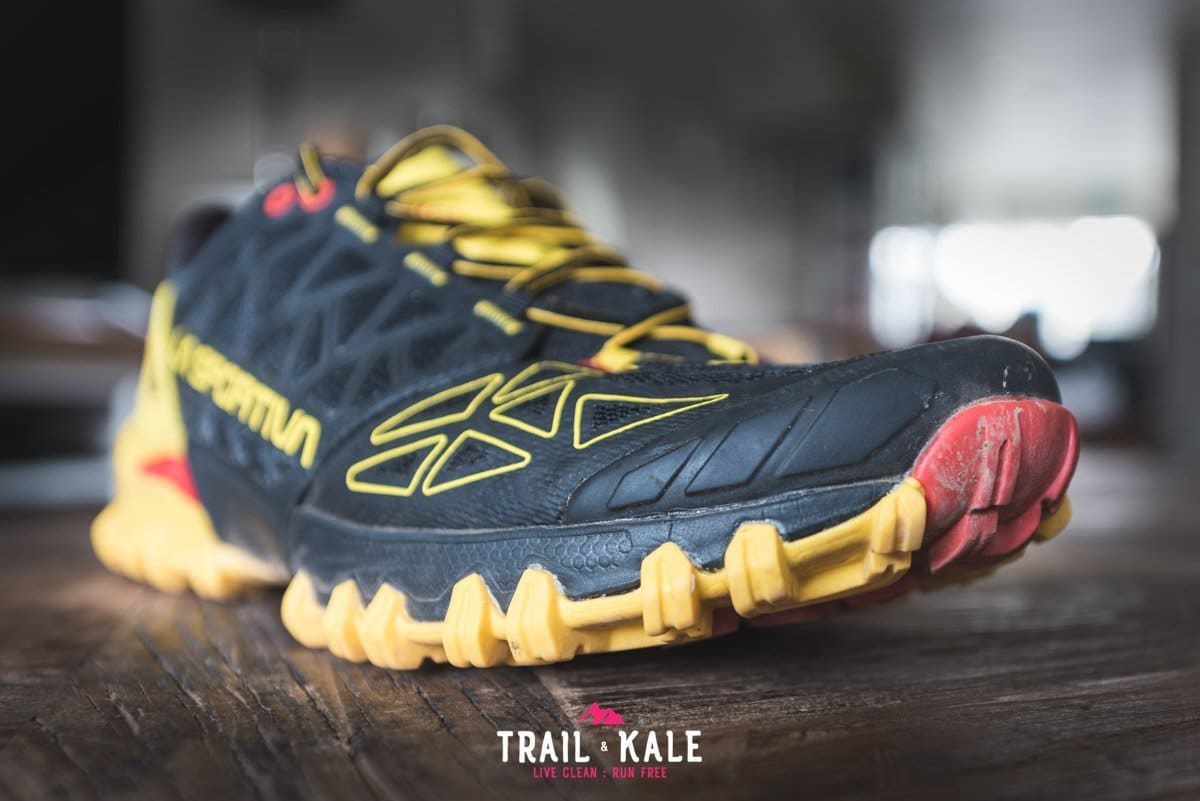 There's a finger loop for slipping the shoes on, and also a toe cap, designed to protect your feet, should accidentally kick a rock on the trails, it happens!
Padding around the heel area is soft and comfortable.
The side walls don't rise too high either, which give me more flexibility in the ankle/achilles heel areas without unwanted rubbing.
Here's how I fix Achilles heel pain by the way if you're suffering from it now.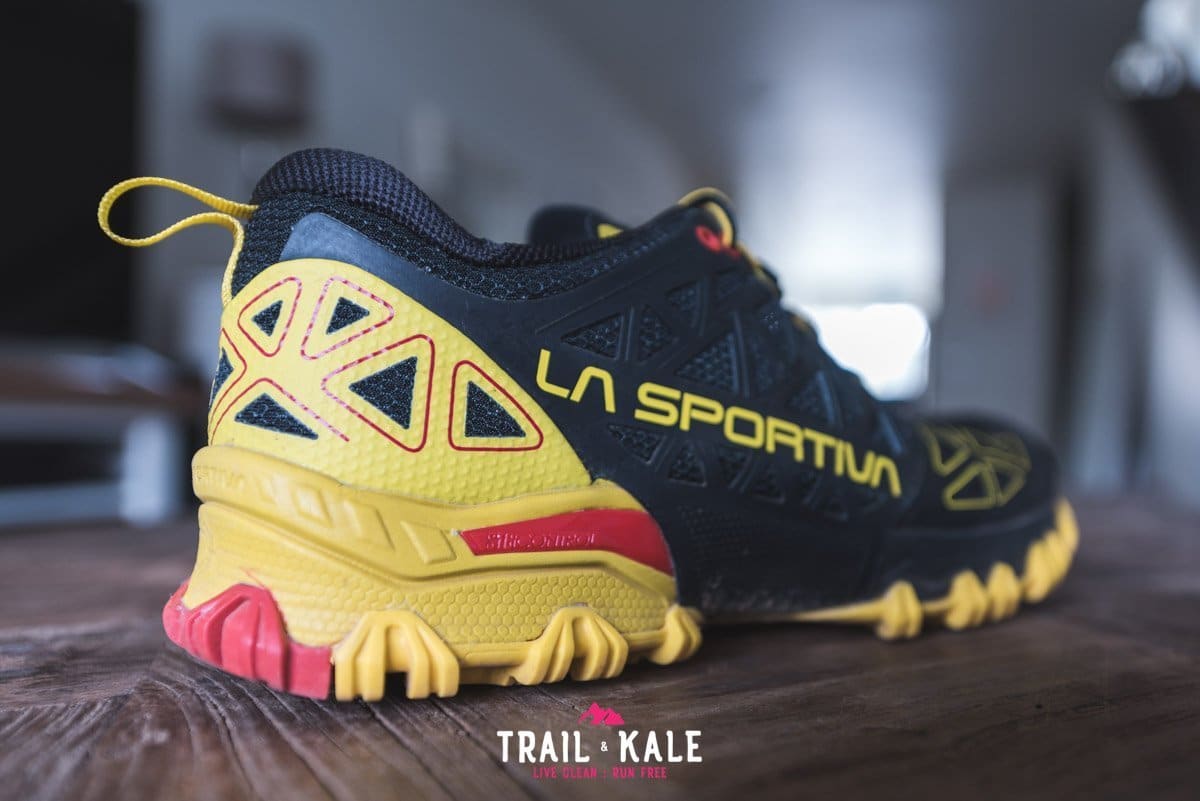 The Bushido 2s solid heel cage locks my feet in place solidly, really important when navigating gnarly terrain at speed.
I have every confidence in the responsiveness of this shoe. With all this said, the La Sportiva Bushido 2 upper construction is excellent!
Bushido 2 Inner
There's an inner sock that attaches the padded tongue to the forefoot area which adds to that slipper-like fit of these La Sportiva trail running shoes.
This keeps the tongue in place and prevents debris from coming between your foot and the shoe walls. It also reduces the risk of chafe as there are fewer seams inside.
Bushido 2 Tongue & Laces
Briefly mentioned earlier, the tongue is very well padded, more so than on many other trail running shoes that I have tested, but the padding is localized.
It's an unusual design and material but it's very effective at locking your foot in place while maintaining top comfort levels. The laces look good and stay tied up with just a single knot during a run.
Bushido 2 Outsole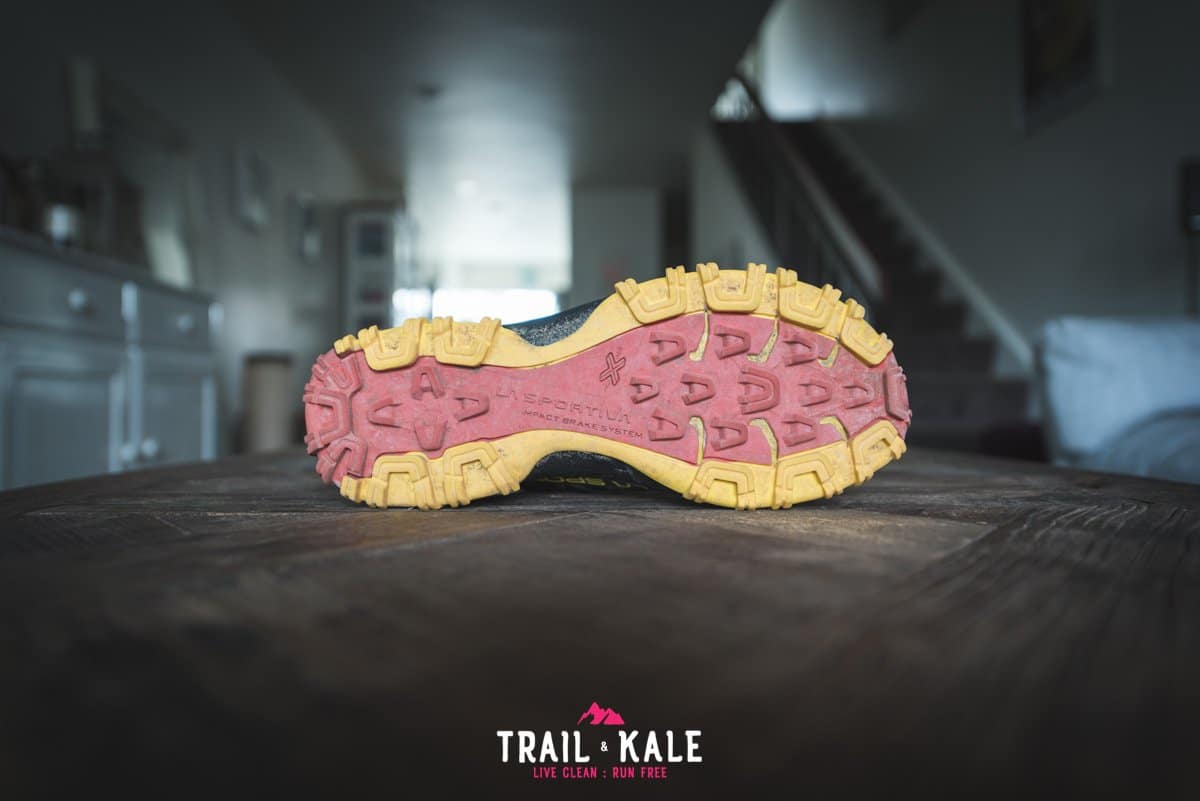 There's so much grip on the Bushido 2s and it's that sticky type of grip (the best kind)! I'd liken it to some of Salomon's high-performance running shoe outsoles.
It's a material that may wear down a little quicker than some other rubbers but wow, it really does grip well.
When in doubt about shoe longevity vs performance, I'd personally suggest going for performance over longevity, especially when it comes down to having an effective braking system that will provide extra control, responsiveness, and ultimately, your safety while out on the trails.
The outsole has a good rock-plate too which helps reduce discomfort when running over sharp rocks.
Bushido 2 Drop & Weight
There's a drop of 6mm from heel to toe. It's a happy medium for runners who like a minimal drop and others who prefer more.
I'm a fan of keeping the drop as low as possible as it helps to improve my running form due to the more natural footfall.
Having 6mm on the La Sportiva Bushido 2 feels great for me.
Weighing in at 298g the Bushido 2 is a pretty lightweight racing shoe, especially considering all the protection you get that's essential for most runners on the mountain trails.
Bushido 2 Toe Box
The toe box is medium width and feels nice and airy due to the breathable upper material.
La Sportiva Bushido 2
Pros
Very comfortable
great cushioning
Impressive traction
More accurate fitting options due to European sizing metric
Love the design
In Summary
My current favorite trail and mountain running shoe, the La Sportiva Bushido 2 is an excellent choice if you're looking for a high-performing trail running shoe with a combination of responsiveness, stability, and comfort with excellent protection and impressive traction.
They offer enhanced cushioning while also providing the user with a stable, lightweight, sticky, and aggressive outsole.
The performance and protection on technical terrain, are impressive, to say the least. At $130 the Bushido 2 is a fantastic buy!
I have awarded these shoes an Editor's Choice Award, and they currently sit pretty high up on our Best Trail Running Shoes roundup.
Tthe Bushido 2 is also available at the following stores:
Rei.com
$155.00
See Deal
Backcountry.com
$155.00
See Deal
Sportiva.com
$130.00

out of stock

See Deal
Amazon.com
See Deal
Last Amazon price update was: 24th September 2023 6:32 am