The On Cloudventure Peak 3, as with most of On's latest running shoes like the Cloudsurfer, has just been given a major design overhaul, which brings some improvements to their running performance, but also some downsides, which are all revealed in this On Cloudventure Peak review.
This third generation trail racing shoe from On now comes equipped with a new split Speedboard, a Helion midsole, and of course their MissionGrip outsole. On has also kept the drop from heel to toe at 4mm, a number that brings joy to die-hard trail runners who like to feel connected to the trails they run.
The Cloudventure Peak 3 has also been given a bit of a diet and now weighs only 8.6oz (244g) for a men's size 9 – The previous weight of the Cloudventure Peak was 9.2oz for anyone who is curious.
This weight saving likely comes from a re-engineered breathable upper that has breathability zoning and is incredibly thin.
Interested in getting up to 40% OFF On running shoes? Visit On's Classic range page to see their latest deals.
Most of the weight comes from the durable MissionGrip outsole, which by the way is totally different now – there are no longer pods on the bottom! This is a good thing by the way, more on this in a bit.
They still have that internal sock design which adds to the overall comfort and fit. These are the main updates and features that have remained the same in this latest update for the On Cloudventure Peak 3.
In case you're wondering; whenever there's a new version of the Cloudventure Peak, I update my preexisting review post, which shares how the new version compares to the previous model (the Cloudventure Peak 2 in this case), as well as everything that's new and commendable. Here is the history of the Cloudventure Peak design from previous reviews: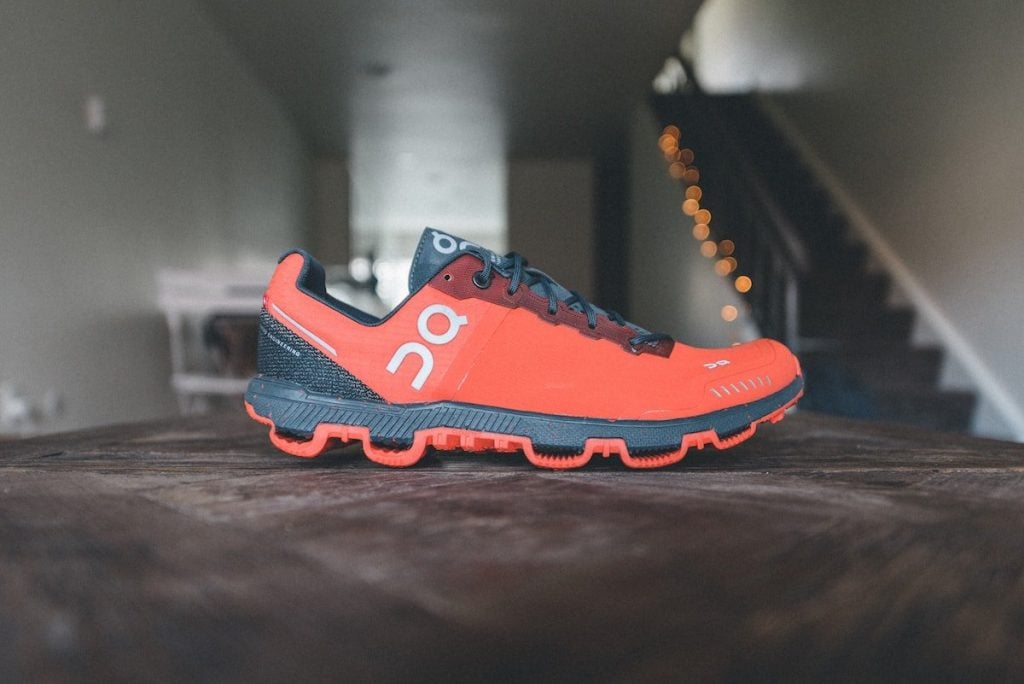 It's how I have been reviewing On Cloud shoes for over 10 years, and it's a nice way for me and our readers to track improvements from one version to the next.
Continue reading this review to learn how this trail racing shoe performs while running.
---
Hopefully, this review answers any questions that you may have about the On Cloudventure Peak but if not, please feel free to ask me anything in the comments down below.
---
Key specifications | On Cloudventure Peak review
Price – $159.99 at on-running.com
Weight – 8.6 oz. (244g) for a US Men's size 9 – That's very lightweight!
Width – medium
Midsole – built with Helion, which is On's lightweight, responsive foam
Outsole – MissionGrip that's built for a wide variety of surfaces.
Drop – 4mm drop. This is great for technical trails and all-mountain running.
On Cloudventure Peak 3 sizing and fit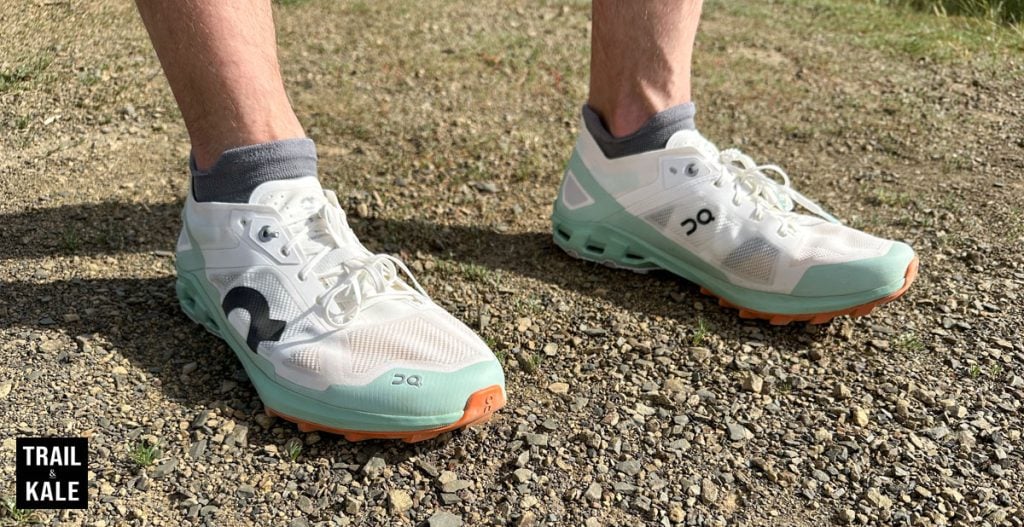 The On Cloudventure Peak is very comfortable out of the box, due to the sock-like upper construction and On's consistently comfortable upper designs.
This inner-sock feature has been used many times before, for shoes like the Cloudmonster, Cloudsurfer, Cloud, and the Cloudswift, for example.
This feature's ability to lock feet in place without having chafe points is one of the reasons why we rated On Cloud shoes so highly. The same is true for the On Cloudventure Peak.
The minimal, breathable upper helps to regulate internal shoe temperature very well and gives your toes some extra wiggle room during those long hot runs.
I quite like the look of the white colorway of the Cloudventure Peak that I'm reviewing today, but they are already starting to look dirty, and that's ok – they're trail running shoes after all!
Cloudventure Peak Upper
The upper features an ultralight yet durable material that combines protection with breathability and just the right amount of stretch to let your toes wiggle where needed. Supportive taping then wraps the foot, adding hold so you can really let go on race day.
There's a plastic-coated toe box that's strong enough to protect your toes from any accidental rock kicks too.
The green rubber toe box protector extends all around the lower half of the upper to reduce the chances of water entering the shoe, and it also increases durability, this is one of the few similarities to the previous Cloudventure Peak model.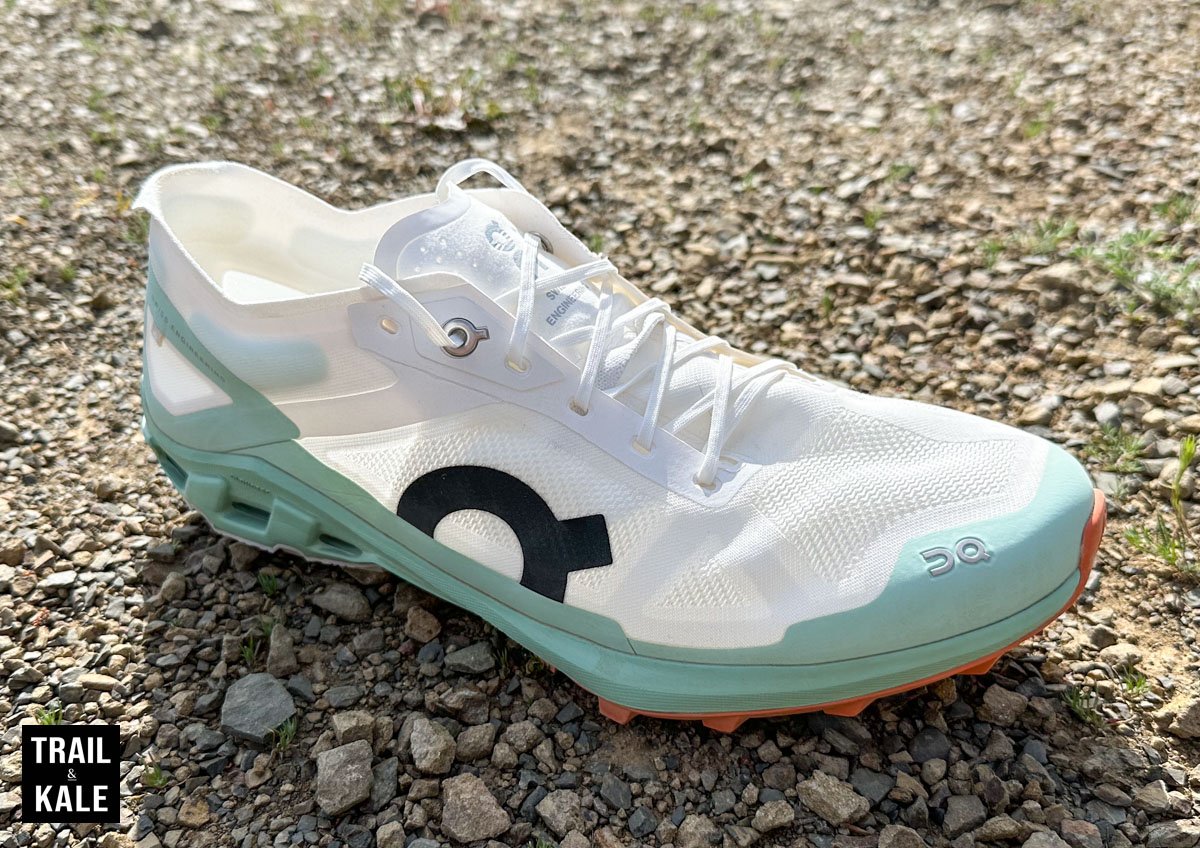 Towards the rear (as seen in the image below), you can see just how slim the walls of these shoes are, and you may think that it wouldn't bring much comfort to your run but rather than feeling comfortable or not, it's almost as if you're not wearing shoes, that's how lightweight and minimal they are.
Here you can see the inner-sock fit (and slim tongue) which has a much slimmer wall than the previous Cloudventure Peak but it actually feels more comfortable. The upper has been made to a very high standard and clearly aimed at elites or runners who want the lightest possible trail running experience.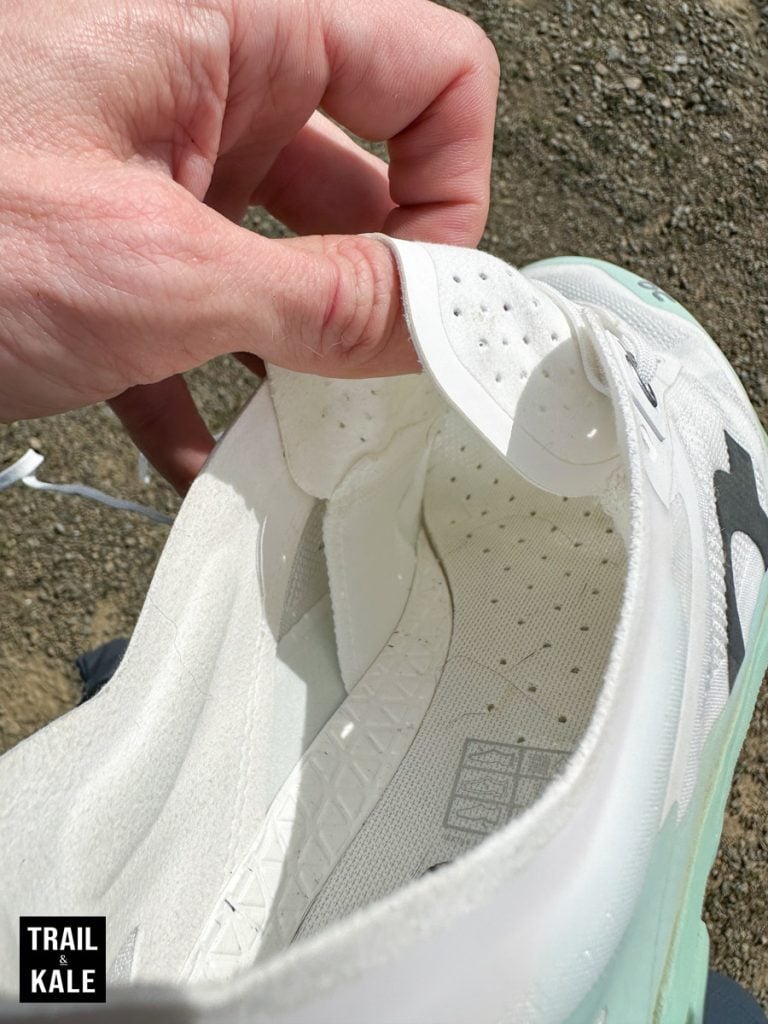 Cloudventure Peak Laces
The laces also provide some stretch, therefore allowing your feet to expand and contract as they heat up and cool down during a trail run.
The length of the laces, however, is totally out of whack – see my photo below: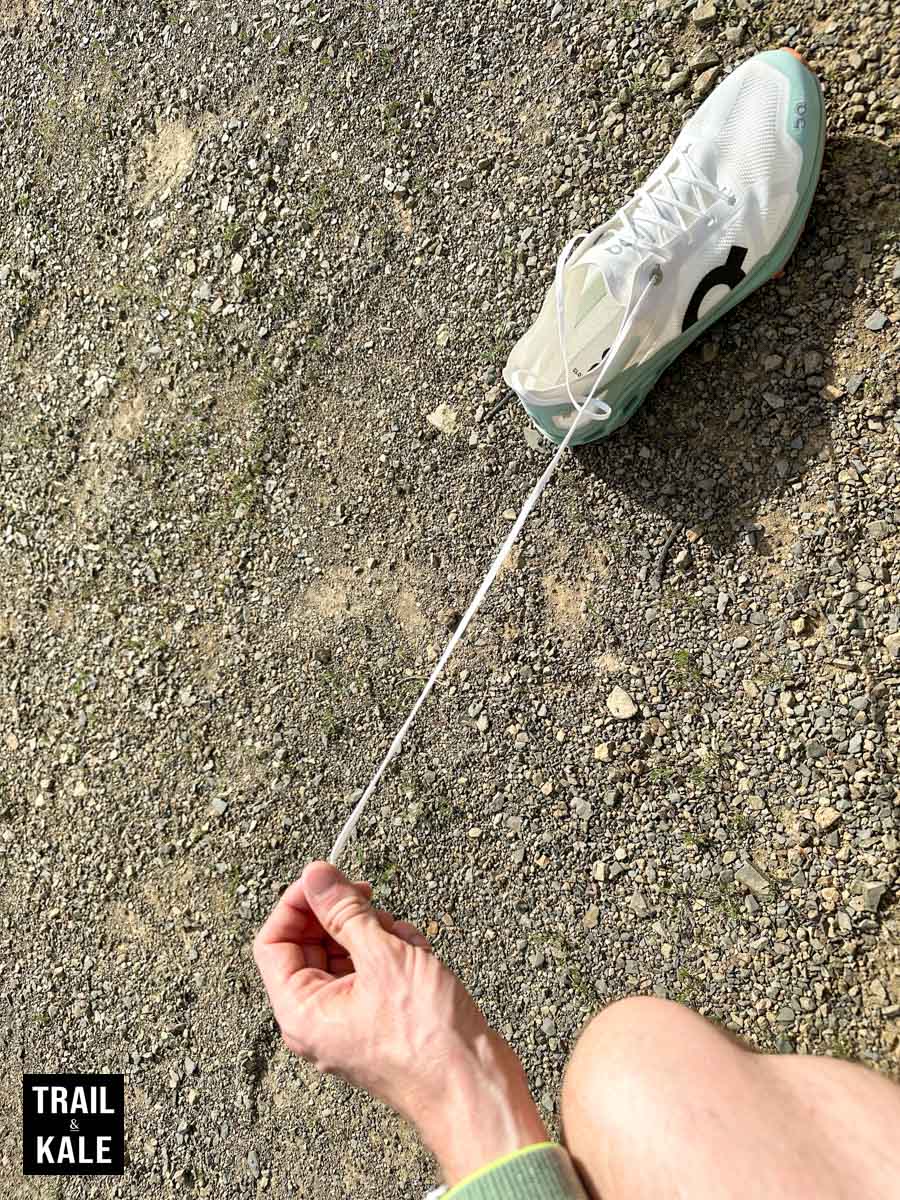 They're far too long and due to their slim design, I have to tie these laces in a double knot to ensure they stay done up, and to reduce the length before stowing them away in the stretchy tongue loop designed to keep them from flapping around and coming undone (see below).
Outsole and the On Speedboard
The outsole update is huge for the Cloudventure Peak 3. The only gripe I had with the first edition was that the cloud pods on the old outsole could be felt through the midsole, especially on longer runs that featured a lot of hard ground.
The second generation Cloudventure Peak was better but it still had pods, which could be a little precarious on technical uneven ground.
The new MissionGrip outsole has much better grip and control thanks to there being no traditional cloud pods on there which were effectively huge lugs, and although this pod system is what brought On Running so much popularity over the years – they never really worked for trail running with – at least not on technical trails anyway.
It also has a split speedboard with 30% carbon, to act as a propulsion method to help you moving forward, fast.
Aggressive lugs have been introduced across the forefoot and heel areas of the outsole, while the mid-sole remains fairly bare – The outsole could be improved by having lugs in this area too.
A couple of issues I have with the outsole is there there are not enough lugs wrapping up the front of the outsole. Unfortunately, this means that traction is compromised on steep uphill climbs as there are no lugs to claw into the trail at such steep gradients.
The other issue is how narrow the outsole is in general and more specifically in the heel area. Less surface area inherently means that there is less surface contact in order to gain traction.
Less surface area on a running shoe also means less stability, and support, and on soft, wet, muddy surfaces, you'll likely sink into the trails more too.
This is better explained in my video review below, filmed on my local mountain trail testing route.
The positives to this new outsole, however, are that it no longer collects any stones out on the trails – about time too!
This new outsole gives you a much harder ride underfoot but as a caveat, you'll get a more responsive ride with a better ground feel – you do really have to work for it though as there's no reprieve from the firm, minimal feel to these trail racing shoes.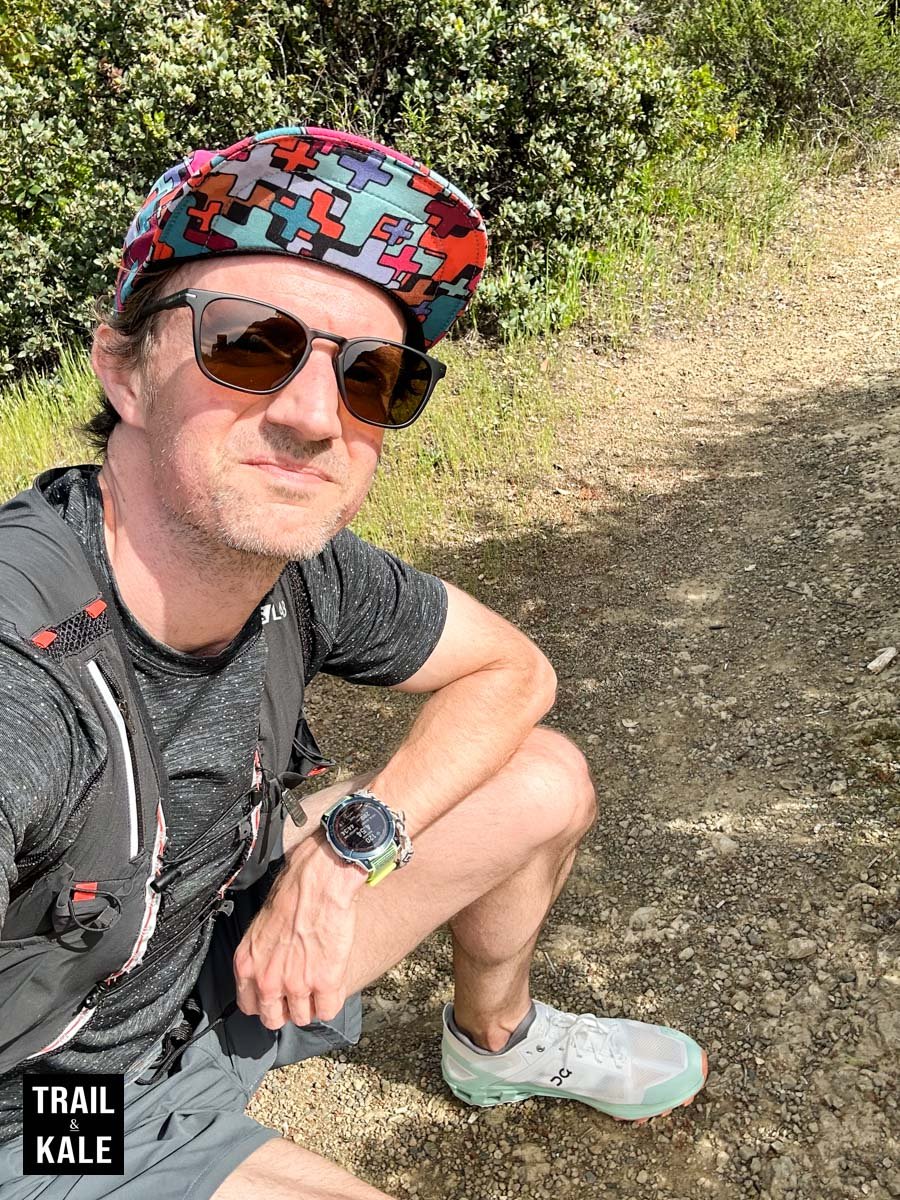 The Cloudventure Peak has been designed as a lightweight, minimal trail racing shoe, so expect reduced cushioning underfoot as a result.
Cloudventure Peak Drop & Weight
With a price of $160 and a drop of 4mm from heel to toe I see the Cloudventure Peak 3 as being a competitor to the Nike Terra Kiger 8, and the Salomon S-Lab Ultra 3 although both those trail running shoes outperform the Cloudventure Peak.
If you want to get the best of the best, however, then you need to read my Tecton X 2 review – it's a trail racing shoe with from HOKA a carbon fiber plate that helps you run seriously fast while maintaining a comfortable ride (it's also a lot more expensive than the other options I shared, however).
The On Cloudventure Peak has a neutral running footbed which will suit most runners.
Toe Box
The toe box is medium width and feels airy due to the breathable upper material with zoned airflow.
Are they worth your hard-earned money?
The Cloudventure Peak 3 is priced at $160, and personally, I wouldn't go for them because they're just not designed for me and how I like to trail run.
I think they are targeted at elite runners or very light-footed runners who want a lightweight, minimal trail racing shoe for distances up to 30 kilometers (max).
If you're someone who enjoys super lightweight, minimal shoes and doesn't need much cushioning, then these shoes might be worth giving a try.
If you do, let me know how you get on in the comments below, I'd love to know your thoughts.
---
Cloudventure Peak 3 review summary
To learn how I rate the Cloudventure Peak 3 compared to On's other trail running shoes, read my Best On Running Shoes Buyer's Guide next.
On Cloudventure Peak 3 Review – On's Lightest, Most Minimal Trail Racing Shoe
Pros
Missiongrip outsole is hugely improved over first and second Cloudventure Peak versions - and the pods have finally been retired
Lightweight at 8.6oz (244g)
They climb 5-20% gradients well really well due to how lightweight they are
Very comfortable feel in the upper
Very breathable upper
Nice ground feel if you enjoy minimal style trail running shoes with a 'barefoot' feel
Cons
Very minimal cushioning underfoot and your feet will feel the trail a bit too much if you plan to run any more than 20km in them
Struggled to maintain traction on steep ascents and descents
Laces are too long
---
On Cloudventure Peak Review – Trail testing video
---
Cloudventure Peak 3 image gallery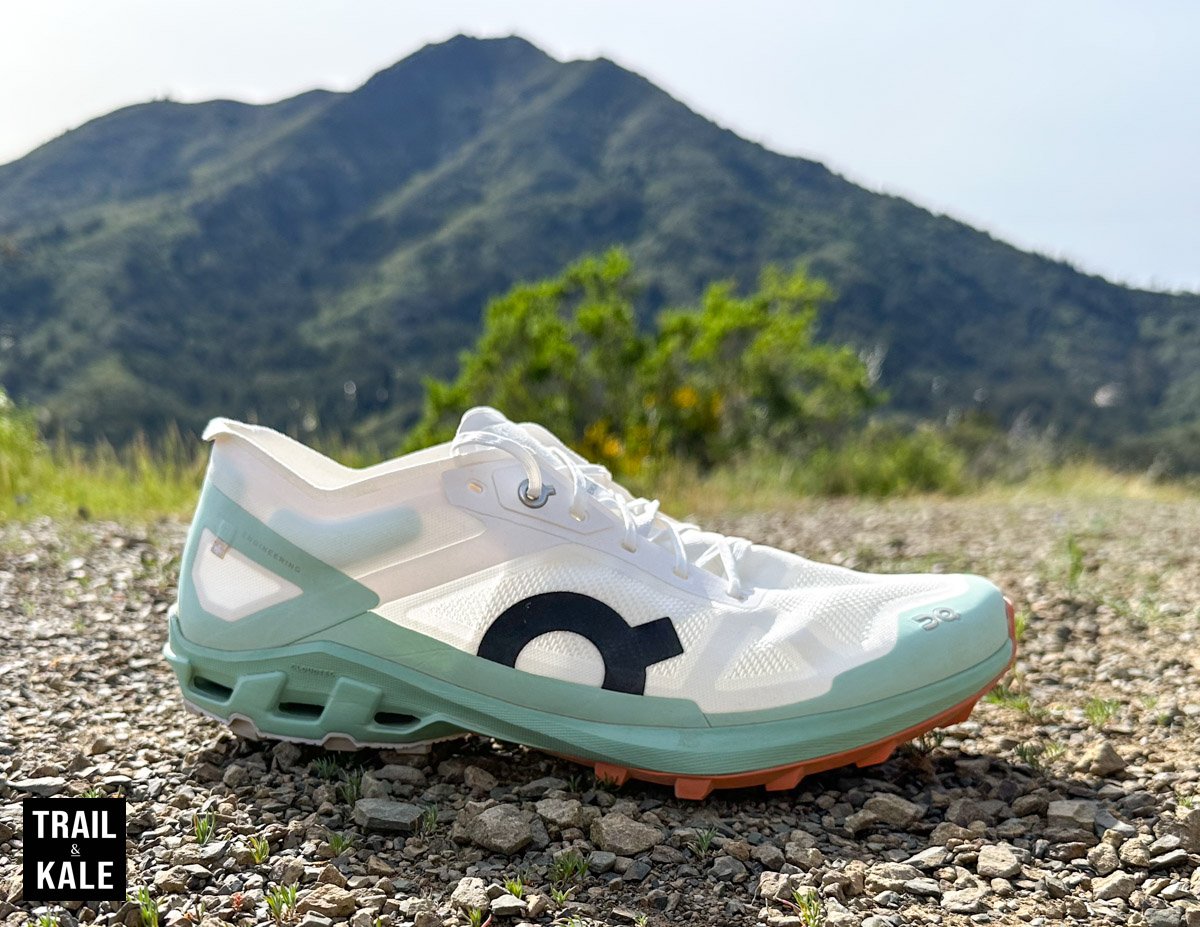 Still not sure which On Running Shoes to buy?
I hope you enjoyed this On Cloudventure Peak review, if you did, let us know by leaving a comment below. 🙂
If you're still not sure which On's are best for you, visit our Best On Running Shoes Guide for an ordered list of the top ON shoes for road and trail running, each with links to our On Shoe reviews. Designed to make your buying decisions easier and more accurate.