For all the runners out there blessed with wider feet, this buyer's guide is for you! I've been a running shoe reviewer for many years now, so I've been privileged to be able to test countless great running shoes, as well as some real duffers.
I been noting down the widths and interior volume of these running shoes enabling me to write this invaluable 'The Best Running Shoes For Wide Feet' Buyer's Guide.
Finding the perfect fit running shoes can sometimes feel like chasing down a marathon PB. I've been there, squeezing into those 'comfortable running shoes' that aren't quite right, the good news is, however, you've landed on the right article.
This guide dives deep into the world of wide toe box running shoes, ensuring your toes have ample room to breathe and splay in a natural way during your running stride.
Whether you're hitting the road, trail, or treadmill, male or female, I have identified (through my testing) the best brand running shoes that boast that spacious toe area.
Stick around, and let's find that perfect pair of wide running shoes tailored just for you; your feet will thank you for following our advice! This guide is split into two sections, road and trail, and within each I have broken the list down further into the specific type of run; let's get started!
---
The best wide running shoes at a glance
🏆 If you're short on time, here are my top picks in each category:
---
The best running shoes for wide feet (Everyday Training)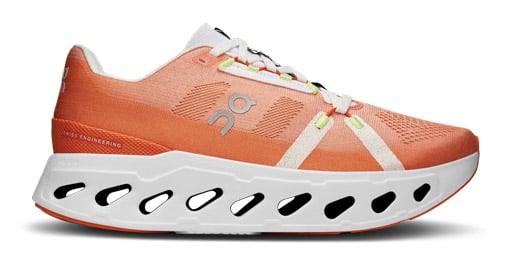 1. On Cloudeclipse ($180)
To learn more, read my in-depth On Cloudeclipse review.
Sizing: True to size, for extra wide feet go up a half size
Drop: 6mm
Weight: 9.8oz (278g)
Price: $180 at on-running.com
Every year, On seems to shake up our 'Best Of' leaderboards across Trail & Kale, with their steady stream of innovative running shoe releases. Right now, the Cloudeclipse is reigning, not just for its overall performance but notably for how it embraces those with wide feet too.
It has climbed its way up my 'Best On Running Shoes leaderboard' and has also bagged a top spot as one of 'My Favorite On Cloud Shoes For Walking'.
The On Cloudeclipse masterfully merges the prime attributes of three cherished On models: the Cloudsurfer 7, Cloudrunner, and Cloudmonster (dive deeper into why this combination is os important in my full On Cloudeclipse review).
The double layer of CloudTec Phase cushioning offers a plush ride, making those long runs feel more effortless, and the X-shaped speedboard beneath the midsole ensures stability and responsiveness. Its dual-layer upper design brilliantly accommodates a wider fit while maintaining breathability, ensuring your feet have space to splay and to be able to regulate temperature appropriately.
For runners with wider feet or high volume feet, these wide toe box running shoes also have substantial cushioning and the accommodating fit of the Cloudeclipse are pure joy. It stands out as a fantastic daily training and long run shoe, emphasizing comfort, stability, and that ever-desired wide toe box feel.
2. HOKA Clifton 9 'Wide' ($145)
To learn more, read my in-depth HOKA Clifton 9 review.
Sizing: Choose the Wide version
Drop: 5mm
Weight: 8.7oz (247g)
Price: $145 at hoka.com
The Clifton 9 is one of HOKA's best and most popular running shoes, and as such HOKA rightly feel obliged to offer a variety of different colors, a GTX waterproof version, and also that coveted WIDE edition, making it a huge hit for all the wide-footed runners out there.
This latest gem from the celebrated Clifton lineage brings you that plush cushioning you crave, all while staying very lightweight and steadfast.
The Wide option is a game-changer for daily training runs, designed with broader footprints in mind and it has an even sprightlier and responsive midsole foam than before. The Clifton 9 also an updated breathable 1-piece engineered mesh knit upper which is tailored perfectly for that broader foot.
It's still adorning the beloved wing-like articulated heel support and it's a beauty, especially when paired with that 5mm heel-to-toe drop promoting a more natural running form tailored for wider feet.
3. Saucony Triumph 21 'Wide' ($160)
To learn more, read my in-depth Saucony Triumph 21 review.
The Saucony Triumph 21 (wide version) is designed with a nod to both performance and eco-friendly practices, this shoe hits the sweet spot for runners who need that extra wiggle room as well as plush cushioning.
Saucony's innovative PWRRUN+ technology works wonders, providing a plush underfoot feel that cradles and supports wider foot shapes.
The new flat-knit upper, coupled with a soft collar and a redesigned lacing system, ensures that those with wide feet can enjoy a secure, adaptive fit that accommodates without constricting; I really like Its sleek, modern look too.
Whether you're just starting your running journey or you're a seasoned road runner, the Saucony Triumph 21 with its wide option is ready to elevate your daily runs.
---
Best tempo running shoes for wide feet
1. HOKA Mach 5 'Wide' ($140)
To learn more, read my in-depth HOKA Mach 5 review.
Sizing: Choose the Wide version
Drop: 5mm
Weight: 8.2oz (232g)
Price: $140 at hoka.com
The HOKA Mach 5, in its wide version, is the answer to your tempo training prayers. It's the ideal pick for the cost-conscious runner who demands high performance without the hefty price tag, delivering speed and responsiveness that rivals the more extravagant racing flats listed below.
The Mach 5 is also very versatile because it's equally at home on a daily run as it is for racing on a budget. It's the one-pair-fits-all solution for serious runners who value efficiency and a streamlined shoe arsenal.
And for the wide-footed runners out there, the Mach 5 Wide (EE) option provides that spacious haven for your feet, allowing you to power through those tempo runs with a responsive and balanced ride.
Sure, it might forgo a bit of plushness underfoot, but what it offers instead is control – the kind that could make all the difference when you're chasing down that next personal best.
2. On Cloudflow 4 ($160)
To learn more, read my On Cloudflow 4 review.
Sizing: True to size, for extra wide feet go up a half size
Drop: 8mm
Weight: 8.7oz (247g)
Price: $160 at on-running.com
The On Cloudflow 4 has made its grand return, with a design that's really quickens the pulse and makes for the perfect tempo training partner.
The early-stage rocker geometry is a great example of how Cloudtec nudges you towards that rhythmic momentum of perfect cadence, ensuring your form remains strong during tempo training. For those craving roominess up front, the Cloudflow 4 doesn't disappoint either, with a toe box that feels like a luxury suite for your digits.
The engineered woven upper, borrowed from the elite ranks of On's Cloudboom Echo 3, is a blend of high performance and breathability, and with the new dual density Helion midsole and its spoon-shaped speedboard, you can expect an exhilarating ride, helping you perform on those all important tempo runs.
Whether you're dialing up the intensity on tempo days or hunting down a new PB, the Cloudflow 4 is a really reliable running shoe for you.
---
Best wide running shoes for marathon training
1. Brooks Ghost Max 'Wide' or 'Extra Wide' ($150)
To learn more, read my in-depth Brooks Ghost Max review.
Brooks seems to have crafted a dream with the Ghost Max, especially for those racking up the miles in preparation for that big race day. Holding the esteemed "Ghost" badge, this everyday training and long run shoe speaks of its rich legacy, yet it's very distinct from its cousin, the Ghost 15.
For marathon aficionados with a broader foot base, the Ghost Max ('Wide' or 'Extra Wide' Version) is your trusty ally for those grueling long runs and crucial active recovery days. It brings unmatched comfort, ensuring your wide feet remain blister-free, coupled with the stability that marathon training demands.
The Extra Wide option is the widest on this list which certainly makes this shoe an appealing choice for those with very wide feet.
Contenders like On Cloudeclipse and HOKA Clifton 9 (Wide version) are on its heels, but the Ghost Max's potent combination of deep cushioning, steadfast stability, very competitive price, and a design flexible enough for both running and cool-down walks, sets it apart.
The breathable air-mesh upper embraces wider feet with love, adjusting flawlessly for that marathon-worthy snugness. Melding contemporary flair with peak functionality, the Ghost Max (Wide) is the go-to for every wide-footed marathon trainee seeking that plush cushion and unwavering support.
---
Best race day running shoes for wide feet
There's a huge gap in the market for wide racing shoes which I think is really unfair to wide foot runners but there are still some gems out there that will have you crossing the finish line with PB at your next race.
I've reviewed countless race day running shoes and most of them come up narrow, even on me, and I have medium width feet but there is some hope as there are certainly some that are wider than others and I'm going to share those with you now.
1. Nike ZoomX Vaporfly 3 ($250)
Sizing: Size up a half or full size to get the perfect fit depending on how wide your feet are.
Drop: 8mm
Weight: 6.5oz (184g)
Price: $250 at nike.com
The Nike Vaporfly 3 has arrived, boasting a wider toe box than its predecessors, and it's ready to cater to your need for speed. While the last is still a medium width, those with EE width feet will find their sweet spot by stepping half a size up, ensuring that perfect, roomy fit in the toe area.
These premium race day shoes are engineered purely for the pursuit of personal bests, whether that's a fast 10K or a marathon.
It sports a full-length carbon fiber plate that delivers that stiff, springy launch with every stride, while the upgraded ZoomX foam stretches from heel to toe, unlocking even more responsive energy return.
The midsole's clever design, extending out at the heel, strategically spreads weight on the inside of the foot to offer a stable, controlled ride. Just remember, to get that perfect fit in the width, go up a half or even a full size.
P.S If you've signed up to a race and need a training plan, we have you covered! Visit our Training Plans page to download your FREE Training Plan today.
---
Best budget running shoes for wide feet
1. Brooks Launch 10 'Wide' ($110)
To learn more, read my in-depth Brooks Launch 10 review.
The Brooks Launch 10 provides incredible value for money, and a shoe that performs way above its price tag
For just a mere $110, you're stepping into premium territory, packed with top-tier features you'd expect from those pricier siblings. Light as air at 8.2 oz, these beauties bring forth a lively, responsive journey courtesy of that DNA LOFT foam.
The breathable stretch-knit upper uses 59.1% recycled materials too which is.a big positive for eco-conscious runners like ourselves.
The wide version is perfect for those everyday jaunts, speedy tempo runs, and everything in between but if you need a touch more support, give the Launch GTS 10 variant a try instead. The Brooks Launch 10 Wide is the golden combo of performance, eco-friendliness, and reliability without breaking the bank.
---
Best trail running shoes for wide feet
1. HOKA Speedgoat 5 'Wide' ($155)
To learn more, read my in-depth HOKA Speedgoat 5 review.
Sizing: Choose the 'wide' version.
Drop: 4mm
Weight: 10oz (283g)
Price: $155 at hoka.com
The HOKA Speedgoat 5 really is in a league of its own and hands down the best wide trail running shoes available right now. Taking inspiration from the legendary Karl Meltzer, or "The Speedgoat" – the king of 100-mile ultra trail races, these shoes are crafted to tackle, dominate, and command any trails that lie ahead.
The 5mm Megagrip Vibram lugs are incredibly sticky when it comes to providing traction over a variety of different terrains, and part of the reason I recommend these trail running shoes to anyone who asks me.
They also have a super comfortable upper design with an articulated heel which makes them easy to slip on but also very comfortable as it reduces pressure points on your achilles heel. The upper material is also very breathable and durable.
It's still hard to believe the Speedgoat 5 offers all this for only $155, so whether you're new to trail running, enjoy hill repeats, or training for an ultra marathon, they're your go to wide trail running shoes! 🙂
---
I hope these running shoes with wide toe box recommendations have given you a better focus on which running shoe is best for you; if you still have a question however, please just drop it in the comments below and i'll get back to you with an answer soon. Happy running! -Alastair