Ahhh, it feels so good to be back in Salomon trail running shoes, and pushing them to their limits on my local mountain trails here in Northern California.
I've had a lot of experience running in Salomon trail running shoes over the years, and I also reviewed the original Ultra Glide last year – which for the most part I really enjoyed, apart from two issues that needed fixing (more on that in a moment).
Salomon is a brand that's well known (especially across Europe where I did most of my trail mountain races before moving to California) for delivering high-quality running gear that's functional above anything else.
That ethos shines through in the Ultra Glide 2 with features that will make these cushioned trail running shoes a new favorite for many aspiring ultrarunners out there.
This Salomon Ultra Glide 2 review, like all our outdoor gear reviews, is in no way sponsored by the brand but Salomon did send us the shoes (along with the rest of this season's releases) to get our honest opinions in this review – and maybe even get some advice on how to improve the design for the Ultra Glide 3 next Spring.
Salomon Ultra Glide 2 sizing and fit
These Salomon trail running shoes fit true to size when compared to other popular running shoe brands like On Running, HOKA, Nike Trail, Brooks Running, and Adidas, to name a few of our favorite trail running brands.
One thing you will notice, however, which is historically unusual for Salomon, is that the Ultra Glide 2 has a wide enough toe box to fit medium, and slightly wider than medium feet.
This roomy toe box is great if you prefer a little extra space for your toes to splay when running, or if your feet just tend to run hot and expand during an intense effort run.
The Salomon Ultra Glide 2 is designed for ultra running, striking a happy medium between being plush and responsive, and although nowadays I prefer a bit more cushioning in my trail running shoes, the Ultra Glide 2 feels well protected underfoot.
For on-foot video footage, watch my Ultra Glide 2 video review below, where I put these trail racing shoes through their paces on one of my favorite local 10km trail shoe test routes (+300m ascent).
The fit of how the lacing system encloses the padded upper around your foot is improved over the previous version which I'm very happy about, more on that below in the "features I love" section of this review.
Key features worth knowing about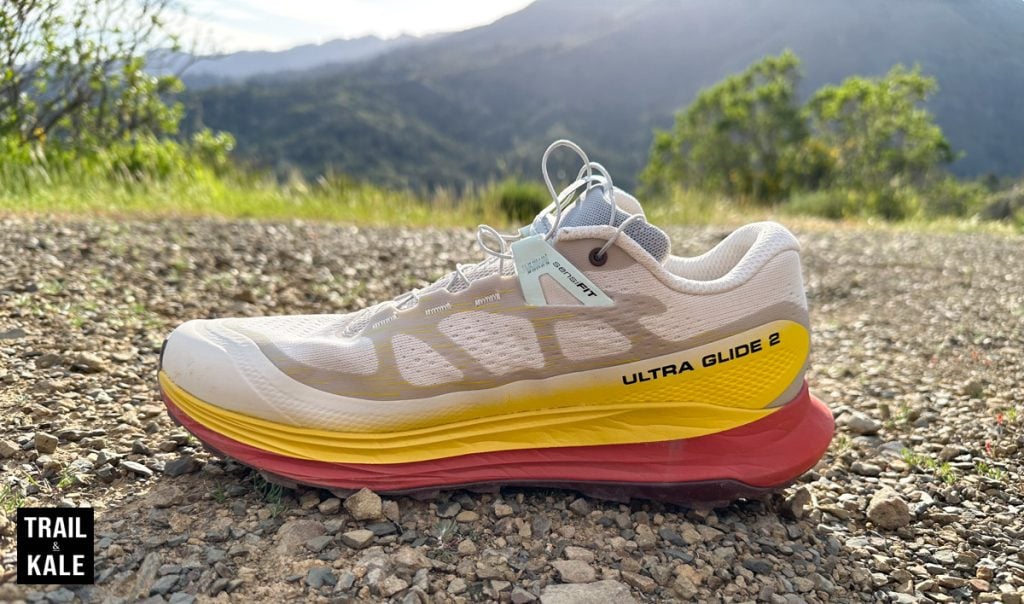 Key specifications
Price – $150 at salomon.com or REI.com
Weight – 11.9 oz. (337g) for a US Men's size 9 – Not the lightest trail shoe ever but pretty good.
Width – medium
Midsole – build with energyFOAM, which is Salomon's lightweight, responsive foam created by combining EVA and Olefin [OBC] to deliver long-lasting cushion and bouncy energy return. It also has a reverse camber rocker silhouette.
Outsole – All Terrain Contagrip® that's built for the widest variety of surfaces. It really does deliver durability & confidence on wet, dry, hard, or loose surfaces.
Drop – 6 mm drop. This is great for technical trails and all-mountain running.
Let's go over some of the standout features in more detail then.
I have to start with that INSANE Contragrip outsole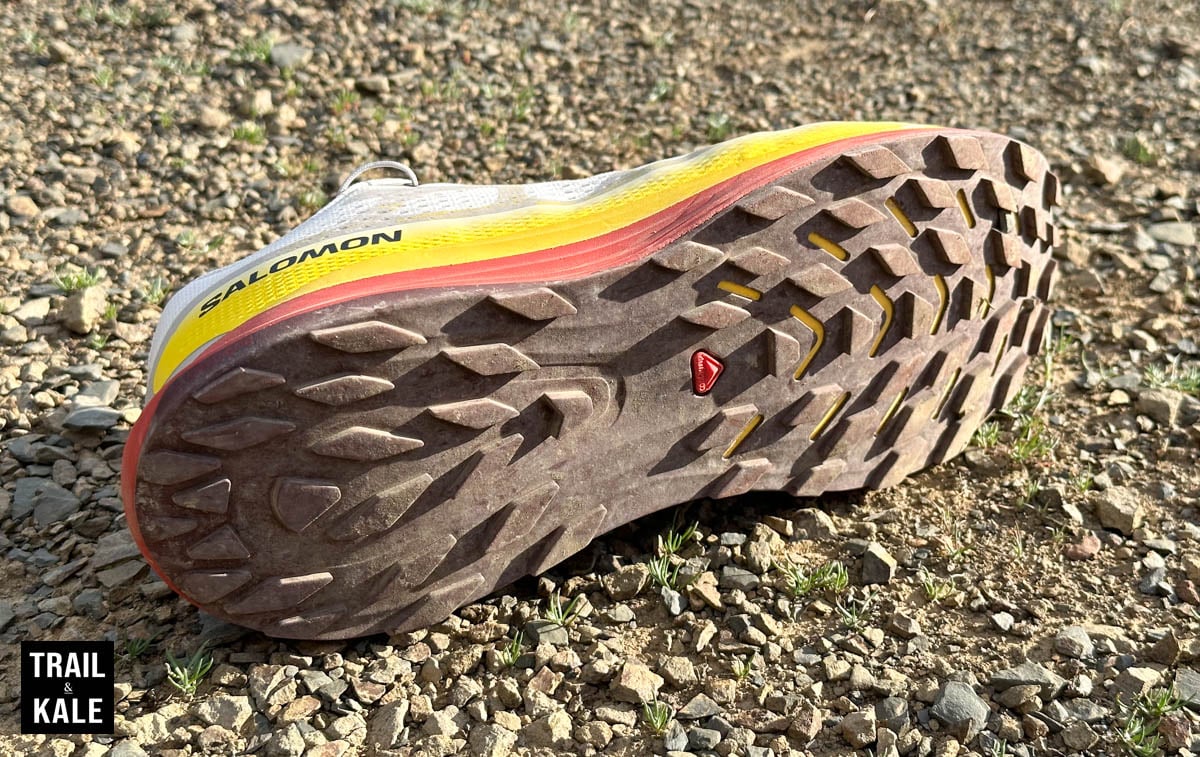 "Why start with the outsole?" I hear someone whisper at the back of the room, well because it has tremendous traction when running over mixed terrains and in all weather conditions.
I haven't tested the Ultra Glide 2 in the wet yet because, well, I live in California and it's past March – we won't be getting much rain here for a while now!
BUT, I have a lot of experience with running in Contragrip, and more specifically with the original Ultra Glide which shared this very same Contragrip outsole.
I was struck by how impressive the sticky outsole was when I reviewed them last year, and I'm once again in awe at how good the traction is with the 'Ultra Glide 2', which is on par with the excellent HOKA Mafate Speed 4, another one of the most epic trail running shoes available right now.
Watch my video below to get an idea of just how well they stick to the trails on steep, fast, downhill sections.
The much improved Upper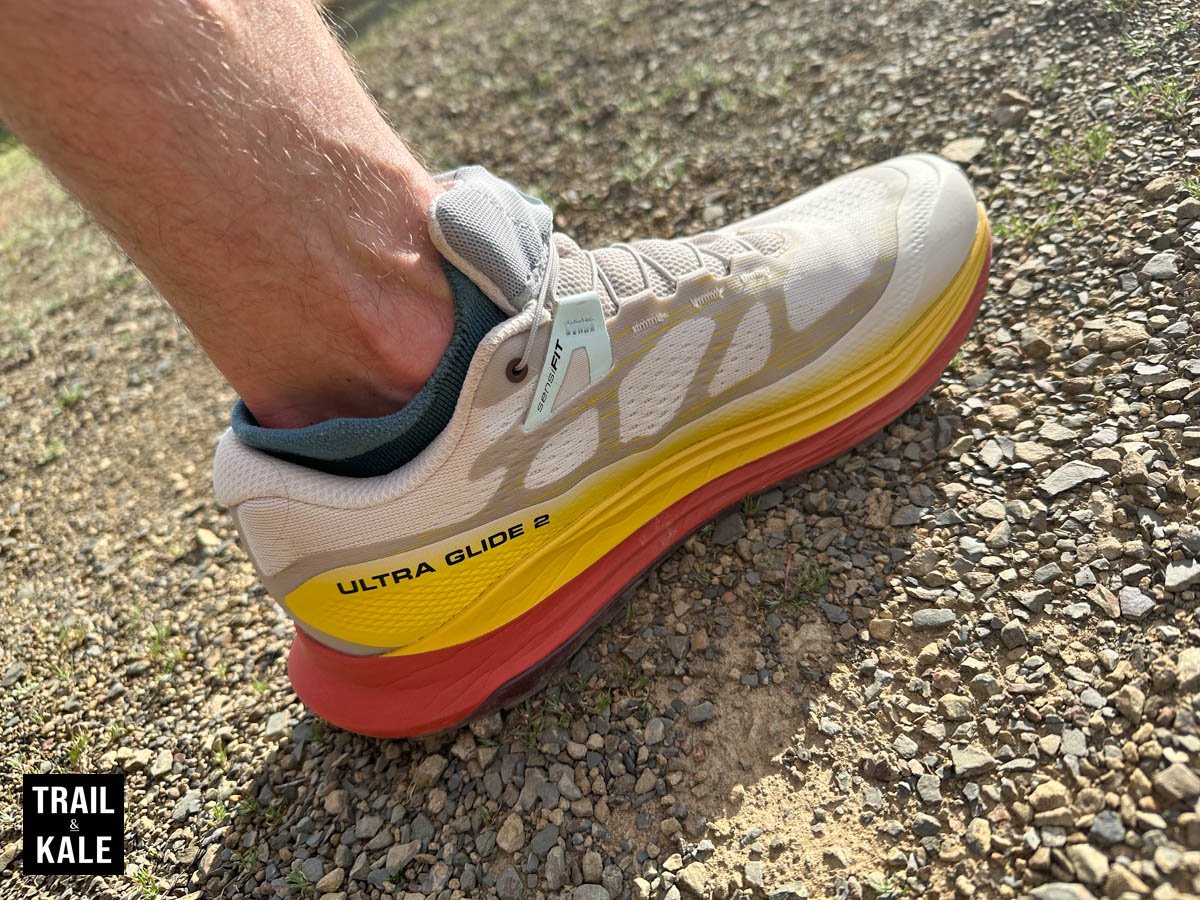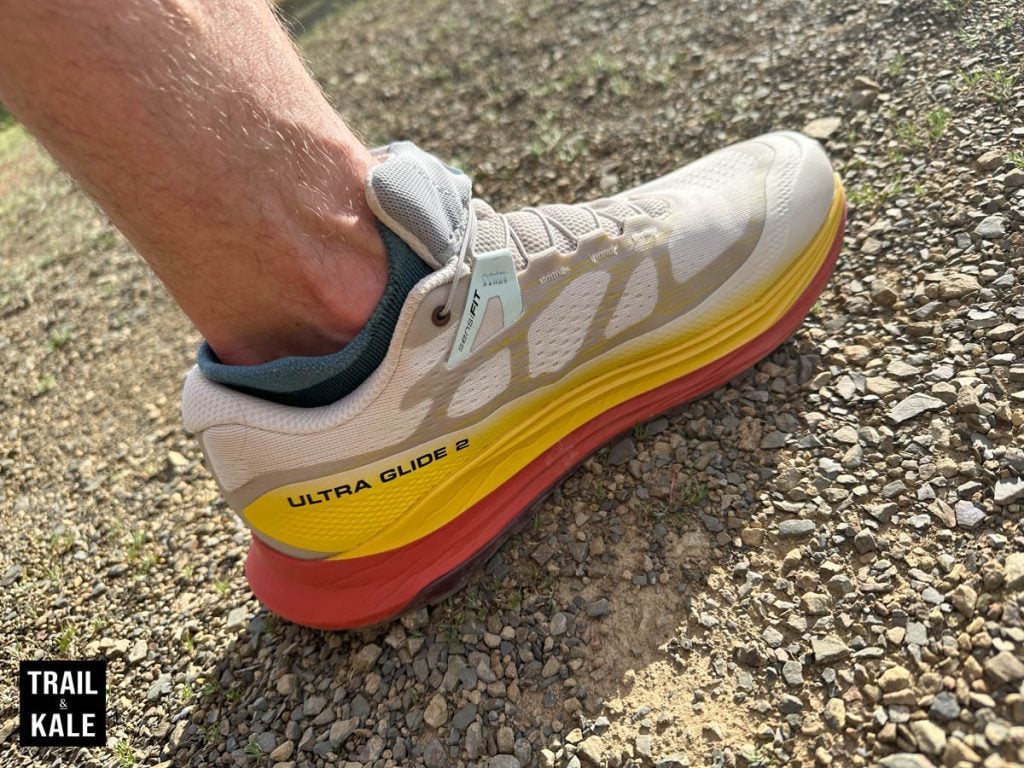 So, earlier in this review, I mentioned that there were two things that I didn't like about the original Ultra Glide from last year, and they were:
1. My feet had a tendency to slip to the front of the shoes, hitting the solid toe bumper on the inside when running down steep trails.
This was caused due to the lacing system and upper design not locking my feet into the shoes particularly well.
This, in turn, meant that I needed to tighten the lacing system more than usual, leading to an uncomfortably fit on the top part of my feet – which leads me to my second issue.
2. The laces had a tendency to dig in around the top of my foot due to a less-than-perfect fit in the upper, a tongue that was too thin, and laces that were also too thin.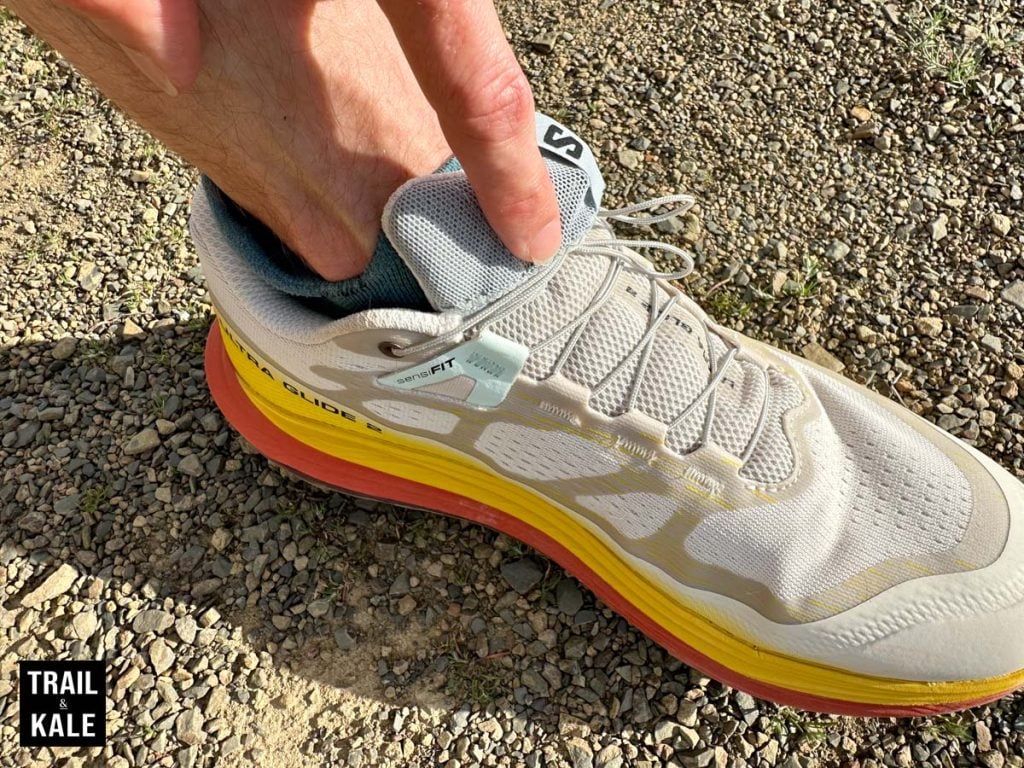 I'm pleased to say that Salmon has fixed both these issues with the new and improved upper design which is still breathable and durable.
Salomon has introduced a redesigned upper which locks my feet in place much better than before, and they have also made the tongue thicker (photo of the thicker tongue and other features in my gallery below) in the places where it needed the additional padding.
Salomon's Quick Lace system is still a pleasure to sinch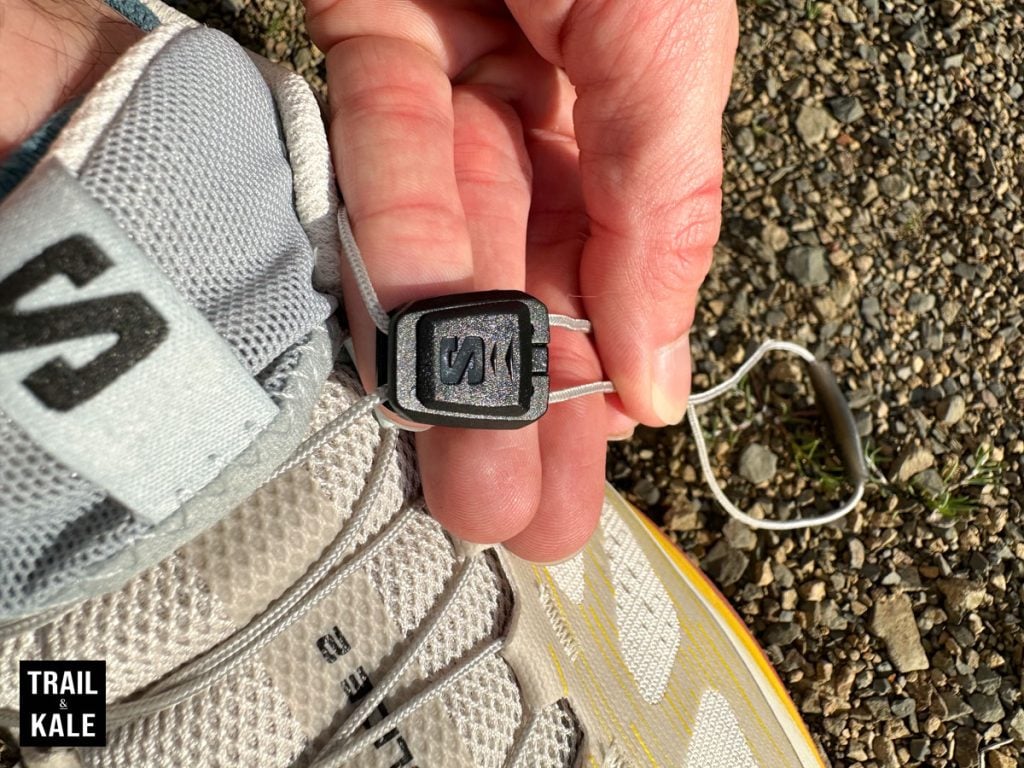 Salomon's popular Quick Lace system is still a hit with me, even after all these years of it being around. It's a convenient system to sinch up your laces and get that perfect fit, quickly.
It's also great how you can just stow the excess lace away in the pouch pocket at the top of the tongue so that they don't flap around when you run. They also never come undone in my experience, as some laces can.
Ultra Glide 2 performance review
The Ultra Glide 2's midsole has a rocker silhouette, which means the transition from foot landing to take-off is smooth and efficient. This is so noticeable when you're running on flat, fast sections but also on trails with a steep downhill gradient.
This design, combined with the stiff, yet protective midsole provides great momentum and propulsion, making the Ultra Glide 2 an excellent choice for varied terrains and fast running over longer distances.
My video below probably describes it best as and when I hit uphills, downhills, flats, and technical sections but I'll try to summarize it into words too!
During steep downhill runs, the Ultra Glide 2 performs exceptionally well, providing excellent cushioning, support, and traction.
Salomon has fixed the issues present in the previous version, such as the solid toe cap causing discomfort and the thin lacing system pressing on the foot from above – all talked about in more detail above.
Although they're not the lightest trail running shoes (11.9 oz), they do perform very well, all things considered.
To give you an idea of what other high-performance trail running shoes weigh right now, here's a selection of recent HOKA trail running shoes that I've reviewed:
---
How do they compare to other trail running shoes available at the moment?
Compared to other trail running shoes, the Salomon Ultra Glide 2 stands out due to its comfort, versatility, and ability to handle mixed terrains thanks to the exceptional Contragrip outsole.
While not as plush as Hoka's offerings, for example, it still offers enough cushioning and protection for a comfortable run on trails with hard terrain underfoot.
---
Are they worth your hard-earned money?
YES, at $150, and for aspiring ultrarunners, beginners, or intermediate runners looking to run longer on trails, the Salomon Ultra Glide 2 is an excellent choice.
With a good price point and a range of features designed to provide a comfortable yet responsive, and enjoyable trail running experience, these shoes are well worth the investment if you're thinking about running longer distances or plan to run faster over trails with a comfortable ride underfoot.
---
Salomon Ultra Glide 2 review summary (rating with pros and cons)
Salomon Ultra Glide 2 review
PROS
The Contragrip outsole is so good that these trail shoes stick to any surface remarkably well!
Very reasonably priced for an all-terrain running shoe with this many features.
Toe box is airy - and improvement on the old days where Salomon running shoes ran on the narrow side.
Quick lace system works very well, as always.
Ultra Glide 2 is an improvement over version 1 with an upper that has been redesigned to fix the only 2 issues I had with the original version.
CONS
At 11.9oz it could use some extra weight savings somewhere, maybe in the upper.
While the midsole is firm and responsive, I do feel there could be a more cushioning to provide a more comfortable ride on solid surfaces.
The Salomon Ultra Glide 2 is a fantastic trail running shoe, perfect for those looking to step into the ultrarunning scene or simply run longer distances.
With improved features from the previous version and a comfortable, responsive design, the Ultra Glide 2 is a must-have for trail runners looking to increase their mileage.
If you're planning to run your first ultra marathon or 50K, be sure to check out my in-depth, 50k training plan, which is available for free to access.
It's packed with secret race tips, strategies, and information on hydration, training, and racing, helping you achieve success in your ultrarunning journey.
I have left you with some more photos of the Ultra Glide 2 below. Enjoy, and see you on the trails!
---
More Salomon Ultra Glide 2 photos