In this HOKA Speedgoat 5 review, I'll go over some of the key specifications of this running shoe, comparing it to its predecessor, the Speedgoat 4, and other similar running shoes currently on the market from HOKA and various other brands.
Then, I'll discuss some of the key features of the Speedgoat 5 that I really enjoy. Following that, I'll share my performance review – how the shoes actually perform on the trail and what they're like in real-life conditions.
Forget about the stats on paper for a moment; how do they truly perform? I also share some video clips of me running in these shoes on my local trail route, which you can watch in my video review of the Speedgoat 5, which can be found further down.
I took the Speedgoat 5's on a 16 or 17-kilometer run with about 600 meters of elevation gain, so I really put these shoes to the test. Lastly, I'll share whether I feel they are worth your money or not.
HOKA Speedgoat 5 sizing and fit
But before we dive into the key specifications, let's discuss the fit. Straight out of the box, the fit is true to size. If you're familiar with HOKA running shoes, go with your usual size; you won't be disappointed.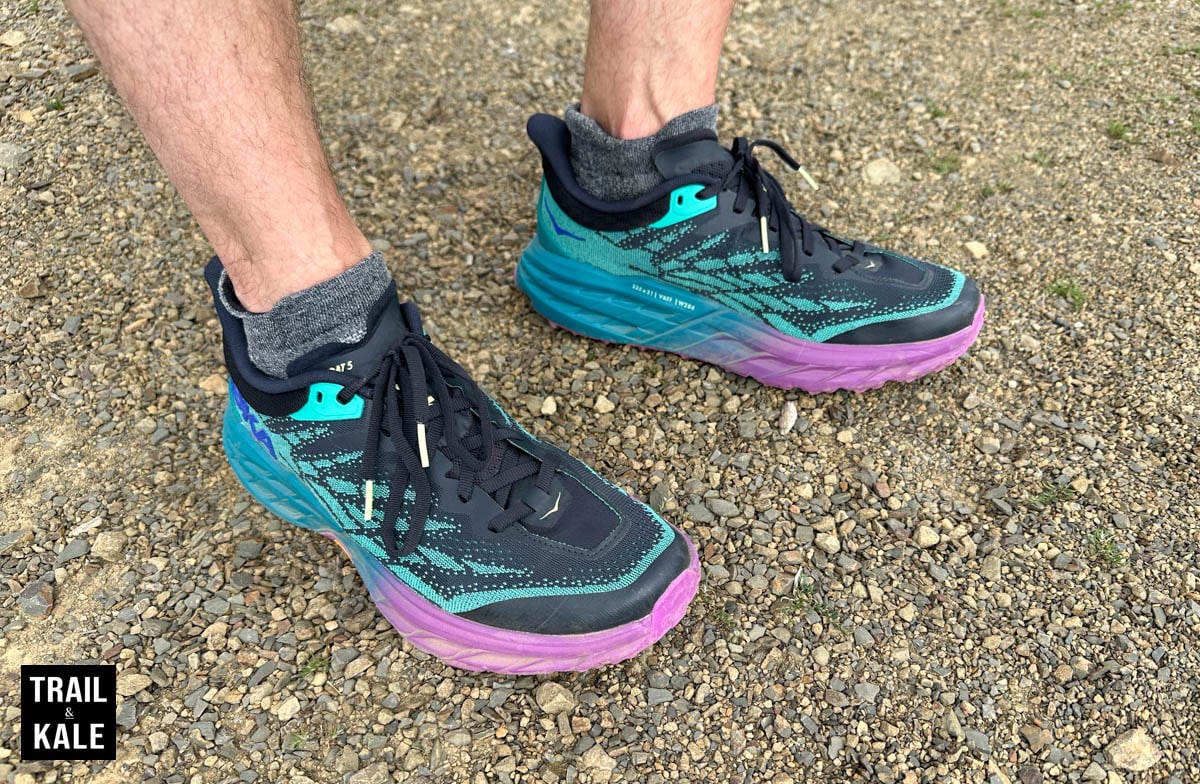 They will fit you very well and are quite comfortable right out of the box, as with most HOKA running shoes that I have reviewed over the last couple of years.
So definitely go with your usual size, which is very consistent with other brands like On Running, Salomon, and Nike.
In terms of comfort, you won't need to break them in either. I took them on a pretty challenging 17-kilometer trail run for their first outing, and they performed excellently. Very comfortable, no complaints at all.
The key specifications of the HOKA Speedgoat 5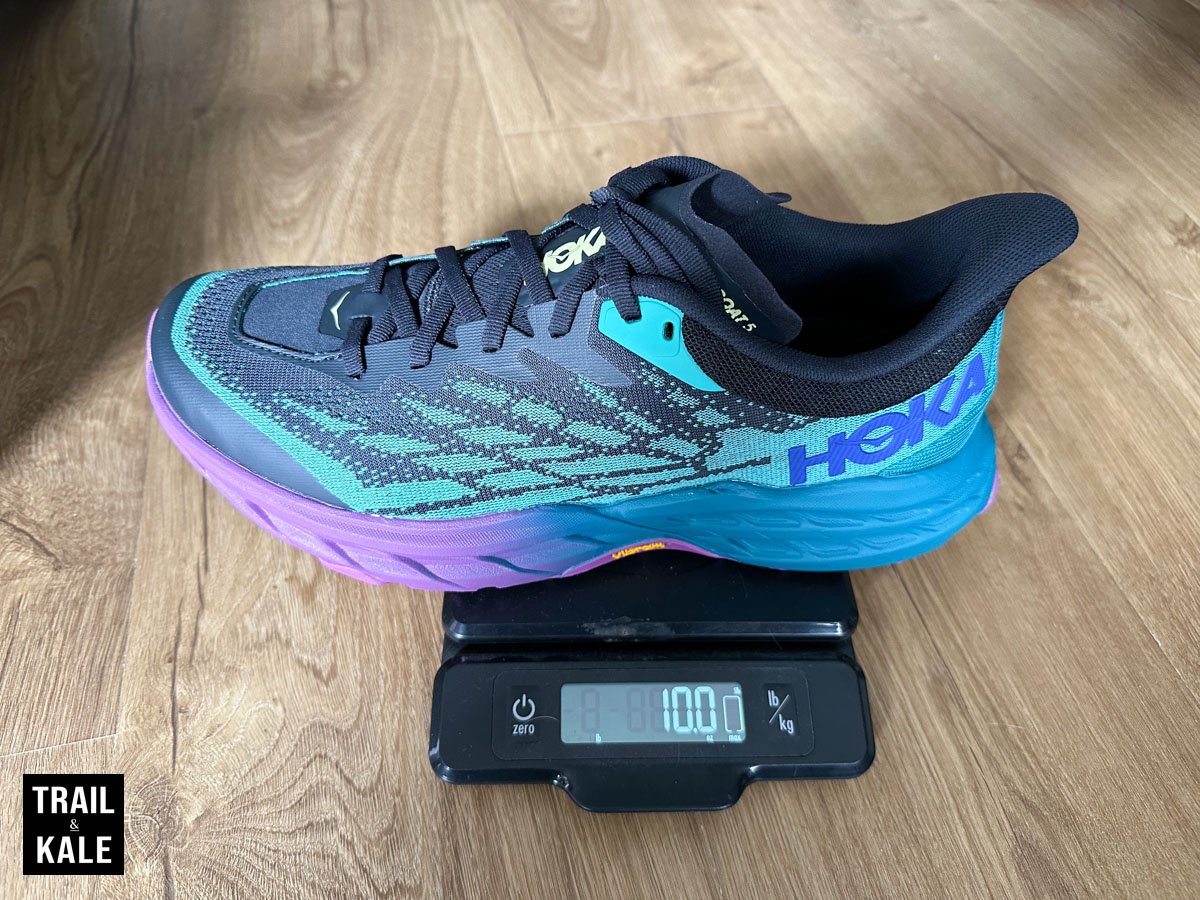 Price: $155 at hoka.com
Usage: A do-it-all trail running shoe for all-terrain, and all distances
Weight: 10 oz (283g) for a size US(M)9 (my pair)
Drop: 4mm
Toe box width: medium to wide with a roomy fit
Stability: Neutral
Cushioning: Balanced – that's HOKA speak for medium cushioning
Also available in: Wide (EE), Low, GTX Low, GTX Mid, GTX Spike
Key features worth knowing about
These are some of the key features of this running shoe that I really like – the features that stand out when I'm actually running in them and the things I feel that are superior to the competition out there right now.
1. The midsole cushioning is so well balanced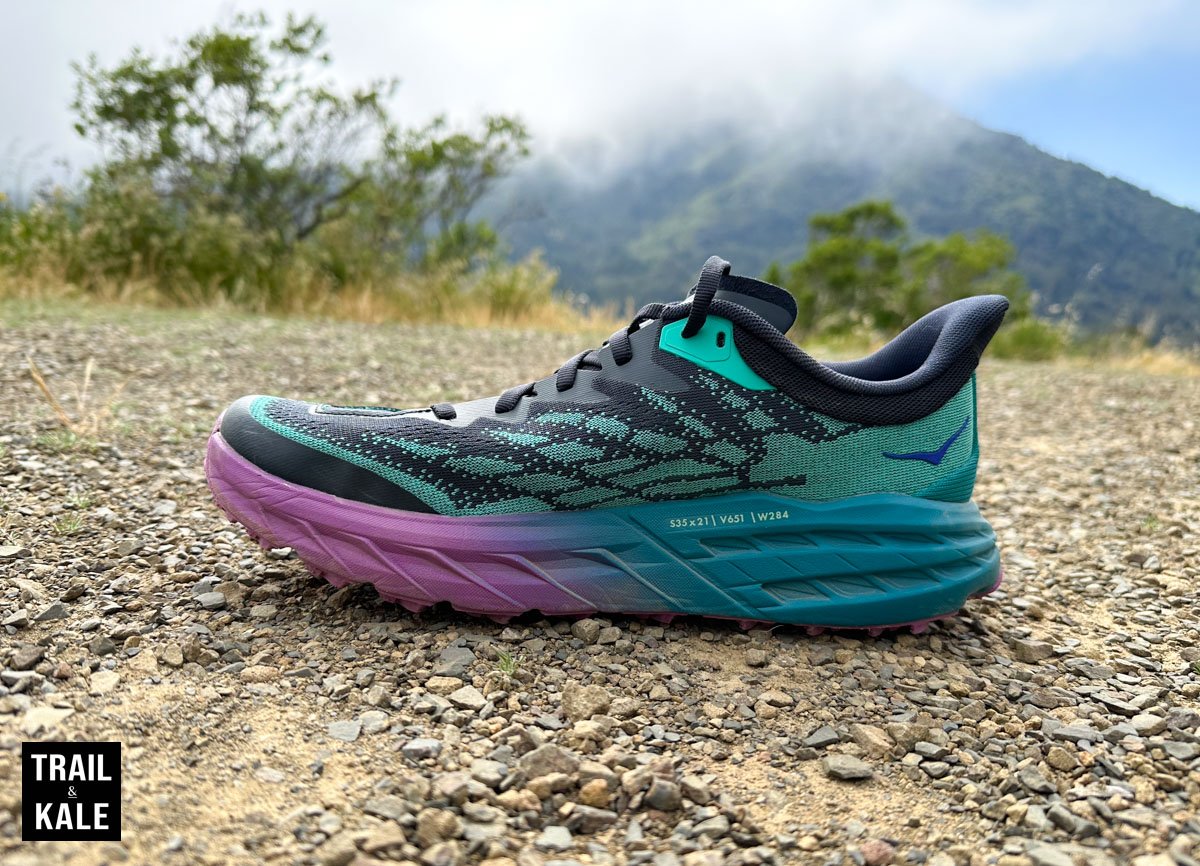 If you follow Trail and Kale, you'll know I'm a huge fan of the HOKA Mafate Speed 4 for trail running.
The Speedgoat 5 is a very similar trail running shoe, but with more cushioning, which is notably felt on longer trail runs, especially on hard, rocky terrains, like what we have here in California.
The midsole also features a late-stage meta-rocker which basically means the rocker shape of the sole starts a bit further back in the shoe, providing a smooth transition from heel landing to toe takeoff.
This midsole geometry combined with the 4mm drop from heel to toe, offers an excellent trail feel while keeping your feet well-protected from and sharp debris on the trails beneath.
The energy return is great too, which is a surprise considering there's no ProFly technology in the midsole – I really appreciated the responsiveness.
2. The Jacquard mesh upper is breathable, flexible, and durable
The second feature that I particularly appreciate is the Jacquard mesh upper which is very breathable.
I like to test breathability by placing my hand inside the shoe and blowing through the top material to gauge the amount of airflow that hits my hand inside (this is best demonstrated in my video below). The Speedgoat 5 performs very well in that regard.
The upper's durability, combined with its breathability, is excellent and there's also plenty of flex, with no points where it digs into your feet due to its design.
I've noticed that with some trail shoes from other brands on the market, as your feet flex, there can be discomfort due to the shoe digging in, but HOKA has done a fantastic job with the upper here.
3. The Vibram MegaGrip outsole is immensely effective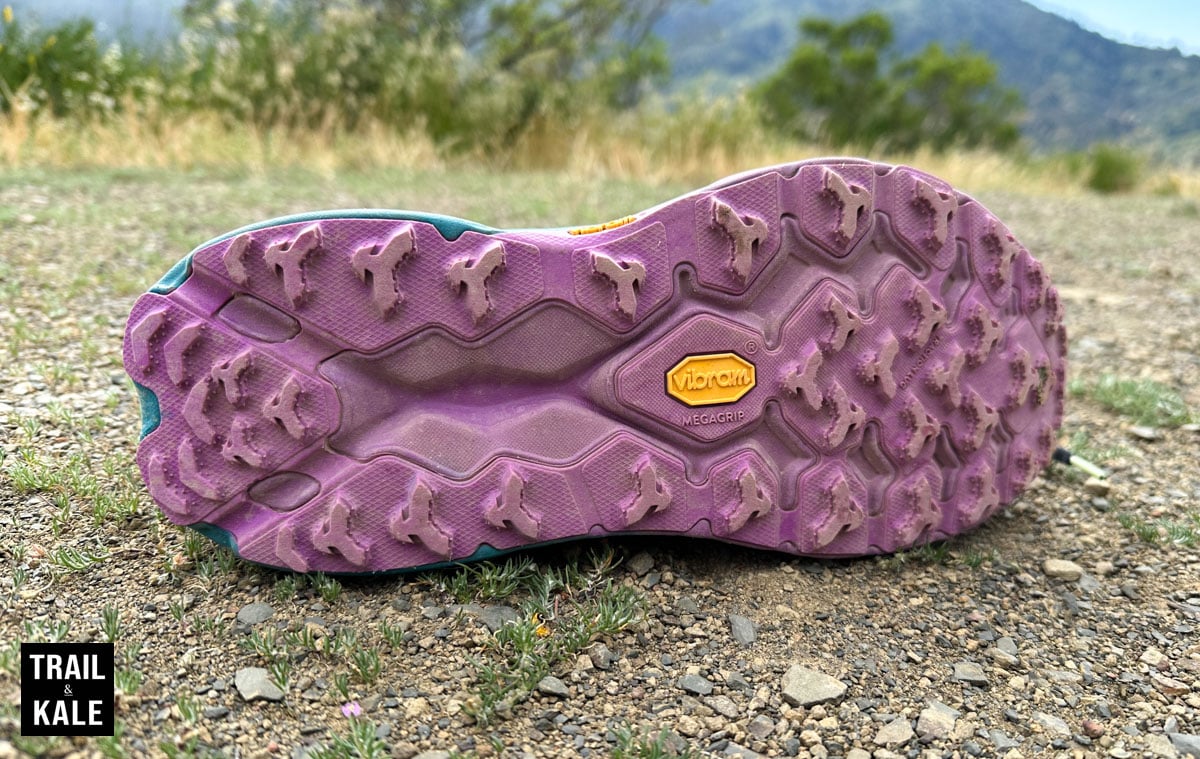 The third feature that stands out is the outsole, which has a Vibram MegaGrip. The traction is extremely impressive – so much so that I'd go as far as saying they have the best grip of any trail running shoe I have tested.
I first came across it on the HOKA Mafate Speed 4, and this shoe has it as well. It features deep lugs that provide excellent traction, clawing into the trails when you're climbing and digging in when you're descending quickly.
At present, the grip on this shoe is unparalleled, except perhaps by the HOKA Mafate Speed 4 and some of the Salomon trail running shoes with Contagrip, which are also performing well in terms of traction on steep downhills.
But I digress – the outsole on this shoe is simply fantastic. There's ample width, providing enough surface area for a solid grip on the trails without being too bulky. It strikes a perfect balance of control and protection.
4. The articulated heel is always a winner for me
The fourth feature that I really appreciate is this articulated heel, which is a design element seen in many of my highest-rated HOKA running shoes.
This design makes the shoes easy to slip on sure, but more importantly, it reduces the amount of pressure on your Achilles tendon.
As you can imagine, while running, having this backward sloping heel support allows your Achilles tendon more freedom to flex outside the shoe without anything digging into it.
If you've ever had issues with Achilles tendinitis, then you're going to love these shoes, they allow you to run without any pain.
I used to suffer from heel pain, and I recently wrote a post all about how to recover quickly from Achilles tendinitis; so if you're suffering from that or know of someone else who is, give it a read after this so that you can get back to running quickly.
Speaking of running and posts, we've written numerous race training plans on Trail and Kale. Currently, I'm following our 6-week half-marathon training plan and sharing all my vital statistics on our Instagram stories.
You can see how this plan is improving my fitness and significantly boosting my VO2 max (one of the best indicators of fitness level). So, do check that out to follow my progress if that's of interest to you.
I'm also preparing a post sharing the benefits of following a training plan which will document my health vitals throughout my 6-week half marathon training plan, and of course, my speed increases too. So keep an eye out in our Running 101 section for that post, dropping soon – or sign up to our newsletter to get a weekly email digest of all our latest posts!
5. The lacing system and tongue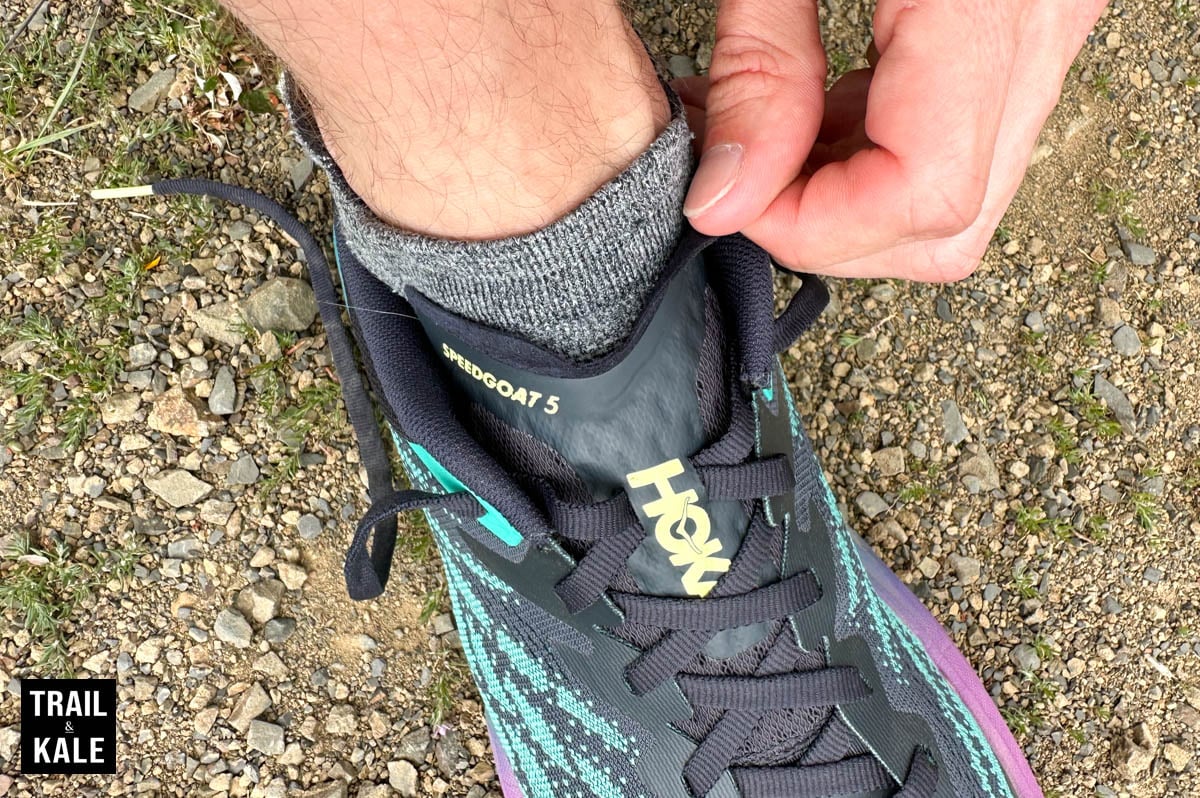 The next feature that I really like is the lacing system and the tongue. As you can hopefully see in the image above, the tongue has a shape that really helps it wrap around your foot.
It has a divot in the middle, which allows it to wrap around the front of your foot like a gusseted tongue – it's very comfortable and effective, and the lacing system just works.
At no point is there too much pressure on the top of your feet or any loose parts. You're able to adjust the upper perfectly to fit your feet.
HOKA Speedgoat 5 performance review
Moving on to the performance review then. The Speedgoat 5s are incredibly good and a joy to run in on any terrain, at any distance.
It's nice to have a workhorse shoe that you can rely on and take on any trail; you can just grab this shoe, and it will perform excellently.
I'm even planning on doing some racing in these shoes this summer which I'm very excited about.
The trail I first took these shoes out on was a 17-kilometer loop trail with 600 meters of elevation gain. The terrain was mostly rocky, with lots of slippery, loose, hard dirt and forest trails.
It was quite windy, so there were a lot of fallen trees that day, and I had to be extra vigilant – keeping my eyes UP to watch for falling trees, but also DOWN to avoid tripping on the technical terrain, haha – there's a trail runner's life for you right there!
See the video above for more insights into these running shoes and a look at my beautiful local mountain trails.
This new trail loop that I embarked on was a bit more remote than the local trails I usually run on.
There were parts of the trail where I found myself keeping an eye out for wildlife such as mountain lions or coyotes. Do you ever get that feeling when you're running on a new, more remote trail, unsure about the wildlife? Do you find yourself a bit on edge too? I had a few moments like that on this trail.
Let me know in the comments if you've ever felt the same on remote, wild trails.
How do they perform on road surfaces, when getting to your local trails?
This trail loop started with some tarmac or asphalt before reaching the trails and these trail running shoes performed very well on road surfaces thanks to the extra cushioning in the midsole and the grippy lugs. The transition to the trails was really comfortable.
What are they like for running/hiking steep uphills?
My trail route then moved quickly to a very steep climb, and again, the traction from the MegaGrip Vibram outsole was brilliant.
Trails can get super steep, as you can see from the video above and I often have to run on this steep terrain to reach higher elevation trails, and these shoes gripped into the trails exceptionally well.
What's their speed like when running flat sections?
When it comes to running on flat sections of the trail, these shoes are speedy. The late-stage Meta-Rocker, combined with the semi-plush midsole, creates a lot of efficiencies in my stride.
It gives a pleasant sensation of bounce and propulsion, and over longer distances, that midsole lets me keep going because my feet aren't as tired from pounding on the hard trails.
What are they like for steep downhill running?
When it comes to downhill running, the Speedgoat 5 performs exceptionally well too. As I mentioned earlier, the grip on the outsole is brilliant.
I didn't slip at all, which is fairly rare on some of my trail loops. I can confidently say that the Speedgoat 5 is one of the best-performing trail running shoes I've tried to date.
I couldn't be happier with the performance of these running shoes.
How could their performance be improved?
Ok, a slightly misleading title, because we are now getting into the realms of subjective changes to the design of these shoes.
I personally really like how they perform but others may prefer a trail shoe to be more on the side of highly responsive rather than comfortably cushioned (I prefer there to be a balance in my running shoes).
To get a bit more of a responsive edge you might want to consider HOKA running shoes with a ProFly midsole with a dual-density foam that offers a softer upper layer and firm layer underneath, giving a bit more propulsion when you want to run faster…
How do they compare to other trail running shoes available at the moment?
HOKA Speedgoat 5 vs. HOKA Mafate Speed 4
If you are after a more responsive version of the Speedgoat, the Hoka Mafate Speed 4 offers that, but it doesn't have a rocker and it's slightly heavier than the SG5 (by about 0.3 ounces for a US men's size nine).
However, if I had to choose between the two, I'd likely pick the Speedgoat 5.
The Speedgoat 5 offers a wide version for those with wider feet and more variations including a GTX waterproof version, spiked outsole version, a low variant, and a mid variant, catering to various terrains like snow or ice.
Plus, it comes in many different color variations, and on top of that, the Speedgoat 5 is also $30 cheaper than the Mafate Speed 4 right now, making it a more appealing choice.
Here's a quick breakdown of the differences and similarities:
Speedgoat 5 has a more cushioned feel, a late stage meta-rocker geometry, and it's also lighter.
Speedgoat 5 also has many more colors, and a wide variant, to please more people. Mafate Speed 4 has ProFly+ Midsole for a more responsive, faster ride.
They both have a 4mm drop and neutral stability.
At $155 the Speedgoat 5 is $30 less expensive.
HOKA Speedgoat vs. HOKA Zinal
If you're looking for something more minimal and lightweight, then you might want to consider the HOKA Zinal. It's lighter, though the traction isn't as good, and it has a firmer ride.
It may not be the best for longer distances due to less cushioning, but it's excellent for short races or training runs.
HOKA Speedgoat vs. HOKA Tecton X 2
For those looking for really fast trail running shoes that can comfortably take you marathon distance or 50k and perhaps beyond, you should consider the HOKA Tecton X 2.
This shoe features a carbon fiber plate running through the midsole making it super responsive, well-cushioned, and very fast.
It also has good grip, though not as good as the Speedgoat 5 or the Mafate Speed 4.
Are they worth your hard-earned money?
The HOKA Speedgoat 5 is absolutely worth your money! Priced at $155, these trail running shoes are versatile, offering comfort, speed, and the ability to handle long distances with ease.
The stylish design and vibrant colorway options are a bonus for me, they are also comfortable and enhance the overall enjoyment of your runs.
Given the myriad of benefits and the price point, it's hard to find any significant drawbacks with the HOKA Speedgoat 5.
Therefore, they come highly recommended for anyone seeking a reliable and high-performing trail running shoe – so much so I have awarded them our coveted Editor's Choice Award – only presented to products that perform exceptionally well in testing.
➡️ See how well they rank against other great trail running shoes right now, and the other HOKA trail running shoes on the market.
---
HOKA Speedgoat 5 review summary (rating with pros and cons)
HOKA Speedgoat 5 review
PROS
At $155, the shoes are very reasonably priced for what you get.
The shoes are designed for all terrains and distances.
They are very lightweight for a cushioned running shoe, weighing in at 10 ounces for a US men's size nine.
The shoe has plenty of cushioning, and the articulated heel design reduces pressure on the Achilles tendon.
The jacquard mesh upper provides excellent breathability.
The Vibram MegaGrip outsole offers excellent grip and traction on various terrains.
The shoe has a very effective lacing system for a perfect fit, and there is a wide-width option available if you have wide feet.
There are multiple color variations available, making it visually appealing.
CONS
While the cushioning is very well balanced in my opinion, it's not highly responsive. Runners looking for a firmer, more responsive shoe should look to the Mafate Speed 4.
The regular version might not be as comfortable for runners with wide feet - but HOKA does sell the 'EE' wide version.
More HOKA Speedgoat 5 Photos
Hopefully, the HOKA Speedgoat 5 review has provided you with valuable insights to help you decide if this shoe is the right fit for you. If you enjoyed this review, please say hello or drop any questions in the comments below. See you on the trails! -Alastair